The Kawasaki KLX150 is a great first machine for any would be rider. Here's our Kawasaki KLX150L review. Test by Kris Hodgson Photography by Heather Ware
It's easy to ignore some of the smaller capacity bikes out of hand, as let's be honest most people think, 'bigger is better' and even in the LAMS category there is some truth to that but Kawasaki's KLX150L certainly bucks the trend by providing a smaller capacity road registerable dirt bike and it's perfect for the inexperienced, those of shorter stature or those with an eye for some off road action.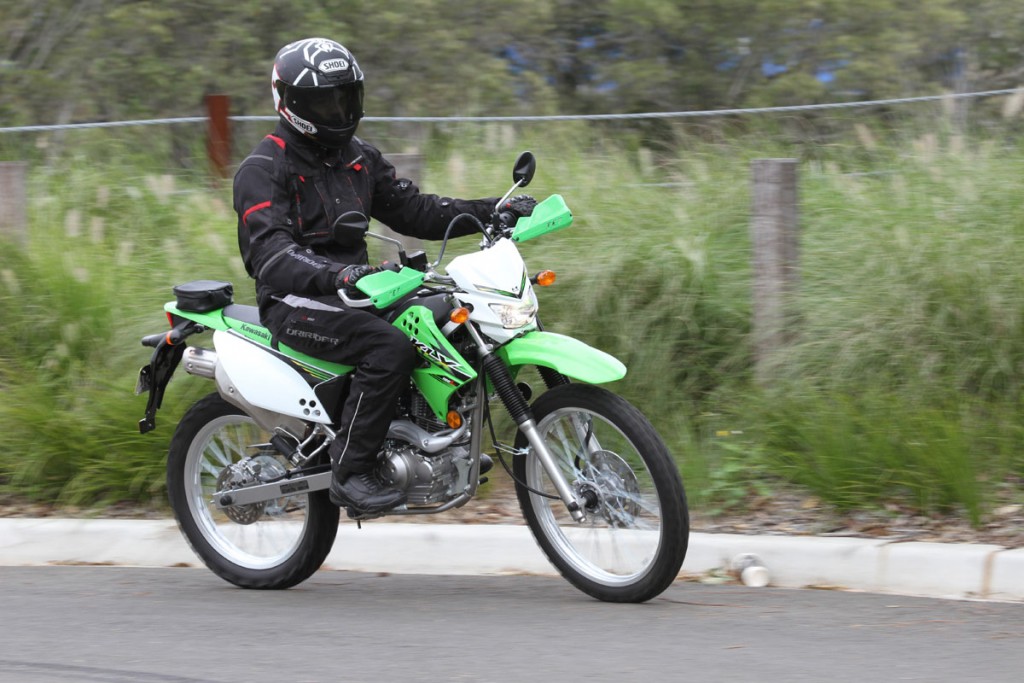 The single-cylinder, four-stroke engine is 144cc, fed by a Keihin carb (meaning no electronic fuel injection) and is capable of producing 12hp, a figure offset by the bike's wet weight of just 115kg. It's also got an electric start.
Suspension is a set of 33mm telescopic forks, with no adjustment and 175mm of travel, where the rear makes do with a single shock with preload adjustability and 190mm of travel.
Jumping on the bike it quickly sinks into the suspension, even with my relatively light weight of 70kg, fully geared, so while the bike looks taller from a distance, once sitting on it, it's far more manageable. The seat height is advertised as 875mm but I would definitely say that's unencumbered.
Everything is all within easy reach as well, from the 'bars, to the controls and foot controls, with both the gear change lever and rear brake in just the right spot for easy use for my proportions.
Changing gears is positive with a light clutch lever action, with both brake and clutch levers being adjustable, with the brakes not providing quite the level of bite I was expecting, despite providing good stopping power once you get used to the amount of input required at the lever.
The front rotor is a 240mm item, compared to the rear 190mm item, while the front sports a two-piston caliper compared to the rear single-piston item.
Wheels are aluminium laced spoke items, with a 21in on the front and 18in on the rear, with IRC Trials knobbly tyres which are surprisingly confidence inspiring on the road.
The little single bubbles into life easily, with the choke to help start up in colder weather, something I missed at first, having not ridden a bike with a choke in quite a whole!
The traditional thumper beat takes over as you move away from the curb, with first gear short but constrained, ensuring no, "Oh shit" moments. Handling is also neutral, light, and effortless, although turning on the knobbly tyres is typically different, with a more sudden transition onto the sides of the tyres.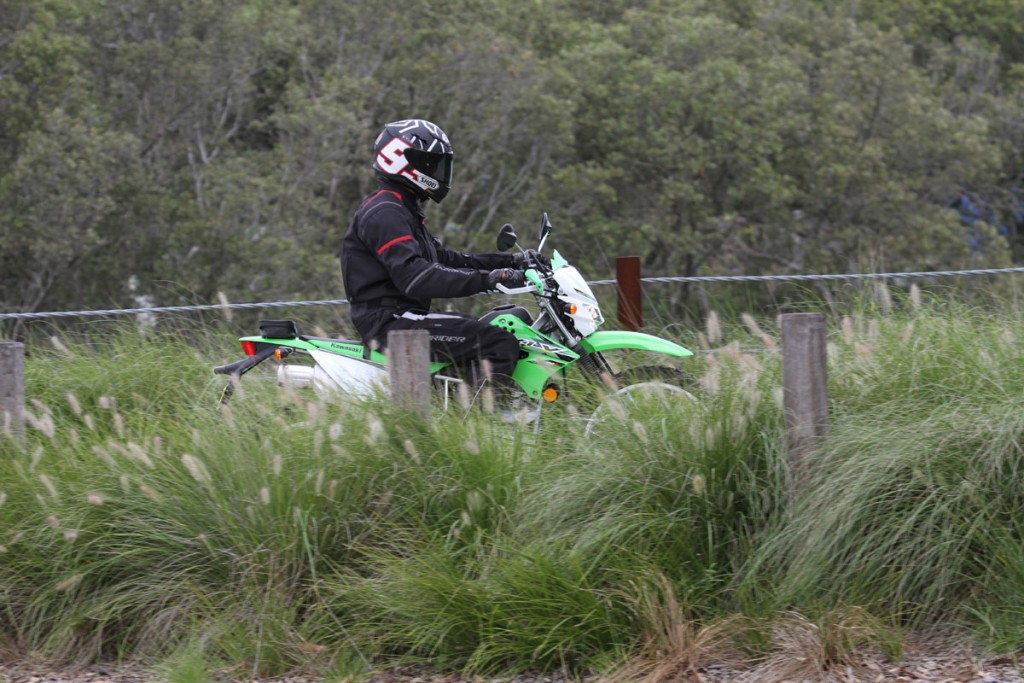 The dash only displays speed and odometer, so shifting has to be done by feel, which isn't all that hard, as the engine becomes very busy if pushed too hard.
General road riding will require active gear changes to make the most of the 144cc single, but there's enough power there to power you along the streets and past most cars at the lights.
The bike's sweet up to about 80km/h but tops out around the 100km/h mark, which is a good indication that this isn't a highway machine, and is most comfortable staying around 80km/h – perfect for basic commuting.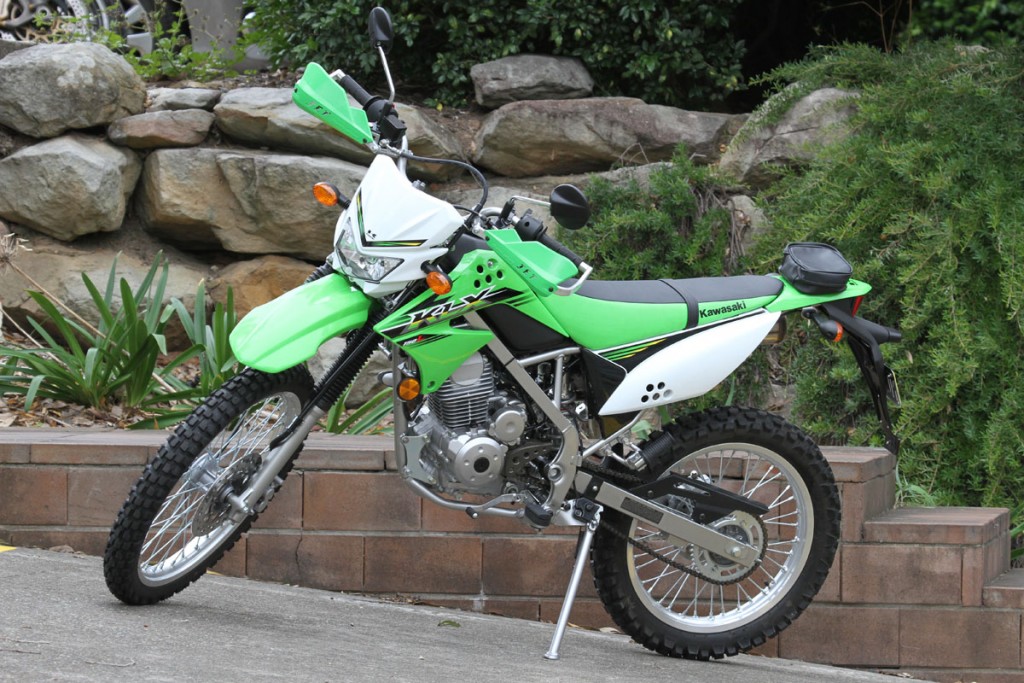 The suspension gives a very plush ride as well, whether you are going over speed bumps, jumping a curb or doing a bit of off-roading but again isn't designed for extreme off road use.
Overall I was highly impressed with the KLX150L and it certainly offers an entirely different option if you're looking for an around town commuter that is capable of handling anything, especially if you don't want a scooter but may be looking for a bit more freedom.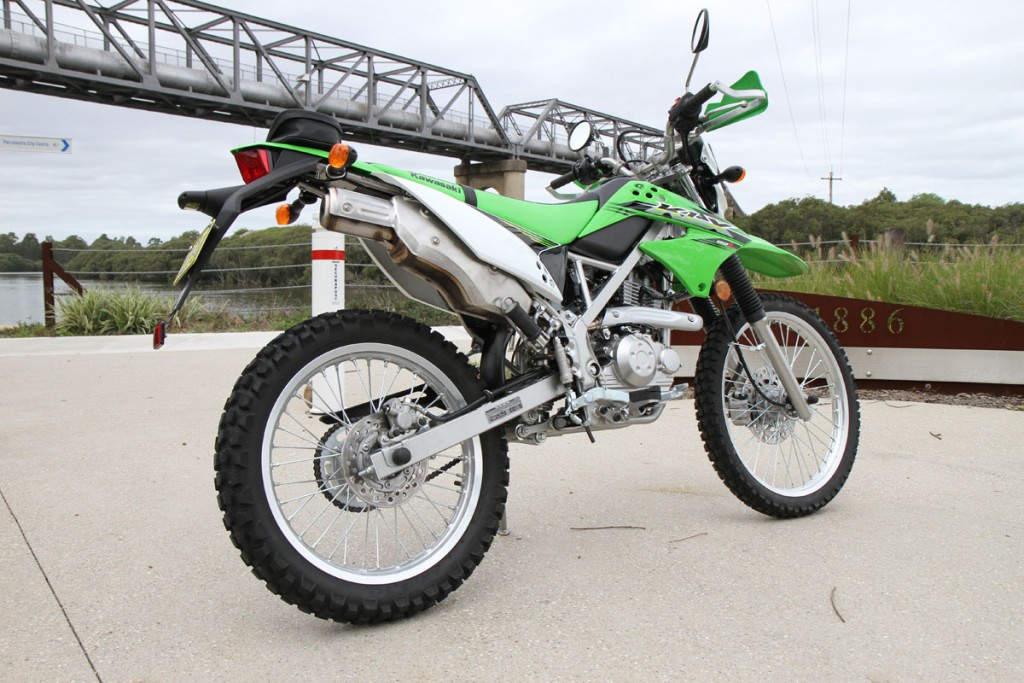 Plus it offers the ultimate gateway to off road riding, you don't need a trailer or ute to get your unregistered bike to the very few places you'll be able to use it (if you're in NSW anyway) you can just ride to the location and head off road!
Priced at just $4,099 plus on roads, Kawasaki's KLX150L is a great bargain and perfect for any new rider.
SPECIFICATIONS: Kawasaki KLX150L
PRICE: $4,099 + ORC
WARRANTY: 12-month, unlimited kilometre
COLOURS: Green/white
CLAIMED POWER: 8.6kW[12hp]@8000rpm
CLAIMED TORQUE: 11.3Nm[8.5ft-lbs]@6500rpm
WET WEIGHT: 115kg
FUEL CAPACITY: 7L
ENGINE: Air-cooled, single-cylinder, four-stroke, SOHC, 144cc, 58 x 54.4mm bore x stroke, 9.5:1 compression, Keihin NCV24 carburettor
CHASSIS: Perimeter, box-section, high-tensile steel
SEAT HEIGHT: 875mm, Wheelbase: 1340mm
SUSPENSION: 33mm telescopic forks, 175mm travel, Uni-Trak single gas shock, five-way preload adjustment, 190mm travel
BRAKES: 240mm front rotor, dual-piston caliper, 190mm rear rotor, single-piston caliper
WHEELS & TYRES: Aluminium laced-spoke wheels, IRC Trials tyres, 2.75 x 21in, 4.10 x 18in,
INSTRUMENTS: Analogue speedometer, odometer