The Moto Guzzi V7 Stone clearly displays its heritage, with modern technology ensuring it's a competitive offering today. Here's our 2015 Moto Guzzi V7 II Stone review. Test & Photography by Jeff Ware
Moto Guzzi's rich history as the longest standing motorcycle manufacturer in continuous production adds an extra layer of love to the motorcycling experience, including with their new V7 II Stone. Whether you jump on a 30-year-old Le Mans or a brand new Cali, you get the same buzz. A passion that stretches back to 1921.
DNA passed on from one model to the next, with a distinct style and flair distinguishing them from the other brands. You either love 'em, or hate 'em. That's the Guzzi style.
For me, the famous V7 has always been the iconic Guzzi. I had posters of them on the wall when I was a kid and I always dreamed of carving up mountain roads on one, a loud pair of Conti's booming off the rock walls, flowing from turn to turn in big lazy lumps of torque driven bliss…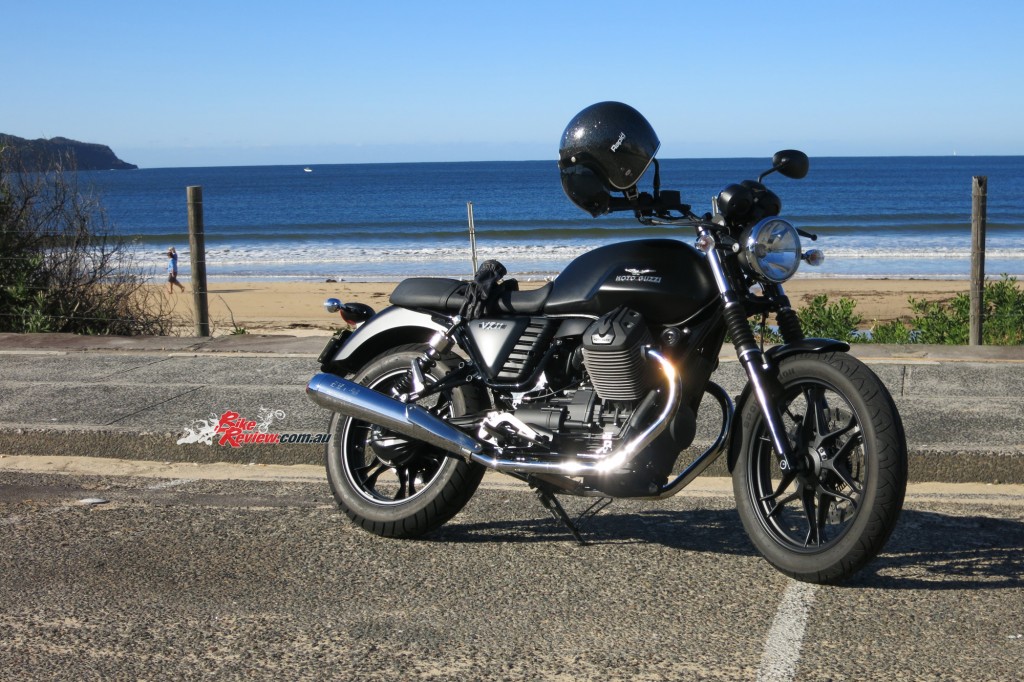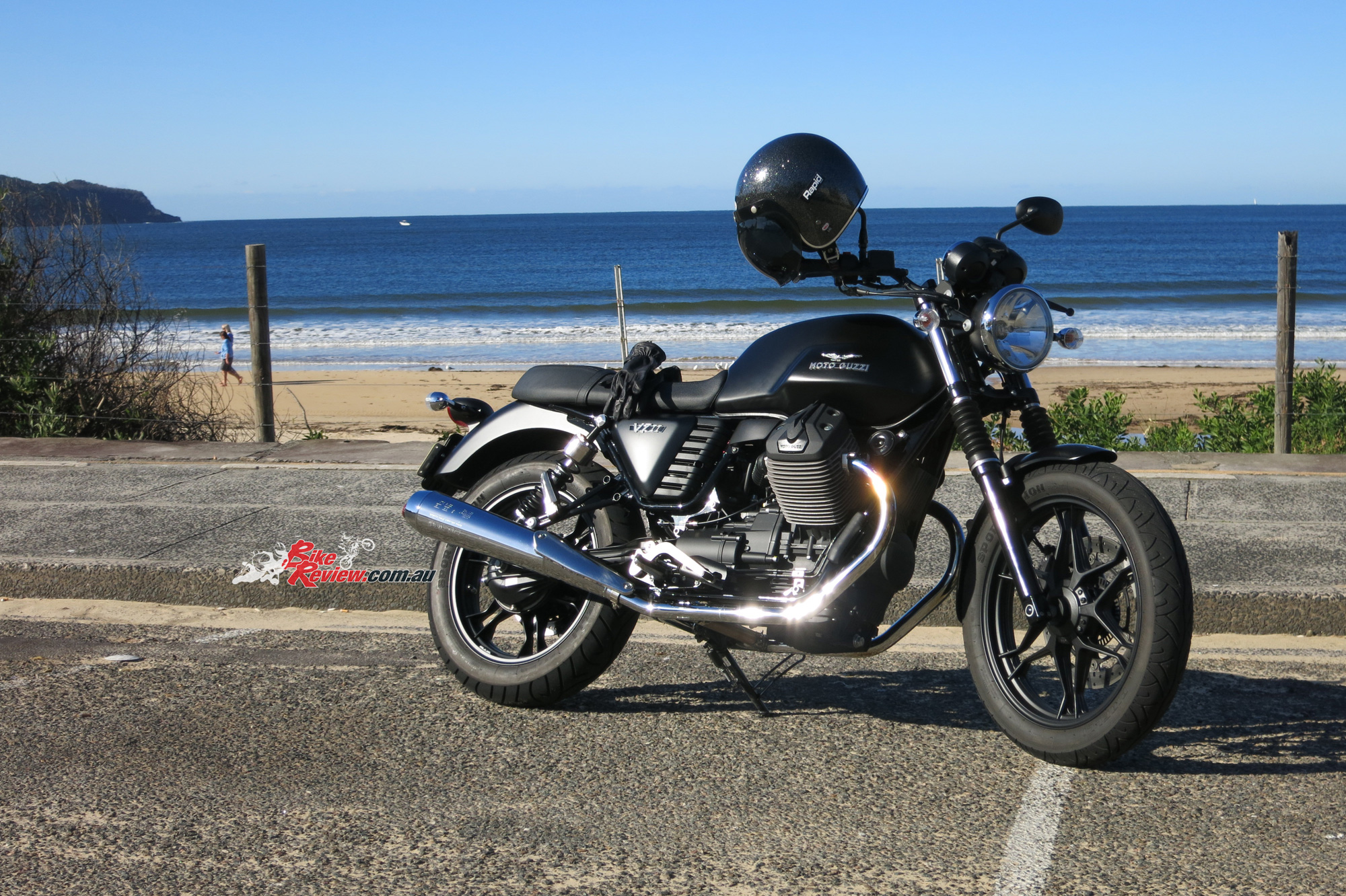 Fast-forward to early 2015 and the revised V7, the V7 II, landed on our shores. There are three models, the Stone, the Special and in small numbers, the Racer. The V7 II Stone as tested comes in matte finish with alloy wheels and blacked out everything.
The Special is the closest in style to the original V7 and has two-tone paint, while the Sport has uprated Bitubo suspension, rearsets and a caf racer look. They all look fantastic if you ask me…
THE RIDE – Moto Guzzi V7 II Stone
The previous day I'd been testing one of the latest and most powerful superbike class bikes on my local road. The bike had close to 200-horsepower and the speed limit of 80km/h felt like a snails pace. The bike was not alive and even pushing it without the risk of going to the lock-up didn't bring it to life. Not that much fun in all honesty…
I needed a fix on a bike I could push and challenge on the road and off the racetrack…
Sunday morning broke with sunshine and clear skies. Time to head to the hills…
Sitting on the matte black V7 II Stone, the bike feels narrow; there is decent legroom and clearance between my knees and the cylinder-heads. The seat is low and close to the 'pegs, but it is comfy, the 'bars offer a neutral reach and a slight rise, while the 21L tank is slim and contributes to the overall narrow feel. The bike is compact and feels small and fun.
Starting is unremarkable and the Stone idles away singing a Guzzi mechanical song. The exhaust note is disappointing and completely lacks character – a set of loud pipes would be my first purchase. Really loud.
Heading out of town the V7 II Stone is fantastic. A super smooth clutch and gearbox thanks to the revisions (see Engine breakout), fantastic fuelling and overall balanced and very easy to ride in traffic. Out on the freeway, the V7 ticks along at 110km/h at around 5000rpm with ease. There is enough torque on tap for passing and the riding position is bearable for a short stint but like any nakedbike, 120-plus gets uncomfortable.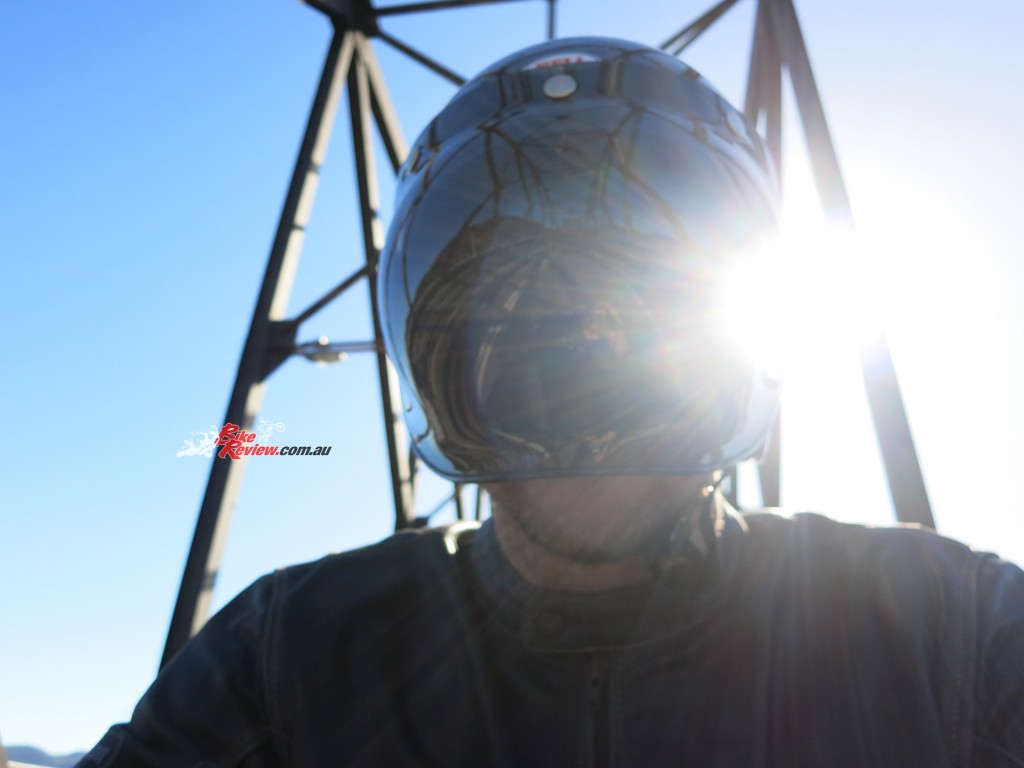 Hitting the twisties is where the V7 II Stone really shines, as long as the road is smooth…
On this ribbon of hotmix, a day after my superbike test here, I'm suddenly on a bike that is lighter than the superbike, more agile thanks to the narrow layout, wide 'bars and skinny tyres, but only has 50-odd-ponies. I'm scraping the 'pegs. I'm getting slides. I'm getting wallows. I'm using every single one of those 50 ponies and I am grinning like a madman.
Suddenly the dreaded Highway Patrol appears out of nowhere, me heading south, him heading north. My heart jumps, I look at the speedo on the V7 and can't believe my eyes – 85km/h. It's an 80 zone. I'm safe!
So there I was, having more fun at 80km/h with 50hp than I could ever have on a superbike on this road. I think I've found the ideal Sunday morning scratcher…
The V7 II Stone has plenty going for it but some room for improvement. The single front rotor offers plenty of stopping power for the lightweight Guzzi, with good feel at the lever but not too much initial bite, which would upset the balance of the bike. The rear brake is good and as a heavy user of rear brake I appreciate feel and power to help me corner and keep a bike balanced.
The non-adjustable forks are soft but give enough support on the brakes, however, the lack of spring support over bumps and restricted travel at both ends means the V7 is a shocker on rough surfaces, particularly the rear, which bottoms out and lacks control. I would upgrade both ends and that would transform the bike.
Steering is neutral and flowing, the V7 loves corner speed and there is plenty of grip from the Pirelli Sport Demons, with the 'pegs scraping right before the limit – just right. The V7 II Stone is a fantastic motorcycle.
Moto Guzzi have managed to retain the old school fun and flow that has won hundreds of thousands of fans over the decades, while integrating modern safety options with the ABS and the traction control.
The bike is gold. It's basic – but it has what many modern bikes do not. It has character and bucket loads of feel. A rider that has grown up on modern, stiff chassis machinery might thing they are heading for the armco on a bike like the Guzzi V7 II Stone.
A rider that, like me, grew up riding 1970s and 1980s steel framed bikes with skinny tyres will feel like they are 20 again. It flexes, it moves around, it tells you where you are and how far you have left. Things scrape on the road. You can find the limit, walk that fine line for miles on end, while barely breaking the speed limit.
It takes skill to ride fast yet is rewarding. It reminds me of my old RZ250.
For $14,000 ride away the Moto Guzzi V7 II Stone offers exceptional value, leaving you with enough in the kitty to upgrade the suspension and add a few customising touches to make the bike your own. If cornering is what draws you to motorcycling but sportbikes are too radical for you on the street, the relaxed fun factor of a Guzzi V7 II could be for you. Go and try one for yourself, you might be pleasantly surprised – like I was…
Few bikes offer a true, raw riding experience these days. God bless Moto Guzzi for giving us this gem!
ENGINE – Moto Guzzi V7 II Stone
The Moto Guzzi V7 IIs air-cooled 750cc 90 V-twin engine has been relocated in the frame, placing it 10mm lower and four-degrees forward, for a lower centre of gravity and more leg room.
The engine benefits from a number of recent improvements, including a revised combustion chamber, with Heron-style pistons, and a single 38mm throttle-body with Y-shaped manifold ensuring optimal fueling and throttle response. The ECU is a Magneti Marelli MUI G3 unit.
The traditional 90 V-twin remains air-cooled, with overhead valves and a bore and stroke of 80 x 74mm, compression is 10.5:1. Valve timing has the intake valve opening at 18 BTDC and closing at 50 ABDC, with the exhaust valve opening at 53 BBDC and closing at 15 ATDC.
A six-speed gearbox is also new, with first and last gear ratios reduced, allowing for a smoother transition between gears, with modifications to the lever, linkage and cable all helping with softer gear change action.
A new alternator has also been added, along with a forced lubrication system and oil pump, with primary ratio now 18:23 from 16:21.
The exhaust system is a two-into-two system, with balance pipe, three-way catalytic converter and twin lambda probes.
CHASSIS – Moto Guzzi V7 II Stone
The V7 II Stone uses a double-cradle steel tubular frame, which has been slightly modified over the previous version to improve the bike's centre of gravity, while a cast alloy swingarm is matched to two classically styled shocks which featured adjustable preload. Travel on the rear is 100mm.
On the front end a set of 40mm forks offer no adjustability and have 130mm of travel.
Brakes are a single front 320mm rotor, with Brembo radial four-piston caliper, while the rear sports a 260mm rotor and Brembo two-piston floating caliper.
Wheels are a set of split-six-spoke alloy offerings, with an 18in front and 17in rear.
The wheelbase of 1449mm, rake is 27.5 degrees and trail of 138mm ensures good feel and agility, with a low seat height of 790mm – from the previous 805mm, offering an easy reach to the ground.
STYLING & ELECTRONICS – Moto Guzzi V7 II Stone
Moto Guzzi has sought to maintain much of the V7s character, with a traditional single seat and mudguards front and rear.
The available colours of both black and grey are satin finishes based on '70s colour schemes for authenticity, with a blacked out approach including the mirrors, mudguards, wheels, side panels and levers.
The wheels on the Stone model are a modern design and not found on the other V7 II models, while dual chrome exhausts are elegant and mounted low, helping keep the centre of gravity low.
Moto Guzzi's focus on safety is also obvious with a dual channel Continental ABS system linked to both front and rear, while the Magneti Marreli MIU G3 ECU includes integrated traction control, which recalibrates to tyre wear as well as different tyre profiles for optimal safety.
A huge variety of Moto Guzzi accessories are also available, with 90 different items currently available, including a new range of apparel.
A number of accessory kits are also on offer including the Dark Rider, Scrambler, Legend, Dapper and Record, with each offering a specific look or style.
Moto Guzzi V7 II Stone Specifications 
PRICE: $14,000 ride away
Warranty: Two-year, unlimited kilometre
Colours: Nero Ruvido, Rosso Impetuoso
Claimed power: 37kW[50hp]@6200rpm
Claimed torque: 60Nm[ft-lbs]2800rpm
Wet weight: 198kg Dry weight: 177kg
Fuel capacity: 21L
Engine: Air-cooled, 90 V-twin engine, four-stroke, OHV, two-valves per cylinder, 744cc, 80 x 74mm bore x stroke, 10.5:1 compression, Magneti Marreli MIU G3 ECU, 38mm single throttle-body, TC, two-into-two exhaust with balance pipe, twin lambda probe
Gearbox: Six-speed
Chassis: Double cradle steel tubular frame, cast alloy swingarm, Rake: 27.50, Trail: 138mm
Suspension: 40mm forks, 130mm travel, dual shocks, adjustable preload, 100mm travel
Brakes: Continental two-channel ABS, single 320mm front rotor, Brembo radial four-piston caliper, 260mm rear rotor, Brembo two-piston floating caliper
Wheels & Tyres: Six-split spoke aluminium alloy, 100/90 – 18in, 130/80 – 17in
Dimensions:
Wheelbase: 1449mm
Seat height: 790mm
Overall length: 2185mm
Overall height: 1115mm
Overall width: 800mm
Instruments: Dual analogue clocks with digital readouts.
CUSTOMISATION KITS (available through dealers).
Dark Rider Kit: These accessories have been designed to create a "Gothic" style. The accessories that make up the Dark Rider Kit include black aluminium top fairing, aluminium side fairings, aluminium mudguards, black fuel tank that features the traditional red Moto Guzzi eagle and black spoke wheels.
Scrambler Kit: These accessories have been designed to create a vintage off-road style. The accessories that make up the Scrambler Kit include satin finish mudguards, number plates and guards. A high two-in-one exhaust along with cross brace handle bar, off-road foot pegs, leather side bags and a tool bag have also been included to finish the Scrambler style.
Legend Kit: These accessories have been designed to recreate Moto Guzzi history; the Legend is a modern interpretation of the Moto Guzzi Alce, a bike used by the Italian Army. The accessories that make up the Legend include a dark satin finish high "two-in-one" silencer, olive green fuel tank, side fairings and mudguard. To finalise the Legend Kit a cross brace handlebar, black luggage rack, larger seat and natural leather side bags have also been included.
Dapper Kit: These accessories have been designed to create a Caf Racer. The accessories that make up the Dapper Kit include polished aluminium mudguards, injector covers, guards and number plates. Low handlebars, a single seat and handlebar mirrors finish have also been included to compliment the Caf Racer style.
The Verdict | Review: 2015 Moto Guzzi V7 II Stone