Ducati have introduced Ducati Variable Timing to the 2015 Multistrada for better all round performance... Here's our Ducati Multistrada 1200 DVT review. Test by Jeff Ware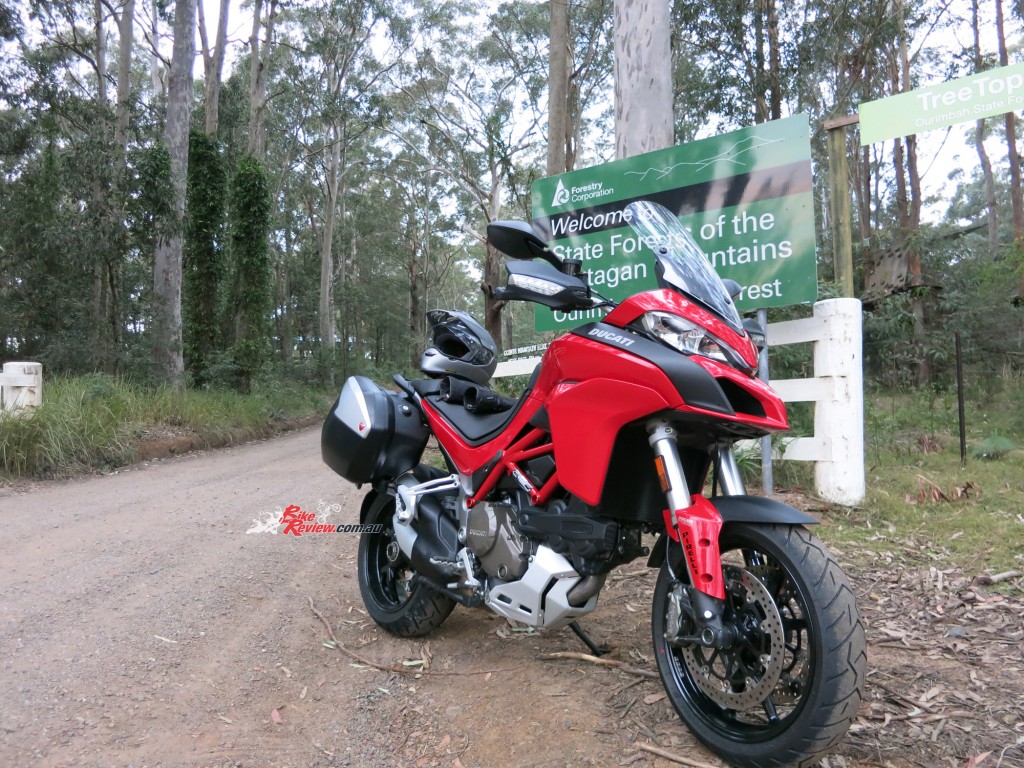 The Ducati Multistrada may look huge but it really is not that big. It's tall and will make shorter riders tip-toe but the seat is adjustable from 825-845mm and it is balanced and easy to handle, the only hassle is the width of the 'bars with the handguards and mirrors meaning storing the bike is not so easy.
The seat is comfortable for long periods, the pillion seat generous and there is a good rack too and great panniers on this example with the Touring Pack which also includes toasty grip heaters!
The 'pegs are rubber capped but those can be removed for off road use and there are no vibes on the bike even cruising at highway speeds thanks in part to the rubber mounted handlebars.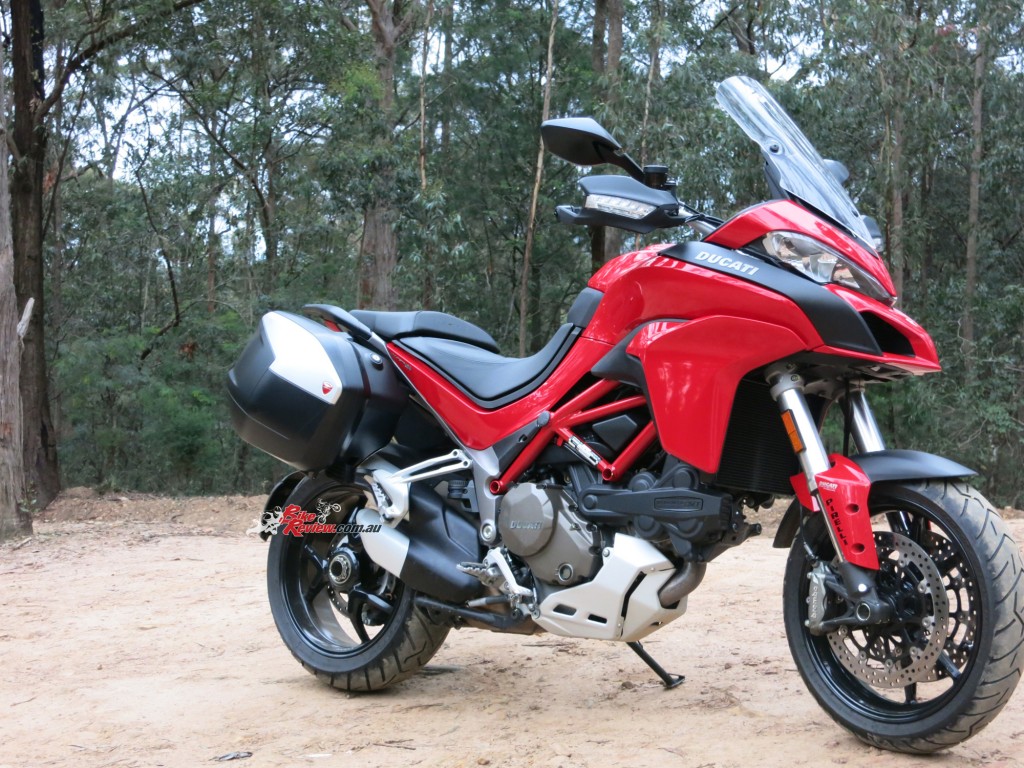 Leg room is just right for me at 185cm and wind protection fantastic thanks to a manually adjustable (one hand) screen that I kept on the tallest setting for the entire test period. Levers are span adjustable.
Start up is the new-ish Ducati system with an integrated kill/start switch and keyless ignition. The actual key is a fob and as long as it is a few meters from the bike, the bike will run. You only need it for the fuel cap and seat. I kept it in my pocket but would prefer a normal key and ignition.
Once on the roll, with a bit of extra clutch and rpm due to a very tall first gear (my first item on the shopping list would be a smaller by one tooth front sprocket), the Multistrada is silky smooth and that DVT engine is a stunner.
There are four modes – Sport, Urban, Enduro, Touring and each has pre-set engine mapping, throttle response, DTC and ABS.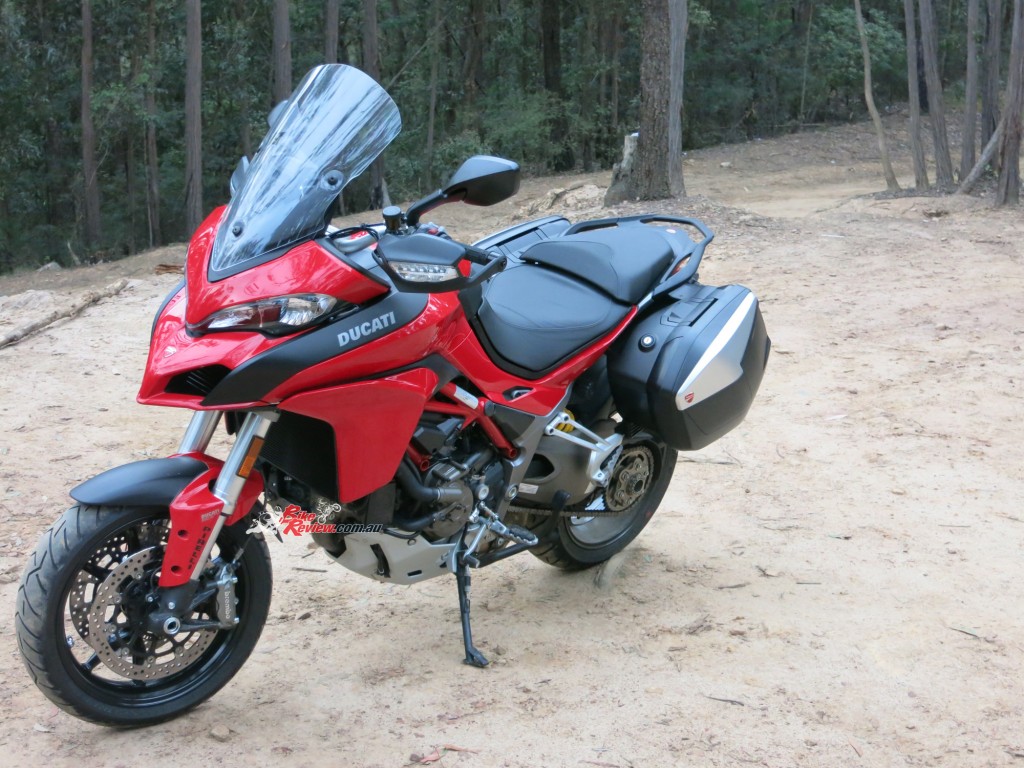 Each mode perfectly suits the name under which it is stored. I used Urban mode the most around town. The throttle is a bit doughy on initial opening so anticipating it helps with traffic weaving, but it is smooth and limited to 100hp.
I used Touring on all long freeway stints. Along with the brilliant and easy to use cruise control and the heated grips (I tested in winter) I could not have been happier on the open road on the Multi.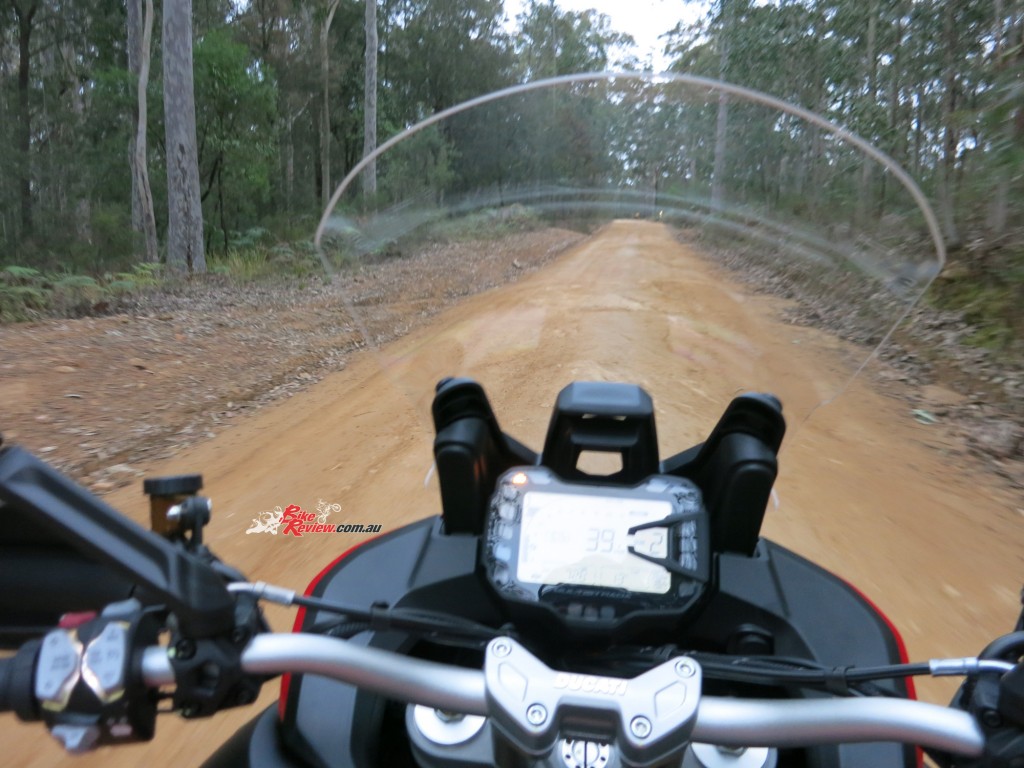 Enduro mode provides modified DTC, 100hp for off road use and of course ABS. I spent a fair bit of time off road in various easy State Forest roads and the Multistrada was sensational as were the Pirelli Scorpion II tyres, only showing limitations during a steep downhill clay descent. However on the wet, bumpy local twisties I preferred Enduro (on the tarmac) to the other riding modes. At all times the bike felt sure-footed and really safe.
I?m a rev head and a hoon at heart and where the powerful DVT Multistrada really turned me on was in Sport mode. Once I went Sport, I couldn't go back.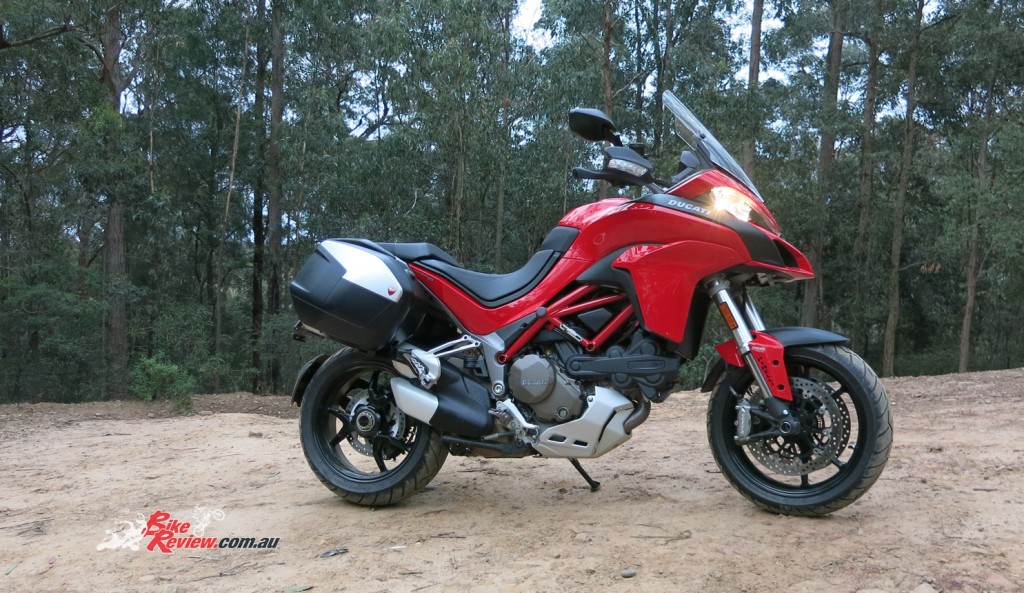 Flick to Sport and the throttle response becomes instant and this motorcycle transforms from a reasonably mild mannered all-rounder to an absolute pure adrenaline-inducing, grin producing, law breaking hoon machine.
The acceleration from the gruntier revised DVT 1198 is astonishing and the throttle response instant in Sport mode. I felt I had no control over myself at all, the bike is the ultimate Aussie sportsbike. Fast into turns with the added safety of the ABS, surefooted and not fazed by bumps mid turn, yet blindingly fast off the corners. So whether on silky smooth roads or bumpy country ones, the Multistrada is at home. Truly a great all-rounder, more slanted of course to tarmac than dirt.
I guess that is the thing that surprised me so much about the Multistrada S. Sure the name says it all but I really had no idea how versatile this bike was and just how much fun it could be. I could easily and happily ride one of these around Australia and it would handle long days in the saddle on dirt outback roads, or tight twisty curves of the NSW North Coast. If you want to enjoy four bikes in one, then this is the machine. Just make sure you have a clean licence!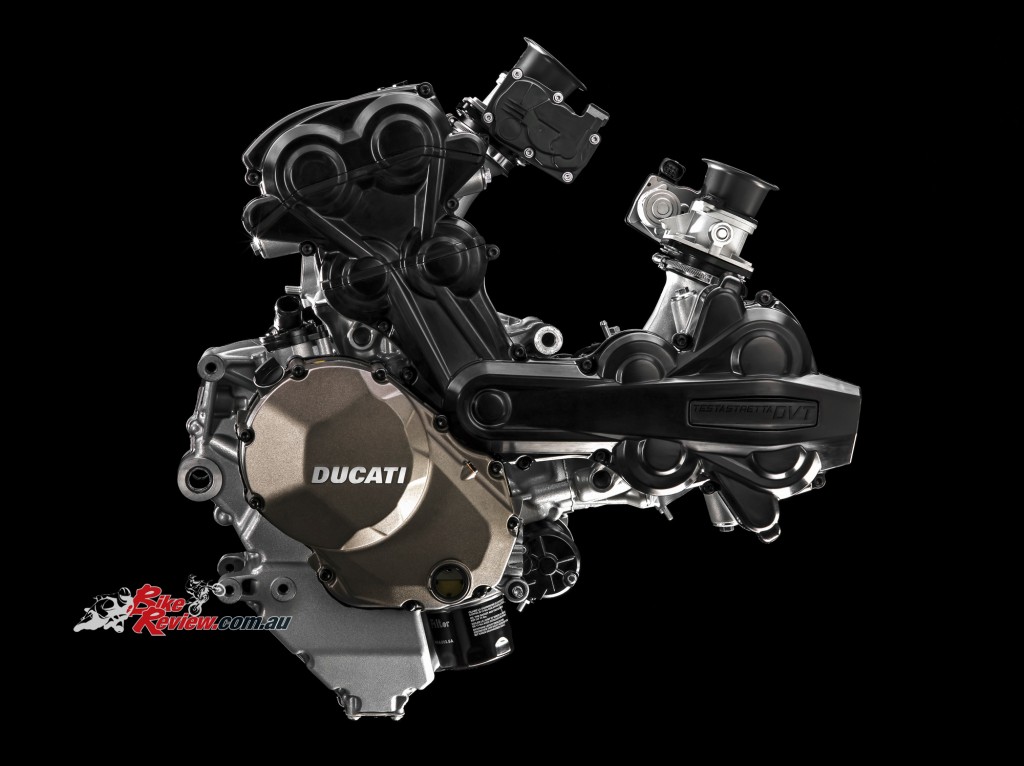 ENGINE
The DVT Testrastretta 11 Dual Spark engine introduces a number of enhancements, including increased torque and the combination of new technology from the 1199 Superquadro engine with established existing technology.
The Testastretta 11 L-Twin four-valve per cylinder Desmodromic engine is 1198.4cc thanks to a bore and stroke of 106 x 67.9mm. Mitsubishi EFI works in conjunction with Mikuni elliptical throttle-bodies and the Ride-by-Wire to provide the ultimate control at the throttle from the rider.
A secondary air system was added to optimize fuel mapping allowing smoother cycle-to-cycle operation, while the fuel injectors spray directly onto the rear of the hot intake valve, rather than onto the surface of the intake port wall, enhancing vaporization.
A oil bath clutch is also featured, with a progressive self-servo mechanism providing a slipper function on over-run, while under drive from the engine it assists in pushing the clutch plates together, allowing lighter clutch spring rates for a lighter clutch action.
By independently varying the timing of the camshaft that controls the intake valves and the camshaft that controls the exhaust valves, the DVT engine optimises high-rpm performance to provide maximum power.
At low-to-medium rpm, instead, it smooths operation, making power delivery more fluid and boosting torque. In practice, this is an engine that changes its characteristics as rpm varies while complying with Euro 4 specifications and giving good fuel economy.
Variance of the valve overlap angle has been achieved by adopting a valve timing adjuster applied on the ends of each of the two overhead camshafts. The DVT system is divided into two parts: an external housing rigidly connected to the timing belt and an internal mechanism connected to the camshaft.
The latter is coaxial to the former and can rotate in advance or delay with respect to the housing depending on the oil pressure in special chambers.
This oil pressure is adjusted by dedicated valves and the timing of each cam is controlled dynamically by a sensor in the cam covers.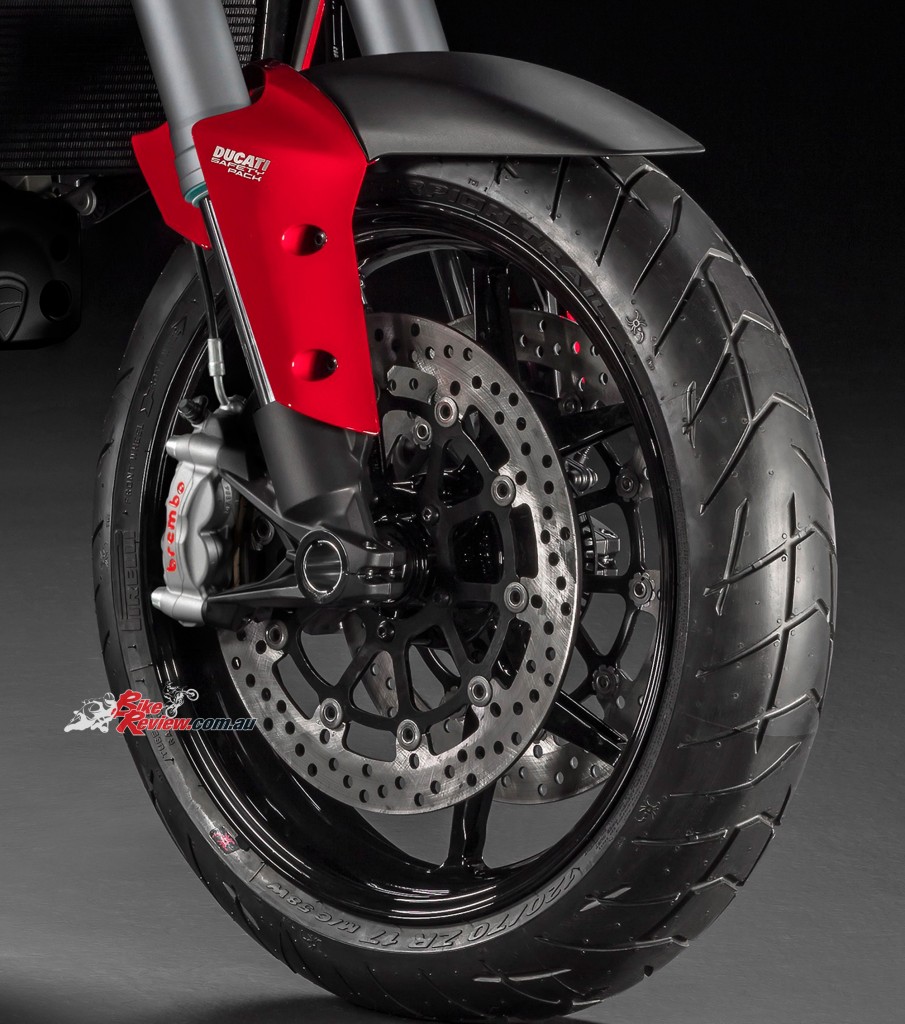 CHASSIS
On the Multistrada 1200 the Trellis frame is made of large-diameter light-gauge tubing with two central cast aluminium sections and a Trellis rear frame for torsional rigidity.
A high pressure die-cast magnesium front sub-frame also reduces weight and assists in maintaining feel and control with the bike's chassis geometry, which allows lean angles of up to 45 degrees. The rear single-sided swingarm is a chill-cast single piece with four bonded cores for both optimum looks and functionality.
48mm Sachs USD forks and rear single shock feature and the Multistrada also benefits from three-spoke alloy wheels with a 3.50 x 17in front and 6.00 x 17in rear. Special Pirelli Scorpion II Trail tyres are also used, representing the first dual compound, on and off road tyre.
Braking is taken care of by radial four-piston Brembo calipers and 320mm rotors on the front with radial master-cylinders and adjustable levers, while on the rear a single 245mm rotor is grasped by a Brembo caliper.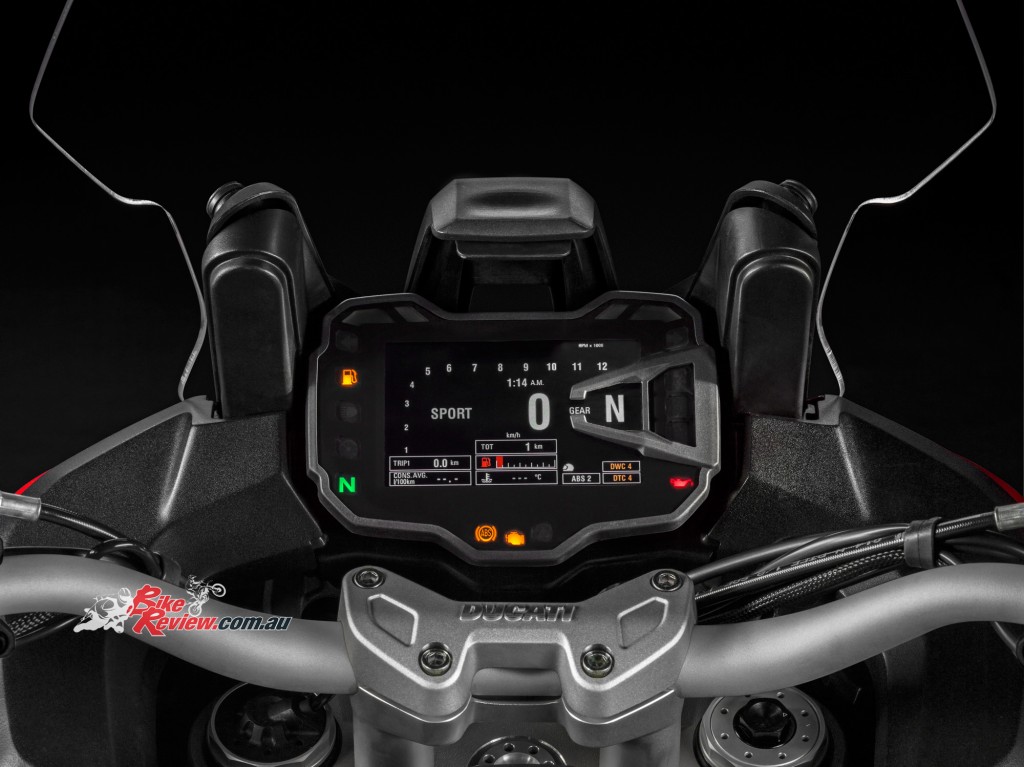 ELECTRONICS
The Multistrada boasts impressive electronics, as would be expected from one of Ducati's flagship models, including Ducati Traction Control and ABS thanks to the Ducati Safety Pack. Ride-by-Wire and DVT.
The ABS system is a Bosch ABS 9ME system with Brembo brakes, including a combined front-to-rear braking mode in levels two and three, while level one removes lift-up detection and enables rear end drifting, with front only ABS. The ABS system can also be disabled.
The Ducati Traction Control system features eight levels of adjustment, with varying levels of rear wheel spin tolerance. The DTC is integrated into the Riding Modes with pre-set settings which can be modified.
The Ride-by-Wire provides three maps that regulate power delivery, with a 160hp sports delivery map, a 160hp progressive delivery map and a 100hp progressive delivery map, with the latter designed for urban or off-road use.
The Riding Modes – Sport, Touring, Urban and Enduro feature pre-set settings of all of the above settings but can be further customised to the rider's demands.
LED headlights and hands-free ignition are also features.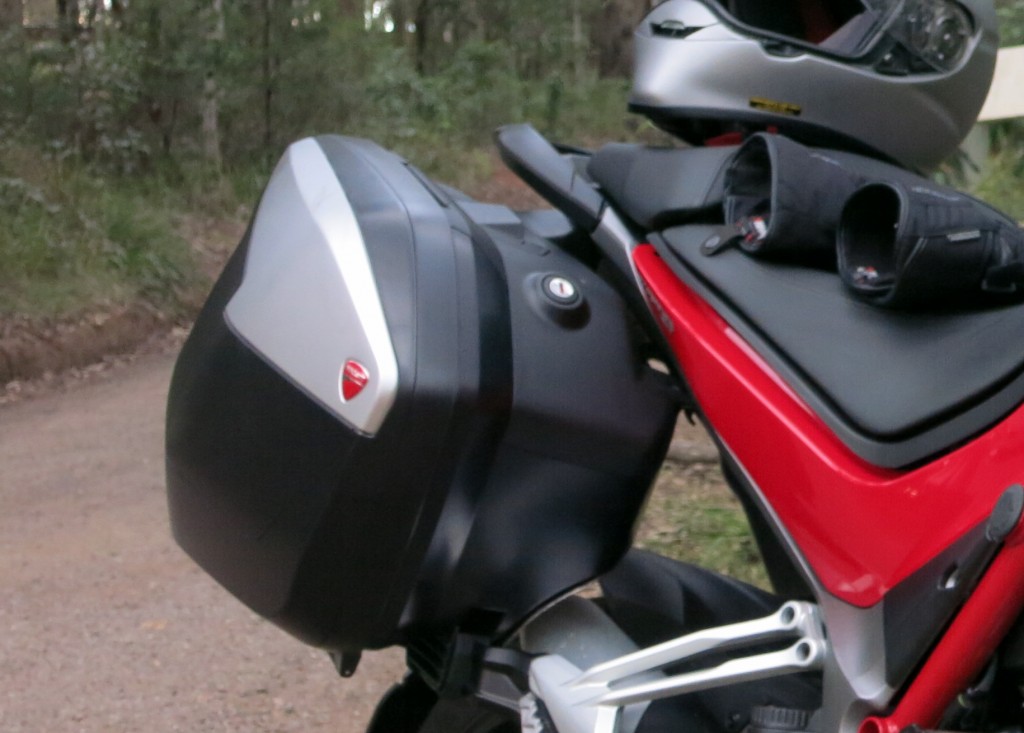 ACCESSORIES:
There's a huge variety of accessories available for the Ducati Multistrada 1200, including the Personalisation Packs, which offer easy packages of useful accessories, without any overlap, so you're able to grab them all or just those you think will suit you.
The Touring Pack contains heated grips, panniers and a centre-stand.
The Sport Pack includes a road legal Ducati Performance exhaust by Termignoni, carbon-fibre front guard, machined billet aluminium brake and clutch reservoir caps.
The Urban Pack offers a top case, tank bag with lock and USB hub.
The Euro Pack includes supplementary lights and Ducati Peformance components from Touratech including engine protection bars, radiator guard, oil sump guard, a bigger kickstand base and off-road footpegs.
A huge range of individual accessories are also available, see the Ducati.com.au website for a full list.
For our quick test on the 2015 Ducati Multistrada 1200 S click here.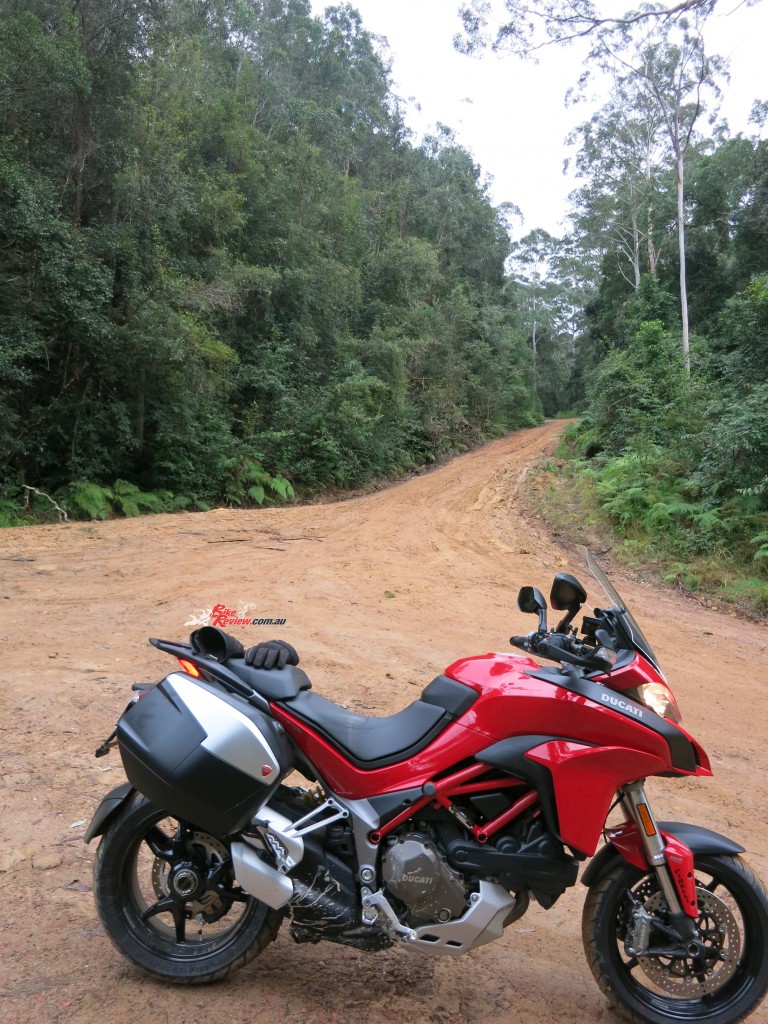 SPECIFICATIONS: Ducati Multistrada 1200
Price: $23,990 + ORC
Warranty: Two-year, unlimited kilometer, two-year roadside assistance
Colours: Red
Claimed power: 117.7kW[160hp]@9500rpm
Claimed torque: 136Nm[100ft-lbs]@7500rpm
Dry weight: 209kg
Fuel Capacity: 20L
Engine: Liquid-cooled, Testastretta 11 DVT, L-Twin cylinder, four-valve per cylinder, Desmodromic, 1198.4cc, 106 x 67.9mm bore x stroke, 12.5:1 compression, Mitsubishi EFI, Mikuni elliptical throttle bodies with RbW, two-into-one-into-two lightweight exhaust with cat and lambda probes, DTC, DWC, riding modes, IMU
Gearbox: Six speed
Clutch: Wet, multi-plate with hydraulic control, self-servo action on drive, slipper action on over-run
Chassis: Tubular steel Trellis frame, two central cast aluminium sections, high pressure die cast magnesium front sub-frame, Trellis rear subframe, aluminium single-sided swingarm, Rake: 24 degrees, Trail: 109mm
Suspension: 48mm Sachs fully adjustable USD forks and fully adjustable Sachs monoshock
Brakes: ABS (9ME), dual four-piston Brembo radial calipers, 320mm semi- floating rotors, Brembo two-piston caliper, 245mm rotor
Wheels & Tyres: Marchesini forged and machined three-spoke wheels, 3.50 x 17in, 6.00 x 17in, Pirelli Scorpion Trail, 120/70 ZR17, 190/55 ZR17
Dimensions:
Wheelbase: 1529mm
Seat height: 850mm
Overall length: 2200mm
Overall height: 1480mm
Instruments: LCD, plug DOT Matrix dash
The Verdict | Review: 2016 Ducati Multistrada 1200 DVT