We just received this dyno graph of the all-new 2016 Kawasaki ZX-10R showing 194.7rwhp thanks to our friends at ProCycle Dyno in Slack's Creek QLD and Woolich Racing, who are releasing product for this model late next week. In the meantime, here is a re-cap of that wonderful engine tech and a look at the graph. You can read our full world scoop test in Bike Reviews.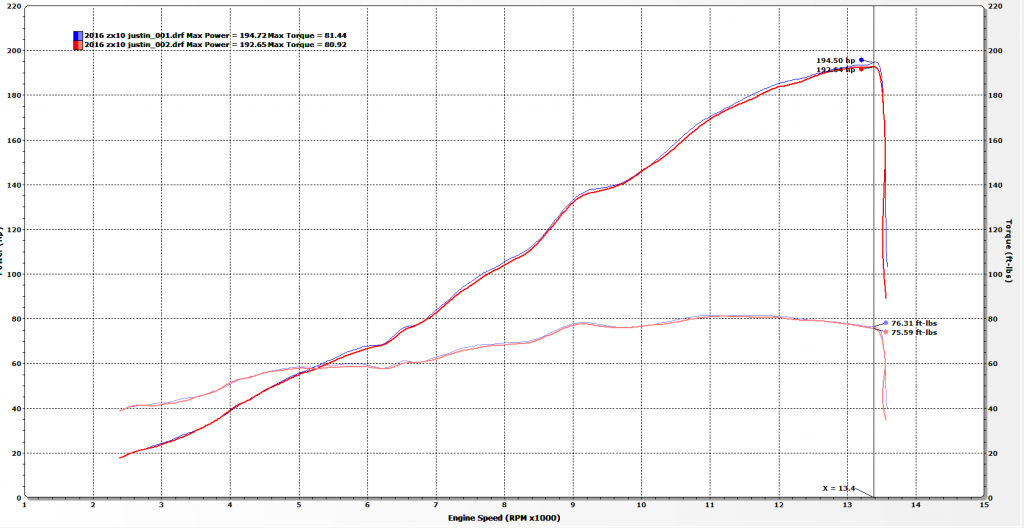 All new in 2011, the Kawasaki ZX-10R engine was designed to promote early throttle opening and drive by moving torque higher in the rev range. The new engine retains this character but offers a stronger mid-range and is more responsive, spinning up quicker thanks to a lower moment of inertia, which benefits accelerations and deceleration (along with cornering performance).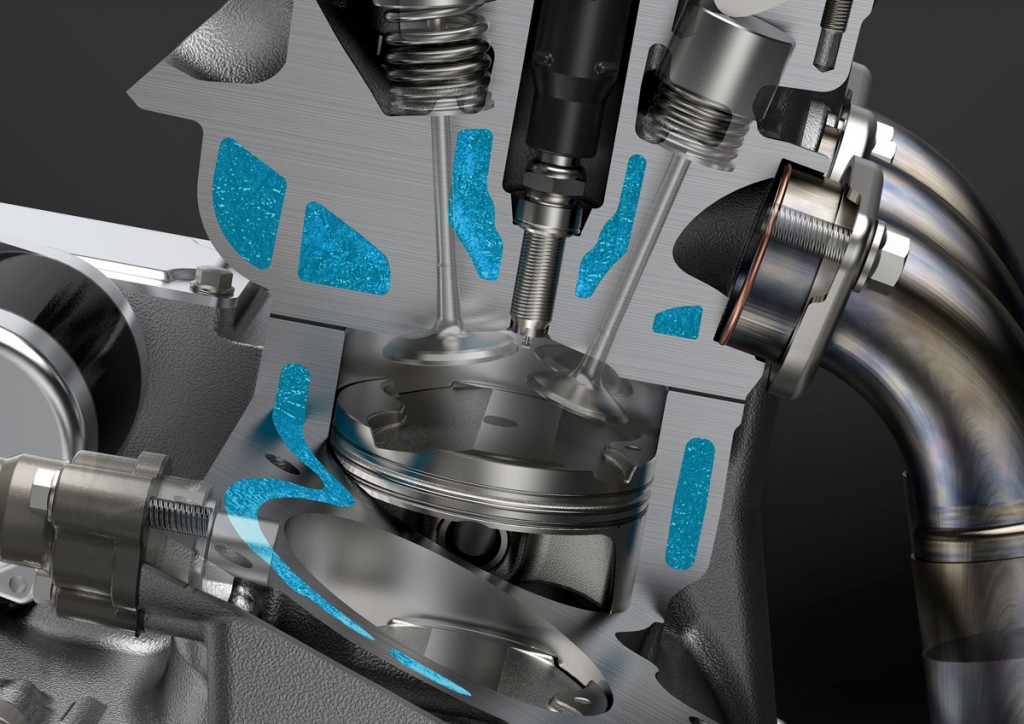 The feedback came from the SBK team. The intake ports are machined in two stages, first at the valve seats, then at an inclined angle, to promote a straight path for the air. The ports allow a greater volume on fuel-air mixture, increasing power, and are polished as well.
The exhaust ports are also straighter and wider as well as polished, while the combustion chamber is reshaped and has larger 25.5mm EX valves up from 24.5mm. IN valve diameter is 31mm as per 2011 engine. Both IN and EX valves are now Ti.
Larger coolant passages in the Kawasaki's head were made possible by the use of long reach spark plugs, vastly increasing performance. The spark plugs have platinum tips, contributing to linear power deliver particularly on initial throttle opening. They also have a very long service life.
Revised camshaft profiles give greater overlap and more power at high rpm and are now made of chromoly to reduce weight. A half nut cam chain tensioner helps with more stable valve timing.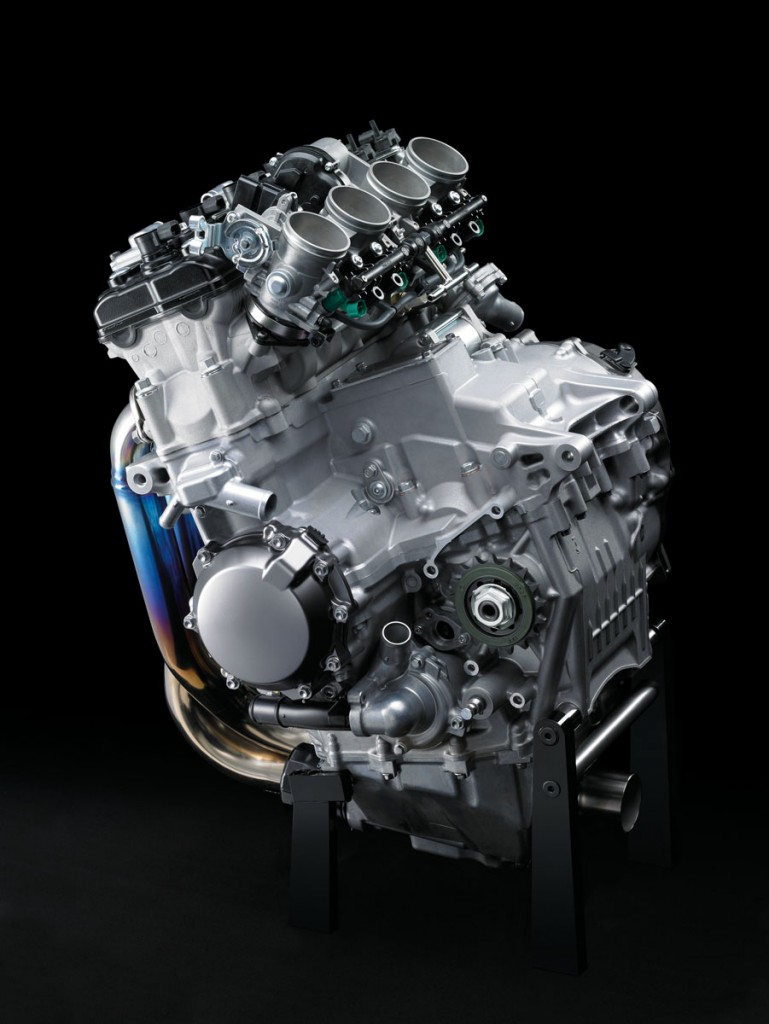 The combustion chamber is dome machined and shorter pistons (39.2mm ? 37.7mm) are employed with revised crowns. Each piston is 5g lighter, contributing to throttle response. The pistons are made from a new heat resistant alloy and have dry film lubricant coating on the skirts.
The crankshaft has a 20 per cent lower moment of inertia, the most significant change brought about through SBK feedback. Acceleration, deceleration and cornering all benefit. Engine response is improved while a single-shaft secondary balancer helps reduce engine vibration and also helps reduce the weight of the handlebar weights, aiding steering response marginally.
The big-end bearings are a new material reducing seizure risk, while the 2mm offset cylinders have 1mm thicker walls. The stacked gearbox shaft layout results in a high centre of gravity, while the cylinders bores are machined with a dummy head bolted on, yielding high bore circularity and cylindricity. As a result, low-tension piston rings are used, decreasing drag. The offset bore (2mm toward the exhaust side relative to the crank centre) reduces lateral piston force at the point of maximum combustion pressure, lowering piston loads and allowing the lighter pistons.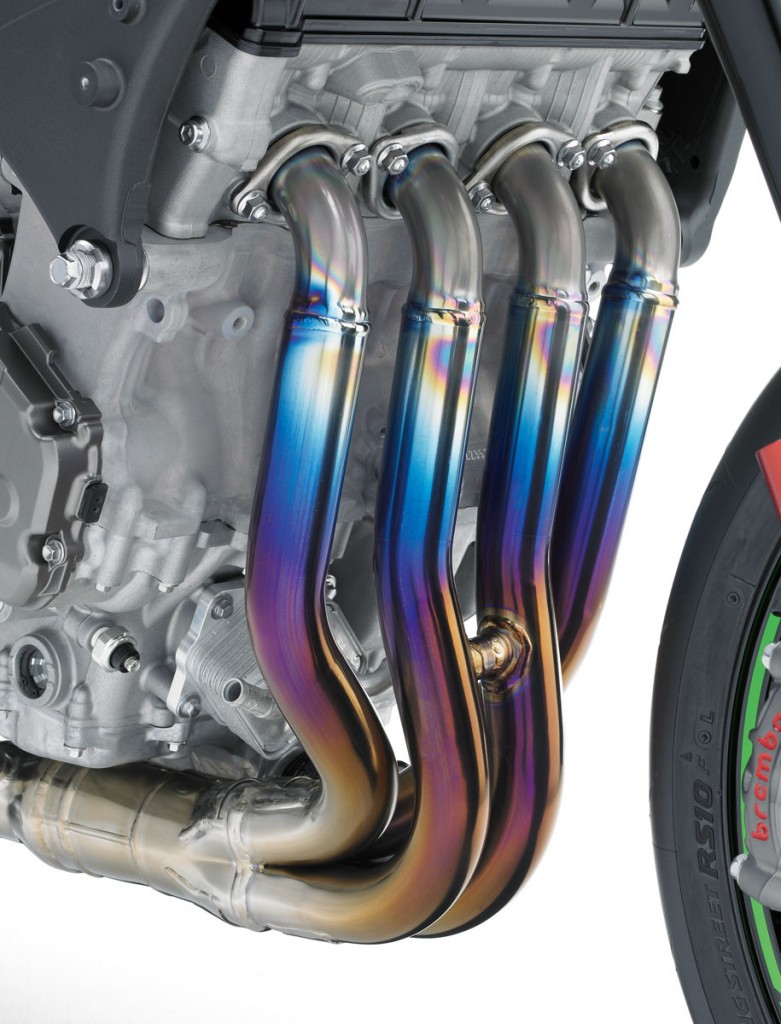 The cassette-style gearbox ratios are revised for track riding, with shorter ratios for second through sixth gears, aiding acceleration and more stable downshifting. A thinner clutch primary gear is 200g lighter, while fine-tuned primary ratios minimise rear end squat and lift on acceleration or during deceleration. The exhaust header pipes are made from special heat resistant Titanium and have the same diameter and lengths as the race-use system. The muffler is also Titanium.
The airbox is 2L larger now at 10L, while the aircleaner is 1.6 times larger in area. Revised intake funnels match the new engine, with the shape changing from oval to round to match the throttle-bodies. The throttle-bodies are 47mm items and feature dual injectors per cylinder, the secondary for top end rpm and the primary operating at all times. The fly-by-wire system allows full ECU control of the throttle valves, controlling fuel, air and engine braking.