Against the odds but with 20-years experience and a cunning plan, Jack Findlay won an FIM-F750 Title. If you've read the bike test, this is a must-read... Words: Alan Cathcart
Australian Jack Findlay was the privateer's privateer – a man who epitomised the precarious existence of the band of self-funded, self-driven riders who peopled the grids of European road racing during the 1960s. Read Alan's test on Findlay's title winning TZ750B here…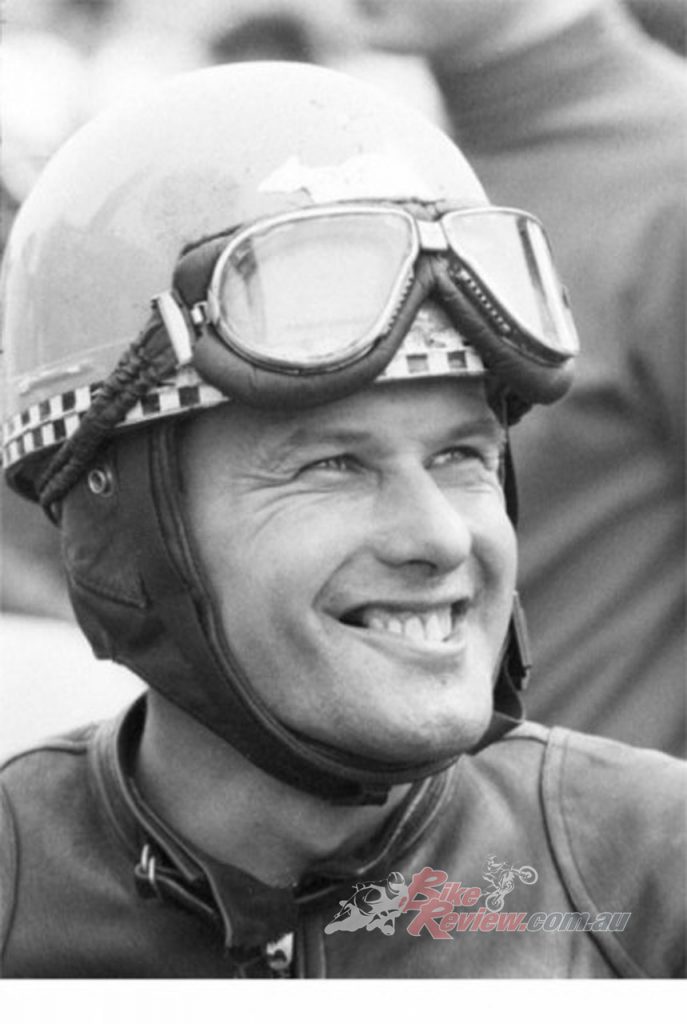 Racing every weekend in any event that would pay them at least a modicum of start money sufficient to live off, whether a World Championship GP or small town street race, Findlay and his companions were the supporting cast to the titanic battle between Japanese and European factory teams which defined what is widely accepted to have been a golden era of two-wheeled sport. This was captured for all time by French movie director Jérome Laperrousaz in his film Continental Circus, an atmospheric against-all-odds epic starring Jack Findlay, accurately depicted as the underdog hero battling against the might of Honda and MV.
---
Check out Alan's related article on the history of the TZ750B and Jack's machine here.
---
Born in 1935 in Mooroopna, a country town in central Victoria 120 miles north of Melbourne, Jack Findlay had an undistinguished racing career Down Under, in between working as a trainee accountant at the local Commonwealth Bank. But in 1958 he became one of the many Antipodean riders who headed to Europe to join the Continental Circus, and after purchasing in 1962 the bike he will always be associated with, the unique McIntyre Matchless G50, he became the prince of the privateers, finishing third in the 500cc World Championship in 1966 to the ubiquitous Agostini and Hailwood duo, and second to Ago in 1968, as so often the best of the rest. But whereas several of his Circus companions were blessed with lucrative Japanese factory contracts, Findlay seemed to be the forgotten man – until 1973 when Suzuki finally came calling.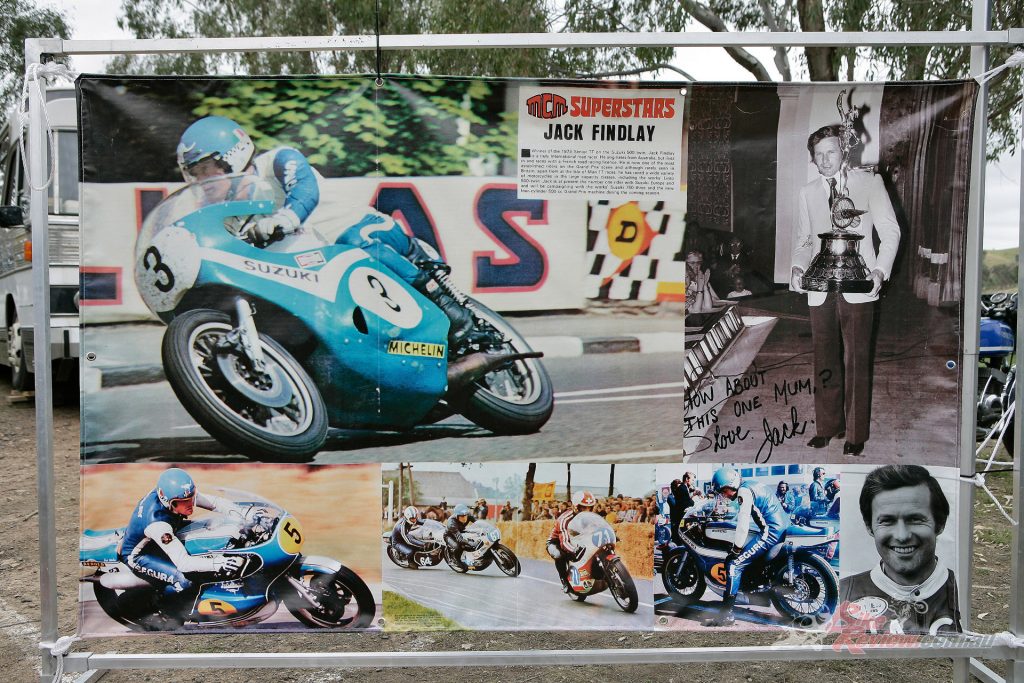 By now based in Milan, in the workshops of Italian brake specialist Daniele Fontana, Jack had scored his first 500cc World Championship race victory at the Ulster GP in 1971 on the Jada, an air-cooled Suzuki TR500-based special concocted by him and Fontana – hence the name. Since it was entered as a Suzuki, this represented the Japanese firm's debut win in 500cc GP racing, and earned the Aussie a Suzuki Italia contract for 1973, to ride a water-cooled factory TR500 XR 05 twin in 500GPs, as well as a TR500 XR11 for the inaugural Formula 750 FIM Prize series – one step down from a full-on World Championship, much as the FIM Supersport Prize evolved into the World Supersport Championship in the late 1990s.
---
---
On the 500 Jack scored his most important career race victory by winning the Isle of Man Senior TT, while on the XR11 he finished third in the points table behind debut Formula 750 champion Barry Sheene on a similar bike, after winning the Swedish round in Anderstorp, and finishing on the podium in Finland and Canada. This led to a full Suzuki factory contract for 1974, in which Jack ended up as Suzuki's best-placed rider in both championships, each time ahead of teammate Barry Sheene, finishing third again in the F750 series and fifth overall in the 500cc points table on the new RG500 XR15. The experienced Aussie played a key role in developing the new square-four – although it was Sheene who gave the bike its debut race victory at Assen that year. However, age was also now starting to tell against Findlay in Japanese eyes, and at the age of 40 he was dropped by Suzuki from its 1975 team. It was back to life as a privateer, and by then there was only one bike for a self-funded rider to consider going racing with, the new four-cylinder Yamaha TZ750 on which Jack's compatriot John Dodds had won the 1974 F750 title.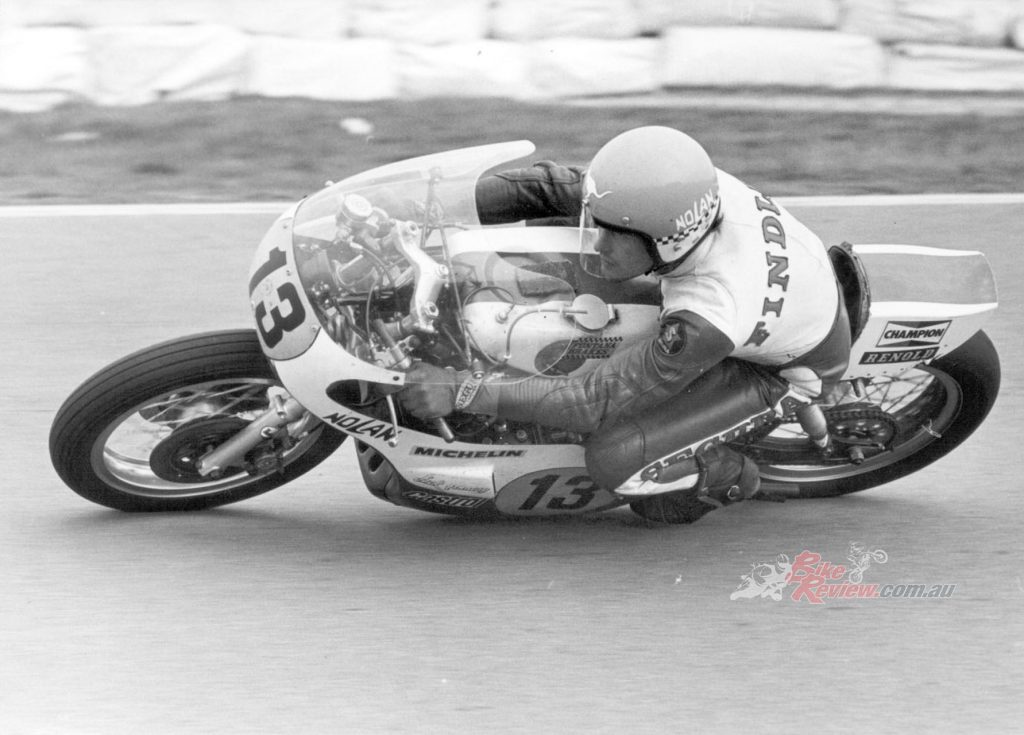 However, by the time Jack Findlay was apprised of his fate by Suzuki, it was late in the close season, and all of the new TZ750B models being constructed by Yamaha for 1975 were already spoken for. However, rather confusingly, a further 46 examples of the 694cc version were also made available under the TZ750B label from October '74 onwards, before Yamaha switched mid-winter to building the full-size variants, still designated as B-models. With the help of fellow-Aussie Kel Carruthers, a Continental Circus mate by now working full time for Yamaha in the USA, Findlay obtained one of these 694cc crossover TZ750B models, purchasing it with the financial support of Melbourne Holden dealer Reg Hunt, himself a successful car racer, and preparing it in Fontana's workshop.
---
---
There, the duo modified the frame to take longer travel Koni rear shocks, fitted Fontana's trick magnesium brake calipers, and increased horsepower from the smaller motor's 90bhp mark, to 125bhp. But as well as the FIM's F750 series, Findlay decided to use the Yamaha to do double duty in the 500GP class, by fitting TZ250 cylinders and heads. It was a four-cylinder alternative to the more commonplace strategy of converting a TZ350 twin into a 500GP contender via overbored cylinders. Well, either that, or fitting a different set of bodywork with yellow plates instead of blue ones…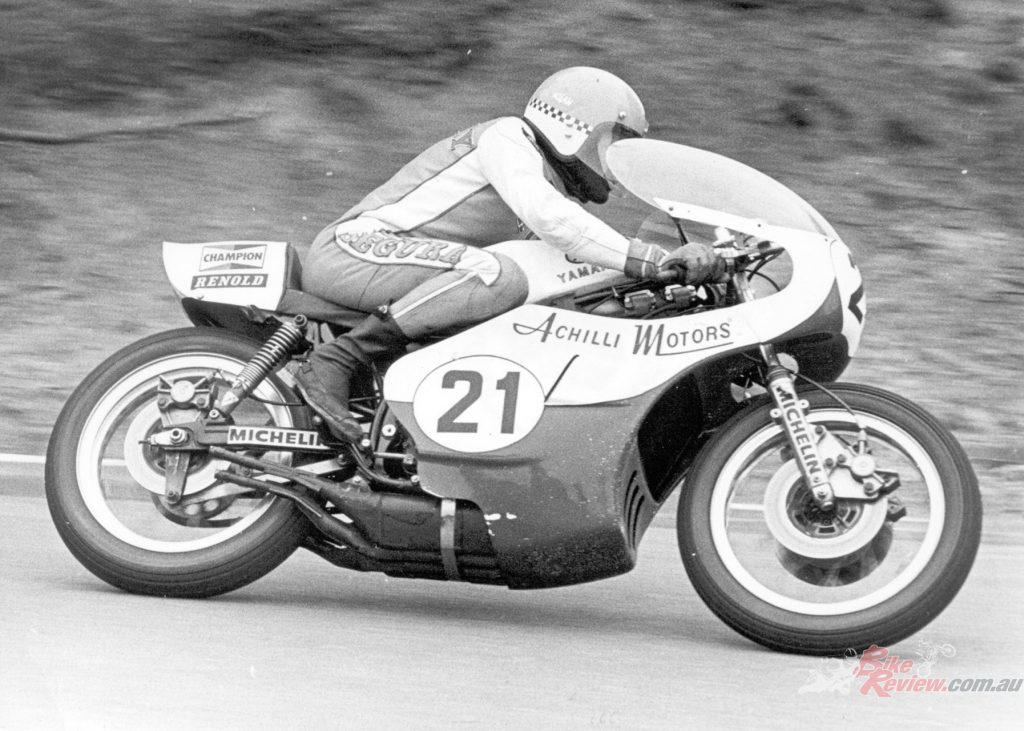 In this way, what is certainly the most versatile but also the hardest worked Yamaha TZ750 ever raced came into existence, although Findlay was forced to opt out of racing in the first round of the F750 series at Daytona, for financial reasons. So it was one month later, on April 9, 1975 that he made his Yamaha debut in the Imola 200 with a fine fifth place overall, after finishing seventh and fifth in the two 100-mile legs as the last rider not to be lapped by winner Johnny Cecotto, who won both races and now led the F750 points table. This came after the Venezuelan teenager had finished third to winner Gene Romero at Daytona, both on TZ750B production racers, whereas Steve Baker had placed second and Agostini fourth on OW31 factory Yamahas, after Suzuki's lead rider and reigning F750 champion Barry Sheene had suffered horrendous injuries in a high speed crash on the banking, when a tyre failed in pre-race testing.
---
---
The Findlay TZ750B was then converted to a 500 for Jack to finish tenth in the German GP at Hockenheim on May 11, then back to a 750 again for the non-championship Moto Journal 200 race held in front of 80,000 spectators at Paul Ricard on June 8. However, to take advantage of the good start money on offer, Jack needed to shuttle back and forth by private plane between the south of France and the Isle of Man, where he'd been signed up by the John Player Norton team to race an 830cc version of their air-cooled parallel-twin spaceframe bike in the Classic TT. This was a disastrous outing, though, since after lapping at 98.68mph in practice, the Aussie's JPN started the race with a misfire which failed to clear, leaving Jack to retire two miles from the start at Braddan Bridge, with the Norton running on just one cylinder. But at Paul Ricard two days later, fate smiled on him with a fifth place finish on the Yamaha behind winner Agostini, with the rear tyre worn down to the canvas after Jack chose to save time by not changing it at his pit stop.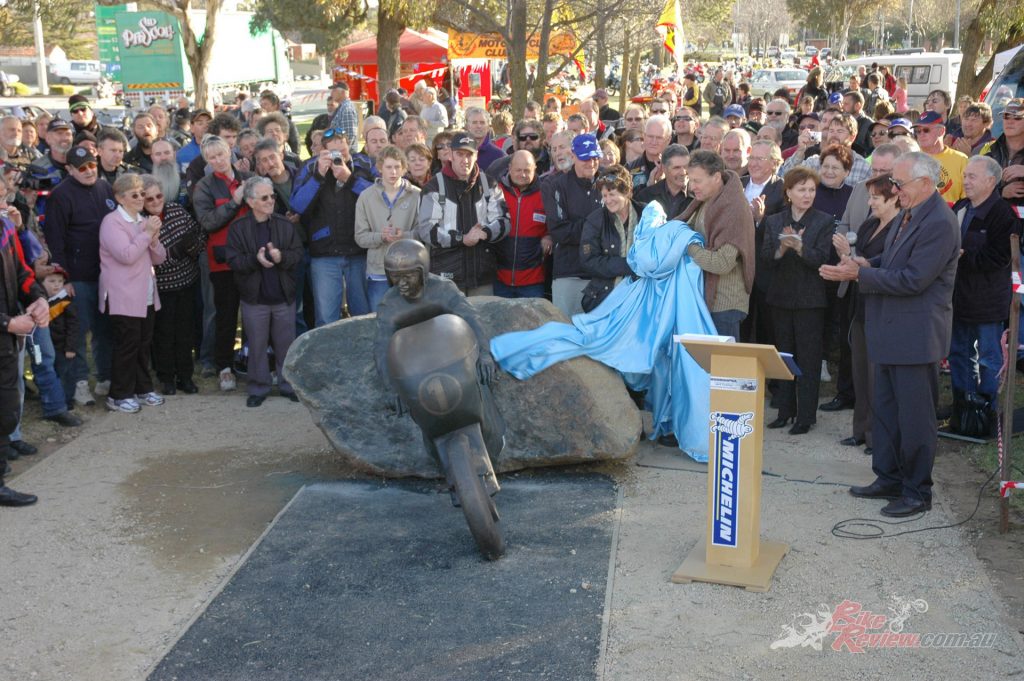 One week later, the official FIM F750 series restarted in Belgium at the fast public roads Mettet event, where Findlay kept up his run of good results by ending up third overall in Round Three, with third and fourth place finishes in the two 100-mile legs. Patrick Pons won the first race on his Sonauto TZ750B, ahead of Barry Sheene on the TR750 Suzuki triple, who then retired from the second race with a broken exhaust when no less than 28sec in the lead! This meant that Barry scored nul points that weekend, since FIM points for these two-leg 200-milers were only awarded on overall positions, not on a race by race basis.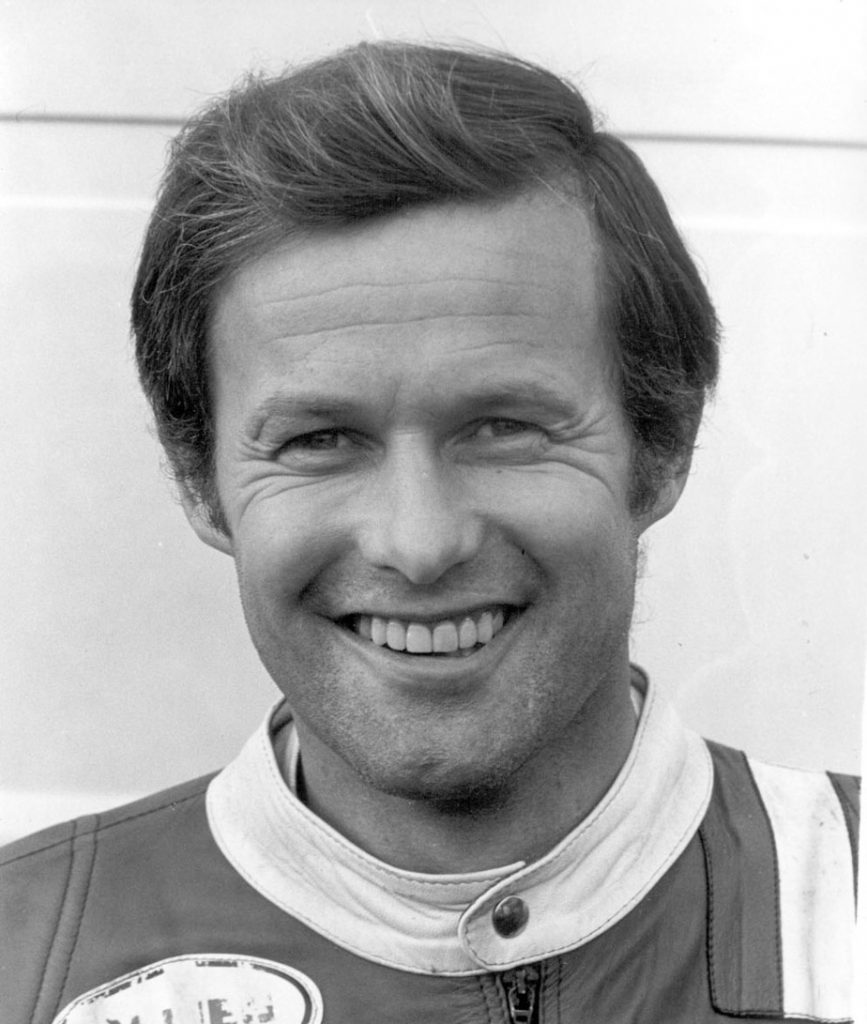 His Mettet result had lifted Jack to fifth place in the F750 points table, and one week later he was up to third, with a fourth place overall finish in the official French round at Magny-Cours, with fifth in the first race and third in the other, although Barry Sheene won both of them. This came after a careful consumption calculation following the first race convinced Findlay not to stop to refuel in the second race – a gamble which paid off, and essentially won him the title at season's end. But after it was converted back to a 500 again for the following week's Dutch TT held six days later at Assen, the Yamaha suffered its first DNF when Jack crashed out of the race on the second lap, while lying second. "I got a bit carried away trying to keep up with Ago," explained the Aussie wryly afterwards. But eight days later in the Belgian GP at Spa he made full amends, finishing third in the fastest 500GP race ever run behind winner Phil Read, who averaged 133.219mph on his ride to victory aboard the four-cylinder MV Agusta, with Findlay 1 min 55 sec behind as top Yamaha, behind RG500 rider John Newbold.
---
---
The Findlay Yamaha then contracted severe schizophrenia, becoming a TZ750 again for the fifth round of the F750 series at Anderstorp in Sweden held on Saturday, July 20 as a support race to the following day's Swedish GP. This meant that Jack and mechanic Derek Booth, whose careful preparation had been a key factor in the bike's amazing record of reliability, had to keep changing cylinders and pistons back and forth for qualifying in both classes. In F750 guise Jack took it to fifth place in the first 100-miler, but the engine seized in race two while he was lying third on the heels of second placeman Patrick Pons. Barry Sheene won both races and now led the championship with 30 points, ahead of Pons on 27, Cecotto on 25 and Findlay on 24. Next day, with the rebuilt Yamaha duly converted back to 500cc spec, Findlay finished ninth on it in the Swedish 500GP race, while the following week in the Finnish GP at Imatra, Jack showed there was fight in the old dog yet by passing his Swiss mate Philippe Coulon in the last turn to finish third.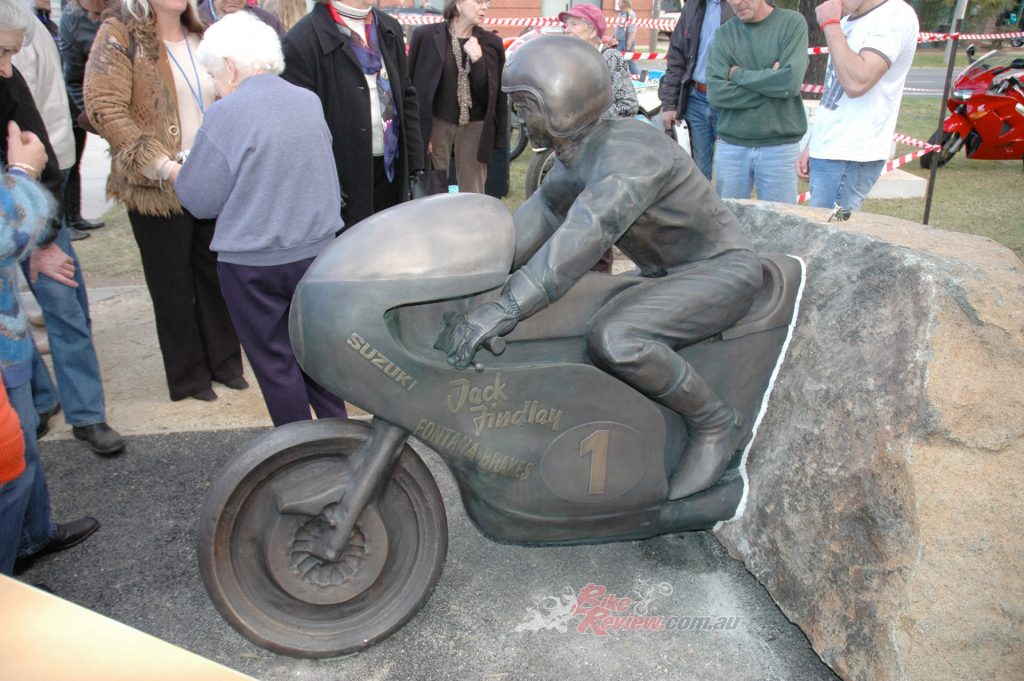 An intense month of competition kicked off in Hameenlinna in Finland on August 3, where Jack Findlay was torpedoed from behind by local loony Pekka Nurmi in race one of the sixth round of the F750 series, retiring with a badly bruised leg which also prevented him starting race two. Sheene had opted to miss out the race entirely in favour of competing in the good paying Hutchison 100 meeting at Brands Hatch, where his bank balance was duly fattened by no less than four race victories in a single day. Pons retired from both legs of the Finnish round, with local star Tapio Virtanen winning each time, leaving the championship points table unchanged.
This led to the seventh round of the F750 series at Silverstone one week later, in which Findlay wound up sixth overall on the TZ750, after finishing in that position in Saturday's first race, won by Johnny Cecotto. But Jack was running fifth in Sunday's race two, having come through the field after a slow start, when he came in to refuel, and crashed avoiding a rival mechanic standing in pit lane. "It was something very close to gamesmanship," wrote race reporter Chris Carter. "As the time neared for Jack's pit stop, his mechanic Derek Booth twice asked the pit crew of rival John Williams [who'd finished one place behind the Aussie in race one the day before – AC] to move aside to give Jack a clear run in. They refused. When Findlay shot into the pits to refuel, he found one of Williams' mechanics in his path, looking the other way!"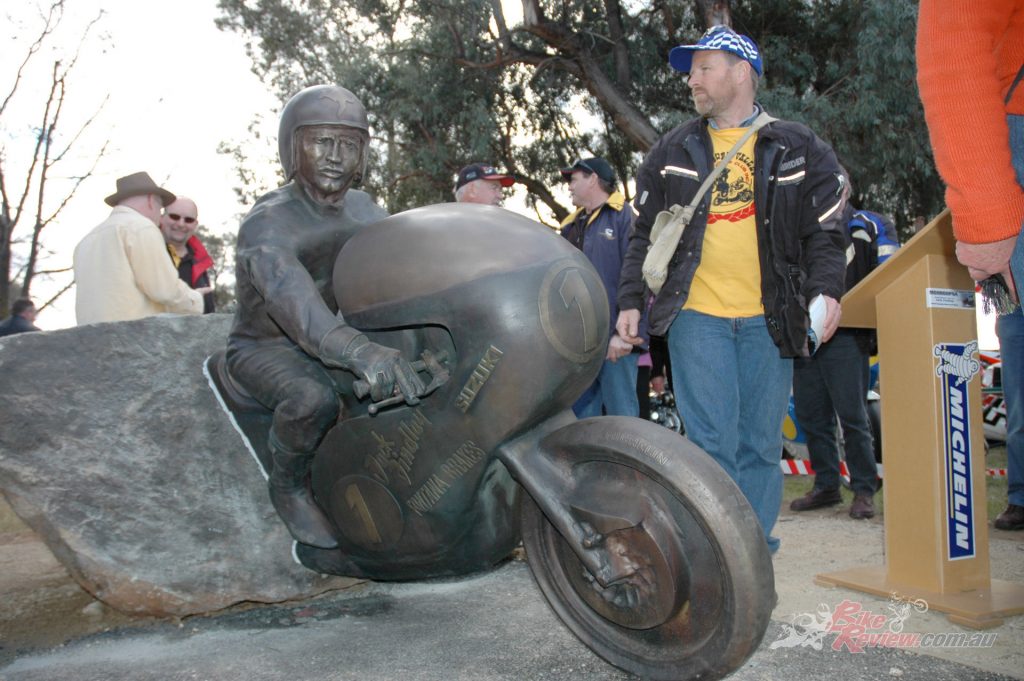 "He was right in my way, 20 feet closer to me than my pit, and he had his back to me staring the opposite direction to where the bikes were coming in," said Findlay to Carter later. "I had to brake hard at the last moment, otherwise I'd have run him over. There was oil and petrol about, and down I went. Maybe I should have hit him after all – it would have been a softer landing!" The Yamaha's screen was broken in the crash, and a footrest bent, so the Aussie lost a lap while things were righted, limping home 11th, while tellingly, Williams didn't stop for another three laps, and indeed finished fifth. Jack's sixth place overall on combined results was still good enough for him to rise to second in the F750 points table, behind race winner Barry Sheene. This came about because Johnny Cecotto had won the first race the day before on the Venemotos TZ750B (ironically after also crashing as he came to a halt for his pit stop – maybe he bounced better than Jack, being younger!), but his engine failed just as he took the chequered flag.
---
---
With no spare motor, he went to ask the Yamaha factory team to lend him Agostini's spare OW31 engine for the second race next day – but they refused, even though they didn't need it themselves. Barry Sheene came to hear of this, and as a close mate of the young South American, even though he was his closest rival for the championship title, arranged with the Suzuki factory for him to borrow teammate Tepi Lansivuori's works triple for the following day's race! A fairytale ending was however denied when the Suzuki's engine seized – but this was deemed by Yamaha management to be an act of treachery, ordering their local importer Venemotos to pull Cecotto from the rest of the series, even though he'd been Sheene's and Suzuki's closest Yamaha-mounted rival up until then. Jack Findlay now assumed that role – but despite the fact that the sold-out TZ750 had become a serious profit earner for Yamaha, he never received so much as a free set of piston rings from the Japanese firm as support for his efforts to land the FIM title by beating Suzuki's star rider…..!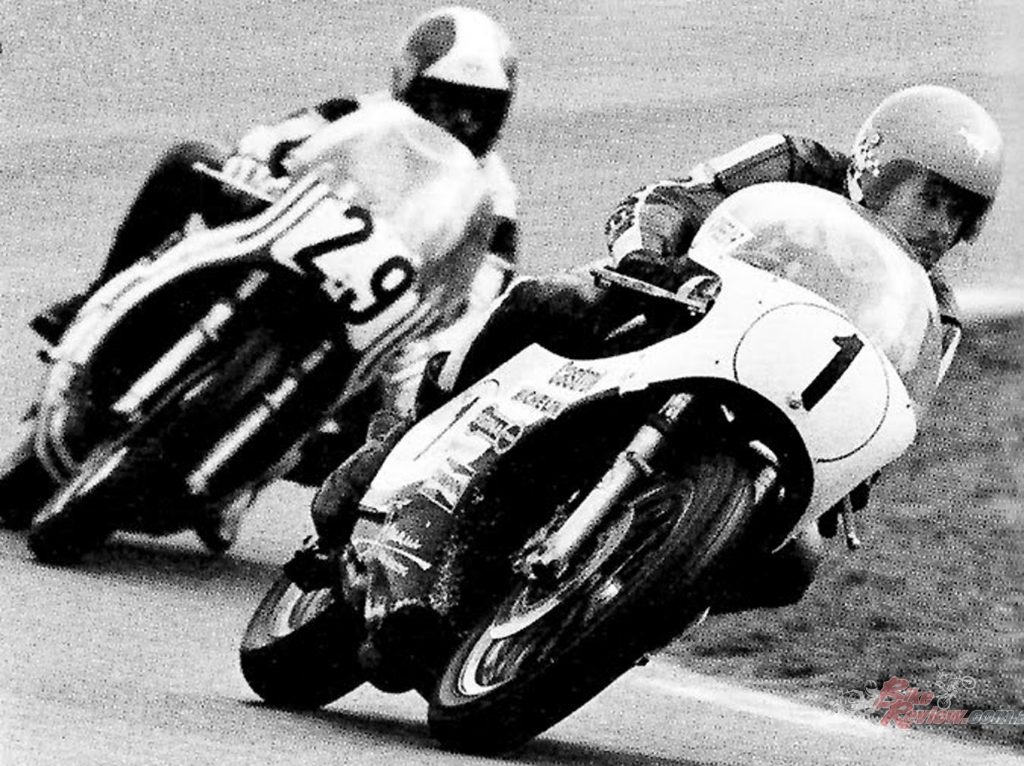 Instead, the following week the four-cylinder Yamaha became a 500 again for the Czech GP at Brno on August 17, where Jack qualified fifth on the grid, and was running sixth in the race when his front brake failed on lap 5 – fortunately, without disaster on the public roads course lined with houses and telegraph poles. His temporarily unemployed mechanic Derek Booth instead took over the task of refuelling Agostini on the factory Yamaha YZR500 OW26 when he came in for his pit stop, sending him out to finish second behind Read's MV Agusta, and thus clinch Yamaha's first ever 500cc world title. But still no free piston rings.
---
---
The Findlay Yamaha became a TZ750B again for the eighth round of the F750 series at Assen on September 7, in which Jack had his best result of the year, finishing second overall after a pair of 100-mile races each won by Yvon DuHamel on his Kawasaki H2R triple. But the Canadian only took victory in the first of these after teammate Barry Ditchburn ran out of fuel on the final lap, which crucially allowed Findlay to finish third behind young Kiwi John Boote – the man who'd given the Yamaha TZ750 its victorious global race debut in an NZ Championship round at Ruapuna in January 1974. Barry Sheene retired from both races, exiting from the second with a twisted crank in the Suzuki's hitherto bulletproof motor. Bazza still led the points table 45-40 over the Aussie privateer, though, and with just one more round at the ultra-fast Hockenheim circuit three weeks later, where his factory triple would surely have the legs of the privateer Yamaha, the British star seemed an odds-on certainty to regain the title he'd won two years previously.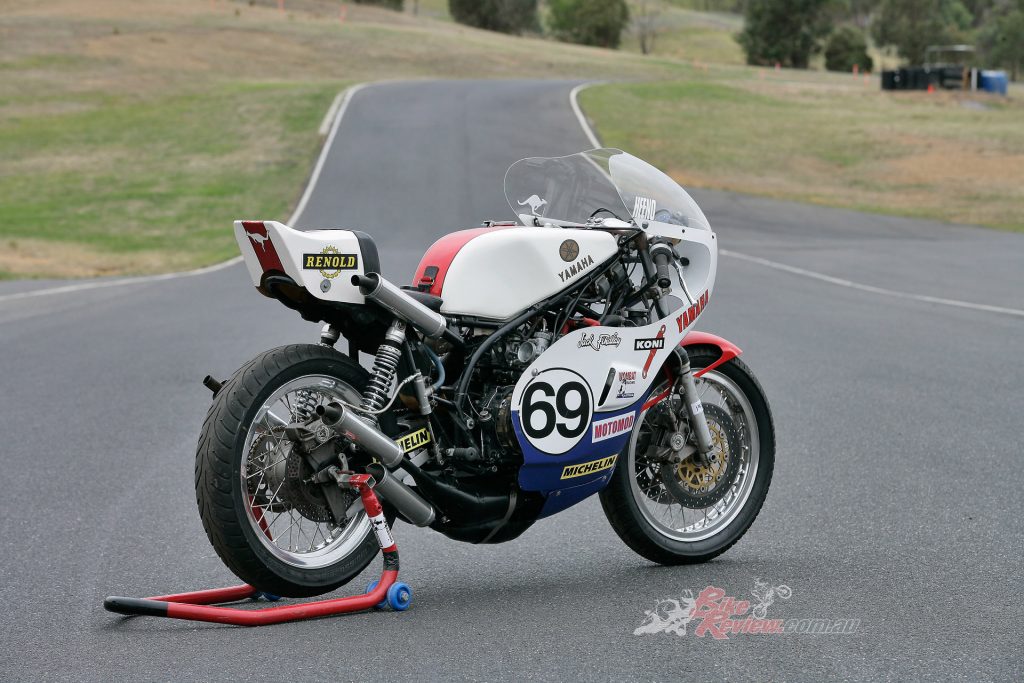 But there's no such thing as a cast iron certainty in racing, and sure enough at the British championship round at Cadwell Park the following week, Sheene broke the lower ball socket of his right knee (not his left leg he'd so badly mangled at Daytona at the start of the year) by falling off stunt rider Dave Taylor's Bultaco trials bike while pulling wheelies in the paddock! This left him unable to ride at Hockenheim, meaning that if Jack Findlay finished first, second or third overall in Germany, he would indeed win the FIM World title at the tender age of 40. Well, the record books show that's exactly what happened, even after Suzuki drafted in John Williams to take over Sheene's bike, and brought in Stan Woods and John Newbold on similar machines to try to prevent the Aussie scoring sufficient points.
---
---
But Jack duly clinched the title by a single point, 46-45 ahead of Sheene under the system then in force which saw a rider's best five results count for his final total. This came after finishing third overall on the day, with third in the first race and fourth in the second – although if not for the second-placed Philippe Coulon running out of fuel in race one after pitting with a faulty fuel filler, he would not have been champion. But by depriving Suzuki of a second successive World F750 title, Findlay provided the right kind of payback for their decision to drop him for his season in the sun.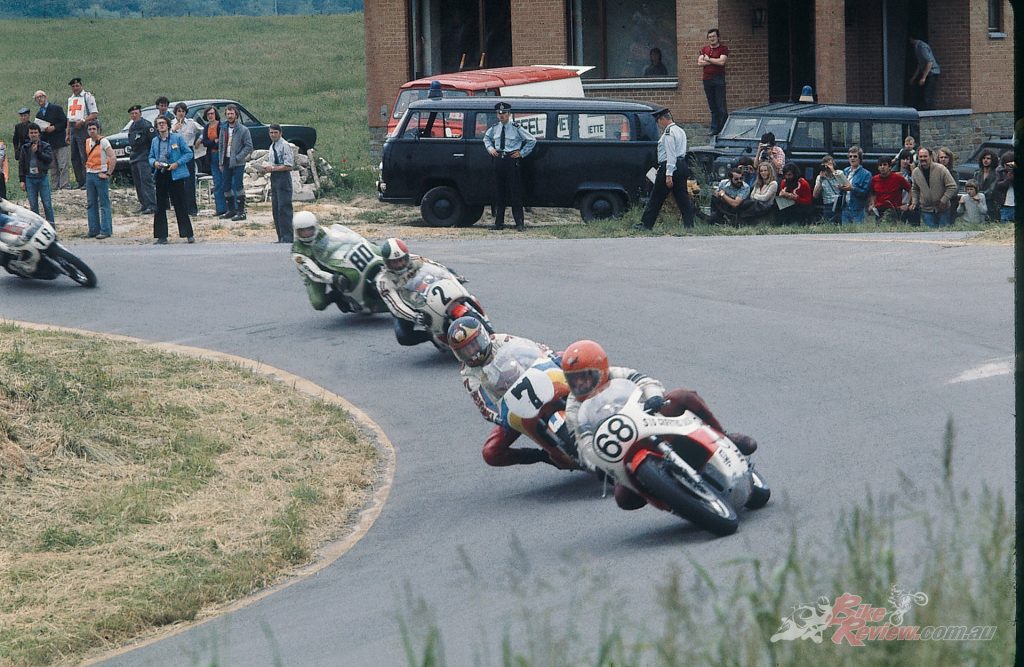 "I'm certainly not happy about Barry being in hospital," said Jack afterwards, "but I'm also glad that my strategy for the series paid off. I realised from the beginning there was no way to go out and try to beat the works bikes in a straight battle, so I decided to focus on scoring points regularly, and to keep on being there at the finish as consistently as possible. It's the first time I've raced a Yamaha, so it was a matter of learning all over again, but that's one of the joys of being a privateer! Luckily, the TZ750 was good from the start, and didn't require a lot of work – but when I raced it as a 500 four for the first time at the start of the season fitted with TZ250 barrels, a lot of people laughed at its performance, saying it was too heavy and underpowered.
Well, the time and effort we've spent on it has proved worthwhile, and I managed consistently improved performances on it as the season wore on. One of the best things that happened to me this year was meeting up with Derek Booth, who's been a superb mechanic and deserves a lot of credit for making the bike so reliable. It's been a great year, and a very satisfying one after the disappointment of losing my Suzuki ride."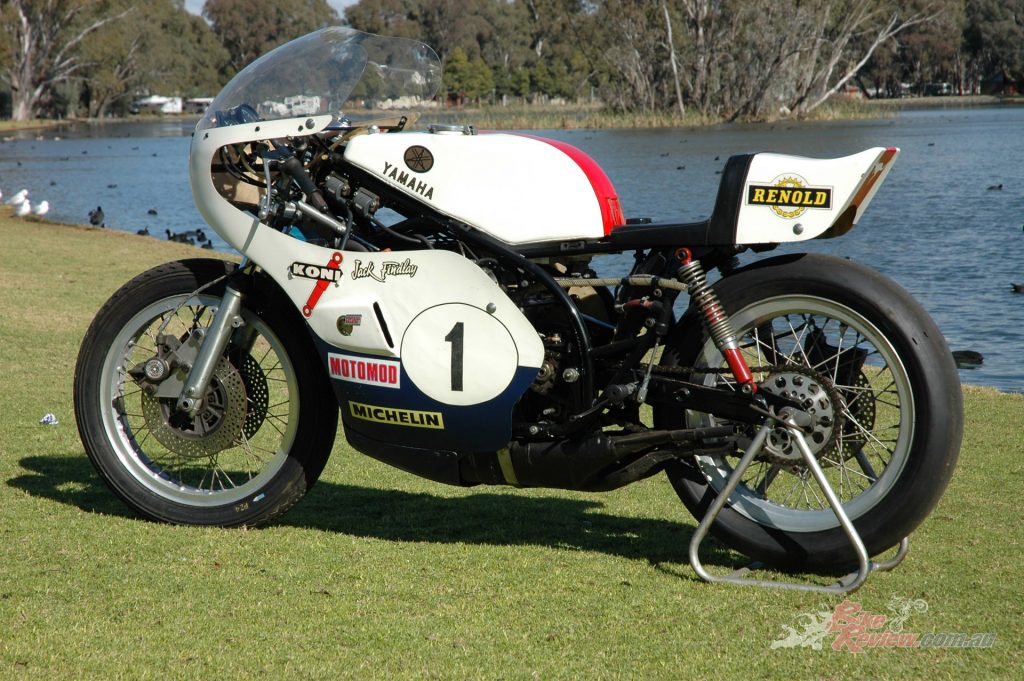 Possibly reluctantly, Jack Findlay switched back to a new customer RG500 Suzuki square-four for 1976, again with the assistance of Reg Hunt, but retained the Yamaha to defend his F750 title. But it was a lean year, with second place in the British round of the F750 championship his best result in that series, matched by second in the Swedish GP at Anderstorp on the RG500, en route to eighth place in the final points table. Jack retired from racing at the end of 1978 after a 20-year career racing in Europe, settling in France where he married Dominique Monneret, the widow of French GP star Georges Monneret, and became a development rider for Michelin. Multilingual in French and Italian, as well as English, in 1992 he became the FIM's Technical Director for Grand Prix racing, retaining the post until he retired in 2001.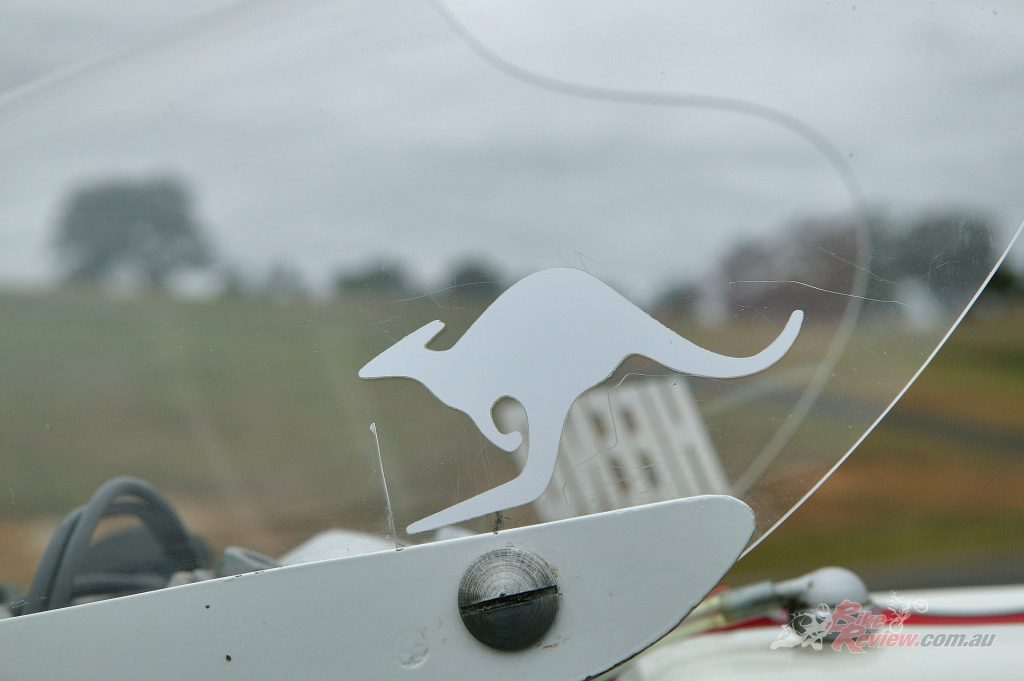 After Jack's retirement in 1978, as part of the sponsorship deal that made it possible for him to purchase it, his title-winning Yamaha TZ750B was sent to Melbourne. There, Reg Hunt retained it in its original title-winning guise for more than 20 years, until it emerged from hiding and was acquired ten years ago by Queensland collector Ian Hopkins. Fittingly, the Yamaha's first public appearance for over a quarter of a century came while he owned it, at Jack Findlay's home town of Mooroopna on July 29, 2006. That's when a ceremony was held to unveil a bronze statue of Jack aboard his TT-winning Suzuki which stands today in a reserve in the centre of town, named Jack Findlay Park. The statue was the result of eight years of fund raising by a group of local enthusiasts who were determined that Jack's achievements should be given the recognition they deserved.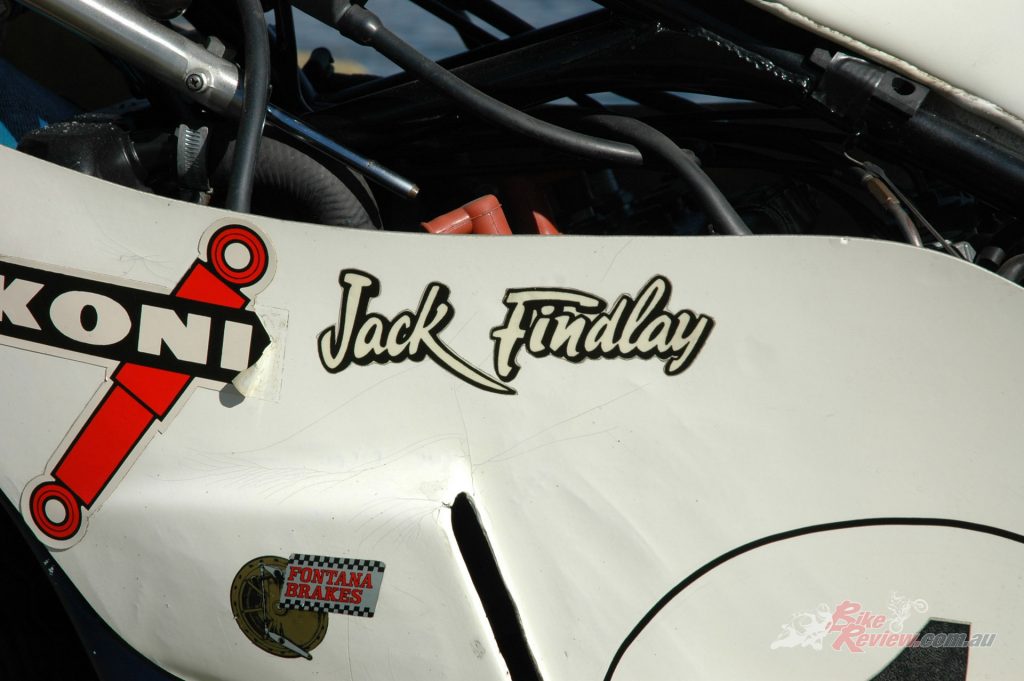 One of these was local classic racing enthusiast Noel Heenan, whose dream it was to bring the Yamaha to live in Mooroopna as a living tribute to its most famous sportsman, and in 2010 he did so after raising the A$60,000 asking price to purchase it from Hopkins. "I told my wife Victoria that we could probably afford it if we sold a few of our toys off," says Noel. "We had a 1972 Porsche 911S that had been in a container for 12-years and never driven, and I sold a couple of my bulldozers, and a Mercedes van, and borrowed some money, so we bought it".
---
---
Still finished in its original distinctive blue and white colours, the Yamaha is essentially just as it was last raced, complete with many detail modifications by Fontana and Findlay. Sadly, Jack Findlay himself never saw it after it was exhumed from the Reg Hunt collection, since already seriously ill from emphysema, he was unable to attend the unveiling of the statue to him, and eventually passed away in May 2007. Seeing Heenan racing the bike nowadays in Australian – and British – classic races is a fitting tribute to one of Australia's greatest-ever motorcycle racers, and a true gentleman of the sport – the privateer's privateer.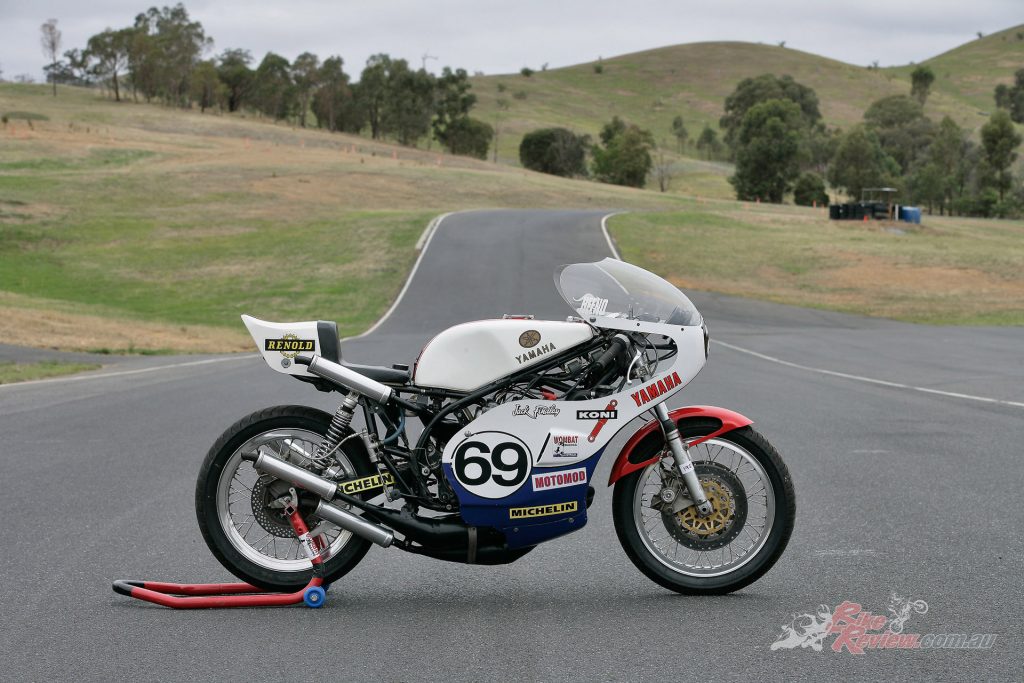 ---
---