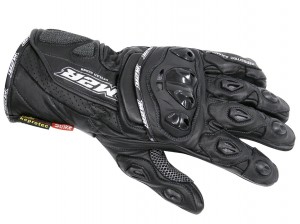 The M2R or Made 2 Race Strike glove is a full leather construction with Kevlar stitching and double-layered palms with silicon grips. Fingers are precurved and feature vented finger protectors, with rigid PU knuckle protectors.
The glove itself is a light weight item, which provides great feel and doesn't detract from your riding experience at all, while finger stitching is external, which M2R say is for comfort and better feel. It certainly seems to have worked.
In the warmer weather these are my go-to gloves, they are a full gauntlet type, so they offer great protection, but the cuffs incorporate perforations so your hands always stay cool, even in the warmest of weather, especially with the vents on top of the fingers incorporated into the armour.
They are easy to put on and take off, and the one downside to being such a well ventilated glove is that they don't cope with the wet too well. After getting caught out in the rain the leather also stiffens up as the gloves dry and after a year of pretty steady use they wore along the seam at the edge of the glove's cuff.
Colours available include Black/Black, Silver Black and White Black, with sizing from Small to Extra Large. They were originally $99.95 which was very good value but dropped to $69.95 RRP, making them a real steal.
Special Thanks:
Mcleod Accessories
McleodAccessories.com.au