This year it is Moto Guzzi's 100th Birthday and to help celebrate, we bring you a very special test on the most famous Guzzi of all time, the 500 V8 GP Racer... Test: Alan Cathcart Photography: Kyoichi Nakamura
Ask any knowledgeable bike fan to nominate the most exotic, most desirable Grand Prix racer ever built, and the Moto Guzzi 500 V8 will be almost certainly be The One. Sir Al had the opportunity to become the first ever journalist to test this amazing motorcycle…
The Moto Guzzi 500 V8 is the ne plus ultra of two-wheeled engineering, and although it effectively only raced for two years in 1956-57, and never won a World Championship GP, there's an aura about this semi-mythical motorcycle that's entirely in keeping with its improbable specification, and incredible allure. Any 500cc machine conceived 65 years ago which safely revved to 16000rpm, was trapped at 178mph (287km/h) at Spa-Francorchamps in its final race, produced 79bhp at 12,500 rpm in its ultimate guise thanks to its eight cylinders, sixteen valves, eight carburettors and four camshafts, but was created in a small workshop in the Moto Guzzi factory on the shores of Lake Como by a team of just 12 men, is truly the stuff of legend. Not even Honda's oval-piston NR500 can dethrone Moto Guzzi's V8 from its throne as the Ultimate Racer, bar none.
---
---
The V8 was conceived by Moto Guzzi's chief engineer Giulio Cesare Carcano, and created in just five months, ready for its Australian works rider Ken Kavanagh to ride the first prototype up and down the road outside the Moto Guzzi factory on April 14, 1955. But several minor problems set the project back, so the V8 finally made its race debut at Imola exactly one year later, where Kavanagh took the lead of the Guzzi V8's first-ever race on lap 3, pulling away from the rival Gilera fours before retiring.
---
The revamped Guzzi V8 made its racetrack debut in March 1957 at Siracusa, finally scoring its first ever race victory in the hands of Giuseppe Colnago…
---
Moto Guzzi then entrusted the V8 to Englishman Bill Lomas, who demonstrated its true potential to the massive 160,000-strong crowd at the German GP at Solitude via a titanic battle with Gilera's three-time World champion Geoff Duke. The two riders repeatedly exchanged the lead before both were forced to retire, the Guzzi with a split water hose after setting a new lap record. Several further retirements followed that year, before the bike was redesigned with a 90º crossplane crank made in Germany by Hirth, which cured vibration and unreliability problems.
---
---
The revamped Guzzi V8 made its racetrack debut in March 1957 at Siracusa, finally scoring its first ever race victory in the hands of Giuseppe Colnago. Dicky Dale made it back to back wins with a dominant victory at Imola that was unquestionably the V8's finest hour, after he scythed through the field after a slow start to defeat the hordes of Gilera and MV fours. At the season's opening GP at Hockenheim, Dale climbed to second place behind leader Liberati's Gilera, only to drop to fourth at the finish with a misfire. The British rider finished fourth once again on the only Guzzi V8 in the Isle of Man's Senior TT, but Australian teammate Keith Campbell on the lone V8 Guzzi climbed to second place in the Dutch TT at Assen, before retiring.
---
Dicky Dale made it back to back wins with a dominant victory at Imola that was unquestionably the V8's finest hour…
---
A week later at Spa came the bike's swansong, with Campbell again the lone V8 Guzzi rider in the 500cc Belgian GP, in which he surged into the lead ahead of Surtees and Liberati on their fours. But after smashing the lap record, during which the Guzzi V8 was timed at a remarkable 178mph, and seemingly on the way to certain victory, the Aussie came to a halt with – a broken battery lead! This transpired to be the V8's last race, for in testing before the Italian GP at Monza, Campbell – Guzzi's newly crowned 350cc World champion – crashed the bike and broke his pelvis. Moto Guzzi then withdrew from racing, and just on the verge of being consistently competitive, the most exotic Grand Prix motorcycle yet made didn't race again. [Interestingly, another Aussie rider rode the Guzzi V8, Keith Bryan, although Keith did not race the V8 he did test it extensively for Moto Guzzi… – Ed]
---
---
Moto Guzzi built six complete motorcycles carrying the compact water-cooled 500cc V8 engine measuring 44 x 41mm for a capacity of 498.73cc. The two banks of cylinders were set at a 90º included angle on a one-piece cast magnesium crankcase, which also incorporated the unit-construction gearbox with gear primary drive. And in a far-sighted move copied by Ducati 30 years later in producing its first 851cc V-twin Superbike engine, the crankcase casting also featured a ribbed 40mm diameter bronze-bushed pivot to house the rear swingarm, so as to increase stiffness and save weight.
---
---
The resultant engine weighed just 56kg including the eight carburettors and float chambers, and in measuring a mere 460mm across, allowed the complete bike fitted with full streamlining to be only 30mm wider than Guzzi's World champion 350 single. Carcano had calculated that the FIM's stipulation of a minimum of 40 degrees of steering lock necessitated a dustbin fairing being at least 460mm wide, hence the viability of seeking to pack eight cylinders into this space rather than just one, two or four. And in doing so, he created a V8 racebike weighing an amazing 137kg dry with full streamlining (134kg with partial streamlining), just 5kg heavier than a similarly faired Manx Norton single!
After experimenting with fuel injection, Carcano opted for eight rubber-mounted 21mm magnesium-bodied Dell'Orto SS1 carbs, controlled by a single throttle cable. These were originally fed by twin remote floats mounted on the left, until poor part-throttle running led instead to fitting a tiny float chamber to each carb. Changing the jets on these is not the work of a moment, and balancing them even more difficult and time-consuming. Despite Moto Guzzi's pioneering work with four-valve cylinder heads as far back as 1924 on its 500cc singles, Carcano chose a conventional two-valve format for the V8, to avoid further complicating what was already an extremely intricate miniaturised design.
---
---
The 23mm inlet/21mm exhaust valves were set at a very modern 58° total included angle, running in bronze guides but with no inserts for the valve seats owing to machining difficulties back then, which meant that as these inevitably wore, the cylinder head became scrap, which seems rather wasteful! Each valve used dual Alba coil springs and was operated directly by the cams via bucket tappets, eventually with 6.5mm of lift for the 1957 season (previously 6mm), an apparently minor change which Carcano said gave considerable extra power, when combined with new, more aggressive cam profiles.
---
---
But he was proud that the V8 was so flexible and forgiving that one day in 1956 he was able to ride it himself with a Prova plate strapped on the seat along the state highway running through the centre of Mandello – except that the steering lock was so restricted, he couldn't turn round to come back to the factory until he got to a roundabout at Lecco, 10km away. Good excuse!
The four overhead camshafts – two each per bank of cylinders – were driven by a train of six straight-cut gears enclosed in a timing case on the right side of the engine, with a single large pinion driving the inlet camshafts for each bank, and the corresponding exhaust cams in turn driven off those. Carcano's original V8 design employed a six-speed gearbox, because it was feared that such a high revving engine would have a narrow powerband that would dictate more ratios to keep it buzzing hard.
---
---
But early tests proved the opposite, with a broad range of usable power from 7,000rpm to 11,000rpm, so to save weight and friction Moto Guzzi went to a four-speed transmission for 1956. This proved a step too far except on tight, twisty tracks, so an eventual compromise saw the V8 running with a five-speed gearbox for 1957, in each case matched to a dry clutch with just seven plates – three metal and four friction, and the gear primary drive common to all Moto Guzzi GP racers employing straight-cut teeth and offering a 2.76:1 reduction.
---
---
The small water radiator is set very low behind the front wheel, with the header tank for the four litres of coolant contained within the central frame spine tube – but with the reduced deflection offered by the V8's leading link fork, the radiator's location wasn't an issue in terms of clearance under braking, and this helped allow Carcano to pursue his cherished aim of a low centre of gravity, as manifested by the horizontal cylinder on his title-winning singles.
---
Finally, the eight separate 27mm-diameter exhaust pipes, each of a 600mm tuned length, were produced by an early version of today's hydroformer, although instead of using an ultra-high pressure flow of water to shape the pipes into the often intricate forms that a modern system demands, the pipes of the V8 Guzzi's even more complex system were filled with sand, then heated until they could be bent to the required shape by hand. Untroubled by any silencers, or indeed open megaphones, they wended their convoluted way around the engine to emerge rearwards in unexpected places – two here, another three there, one more on its own, and so on. Talk about a serpents nest!
This exquisite engine was fitted in what had by now become Moto Guzzi's trademark spine frame, first introduced on the 120º V-twin Bicilindrica 500 in 1948, and subsequently adopted on all its 250/350cc World title-winning singles. This comprised a 85mm diameter central tubular backbone made from chrome-moly steel, with a twin-downtube duplex steel cradle frame supporting the engine, a triangulated rear sub-frame, and the swingarm pivoting in the crankcase, controlled by twin Girling shocks giving 94mm of wheel travel.
---
---
Guzzi's trademark leading-link fork was used, as first used on the Gambalunga 500 single 10 years earlier, and in offering 103mm of wheel travel, carried long hydraulic Girling dampers in front of each leg, with a pair of opposed 220mm single leading-shoe drum front brakes. A 200mm rear SLS drum was fitted, and while the 19-inch front wire wheel had a 2.25in wide Borrani alloy rim, the rear containing a rubber cush drive was originally a 3.00in 20-incher, on the grounds that it gave a bigger contact patch via its diameter than a 19-inch tyre on a rim of the same width such as must be used today in the absence of any 20-inch rubber – though this too was occasionally fitted back in 1957.
Dry weight of the complete bike was just 137kg with full hand-beaten aluminium streamlining developed in the famous Moto Guzzi wind tunnel, with lateral ducts feeding air to the radiator, or 134kg with the dolphin fairing 'partial streamlining' employed in 1957 in the bike's final races. Though developed in readiness for the revised FIM regulations banning dustbin fairings due to enter into force in 1958, this was fitted earlier in response to the riders' complaints that they found it difficult to judge turn-in to a bend. Probably, the massive 34-litre fuel tank judged necessary to allow what was inevitably a thirsty bike to finish the long Grand Prix races of the day, didn't help.
---
---
THE RIDE
It's the dream of anyone remotely interested in the history of motorcycle racing to ride the Moto Guzzi V8, and thanks to the generosity of Sammy Miller, I've now lost my V8 virginity! For the irrepressible Ulsterman has uncovered two examples of Moto Guzzi's exotic 500cc Grand Prix heritage that are now on display at his magnificent Museum in the UK, and which for decades had lain unseen in a private Italian collection – a mid-'50s V8, and the Bicilindrica V-twin which preceded it. After a shakedown test at the local airfield which doubles as the Miller Museum test track, I was asked by Sammy to share the honour of riding the V8 up the hill at the Goodwood Festival of Speed, in front of the Duke of Richmond's annual sellout 240,000-strong four-day crowd.
Riding the V8 Guzzi is very much an acquired skill – whether with the original full dustbin streamlining fitted, or with the bike naked as nature intended, which is how Sammy decided to run it at Goodwood that first year, so that the hordes of enthusiasts who clustered round our paddock base all weekend long could appreciate the mechanical jewellery represented by Ing. Carcano's V8 engine to best effect.
---
---
One reason it's an acquired skill is that at no time while riding the V8 can I honestly say I ever stopped remembering just how much money it's worth, and what an intricate, irreplaceable, engineering masterpiece it represents. However, thanks to Sammy's encouragement, and constant fettling and fine-tuning by John Ring, the Miller Museum's mechanical magician responsible for recommissioning the engine after its two decades-plus hibernation in an Italian lockup, my successive runs up the hill brought growing confidence aboard the bike.
---
---
So by Sunday afternoon I ended up riding it as close as I could ever have dared to something approaching its true potential, while observing the 12,000rpm revlimit Sammy had stipulated – just 500 revs down on what the bike's former rider, the late Bill Lomas, had told me he used in races.
But another reason for this being a bike it takes time to come to terms with is the extremely individual riding position, with the twin batteries mounted either side of the plush suede leather seat that forces your legs apart to wrap around them. It's a bit like riding a horse – though I never thought to check if V8 jockey Bill Lomas was bow-legged! There's a long reach forward over the unpainted aluminium fuel tank with its big Monza filler cap on the left, to the very flat-set clip-on handlebars.
---
---
These give pretty poor steering lock for tight turns, where the V8 also feels rather ungainly even without the bodywork fitted – and a great deal more so with the dustbin fairing in place, as the Duke had asked the bike to be fitted with for its return to the Goodwood Festival in 2015. Moto Guzzi's own wind tunnel in its Mandello factory played a part in developing this rangy riding stance which allows you to rest your rib cage on the back of the tank as you tuck right down behind the screen.
The all-enveloping dustbin fairing giving you the impression of floating in time, wafting along on a magic carpet composed of metal and perspex in which the world has stood still. It's an eerie, uncanny sensation, and on the Guzzi V8 this sensation of detachment and remoteness is amplified by the surprisingly quiet exhaust, and its smooth, vibrationless engine which just whispers its way along the tarmac with a quiet, almost apologetically understated exhaust note.
The V8's controls are in keeping with the period, with a pretty hefty friction steering damper sticking up out of the fork yokes, but slender, gracefully curved clutch and brake levers which are surprisingly light to operate, especially considering how massive the dry clutch is to harness what for back then was a pretty monstrous amount of power.
---
It takes literally ages for all that metal to heat up – you need 20 long minutes to bring it up to that 70º operating temperature from cold…
---
The traditional white-faced Veglia revcounter – what else could there be? – reads to an astronomic 15,000rpm, with a red line painted at the safe 12,500rpm redline which Guzzi V8 riders were asked to observe, flanked on the left by a small Acqua temp gauge with a dab of green paint at 60º and a red one at 90º.
A running temperature of 70ºC or higher is needed for revving the bike hard, but it takes a very long time to warm the V8 engine up from cold. Before firing it up, John Ring lifted the tank and used a burette to squirt fuel down each of the eight carbs' long intake trumpets, in order to prime them – no choke lever here! Park yourself in the seat, flick the ignition switch leftwards, see the red light next to the temp gauge light up, select bottom gear on the one-down four-up right foot gearshift, and you'll only need a few paces' shove by John Ring to start the V8, which chimes effortlessly into life with a silky purr from the straight exhausts, as you clutch it onto the cam.
You need to warm it up at a constant 7,000rpm, with occasional blips to keep the plugs from fouling, but it takes literally ages for all that metal to heat up – you need 20 long minutes to bring it up to that 70ºC operating temperature from cold. Moreover, the Guzzi motor's silky, smooth whisper from those eight straight pipes bely the fact that this is a V8 – it's as far from a lumpy, bumpy American V8 muscle car as you would possible expect it to be!
So now it's showtime – literally! But to begin with at Goodwood we had a misfire at higher revs, caused it transpired by not having a sufficient head of fuel in the 34-litre tank – just five litres or so was insufficient to force the fuel through all those miles of metal fuel lines via gravity feed, but sticking in ten more completely fixed that. This made it pull much more cleanly off the line, where it's best to take a big handful of revs that'd send the valves floating on a twin or single, then feed the clutch out slowly.
Amazingly scaling a mere 5kg more than the equivalent Manx Norton with one-eighth the number of cylinders, the Guzzi V8 is not such a heavy bike, but it takes a while for the motor to build up momentum from rest, or out of a slower turn, presumably thanks to the inertia of its quite hefty full circle flywheels. But then when that Veglia tacho needle hits the 7,000rpm mark, the V8 Guzzi seems to pick up its skirts and fly, accelerating strongly forward as you feed in each successive evenly-spaced gear with an average 2,000rpm fall in engine revs between each shift, via the slow, measured gearchange.
---
---
Change action is really pretty ponderous, so you must be quite deliberate about shifting gear, and always use the clutch – it's a mark of how torquey it is despite the sky-high revs, that there's no need for a close-ratio 'box. Indeed, I can well imagine that on some circuits all you'd need would be a four-speed transmission, thanks to the effortless way the V8 builds speed, and the forgiving, flexible nature of the multi-cylinder motor which produces no real vibration, making it a bike that for all its bulk and the idiosyncratic riding stance, is really quite relaxing to ride hard once you get in the groove.
To begin with the engine suffered from a massive flat spot from 8,600rpm upwards, which only cleaned out at 10,200 revs. With a sigh of resignation, John Ring decided it needed re-jetting, so after laying out his tools on a white cloth in the manner of a surgeon, he then spent the next hour patiently changing the minuscule jets on the eight carburettors. Richening it up improved matters, so now the flat spot was less pronounced and liveable with – but ideally John should really have taken another hour for another surgical operation. I just didn't have the heart to insist – fettling the Guzzi V8 motor is not the work of an instant, that's for sure!
---
---
"At races we'd change very little on the V8, not even a plug chop all the time I rode it," its most illustrious jockey Bill Lomas once told me. "We'd test it at Monza before each race, having already set the engine up on the factory testbed [dyno – AC]. They had a novel technique for doing this, which was to turn all the lights out, and run the bike flat out at 13,000rpm until all eight exhaust pipes glowed red-hot! They'd all glow different shades of red to start with, so then the engineers would alter the carburation until all eight glowed the same colour. They honestly did that – I'm not pulling your leg!"
Despite its bulk by the standards of the day, the Moto Guzzi mechanical masterpiece isn't as cumbersome to ride as I expected it to be. It's not by any means a quick steering bike, but it hustles through turns pretty well, thanks to the tight 23.5º rake for the leading link fork, with its amazingly reduced 56mm trail, and the V8's short 1396mm wheelbase. The mass of that multi-cylinder motor is actually centralised very well in the frame, so it turns from side to side pretty well. However, with the rider aboard and a full load of liquids there's quite a pronounced 45/55% rearwards weight bias with a 75kg rider.
---
---
While I didn't get any trace of a weave round faster turns at Goodwood, that might have been because we were running it mostly without a fairing. Ken Kavanagh especially was convinced that the dustbin streamlining was actually generating lift at the front, which lightened the front wheel and started a weave that was often hard to control without backing off the throttle – hence why he decided to stop riding the V8, before it got the better of him. However, the driveway to Goodwood House is not the Monza autodromo or the Isle of Man TT course, so…!
Perhaps it's fortuitous, in that case, that at present the single rear drum brake on the Miller bike works better than the double-sided front, or perhaps it was deliberately set up that way to lessen the risk of locking the front wheel under heavy braking from high speed? At the rear, the twin Girling dampers deliver a rear suspension action that's pretty compliant by the standards of the era, and not nearly as stiff as I expected, with a bike weighing 137kg dry sitting down well over bumps, though it did skip a little over the worst ridges in the old airfield's concrete joints.
---
---
The leading link fork worked OK, but I can't say I gave it a serious exam – the ride quality was quite good over those bumps and ridges, but it takes a while to get used to the V8 staying so flat when you squeeze the front brake, with the minimal front end dive resulting in a slightly dead feeling to the brake more in keeping with a hub-centre device like the Bimota Tesi I used to race.
After finally achieving a life's ambition, and thanks to Sammy Miller's generosity riding what by any standards must be motorcycle road racing's Ultimate Racer, I can only say it fully lived up to my expectations. As Bill Lomas said to me 40 years ago the first time I ever saw or heard such a bike in action, what a shame Moto Guzzi pulled out of racing when it did, otherwise the 500GP class in the 1960s might have been even more thrilling technically, with another Italian contender for top honours against Honda and MV.
But I can't help wondering – and regretting – that a company which produced such a mechanical marvel as the 500 V8, let alone its 120º V-twin, supercharged triple, in-line longitudinal four, or the series of 350 singles which for five successive seasons defeated the more powerful fours from Gilera and MV to win the 350 World title, should ever have ended up as Italy's answer to Harley-Davidson, as the manufacturer it is today only of pushrod V-twin custom bikes. Should the RSV4 World Superbike (click here for Jeff's test on Biaggi's winning machine) champion with its innovative, unique narrow-angle 65º V4 engine, have carried the Moto Guzzi name instead of being called an Aprilia? I think we all know the answer to that question!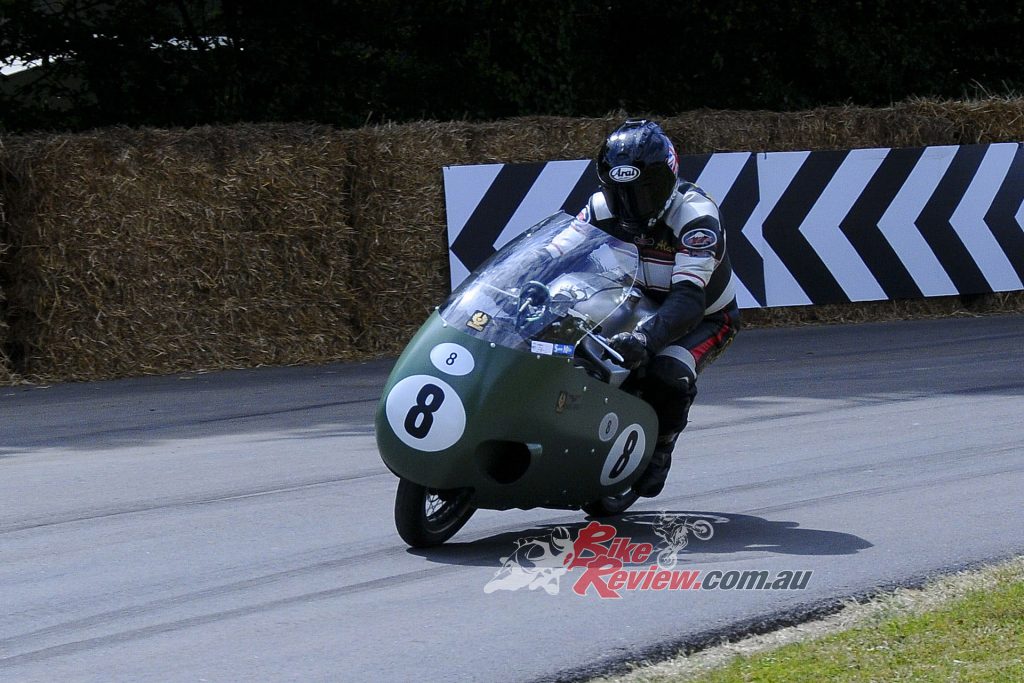 Let's leave it to the late Bill Lomas, who passed away in 2007 and was the rider perhaps most closely associated with the Guzzi V8, to sum the bike up after riding it for the first time in 25 years at the John Surtees Day at Brands Hatch, which I organised back in 1981 for circuit owners MCD as a tribute to the only man ever to be World champion on both two and four wheels. As part of the on-track activities, we persuaded the Guzzi factory to uncache one of the two V8s in its museum for Bill to ride [see photo], even if as part of preparing it for racing they painted it a peculiar shade of scarlet – the bike only ever raced with a thin coat of the factory's distinctive matt green livery covering the aluminium bodywork, since Carcano believed there was no point in adding extra kilos by spraying on more paint!
Check out this rare on board footage and interview with Bill Lomas!
---
---
"This was the greatest machine ever made!" an enthused Lomas told me in an interview that day. "It was years ahead of its time, and it was so bloody fast – faster than anything else around back then! But it needed to be set up carefully for each rider, just like today. People used to say it didn't handle very well, but that's not true, as I proved when I had that battle with Geoff [Duke] at Solitude. True, you needed to pay a lot of attention to setting up the leading link forks for the rider's weight, and how you sat on the bike– just like modern suspension.
---
---
"But the engine was just out of this world – there was no power curve as such, it just went all the way from low down in a straight line to 16,000 revs if you wanted to, though we kept it down to around 12,500 just to be on the safe side. If Moto Guzzi had kept going after 1957, things would have been very different, I promise you. In the 1960s Honda would have had to build something better than their four, and the MV triple would have struggled against the V8, no question.
Check out this video of the Guzzi V8!
---
"Carcano was a genius, and the V8 was just the ultimate example of his intelligence. It was a real lost opportunity, created by just a dozen men in a lakeshore factory in Italy. Compare that to today, and the resources the Japanese firms pour into racing. Lucky for the other manufacturers in Grand Prix that Carcano's not building bikes any more, I tell you"!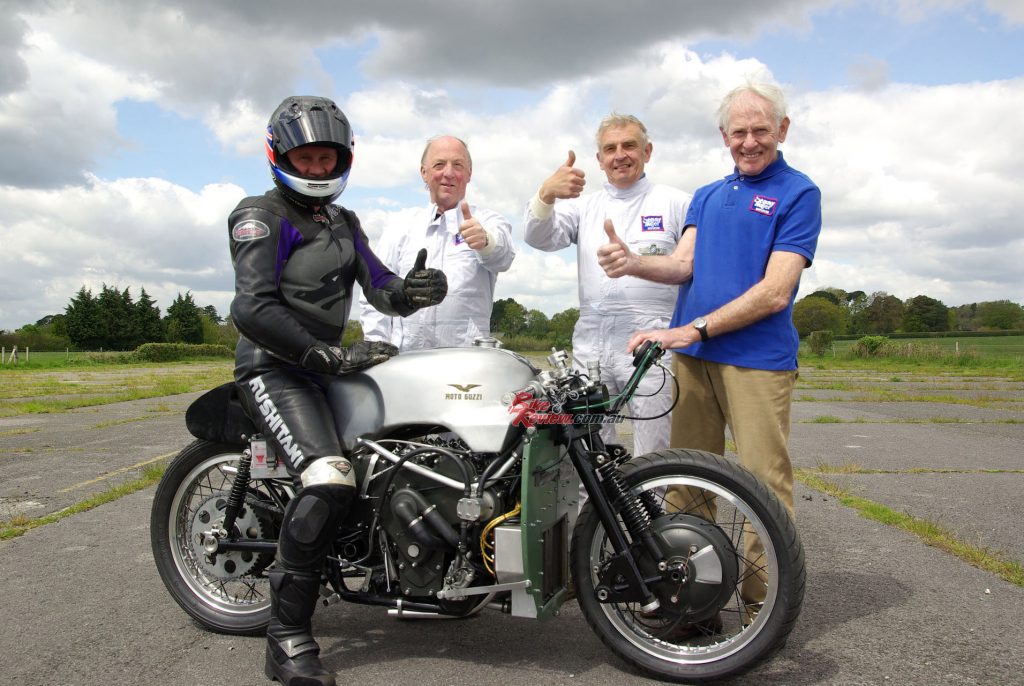 ---
The Sammy Miller Museum
The Sammy Miller Museum in New Milton, Hampshire, UK, is crammed full of interesting machines – including factory prototypes and numerous ingenious designs from all over the world. There's one of the world's largest collections of exotic racing bikes, all of them in running order and including the legendary V8 Moto Guzzi 500, supercharged V4 AJS 500 and postwar Porcupine – the first ever 500cc World Champion, V-twin Husqvarna 500, V4 Suzuki 125, 250 Mondial with dustbin fairing, and innumerable famous bikes from Triumph, Norton, AJS, Velocette & many more! And of course there are plenty of offroad enduro, motocross and trials icons. The Museum is open to visitors daily from 10am year round. Visit www.sammymiller.co.uk for further details.
---
1956 Moto Guzzi 500 V8 GP Racer Specifications
Engine: Liquid-cooled, DOHC, 90º V8 dry-sump four-stroke with gear camshaft drive, and two valves per cylinder, 44 x 41mm bore x stroke, 499cc, 11.5:1 compression, 8 x 21mm magnesium-bodied Dell'Orto carburettors each with remote float chamber, CEV coil ignition with 12v battery (2 x 6v in period), Multiplate dry clutch (three metal/four friction), 5-speed with gear primary drive gearbox.
Chassis: Large diameter tubular steel spine frame doubling as oil tank and water header tank, with duplex tubular steel front downtubes and engine cradle, Front suspension: Leading-link fork with Girling hydraulic dampers with 103mm of wheel travel, Rear suspension: Tubular steel swingarm pivoting in crankcase with twin Girling shocks and 94mm of wheel travel, 23.5 degrees rake, 56mm trail, 1396mm wheelbase, Front brakes: 2 x 220mm opposed single leading-shoe drums, Rear brake: 200mm single leading-shoe, Front tyre/wheel: 90/90-19 Avon Roadrider on WM2/1.85in Borrani wire-laced aluminium rim, Rear tyre/rim: 3.50 x 19 Avon Speedmaster MK.2 on WM2/1.85in Borrani wire-laced aluminium rim, 51/49% dry with full streamlining (45/55% with oil, water, fuel and 75kg rider), 34 litres fuel capacity, 720mm seat height.
Performance: 79bhp at 12,500rpm, 47.6Nm at 9,300rpm, 137kg dry with full streamlining (134kg with partial streamlining), 286km/h/178mph (Spa-Francorchamps 1957).
Owner: Sammy Miller Museum, New Milton, Hampshire, Great Britain
---
---