The 1978 Castrol Six Hour win by Team Avon and their XS1100 is legendary. Alan Cathcart had the chance to take the real deal for a spin... Pics: Stephen Piper, Rob Lewis, Scaysbrook Archives
A little over four decades ago Yamaha finally won a major International road race with a four-stroke motorcycle for the very first time. Jim Budd and Roger Heyes teamed up for the Castrol Six Hour endurance race of 1978 on the Team Avon Tyres Yamaha XS1100.
Together with the Isle of Man's Production TT, this was widely recognised back then as the world's most important race for same-as-you-can-buy street-legal motorcycles, first organised in 1970 at their local Amaroo Park circuit by the largest club in NSW, the Willoughby District Motorcycle Club based on Sydney's North Shore.
---
Check out our other Throwback Thursday's here…
---
The tight, twisty 1.94km Amaroo track was a Down Under version of the Brands Hatch short circuit, similarly complete with elevation changes and a preponderance of right-hand turns. Crammed full with anything up to 20,000 spectators, and with a full grid of 40 bikes jostling for position throughout the 360–plus laps covered, each of them less than a minute in length, this was by far the biggest and most prestigious bike race in Australia for its 18 years of existence up until 1987 – with the last three run at the nearby Oran Park circuit – before Phillip Island's debut Australian 500GP in 1989.
Complete with crucial pitstops for refuelling (stock fuel tanks only) – but not, until 1978, tyre changes – each year the Six Hour was screened live on network TV in its entirety, until Castrol stopped supporting it after the 1987 race in favour of spending more money on Motocross, and later on V8 Supercars. But other reasons for its demise were because the longer, more spacious Oran Park lacked Amaroo's cauldron-like atmosphere, so was less popular with spectators, who were anyway losing interest in Production bike races, as the noisier, more spectacular new Superbike category took hold. 
But in its late-'70s heyday the Castrol Six Hour was certainly the most prestigious, most highly publicised, best funded and most commercially important Production race in the global calendar – The One that really mattered. As such, it enjoyed huge support from the global motorcycle industry right up to factory level, as well as from their customers Down Under, who saw it as a real test of the bikes – and tyres – they might wish to buy
---
---
A key component of the race from the very start was that the motorcycles had to be completely stock, exactly as available the day after the race in dealers' showrooms around the world, and they were rigorously inspected in both pre-race and post-race scrutineering to ensure that they were – though not always with complete success!
---
So for the 1978 running the Willoughby Club acquired a machine to check the tension and pressure rate of valve and clutch springs, while cam buckets and rocker gear assemblies were measured on randomly selected entries, with combustion chambers and inlet and exhaust ports measured for volume, and camshafts inspected to be sure they were unmodified stock parts. Cylinder deck heights, head gasket thickness and compression ratios were also checked, and the engines sealed thereafter. The club did its best to create a level playing field.
Yamaha came late to the party in finally building a large-capacity four-stroke model, with the debut of the XS1100 in 1978. Alone among the four Japanese manufacturers, it had focused on reaping Grand Prix success with a series of two-strokes, then filtering the benefits of that down to customers at all levels of the sport via its array of TA/TD/TZ production racers.
---
---
But with rampant demand for the new generation of four-stroke musclebikes which fuelled the lift-off in motorcycle sales around the world (in Australia a record 80,538 bikes were sold in 1974 to a population of just 13.72 million), Yamaha could only watch as Honda, Kawasaki and Suzuki, as well as Ducati and BMW, fought out the big-money Endurance events for Production bikes like the Castrol Six-Hours, with their beneficial 'win on Sunday, sell on Monday' effect on showroom sales.
---
Yamaha could no longer fail to address this market, and the 1978 debut of the XS1100 – aka Xcess Eleven, or Excessive Eleven! – was the result. As the largest capacity Japanese motorcycle yet offered for sale, it was briefly proclaimed as the fastest production motorcycle in the world, a claim backed up by its performance on drag strips. Race circuits came later.
Faced against its Suzuki rival's equally new GS1000 and Kawasaki's KZ900/1000 fours, as well as Honda's stunning secret weapon, the six-cylinder CBX1000 launched early in 1978 as the fastest production motorcycle for sale anywhere in the world, Yamaha's staid-looking, heavy XS1100 (256kg dry on the Castrol Six-Hours scrutineering scales) employed shaft final drive using technology acquired from BMW, and so was more of a tourer than a sportbike.
---
---
That was especially so with the hefty dose of midrange torque from its 1105cc DOHC air-cooled engine measuring 71.5 x 68.6mm, with 90.2Nm@6,500rpm but widely spread throughout the rev range, and 95hp@8,000rpm. But although heavier than and not as fast as its rivals, the XS1100 was a proven race-winner from the very start, thanks to the efforts of the company's South Australian importer, Pitmans Motorcycles.
"Yamaha Japan had had a torrid time with their TX500s and TX750s, and come 1976, they introduced the XS750 triple as the first step up the capacity scale with what they hoped would resolve the problems they – and we as dealers – had experienced hitherto," says Mal Pitman, now 70, whose Adelaide-based family business founded in 1955 worked hand in glove with Yamaha engineers in developing those early four-strokes.
"They were really keen that the XS750 and the bigger bikes that followed, led by the XS1100, should be totally bullet-proof, so in December '77 they sent a crew comprising a technician and three riders from Japan to spend three weeks based with us, while we tested the bikes in the eastern part of South Australia, doing daily runs from a place northeast of Adelaide called Swan Reach, through to Loxton, and then south along the border with Victoria to Pinnaroo,"
---
"We were doing 650km-long rides each day for nearly three weeks, and they wanted us to do over 180kmh all the time so that they could check the durability of the engine in real world use, stopping every 100km to check the oil – they had sensors all over the bike to measure temperatures and so on. This was in the middle of summer, so it was 40ºC ambient every day, with the road temperatures around 60ºC, so the rear tyres were lasting just one 650km day, and then they were shredded. We basically bought every 17-inch tyre in Adelaide to keep the bikes going, and so my cousin Dean Pitman and I got pretty adept at changing wheels!"
"Plus, our rider Greg Pretty got to feel very much at home going fast on the XS, after learning the hard way the very first day that you do NOT close the throttle in the middle of the corner on a shaft-drive bike, because if you do it drops two inches, and you run out of ground clearance! He wasn't too badly hurt discovering this, so he kept on riding, and that meant when he started racing the bike for us he was impossible to beat, thanks also to his 52kg weight more than making up for what was such a heavy bike!"
Pretty and the Pitmans Yamaha XS1100 instantly became the major force in Australia's 1978 Production racing season, winning first time out on home ground riding alone in the Adelaide Three-Hours, before teaming with Mick Cole to win the Perth Four-Hours – a ride that earned Cole a seat aboard the brand new Honda CBX six, which reached Australia shortly after. Yamaha's Victorian importer Milledge's took victory in the next race, with their rider Bob Rosenthal dominating Melbourne's Sandown Three-Hours by riding alone from start to finish in torrential rain, but in the Calder Two-Hours sprint race held next the other side of Melbourne which was shown live on ABC-TV.
---
---
Cole swept to victory on the Honda six while Greg Pretty could only finish fourth – it was the only important Australian Production race that year not won by a Yamaha. But Pretty was back to his winning ways on the Pitmans Yamaha at the Surfers Paradise Three-Hours, riding alone to victory as a final warm up for the Big One – the Castrol Six Hour in October, for which he was teamed with Jeff Miller. 'Meet the new Boss' was the headline to Yamaha ads in the Aussie bike press, extolling the Pitman XS's extraordinary run of victories in the run-up to Amaroo.
Besides the teams run by each state's Yamaha importer – Yamaha Australia didn't exist yet – the XS1100's success in Pretty's hands made it a good candidate for others to use in the Six Hour, given that there were in theory no trick engine parts only available to factory-supported teams, as later bedevilled the Superbike class. For Team Avon Tyres, managed by Avon importer Lindsay Walker, the annual Six Hours race was a key opportunity to demonstrate the worth of the latest spec Avon Roadrunner rubber versus the products of the British tyre firm's opposition, especially Metzeler.
---
---
When the flag lifted at 10:00am on Sunday, October 22 for the Le Mans start of the 1978 Castrol Six Hour, Graeme Crosby led the 40 starters away on the CBX six. After qualifying third on the grid, Jim Budd held a massive slide as he fired the Avon XS1100 away, and then blew a huge plume of smoke all the way around the first lap, causing great concern for those following, as well as in the pits. Fortunately, he wasn't black-flagged to avert an imminent blowup, and the smoke gradually abated as the oil burnt off – the sump had simply been overfilled!
Budd had dropped back to ninth place as Crosby, Greg Pretty on the Pitmans Yamaha and Suzuki rider Alan Hales broke away up front. But Crosby then slowed and let Pretty take the lead, furiously signalling to his team each lap as he passed the pits that something was wrong. After just 14 laps he pitted the Honda with a mystery ailment later attributed to a poor batch of fuel, leading the CBX1000 pre-race favourite to be retired 41 minutes into the race.
---
By this time Hales had pushed the GS1000 past Pretty and into the lead, each putting a lap on Budd's Avon Yamaha before Hayes pitted to hand over to teammate Neil Chivas. Pretty and Budd used their more frugal Yamahas' larger 24-litre tanks to stay out much longer, the South Australian stopping at 11.37am to hand over to teammate Jeff Miller, who just 40min later crashed the Pitmans XS1100 into retirement, a sad end for one of the hot favourites.
---
---
At half-distance, Hales was leading the race after the team's second fuel stop, and tried to lap the Avon Yamaha once again, this time with Heyes still aboard it, but close to pitting for fuel. This equalled things out somewhat weight-wise, so Roger resisted being lapped, enticing the race-leading Suzuki into an unnecessary dogfight. After five laps of constantly swapping track position, Hales dropped the Suzuki as he chased the Yamaha into the Dunlop Loop, with his demise promoting the Dennis Neill/Mick Cole CBX1000 into the lead. By now lying third, Heyes made a scheduled pit-stop at 1:12pm, leading to a landmark moment with the first strategic tyre change in Castrol Six-Hour history.
---
"I reckoned that this year everyone would be marginal on tyres, because the faster speeds would mean increased tyre wear on Amaroo's very abrasive surface," says Lindsay Walker. "So I decided on a mid-race tyre change, and this made the shaft-drive Yamaha a race-winning proposition, since it'd take longer to change the wheel on the chain-drive bikes."
---
"We practiced wheel changes every night for a month, and when we pulled it off unannounced in little more time than normal refuelling, it devastated the opposition. I was so confident we'd win that I'd already paid the host broadcaster ABC to compile a 30-minute clip of the race!" In fact, the used tyre didn't appear too badly worn, but Walker correctly believed a fresh rear Avon would give his riders both a significant performance and psychological advantage for the second half of the race. The entire stop was captured live on ABC-TV and took 74 secs, although the tyre change didn't commence until almost 20 secs after the bike had stopped. Check out history being made with the tyre change below.
VIDEO: That Famous 74s Tyre Change
---
---
The fresh rear tyre allowed the Yamaha to lap consistently faster than the leading Honda, which was finally forced into stopping for a new rear Metzeler on instruction from the scrutineers owing to safety concerns. The fraught stop took 4min 10sec and reduced the CBX to third place at the finish, behind the second place Ducati 900SS of John Warrian/Terry Kelly. So after a quick splash-and-dash an hour from the end, at the stroke of 4.00pm plus one lap, a large dollar sign was displayed on Heyes' pit board as he crossed the line to take a comfortable victory, almost two full laps ahead of the desmo V-twin which had done the entire race on its original Metzelers.
According to the race report in REVS Motorcycle News, "The machine that 'shouldn't win Production races' has won another one." Indeed, the XS1100's 1978 win set off a run of victories that would see Yamaha dominate the Castrol Six-Hour up until the event's 1987 demise, winning a total of five Castrol Six-Hours races in ten years. But none of them surely gave its management in Japan as much satisfaction as that one and only victory for the XS1100: Yamaha had come late to the party in building a four-cylinder megabike – but when they did, it delivered. Better late than never!
---
---
However, there was a nice further twist to that 1978 victory, for the winning tyre change was in fact undertaken by Mal Pitman and his cousin Dean! They'd intended to change the wheel on their own such bike, before Jeff Miller crashed the Pitmans Yamaha into retirement – whereupon they carried their wheel-changing gear along pit lane to the Avon pit. "We did have a bit of experience changing tyres on these bikes from our three weeks of road testing with Yamaha," smiles Mal. "Still, it was nice of Lindsay to ask us to do it for them!" 
---
THE RIDE
After its Castrol Six Hour race win in October 1978, the Team Avon Yamaha XS1100 perhaps surprisingly didn't end up in the factory museum in Japan, or even the showroom floor of the NSW distributor McCulloch Yamaha, who'd supplied it new to Team Avon with matched chassis/engine nos. 2H9-100267. Instead, by now road registered, it was sold to Team Avon volunteer Graeme Hadley, who'd been one of the pit crew for its Amaroo Park victory.
He took delivery of it in April 1979 and used it for commuting and touring, clocking up 35,000km until 1989, when it was garaged after a couple of minor accidents. But Graeme sadly passed away during a business trip to Japan in December 1994, and in 1996 his widow Debbie sold the XS1100 to Bruce Loy, a Sydney fireman. Bruce brushed the cobwebs off and started using the Yamaha as his daily ride, until in May 2007 he was tracked down by Mal Pitman, who wanted to find one of the Castrol Six-Hour bikes, and restore it.
---
---
Bruce by then was looking for a lighter bike, still with shaft drive, so agreed a straight swap for a more recent XJ650. The two met up in Central NSW midway between Adelaide and Sydney to exchange the bikes, and now with 68,856km on the speedo and very much due for a makeover, the race-winning Yamaha XS1100 headed to South Australia, to be restored to its former Six-Hour glory.  
---
"I knew it was the genuine bike from the engine and frame numbers, but soon as I got it home and started to strip it, I found all the tell-tale signs that said it had been a racer," said Mal Pitman. "The drain plugs and fillers still had the drill holes in them for wire locking, and various nuts were also drilled for wiring."
---
"The footrest brackets showed wear signs from where we put our number plate mountings, and when I removed the tail light bracket a SIDI sponsorship sticker was still beneath it, plus the fuel cap still had an Avon Tyres laurel wreath sticker on it. I stripped it completely and rebuilt it from the ground up, but I wanted to only fit original parts, not aftermarket ones, so it took me seven years to get the job done – I had to scan the world to find the things I needed, especially the exhaust system."
---
---
"Some of the engine parts were also difficult to get to rebuild it to OEM spec. I finished it in April 2014, and did around 600km to run in the engine on the roads through the Adelaide Hills close to where I live. It ran beautifully, so I took it to the Broadford Bonanza soon after, which that year hosted the Castrol Six-Hours Revival, and Lindsay Walker was there to join in the trip down memory lane."
Since that single appearance when it was once again ridden on track in something approaching anger, the Avon Yamaha has been sold to MA/Motorcycling Australia to join the many competition bikes with an Australian heritage in its collection. It's presently displayed on loan in the Bathurst circuit museum.
---
---
Before then, I was lucky enough to be entrusted by Mal Pitman with riding his freshly-restored piece of Australian history on wheels for a couple of sessions on the switchback Broadford circuit just north of Melbourne, which at 2.16km in length is uncannily similar to Amaroo Park, where this Yamaha did the business four decades ago. Moreover, it comes complete with a couple of off-camber bends – especially the second-gear final turn leading on to the Pit Straight – which are potential sink holes for a shaftie like this, where ground clearance is liable to be a big issue should you back off the throttle for any reason while already cranked over, and the rear end dips to expose you to such risks.
I gave myself a serious pep talk before sliding aboard the Yamaha's plushy upholstered but rather wide 810mm high seat – as in, make sure you have your line right before committing to a turn, complete your braking before turning into it, so that you accelerate rather than trailbrake into the apex as you might consider doing on a chain-drive bike, but above all be smooth – and she'll be good. 
Still, Mal Pitman's good-as-new freshly restored XS1100 was a pretty eye-opening ride for a 40-year old bike. OK, with that rangy steering geometry (the 37mm Kayaba fork sits at a 29.5º head angle, with 130mm of trail) and especially the long, touring-friendly 1545mm wheelbase, it required serious physical effort to flick the Yamaha from side to side through the downhill Esses leading to the corner behind the Paddock at Broadford, not helped by the hefty 256kg dry weight.
---
---
It says a lot for the diminutive Greg Pretty that he became so dominant in long distance Production racing on such a hefty motorcycle, which you'd expect to be tiring to ride. But the Yamaha didn't feel as top-heavy as other such Japanese fours of the era that I've ridden, so having the weight lower down made it easier-steering, and above all also helped it ride bumps better even with that minimal 80mm of rear wheel travel from the stock Kayaba shocks. Plus, the wide, fairly raised-up, US market-friendly handlebar delivered good leverage in keeping everything under control, as well as helping you lug a bike through the Broadford twisties that if anything was too stable in turns.
However, as against that it drove dead straight descending the circuit's staircase main straight, even after pulling an inevitable wheelie hard on in fourth gear over the last big step halfway along. Just as well, since Castrol Six-Hour rules forbade the fitting of a steering damper even on the grounds of safety, so if your bike was a shaker – and many of them were – too bad, mate: just hold on tight! Not the Yamaha, which remained super stable under hard acceleration, even with the front wheel lightened under the pretty massive dose of torque for the era.
---
"The enormous grunt from its meaty, muscular motor which comes at the whole issue of performance from the diametrically opposite direction compared to its contemporary rival, the Honda CBX. Its almost 'square', chunky cylinders made the Yamaha a slugger rather than a screamer, which in turn meant fewer gear-changes and a less tiring approach to going fast."
---
The XS1100 motor pulled like a train out of the slow hairpins at Broadford, with a syrupy seam of effortless torque available just by opening the throttle wide open from anywhere above 2,500rpm. This was one of the first bikes to fit CV carbs, and thus there was not only no spitting back or stuttering coming out of a slow bend, but throttle response was crisp and precise – not quite as aggressive verging on snatchy as flatslides were later on, but still immediate, and above all controllable.
The XS also featured transistorised ignition with vacuum advance, an item borrowed from the automotive world which greatly improved part-throttle and trailing throttle performance, thanks to its ability to advance ignition timing when needed. This helped the big engine deliver power smoothly regardless of revs or which gear was selected.
---
That was all the more appreciated in my second session on the bike when its rear Avon Roadrunner (one word, not two on the sidewall, making this a modern piece of rubber, not one Mal had exhumed from the Pitmans cellar!) started to spin up, and began sliding exiting the second-gear right-hander at the end of the top straight. Thanks to my approved technique of preloading the throttle into any turn I was ready to catch it, taking care not to back off the throttle to catch the slide and risk losing ground clearance on this shaft-drive motorcycle, but to steer it on the throttle.
The fact that I was purposely keeping the Yamaha as upright as possible exiting a turn, so as to use the meaty part of the rear Avon, also helped when it started to walk on me. At the other end of that straight in the uphill Turn One leading on to it, the Yamaha also started to drift under me, but this was fun because everything seemed so controllable, thanks to the excellent fuelling and responsive yet predictable throttle, as well as the tyres which were all of the above.
---
---
The one thing I really didn't care for on the Yamaha was its harsh, mechanical-seeming gearchange, which I can only put down to the fact it was a shaftie. You must use the clutch for every notchy gearshift up or down the gearbox, and above all take account of the fact that it's just a very slow change – try rushing it and you'll miss a gear, as I did twice in front of a watching (but forgiving!) Mal Pitman. Oops!
---
But the handling was better than I'd been expecting, especially if you keep it on the gas pulling through turns, which tightens the line by nipping any incipient understeer in the bud. Mal had obviously been careful to check that the 'Version 2' modified fork internals supplied by the Yamaha factory for the 1978 Six-Hour were still installed, and this delivered better than adequate feedback from the front Avon.
The Yamaha braked surprisingly well, though it needed a firm pull on the front brake lever to haul it down from around 180kmh on the fully functioning speedo. But the twin 298mm front discs were quite large for their day, plus by 1978 the Japanese had finally begun to learn about disc materials, so their brakes were starting to become functional at last. With the shaft final drive I was reluctant to use too much engine braking for fear of chattering the rear end into the runoff. Better to make more measured downshifts and obtain quite useful extra help with stopping that way, without getting over-excited as I did a couple of times, and used too many revs on the overrun, which got the rear wheel jumping into the turn,. Not a good idea!
---
---
History came close to repeating itself during my second session on the bike, when I had a nice little battle with Bob Rosenthal, who'd also ridden a Yamaha XS1100 in the 1978 Castrol Six-Hour, but was here mounted on another artefact from the MA collection, the Moreparts Ducati 750SS which returnee TT-winner Mike Hailwood and Jim Scaysbrook also rode in that October 1978 race, leading the 750cc class until the gearbox seized. Even on such a twisty track the Yamaha gave a good account of itself against the theoretically better-suited – lighter, more agile, albeit slower – desmo V-twin, even with its only slightly shorter wheelbase, and that was thanks to its engine's meaty torque, coupled with more than acceptable peak power of 95bhp at 8,000 revs (at the rear wheel).
At first I'd started off short-shifting the motor at 7,500rpm, or just over the 6,500rpm peak torque point, but for my second session Mal Pitman told me to use peak revs another thousand revs higher. "Redline is 8,500 on a short track like this, but at Adelaide Raceway there was a one-kilometre straight, so we'd always use maximum rpm and because we never had any other gearing for it we might go to 9,000rpm once a lap. It always survived that!"
"On those fast straights Greg Pretty would reach 235km/h, and the Yamaha was certainly faster than anything else in a straight line, including the Honda CBX six. It would just keep on pulling. We were fortunate to have good speed even if we had a weight disadvantage – but we had a fuel advantage, we had ground clearance which was reasonable, though we had a tire disadvantage and we had to work around those things. But we felt that the advantages outweighed the disadvantages, so that's why we raced it – and won!"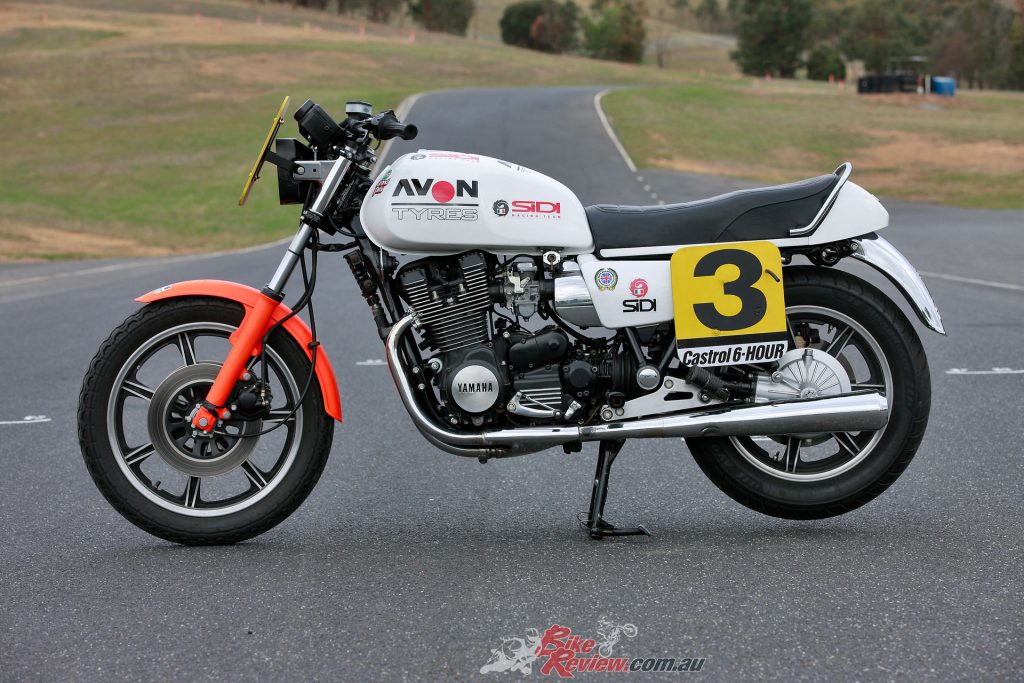 Team Avon 1978 Yamaha XS1100 Specifications
ENGINE: Air-cooled DOHC transverse in-line four-cylinder four-stroke, with two valves per cylinder, and central chain camshaft drive, 71.5 x 68.6mm bore x stroke, 9.2:1 compression, 4 x 34mm Mikuni CV, Transistorised coil ignition with vacuum advance and 12v battery, 5-speed with shaft final drive and electric start, Multiplate oil-bath (8 drive/7 driven) with Hy-Vo chain primary drive.
---
CHASSIS: Tubular steel double cradle frame, 29.5 degrees rake, 130mm of trail, 1545mm wheelbase, 37 mm Kayaba telescopic forks adjustable for spring reload, two-piece welded stamped steel swingarm, with 2 x Kayaba shocks adjustable for spring reload, 4.10 (100/90)-19 Avon Roadrunner on 3.50in cast aluminium wheel, 130/90-17 Avon Roadrunner on 4.50in cast aluminium wheel, 2 x 298 mm steel discs with single-piston calipers, 1 x 298 mm steel disc with single-piston caliper.
---
PERFORMANCE: 95hp@8,000rpm (at rear wheel), 256kg dry (278kg wet), top speed 235km/h (Adelaide Raceway)
---
OWNER: Motorcycling Australia, West Meadows, Victoria, Australia
---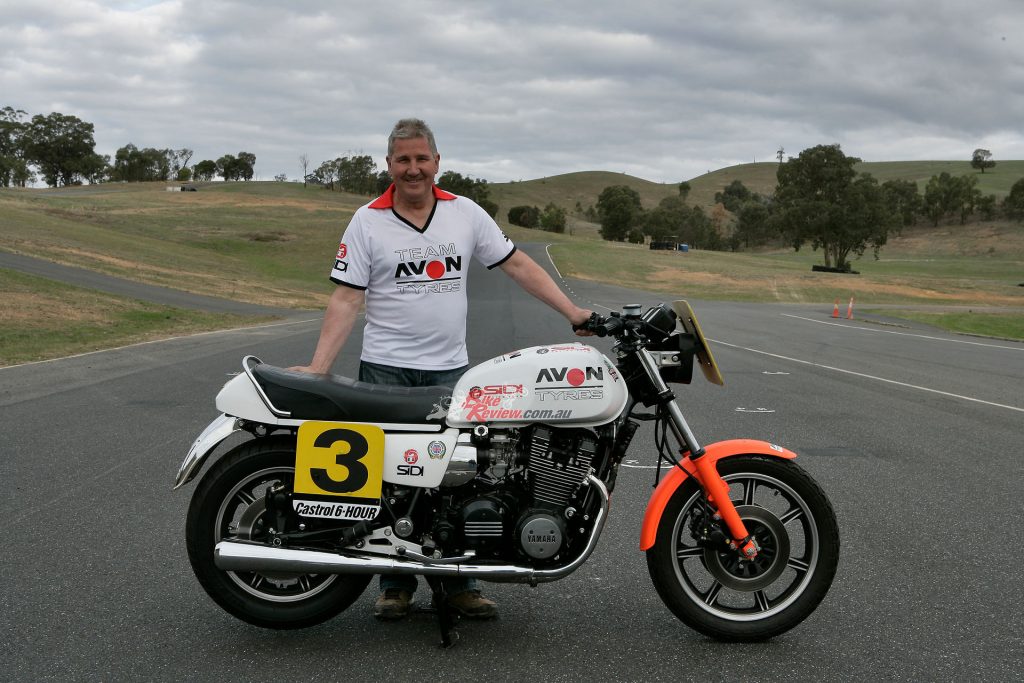 Team Avon 1978 Yamaha XS1100 Gallery
---
---
---