The Fior 500 is a story of dreams coming true. Built in three months from the brain of Claude Fior, it dared to be different. Alan took it for a spin a few years ago... Photos: Kel Edge...         
In the late 1980s there was a widening gap between 500GP racing's haves, and have-nots – which is to say, between the works V4s, including the fledgling Italian Cagiva team, and the mostly Honda or Yamaha-mounted privateers… Enter the Fior 500-4.
Actually, there was an alternative: build your own engine, a path trod with a little success by the Italian Paton team and by Frenchman Claude Fior, whose in-line across-the-frame four debuted at the Japanese GP in March 1988. After inevitable teething troubles, the Fior gradually advanced up the list of finishers until it equalled the best of the three-cylinder privateers.
---
Check out our other Throwback Thursdays here…
---
It was the first 100 per cent French four-cylinder GP bike since the four-cylinder mid-'50s Nougier, complete with the trademark wishbone front suspension created by Claude Fior, and nowadays found on the BMW K1600 family of bikes under the Duolever tag. 
But building and developing your own engine is a different matter, as Fior (universally known by his 'Pif' nickname), found out the hard way, after early success with the RS500-powered Fior-Honda triples. "We'd got as far as we could with the RS500 in GP racing,' he told me back in 1988 when I rode the Fior four. 'We usually finished as first privateers in '87, but to improve any further we had to have a four-cylinder engine."
---
---
"Without the money to lease one from the Japanese, who anyway wouldn't have let us to use my own chassis design, we had no choice but to build our own. In fact, it all came about almost by accident – (Sidecar World champion) Alain Michel came here to Nogaro to shoot a PR film for his team, and we got talking about the engines they used in sidecar racing and the kind of performance they delivered.
---
---
"He'd actually designed his own in-line four, which JPX manufactured for him in Le Mans – and our engine is a development of Alain's. We modified it slightly for solo use, got it built – and started serious development. I can't pretend it's an ideal solution, because a narrow-angle V4 with contrarotating cranks is more compact and offers better weight distribution – but it's certainly better than a V3 Honda, and Alain's design got us out on track from the start of this season, instead of missing half of it developing our own engine from scratch".
---
Check out our Throwback Thursday on Alain's LCR Krauser Sidecar here…
---
So the Fior four was neither a Helmut Fath creation, nor a revamped TZ500 Yamaha – both unfounded rumours which circulated at the time. It did use several Yamaha parts though – the clutch, gearbox, pistons, and Hitachi ignition were all indeed sourced from a TZ500, as were the cylinder-heads.
---
---
But the rest of the major castings were all specifically made for Fior by JPX, whose owner Jacques Bouchoux was later to become better known as the builder of the jewel-like engines for George Beale's six-cylinder Honda 250GP replicas. Because they were of strong aluminium construction, these permitted the engine to be used a fully stressed member, effectively eliminating the chassis, apart from vestigial alloy plates in which the fabricated aluminium rear swingarm pivoted. 
The Fior 500's Hummel cylinders (with seven transfer ports, plus three exhausts) were fitted with guillotine power valves, electronically controlled off the ignition, and were mounted vertically to permit the four 38mm flat-slide Dell'Orto carbs to be forward facing, able to draw cool air into the crankcases via the big reed boxes and TZ750 glass-fibre reeds. This also permitted an ideal shape and straighter run for the rear-facing exhausts, designed and built by Fior himself.
---
---
The new Michel/Fior/JPX four-cylinder engine weighed a porky 50kg (the contemporary V4 Cagiva scaled 43kg), but it was built quickly – work began only six months before its debut in the opening race of the 1988 season, the Japanese GP on March 27 at Suzuka. In any case, at 127kg with oil/water the complete bike was competitive weight-wise with the ELF5 and Suzuki RGV500, if not as light as the Yamahas and Honda V4s, and its claimed power of 150bhp at 12,300rpm was only slightly off the pace of its V4 rivals.
However, the most obvious disadvantage of using the sidecar-derived in-line four-cylinder motor was its width – presumably it had to be jacked up in the chassis to gain necessary cornering clearance, in turn increasing the height and therefore the frontal aspect of the machine? Not so, stated Fior when I put that to him at the time. "The crankshaft on the four is actually 12mm lower than on the RS500 Fior-Honda triple," he said, "and with a width of exactly 600mm across, the bike is no wider that Wayne Gardner's world champion NSR500 Honda." Which had a single crankshaft, just like the Fior…
---
---
At 1350mm the Fior's wheelbase was quite short, but the weight distribution of 52/48 was conservative by Pif's normal standards (his TZ250 Yamaha had a 60/40 front bias!) How come? "I had to compromise by positioning the engine much further back than I would have preferred," Pif admitted. "The problem was that, while the engine ran backwards, which helped reduce the gyroscopic effect on the handling, the crankshaft was still very heavy, so if I put the engine where I'd wanted, there'd have been insufficient weight on the rear wheel, leading to problems under braking and entering a turn.'
There was a similar compromise in the steering geometry, which had a 26° head angle, much wider than Fior normally used, though with only 85mm of trail. Even so, it was commendably light-steering, as I discovered when I came to ride the bike around the twists and turns of the Nogaro GP circuit, deep in the Armagnac region of southern France, and home base to the Fior team.
---
"Actually, my first impressions of the Fior 500 were pretty unfavourable, if only because it had one of the most curious riding positions I'd ever contended with"
---
Actually, my first impressions of the Fior 500 were pretty unfavourable, if only because it had one of the most curious riding positions I'd ever contended with! Regular rider Marco Gentile was as tall as me, but had even longer legs, so I practically needed a stepladder to climb aboard, the seat was so high.
Then I discovered that the clip-ons were quite steeply dropped and pulled a long way back, like one of those old-fashioned racing cycles you see in black-and-white photos. The result was you had to ride with your elbows bent, rubbing against your knees. This, coupled with the high seat, created a sense of instability and a feeling I was lacking total control over the bike's handling, which took some getting used to! The flawed riding position was also hard on the hands and wrists, and indeed this was a tiring bike to ride for any distance, maybe even for its regular rider, who crashed it a few laps from the end of the 1988 US GP at Laguna Seca when in an unchallenged last place!
---
---
I can usually adapt OK to an unusual riding position, but the Fior was an exception. Its flawed stance made tucking away behind the screen very awkward, and with the fuel tank parked on top of the already tall engine, it felt top heavy and unwieldy in slow turns, where it flopped into the apex very unpredictably – you had to be ready to catch it when it did so, and work hard at heaving it upright for the exit. It was especially hard work in the so-called 'Pif-Paf' (no relation!) – an S-bend behind the Nogaro pits.
This wasn't the fault of the steering, which was light, precise and quite positive, but a combination of the riding position and weight distribution, which contrasted strongly with its Japanese and Italian V4 rivals of the era, all of which I'd already also ridden.
These unnerving traits didn't allow the benefits of the Fior front suspension – which I was already familiar with from having ridden the Fior-Honda RS500 on which Thierry Rapicault had won the 1987 French 500cc championship – to be shown to advantage. They included not only quick and easy adjustment of the steering geometry and single front suspension unit, but also the elimination of fork stiction and deflection, plus the maintenance of a constant wheelbase and trail under braking for more controllable handling.
---
---
You could brake deep into a turn on the Fior, letting the sophisticated front shock soak up the bumps on the angle while the wishbone kept on working, well beyond the point at which a conventional front-end of the era would have risked bottoming out, or freezing. This was especially welcome on a bumpy track like Nogaro, but it still needed a conscious effort to exploit the Fior's advantages, where your brain might be telling you to let off the brakes as you headed into a turn cranked over, whereas in fact you could trail-brake into the apex with the suspension still working.
It simply needed your brain to be rebooted and remapped, that's all! And despite eventually persuading myself to squeeze the front brake as hard as the Brembo calipers and front Dunlop radial would jointly allow, I never got the back wheel waving around, so perhaps Pif got his weight distribution sums right, after all! In preparation for racing the Bimota Tesi and Saxon Triumph as I did the following decade, each with equally radical front suspension formats, the Fior 500 was good training wheels!
But the Fior's short wheelbase also meant the front wheel had no fear of flying. Nogaro's worst bump was right on the racing line in the middle of the fast right-hander leading on to the main straight. Taken hard in third on the Fior, the bike only had to sniff that bump for the wheel to pop up, and start flapping about while I was leaned over, hard on the gas.
---
---
The 'bars would start shimmying in my hands, and the bike began weaving as a good old-fashioned tank-slapper began to develop – this wouldn't have been a motorcycle for the Isle of Man TT, as its single-crank Paton V4 rival would later prove to be, courtesy of Steve Linsdell! Actually, the Fior 500-4 never got too far out of control, but it certainly required some conviction to keep the throttle wound hard open with it wiggling its way down the straight, and I had to give the front brake lever a quick pump with my right hand to make sure the brake pads hadn't been knocked back when it came to stop for the tight bottom-gear hairpin at the end of that straight.
---
"The Fior 500-4 never got too far out of control, but it certainly required some conviction to keep the throttle wound hard open with it wiggling its way down the straight!"
---
The peculiar riding position made it impossible to grip the tank with my arms and force the Fior into submission, but standing on the rests and shoving my body weight forward certainly helped, so it was probably a problem of weight distribution. And that's with the steering damper already cranked up as tight as possible, to still let you clamber round Nogaro's slow turns.
But what about that sidecar-derived engine? Well, three-wheelers need all or nothing top-end power, to suit the swirly, snaking, sultans of slide – so how much had that been disguised for the JPX motor's solo application? Starting out, my answer would have been – not a lot, despite my first lap on the Fior – with cold tyres, in those pre-tyre warmer days – leaving me wondering if maybe I hadn't better cancel the test, as justly concerned for my continued well-being.
---
---
As soon as the tacho needle hit nine grand, a vast herd of fire-breathing stallions arrived en masse, and sent the Fior's front wheel into orbit – it was a miracle I didn't crash half a dozen times when this happened in the middle of a corner, with the tyres still not warmed up, and all the ingredients for a massive highside present and correct. At the end of the first lap I was relieved to see Claude Fior standing in the middle of the track waving me to stop. OK, enough of the funny stuff – let's have the bike without the Sidecar spec motor in. "Certainly," said Pif, calmly reaching over the screen to flick a little switch on the right 'bar. "Sorry – I sent you out without the power valves switched on – it'll be a lot easier now." It was!
Power valves on stream, the Fior four delivered motive power from 6,000rpm upwards, came on strong at 8,500 revs when the power valves started to open, and really lit up from 9,500rpm when the exhaust ports were fully open, up to a normal peak of 12,300 revs. With carburation slightly too rich for my test, the engine declined to pull over 11,800rpm cleanly, but in any case it wasn't the top-end which most impressed me, but the absolutely awesome mid-range performance, certainly as strong as any other 500GP racer I'd yet ridden at the time, which basically was all of them.
---
---
This made it a very fierce bit of hardware indeed, requiring you to hold on tight and use every bit of strength coupled with throttle finesse, to keep the back wheel in line. But after riding the bike and watching Marco Gentile aboard it in 500GPs, I couldn't help concluding that Fior had gone too far in the other direction, by sacrificing some top-end horsepower to certainly obtain a massive mid-range punch, but at the expense of rideability.
Back then, 500GP solo engine design had begun to imitate the sidecars in terms of power characteristics. The last 1,500rpm became the vital area of performance, its exploitation made possible by the universal adoption (as on the Fior) of an extractable cassette-type gearbox whose ratios could be swiftly changed to meet the needs of both engine and circuit. On the Fior, although the six-speed gearbox shifted smoothly and positively, the bike's midrange torque was so great that swapping ratios wasn't really such a key factor in extracting ultimate performance.
---
---
But if he'd widened the powerband via cylinder porting, exhaust design and ignition timing, I think Fior could have got more speed from the bike, and if anyone could have handled that kind of motor, it was Marco Gentile. He'd already won the 1985 500GP Euro title by defeating RS500 triples and RG500 Suzukis on an elderly TZ500 Yamaha, from which he'd extracted unlikely performance by fitting a sidecar-spec engine tuned in Switzerland to it, complete with razor-edge power delivery!
But Claude Fior's achievement can't be underestimated – so many people fantasise about building their own motorcycle with their own engine, but Fior was one of the few who actually went ahead and did it. With the help of Alain Michel, he built his own all-French race bike in just three months – and even better, it became a regular GP point scorer after its first half-dozen races.
---
---
Considering how little development work had then been done, to have got that far that quickly was a marvellous achievement which, 30+ years later, still deserves admiration and praise. Certainly more so than the scorn for Fior's 'funny front forks' which was heaped on the project by those who apparently preferred GP racing grids to consist of near-identical bikes. The Fior four came a long way in a short time, and it might also be pointed out that it regularly finished GP races, which is more than that other European alternative, the V4 Cagiva, was able to achieve at the time.
---
---
After he withdrew from 500GP racing after the Marlboro sponsorship deal ended after 1989, Pif and I stayed in touch, and as I rode more and more of his bikes – each with a less challenging riding position than his 500GP contender! –  I became all the more convinced of the qualities of his front-end design. In due course – but sadly after his passing – that design reached series production for the street thanks to his friend and neighbour Thierry Henriette, whose Brough Superior models all carry la fourche Fior, same as the Aston Martin AMB 001 he's currently manufacturing in Brough's Toulouse factory.
---
---
Before that, in 1992 I was able to add to the Fior Racing coffers by purchasing one of the two Fior 500-4 racers he built on behalf of my Italian friend Vittorio Negri, and transporting it to Milan to join his fabulous collection of 500GP bikes.
---
Read Alan's Claude Fior tribute feature here...
---
After his untimely death the collection was broken up, and the Fior 500-4 passed into the hands of Italian enthusiast Andrea Brega, who has restored it to track-ready condition. Even better, he's also tracked down and rebuilt the very first 1978 Fior-Yamaha XS1200 Endurance racer, to bookend the quixotic story of Claude Fior's time in racing via ownership of his First and Last. Pif would have approved….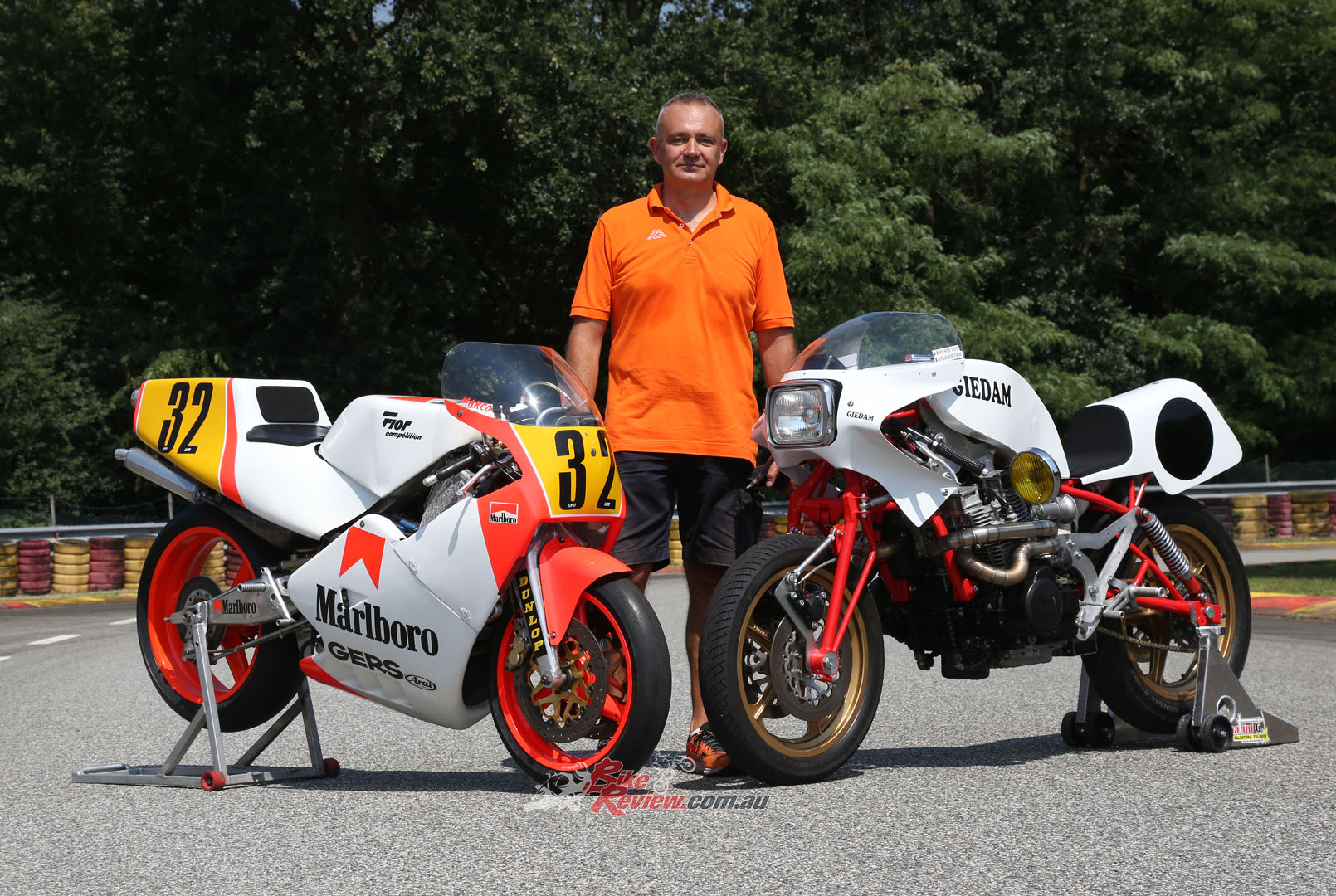 1988 FIOR 500-4 Racer Specifications 
ENGINE: Water-cooled crankcase reed-valve in-line four-cylinder two-stroke, 499cc, 7.5:1 Compression Ratio, 4 x 38mm Dell'Orto guillotine carburettors, Hitachi CDI, 56 x 50.6mm bore x stroke, 6-speed Yamaha gearbox, Yamaha dry Multiplate clutch.
---
CHASSIS: No frame, engine employed as fully-stressed member, Front: Fabricated aluminium wishbone fork with twin superimposed triangles and fully-adjustable Koni monoshock modified by Fior,  Rear: Fabricated aluminium swingarm with rising-rate suspension link and fully-adjustable Kayaba monoshock modified by Fior, 26 degrees rake, 85mm trail, Front: 3.20/4.60 x 17 Dunlop radial on 3.50 inch Marvic cast aluminium wheel,   Rear: 3.75/7.25 x 18 Dunlop radial on 5.50 inch Marvic cast aluminium wheel, Front: 2 x 320mm Brembo discs with four-piston Brembo calipers, Rear: 1 x 220mm Brembo disc with two-piston JPX caliper.
---
PERFORMANCE: 150bhp@12,20rpm (at gearbox), 127kg with water/oil, no fuel, split 52/48, 300km/h top speed.
---
OWNER: Fior Compétition, Nogaro, Gers, France.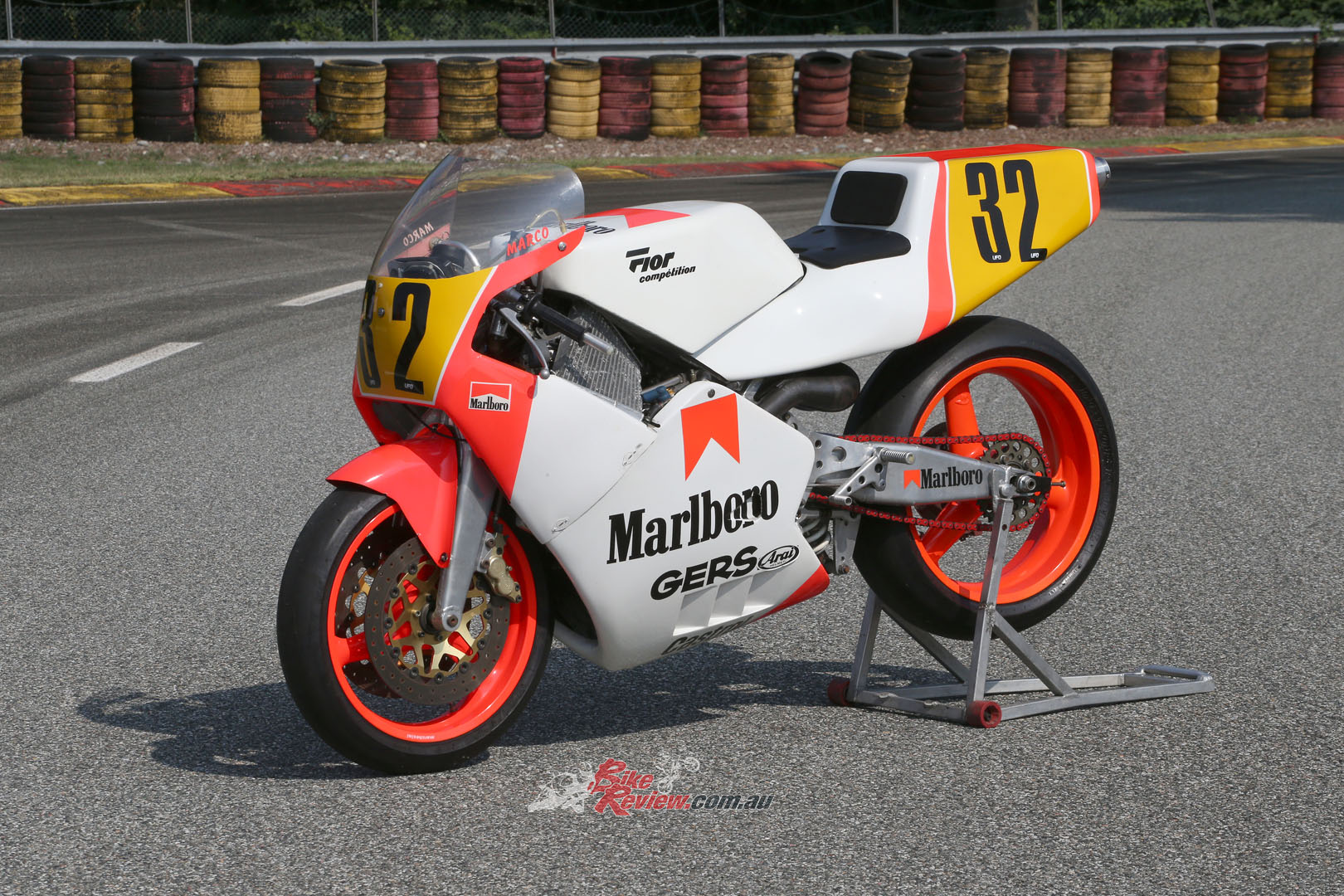 1988 FIOR 500-4 Racer Gallery
---

---

---