The Harald Bartol designed and built rotary valve 250 GP was a nightmare for Aussie Jeff Sayle, however, almost 40-years on it is sorted. Too late for Jeff but not for Sir Al... Photography: Kel Edge
Jocular and modest, but focused and determined, Austrian Harald Bartol was one of the top two-stroke tuners in the GP paddock up until the demise of the 125GP class in 2011. But he was equally skilled in carving lines and winning races. That extended to building his own bike…
After retiring from racing in 1980 and sinking all of his savings accrued during a 15-year riding career into the construction of the 250cc Bartol parallel-twin Grand Prix racers, the first such bike appeared late in 1981. "The original idea was to build something for me to race myself in the 250GP class," recalls Harald, 72, today. "The 125 riders were getting smaller and lighter, and I was just too big physically to be competitive like I used to be.
---
In only his second race on such a bike, Fernandez finished third in the 350cc Austrian GP at the Salzburgring…
---
I started out with a TZ250 Yamaha, but in 1979, I got a good sponsorship contract with an Italian company called Amaretto di Saronno, so I thought – OK, now I can build my own engine. But I began this project without having received any money from this company, and in the end it never came – so that was the reason that I had to stop racing. I'd already spent more than DM 100,000 on this project [$400,000 AUD], which was all the money I had. So there was no more to continue riding".
---
---
To try to recoup at least some of his R&D costs, Harald decided to produce a small series of complete rotary-valve parallel-twin Bartol 250GP racers for sale to customers. "We made seven complete bikes altogether," he says, "as well as a few spare engines, including a stroked 350 for Patrick Fernandez to use in the final season of the 350cc World championship in 1982, and a 375cc version he could ride in the 500cc class, too."
One early customer to choose this route was Pernod-sponsored Frenchman Patrick Fernandez, who replaced the TZ Yamaha engines in his Massimo Tamburini-designed Bimota YB3 frames – the same chassis on which Jon Ekerold had become the 1980 350cc World champion – with rotary-valve Bartol motors. In only his second race on such a bike, Fernandez finished third in the 350cc Austrian GP at the Salzburgring on Harald's home ground, followed by fourth in Assen and then eighth in Imatra to finish ninth in the 1982 350cc points standings.
---
---
The 250 was a flier, too, albeit fragile as well as fast – Fernandez twice put a Bartol-engined Bimota 250 on pole position for a GP, with a highest finish of second place in the 1983 German GP at Hockenheim, which added to 4th and 6th in the first two rounds at Kyalami and Paul Ricard put him 11th in the championship at season's end – tying on points with his Pernod sponsor's own 250GP bike ridden by Jacques Bolle!
---
No wonder Kenny Roberts named it "the fastest camel in the world", because it didn't handle very well – it simply would not steer."
---
But too few customers opted to take advantage of the extra performance offered by the Austrian motors, perhaps thanks to early mechanical issues. "Like with any new thing, we had some initial problems with the engine, but finally it came very good," says Harald. "But the biggest problem came in 1983 when brilliant Aussie rider Jeffrey Sayle rode the complete Bartol 250 motorcycle, and never qualified even once for a GP race on the thing. No wonder Kenny Roberts named it "the fastest camel in the world", because it didn't handle very well – it simply would not steer."
Bartol had decided he needed to build a complete bike because of the compromise Fernandez was experiencing with tyres on the 1980-spec Bimota. "We have big problems with the frame, because it was designed by Tamburini for the crossply tyre technology of 1979, and the new radial Dunlops are too wide to use in it," Patrick told me at Assen midway through the season.
---
---
"We're using their 16-inch front tyre which partially helps matters, but we really need a new chassis. The first thing was to concentrate on getting the engine right, which we've now done, while learning to live with the poor handling. For next season [1983] we'll have a purpose-built Bartol chassis, which will surely resolve these problems."
Except it didn't. The seven complete bikes Bartol built went to Fernandez, Aussie Jeff Sayle, Austrians Siggi Minich, Sepp Hutter, Gustl Auinger and Bertl Neumayr, and British entrant George Beale for another Aussie, Graeme McGregor to ride, after American GP rider Richard Schlachter failed to raise the necessary sponsorship to purchase the one he'd ordered. All these customers universally gave the flawed handling a thumbs down, either with 16 or 18-inch front tyres fitted.
---
---
37 years on, Harald reveals why this came about. "My main target in racing was always the engine side," he says. "I was not good on the chassis side, so I thought, what can I do? I went to [five-time World champion] Toni Mang and asked him, "Can you lend me one of your Kawasakis, only the chassis, to measure dimensions and stuff?" and he said, "Yes." I arranged to take this bike to the guys near me who built KTM motocross frames, and I told them, "I want the same angles and everything, exactly the same as the Kawasaki, also the suspension, but with my engine."
"The weight balance was good because it was a parallel-twin not a tandem-twin like the Kawasaki, so they said, "OK, we can do this." But finally, when I saw the chassis, the link on the top operating the rear shock was completely different, and had been moved forward. I said to the guys, I said, "That looks a bit strange to me," but they told me, "No, no, we've made the calculations, this is much better." I'd rather not say their names, because they tried to help me, but they failed completely – the bike was really unrideable.
---
I remember at Silverstone a long-haired Australian guy came into the pit – he looked like a college student with overalls on. He looked at the bike, and he said, pointing to the suspension, "This won't work – it'll do this and this and this… 
---
"I remember at Silverstone a long-haired Australian guy came into the pit – he looked like a college student with overalls on. He looked at the bike, and he said, pointing to the suspension, "This won't work – it'll do this and this and this – he described exactly the problems we'd been having. "You can cut all this crap out," he said, pointing to the link. "You're better off making it just direct operation without a link." Jeffrey [Sayle] had already gone back to Australia, but the next race was a European Championship round in Brno, where Gustl Auinger rode the bike after we cut all this out, and he won the race and set a new lap record! But it was all too late – and I never did get the Aussie guy's name to thank him!"
---
---
However, Harald's main helper in creating the flawed Bartol 250GP bikes was English, not Austrian – or Australian! Yorkshireman Alistair Taylor, now 69, is a 20-year veteran of the Grand Prix paddock, who during his time as variously a race mechanic, team coordinator, motorhome driver and paddock parts supplier, worked with a host of riders ranging from Mick Grant, Richard Schlachter, Cliff Carr and Graeme McGregor to Eddie Lawson, Gustl Auinger, Carlos Lavado and Martin Wimmer. Fluent in German – albeit with an Austrian accent! – Alistair had found himself out of work in the 1976 Finnish GP paddock at Imatra after a bust-up with Alex George, who he'd been working with for all of six weeks!
---
---
It was a watershed moment in his wrench-wielding career. "I'd known Harald Bartol for two years, and he was such a nice guy," recalls Alistair. "He had this super-fast 125 Morbidelli he'd tuned himself – it was engine number 1005, so only the fifth one made.
My mate Derek Booth, an ex-sidecar passenger from Doncaster who'd worked for Jack Findlay until Sweden, had also jumped ship from Jack and started working with Harald and Karl Auer, another Austrian guy who raced 500 and 350. They were in Finland with four bikes and two riders, and they'd not been able to find anybody in Austria to come all the way up to Finland to help them.
"Derek knew I'd left Alex and was doing nothing, so he said, "Can you come and give me a hand here, because I've got four bikes, and I need help!" So we did the meeting and Harald was OK with what I'd been doing, so he suggested I came to Austria to work for him. That lasted for six years – I used to come home to Britain in the wintertime, and work for Terry Windle building sidecar chassis, and then go back to Austria in February, do a bit of skiing, and get the bikes ready for Harald, and then after he retired, for Gustl Auinger, who I mechanicked for during the GP season".
The solution was obvious – use the fact that the Bartol motor was interchangeable with a TZ Yamaha to install it in an aftermarket TZ250 frame. For 1984 Auinger chose the best one then available which Alistair Taylor helped him build up, a Nico Bakker chassis made from aluminium tubing, with a proven rear suspension system using a White Power shock, whose durable but lightweight construction brought the half-dry weight down close to the 250GP class's then 100kg minimum weight limit.
---
Unfortunately, by then it had had what in German they call a kapital motorschaden, He'd blown it up big-time at his last race meeting at Frohburg – it had seized..
---
But after half a season of struggling unsuccessfully to get Graeme McGregor's original Bartol 250 owned by George Beale to handle, Alistair began running a paddock spares service for German Martin Ziegler, going on to work for Erv Kanemoto, Kenny Roberts and the Gilera 250GP factory team in various capacities, before returning to Yorkshire in 1994 for Life After Racing doing specialist engineering. In 2002 he founded Alta Engineering in his Barnsley home town, a plant maintenance firm that's subsequently flourished, giving him the time and money to go back to the future by taking up Classic racing with – what else, a 250 Bartol.
"I knew the Bartol engine had heaps of potential that was never realised, because the bad-handling chassis diverted attention from the real advances Harald had made with the motor," says Alistair. "So I started looking out for a bike with such an engine – and in 2012 I found one owned by a lad in Vienna named Christopher Eder, who'd been racing it for two or three years in Classic events. He'd bought it from Norbert Moser, who was a friend of Auinger's, and had bought the bike off him – so this was Gustl's old bike from 1984 with the Bakker frame.
---
"I built that bike, so it's just a bit special!" Alistair Taylor…
---
"I telephoned him straight away and said, "Do not sell that bike to anybody else!" And he's like, "Well, who are you?" I said, "I used to be a mechanic for Auinger, and I've worked for Bartol for six years, I've got my own engineering company in England, I built that bike, so it's just a bit special!" So we did the deal over the phone, and I went down and picked it up.
---
---
Unfortunately, by then it had had what in German they call a kapital motorschaden, He'd blown it up big-time at his last race meeting at Frohburg – it had seized, and one piston was in two parts and the gudgeon pin had machined the cylinder square. It was a running bike when I bought it, but when I got there it was destroyed! OK, that's racing, there's your money, and I'll take this pile of scrap."
---
---
On his way back to Yorkshire from Vienna Taylor called in at Bartol HQ in Strasswalchen, and enlisted its creator's help in making the motor live again. From being originally sceptical, Harald became an enthusiastic contributor to the Alta Engineering race effort, though it took long hours and lots of Austrian ingenuity to make the engine a runner once more. But on his annual skiing trip to Austria in February 2018, Alistair Taylor helped Bartol complete building it up, by which time he had the Bakker chassis ready to accept it, and a rider to race it, too.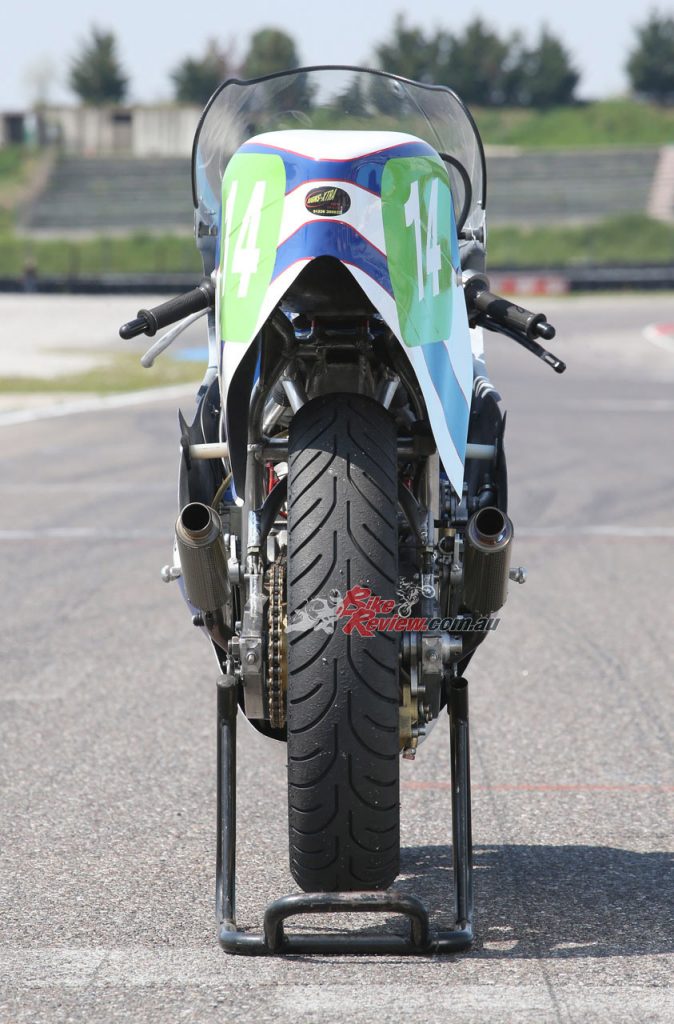 Privateer Leif Nielsen was Denmark's only GP racer in the 1970-80s, and since 2010 had already been racing his TZ350 Yamaha in European historic events when Alistair contacted him to see if he'd like to ride the Bartol. "I'd been in touch with Alistair ever since the '70s, and we've been at parties together at Derek's place, and we always stayed connected," says Leif. "It was great to finally team up together to race the Bartol."
---
---
In 2018 after a couple of shakedown races Nielsen and the 250 Bartol became consistent front-runners in the 11-race European Historic series run at tracks from Assen to Most/CZ, from Franciacorta in Italy to Sachsenring and Oschersleben. Leif eventually wound up second in the championship – but in 2019 he went one better, and won the 250cc title with a series of victories, frequently also beating most of the 350cc bikes running in the combined race.
---
---
"I can't deny having a sense of mission accomplished," says Alistair Taylor. "To get the bike performing as well as we have with Harald's help finally shows what an excellent design the engine was all along. Leif's ridden it very well, fast but also safe – I couldn't have asked for more, and it's been great having Derek Booth along as well, to help me look after the bike." Harald Bartol is also undeniably pleased. "What Alistair and Leif have done with my engine is very satisfying," he says. "OK, so it's Historic racing – but the lap times are good, and there are a lot of Yamahas behind them!"
Having written about the Bartol 250/350 project during my early days as a GP reporter, it was very satisfying to finally ride one, which thanks to Manfred John and his Klassik Motorsport organisation team I was able to do in practice for the Franciacorta round last year. Not only does the 247cc Bartol motor measuring 54 x 54mm have the same mounting points as the TZ250 Yamaha, it also weighs the same at 31kg without carbs, despite being fitted with Harald's own 180-degree crankshaft, and his own design of cylinders with six transfer ports and three exhausts.
It's a very compact engine design – the same width carb to carb as a 125 MBA, with the 36mm flat-slide Mikunis sticking out the side and bored to 37mm. The water pump lives at the rear of the engine cases, with the ignition right behind the Yamaha clutch for a slim profile. "When I designed the engine I tried for a narrow width," says Harald Bartol, "But it was a bit difficult to get everything behind each other with the rocker arm suspension design we originally used. If I decided to build another I'd certainly stick the ignition on the left where there's more space."
---
---
For 2019 Harald designed some new exhausts which were made in Britain by Abcon Exhausts in Nottingham. The engine was rebuilt in Strasswalchen last winter, and running on a 4 per cent mixture of 95 octane pump fuel and AGIP oil (Bartol engines always had quite a low compression) delivers 76 bhp at 12,000rpm at the rear wheel – a useful step up from the 71bhp it originally developed back in the day (89bhp for the stroked 350cc version raced by Patrick Fernandez).
---
---
Part of the reason for this is the Slovenian-made Zeeltronic electronic CDI now fitted to the bike, a programmable system which allows the advance curve to be varied very readily, and as I immediately found when I rode the bike at Franciacorta, gives a much greater spread of torque than I was expecting from a 37-year old rotary-valve motor. Back then, before the development of exhaust powervalves, these had a very fierce transition into the powerband, as well as a narrower spread of both power and torque, albeit with more power than a piston-port or reed-valve design.
Instead, the Bartol 250 offers the best of both worlds, because there's a strong, smooth transition into the rotary-valve motor's strong powerband above 8,500rpm, as well as the kind of torque delivery I've only ever experienced before on a two-stroke 250 from a powervalve-equipped motor. During my three 20-minute sessions on the bike I had a several drag races out of the Franciacorta hairpin with later 1990s TZ Yamaha thus equipped, and despite what I presume was my extra weight compared to a typical 250GP jockey, the Bartol fully kept up with them. It also starts very easily, in just a couple of steps – so much so that Leif petitioned the organisers to go back to the future and institute push-starts again, but got turned down on the grounds that the FIM forbids them, even for Historic racing!
---
---
In fact, the Bartol's so torquey by two-stroke standards that I ended up using the gearbox's one-up race pattern left-foot gearshift rather less than I was expecting. So exiting the last tight left-hand turn onto the Franciacorta (main) pit straight I could short-shift into 2nd gear at 9,500rpm, and then ride the torque curve all the way from just over 8,000 revs up to the 11,800rpm mark where Leif told me he shifts up – I found it will run higher before the power tails off, but there's no real need to do so because of the meaty (by two-stroke standards, anyway!) torque curve.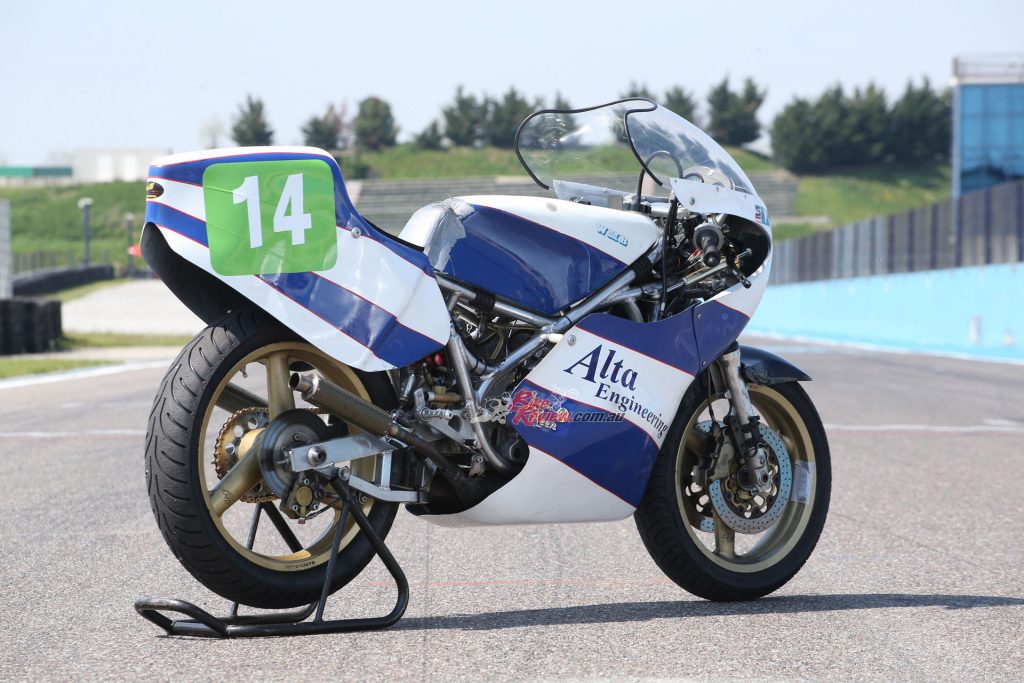 In my first session I ended up having a great battle with a well-ridden TZ250, whose rider was braver than me on the brakes going into the infield section of the track, only for me to be able to outdrag him out of the slower bends. This was despite the gear-lever being a fraction too low for me to shift gear properly on the brakes – well, that was my excuse anyway! – so I'd occasionally enter a turn one gear higher than I'd intended. For all the wrong reasons this underlined the forgiving nature of the Bartol's motor – not a term you usually relate to a rotary-valve motor – as well as the great grip from the Avon tyres as I cranked the bike over further than intended to cope with the extra turn speeds. Oops!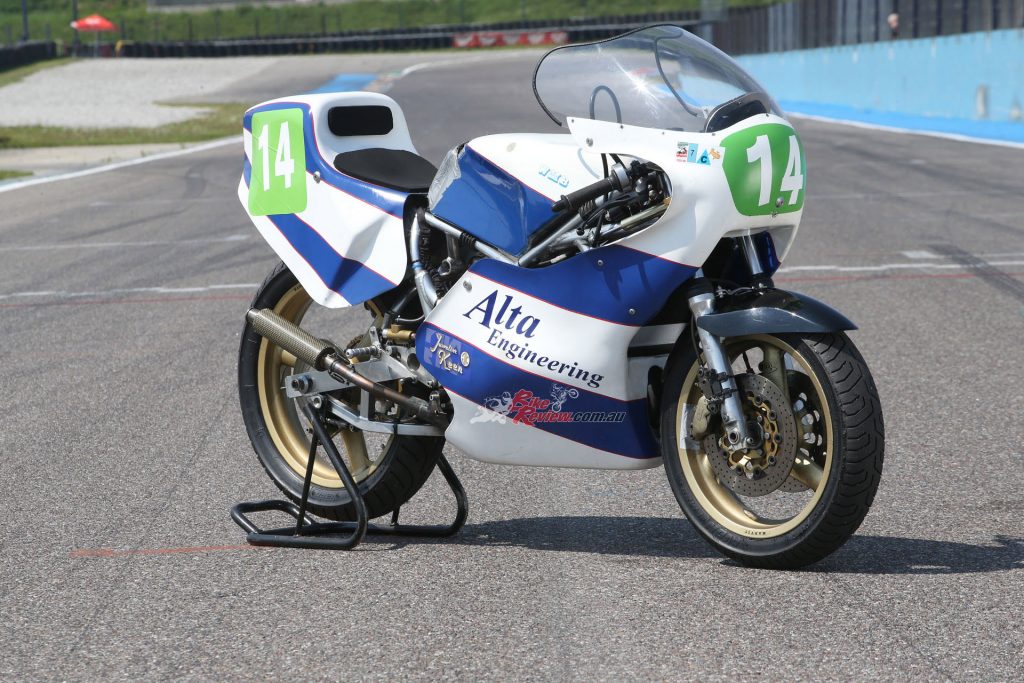 For my second session Alistair had positioned the gear lever better for me, so I was better able to start riding the Bartol in something approaching anger. Unfortunately, after just a couple of laps the engine slowed, and I toured in with what transpired to be a broken ignition pickup. Better it happened to me than Leif in his race the next day! But third time lucky it all came together, and I could really appreciate the qualities of the Bartol motor – as well as the Bakker frame, which like every product I've ever ridden of Nico's 'Frame Bakery' (Bakker means Baker in Dutch!) felt capable and predictable.
It was both stable round Franciacorta's fast sweeping right-handers, and nimble handling in the infield turns, where the 16-inch front wheel gave a good sense of security in trying to keep up turn speed, thanks to what I presume is a wider contact patch than with an 18-inch tyre. The Bartol braked really well, too, the twin front Brembo discs with their Serie Oro calipers stopping the 104kg half-dry bike and its rider (weighing almost as much!) very capably from fifth gear down the pit straight, as I zipped down three gears in swift succession on the now sweet-shifting gearbox.
---
---
I didn't use the ultra-lightweight 200mm aluminium Zanzani rear disc at all, and nor does Leif – thanks to what's obviously a well-chosen front suspension set-up the Bakker frame's stability was good enough without my having to counter weight transfer by using the back brake first before leaning on the front stoppers.
But the real star of the show is that excellent engine, as evidenced by the fact that in my last couple of laps of my third session on the Bartol I gradually inched closer to a 1990s TZ250 with its later V-twin reed-valve motor complete with powervalve. After following in his tyre tracks for a couple of laps, I could confirm that the rotary-valve Bartol devoid of any electronic assistance was the equal of this ten-year younger motorcycle in a straight line, as well as just as strong on acceleration both out of a slow turn and a third-gear sweeper. Mission accomplished, Harald – and kudos to Alistair Taylor and Leif Nielsen for helping prove the value of your engineering skills 37 years on!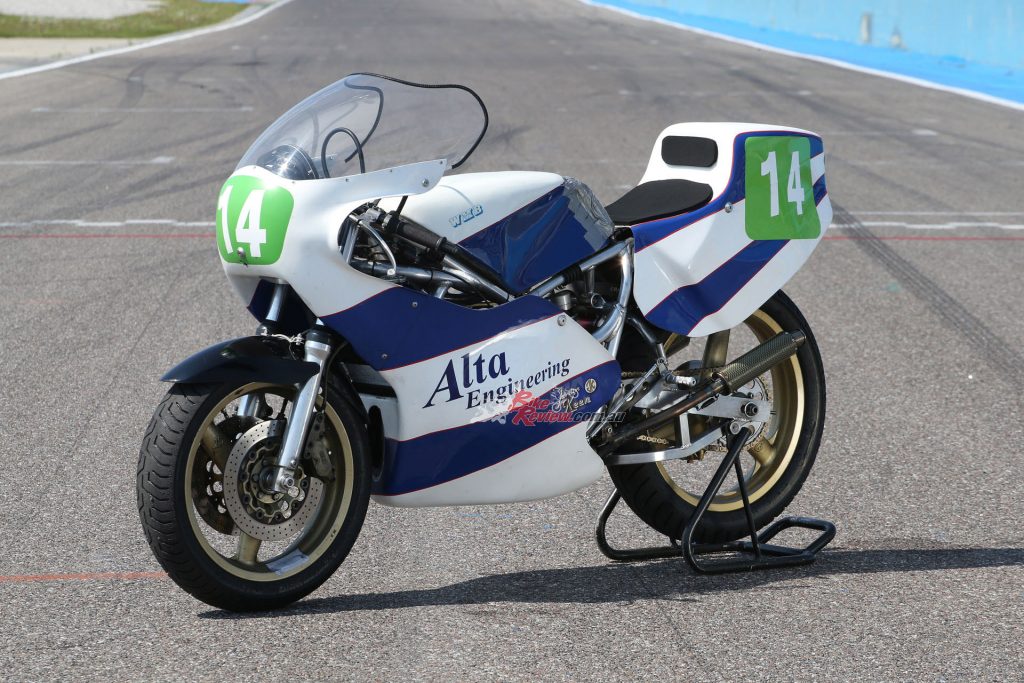 ---
Read Alan's feature on Harald Bartol here...
---
1983 Bartol 250 GP Racer Specifications
Engine: Water-cooled parallel-twin rotary-valve two-stroke with 180-degree crankshaft and  6 transfer/three exhaust ports, 54 x 54mm bore x stroke, 247cc, 2 x 37mm Mikuni flatslides, Zeeltronic electronic CDI, 6-speed Yamaha gearbox, Multiplate dry Yamaha clutch.
---
Chassis: Aluminium tubular duplex cradle frame, 27.5 degrees rake, 110mm trail, 1330mm wheelbase, 40mm Kayaba telescopic forks, Braced extruded aluminium swingarm with White Power monoshock and rising rate link, 2 x 260mm front Brembo stainless steel discs with two-piston Brembo calipers, 1 x 200mm rear Zanzani aluminium disc with single-piston Brembo caliper, 120/70-16 Avon AM22 on 3.00 in. Marvic cast magnesium front wheel, 150/70-18 Avon AM23 on 3.00 in. Marvic cast magnesium rear.
---
Performance: 76bhp@12,000rpm (at rear wheel), 104kg with oil/water, no fuel. Top Speed: 220km/h.
---
Owner: Alta Engineering Ltd., Barnsley, Yorkshire, Great Britain
---

1983 Bartol 250 GP Racer Gallery

---
---
---
---
---
---