The Bob Brown Ducati Pantah was a rocketship of a bike, Aussie built and beating the big guns enough to scare them... Words: Alan Cathcart Photos: Stephen Piper & AC Archives.
Any racebike which has had top people at both Honda and Ducati trying to ensure it disappeared from the racetrack at one time or another during its life, has to be pretty special, and the legendary air-cooled Pantah-based Bob Brown Ducati F1 certainly is that. 
For it was on this motorcycle that future 500GP-winning works Yamaha and Suzuki rider Kevin Magee made a name for himself, not only via his countless wins on the little Desmo V-twin in local Thunderbike and Formula European support events, but even more so after he took on and beat the factory-built Honda VFR750 and Suzuki GSX1100 Superbikes in the ASBK Series in 1984/85.
---
Check out our other Throwback Thursdays here…
---
That Brown-brewed Pantah-based F1 racer was pretty remarkable for its cheeky challenge to the might of Japan Inc. – to the extent that, after being beaten by it, the Honda Australia team actually wound up protesting the Ducati's technical eligibility for Superbike racing on the grounds that not enough street versions had been registered in Australia with its Verlicchi frame.
---
Read our feature on the Bob Brown Ducati TT2 Supersport Replica built by Bob Brown here…
---
Even though such a bike had been in production for the previous two years in Italy, at a time when Ducati's annual production just on the cusp of its rescue by the Castiglioni family's Cagiva company, had shrunk to a mere 4,000 bikes. 
This brazen attempt at rulebook racing by representatives of the world's largest manufacturer, after its bikes had been humbled by a low-budget, underdog of a desmo V-twin concocted by an impecunious tuner and ridden by a kid on his way up through the ranks, not only gained Brown and Magee instant celebrity worldwide, but even more support from outside the ranks of its Ducati fans in Australia.
---
---
It was an affection strengthened after Magee moved to the Yamaha Dealer team en route to 500GP racing, to be replaced for the 1986 season aboard the Bob Brown Ducati by youthful Kiwi Aaron Slight, who repeated his success in winning races against the faster and more powerful – but also heavier and less nimble – Japanese fours. It was a Down Under preview to the standoff between twins and fours in the WorldSBK series shortly to commence in 1988, which Aaron would join and make his mark in.
---
Check out our interview with Kevin Magee on the Bob Brown Ducati here…
---
When the standoff came, it was between the Japanese bikes and a very different kind of Desmo V-twin – the eight-valve fuel-injected 851 Desmoquattro created by Ducati's youthful new chief engineer Massimo Bordi. Bordi had taken over technical direction of the Italian company from his legendary predecessor Fabio Taglioni, with the acquisition of Ducati in 1985 by Cagiva. After making its debut in 748cc form in the Bol d'Or 24 Hour race in September 1986, then in 851cc guise by winning the 1987 Daytona Battle of the Twins race in the hands of Marco Lucchinelli, the production version of the new Ducati 851 Superbike was unveiled at the Milan Show in October 1987. It was available in two versions, the 851 streetbike and the limited edition 851S Kit, a true racer-with-lights intended as a homologation special for Superbike racing.
---
---
By then I'd been racing Ducatis for more than a decade, at a time when Italian bikes were so essentially unfashionable that those of us outside Italy who admired them were considered eccentric, and actually buying one was practically certifiable. Paul Smart's 1972 Imola victory, and the decades of Desmo dominance it foreshadowed, furthered by Mike Hailwood's historic '78 TT comeback, began to change that – but even so, my regular visits to the Bologna factory to source parts for my racebikes, and the success I had with them, earned me lots of brownie points with the management there.
---
This extended to being lent Tony Rutter's World champion 600TT2 factory bike to race in the 1982 Macau GP. By now I'd begun to work as a journalist, albeit still with free run of the factory – which is how I got to be mates with Massimo Bordi, and in August 1986 was allowed the first look by anyone outside Ducati at the prototype Desmoquattro, as the R&D team worked through the Italian holiday month to prepare it for its public debut at the Bol d'Or in September.
I was top of the list to be the recipient of the first customer Desmoquattro to leave the Bologna factory the week after the Milan Show, an 851S Kit. This was one of the seven examples of the 851 Superbike formally known as the Edizione 11/1987 which were hand-built that month, in order to be shipped to favoured race teams around the world in preparation to be raced the following season. But those like Reno Leoni and Eraldo Ferracci who planned to debut theirs at Daytona the following March had to wait their turn, because I was first in line to receive such a bike.
---
---
That was because I'd got support from New Zealand Ducati importer Don O'Connor to race the brand new bike in the BEARS support class to the 1987/88 NZ Superbike Championship starting in mid-December at Manfeild. The deal was that, while I provided the bike and he took care of all expenses, I'd be running in the BEARS support class, sharing the bike with the late, great Robert Holden who'd be racing it in the F1/Superbike category.
---
"My main priority was conducting a real world racer test of the new Ducati, as well as racing a track like the legendary Wanganui Cemetery circuit aboard the next generation of Ducati V-twin in whatever category I could, and getting a good story out of it – so, no problem."
---
But there was indeed a problem, which saw my new Ducati sit for more than a month at Milan Airport as a pawn in a drawn-out Customs strike which prevented its departure Down Under – a fact I only discovered after I'd arrived in NZ, expecting find the Superbike awaiting me. So that left us searching for a Plan B, which Don O'Connor swiftly addressed in those pre-cellphone days by booking a phone call to Bob Brown in Melbourne, Australia, to ask him what he had planned for the next month!
---
---
Two days later Bob landed in Wellington, followed a day later by his air-cooled 851cc Ducati F1, which for the next month did double duty between myself and Robert. Having raced an ex-works 750cc Bimota DB1R the previous season in Europe and Daytona, I had an idea of how well a good desmodue ought to go – and this was considerably better! Stroking the engine to the same 92 x 64 mm dimensions as the new 851 Superbike gave it a lot more torque, delivered via a muscular-sounding exhaust note instead of the more raucous rasp of a tuned 750 F1. 
After making a solid start with a pair of BEARS rostrum finishes aboard the bike in the first round at Manfeild, I came to the Wanganui street circuit's Boxing Day round convinced that the extra rideability of the big motor would make it well-suited to the tight confines of the Cemetery circuit. It was indeed – but only one thing wrong: I came up once again against four-time World champion Hugh Anderson on Brook Henry's Australian-built 905cc Webrook Ducati. Though I'd beaten him at Manfeild running on the slick tyres that Hugh professed himself unfamiliar with using, the fact that the Wanganui races on a circuit he knew backwards took place on a damp track after dry practice meant that he got his own back on me there, on treaded rubber.
---
---
Meantime, Robert Holden had been riding the wheels off the Bob Brown Ducati in Superbike races, doing what it liked to do best – beating up the faster fours. He defeated Bob Toomey's monster Suzuki GSX1100 to win the NZ Grand Prix at Manfeild, and the battles between them at Wanganui, which ended with one win apiece, are still spoken of with awe by those who witnessed them. But sadly the demands of doing double duty and running in up to four races each day, as well as letting two different riders practice on it, eventually told on the Ducati's motor. Robert blew the engine in midweek practice for the final Ruapuna round on NZ's South Island.
I'd become really entranced by the Ducati's performance, and how nice it was to ride – so when I learned that Bob was going to fix the motor and sell the bike to raise cash for – what else, an 851 Desmoquattro! It took me about ten seconds to make him an offer he couldn't refuse to rebuild the engine, freshen up the by now very tired bodywork, then stick it in a crate and fly it to Daytona for me to ride in the Battle of the Twins race there in March. We shook hands on it, I went home and sold my Bimota to one of the many who'd already been trying to buy it off me, then flew to Florida seven weeks later to find the Ducati's crate awaiting me in my Speedway garage.
---
Off came the top to check it's OK, and – shock, horror, he'd gone and painted YELLOW! "Well, you said you didn't mind what colour it was painted so long as it wasn't yellow, so I thought I'd surprise you," was the Brown rationale. Hmm…
---
At least the Down Under colour on the svelte and very distinctive new bodywork created by Rod Tingate made the Ducati easy to pick out in a crowd, and the great job Bob had done in rebuilding the engine was demonstrated by its speed on the bankings. I won my first race on the bike in my ownership, the 25-mile Daytona ProTwins Sprint race on the Daytona bankings at the start of Cycle Week – a fact which made me decide the yellow livery was obviously lucky, so I better keep it!
---
---
But this was just the precursor to one of the most enjoyable race seasons I ever had in a 25-year career, during which the Bob Brown Ducati ran like a train almost all year long – and a very fast, quiet one, at that. The exhaust was the same 2-1 design Rod Tingate made, to which I fitted a SuperTrapp end can for European noise tests, which had the benefit that you could tune the sound by adding or subtracting discs from the end – more for the noise police in Holland, none at all for Italy!
---
---
I found sponsorship backing to contest Europe's premier ProTwins race series, the six-round German Championship run as a support class to the German Superbike series, and contested by a fleet of 851 Superbike Ducatis fresh off the Bologna production line. The Aussie-built Ducati ran flawlessly all year, and though I never won a round I had several rostrum finishes en route to second place in the championship behind Stefan Schulz's Moto Guzzi, which made up with power what it lost in handling.
I also won a couple of races on the BB Ducati in France and especially Italy, where it inevitably attracted heaps of attention because of its giant-killing success against the new Desmoquattro Superbikes. Despite its skinny 18-inch rubber, I never once crashed the bike – and as an 851 it had a lot more torque as well as power versus the 750 Pantahs. So a stiffer, braced-up box-section swing arm was fitted to cope with that.
---
I never once got beaten all year long in Europe by a new-model 851 Superbike – a fact which caused my mate Massimo Bordi considerable anguish, as he never ceased to remind me when I'd visit the Ducati factory for journalistic purposes. 
---
"Every Monday morning after you've been racing that bloody Australian banana somewhere in Europe, I come into the office and find another pile of telexes from 851 customers complaining that their bike wouldn't beat that old air-cooled Desmodue," he'd declare. "What can I do to stop you racing it?!"
Well, Massimo, you could let me have the factory Superbike motor you were supposed to have sent to NZ in the first place for me to race with there! But Ducati was short of engines for Lucchinelli's factory Superbike – which for this reason didn't compete in all the Superbike World Championship rounds that year, after winning the first round at Donington – because of constantly cracking crankcases. It was making too much power for the Pantah crankcases that had been retained on the new eight-valve motor, complete with kickstart boss on this electric-start motorcycle, so I didn't get that replacement engine until the end of the season.
---
---
So not before I had my most satisfying as well as most frustrating outing on the Bob Brown Ducati at the fabulous Spa-Francorchamps circuit in August, in the so-called Daytona of Europe ProTwins support race for the Spa 24 Hours World Endurance round. Having won the Florida event it was named after, Roger Marshall fronted up with the Quantel Cosworth, and duly took the double-up race win, but only after a nine-bike slipstreaming battle for the lead involving the top twins in the German, French, British, Dutch and Italian ProTwins series.
---
One by one they either dropped out or fell back, until it was just me and my French policeman mate Marc Granié on a cubed-up F1 Pantah dueling for the final two places on the rostrum, about 100 metres behind the Cosworth. Marc could only keep up with the faster Australian Desmodue by slipstreaming me along the long Spa straights, so I knew he'd try to out-brake me into the bus stop chicane on the last lap, then if that didn't work go for a second roll of the dice 400 metres further on at the final corner, the tight second-gear La Source hairpin. I held him off both times, accelerating out of the hairpin en route to second place – only to miss third gear big time, which of course allowed Marc to zap past me before the line. I was SOOOO pissed with myself.
Except I hadn't missed a gear, because there was no gear to miss, as I discovered two weeks later in the final round of that year's TT Formula 1 World series in far away Sicily, at the Pergusa circuit, which had splashed out huge sums of local cash to give great start money deals for us Northern Europeans to front up there. We'd serviced the bike after the Spa race before setting off, and all seemed well – until I exited the pits on my first lap of practice, and promptly missed third gear again!
---
---
The gear pinion had in fact broken at Spa, but we hadn't discovered that in prepping it for Pergusa, and there'd been no metal in the oil when we changed it to alert us of that. No choice but to split the motor, remove all the remains of the broken gear, cobble up a gearbox with no third gear, do the bare minimum distance for qualifying and then two laps in the race for our diesel money home.
---
" After rebuilding the gearbox I reluctantly stopped racing the Pantah, though I will admit keeping it for a further six months as a just-in-case backup for the 851, which however proved pretty reliable but a lot more complicated and time-consuming to maintain."
---
With the Pantah, you'd turn up at a race, pump up the tyres, gas up the tank, warm it up very carefully because of the tight clearances – and then go trouble-free racing. It was completely reliable all season long, and amazingly forgiving in terms of carburation and even gearing, though we always made sure to have a few revs in hand on faster tracks like Spa or Monza or the old Assen to be able to slipstream faster bikes, especially 851s, then zap them on the brakes.
So I sold the 'bloody Australian banana' to my Historic GP racing teammate Joaquin Folch in Spain, where it has sat for the past 30+ years in his fabulous Barcelona collection of around 400 bikes, which includes 23 works Ducatis, three of which the factory doesn't have in its own Ducati Museum. 
---
Reunited 25 years later
I've ridden Ducati Desmo V-twins on the road and raced them on the track all my two-wheeled life, but if there's one such bike that's got a special place in my heart it's the Bob Brown 851 Pantah, for reasons already described.
So the chance to renew my friendship with this very special Down Under Ducati by riding it at the annual Broadford Bike Bonanza after it returned to Melbourne, Australia where it was born, and to the hands of the man who made it, Bob Brown, was a special moment. I wasn't quite sure how I'd get on with it. The world of motorcycles had changed very much in the quarter-century since 1988 when I last raced it, and especially the kind of V-twin motorcycles made in Bologna.
I needn't have worried. It took half a lap of the switchback Broadford circuit, just the kind of track the BB Ducati was made for, to get back in the groove again aboard it. It's so, so slim and practically wimpish-looking compared to a modern Ducati, especially a Panigale, yet it seems quite tall and almost spindly, especially with the 18-inch wheels it carries.
---
---
You sit deep within the high-backed seat, so that you feel at one with the bike, being practically wedged aboard it without much inducement or even much space to hang off the Ducati to deck your knee on the ground in turns. That doesn't matter, because the way to ride it is not to move around it much but to go with the flow, flicking it through turns via a combination of weighting the footrests, nudging the flanks of the flat-topped fuel tank with your knees, and working the steeply dropped clipons which also deliver a comparatively aerodynamic stance, despite the minimalistic but relatively tall screen.
That wind-cheating ability was proved by the successes I enjoyed with the Ducati on fast tracks like Spa or Assen, let alone its 158mph top speed through the Daytona speed traps, which was some going for an air-cooled Desmodue V-twin back then.
The skinny 130/65-section rear tyre makes riding the BB Ducati much more a question of maximising momentum in turns like a Moto3 or 250GP racer, rather utilising than a Superbike-style point-and-squirt technique. You must focus on braking as late as possible to make the most of the Ducati's featherweight 124kg build, without at the same time getting all loose and squirrelly, because that'll lose you time and composure, as well as affect your exit speed.
---
---
Smoothness was the key to getting the most out of the Ducati's poised, fingertip steering, for despite its pretty conservative steering geometry, with a 26.5° rake to the 38mm Marzocchi fork, and 120mm of trail, the Verlicchi-framed Ducati was very light-handling.
---
Yet I remember the Ducati always liked fast corners, despite the tight 1395mm wheelbase which helped make it so nimble in tighter turns like the Broadford infield. There, it held a tight line round the long, uphill left-hander on to the pit straight, without my having to work overtime at stopping the front wheel washing out over the adverse camber surface. It felt very solid, very planted, but also very responsive – just as I remember it did back then.
---
---
Despite their smallish 280mm diameter, the twin Brembo cast-iron front discs and two-piston Serie Oro calipers stop the Ducati brilliantly, aided by a good dose of engine braking – again, it's a confidence inspiring bike in the way it stops. You must try not to get the rear wheel hopping on the overrun, but you need to really over-exaggerate the engine braking to get that happening. I freely admit I never used to get the rear wheel sliding on the stoppers, as Kevin Magee says was his acquired technique, so I hardly ever used that big rear 240mm disc he fitted to help promote that.
---
But it's that wonderful engine that makes the Bob Brown Ducati so much fun to ride. It pulls very strongly from as low as 3,000 rpm, as shown on the ultra-readable Kröber tacho, up to the 9,000rpm ceiling I always observed.
---
Though grunty down low it has a linear powerband, resulting in power building just as the revs do, meaning it pays to rev it out in the gears to somewhere close to the redline, although there's quite a big gap between third and fourth gears on the five-speed gearbox, which Bob Brown insists are stock Pantah 600 gears. "
It makes so much torque, we never had to worry too much about gear ratios," he says. The right-foot one-up gearshift is crisp and precise – I remember I never missed gears on it, not that it would have had any significance mechanically, this being a Desmo! With Pergusa gearing for the fast Sicilian track that was the last place I used the Ducati in anger before riding it at Broadford 25 years later, I could only grab fourth gear along the top straight – but the nifty wheelie it pulled every lap over the brow in the middle of it was a pleasant reminder of that engine's torquey but forgiving character.
---
---
It finally got me cranked up to restore the monocoque-framed Bob Brown Ducati which had been sitting in my garage equally unused for three decades The Aussie tuner commissioned it from master tinsmith Rod Tingate to house the eight-valve version of the air-cooled 851 Pantah motor which he created two years before the advent of Massimo Bordi's liquid-cooled Desmoquattro Superbike.
The four-valve cylinder heads were removed from the motor before I bought it from Bob, and have since gone missing – but as the ultimate expression of the innovative engineering which this master of Desmo V-twin turning produced 30-plus years ago, it begs to be returned to action.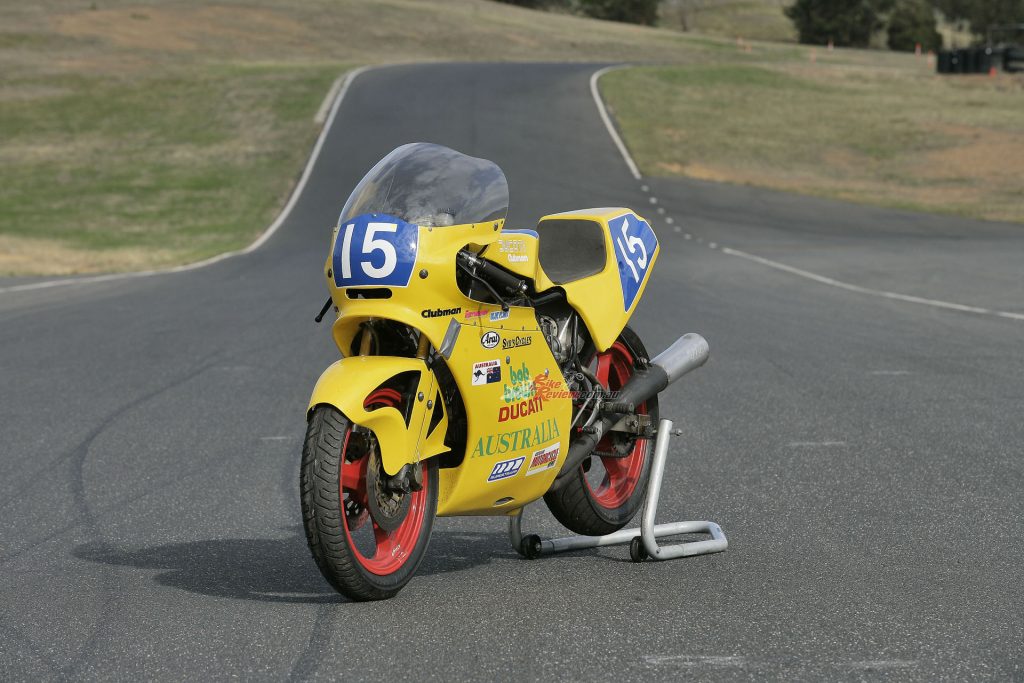 1985 Bob Brown Ducati 851 F1 Pantah Specifications
ENGINE: Air-cooled SOHC Desmodromic 90-degree V-twin four-stroke, with two valves per cylinder and toothed belt camshaft drive, 92 x 64mm bore x stroke, 13.2:1 compression, 2 x 41mm Lectron flatslide, Kröber self-generating electronic CDI, five-speed gearbox, GPM multiplate dry clutch.
---
CHASSIS: Chrome-moly tubular steel trellis spaceframe with engine as semi-stressed member, 26.5 degrees rake, 120mm trail, 1395mm wheelbase, 38mm Marzocchi telescopic fork, Box-section aluminium swingarm with cantilever direct-action Koni shock (no linkage), 110/80-18 Avon AM22 on 2.50in PVM cast aluminium wheel, 130/65-18 Avon AM23 on 4.00in PVM cast aluminium wheel, 2 x 280 mm Brembo floating cast-iron discs with two-piston Brembo calipers, 1 x 240 mm Brembo floating steel disc with single-piston Brembo caliper.
---
PERFORMANCE: 102hp@9,000rpm (estimated, at rear wheel), 124kg with oil, no fuel, top speed 254km/h (Daytona 1988)
---
OWNER: Joaquin Folch, Barcelona, Spain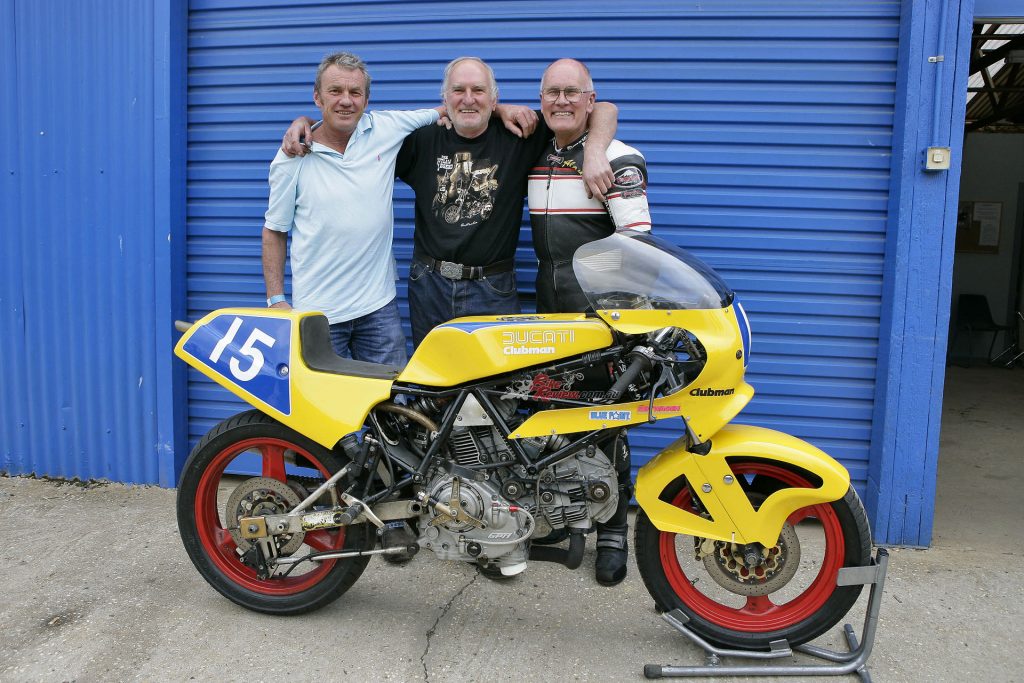 1985 Bob Brown Ducati 851 F1 Pantah Gallery
---
---
---
---