To celebrate the 20th Anniversary of Kenny Roberts Jnr's World Title, and 40-years since KR Snr's third title, we are running father and son bike tests. First the Suzuki XR89, then the Yamaha OW48R... Test: Alan Cathcart. Photography: Paul Barshon
This year marks the 20th Anniversary of Kenny Roberts Jnr's World 500cc Grand Prix title and therefore, 20 years since history was made with the only father and son World Champions created, with Kenny Roberts Sr won his last title 20 years before that in 1980…
After winning four GP races and finishing second overall in the final 500GP World Championship of the last Millennium, with a bike which was the surprise package of the 1999 season, Kenny Roberts Jnr. and the RGV500 Suzuki XR89 went one better in 2000. KR Jnr. clinched the World title two races early after again winning four races in the 16-race season – one more than anyone else – and scoring more points in more races than anyone, too, with a single DNF at Assen after the engine seized when he was seemingly set for a fifth victory. A total of four pole positions, nine rostrum finishes and three fastest laps stamped King Kenny II and the XR89 as the dominant force in Y2K 500GP racing, ahead of Valentino Rossi in his 500GP debut season for Honda.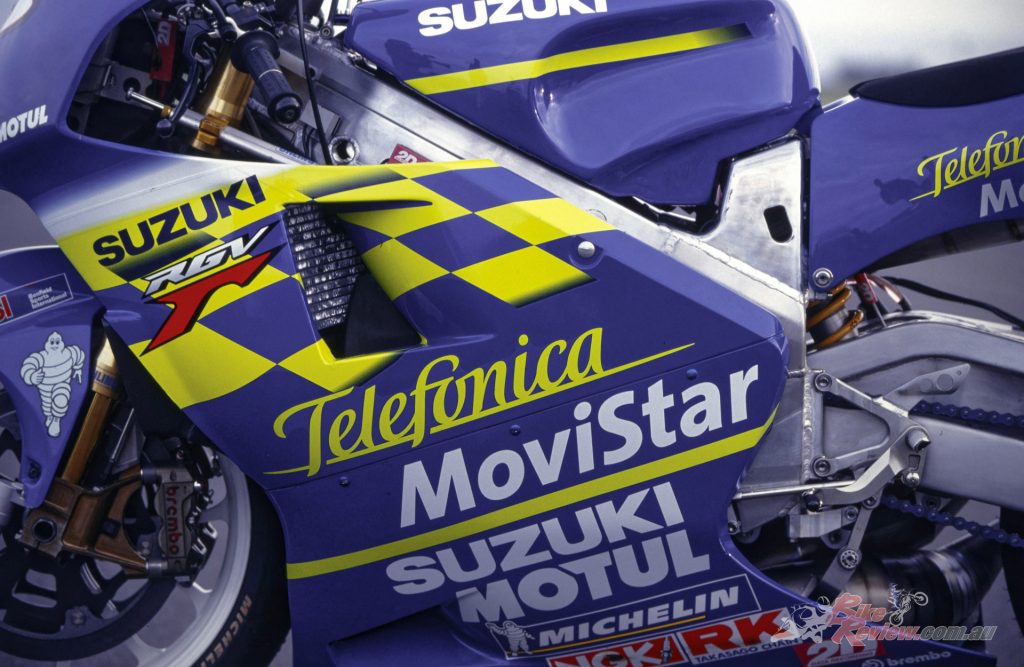 This came after the Suzuki rider took the championship lead in the third race of the season in Japan, and held it for the rest of the year, despite an obvious horsepower deficiency on the part of the RGV500 Suzuki's twin-crank engine that Kenny was especially vocal about all year long. It just meant he had to work a little harder to succeed his Dad as master of the 500GP universe, exactly twenty years on after KR Snr. scored the last of his trio of World titles for Yamaha….
---
---
THE RIDE
The chance to test the newly crowned 500cc World champion's bike at Phillip Island two days after the season-ending Australian GP, came almost exactly one year to the day after I'd last ridden the RGV500 Suzuki in XR89 guise at Jerez – a tighter track than the fast, daunting Down Under circuit. In Spain, I'd discovered the bike's crucial advantage – its sweet steering and refined handling, in turn the product of the effective three-way collaboration between rider Roberts, the Suzuki design staff back home in Hamamatsu, and Aussie race engineer and former top rider Warren Willing [see Tech Breakout – Ed], which endowed the XR89 chassis with a level of balance and refinement that set it apart from its rivals.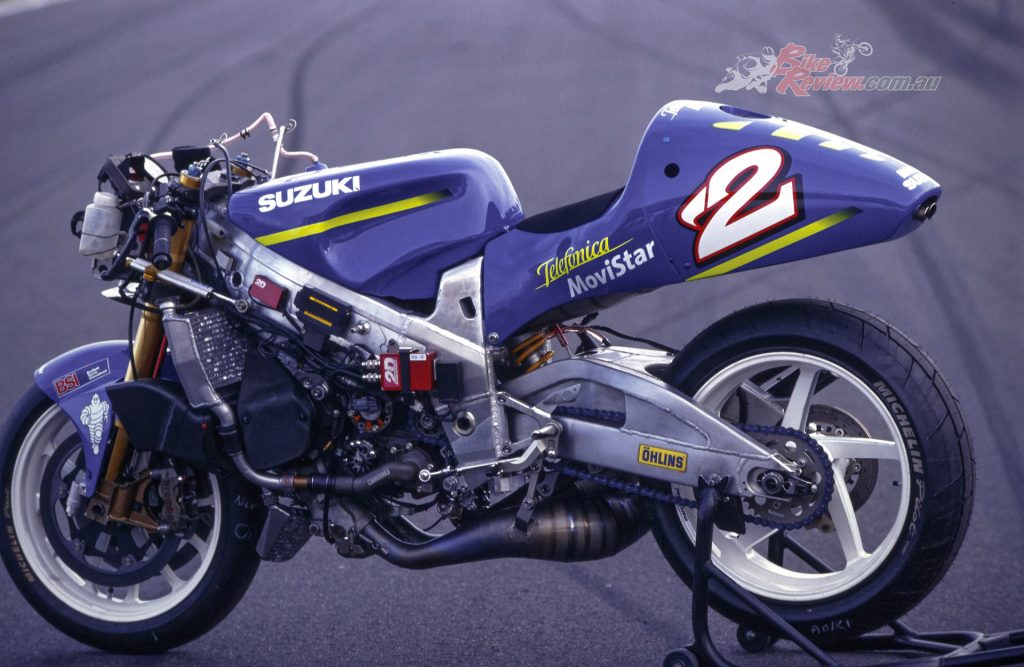 However, the ability to cut inside the opposition and hold a tight line in a slower bend that I discovered at Jerez was one thing – but the fast, flowing Phillip Island track posed a different kind of exam: was the Suzuki's agility and poise in changing direction in tight turns only obtained at the cost of high speed instability, which might compromise its performance on faster tracks? Twenty-five laps of the Island later, I had my answer – as well as a vivid lesson in the phenomenal levels of skill needed to ride a final evolution 500GP two-stroke round a high speed circuit like this at competitive speeds. Yet two years later, such bikes would be history on wheels – replaced by the correspondingly heavier but no less demanding 'diesels' of the four-stroke MotoGP era.
Whereas in the past when testing factory Superbikes at Phillip Island I'd always been able to get on the pace reasonably quickly, and cut a qualifying time for the World Superbike race held at the same circuit, I'll readily hold my hand up and admit that trying to do the same thing with the lighter, equally powerful and infinitely better braked RGV500 Suzuki presented a much steeper learning curve, that took some time to even attempt to master. Mind you, I was in good company, alongside former Suzuki World champion maestro Kevin Schwantz, having his first outing on a 500 of any kind for five years and lapping a 'mere' seven seconds off the lap times being carved out by King Kenny II and his new Spanish teammate Sete Gibernau (having his first-ever ride on the Suzuki out of the same pit as me).
---
---
It wasn't for want of trying, though – and coming to our aid in redressing the balance even slightly were the Suzuki's established attributes of its balanced chassis set-up, precise steering and high corner speed – well, once you've programmed your brain to convince yourself that what seems like a ridiculously fast entry speed for Siberia on a bike I'd already laid a darkie on out of Honda, really was the right and proper way to ride the guided missile that a 500GP EVO-stroker represented back in 2000.
The difference to a Superbike was all in the weight – or, strictly speaking, in the power-to-weight ratio, meaning that everything seemed to happen that much faster, even if the two very different kinds of bikes were then level-pegging for the outright lap record around the Australian GP circuit. On a 162kg Superbike you at least had the impression of being more or less in charge, able to use the kinder if no less potent power delivery of its four-stroke engine in something approaching anger, and above all to employ its more controllable combination of engine braking and metal discs with more assurance when stopping from high speed, compared to the 132kg stroker's all-or-nothing carbon composite brakes, and minimal engine braking.
---
---
But on the RGV500, even though its 300 km/h-plus top speed was actually slower than several factory Superbikes, it just got there that much quicker, and in doing so made it even more crucial to pick exactly the right line practically instinctively through the successive fast bends abounding at Phillip Island, because the optimum line got dramatically narrowed so fast under such explosive acceleration, so you had that much less time, let alone room, to make corrections.
I had a good illustration of that one lap climbing away from Siberia, when thanks to the Suzuki's excellent traction even on the angle, I got such a good drive out of the world's most southerly racetrack turn that I missed my cutoff point into the next right hander at Hayshed and went in too deep, which in turn put me wrong for all the rest of the hill up to Lukey Heights. There, I was effortlessly outbraked by Kenny Roberts himself – complete with pitying shake of the head, before he gave me a master class in how to stop for the downhill MG hairpin immediately after.
---
---
That came after a different kind of lesson in my previous session, where I was busy complimenting myself about how late I'd left my braking for the balls-out first-turn Doohan Corner, waiting till the 150-metre board at the end of the main pit straight before knocking it back two gears from wide open in top, and braking pretty hard – when KR blasted past, still hard on the gas in top gear! "I've done a 31 round here, but only by not braking at all for Turn One," confirmed Kenny laconically later. "I just hook it back two gears at the 100 mark, and scrub off the speed on the tyre.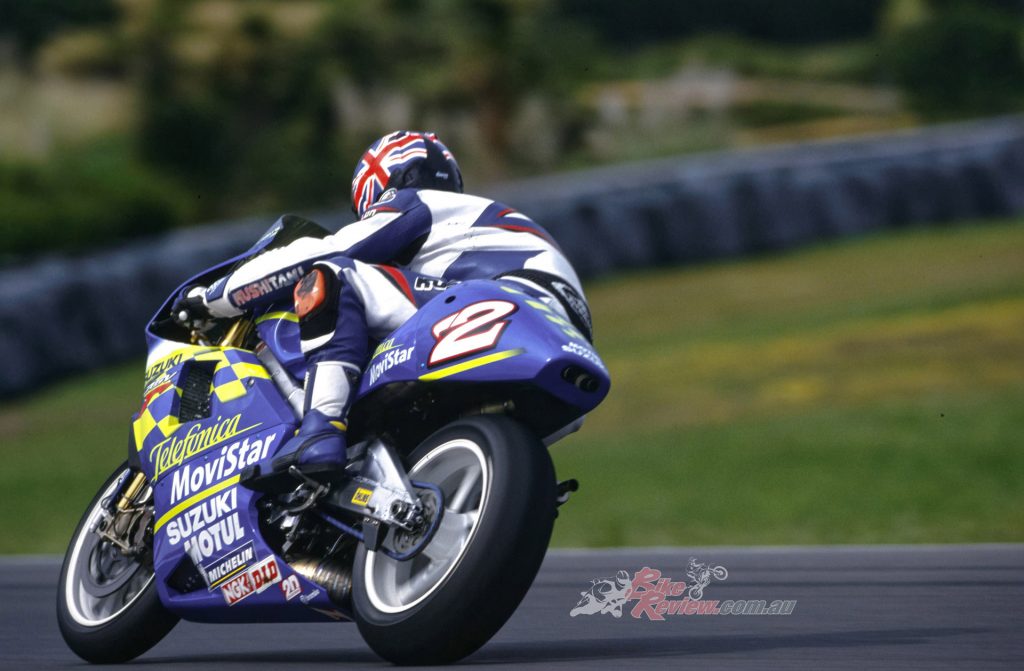 "OK, it takes a while to work up to that – but it's one of the Suzuki's main advantages, how much turn speed you can carry on it. That's our big handicap: we're down on horsepower compared to the Hondas and Yamahas, so if we can get away ahead of them in a race, we're looking good to win it.
But if we have a Honda rider ahead of us, every time he gets on the gas hard, he pulls distance on us before our bike responds, because they have better power. That makes it awful hard to get past – I can outbrake anyone on the Suzuki, but not if I'm starting from twenty yards back, because of the power deficiency." Unless you don't brake at all for some turns, of course….
---
---
Even at my slower pace on the Suzuki, I could appreciate how well it kept up turn speed, with good feel from the Öhlins forks adopted by the team midway through the 1999 season, and ideally set up to give lots of feedback from the 17-inch Michelin front tyre that the team invariably raced with, rather than the 16.5-incher favoured by other teams.
But lessons in maintaining momentum aside, it was the braking from high speed that took most coming to terms with on the World champion RGV500 – for sure, that's where I lost most time. The previous year at Jerez this was the one aspect of the bike I felt able to criticise, and indeed its lack of stability under heavy braking was also commented on by some of Kenny's rivals, including the man he succeeded as World champion, Honda's Alex Crivillé.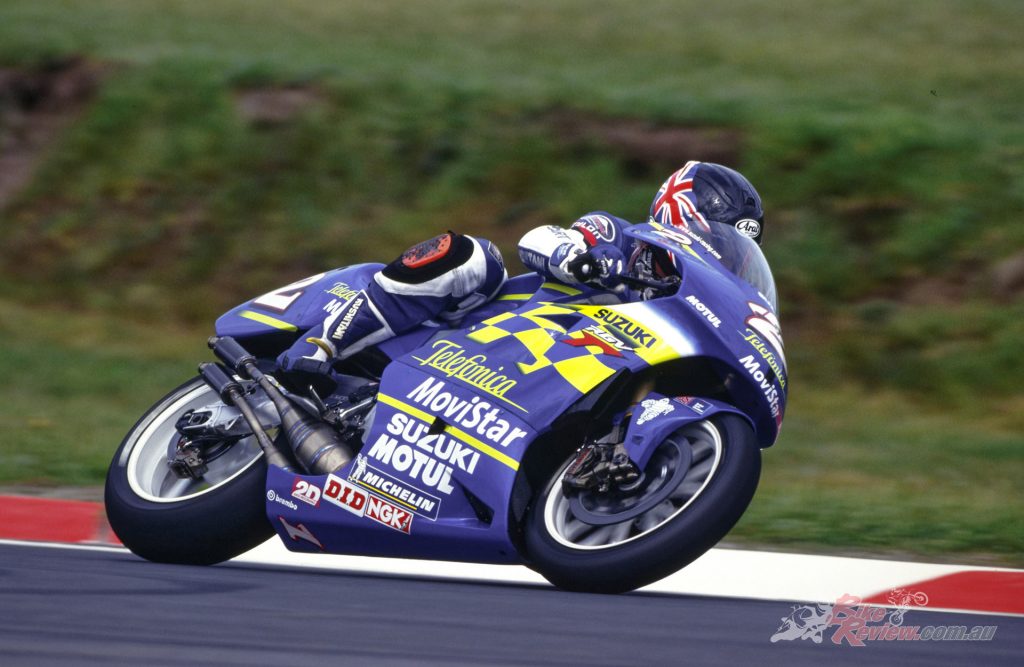 At Phillip Island a year later this was the single greatest obstacle to a faster lap time, especially in terms of relearning all my Superbike braking points to reflect the awesome effectiveness of the Brembo carbon brakes. Manufactured by the Italian firm from Mitsubishi composite material, which maintained heat longer and so gave better feel at lower lever pressures, as well as super-effective stopping at higher speeds, these were also more durable.
---
---
"The Suzuki team has consumed just three sets of discs per bike all season," said Brembo technician Eugenio Gandolfi, "but we'd prefer them to use smaller 290mm discs at Phillip Island, as they do at several other tracks to help keep up disc temperature in colder conditions. Only Kenny prefers the bigger 320mm discs for their extra performance at the several points of heavy braking from high speed here in Australia."
The Suzuki's capable chassis proved just as forgiving round a fast, fearsome track like Phillip Island as it did at a slower, switchback one like Jerez. It still changed direction so easily, and felt beautifully balanced driving hard over the bumps exiting Siberia, shrugging off their effects effortlessly as it drove hard up the hill, holding its line perfectly as it did so. Through the next fast right, though, it was better to take it one gear lower than expected in order to stay on line, with the engine singing at high revs but off the end of the torque curve – use a higher gear, and this had the effect of pushing the front wheel wide and making you back off to correct.
---
---
Under power, the Suzuki was so finely poised, only shaking its head once per lap over the big bump in Turn 12 leading on to the Gardner Straight past the Pits, though that was probably down to a rear shock setting a little too soft for my extra weight compared to Kenny's. Elsewhere, the XR89 chassis was ultra-stable – though if you squeezed the brakes to correct your entry speed once leant over and committed to a turn, it did sit up and understeer straight ahead.
---
---
This meant it rewarded a clean, precise 250GP-style style of riding such as KR Jnr. excelled in, and once I worked up to it, I could keep up turn speed by taking lots of angle, which the extra side grip of the 16.5-inch Michelin rear allowed me to take advantage of when driving hard out of the exit. The fact that I, ahem, found this out by mistake, when I missed my braking point for Turn 2 and had to scrabble round the Southern Loop at what seemed a suicidally fast turn speed, is of course completely irrelevant. Next lap, I went just as fast round there – but this time on purpose….!
---
---
The only time the XR89 chassis felt nervous was braking really hard – especially downhill into MG Corner, when the extra weight transfer supplied by gravity made an already awkward situation even worse. Though Kenny Roberts said he used the back brake first to counter this, it really felt a handful, especially compared to the more balanced behaviour of Valentino's rival Honda NSR500 I'd be riding the following month in Jerez..
Ironically, this was particularly apparent at Honda Corner, where I'd come sweeping round the left hander before it now called Stoner Corner at high revs in fifth gear on the side of the tyre, then have to brake really, really hard while still cranked over, for the bottom gear right-hand Honda hairpin immediately after. The fearsome grip of the carbon brakes, coupled with the high-speed momentum, lifted the back wheel in the air as I was trying to pull the Suzuki upright, sending it waving around as the bike snaked under stopping – all of which made it very hard to pick a line for the turn, and hold to it.
Twice I chickened out of trusting the front Michelin's ability to make up for all this and take me through the turn at excessive speed on the wrong line, and took to the escape road. Actually, I visited it three times in all – the third at the end of Kenny Roberts' left boot, after they'd forgotten to switch on the fuel tap before sending me out for my second session, sending the V4 motor spluttering to a standstill on the run down to Honda! The King does a mean turn in breakdown diagnosis and repair for one of his subjects while they hold his mount for him – though this didn't extend to bump-starting it solo into action again, only to shouting out words of encouragement like, "Push harder!" and "Stop gassing it!" as I tried to do so. Yes, Your Majesty….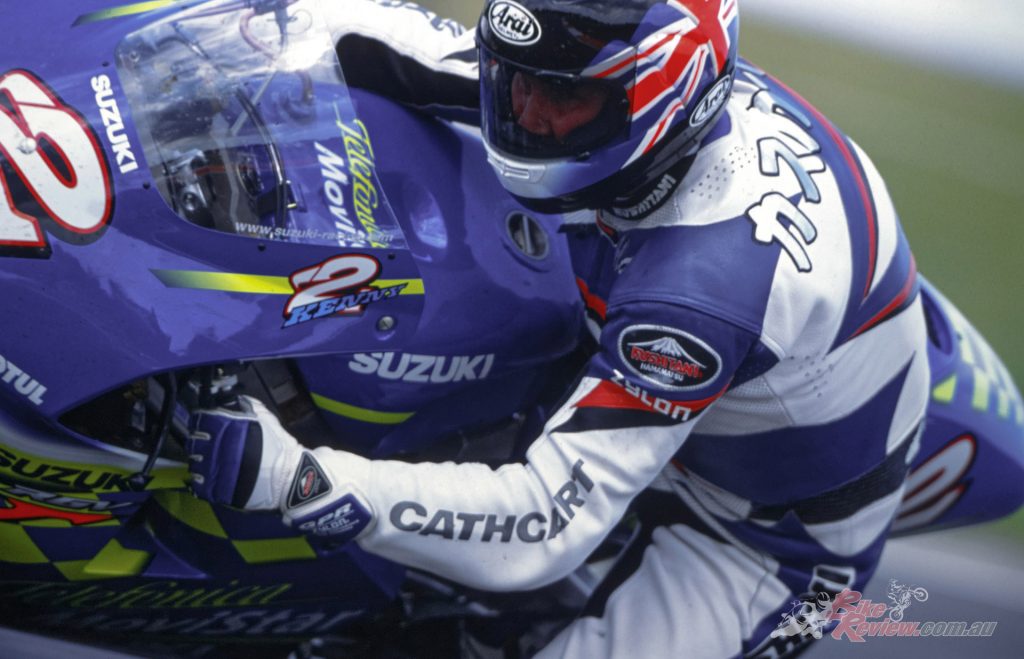 It was on that very engine that the greatest improvement between the Roberts runner-up bike I rode a year earlier and his title-winning motorcycle was most obviously apparent, because the bottom-end power which Warren Willing confirmed back then was one of the bike's weak areas had been greatly improved, plus the transition into the stronger midrange zone around 10,500rpm was even more smoothed out. Compared to the meatier, more abrupt power delivery of the Honda at the same revs, the twin-crank Suzuki engine was now more user friendly, only just not as powerful as the more brutal, brusquer single-crank NSR500 motor.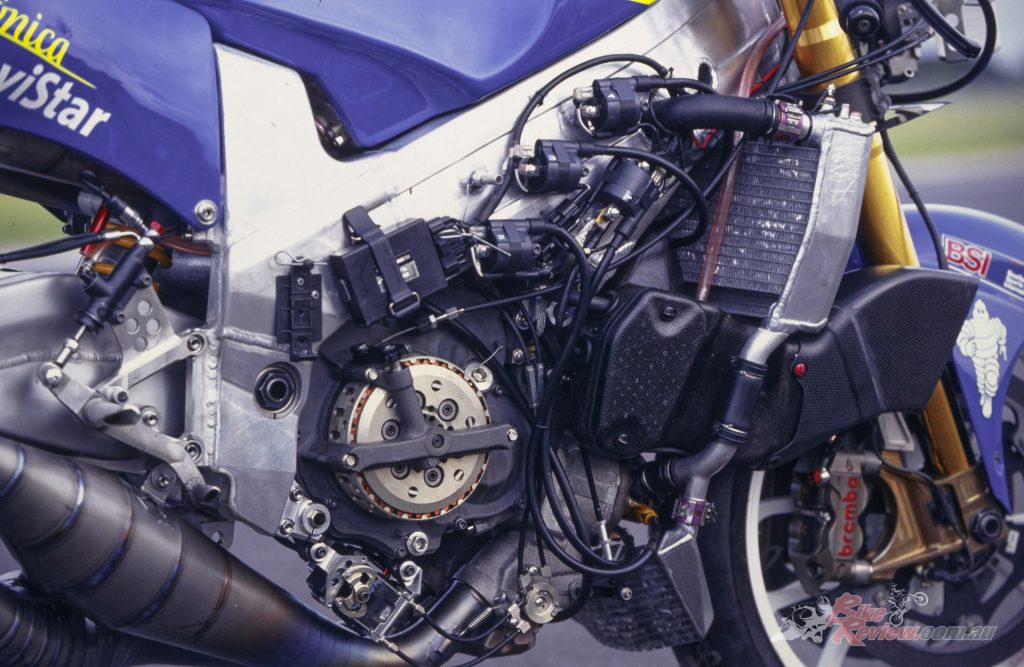 Arguably, though, it was now better low down than the Honda, so that exiting MG I could short-shift from first to second around 10,000rpm while briefly upright, before flicking it into the long, long left hander that followed, playing the responsive throttle to drive cleanly round and pick up speed as the track opened out. This let me reap the benefit of the 2000 Suzuki's revised porting and electronically-controlled variable-dimension exhausts (same effect as a power valve) to save performing the rather notchy bottom shift leaned over, when it'd get the rear wheel slightly unhooked.
---
The powershifter gearchange on the race-pattern gearbox was really nicely set up, though I'll admit not to paying too much attention to the row of five red shift lights which illuminated in succession across the top of the analogue tacho, on the grounds that I was too busy holding on tight as the Suzuki's front wheel pawed the air, and I desperately tried to persuade my brain to keep up with the fearsome acceleration of a 500GP two-stroke on such a daunting track.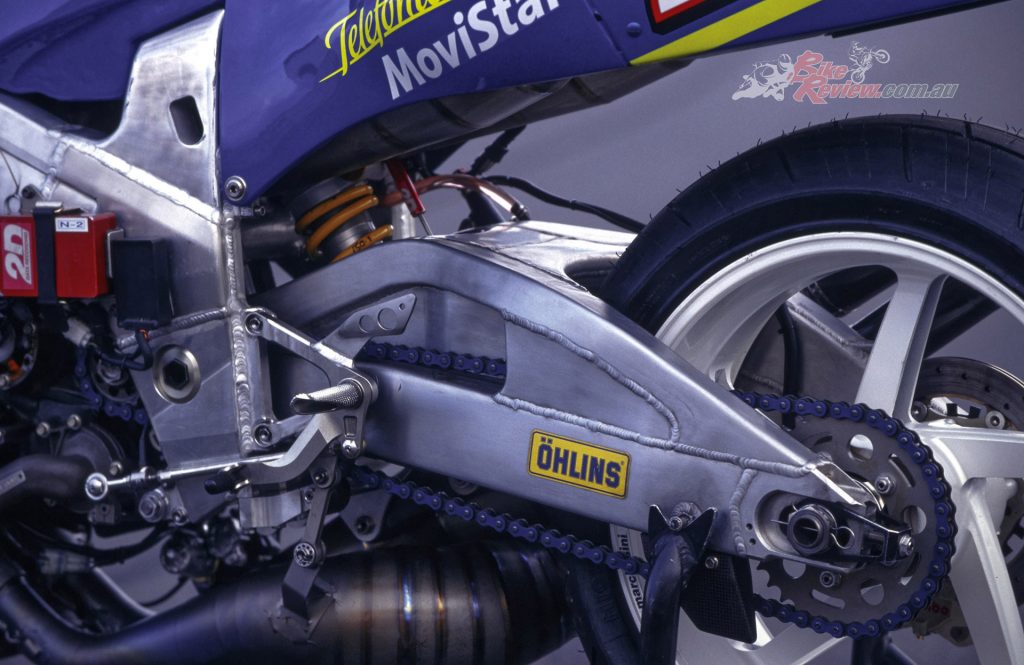 Remembering what Warren Willing had told me the previous year as I struggled to keep the front wheel on the ground exiting the final turn at Jerez before the pits, I coped with the similar power wheelies out of Siberia by revving the Suzuki hard so that the engine fell off the end of the torque curve, which paradoxically provided a better drive than using the fat part of the power band around 11,500 revs. That was also better for my heart rate, too – at least I could now see where I was pointing it for the next turn, without landing the front wheel with the 'bars all crossed up where I was trying to turn the bike with the wheel in the air…..
King Kenny II may have had his work cut out to defend his 500GP world crown in 2001, after Suzuki suspended two-stroke R&D in favour of its new four-stroke MotoGP project. But he won it fair and square in 2000 on a Suzuki which proved to be the best all-round package on the grid – just as his Dad did 20 years earlier on a similarly underpowered Yamaha, which we will show you next week. Like Father, like Son….
RGV500 XR89 TECH TALK, WITH THE KINGMAKER, THE LATE GREAT AUSTRALIAN WARREN WILLING
The kingmaker responsible for crowning King Kenny II in 2000 was the late Australian rider engineer Warren Willing, who was himself a top level rider 20 years earlier, but sadly died of cancer in 2015, aged 68. A severe leg injury occasioned in the 1979 NW 200 in Ulster, and 18 subsequent operations to save his left leg, put an end to his riding, but in retirement Willing once again headed straight to the top, but as a race engineer with a then unique understanding of the confluence between a rider's demands and chassis set-up.
Warren became a technical guru in Kenny Roberts Snr.'s Yamaha GP team, where his setup skills provided the platform for Wayne Rainey's trio of 500GP titles. He then helped create Roberts' lightweight Modenas KR3 500GP bike, before joining Suzuki in 1999 in tandem with Kenny Junior, fresh from two years together as part of his dad's KR3 project. Willing masterminded a fourth World title, this time for the son of the man he'd previously worked with for more than a decade in 500GP racing.
---
---
In doing so, he helped KR Jr. get Suzuki back in contention again after five years in the doldrums, building on the runner-up spot in the 500GP World Championship he and Roberts earned in the Japanese firm's 1999 comeback season, to go one better in year 2000 to clinch the coveted World crown against stiff opposition from the much bigger Yamaha and Honda race operations. Indeed, after years of dominance, Honda won nothing, with Yamaha scooping the Manufacturers' crown alongside Suzuki's Rider's title!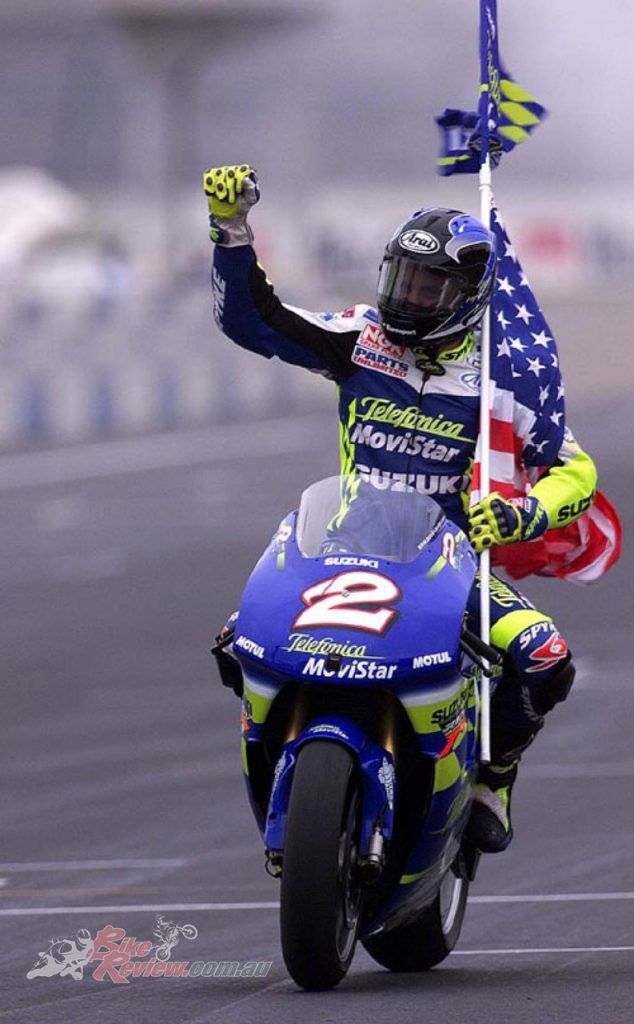 To achieve this, Willing and the British-based Suzuki Grand Prix team worked with the Japanese firm's engineers on further refining the XR89 version of the RGV500, thus turning a nearly bike into a World title winner. "Since you last rode it a year ago there have been some handling refinements, but the main emphasis on R&D has been on the engine, even though this is still lacking in a couple of obvious areas." Warren told me at Phillip Island.
---
---
"At Valencia they introduced a new wider-angle 80º V4 motor – same as what we started the '99 season with, before they started juggling around with it and went to the 70º format. The angle of the reed-valves into the crankcase was the key factor, which with different porting and revised ignition gives a better throttle connection, and more horsepower in the 5-9,000rpm area – well, on the dyno at full throttle, at least, even if you don't use this so much on the racetrack, where you're wide open only around 35 per cent of every lap.
"But it did improve rideability, with a smoother power transition – and that's what we'd been asking for. We've now got a good balance between power delivery, throttle connection and handling – but now for next season we're hoping for an improvement in the other part of the powerband, with the extra midrange we still need. Its absence doesn't show up at a lot of tracks, but when it does, it's a real problem – like at the Sachsenring, where every Honda or Yamaha rider who passed Kenny did so in the same place, where you're in fifth gear wide open, and have to accelerate through the 10,000rpm midrange barrier.
"We're down on top end horsepower as well, but that isn't nearly so much of a factor, especially since we have more overrev than last year, thanks also to refinements in carburation and port timing. It runs up to 14,000 rpm quite nicely, to save a gearchange or keep the front wheel on the ground when you change up, and that was a notable improvement over '99. Suzuki did good work on making what we already had at the end of last season even better – but now they need to finish the job if we're to retain the title, which is often harder than winning it in the first place!" PS – they didn't…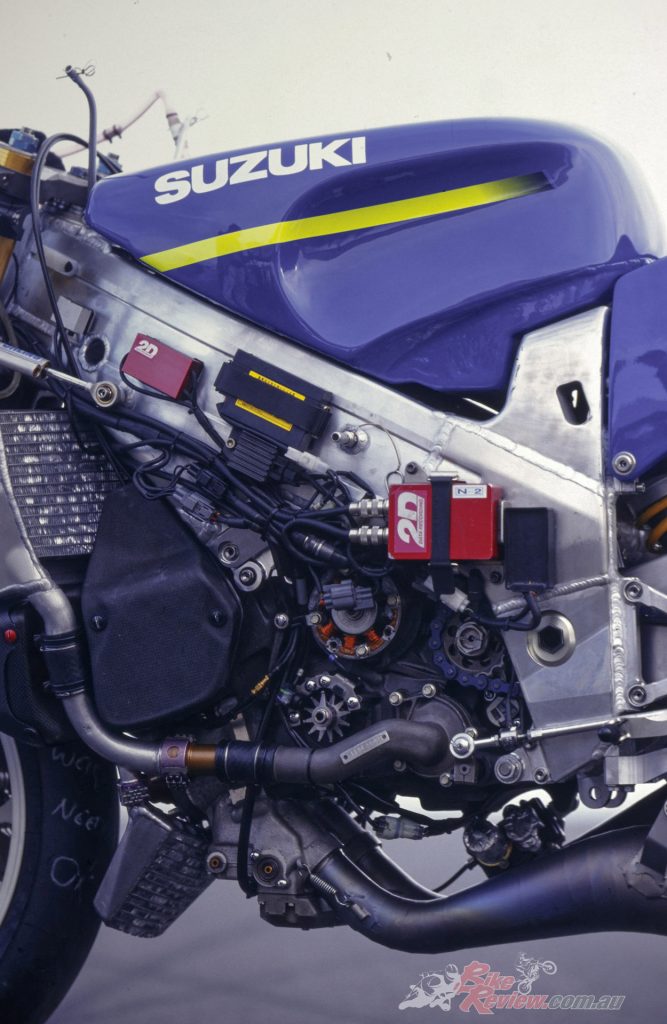 "Chassis-wise, we still have the same basic geometry as in '99," Warren continued, "but with slightly altered construction, and we've refined the rear shock linkage. Although we have three different links, 90 per cent of the time we use just one of those – though here at Phillip Island is one of the exceptions, where you drive out of so many turns with greater lean angle, in order to maximise corner speed. We wanted to make the rear suspension more compliant, especially under braking, which is still a weakness, owing to weight transfer. Though we have tested a 180 degree 'screamer' motor, we're still lacking a little too much in midrange power to be able to use that configuration, so we've retained the big-bang closed-up firing order from before.
---
---
"This camouflages the lack of midrange a little, without going to too big a bang, which compromises top speed. But because of that, there's more engine braking on the Suzuki when you change down under braking, compared to the even firing order Honda, and that's why the rear tyre tends to skid about, so we have to work on controlling that. We've also altered the weight balance a little bit, with the aim of improving stability under braking, by altering the engine mass location relative to the rider – we tested a slightly different engine position mid-season, and that's seemed beneficial to Kenny.
"There's been ongoing development on the forks, too – Öhlins has more than lived up to our hopes, especially since Brno, where we really made a breakthrough. Now we have a pretty established setup, only changing the offsets half a mill occasionally, depending on the front tyre we choose. We've used the same 17-inch front almost everywhere – Kenny tried the 16.5 in '99, but felt it didn't really offer him anything. Since Estoril, we've used a 16.5 rear race tyre because we had some endurance problems with the 17-inch, even though Kenny prefers it to go out and cut some fast lap times with.
"The grip level at maximum lean comes down, so then the mid-turn drive suffers a performance drop, and the bike starts to get unstable. When that happens, he can't get that early drive out of the turn, as a way of countering the lost distance inflicted by the opposition's superior horsepower. Even late in a race the 16.5 tyre maintains its side grip, and when it does eventually spin it assists turning, anyway. But it does make the bike feel heavier to change direction with, which on a sweet steering bike like this is an important factor, and the grip level isn't as good as a 17".
Within the Suzuki GP team, there was some disappointment the 2000-spec RGV500 was still down on power compared to its rivals, coupled with relief at having managed to scoop the title notwithstanding what was calculated to be a 17bhp deficit compared to the NSR500 Honda, at 10,000rpm. Nevertheless, the bikes were pretty even on top speed, though the Suzuki's revised front end bodywork design for 2000, the product of some in-house wind tunnel work, didn't bring as much of an improvement in this area as they'd hoped for.
---
---
But acceleration was still the problem: although Suzuki had concentrated on making the power delivery sweeter down low, and on giving a smoother transition into the strong power band, while the resultant package was good enough to win the 2000 World title, there were grounds for saying it was the rider that dis it despite, rather than because of, his bike's midrange and top end power delivery. For the Suzuki would struggle at races like in Brazil, or the Australian GP the day before my ride, where Roberts failed to get away at the front of the field, ending up gridlocked behind a pack of more accelerative bikes which he might ordinarily enough have been able to out-lap, resulting in sixth and seventh place finishes respectively. But between these two races, at Motegi, Kenny made a demon start and led from start to finish, with a clear track in front of him. QED.
---
---
That Pacific GP, Japan's second GP that year, showcased the Suzuki's advantages in the braking and cornering departments, whereas Phillip Island demonstrated the high-risk strategy Roberts was reduced to employing to try to reap the benefits of them when parked behind a pack of slower riders on faster bikes, by either trying to ride round them, or outbrake them into turns – often from too far back to make it pay off. Still, he only crashed once in a race all year, and that was at Assen for none of his doing – so The Kid obviously took after his Dad in more ways than one, and knew how to ride for points when a win was out of the question, saving his ammunition for another, better day. Just like Kenny Snr. did in winning the third of his 500cc World titles exactly 20 years earlier in 1980, on a piston-port Yamaha that was way, way slower than the rotary-valve Suzukis.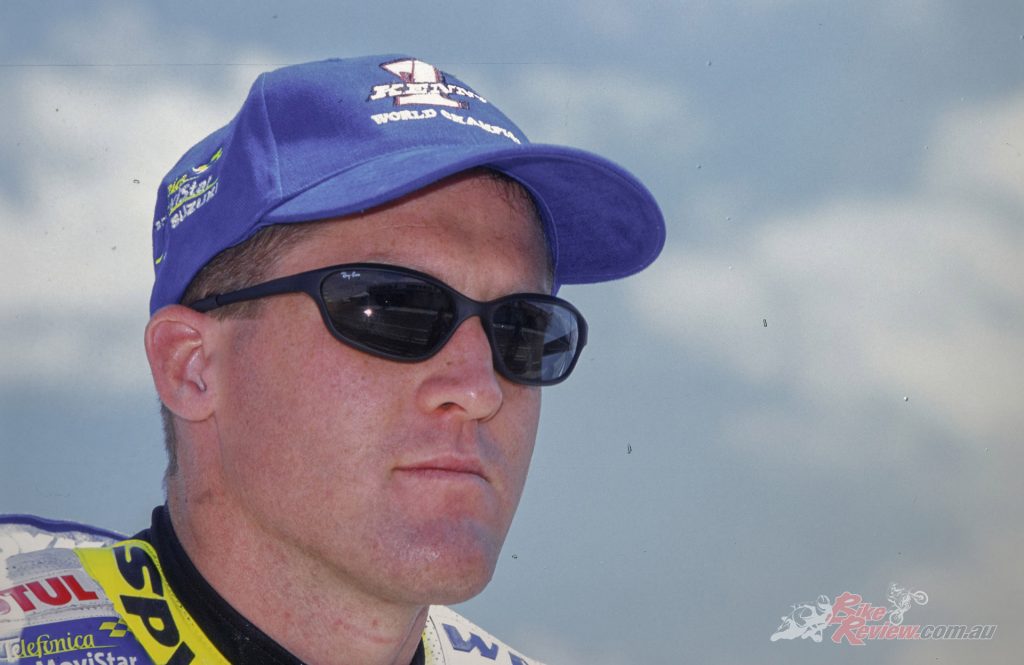 ---
2000 SUZUKI RGV500 XR89 SPECIFICATIONS
Engine: Liquid-cooled 80-degree V4 crankcase reed-valve two-stroke, with twin contra-rotating crankshafts, electronic power valve and electronically-controlled variable-dimension exhaust system, 54 x 54.5mm bore x stroke, 499cc, Over 180bhp@12,500rpm (at crankshaft), 4 x 36mm Keihin flatslide carburettors with electronic powerjets, Nippondenso programmable electronic CDI ignition, 6-speed extractable gearbox, multiplate dry clutch (9 friction/10 steel)
---
Chassis: Fabricated aluminium twin-spar frame with rear section machined from solid, fully-adjustable 42mm Öhlins inverted telescopic forks, fabricated aluminium swingarm with rising rate link and Öhlins monoshock, 23-degrees (+/- 2.0 degrees) rake, 89-104mm variable trail, wheelbase1400mm, weight 132kg oil/water no fuel, 54/46 per cent weight distribution, 2 x 320mm Brembo carbon discs with radially-mounted four-piston four-pad Brembo calipers and adjustable master-cylinder (f), 1 x 210mm Suzuki steel disc with two-piston Brembo calliper (r), 120/60-17 Michelin on 3.50 in. Marchesini forged magnesium wheel (f), 190/67-420 (16.5-in) Michelin on 6.25in Marchesini forged magnesium wheel (r)
---
Top speed: Over 310 kmh
Year of construction: 2000
---
---