This year marks 40 years since Kenny Roberts Snr. won his third and final 500cc title and 20 years since KR Jnr. won his. Last week we rode JR's RGV500. This week we take Snr's YZR for a spin!Test: Alan Cathcart Photography: Henny Stern
Last week we published Alan's test on the Kenny Roberts Jnr's World 500cc Grand Prix title winning RGV500 XR89. Celebrating 20 years since the only father and son World Champions were created, this week we ride the Kenny Roberts Snr. 1980 winning YZR500 OW48R…
Exactly 40 years ago this year, Kenny Roberts Snr. defeated the theoretically more powerful rotary-valve Suzukis to win the third of his hat-trick of 500GP World Championship titles aboard the factory piston-port Yamaha YZR500 OW48R. Coincidentally, exactly two decades later, his son Kenny Roberts Jnr. became King Kenny in his own right, by following in Dad's tyre tracks and beating the then much more potent Yamahas and Hondas to win the 2000 500GP title on his Suzuki RGV500. In doing so, he achieved a unique double victory – the first time ever that a father and son had won 500GP World titles on two wheels, exactly 20 years apart.
The chance to test the actual reverse-cylinder OW48R Yamaha which Roberts Snr. rode to clinch the last of his trifecta of 500cc World titles came at Assen, the circuit at which this piece of lateral thinking hardware made its debut back in June 1980. Thanks to the enthusiasm and commitment of British collector Chris Wilson, and the inspired restoration skills of former factory race mechanic Nigel Everett, the yellow and black Roberts Yamaha represents yet another vital ingredient of the early days of 500GP two-stroke history saved from the scrapheap and returned to the race track as part of the Wilson collection, for a fortunate friend to be allowed to ride it at Assen, in something approaching anger. It's nice to have mates like Chris…..
In fact, Wilson's collection of authentically restored 500cc GP racers has a pair of OW48R Yamahas in it, for alongside the 1980 Roberts machine is the 1981 Akai-sponsored semi-works version raced by Barry Sheene at the start of that year under Erv Kanemoto's aegis, before the arrival halfway through the season of his factory OW54 rotary-valve square-four. But the Roberts bike which Wilson found in Holland (the site of Yamaha's European base) in dissembled guise has a very early chassis number stamping it as a 1980 machine – and since King Kenny was the only Yamaha rider to use an alloy-framed OW48R that year, this puts his name on the bike, quite apart from the various trademark Roberts giveaways on it which he alone used.
---
---
These include the Morris magalloy wheels (Sheene used Dymags, others Campagnolos); the upsized 320mm front brakes (others came with 280mm rotors) fitted with KR's special cooling ducts; a front caliper on the rear brake, complete with torque arm rather than a lug on top of the swingarm like on other 500 Yamahas (KR used the brakes very hard, especially the rear thanks to his dirt-track heritage); 40mm Kayaba factory forks with magnesium antidive and the recessed tops retained by circlips; and a tricked out De Carbon rear monoshock with separate gas canister, which only the factory bikes used.
Although on its debut in restored form at the Coupes Moto Legende at Montlhery in May 2000, it was ridden by two other factory-supported Yamaha riders of the day, Marc Fontan and Christian Sarron, this bike dates from the year before they first raced one, and is unquestionably the pair of the same identical bike which Kenny Roberts has in his own private collection – a fact confirmed by Kenny himself when he rode it for Wilson at the Coupes Moto Legende at Montlhéry in 2002.
---
---
"The OW48R is basically a set of TZ500 cassette-gearbox crankcases with a special factory top-end on them, with guillotine power-valves, a quite different stud pattern for the separate cylinders, and special porting," says Nigel Everett of the OW48R motor, whose only weak point seems to have been the extractable gearbox – a fact confirmed by former works Yamaha TT-winner Charlie Williams, who also rode the Roberts bike at Assen and recalled the time he was leading the 1981 Senior TT in the Isle of Man by a comfortable margin on an OW48R, when the gearbox broke flat out in top gear round the fast sweeper at Ballacrie, just after Ballaugh. Ouch! – I can't think of a worse place on the TT Course to lock the back wheel.
"Fortunately, it snapped a shaft, otherwise I wouldn't be here to tell the story," says Charlie, "but just as I was coasting to a halt I remembered that when I went to pick the bike up in Amsterdam, I'd seen a skip full of junked gearboxes sitting outside the Yamaha race shop! That should have told me something but I was so thrilled at getting hold of what was a works replica of the current 500cc world champion machine, and undoubtedly the best TT bike I ever rode, I didn't ask about what I'd seen"!
---
---
THE RIDE
Thanks to the attention of his quality team of race mechanics, headed by Kel Carruthers with Nobby Clark and Trevor Tilbury alongside, that wasn't a problem that Roberts ever encountered in a race in 1980 and it also didn't feature on the impeccably restored reverse-cylinder bike at Assen. On this, a gearshift linkage which kept going over dead centre before Everett fixed it for me, and underdamped fork settings, which had the front wheel chattering a little on some of Assen's banked, sweeping turns, were all there was to worry about.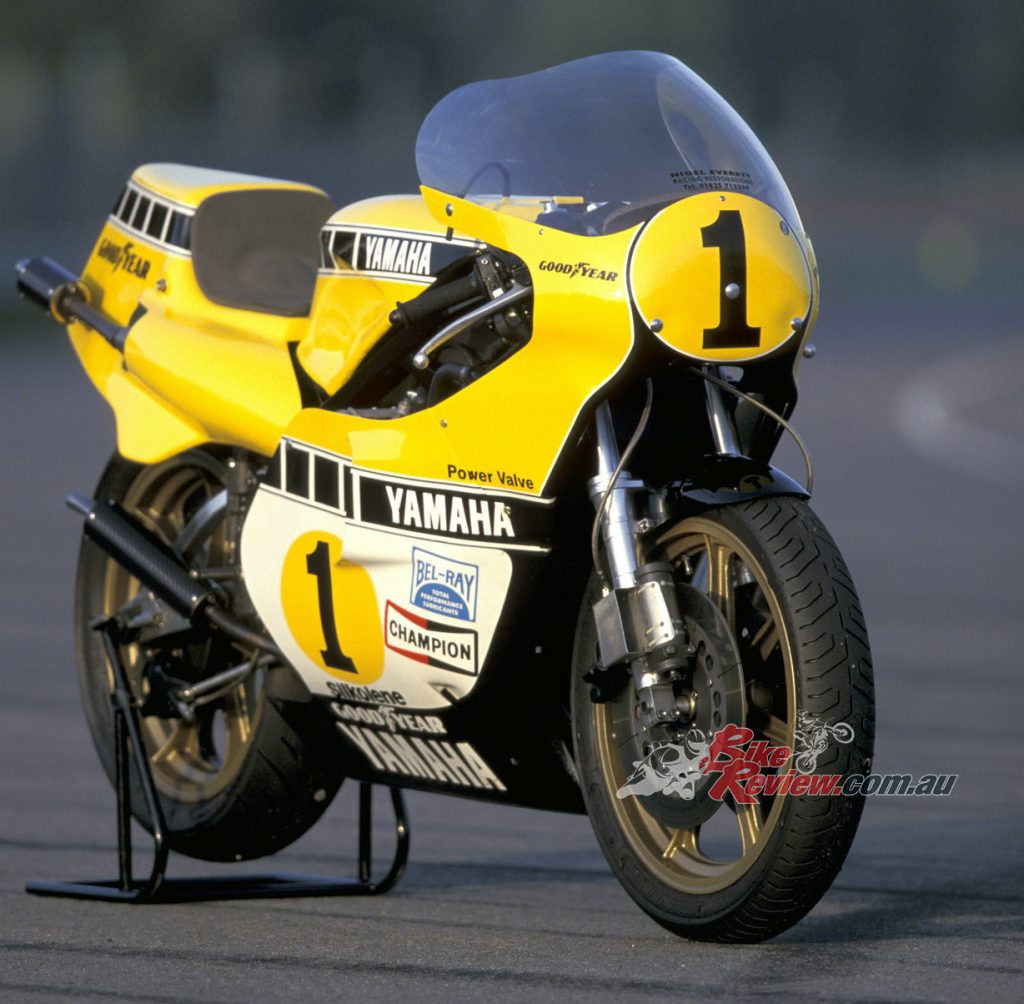 With 18-inch slicks now unobtainable, Wilson runs his bikes on treaded Avon race tyres, which probably have at least as much grip as the Goodyears that KR used to race with 40 years ago, and certainly allowed me to appreciate the Yamaha's key advantage compared to its more powerful rivals – its more capable and forgiving handling. The OW48R feels quite modern for a 40 year-old racer, low and compact in build with a balanced setup and tight riding position, especially compared to the taller, rangier stepped-cylinder square-four Suzuki which was its main rival in its championship season.
---
---
It steers really well, and not only on faster turns as at the end of the Assen main straight, where I could maintain an improbably high turn speed after flicking down four gears in swift succession on the race-pattern gearbox, while squeezing hard on the front brake lever to take advantage of the surprisingly potent brakes for such period Japanese stainless steel kit. Kenny may not have liked them in a long race [see interview], but in shorter track outings they work OK – and I'm usually very dismissive of 1970s brake technology. Not this time.
But the Yamaha also steered well flicking from side to side in the chicane, where its low, compact build and short 1350mm wheelbase made changing direction quickly easy and confidence-inspiring. In spite of being so short by later 500GP standards – but thanks also to the low cee of gee – the Yamaha was also stable over bumps. Although the Monocross rear end isn't as compliant as modern rear suspension, it's still a big improvement over the twin shocks it replaced. Suzuki took a long time to come up with their Full Floater rising rate rear end as an answer to the Yamaha monoshock system, whose long nitrogen-charged DeCarbon shock with its separate gas canister, is fully adjustable for compression and rebound damping.
Going back to the braking, although the aluminium brake calipers each only have two pistons (the slotted Yamaha stainless steel discs solidly mounted to their meaty aluminium carriers) surprised me both by their effectiveness, as well as their initial response when you just touch them lightly to scrub off a bit of excess speed in a turn – though Kenny Roberts' insistence on maxing out front disc sizes surely helps here. Plus, it was noticeable when braking hard from high speed for the Assen chicane, and again for the National circuit's tight Turn 1 hairpin, that the brake-operated hydraulic anti-dive on the Kayaba forks really minimises weight transfer, by using caliper reaction to close a valve and increase compression damping, thus slowing front end dive.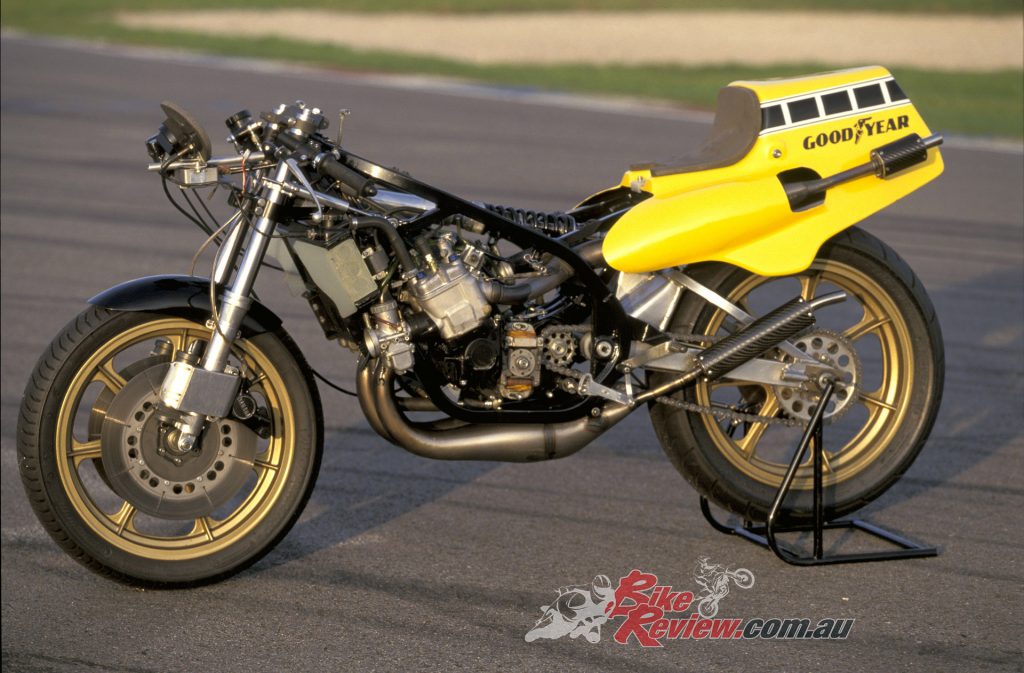 Though KR Snr. wasn't a big fan of the system, frequently opting for non-antidive forks with adjustable damping obtained by changing externally accessible jets, I found it added to the feeling of stability delivered by the accomplished Yamaha chassis, without at the same time resulting in that dead feeling you get from most other anti-dive systems, where you can't feel what the front tyre is doing because the hydraulics dial out front end suspension response, when trail-braking into a turn. Here, you can.
But there's no denying that the OW48R's piston-port engine simply doesn't feel as powerful as the more explosive disc-valve motors of the Kawasaki and Suzuki, even if the YPVS power-valve system does help max out top end power, without doing so at the expense of rideability. Just as KR was later to tell me himself, I found you can't crack the throttle wide open at low rpm exiting a slow turn like the Assen Nationale Kurve, else the engine will bog down and struggle to get back on the pipe.
---
---
It'll pull OK on part throttle from as low as 6,500 revs – but get it revving above 8,000rpm, keep up the turn speed, and you'll be rewarded with good drive by the standards of the day, as well as a smooth transition into where you really want to be, in the strong power band above ten grand. From there to the engine's peak at 12,000rpm the power builds pretty strongly, though not in the same eager way as the rotary-valve bikes – engine acceleration is more progressive and user-friendly, but also not as fast.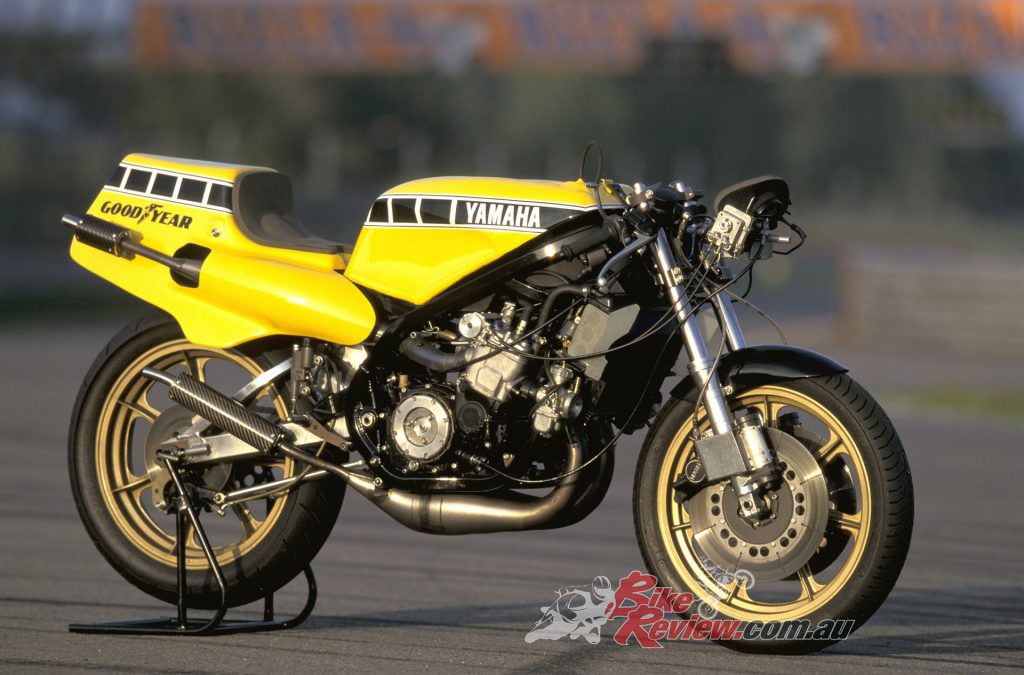 In fact, Everett had fitted a set of later 38mm TZ500J Powerjet carbs to the Roberts bike, on the grounds that they make more power on back-to-back dyno tests than the factory magnesium flatslide carbs which came with the bike, which are also much harder to set up right, as well as to jet properly on the day. But even with these, the Yamaha definitely wasn't as fast as Chris Wilson's ex-Kork Ballington KR500 Kawasaki I happened to be riding later the same day.
And that narrow real power band would have meant the OW48R's extractable gearbox was a key element in its championship success, with the art of setting it up just right in terms of the right choice of ratios for every circuit (Kenny had a choice of four possible ratios for first and second gears, and three each for third and fourth) critical, with zero overrev on an engine that's all done just over twelve grand.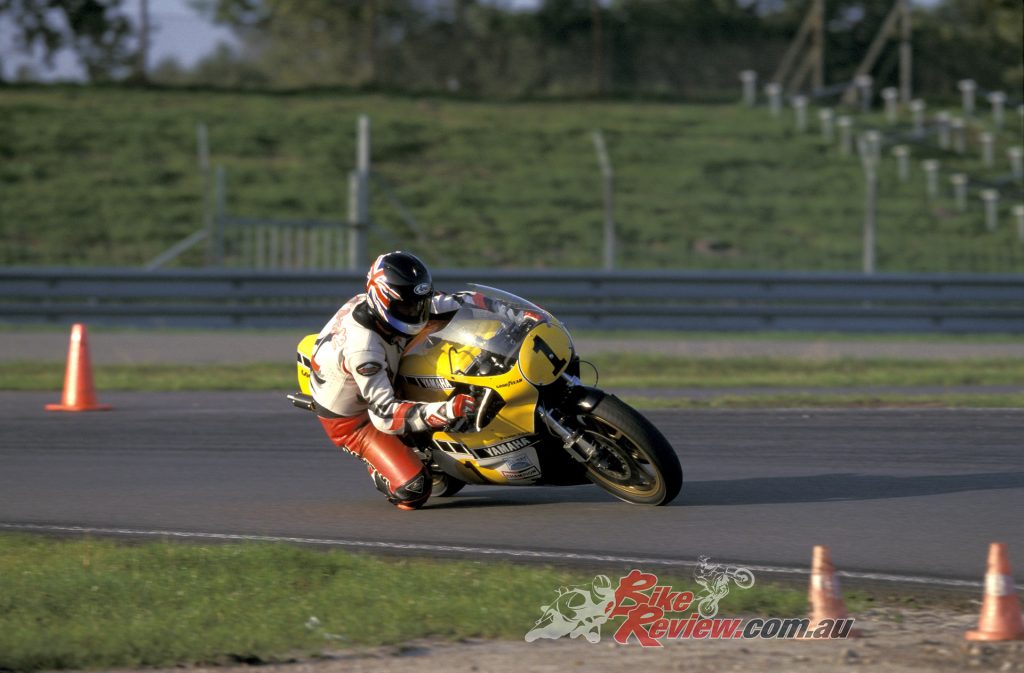 Kenny Roberts really had to work hard to earn the third of his World titles, and the key element in allowing him to do so was the OW48R Yamaha's more assured handling package – but 40 years on, nothing has changed. During the MotoGP era Valentino Rossi and the now retired Jorge Lorenzo won a succession of MotoGP World titles for Yamaha on a well-rounded YZR-M1 that, whether in 990cc or 800cc guise, always handled better than its Honda and Ducati rivals, while only rarely being as fast.
So, just like nowadays, the key element in making the last of the piston-port YZR500 Yamahas into a World champion was the man who rode it: King Kenny, we salute you.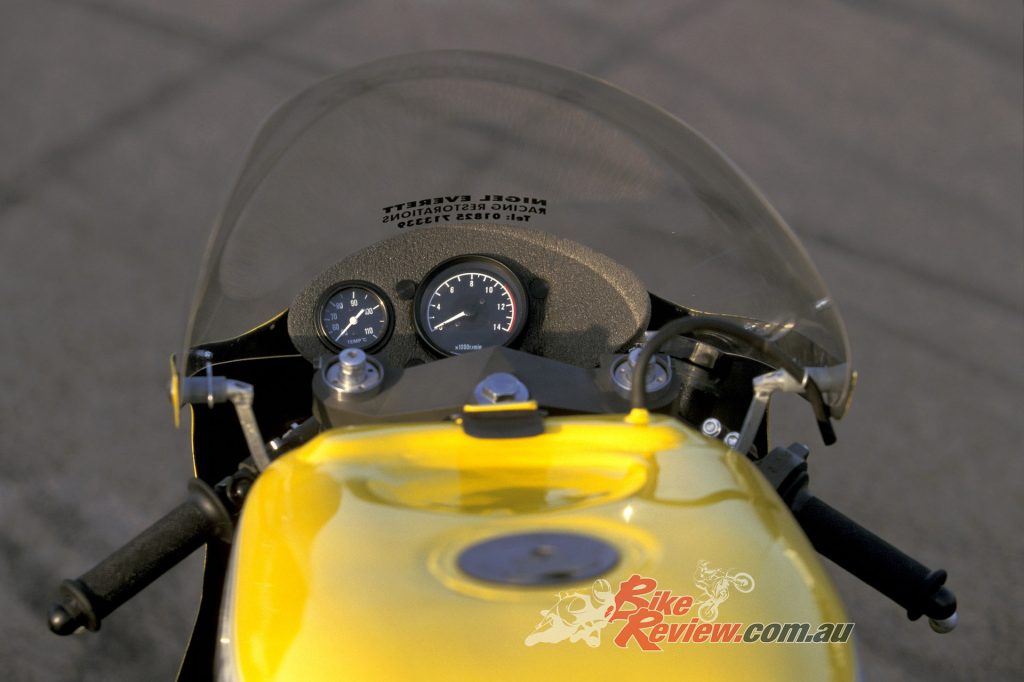 ---
1980 YAMAHA YZR500 OW48R SPECIFICATIONS
Engine: Liquid-cooled inline four-cylinder (outer two reversed for better cornering clearance) two-stroke, four transfer/one exhaust porting, twin crankshafts, electrically operated guillotine-type powervalves, 56 x 50.6mm bore x stroke, 498cc, Over 102bhp@11,500rpm (at rear wheel), 4 x 38mm Mikuni cylindrical-slide powerjet carburettors with electronic powerjets, Yamaha CDI ignition, 6-speed extractable gearbox, multiplate dry clutch (7 friction/7 steel)
---
Chassis: Fabricated aluminium square section tubular twin-loop duplex frametwin-spar frame, 40mm Kayaba conventional forks with brake pressure activated antidive, fabricated aluminium swingarm with DeCarbon Monocross fully adjustable shock, adjustable rake, variable trail, wheelbase 1350mm, weight 135kg oil/water no fuel, 51/49 per cent weight distribution, 2 x 320mm Yamaha steel discs with two-piston Yamaha calipers, 1 x 220mm Yamaha steel disc with two-piston Yamaha caliper (r), 110/80-18 Avon AM22 on 2.50 x 18in Morris cast magalloy wheel (f), 150/70-18 Avon AM22 on 4.00in Morris magalloy wheel (r).
---
Top speed: Over 285km/h
Year of construction: 1980
---
---
KENNY ROBERTS INTERVIEW

Forty years on, Kenny Roberts remembers the OW48R as the best of the YZR500 piston-port Yamahas he rode to his trio of 500cc World Championships in 1978-80. "The reverse-cylinder bike had a little bit more midrange, because of the straighter exhaust pipes," he says. "That was the main reason they reversed the two outer cylinders, to give a straighter run to those two pipes, plus more room for the middle two down below. Turning the two outer carbs around made sense, and it worked once they found a way of fitting it in the aluminium frame.
"The thing about the Yamahas is that they were piston port, so they simply weren't as fast as the Suzukis and Kork's Kawie, which were both disc valve. The piston port was at the limit of its horsepower, so 1980 was the last roll of the dice for that kind of an engine. But the nice thing about the piston port was that it actually worked well around the race track – it moved the bike well. On some tracks, the Suzukis were hard to beat, on account of their top speed, plus you couldn't just gas the Yamaha wide open exiting a turn, else it'd die on you. Hairpins were really tough, because you had to bring it down low to get it out of a hairpin, and with the tyres we had back then, you couldn't clutch it out of the turn to get it back in the powerband.
---
---
"If you had a bunch of Suzukis in front of you, they'd make you feel bad by pulling two bike lengths on you out of there. [Wil] Hartog used to tell me he'd open the throttle wide open on the Suzuki at 5,000rpm exiting a turn, and it'd run right out of the corner – but you do the same thing on the Yamaha, and you ain't going nowhere! Even if you opened it at 9,500rpm, you weren't going places – but when you got it pushing hard out of a corner and had it running up around 10,000rpm, it had very usable power, and was a pretty nice motorcycle to ride. But, 12,000rpm and it was all done – over-revving just wasn't a part of the ball game back then, so you had to take care to get the gearbox set up just right to handle that, and accept that at some race tracks, the bike just wasn't going to be as good as at some others. But, overall I thought it was a really good motorcycle – and it was a long time before Yamaha gave me something better to ride".
---
---
How so? "Well, the disc valves that Yamaha built after that just didn't work. The closest was the OW60 square four, which I rode right at the start of the '82 season – I got pole in the Daytona 200 before it ran a crank bearing, and I won the opening GP in Argentina with it. But then we came to Europe and they gave me the V-four, the OW61, and we had nothing but trouble with that all year. They had built the flywheels a little too light, and it would burn up tyres, plus there was no bottom end power, they had the first push-pull carburettors that gave you no idea when it was all gonna happen, and it had that weird laydown sideways shock that never worked. That was a handful all year to try to ride, and we'd probably have been faster on the two-year old OW48R piston port, which while it wasn't so fast, was much nicer to ride."
---
---
How about the handling of the 1980 bike – was it that much better with the aluminium frame? "I'd say it was as good as anything, though it was because Suzuki kept shooting themselves in the foot that it won the championship, as much as anything. I thought their bike was good enough to win the title, but they had four or five riders on the thing who kept beating each other, whereas I could just cruise around and win a few, come second or third in the others, and beat everyone I had to in order to win the championship. They made it easy for me."
What was the best year of Yamaha that The King ever rode, the one that gave him most satisfaction to ride? "For a bike I could actually use really hard, which for sure was the best bike they ever made for me to race, it'd obviously be the '83 – the last one I rode, which was the first with the Deltabox frame, that was finally strong enough to handle the power delivered by the engine"…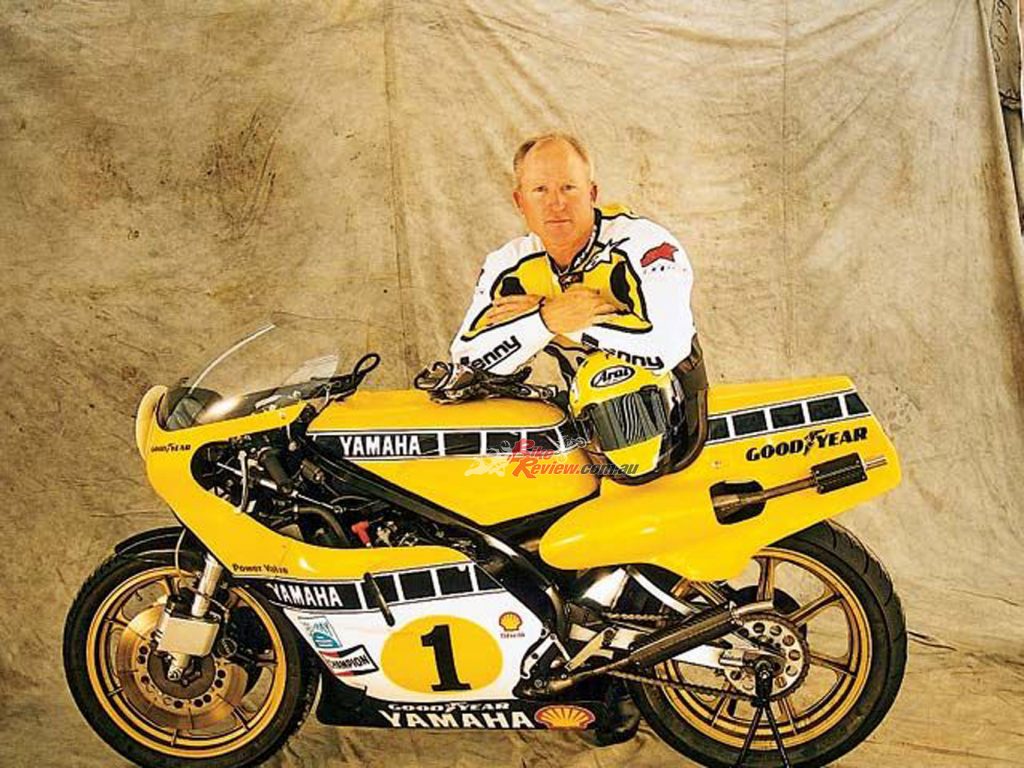 ---
PISTON PORT PROWESS
Although Kawasaki was the first to challenge for 500GP honours with a two-stroke design, with the privateer H1R triple which Kiwi Ginger Molloy took to second place behind Agostini's all-conquering MV Agusta in the 1970 World Championship, it was Yamaha which led the way in mounting a full-on factory effort to overturn the established four-stroke order of merit in road racing's premier class.
For 1973 saw the 0W19 ridden by Jarno Saarinen to victory in its very first race at Paul Ricard in April that year – the first Yamaha to bear the YZR500 generic tag borne right to the death of the 500GP class in 1991 by the company's works V4 racers.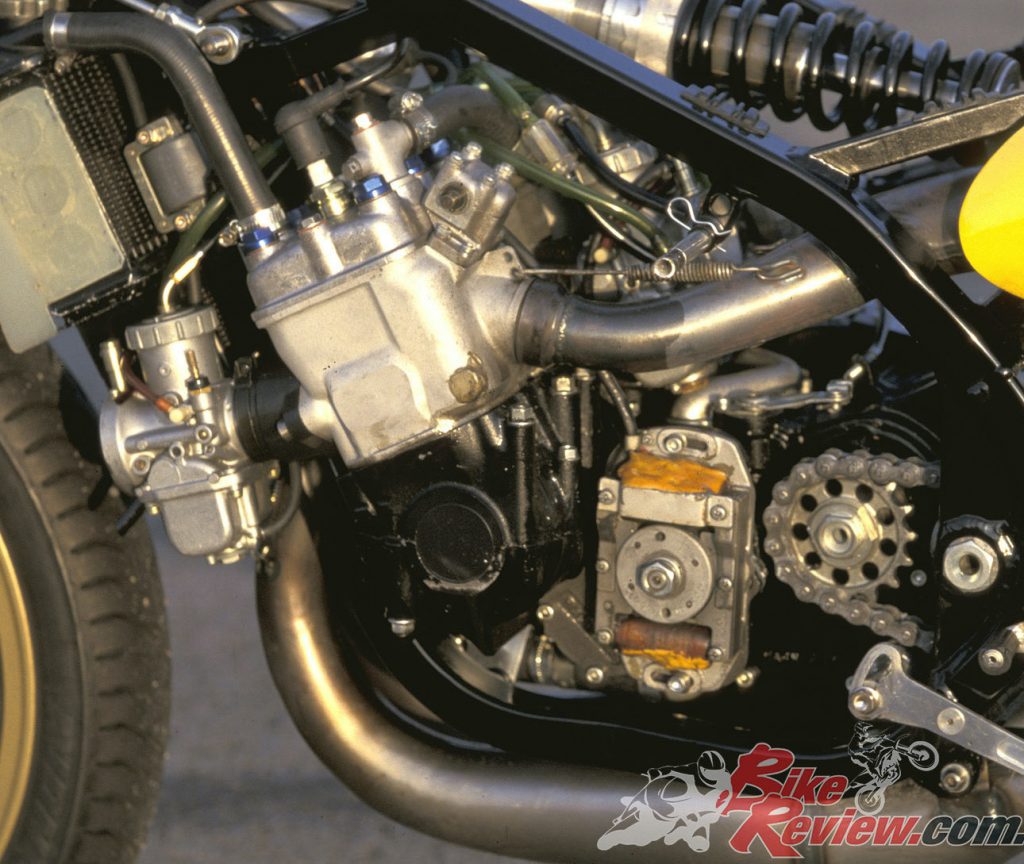 That first Yamaha four, measuring 54 x 54mm, set the format for others that followed over the next decade, with horizontally split crankcases, four transverse in-line piston-port cylinders, each with four transfer ports and a single exhaust, and two separate crankshafts utilising 180º crank throws, geared together and driving the six-speed transmission via a layshaft located behind the cranks. But Saarinen's tragic death in May 1973 in the 250cc Italian GP at Monza, after having won two of the season's first three 500GP races on his twin-shock factory machine, set Yamaha's world title foray back a couple of years. But for 1975 the Japanese factory finally achieved its prized goal, taking the 500cc world title with the monoshock OW26, complete with side-loading extractable gearbox, thanks to its new recruit from the rival MV Agusta team, one Giacomo Agostini.
---
---
Originally, these early Yamahas employed reed valves in order to cure the perennial problem of piston-port two-strokes, namely their symmetrical port timing which leaves just as much time for an incoming charge of mixture to escape via the exhaust ports, as to pump it in from the carbs. This handicap, persuaded Yamaha to take a year off from 500GP racing in 1976, in order to develop an all-new four-cylinder machine code-numbered OW35, jettisoning the reed valves in order to remove their inherent barrier to clean intake flow, and thus top end numbers. Powerjet carbs also made their debut, on a bike which for the first time adopted the short-stroke 56 x 50.6mm engine, but the OW35 was no match for the Sheene/Suzuki combo.
---
---
Together with teammates Takazumi Katayama and Johnny Cecotto, Roberts had the use of the first motorcycle to adopt one of Yamaha's trademark breakthroughs in two-stroke engine design, the electronically controlled YPVS system. This was progressively introduced to the OW35 during the early part of the 1978 season, in which Roberts won four of the nine championship rounds, so that by the time of the final GP on Germany's 14-mile/23 km. long Nűrburgring circuit, in which he finished third, Roberts had done enough to earn his King Kenny crown by clinching the first of his hat-trick of world titles for Yamaha.
In spite of missing the opening Venezuelan GP of the 1979 season thanks to an injury occasioned while testing in Japan, Roberts doubled-up in championship crowns that year on the updated version of the YZR500, code-numbered OW45, on which only minor suspension changes distinguished it from the OW35 of 1978.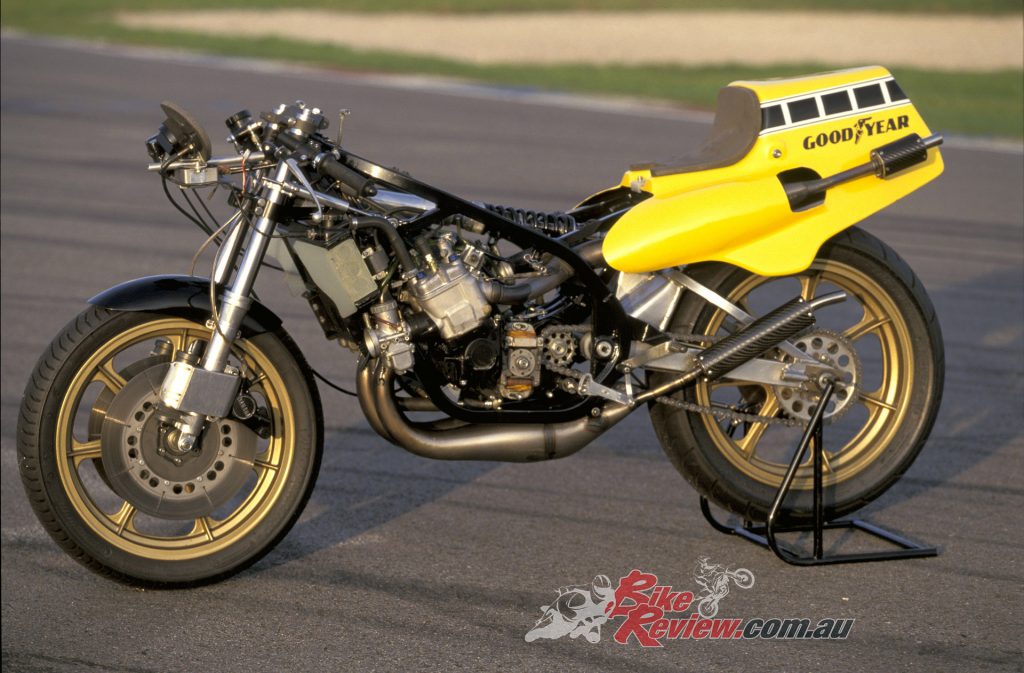 For 1980 Yamaha concentrated on reducing the weight of the new OW48, replacing the tubular steel cradle frame with a much lighter square-section aluminium one, painted black in order to deflect attention in the paddock (it didn't!), but with the engine carried lower in the frame, and with increased front-end weight bias, both as Roberts had requested. Engine modifications were initially restricted to the introduction of a new guillotine powervalve instead of the cylindrical one, revised porting and a choice of both flatslide and cylindrical-slide carbs varying from 3mm and 36mm to 38mm in diameter. Fitted with the larger of these, the 56 x 50.6mm piston-port engine was claimed to produce 120bhp at the crank, translating to 102bhp at the rear wheel, at 11,500rpm.
---
---
By now riding at the peak of his powers, Roberts blitzed his Suzuki factory rivals on the aluminium-framed OW48 at the start of the 1980 season, to win the first three races in succession in Italy, Spain and France. For the next race at Assen, Roberts was provided with an update of his winning machine, the OW48R, with the 'R' standing for reverse cylinders. That's because on this bike the two outer cylinders were turned around 180° to point forward, thus permitting a straight run to their pair of now rear-facing exhausts. This increased midrange power by no longer reducing the amplitude of the resonant pressure waves in the pipe, while also providing more space for the two inner cylinders' exhaust run – by now, Yamaha's transfer port design needed stronger suction for top end power, requiring fatter exhaust expansion chambers, which took up more space.
---
---
These modifications enhanced top end power by an extra 7bhp on a bike originally employing differential carburation, with a pair of 36mm flatslide carbs on the outer cylinders, and two 34mm ones on the inners. The only problem was that the new engine would not fit in the aluminium chassis which Roberts had now dialled in to his satisfaction – so for its first race at Assen, the OW48R sported the old steel frame. This however produced severe handling problems, so that the best Kenny could do in qualifying was fifth on the grid for the wet race, from which he retired with a slow puncture.
At the next race a week later at Zolder he managed a third place rostrum finish in a race won by Suzuki-mounted Randy Mamola, who by now was closing on Roberts' points lead in the title chase – so for the next round in Finland, Kenny discarded the reverse cylinder bike in favour of the early-season alloy-framed OW48, which he rode into second place behind Wil Hartog's Suzuki. By the time of the British GP at Silverstone in August, the aluminium chassis had been modified to accept the reverse-cylinder motor, but Kenny still used the OW48 to ride to second place there, behind Mamola. Finally, in the last GP of the season at the Nűrburgring, he used the alloy-framed reverse-cylinder bike to beat Mamola to the line for fourth place in a race won by Marco Lucchinelli's Suzuki, so achieving a coveted hat-trick of World Championships.
---
---