Ducati's GP racing success can be traced back to Paul Smart's Imola 200 victory back in 1972, 50-years ago this month. Alan took the legendary machine for a spin around Brands Hatch... Photos: Kyoichi Nakamura
After winning fourteen World Superbike titles in the past 33 years, we tend to take Ducati's current domination of top-level four-stroke racing for granted, the man that sparked it all was Paul Smart! Alan took his 1972 Imola 200 winning Ducati 750 for a spin… 
---
Read our Paul Smart tribute here…
---
But until an Italian spring day exactly 50 years ago, the Bologna factory then owned by the Italian government had precisely zero big-bike credentials, known primarily instead as a producer of small-capacity singles. But as for developing a big twin that could beat the fours built by GP world champions MV Agusta or Honda, or the new-generation Japanese two-strokes, let alone the host of established British and Italian twins and triples – forget it. Ducati were outsiders in a big-bike brotherhood populated by BSA/Triumph, MV, Honda, Moto Guzzi, BMW, Laverda, Suzuki, Kawasaki, Benelli, Norton – oh, and Harley-Davidson, too.
But the now sadly departed late Paul Smart's Imola 200 race victory on April 23, 1972 changed all that. By winning the first big-bucks 200-miler held outside the USA for the new generation of large-capacity motorcycles embraced by Formula 750, the British rider not only put Ducati on the map, he also kickstarted the process leading to Ducati's successive World Superbike champions. For the works 750 Ducati V-twins on which Smart and teammate Bruno Spaggiari finished 1-2 at Imola that day, set a benchmark which today, 50 years on in time, appears no less significant.
---
Check out our other Throwback Thursdays here…
---
Though derived from its 1971 500cc V-twin GP kid sister, this was the first time a 750 Ducati desmo had ever raced in anger, and the Imola win, therefore, was the first of literally thousands more victories down the years for such production-derived 90° V-twin desmos, in all their various forms. Although the Imola-winning Ducati 750 had a two-valve cylinder-head design with bevel-driven single overhead camshaft, it was still in every way the forerunner of the later Ducati Superbikes' unique, benchmark engine format.
---
---
Today, it's hard to imagine how, back in the early '70s, Italian bikes were so essentially unfashionable. Those of us outside Italy who admired them were considered eccentric, and actually buying one was practically certifiable. MVs were a different matter, of course – they were two-wheeled Ferraris, so universal objects of desire, but anything else was definitely questionable.
---
"It's hard to imagine how, back in the early '70s, Italian bikes were so essentially unfashionable. Those of us outside Italy who admired them were considered eccentric…"
---
Paul Smart's Imola victory, and the decade of desmo dominance it ushered in, culminating in Mike Hailwood's historic '78 TT comeback, changed all that in a way that nothing Guzzi, Gilera, Laverda or Benelli accomplished ever did.
---
---
Here was a factory racer that won the Big Ones, yet was identifiably similar to what you and I could (and did) buy for the street. That was Ducati's unique appeal, and fifty years later, this is still the essence of Ducati's current magic, the fun factor that makes their motorcycles so uniquely desirable. 
Paul Smart was actually given his Imola-winning bike by a grateful management, as part of his reward for setting Ducati on track to Superbike supremacy, and 50 years later his family still own it in unrestored, completely original form. As such, it has a value beyond measure, and as a genuine act of trust and friendship, Paul allowed me to ride it for 30 laps on full throttle round Brands Hatch, site of its last-ever race victory in August '72. 
Out on the Brands short circuit, it was a trip down memory lane, and I immediately appreciated the fine engineering that Ducati's late design guru, Fabio Taglioni, invested in producing this motorcycle engine. The vibration-free Imola Ducati pulled irresistibly from low down, with waves of grunt and cleanly-delivered torque on tap from as low as 3000rpm. With the open megaphone exhausts there was lots of rolling thunder, and it didn't run that cleanly low down – but just above 4000rpm it cleaned out, leaving the desmo V-twin to run strong and hard towards the 8500rpm redline.
---
---
This factory engine's close-ratio six-speed gearbox had a clean, sharp one-up right-foot gearchange which wasn't however so crisp you could think about not using the clutch. However, one reason might have been the amount of flywheel on the motor: there was notably less crank inertia than on my own 750SS production racer of the era, so the engine picked up speed more quickly, and had an eager appetite for revs – helped by the absence of the customer bike's generator for the total-loss ignition of this F750 racer.
At racing speeds the engine pickup out of turns was outstanding by the standards of any era, aided by the accelerator jets fitted to the 40mm Dell'Ortos. These were pretty revolutionary for 1972, and were surely a factor in the Ducati's impressive acceleration out of turns for what at 163kg dry was quite a heavy bike by later air-cooled desmo V-twin standards.
---
---
Yet with the long 1520mm wheelbase, there was no risk of waving the front wheel in the air hard on the gas, so the 84hp at 8,800rpm that the engine delivered to the rear wheel got put cleanly to the ground, for maximum drive via the race-compound Pirellis Paul had fitted for my ride.
Yet if the Ducati's engine behaviour brought the memories flooding back, the way it steered and handled round Brands did so in buckets. This was the track I did most of my early racing on, aboard a customer version of the Smart racer. One thing felt different: the works machine's steering was even heavier and more ponderous than my own bike's was, and part of the reason for that were the short rear shocks, part the leading-axle forks which kicked everything out even further.
---
---
Ducati's have always been super-stable handlers, bikes you go looking for fast, bumpy corners with, where you know the opposition will be struggling. But this was too much of a good thing on the Smartie bike, which you really had to muscle around to make it change direction on such a twisty circuit as Brands Hatch.
---
"The stable handling was too much of a good thing on the Smartie bike, which you really had to muscle around to make it change direction on such a twisty circuit as Brands Hatch."
---
Mind you – it paid off: back then I always looked forward to what we then called Bottom Bend before it was renamed after car racer Graham Hill, because sweeping downhill through there hard on the throttle allowed you to pick up many yards on your rivals mounted on shorter-wheelbase J-bikes, that would leap around and shake their heads trying to keep up. The Smart Ducati was no exception, even if the traditional front end chatter we always used to get there in the old days from the Marzocchi forks still made itself felt, even on smoother modern tarmac.
Hard on the gas down the next short straight, then some hard work was needed to brake hard for Clearways while flicking from side to side, before hanging right off while trying to keep the bike as upright as possible to avoid grounding out the right-side exhaust.
This already had a flat in it that Paul admitted to bashing in back in 1972, to make life easier for himself on tighter British tracks than the mainly left-handed Imola, but riding round Brands today meant lots of care to avoid grounding out the Ducati, especially with the short rear shocks initially set too soft. The rear tyre was rubbing the underside of the seat at the bottom of the hill, but after cranking up the shocks to the hardest setting, I had no more problems.
Really, though, once you're prepared to work at making it steer, the Ducati had no vices for a bike of this era, even one with this much power on tap. But to give yourself a thrill I defy any red-blooded ducatista not to appreciate, fire up the Imola winner, sit there for a moment to relish the sound of offbeat thunder echoing from those open exhausts, then notch first gear – and pretend you're chasing Ago's MV off the Imola startline, as you wind it up hard and roar off down Pit Lane in a wall of sound.
---
---
You'll notice the very fat throttle grip, laced with strands of rubber cut from a tyre inner tube, a trademark of each of Paul Smart's bikes after he crashed in Ireland in 1970 and broke his wrist, losing some degree of movement in his throttle hand. The oversize twistgrip is the same one he used at Imola, same as the primitive ignition switch behind your right leg, the flap-valve on the engine breather pipe, the Imola scrutineering tag on the fork-leg, or the clear strip left in the fibreglass tank as a ready means of checking the fuel level visually.
Thank goodness Paul Smart never felt the desire to restore the bike which carried him to his most famous victory, for it's taken 50 years to get like this, complete with faded red Ducati lettering on the candy-silver fairing. More than any other bike I ever rode, this is History on Wheels: the start of a story that's still being told today….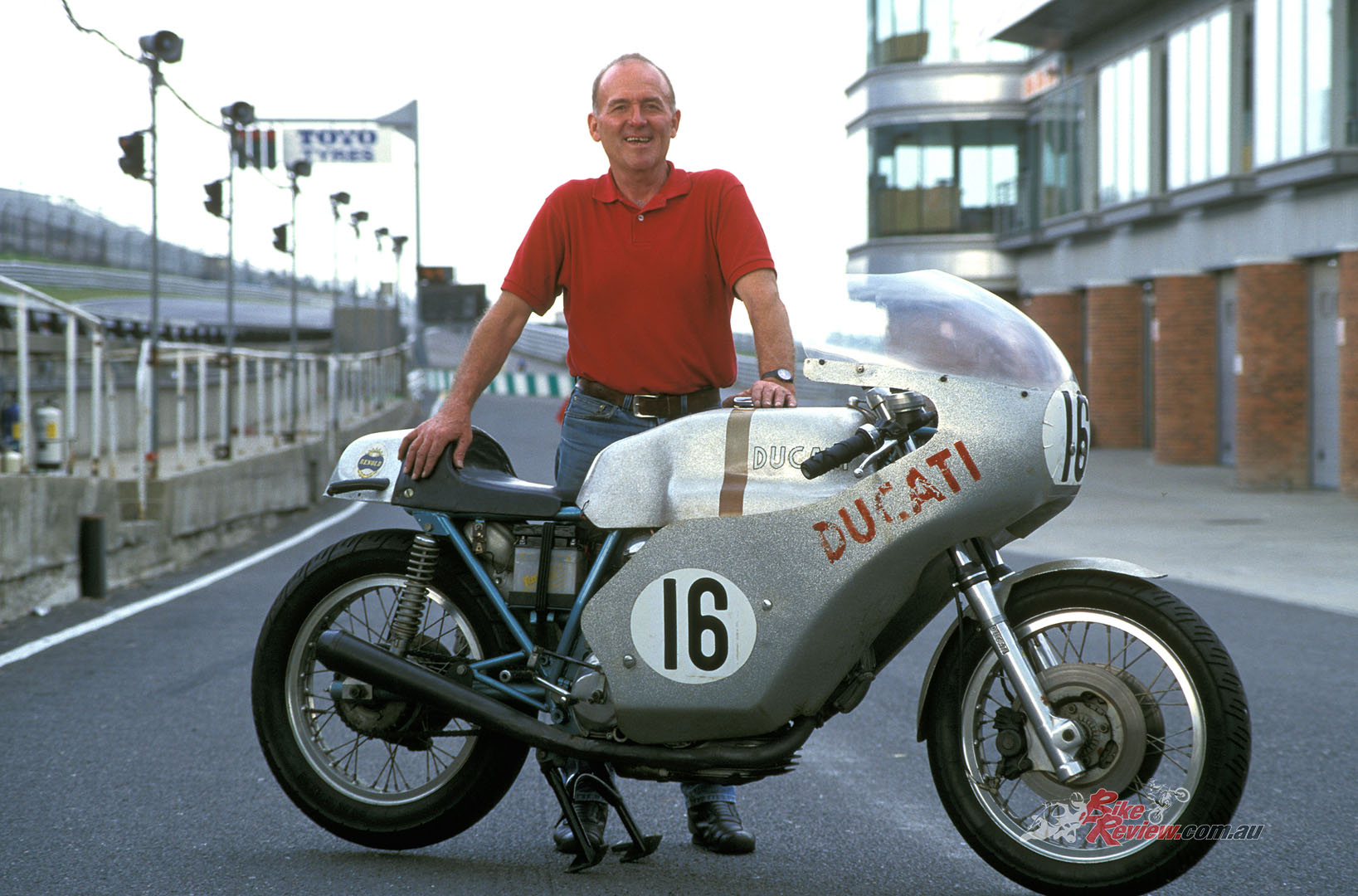 1972 Paul Smart Ducati 750 Imola Winner Specifications 
ENGINE: Air-cooled SOHC desmodromic 90 degree V-twin four-stroke with two valves per cylinder and bevel gear camshaft drive, 749cc, 10.0:1 Compression Ratio, 2 x 40mm Dell'Orto PHM, dual coil ignition with total-loss 12v battery, 80 x 74.4mm bore x stroke, close-ratio 5-speed with straight-cut gear primary drive, Multiplate oil-bath clutch.
---
CHASSIS: Tubular steel open cradle spaceframe with engine as semi-stressed member, Front: 40mm Marzocchi leading-axle telescopic forks Rear: Tubular steel swingarm with 2 x Ceriani shocks, 29 degrees rake, Front: 100/90-18 Pirelli MT09 on WM3/2.15in Borrani alloy-rim wire wheel Rear: 180/90-18 Pirelli MT08 on WM3/2.15in Borrani alloy-rim wire wheel, Front: 2 x 278mm Brembo cast-iron discs with two-piston AP-Lockheed calipers Rear: 1 x 230mm Brembo cast-iron disc with two-piston AP-Lockheed caliper.
---
PERFORMANCE: 84hp@8,800rpm, 178kg with oil, no fuel, 272km/h (Imola 1972)
---
OWNER: Margaret Smart, Paddock Wood, Kent, Great Britain

1972 Paul Smart Ducati 750 Imola Winner Gallery
---

---