This is the incredible story of the REG 250GP racer. Built and raced by engineer Bob Geeson, this is a story of true heroics... Words: Alan Cathcart Photography: Kyoichi Nakamura
Germany's NSU Rennmax is widely credited with being the first twin-cylinder 250GP racer. But while the NSU dominated the GP scene in the early 1950s, it wasn't the first quarter-litre multi to race in World Championship events. This bike, the REG 250, was the first.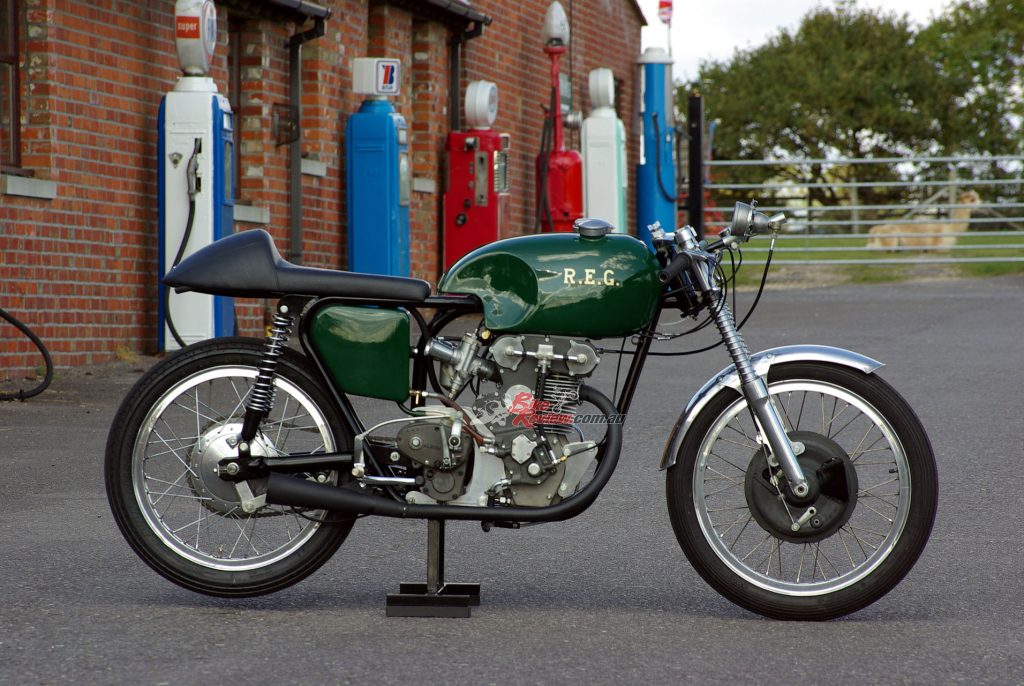 For, two years before the NSU's 1952 debut, a comparable British-built parallel-twin was ridden to 12th place in the Isle of Man's Lightweight TT by Bob Geeson, its designer and constructor. He had literally hand-made the entire bike, engine included, in his home workshop in the spare time from his demanding job as Senior Design Engineer for the Metal Box Company. So the first modern racing 250, called the REG after its creator's initials, was British, not German.
---
---
Yet Geeson's feats are largely unrecognised today, and the REG remembered only as the most successful and best-executed of the many home-brewed specials which proliferated in British racing after WW2. But it was certainly much more than that, for at a time when the low, light, long-legged Moto Guzzi singles set the class standard, the REG 250 displayed genuine mould-breaking thinking which led wealthier teams like NSU and MV Agusta to follow it down a technical path proven by results to be correct. That it was created in his spare time by an inspired amateur working at home, makes the success it attained in its decade of racing all the greater an achievement.
Bob Geeson's road racing career began in 1936 at Brooklands and Donington with 250/350cc Excelsiors, before his Isle of Man debut in the 1938 Manx GP, retiring when a valve dropped when lying 4th. Then came the war, and though as an engineering boffin seconded to urgent war work Geeson was fortunate to survive the London Blitz, he was injured when a pedestrian stepped out in front of his bike in 1941. A damaged hip and pronounced limp remained with him for ever – indeed, when Geeson resumed racing post-war, he was in fact officially certified as disabled!
---
---
Bob resumed racing in the 1948 Manx GP, where he again retired, this time aboard the very first REG special, comprising a radial-valve 250cc Rudge engine fitted in Geeson's own frame. While thanks to his well-paid job at Metal Box designing complex high-speed manufacturing machinery, Bob certainly had the financial means to buy a Moto Guzzi or MV Agusta, he was a patriot who wanted to race a British bike, so he decided to build one himself.
In designing his own 250GP race engine, Geeson settled on building a twin after considering a four, on the grounds that there'd be half as many parts to make! "In retrospect, I later realised that was a bad mistake," he later told me, "but the very idea of building any engine at all was rather daunting, and I wanted to get out on the track reasonably soon, not be cooped up all year making components." He built the first REG in the winter of 1949-50, a DOHC twin which duly appeared in the 1950 Isle of Man TT. Its reliability yet appetite for high revs combined to give Geeson and the REG 12th place in its very first race, bringing great satisfaction to its rider-engineer.
---
---
The REG's dry-sump engine featured a one-piece 360° (so two-up) crankshaft which Geeson machined from a solid billet of HCN5 aluminium originally weighing 80lb/36kg. 200 hours of spare time machining later, the finished crank scaled just 8lb/3.60kg! Vertically split magnesium crankcases supported the crank in lipped roller bearings, with a plain centre main bearing onto which oil was fed directly to lubricate each crankpin. Machined-up forged aluminium conrods with split big ends used Vandervell shell bearings, with an 8in/203mm diameter outside flywheel on the left, enabling a narrow, strong crankcase design.
---
---
On the right, a train of four spur gears were spun directly off the crank, to first drive the inlet camshaft, then via another two spur gears, the exhaust cam. En route, they also operated the BTH magneto, mounted beneath the twin one-inch/25.4mm Amal GP carbs at the base of the siamesed cylinders, firing the two centrally-mounted plugs. The later World title-winning NSU Rennmax and MV Agusta twins were very similar in design to the earlier REG, which also allowed the compression ratio to be varied by permitting up to 40 thou variance in the cylinder-head deck height, without affecting the mesh of the camdrive pinions.
The one-piece aluminium cylinder block with pressed-in steel liners originally gave a 53.5 x 55mm layout, but Geeson later altered this to 54 x 54.5mm in pursuit of higher revs. Such 'square' dimensions, later universal on 250GP two-strokes, were very advanced for 70 years ago, another indication of Geeson's forward thinking.
---
REG and its creator had now become a leading force in the British 250 scene
---
Bob machined the one-piece cylinder-head himself from a solid block of magnesium, fins and all, then inserted a bronze combustion chamber skull. His own lightweight cam followers ensured trouble-free operation of the two-valves per-cylinder top-end throughout the REG's life, despite engine speeds of over 10,000rpm. Coil valve springs were fitted (a further advanced feature, when even the Manx Norton had bulkier, dirtier, exposed hairpin springs), two per valve. Complete with carbs and magneto, the engine weighed 63lb/29kg, with a four-speed Albion gearbox and chain primary.
---
---
After moving to South Croydon to be closer to work – which cut down on commuting so he'd have more time in the workshop! – Geeson could now start short circuit racing with the REG, finishing second to Maurice Cann's Guzzi at Boreham in September 1951. Meanwhile, a successful foray to the Ulster GP saw Geeson and the REG finish seventh – one place away from a World Championship point, as the only multi in the race. The REG was now competitive, and fourth in the Hutchinson 100 at Silverstone merely confirmed that.
---
---
Painted British Racing Green – what else?! – the REG and its creator had now become a leading force in the British 250 scene, and in 1953 the bike's promise finally bore fruit. With a larger-capacity, more shapely fuel tank, Geeson finished 10th in the Lightweight TT at a creditable average speed of 71.74 mph, gaining his long-awaited bronze TT Replica, then took the REG to its first-ever race victory at Crystal Palace. But also racing that day was a rising young 19-year old star named John Surtees, who'd obviously noted the bike's performance, and during the meeting came to ask Bob if there was a chance of him racing it!
"John wanted to ride the REG in the British Championship race at Blandford in August," recalled Bob. "It didn't take me long to decide this was the ideal opportunity to start cutting down on riding myself. I'd finally got my TT Replica, but my hip was getting so painful that they had to lift me off the bike even after a 50-miler at Silverstone, and I didn't think I could take much more of it.
Anyway, by then I enjoyed working on the bike at least as much as actually riding it, and the chance to see how it would perform in the hands of a hard young runner like John was too good to miss. So I said yes." Surtees finished 3rd in that Blandford race behind two Moto Guzzis, so agreed from then on to race the REG whenever possible, scoring his debut victory on the twin at Brands Hatch, and breaking the lap record. Meanwhile, in the Ulster GP Geeson himself had led the works NSU Rennmax of World champion-elect Werner Haas for one glorious lap, before giving best to the faired German machine!
---
---
1954 was the glory year for the REG, with John Surtees and Bob Geeson's bike the undisputed British 250cc class champions, after Surtees won 15 races out of 17 starts on the little home-brewed twin at circuits all over Britain, setting new lap records at seven of them. To keep up with maintenance during this run of success, Bob Geeson forfeited riding it himself in the TT, but in the Ulster GP in August he achieved another personal landmark when he scored his and the REG's first World Championship point, with 6th place behind the phalanx of NSUs. Not bad for a 38-year old rider with a gammy hip, riding a completely self-built bike he'd created in his spare time…
If British recognition of the REG's worth had been slow in coming, its performance had been watched with interest from abroad. At the end of 1954 well-heeled Australian rider Jack WaIters arrived unannounced on Geeson's Croydon doorstep, and declared he'd come to buy his bike! Several hours of relentless persuasion later, he left with it in his van, later to be shipped Down Under where it enjoyed considerable success in the hands of WaIters and other, younger riders he sponsored, like Max Brumhead, who won the 1959 Australian TT on the REG. "There were several improvements I wanted to try out, which could only be done if I stopped racing this bike, and built a new one," said Bob, "`John Surtees had earned a works Norton ride, so I wasn't letting him down by stopping. Jack WaIters appearing out of the blue was the catalyst."
---
---
For the next two years Geeson stopped racing, while working on creating an evo-REG 250, still in his home workshop in his spare time after a day's work at Metal Box. While closely following the previous motor's format, the revamped parallel-twin engine's cylinder block and head were cast up in RR54B light alloy, for which Geeson himself made all the patterns – a three-month job. The engine was more deeply finned than before, with offset 10mm plugs to permit larger valves – a 30mm inlet and 28.25mm exhaust, each with two coil springs. The hollow crankshaft was again a one-piece nitrided unit, but now with no centre main bearing. The four-speed Albion gearbox and dry clutch were retained, but a five-speed version came later.
This revised engine was mounted in a completely new chassis, designed by Geeson but made for him by Ernie Earles in Birmingham. Maybe because of this, an Earles fork was fitted at first, but this wasn't a success, and by 1957 Geeson had reverted to a conventional Norton Roadholder tele fork, with a 9in/230mm AJS 7R front brake, and Matchless 'candlestick' rear shocks, while the wheelbase was a compact 53in/1346mm.
The new frame was a semi-duplex design, with a single top tube brazed to the steering head, and a full twin-loop lower cradle running to the rear Girling shocks' upper mounts. It was a strong, workmanlike design which, fork aside, worked almost perfectly from the very first. Total weight was 240lb/109kg complete with an alloy dustbin fairing which permitted a top speed of 125.30mph (201.6km/h) on the MIRA banking.
---
---
This time around Bob Geeson was determined to construct two bikes, so while he began work on the second one, Jim Baughn rode the first Mark 2 REG at the last Brands meeting of 1956, winning first time out to show the new REG was very much in business. GP star John Hartle agreed to ride it in as many GPs as possible in 1957, finishing 2nd first time out at Oulton Park to that year's future World 250GP champion, Cecil Sandford on the works Mondial single, making the fastest lap after John Surtees had crashed the new MV twin trying to keep up! In the REG's first race abroad, Hartle stunned onlookers by grabbing pole position for the 250cc German GP at Hockenheim on the home-made British twin, though only finished 8th after a torrential downpour brought about a misfire.
Hartle non-started the TT after crashing his 350 Norton, then had a massive accident at Assen while holding seventh place on the very last lap of the Dutch TT, destroying the engine after the REG flipped over and landed upside down with the throttle jammed wide open. The damage was too great for Geeson to repair until midway through 1959.
---
The REG scored 32 victories in 21 per cent of all races started
---
"I realised then that we simply didn't have the facilities to do the GPs," said Bob. "However good your machine, you can't take on the factories successfully as a one-man band, without any spares back-up other than what you can find time to make yourself. Still, it showed that the bike was certainly on a par with the best the opposition could produce." For 1958 an up-and-coming young rider named Derek Minter rode the remaining REG exclusively, never once being beaten on it on home ground at Brands, nor finishing out of the top three elsewhere.
---
---
Over the next five seasons the pair of REG twins consistently figured in the top three places of British 250cc races. Despite the work entailed in keeping both bikes on the go, Geeson achieved a good reliability record which he backed up with meticulously-kept statistics. These record that, in a total of 153 starts during the REG twins' 11-year race career up to 1961, the bikes scored 32 victories in 21 per cent of all races started, finished in the top three places no less than 40 per cent of the time, and failed to finish in 25 per cent of races for any reason, including just seven crashes. (Remarkably, Geeson himself never crashed even once on any bike, in a 65-race career!) The lap record was broken in 8.5 per cent of the starts. Basically, it was either win, place or bust.
Minter moved on to other things, but Fred Hardy scored the REG's best finish in the Island, coming home 7th in the 1962 TT. But not only were the new wave of two-strokes threatening to take over supremacy in the 250GP class, it was also by now becoming impossible for Bob Geeson to bear the pain from his hip he felt while working on the bikes, and after the REG's TT swansong ended in another retirement for Chris Vincent in 1963 with ignition problems, he called it a day.
---
---
For over a decade, when standing for long hours at his workbench made fettling his beloved engines purgatory, Geeson had never revealed to outsiders how much he was suffering – but now he decided to call a halt to his racing involvement, since he was physically unable to work on the engines. The sole remaining complete REG followed its predecessor to Australia, while Bob himself retained the disassembled remains of the other bike, which he'd planned to rebuild for display so that enthusiasts could view one of the least-known, but most successful, British designs in racing history.
After striking up a friendship with Bob Geeson four decades ago, I was always frustrated that I could only examine the bike he built in photos, much less ride it – for two of the three REG racers ever made both ended up Down Under, and had since disappeared from view. Bob himself had the remains of the third bike, plus a big box of spares – but while he dreamed of one day rebuilding it to running order, instead everything ended up in a bike museum run by his two cousins, who displayed the complete engine beside the bare chassis, and ended up owning it all after Bob passed away.
Enter Sammy Miller, MBE….
Sammy needs no introduction to Classic enthusiasts – but it's often forgotten that in addition to his stellar career as a multi-time Trials champion, the Ulsterman also road raced 125/250cc bikes very successfully in the 1950s. As well as competing on a private NSU Sportmax single, Sammy also rode for the Mondial and Ducati factory teams, finishing third in the 250GP World Championship in 1957 on his works Mondial. That made him a 250 class regular just as the REG was coming into its own, and thus well able to appreciate Bob Geeson's achievements with the bike.
---
---
"I'd seen Bob riding the REG himself at the Ulster GP, even before I started racing myself," says Sammy. "I was amazed at what he'd achieved entirely with his own hands. I liked the story about how Honda came with their 125cc bikes to the TT for the first time in 1959, when the REG was going very well, ridden by Derek Minter. The Honda was also a twincam parallel-twin, so of course they took hundreds of photos of the REG and asked Bob Geeson to tell them about it, which he was happy to do. Then they asked if they could visit the REG factory, and while Bob tried to dissuade them, that just made them all the keener! So apparently a big Honda entourage turned up at the front door of the Geeson home south of London, and trooped out behind Bob down through the garden, to the wooden shed at the bottom, which was the 'REG factory'. I'd like to have seen their faces!" Honda courteously repaid the favour in 1962, though, when Geeson-san was an honoured guest at Honda HQ.
---
---
So when in due course Sammy opened his magnificent museum www.sammymiller.co.uk having an REG to put on display was a key objective. After failing to land either of the Aussie bikes, in 2004 he eventually made a deal with the Geeson family to acquire the disassembled REG, and together with helper Bob Stanley and engine-builder John Ring, embarked on a four-year restoration project which ended in October 2008, when the completed bike burst into song for the first time in 45 years. "Bob Geeson's grandson donated all his grandad's notebooks, race records, technical files and especially engine drawings to us, when he heard what we were going to do," says John Ring. "This made a huge difference in rebuilding what is a surprisingly complex and avantgarde engine for its time."
Invited to sample the REG around the short Miller Museum test track, I found it fires up instantly if you drop the clutch after just a couple of steps – fast-starting John Surtees must have found this a big asset in push-start short circuit racing of the era, as would Bob Geeson with his gammy hip. Once aboard, you have a hard time believing this is a 360° parallel-twin, because compared to other such trademark British engines the REG's is uncannily smooth, even revving it to the 9,000rpm limit Sammy had asked me to observe on the 12,000rpm Smiths revcounter.
---
---
The 1960s Paton 250 twin with its 180° crank which I owned and raced during the 1980s when I first knew Bob Geeson buzzed much worse than the REG, too. Bob was very much the British equivalent of Giuseppe Pattoni, and was fascinated by the Italian GP bike which I once took to his Derbyshire home to show him. It was the Latin equivalent of the REG, which finished third in the IoM Lightweight TT in 1964, one year after Geeson stopped racing. Ah, well…
The REG must have been a great ride in longer races like the TT where the lack of vibration made it less tiring to race. I've ridden an NSU Rennmax, and that had a much more intrusive high-frequency buzz at higher revs than the REG does. Plus, the British twin belied its radical cam profiles by pulling very cleanly from low down – it needed only a little work with the light-action clutch to coax the engine into the powerband, which starts as low as 4,000rpm. Another surprise was how mechanically quiet the engine is, lending an added sense of sophistication to the motor – there are no rattles or clicks or buzzes like you get on many other motors, just a sense of everything meshing as it should. That's more than made up for by the glorious blaring howl from the slender-tapering twin megaphone exhausts, which is very distinctive.
---
---
The REG package came without a gearbox, but Sammy sourced the correct Albion five-speed transmission fitted to the bike from the late John Surtees, who was naturally eager to help make the bike he enjoyed so much success with, and had such fond memories of, live again. This has an ultra-positive one-up right-foot shift action, which asks you to be very deliberate about changing gear, and always use the clutch even for upward shifts into a higher gear.
Viewed externally, the REG engine is a crossover blend of old and new, with its large bacon-slicer external flywheel a holdover from the vintage era – which Geeson justified on the grounds it allowed a much stiffer, lighter, narrower crankcase – but the camdrive and cylinder-head, with its copious oil feed to ensure sufficient lubrication, is much more modern.
---
---
That extends to the chassis, too – while neither as big nor as heavy as the 250cc Manx Norton singles it competed against in British short circuit racing, the REG is wider than later more minuscule 250s, with the wide frame rails in front of the seat splaying your legs out slightly, though allowing your knees to nestle into the flanks of the four-gallon aluminium fuel tank needed for TT racing.
Still, it seemed just right for a taller rider like myself – Bob Geeson and I were the same height, even if by the time he built this actual bike, he'd given up racing himself. But it felt taller than the slightly later Paton twin, and just a little heavier to steer than the ex-Hailwood Mondial 250 single I also used to own. This was one of the REG's contemporary rivals, and had a much more cammy power delivery with a narrower band, not as flexible or easy to use as the British twin's more accessible engine performance.
---
---
The REG steered well, and was quite stable round the one fast-ish sweeper on the tight Miller track. This would be a good bike for a long race, and while it was obviously very useful on short circuits, judging by its number of wins with Surtees and Minter, it was a true GP bike that seemed robust and dependable, as well as fast and untiring to ride. Best of both worlds, in fact. It stopped well, too, the AJS 7R 2LS front brake and rear SLS drum sourced from an MV Agusta, doing their job well on the tight Miller track.
The Miller Museum's restoration of the final REG 250 to be made in Bob Geeson's garden shed, has uncovered what Sammy aptly refers to as a Mona Lisa motorcycle – imagine scraping away the layers of varnish, and finding Leonardo's lovely underneath. That's what Miller and his men have done here by reassembling this bike in running condition, and in doing so uncovering a little known mechanical masterpiece. "It's a brilliant engine, way ahead of its time, made by a guy with a genuine flair for engineering," says Sammy.
"We've got other bikes in the Museum which were designed and built by big factory race departments with lots of engineers, which weren't nearly as innovative or effective as this one – and especially not as far-sighted. Bob Geeson was a true genius, in every sense of the word, and the fact he did all this entirely himself in his spare time while holding down a demanding 9-to-5 job, is literally amazing." To see the restored REG on display and in action once again thanks to the expertise of Sammy Miller and his men, would have given Bob Geeson untold pleasure and satisfaction.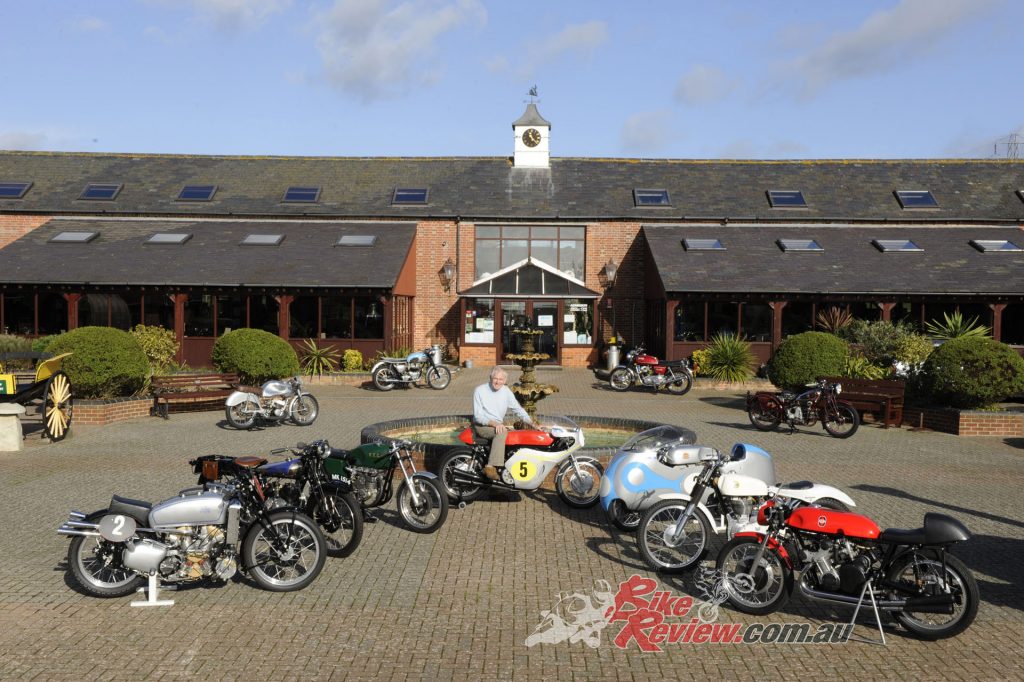 ---
The Sammy Miller Museum
The Sammy Miller Museum in New Milton, Hampshire, UK, is crammed full of interesting machines – including factory prototypes and numerous ingenious designs from all over the world. There's one of the world's largest collections of exotic racing bikes, all of them in running order and including the legendary V8 Moto Guzzi 500, supercharged V4 AJS 500 and postwar Porcupine – the first ever 500cc World Champion, V-twin Husqvarna 500, V4 Suzuki 125, 250 Mondial with dustbin fairing, and innumerable famous bikes from Triumph, Norton, AJS, Velocette & many more! And of course there are plenty of offroad enduro, motocross and trials icons. The Museum is open to visitors daily from 10am year round. Visit www.sammymiller.co.uk for further details.
---
---
1957 REG 250GP SPECIFICATIONS
Engine: Air-cooled dohc dry-sump parallel-twin four-stroke, with offset gear camshaft drive, 360-degree crankshaft, and two valves per cylinder, 54 x 54.5mm bore x stroke, 249cc, 9.7:1 compression ratio, Amal 25mm carburettors, BTH magneto, five-speed Albion gearbox, Albion clutch, 34bhp@11,000rpm.
---
Chassis: Earles tubular steel double-cradle with single top tube, Norton Roadholder forks, Girling shocks, 1346mm wheelbase, 230mm twin-leading shoe front brake, 220mm drum rear brake, 1.85 x 19in front wheel, 2.15 x 18in rear wheel, Avon 3.00 x 19 and 90/90 – 18in tyres, Aluminium dust bin fairing, weight (with fairing) 109kg.
---
Top speed: 125mph (201.6km/h) MIRA 1957.
---
Owner: Sammy Miller Museum.
---
Check out our previous Throwback Thursday Features here…
---