The RGB Wasp is a forgotten racer that saw plenty of success in British National racing. Alan Cathcart got the chance to test it at its peak in 1991... Photos: Kyoichi Nakamura
Wasp Motorcycles founder Robin Rhind-Tutt was born in 1941, in the same house in England's Wiltshire countryside he was still living in when he died in 2019, aged 78, along the way building a legacy in his lifetime for one of the odd manufacturers in GP…
---
Check out all of our Throwback Thursday memories here…
---
Sadly his father Charles, a talented young aircraft engineer, was killed in a WW2 Luftwaffe air raid in Eastleigh six months before Robin was born. After leaving school in 1956 Rhind-Tutt was employed by the Ministry of Defence as an engineering apprentice making aircraft instruments at RAF Boscombe Down, during which he began successfully racing a Sidecar outfit in Southern Centre grasstrack events with his passenger, Philip Coles.
---
---
At that time the bikes being raced off-road were mainly modified road machines, but in 1962 Rhind-Tutt designed and built his own frame and sidecar, specifically designed for grasstrack racing. Such was its success that, like the neighbouring Rickman brothers with their Métisse solos, Robin had many requests from fellow-competitors to build replicas, including from British champion Mike Guilford.
---
---
Rob was working at Boscombe Down during the day, but at night he built his bikes, and the more he made the more success they enjoyed! So in May 1969 he established Wasp Motorcycles in the village of South Newton, 8km NE of Salisbury, to manufacture Sidecar chassis for motocross and grasstrack racing, together with motocross frames for global sale as far as Australia, USA and New Zealand. 
Early Sidecar MX Wasps used Norton parallel-twin engines, and were sold either complete or in kit form. To begin with they used trailing-link forks, but then changed to a leading-link design. The growth of Sidecar MX aka Sidecarcross from the late '60s onwards saw Wasp machines dominate proceedings at every level, from club racing to World Championship events, and over a 15-year period from 1969-84, Wasp outfits won the initial European, then later World Championships 11 times.
---
Swiss duo Robert Grogg & Andreas Hüsser took the 1972 European title on their Norton-Wasp, ahead of seven other teams using Wasp chassis…
---
Swiss duo Robert Grogg & Andreas Hüsser took the 1972 European title on their Norton-Wasp, ahead of seven other teams using Wasp chassis. The pair went on to win four European Championship crowns, three of them in succession in 1976-78, with Yamaha XS750-powered Wasp teams taking the newly-created World titles in 1980-81.
But the advent of lighter and, with liquid-cooling, now reliable two-strokes saw a change in the balance of power, led to Wasp developing its own potent 1000cc DOHC parallel-twin air-cooled motor together with Merlin Engineering, around 50 examples of which were built for both dirt and tarmac use. One of them duly powered the RGB Wasp built by Gary Bryan, on which Mike Hose won the 1991 British Thunderbikes road racing series.
Over 50 years on from the establishment of Wasp Motorcycles around 5,000 Wasp frames have so far been built, the majority for sidecars, plus around 100 MX solos and 50 trials bikes, powered by a variety of engines.
---
---
A total of 47 different models of Wasp machines for grasstrack, motorcross, speedway and road race applications have been created so far, as well as numerous bespoke and replica frames. Wasp continues making frames to order today, using the same methods, and employing the same jigs as before, which facilitates guaranteed eligibility for Historic racing classes.
---
RACER TEST
The world of motorcycle racing contains many examples of Man's ability to triumph over adversity by dint of determination and courage, even to the extent of conquering a disabling physical handicap. Nobody illustrates that better than the man who created what thirty years ago back in the early 1990s was the fastest British racing motorcycle powered by a conventional reciprocating engine: Welsh wizard Gary Bryan.
Bryan, 77 years old today and still actively involved in building race-winning bikes to compete in British Classic racing, is a paraplegic former Sidecar driver who's been confined to a wheelchair since an August 1971 multiple race pile-up at Oulton Park, in which two other people were killed.
---
---
But, instead of retreating from active involvement in bike sport in the face of such a cruel blow, Gary has since used every moment of spare time from his work as a slot-machine repair engineer, to build a series of bikes under the RGB name (his initials) which have been recognised the world over as epitomising the best of traditional air-cooled British engineering on two wheels.
Winner of countless Battle of the Twins/BoTT races in the early '80s, including the first British BoTT title in 1983 in the hands of Bob Smith, Bryan's Weslake-engined parallel-twin pushrod RGBs also won the Japanese BoTT crown in 1986 after one of his customers there, ex-Formula 1 driver Tetsu Ikuzawa, bought a Bob Smith Replica RGB-Weslake which even performed creditably against the more sophisticated and vastly more costly fuel-injected Ducati desmoquattro Superbikes in later years.
---
---
Nobody else even attempted to race a British twin at the top level back then against the Italian Mob, let alone enjoyed success doing so, and the fact that Gary Bryan did so on a largely self-financed basis despite his slim resources, was a tribute to his passion for racing in general and Britbikes in particular. Indeed, it was pretty disgraceful that his efforts to attract sponsorship from British industry at all levels went unrewarded.
Despite such disinterest, and the rising cost of racing which forced him to work on a very short shoestring, Gary responded to the Ducati dominance of UK ProTwins racing by building an all-new, all-British, overhead-cam parallel-twin for the 1991 season. The RGB Wasp was a completely unique motorcycle, which amply repaid his efforts by winning that year's UK Thunderbikes Championship, Britain's most tightly-contested four-stroke racing series.
---
---
Not many bikes win a major National title in their debut season, but the RGB Wasp did just that, after a nail-biting finale at Snetterton in October, with rider Mike Hose actually behind on points going into the final round, only to emerge as champion after finishing second in the final race of the series that day. He even led the race till the fuel tank split, after which he slowed, worried about losing the title by running out of gas, or being black-flagged!
Concocted by Bryan and his assistant Chris Edwards using as its basis one of the DOHC Sidecar MX off-road engines developed for Robin Rhind-Tutt's Wasp chassis concern in the early 1980s by John Hardcastle of Merlin Engineering, the Wasp motor powering the RGB had 'square' engine dimensions of 86 x 86mm, for a capacity of 998cc.
---
---
Built as a sidecar slugger rather than a solo screamer, hence without the short-stroke configuration deemed necessary for more power at higher revs, the air-cooled eight-valve parallel-twin engine, with its double overhead camshafts chain-driven up the left side of the engine, was born with plenty of mud-plugging torque, which Bryan's clever development matched with top-end power – as I discovered when I sampled the bike at Gary's invitation at Mallory Park, shortly before Mike Hose's final race in the 1991 Thunderbikes series, when he still had a chance of winning the title despite at that stage being second in the standings. No pressure to keep it in one piece, then…!
The Wasp motor's twincam layout, with its cylinders inclined forward by 30 degree for cooling, and the camchain driven directly off the plain-bearing crank, was certainly more sophisticated in conception than the pushrod Weslakes, Nortons and Triumphs it succeeded, but at heart it remained a traditional British parallel-twin slugger with a 360 degree two-up crankshaft, complete with large doses of vibration, torque and noise. With the chassis mounted solidly in the frame, the vibration was actually more noticeable at lower revs, which is the opposite of what usually happens on old-style British parallel-twin motors, whose tingles increase the higher you rev them.
The Wasp engine did smooth out a little as you neared its 7,500rpm redline, where Gary Bryan told me peak power of 108bhp at the rear wheel was delivered. Considering this was the same output as quoted that same year for Herbert Enzinger's factory Bakker-framed Telelever-equipped prototype BMW Boxer ProTiwns racer, the forerunner of the new-generation eight-valve Boxer streetbike that would shortly be unveiled in 1992, that's an impressive figure for an air-cooled two-valve twin, especially taking into account Gary Bryan's limited resources.
---
---
To achieve this, Bryan started working back in 1989 on a small-valve Wasp Sidecar MX motor obtained from fellow BoTT Wasp racer Tommy Kőrner in Germany. After initial disinterest from Rhind-Tutt, who wasn't much bothered with tarmac racing, but did later help out with the project, Merlin's John Hardcastle proved a valuable ally by supplying a big-valve kit to increase valve sizes to 34mm inlets and 31mm exhausts.
---
---
Bryan bored the inlet tracts to 40mm to fit same-sized Amal Mark 2 Concentric carbs (not smoothbores), ported and gas-flowed the head, and installed his own design of road racing camshaft which greatly improved the spread of power, and especially aided breathing at higher revs. Having been asked not to rev it over 7,500rpm – Mike Hose still had a championship to win, after all! – I found accidentally after problems intervened with the Hewland-designed gearbox that the engine would happily spin up to 8,000rpm with no significant power loss, and even wanted to go higher if I'd let it!
---
"Mike Hose told me he'd actually run it up to 8,500rpm on a last lap dash – but according to Gary Bryan the crankshaft, while robust, wasn't designed for that kind of engine speed."
---
The spread of power from the Wasp motor was impressive for an air-cooled motor on a bike that had been timed at 160 mph/255km/h at Assen that year, so there wasn't only the predictably massive midrange torque that you'd expect from such an engine, but also good power from low rpm, despite the Merlin-built motor's racing cam profiles.
The Wasp engine would pull from practically off idle, with a totally linear power delivery and no step in the power band, even though the fact that it didn't like to pick up revs very quickly discouraged you from allowing it to lug out of turns. That was despite Bryan's lightened crank and revised balance factor compared to MX spec, which was surely the main reason for the 360-degree parallel-twin engine's relative smoothness, and much reduced vibration at higher revs without a counterbalance fitted.
The Wasp motor's reluctance to build revs fast made it a priority to replace the stock, wide-ratio, four-speed gearbox originally fitted for Sidecar MX. But it wasn't until its title-winning season – by which time the RGB twincam racer had won its third-ever shakedown race at Donington Park at the end of 1990 in four-speed guise – that a five-speed Merlin/Wasp gear cluster designed by Hewland was fitted.
---
---
This immediately proved its worth by enabling Mike Hose to win races on both the ultra-fast Thruxton and ultra-tight Mallory race tracks, but it needed more development even by the time I came to ride the bike, because there was a persistent selection problem on upward changes, especially third to fourth. That's an important change on any track, but especially so at Mallory Park, since it determines your speed down the front straight out of the chicane and the downhill Devil's Elbow sweeper.
At first I put repeatedly missing the shift down to incompetence on my part, but a visit to the pits to find out what I was doing wrong brought comforting words from Mike Hose. "Maybe Gary will believe there's a problem, now you've told him," he said, "because the same thing keeps happening to me!"  Later, the problem was traced to a machining fault on the drum, and for its title-winning race the gearbox performed faultlessly – but while it was misbehaving, it underlined the effortless nature of the torquey engine. Forced to reduce gear-changing as much as possible to avoid risking the motor by missing a shift, I was impressed how well the RGB still pulled out of turns from low down, yet wanted to rev even higher than common sense allowed.
---
"You had to conclude this would have made a great road bike, and mentioning it to Gary Bryan revealed that was exactly what he had in mind! Unfortunately, it never made it to production."
---
With an ultra-flat included valve angle totaling just 39 degrees, high-compression three-ring Wiseco pistons delivered a 12:1 compression ratio with the aid of 80mm longer steel conrods than on the MX version of the motor. Made to RGB's specification, Gary Bryan's own very professional-looking twin-pipe exhaust system which muffled the engine note sufficiently to pass Malory's strict 100dBa noise test without eliminating the distinctive drone of an air-cooled parallel-twin with the pistons rising and falling in unison, and an Interspan electronic ignition running off a total-loss battery at 32 degree fixed advance, the RGB-tuned Wasp engine epitomised the traditional route to higher performance, via that pair of 40mm Amal Concentric carbs.
---
---
To wreak any more power out of it, Gary Bryan would have had to fit fuel injection, and though he did consider adapting a mechanical Hillborn system similar to the one on the successful NZ-built BMS Ducati raced in Europe by Robert Holden, it never happened.
 "I believe in keeping things a simple as possible, and reducing weight and complication," Bryan said, "so as well as retaining the carb's, I also wanted to avoid the expense and weight of water-cooling. Moto Guzzi have shown what's possible by winning the American BoTT championship with a properly-developed air-cooled eight-valve twin (the Dr.Johns 8V Daytona Guzzi which Doug Brauneck took to the 1988 title – AC)."
---
---
"Unless you have the resources of a factory behind you, I don't think electronic fuel-injection is viable – look at all the problems John Britten had with his, which so far has prevented him getting the results he's deserved with his bike, whereas a mechanical system which is basically just a means of pouring as much fuel as you can down the inside of the engine, would have been a better bet."  Pragmatic, these Welshmen – even though John Britten's perseverance eventually saw him unlock the door to Ducati Superbike-beating performance from 1992 onwards with the fuel-injected Britten V-1000.
Part of Gary Bryan's emphasis on simplicity was always to keep a keen eye on reducing weight to the minimum. One reason Bob Smith was able to defeat Tony Rutter's works Ducati 750TT1 to win the British BoTT title in 1983 was his RGB-Weslake's skimpy weight, scaling just 134kg – some going for a bike that in its final form when I rode it at Oulton Park that year measured 927cc, and was good for 240km/h – albeit at the cost of truly awe-inspiring vibration, later repeated when I tested the Team Ikuzawa near-replica in Japan in 1986.
---
---
Another problem I had with these bikes was their extremely tight, close coupled riding position, which concentrated the mass of man and motor in the centre of the wheelbase, by seating the rider quite far forward, yet comparatively low down. It was a distinctive, even slightly strange posture which Bryan had repeated on the RGB Wasp, employing his own design of nickel-plated twin-loop frame in Reynolds T45 chrome-moly tubing – but thanks to the extra bulk of the twincam motor, the Wasp-engined bike was a bit bulkier and considerably heavier than the old Weslake-powered pushrod RGBs.
---
"Another problem I had with these bikes was their extremely tight, close coupled riding position, which concentrated the mass of man and motor in the centre of the wheelbase"
---
Its 170kg dry weight plus oil was about 20kg more than the customer 888 Ducati Superbike racers then available, loaded with water-cooling and EFI hardware like an ECU, fuel pump and a battery to power all that. What had gone wrong, given that the air-cooled RGB Wasp's Interspan ignition had a pre-charged powerpack good for one hour at 8,000rpm, and the fuel was gravity-fed to the carbs?  
The main culprit was the MX-derived Wasp motor, which scaled a meaty 82kg – and no amount of minimalism elsewhere could overcome that, though magnesium crankcases could have saved 7.5kg off that, if Gary Bryan could have found the budget to afford those. It was also a wide engine, with that camdrive up the side of the cylinder block, hence the bulky fairing which Gary claimed was a replica of the one on Freddie Spencer's 1986 NSR500 Honda! I think not…. As on the Weslake-powered RGB, Bryan had deliberately focused on getting the weight as low as possible, believing this to be important for quick handling – and that included the rider, too. The RGB Wasp's 635mm seat height was very low by the standards of any current early-'90s Superbike or 500GP racer.
---
---
The main factor in achieving this, though, was Gary Bryan's insistence in retaining a twin-shock rear end on the Wasp-engined RGB, rather than a taller, and heavier, monoshock layout. Well, he was in good company – Mamoru Moriwaki built a twin-shock GP chassis in Japan around the same time, to wrap around a factory Honda NSR250 motor! "We wanted to do the Thunderbike series, the rules for which stipulate a twin-shock chassis," Bryan said, "but I'd probably have opted for it anyway, it's simpler and lighter, plus the way the RGB-Weslakes handled, I didn't think a monoshock was necessary." 
Maybe so, but a succession of increasingly fraught trips over the bumps on the exit from the long Gerard's 180 degree fourth-gear sweeper at Mallory Park made me less of a believer, despite the promise of the sophisticated twin oil/air-damped Progressive Suspension shocks from America, with their dual-rate springs. However, the rear suspension did seem to be the main reason why the RGB Wasp hopped so badly over the bumps there, making it impossible to wind the throttle hard open for the exit until it had calmed down, and the rear tyre was in more constant contact with the ground again.
---
---
There seemed very little suspension compliance, a fact confirmed by bouncing the bike on its springs in the paddock: sure this is right, Gary?! It turned out there was a reason, which was that the bike was originally designed round 18-inch tyres, meaning that with the 17-inch Michelin radials by then fitted, there was a ground clearance problem only resolved by stiffening up the rear end. So, on anything except a smooth track, this was a problem.  
---
Which was a pity, because otherwise the RGB Wasp handled well, with light, positive steering which made it go just where you pointed it, without any excessive rider input. That was frankly just as well, since moving about on the seat was very difficult, thanks to the squashed riding position. This pushed my knees upwards, leaving my elbows bent and sticking out in the slipstream as I tried to tuck away behind the vestigial screen down the straight – and Mike Hose was and still is only a little shorter than I am. However, one advantage of compacting the mass in this way was to reduce the polar moment for ease of changing direction, and that's probably the main reason the RGB Wasp was so stable on fast corners, yet moved from side to side so quickly at the Mallory Esses, or through the Chicane.
---
---
This was despite the rangy-seeming steering geometry with a 26.5 degree head angle, and an undisclosed but at a guess considerable amount of trail, although the team did change the offsets and set up the chassis for each new track. But there weren't many bikes weighing this much which you could take round Gerard's hard on the power (remembering to ease it back a bit for those bumps on the exit!) without any twitching, or understeer, yet would flick from side to side so relatively effortlessly in such a slow chicane as Mallory's. Just a shame the gearbox problem would intervene each lap there, to spoil the drive out around the Elbow and past the pits, because when I did manage to avoid missing a gear there, it was really impressive how early you could get the power on, thanks to the wide-for-those-days six-inch rear Astralite wheel – and, I have to say, the twin-shock rear end.
---
---
The fully adjustable 42mm WP upside-down fork was well set up, but what surprised me most were the Spondon brakes, using their own four-pot calipers on stainless steel discs. When I'd used this combination on my own Spondon-Ducati 888 which I'd raced against the RGB Wasp in its debut 1990 season, I couldn't get them to bite properly until I swapped the discs for a pair of Brembo cast-iron rotors, which transformed the braking.
But on the RGB, despite the extra weight of the bike compared to my Ducati, I was pleasantly surprised at how effective the Spondon set-up worked – and the Mallory Park hairpin will test any brake system to the utmost. Pad choice must therefore obviously be crucial (though in my defence, I did try different grades on the Duke), plus it was vitally important not to use the RGB's rear brake on the overrun, else the high compression and heavy crank inertia would lock the back wheel very easily, requiring me to fan the clutch lever to stop the rear wheel chattering in those days before slipper clutches were ubiquitous. Anyway, Gary didn't like his riders buzzing the engine under reverse load!
I remember seeing the Merlin-Wasp engine for the first time at the British Sidecar MX GP back in 1984, when a good dozen of the rigs in action sported this modern British parallel-twin power unit, and wondering why nobody employed it for a street bike, let alone a road racer. Gary Bryan ended up kicking himself metaphorically, too: "I just wish I'd seen this engine myself back in 1984 – I'd heard about it, but I never followed it up, and that was a big mistake," he said.
---
"It's amazing how reliable it's been, and it responds well to tuning, which not all off-road engines do when you try to road race them. I've always wanted to race British bikes in the past out of a mixture of patriotism and cost, but now we've got something I honestly believe can be made to rival any other air-cooled bike in the world, especially once we get the fuel injection developed."
Stirring words, but not misplaced, for although on a long, fast track like Assen that year the RGB Wasp had proved out of its depth against the fuel-injected eight-valve Ducatis, it was at much less of a disadvantage on tighter tracks, where torque was more important than peak revs. And that was in the carburetted form it remained in, for Gary Bryan was sadly never able to find the financial backing to go to the next stage of development with the fuel injection system he wanted to fit.
Still, as he spanners Mike Hose to yet another Open 1000cc race victory on an RGB-Weslake in today's Classic racing – yes, rider and tuner are still winning races together, 30 years on – Gary Bryan can reflect with pride and great satisfaction on how his own remarkable tale of triumph over adversity enabled him to build a National championship-winning motorcycle, which remains the fastest traditional British air-cooled road racer yet created.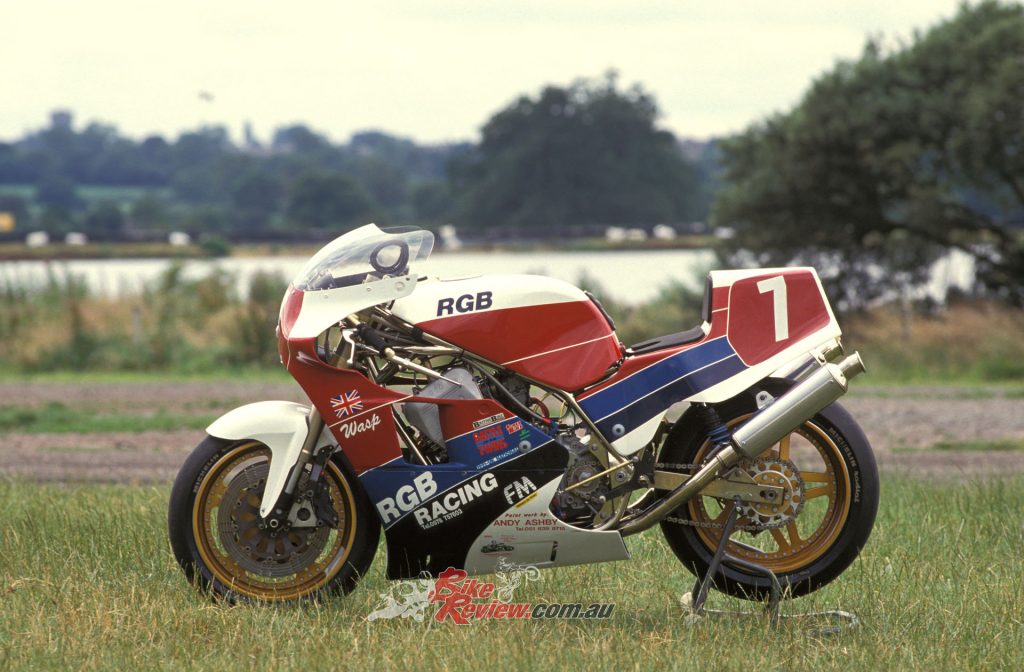 1991 RGB Wasp Thunderbike Racer Specifications 
ENGINE: Air-cooled DOHC 8-valve 360° parallel-twin four-stroke with offset chain camdrive, 998cc, 12:1 Compression Ratio, 2 x 40mm Amal Mark 2 Concentric, Interspan total-loss CDI, 86 x 86mm bore x stroke, 5-speed Merlin/Wasp with gear primary drive. Multiplate dry clutch (6 friction/6 driven)
---
CHASSIS: Chrome-moly steel tubular full cradle duplex, Front: Fully adjustable 42mm WP inverted telescopic forks, Rear: Fabricated box-section steel swingarm with 2 x Progressive Suspension shocks with dual-rate springs, 26.5 degrees rake, front wheel:12/60 – 17 Michelin radial on 3.50 in. Astralite modular aluminium wheel, 18/67 – 17 Michelin radial on 6.00 in. Astralite modular aluminium wheel, 2 x 320mm Spondon stainless steel discs with four-piston Spondon calipers, 1 x 180 mm RGB aluminium disc with two-piston Brembo caliper
---
PERFORMANCE: 108hp@7,500rpm (at wheel), 170kg with oil, no fuel, 50.5/49.5 weight distribution, 255 km/h (Assen 1991)
---
OWNER: Gary Bryan, Wrexham, Wales.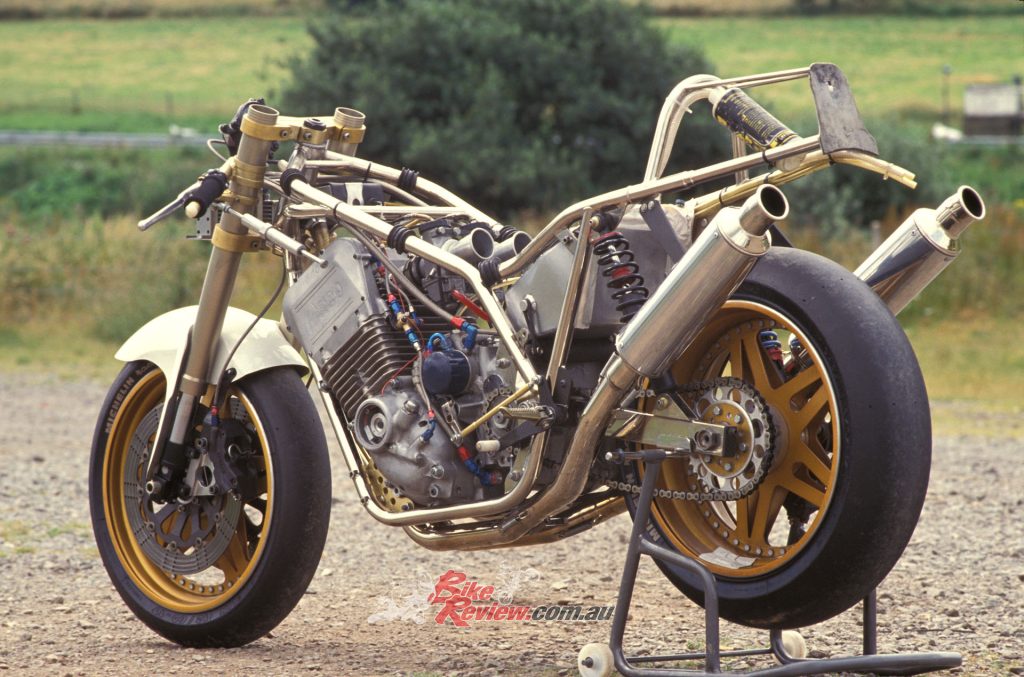 1991 RGB Wasp Thunderbike Racer Gallery
---
---