Hendrik Van Veen turned this successful German single-cylinder six-speed racer into his own multiple world championship winner. With 17.5hp@14,500rpm and an 1800rpm powerband, riding one takes some skill! Test: Alan Cathcart Pics: Kyoichi Nakamura
Born 1962, died 1989: that's the inscription on the Tiddler racing tombstone. 30-years of GP competition with minuscule motorcycles, first with coffee cup-sized 50cc cylinders, then later with 80cc dimensions more suited to tea. This month, Alan rides a Kreidler coffee cup.
Nothing, absolutely nothing else on two wheels, prepares you for the difficulty of riding a 50cc Kreidler GP tiddler. Not a Honda six, which stalls if you run it below eight grand, but at least has more than an 1800rpm powerband. Not a Krauser 80, which may be minuscule, but is almost comfortable beside the cramped, skinny, featherweight Kreidler.
---
Check out Alan Cathcart's other Throwback Thursday tests here…
---
Not Champi Herrero's 80cc Derbi, final world champion of the tiddler era in 1989, which may have been low-slung enough for me to touch both knees on the ground at once, but least didn't change direction when you coughed inside your helmet! And not, especially not, any 'normal' bike weighing more than the rider, which is the opposite case with the Kreidler I was lucky (?) enough to test on, of all tracks, the Spa-Francorchamps GP circuit in fortunately atypical Ardennes sunshine.
The fifty or so Van Veen Kreidler production racers built over the decade and a half in which the orange and green colours of the Dutch speed shop packed 50cc grids, mostly found homes in the Benelux countries and Germany, where since their disappearance from the race tracks more than 30 years ago, many of them have found their way into bike collections as prized exhibits.
But not many owners have restored them as sympathetically as Belgian two-stroke enthusiast Jean-Marie Compère has his two GP Kreidlers – one a rare ex-de Vries 1971 works bike, the other a production racer from the same period, with water-cooled cylinder sporting Kreidler's trademark longitudinal finning.
Raced by a series of Belgian privateers, and ultimately by local 50cc champion and later GP sidecar driver Chris Baert, JMC's Kreidler is remarkably original by the standards of the tiddler class, where by definition most owners wrought many mods to the basic machine in an effort to wrest the last race winning nth of performance from the minimalist motor.
---
---
That means the 40 x 39.7mm motor (all Kreidlers ever built – street or race – were 50cc bikes with the same dimensions) has an electric water pump (rather than the thermosyphon of cruder tiddlers), Krӧber ignition with a 12v total-loss battery, and rotary-valve induction via a side mounted 28mm Bing carburettor. The crankcase is incredibly small, and it seems hardly possible that it also contains the six-speed gear cluster as well.
---
---
Delivering 17bhp@14,000-14,500rpm, this early-'70s single delivers as much power as the works Japanese twins did less than a decade earlier – with the important difference that it does so over a (relatively speaking!) much wider rev range. The 800rpm powerband of the Suzuki RK65 twin necessitated its 14-speed gearbox, whereas the Kreidler gets by with only six gears, thanks to its mile-wide 1,800rpm rev band which makes it so usable.  Well, relatively speaking, that is….
THE RIDE
The easiest thing about riding the Kreidler is starting it. After decanting a few thimble-fulls of 5 per cent petroil mixture into that incredibly long and sensuously-shaped fuel tank, pop your bum on the extremely narrow seat that will be your perch for however long you can put up with the cramp, paddle a couple of steps, drop the clutch and immediately start fanning it again to coax the engine into life.
---
---
You'll be rewarded by the sound of a swarm of bumblebees from the single exhaust's tiny tailpipe, as you flirt with the five-figure revs that the Kreidler is happy to be warmed up at. Correction: that was the ONLY easy thing. What happens next is extremely complicated and difficult: first achieving, then maintaining, forward motion!
The fact is that riding the Kreidler, or any 50cc tiddler like it, requires a technique that is completely alien to anyone brought up on riding a normal bike – quite apart from the contortions required to actually squeeze yourself aboard the thing if you're the slightest bit taller than Joe Average. Take a bow, Bruno Kneubühler: how anyone diminutive enough to be runner-up for the 50cc World title in 1973 on a works Van Veen Kreidler could also be hunky enough to race a works Ducati V-twin in Formula 750 races the same year, or be top privateer in 500GP racing a decade and a half later on an RS500 Honda triple, defies understanding.
---
---
The Kreidler is a bike for the vertically challenged. It's also a racer for those who like to keep busy, for riding it at more than walking pace requires so many things to be done at once, a Kreidler rider never complains of boredom. At least with bigger bikes you can relax a bit in a straight line, but on a tiddler like the Van Veen you have to concentrate like mad to tuck every square inch/cm of body mass away to reduce drag and maximise speed.
I can't pretend I was double-jointed enough to make more than a token effort at concealing myself behind that sweptback fairing, but even so, just sitting up for a turn wiped 1,500rpm off the tacho reading, and quite a bit off my speed. A human air-brake helps compensate for the lack of any engine braking from the tiny cylinder, together with the unexpectedly fierce action of the front 4LS Fontana drum brake, which proved surprisingly effective for just a 185mm diameter unit.
---
---
But, as with any relatively underpowered microracer, the trick is to keep up corner speed: once gained, you begrudge sacrificing any momentum, making the judgement of how much you can ask of your front tyre a real test of skill and experience. Despite its skinny rubber, a tiddler has always cornered faster than bigger bikes – but the trick is to push it just far enough that you feel the tyres just starting to roll on the rims. That's when you back off – a warning that you ignore at your peril.
At my restrained speeds on this miniature museum-piece, I didn't get the rear wheel drifts that were common in the heyday of tiddler racing, but I did experience the knife-edge handling those skinny treaded tyres and the bike's minuscule 55kg dry weight deliver. I kid you not: I had hay fever the day I rode the Kreidler, and a sneeze on the move meant changing my line by 60cm!
---
---
However, all this was secondary to the real problem of riding any GP tiddler, which is to persuade the engine to keep on operating in its power band. The Krőber revcounter doesn't even start registering till 8,000rpm, but if you run the engine this low, you'll foul the plug. Get busy with the clutch hand, and coax it into the five figure zone, so at 12,000rpm you'll start to go somewhere – just not very fast, that's all. Keep winding in the clutch, and at 14,000rpm there's good power – well, relatively speaking – when the 17bhp power peak is on tap.
Now comes the tricky part: the power curve is flat from there until just under 16,000rpm – rev it any higher than that, and it falls right out of bed, with the strong risk of a blown crank, to boot.  So what you have to do is constantly fan the clutch to make sure the engine is operating in that 14,000-15,800rpm happy zone, even at high speeds on an undulating track like Spa. Of course, this also involves changing gear constantly, zipping up and down the gearbox from one ratio to another, preferably without the clutch in either direction, in order to guard every carefully nurtured ounce of engine speed.
---
---
Since my feet are also as oversize as the rest of me for Kreidler cavorting, this was not as easy as it might sound, because the left-foot one-down change is tailored for the smaller trotter. Still, I managed – sort of: "Make the clutch your friend," advised Jean-Marie after I'd bogged it down for the umpteenth time in the chicane. Wrong advice, mon ami! Treat it like your worst enemy, is what you must do – wind the engine up on it unmercifully, slip it till it's red hot, and don't worry about cracked plates or worn friction material – you have to put a new clutch in for every race, anyway. It's kinder to be cruel: mechanical sadism pays off in the tiddler class!
Riding a 50cc GP racer at the highest level must have been a triumph of mind over matter in more ways than this, though. Besides having to out-fox your rivals mounted on machines that were essentially all but identical to yours in either specification and/or performance, watching like an eagle for every chance to gain a few revs by judicious slipstreaming, timing your runs past them as if every attempt was the last lap on the Daytona bankings – in addition to all this you had to grapple with the complexities of riding a bike that was minimalist in design, but ultra-finicky in behaviour.
---
---
Juggling the clutch, throttle and gearshift is a constant test of dexterity, while probing the outer limits of the microbike's knife-edge handling, learning to plot the smoothest course on the track to avoid bumps that shot the stiffly sprung Kreidler in the air – all this and more was the hallmark of a generation of tiddler aces whose time has come and gone. Riding the Van Veen Kreidler made me appreciate the skills of men such as these, skills that were more subtle than those of the higher-profile heroes of the 500GP class, but no less worthy of admiration and respect.
Clever, brave riders, all of them – and none cleverer than the likes of Barry Sheene, who proved his versatility by riding a Kreidler just like the one I tested to GP victory at Brno in 1971, finishing two-and-a-half-minutes ahead of the field! That was some trick by Bazza – but I wonder where he put his feet?
VAN VEEN KREIDLER HISTORY
You didn't have to be a pint-sized star midget to race 50cc and 80cc GP bikes successfully – though it helped: double World champion Hugh Anderson from New Zealand cut his teeth in GP racing on 500cc British singles in the early '60s, before winning two 50cc world titles for Suzuki.
He just made sure his Japanese bosses never saw him standing next to any of his team mates or rivals, in case they deemed his 5'8″/1.78m height unsuitable for tiddler racing! But even Hugh couldn't keep sitting down for ever, and eventually Suzuki caught on to him, replacing him with tiny German Hans-Georg Anscheidt from the rival Kreidler team, who went on to win a trio of World titles for the Japanese factory in 1966-68.
Anscheidt's loss was a severe blow to Kreidler, who more than any other company were committed to 50cc racing throughout the life of the class. Others came and went – Honda, Suzuki, Derbi, Jamathi, Malanca, Piovaticci, Tohatsu, Villa, Garelli, Tomos, Casal, Morbidelli, MZ: the list of tyro tiddlers is a roll-call of nostalgic nonentity interspersed with the late and the great – but only Kreidler were involved from first to last.
---
---
Anscheidt won the first-ever 50cc GP, held in Spain in 1962, after having dominated the previous season's Europa Cup series on his race-kitted Kreidler Florett roadster, yet Switzerland's Stefan Dőrflinger won the final two 50cc World Championships in 1982/83 on a Krauser-sponsored Kreidler that was demonstrably derived from that very first Sixties single. In between, Kreidler machines won eight World titles and more than 70 GP races under their own name, quite apart from those scored by Kreidlers conveniently renamed for sponsorship reasons, like Iprem or Sparta or ABF.
---
---
And without the involvement of the West German factory based at Kornwestheim, near Stuttgart, tiddler racing would never have survived as long as it did to provide an early-morning wake-up call for occupants of GP race paddocks throughout the '70s and early '80s. In 1975, for example, no less than 18 riders out of the top 26 in the 50cc World Championship's final points table were mounted on Kreidlers, including four out of the first five in the year when Angel Nieto won the only one of his '12+1′ (=13!) World titles on a non-Spanish bike.
Kreidler's commercial fortunes flourished alongside the success of their GP racers: by the mid-'60s, the company was responsible for more than 50 per cent of all the powered two-wheelers annually sold in Germany, and this market supremacy continued well into the 1970s, even in the face of Japanese competition. Sadly, though, Kreidler management failed to make the necessary investment in new models – the same mistake made by their British industry counterparts two decades earlier.
---
---
And what little was done came too late. The Kreidler factory shut its doors in 1982, coinciding almost exactly with the demise of the 50cc GP class it had been more responsible than any other company for nurturing (although it was later revived with badge-engineered products Made in China).
Before then, Kreidler – a supplier of semi-finished metalwork which began manufacturing motorcycles only in 1951 – had provided stern competition for Honda and Suzuki in the early days of tiddler GP racing, with Anscheidt finishing runner-up in the World championship in both '62 and '63, and third in '64.
Kreidler achieved this success thanks to their early recognition of the merits of the rotary-valve two-stroke design developed on the other side of the Iron Curtain by their East German counterparts, MZ. All Kreidler GP racers ever built were disc-valvers, with the added sophistication of their Mahle piston suppliers' Nikasil chromed cylinder bore, which MZ couldn't obtain – nor at first could their Suzuki rivals, who did however have access to MZ's technology thanks to the defection of Ernst Degner at the end of '61.
---
---
Kreidler was thus the first motorcycle company to use the nowadays commonplace chrome bores in GP racing, and this plus some radical porting and exhaust design, coupled with an innovative 12-speed gearbox using a handlebar-controlled overdrive, and wind tunnel-designed bodywork, allowed them to keep pace with the Japanese.
But the arrival in 1965 of twin-cylinder 50cc designs from both Honda and Suzuki marked an increase in costs that Kreidler management opted out of following, even though their development team had designed their own twin-cylinder engine, which was never raced. Instead, Kreidler pulled its works team out of GP racing, leaving its Dutch importer, Hendrik 'Henk' van Veen, to continue waving the flag on their behalf.
A hardened racing enthusiast and capable development engineer, Van Veen was duly responsible for four of those World titles, and was also the German company's best customer, who by 1971 had sold more than 100,000 Kreidlers in Holland. This provided the rationale as well as the finance to develop a line of Kreidler-based racers which over the years became more Dutch than German, after Van Veen was supplied with two of the works bikes after the factory retired from racing in 1964.
---
---
This design was radically reworked by Van Veen and his men into a serial World champion, painted in the trademark Van Veen metallic green and orange colours. Jan de Vries won the title for him in 1971 and '73, Henk van Kessel in '74, Angel Nieto in '75, Eugenio Lazzarini in '79 and '80, and Stefan Dörflinger in '82 and '83, the latter two despite Kreidler going out of business in 1982.
The FIM's decision in 1969 to reduce spiralling costs by limiting 50cc racers to one cylinder and six-speed gearboxes, provided the key to Van Veen Kreidler's years of success. With the Japanese multis out of the tiddler class, it became a straight fight between the various Euro-­singles – and an enthralling one it was too. Van Veen rider Aalt Toerson ended the year equal on points with Derbi-mounted Nieto in 1969, but still finished second to the Spaniard on a scoring technicality despite winning more races than he had!
Nieto won again in 1970, but in 1971 Jan de Vries clinched Kreidler's first-ever World title for Van Veen, using a brand-new bike designed by Van Veen's German tuner Jorg Mőller, with a water-cooled engine delivering 17.5bhp@14,000rpm, and the rotary-valve engine with near-horizontal cylinder slung under the tubular steel frame to make a very low bike that was the archetype 50cc GP racer.
Fitted with a four leading-shoe Fontana front brake, and Marzocchi shocks and fork, de Vries' title-winner sired a series of Van Veen Kreidler production racers closely based on the works machine, which de Vries took to his second World title in 1973, after another deadheat on points with Nieto in 1972 was only resolved by adding race times together – the two had the same number of wins and second places, but Nieto was champion by 21.32 seconds!
---
---
By then Van Veen had recruited a string of illustrious riders to race alongside de Vries – like Barry Sheene, who won the 1971 Czech GP on a Van Veen Kreidler, or Jarno Saarinen, second in the Spanish GP that same year on a similar bike. Sheene was admired for his prowess in adapting to such a small machine so successfully, but ridiculed for wearing a speed-sapping full-face helmet poking outside the screen, in a class where riders even refrained in later years from having lettering sewn onto their leathers, because of the extra drag it caused!
---
---
The lanky Henk van Kessel – in the Hugh Anderson mould at all of 1.73m tall! – headed a clean sweep of Kreidler riders in the 1974 World series on his Van Veen production racer tuned by Jorg Möller. The first six places in the points table went to riders of the Dutch/German bikes, in a season when van Kessel lapped the Spa circuit at over 100mph in the Belgian GP on his 50cc tiddler, which was trapped at an amazing 202km/h in a straight line – over 125mph: some moped!
This convinced Nieto to ride a Kreidler himself in '75, winning the World title before returning to a Spanish marque the next season, if not a Spanish bike: the Bultaco he won the 50cc title on in 1976/77 was the Italian Piovaticci designed by two Dutch engineers, purchased by Bultaco's backers, the Spanish motorcycle federation, and renamed accordingly!
By now Kreidler racers in their various forms were dominating the grids of 50cc racing, offering an army of clever tuners from different countries the chance to refine their skills in a class whose simplicity was its strength, where fractions of a horsepower painstakingly extracted from the tiny, minimalist engine, were the difference between winning or coming second.
For many engineers who were often riders too, like Harold Bartol, Herbert Rittberger and Hans Spaan, who went on to achieve success in other larger-capacity classes, racing a Kreidler with distinction in the tiddler class was an essential part of their learning curve. The demise of the German marque, as well as the disappearance of the 50cc category, marked the end of a vital era in two-stroke evolution.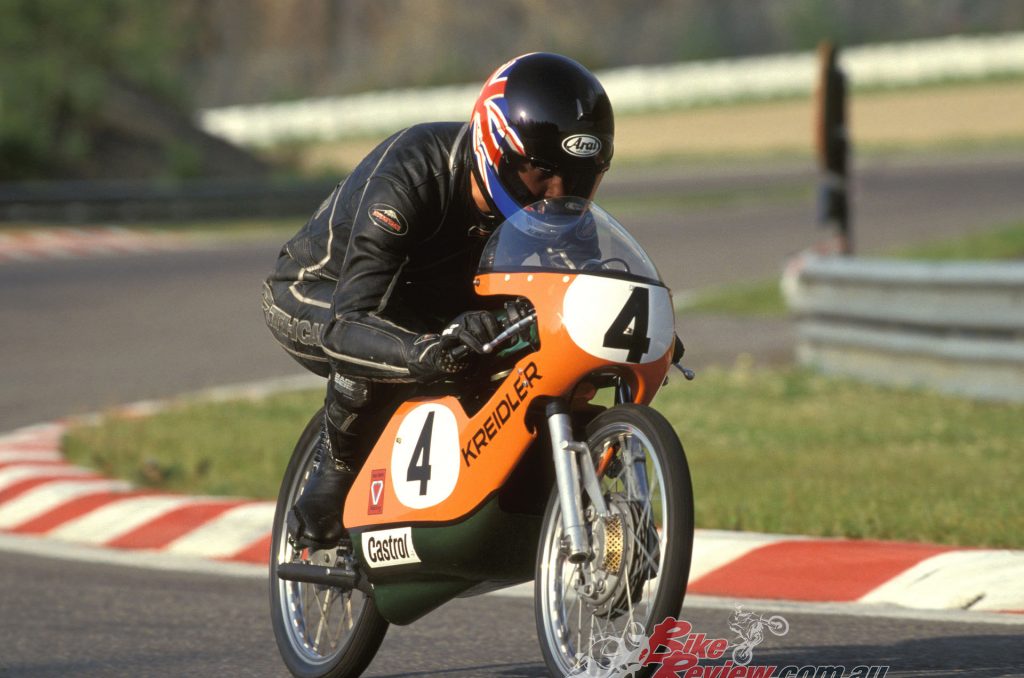 Van Veen Kreidler 50 GP Racer Specifications
ENGINE: Liquid-cooled rotary disc-valve single-cylinder two-stroke, 40mm x 39.7mm bore x stroke, electric water-pump, 49.8cc, 28mm Bing round slide carburettor, Krober electronic CDI and 12V battery, dry multi-plate clutch, six-speed gearbox. 17bhp@14,500rpm.
---
CHASSIS: Tubular steel spaceframe with underslung engine, box section steel swingarm, 30mm Marzocchi front forks, twin Marzocchi shocks, 185mm Fontana four leading-shoe front brake, 160mm Kreidler tin leading-shoe rear brake, 5/57 – 18 Michelin tyre on 2.00in rim (f), 7/59 – 18 Michelin on 2.50in rim (r), Borrani wire-laced alloy rims, 1280mm wheelbase, 50/50 weight bias, 55kg dry.
---
TOP SPEED: 202km/h (Spa-Francorchamps, 1974)
---
OWNER: Jean-Marie Compère, Verviers, Belgium
---
---