Sanvenero GP is an Italian tale of bankruptcy, small victories and wild engineering. Alan had the chance to ride one of the very rare 500s... Test: Alan Cathcart Photos: Kel Edge, AC Archive
Even by the standards of Italy's etceterini array of little-known marques that have contested Grand Prix racing down the years, the meteoric rise to success from Sanvenero exactly 40 years ago in 1981, and equally sudden  bankruptcy the following year, takes some beating.
---
Check out our other Throwback Thursdays here…
---
For in that short space of time the company based on Italy's Adriatic coast in Pesaro, one of the hotbeds of Italian motorcycling down the ages as the home of Benelli, Morbidelli, MBA, RTM, Ringhini, TM and others, succeeded in registering three GP victories – one of them in the prestigious 500cc class, another a 125cc 1-2 team finish – and placing two riders in the top five of the end-of-season World Championship points table. Not so shabby!
The team's founder was construction magnate Emilio Sanvenero, a property developer who hailed from Ceparana, the same village outside La Spezia where 1981 500GP World champion Marco Lucchinelli grew up. His company Sanvenero Costruzioni was based further south in Follonica, near Grosseto on Italy's west coast – hence this name on his bikes' tank badge.
---
---
Though scarcely a diehard motorcycle fan – the first race he ever attended was the 1979 French GP at Le Mans – Sanvenero had been recruited as the main sponsor for Pier Paolo Bianchi's 1980 World-title winning 125cc factory MBA, but having his name on the fairing wasn't enough for Emilio: he wanted to emulate MBA's founder Giancarlo Morbidelli by winning races with a bike of his own making, with his name all over it. 
So on Sept.1, 1980 – even before Bianchi had clinched his third World title – this wealthy sponsor formed his own no expenses-spared team, taking with him to do so many of the MBA factory's personnel, led by engine expert Giancarlo Cecchini, a former Benelli race mechanic who'd spannered for Aussie Kel Carruthers in winning the 1969 250cc World title, before switching to two-strokes with some success.
Bianchi and Paolo Pileri had both won World championships on Cecchini-tuned MBAs, and years later he was Andrea Dovizioso's race engineer in his 2004 125cc World title-winning year with a Honda. Since his team all lived there, Pesaro was a natural choice for the spacious new 2000m² factory Sanvenero built to house his race operation, complete with a well-equipped workshop, drawing office and a then-rare engine dyno – a marked contrast to the cramped and often primitive conditions in which so many Italian teams then operated.
---
Emilio's first choice for team rider was Angel Nieto, but he couldn't be lured away from Minarelli, so next up was Bianchi – but despite crumbling finances which saw them shut down their race operation a year later, MBA matched Sanvenero's offer, and he stayed put.
---
Winner of the final two races of the 1980 GP season and runner-up in that year's 125GP World series on the Motobécane, Frenchman Guy Bertin was third on Sanvenero's shopping list, and the millions of lire on offer, plus the chance to move up to the 250cc class with a projected Sanvenero bike, were enough for him to decline a firm offer to do just that already in 1981 with the new Pernod GP squad. In this respect Sanvenero differed from other Italian team owners back then, most of whom put the emphasis on running local riders. He just went for the best men for the job.
---
---
Sanvenero decided early on to develop two classes of bike: a 125, because his ex-MBA men's experience and thus best chance of success lay in this category, and a 500. Why bother to compete against the might of Yamaha, Suzuki and Kawasaki in GP racing's premier class? Because back then, long before today's sports channels, Italian TV only showed the 500GP races, and Sanvenero wanted his name in lights to promote his house-building empire.
That's one reason for the eye-catching zebra stripes he chose for his bikes' bodywork – most Italians didn't yet have colour TV back then, and his bikes stood out better that way! The other was that Emilio was a big fan of Turin's football team Juventus, who play in black and white stripes – hence, too, the zebra's head on the Sanvenero badge, for this was the Juve club emblem during the 1980s.
---
---
Work started first on the 125, and by using as its basis his design for a revamped MBA motor he'd created in 1979 – which its management had set aside in favour of continuing with the existing design, rightly believing it could still win them World titles, and customers, without spending any more cash – Cecchini had the Sanvenero 125 engine running in January 1981, and two months later Guy Bertin started the Argentinian GP on March 22 with the all-new zebra-painted bike. But he retired after just two laps with crank problems, and two more DNF's followed in Austria and Germany.
---
---
But then on May 10 in the Italian GP at Monza – less than two months after making its GP debut – Bertin rode the Sanvenero 125 to a flag-to-flag victory on a wet track, finishing 21 secs ahead of Loris Reggiani's Minarelli. Emilio Sanvenero wasn't there to see it, though – Juventus was playing Inter Milan at home that day!
---
With Bertin a close runner-up just five seconds behind winner Angel Nieto in the next round at Le Mans, the Sanvenero was now evidently a very competitive package, resulting in sixth place for the Frenchman in the final 1981 125cc points table. For the final four races he was joined by an MBA refugee, Spain's newly-crowned two-time 50cc World champion Ricardo Tormo, who after leading Bertin home in a Sanvenero 1-2 in the final GP of the season in Sweden, signed up to race the bike full time in 1982, alongside Argentinian Hugo Vignetti, tenth in the '81 points table, and bearer of a sackful of pesos from his local federation. This left Bertin out in the cold – but with a two-year contract in his hand, he was 'promoted' to the 500GP Sanvenero team for 1982, alongside new signing Michel Frutschi. The 250GP project had bitten the dust.
The early focus on getting the 125 Sanvenero competitive had meant that the team's 500GP venture initially took a back seat for 1981. Rider Carlo Perugini had impressed the previous season by finishing fourth in the Italian GP at Monza on the 350cc square-four RTM, another rotary-valve Pesaro special – but he had to wait until April 1981 before the all-new Cecchini-designed bike was ready to ride.
Although design work had begun the previous October, the square-four rotary-valve engine only ran on the dyno for the first time on April 1, before finally being installed in the chassis on April 23, the night before practice began for the first European GP of the season, in Austria. Having fired up the complete bike for the first time ever at 5.00am on practice day (I bet that was a popular move!), the Sanvenero team unsurprisingly didn't qualify the bike from the 40+ field of 500GP entries.
---
---
Thereafter, progress was slow, since with the GPs following each other fast and furious, Sanvenero's 500GP R&D was perforce carried out in qualifying sessions. But gradually, early problems – particularly with the ignition – were ironed out, and the new Italian 500 became a regular qualifier from the Belgian GP onwards. Still, Perugini scored just two race finishes, a 19th in Yugoslavia and 23rd at Silverstone – although the Sanvenero square-four did have the beating of another brand-new Latin 500, the debut Cagiva C1 ridden by Virginio Ferrari, with its innovative – rotary-valve in-line four-cylinder motor. 
While at first glance the 500 Sanvenero appeared to be a cloned RG500 Suzuki, just as with its 125 sister compared to an MBA there were in reality several differences. Chief of these was its 499cc motor's short-stroke 55 x 52.5 mm dimensions, producing a claimed 120hp@11,000rpm, but with a layered power delivery which made the Sanvenero initially very hard to ride. Corrective measures resulted in a more linear albeit narrower power band, with the solution in the port design, originally featuring six transfers and a single exhaust port, with two auxiliary ports between the main transfers and the exhaust.
---
---
Unlike the four separate cranks on the Suzuki, the liquid-cooled Sanvenero engine featured twin forward-rotating Hoeckle crankshafts, each running in four roller bearings, with needle roller big and little ends to the forged conrods, and the Mahle pistons delivering a 14.1:1 compression ratio while running in Nikasil chrome bores.
---
Unlike the four separate cranks on the Suzuki, the liquid-cooled Sanvenero engine featured twin forward-rotating Hoeckle crankshafts, each running in four roller bearings, with needle roller big and little ends to the forged conrods…
---
Krőber ignition was originally used, then discarded in favour of the same Hitachi M400-03 CDI fitted to the Yamaha TZ500 customer racer. 34mm Mikuni VM-34SS carbs fed mixture through steel rotary valves, and again unlike the Suzuki, the 6-speed CIMA gearbox was a cassette-type extractable cluster which meant its internal ratios could be changed quickly and conveniently, with a 14-plate dry clutch.
---
---
The Sanvenero 500GP frame was a Cecchini design made in their own factory, though a Nico Bakker chassis was used for early testing, originally with an RG500 motor installed, then from April 1981 onwards with their own engine – the mounting points were the same on both square-four motors. Emilio Sanvenero however wanted the whole bike to be of his own manufacture, so for its Austrian GP debut the team's own chrome-moly tubular-steel chassis was constructed, with extra top tubes each side siamesed together with steel sheet for extra rigidity.
---
The whole design looked quite strong, but inevitably on the heavy side for back then, though the claimed dry weight of 135kg – same as the factory Suzuki! – was surely more an expression of hope than fact, while top speed was around the 260kmh mark. 
---
Leading Swiss privateer Michel Frutschi's signing for 1982 coincided with the arrival of Francis Batta as team manager – yes, the same man whose Corona-sponsored Team Alstare would later become a figurehead of the World Superbike paddock. Batta had previously managed the troubled Suzuki 500GP team owned by fellow Italo-Belgian Serge Zago, whose previous riders Virginio Ferrari and Mike Baldwin were left out of pocket after the collapse of a Bieffe helmets sponsorship deal.
After the Zago team folded at the end of 1981, Batta arranged with Emilio Sanvenero to take over his entire motorcycle operation, including the building of what was intended to be 50 customer replicas of the team's GP-winning 125 twin – though in the end only around 20 such steel-framed bikes were actually made. There were no plans as yet for a production 500, but another year of development and hopefully success might perhaps change that. After all, a dozen zebra-striped bikes would show up so much better on TV than just one….!
---
---
In fact, Batta curiously changed the bikes' distinctive zebra livery in favour of a more mundane technicolour paint scheme, supposedly in preparation for Bieffe sponsorship which never actually ensued, leaving Emilio Sanvenero to continue funding the team's operation entirely from his construction company's resources. This new paint job clothed a much revised 125GP model, now with a stiffer, lighter square-tube aluminium chassis, which Tormo took to second place in its debut in Argentina, the first of his four 1981 rostrum finishes, culminating in victory in the Belgian GP at Spa.
This gave him fifth place in the final points table, one point/place behind Pier Paolo Bianchi on what was originally supposed to be a steel-framed customer Sanvenero, after MBA pulled out of racing at the last moment, leaving him with a fancy motorhome, but no bike for the coming season. Batta designated him as a 'specially supported customer', which meant he was given a new alloy-framed '81 bike from the start, on which he gained five rostrum places, but no wins, en route to fourth in the championship, in which Vignetti finished 11th with a single rostrum visit in France.
---
---
This time around the focus on the 125s didn't detract from the 500, with three bikes – one for each rider, plus a spare to share – built with an all-new chrome-moly frame aimed at resolving the problems with grip and stability that Perugini had complained of throughout the previous season, as well as making it steer better. With a then-tight 27° rake for the same Forcella Italia fork and a slightly shorter 1390mm wheelbase, Frutschi liked the Italian bike's handling better than the TZ500 Yamaha he'd scored top ten championship points on the previous season, though he found the acceleration lacking, perhaps because of the weight. 
After both he and Bertin finished their debut rides on the bike in Argentina 16th and 19th respectively, the third round of the series brought them to Nogaro for the French GP. There, a mass protest against conditions in the cramped paddock, as well as the bumpy surface of the short 3.12km track, saw all 15 factory 500cc riders refuse to race, leaving 23 privateers to contest the French GP without the main competitors and factory teams.
---
After qualifying on the front row of the grid, Frutschi followed poleman Jean Lafond on the Fior-framed Suzuki with wishbone front suspension built in the team's Nogaro workshop, until he crashed on lap 11. Thereafter, the Swiss delved into his skillset as a former works Endurance racer for Kawasaki by reeling off 40 successive laps each within half a second of the other, to take the chequered flag first nine seconds ahead of another local, Franck Gross on a Suzuki, with Yamaha-mounted Steve Parrish third. It was the first 500GP victory for an Italian bike for six years, since Ago's 1976 German GP win on an MV Agusta. Bertin, meanwhile, DNF'd.
This fortunate victory was the start of a constant cycle of improvement, with Frutschi qualifying 13th for the following Spanish GP, only to retire from the race when 11th – and ahead of some Japanese works bikes. A week later on the team's home ground at Misano he qualified 12th for the Italian GP, but slid off at half-distance while running ninth – again, in among the factory J-bikes. At the Dutch TT in Assen he qualified in an amazing 8th place, and ran 10th in the race until half-distance when he began dropping back to finish 19th. But in the following week's Belgian GP at Spa, the Swiss rider finally got the result he'd deserved, finishing 9th ahead of Fontan's factory Yamaha and Ron Haslam's Honda Britain NS500 triple. Guy Bertin was 14th, he too after a succession of non-finishes.
---
---
However, by now the clouds were starting to circle ever more heavily over the Sanvenero team, with increasing talk of suppliers unpaid, and staff, too, including the riders. The cashflow problems derived from a downturn in Emilio Sanvenero's core construction business, which led him to seek a buyer for his race team. Protracted takeover talks with none other than Alessandro de Tomaso – then proprietor of Sanvenero's Pesaro neighbour Benelli, as well as Moto Guzzi – came to naught, while after what transpired to be his final race for the team in Sweden, in which he DNF'd again while teammate Frutschi finished 12th, Guy Bertin got a Pesaro bankruptcy court to slap a hold on the transporter.
This meant that to attend the season's final 500GP round in Germany, Frutschi was forced to borrow Pier Paolo Bianchi's own small truck (there was no 125cc race there), into which he squeezed two of the three Sanvenero 500GP bikes and sufficient support material for the Hockenheim race weekend. But although Michel was able to complete the race, in which he finished 11th after failing by just 0.30sec to beat Jon Ekerold's Cagiva to the line for the final World Championship point, the entire Sanvenero team's equipment was then seized by bailiffs acting on behalf of unpaid German suppliers such as Mahle, Hoeckle and Krӧber. Which is how two of the three Sanvenero 500GP bikes built ended up in the Hockenheim Circuit Museum, where one of them still sits.
Even 40 years on it's hard to understand what exactly drove Emilio Sanvenero to invest so much money in a sport he seemingly had so little passion for. And for sure it was a strategic error to take on both his Italian rivals in the 125GP class AND all four Japanese manufacturers in the blue riband category – something none of them was unwise enough to try! Let's leave it to his bikes' creator, Giancarlo Cecchini, to assess the consequences of that.
"Our bikes were super competitive in the 125 category, and I truly believe we could have won the World Championship with them in 1982 if we'd been more focused," he said. "But our 500cc bike wasn't bad, either, despite being constructed in a small but well equipped workshop in Pesaro. It was supposed to be a synthesis of what was available at the time, but our problem was that in 1982, there were no less than 15 factory bikes, which made it a big struggle for us to be competitive. But by the end of the season, we were – only for it to all fall apart owing to lack of money. Pity!"
---
Sanvenero 125
Though outwardly similar to the Jӧrg Mӧller-designed MBA he'd previously worked on, of which he'd originally conceived it as an evolution, the 1981 liquid-cooled parallel-twin Sanvenero 125GP rotary-valve engine created by Giancarlo Cecchini.
With the cylinders inclined forward by 45° it had several detail changes, chiefly more nearly 'square' engine dimensions of 43.5 x 42 mm=, via the six-piece built-up 180° Hoeckle crank with steel conrods carrying Mahle cast aluminium pistons running in Nikasil liners. Peak revs were 14,000 rpm, producing a claimed 40hp for 1981, with the power coming on strong at 8,500rpm.
---
---
Mahle also produced the aluminium cylinder and head castings, while the unusual three-piece magnesium crankcase castings came from Campagnolo, but were machined at the Sanvenero factory, and although the cylinders had just five ports (four transfers/a single exhaust) to start with, in fact port area was quite large, and these were replaced by a six-port design (four transfers/twin exhausts) during the season. The side-mounted rotary valves inhaled through 28mm cylindrical-slide carbs, first Mikunis then later magnesium Dell'Ortos, and the variable-advance Krӧber ignition with twin Prüflex coils required a 12v battery. A six-speed cassette-type CIMA gearbox and 10-plate dry clutch (five friction + five steel) completed the picture.
---
"We first tested the engine on the dyno in January," said Giancarlo Cecchini , "and it made good power almost at once. Our only real problem was with the little ends, which in fact were the reason for our retirements in the first few GPs, but having resolved that, the engine has proved strong and reliable since. We still need to work on the chassis, though."
---
This twin-loop chrome-moly tubular steel frame was also designed by Cecchini, with cantilever rear suspension via a fabricated aluminium swingarm, which originally actuated a DeCarbon unit mounted Yamaha Monocross-style beneath the fuel tank, later replaced mid-season with a Bitubo shock. Front fork was a fully adjustable 32mm Marzocchi with magnesium sliders, carried in cast magnesium triple-clamps. Plasma-sprayed aluminium Zanzani 220mm discs were fitted up front, with a 210mm rear, all mounted on 18-inch Campagnolo cast magnesium wheels, and twin-piston Brembo calipers.
---
For 1982, however, there was a big step up in engine performance, with peak power rising to 43hp@14,300rpm, and the range of power broadened via new exhausts and revised porting of each separate cylinder, now with nine ports each – six transfers and three exhausts. After ordering a couple of chrome-moly steel frames from Dutch chassis specialist Nico Bakker, these were rejected as not giving the desired improvements to the handling, leaving Sanvenero again to design their own Mark 2 chassis made from 25 x 25 mm square aluminium tubing. This also resulted in a weight reduction for the complete bike to 77.5kg dry, aided by the footrests and gear/brake lever pedals now being made from Teflon. The Zanzani rear disc brake was also reduced to 200mm in diameter.
Just two examples of these aluminium-framed bikes were built, to be raced by Tormo and Bianchi in the 1982 season, then in 1983 by Bianchi himself en route to 8th place in the 125cc World Championship, with three third places his highest finish. This came after he was able to persuade the Pesaro bankruptcy court to let him race the bikes that season, on condition that he then returned them to the court's possession within seven days of the final GP of the season at Imola – which he did. 
---
The Ride
For some years the only known Sanvenero 500s still existing were the two bikes sitting side by side on display in the Hockenheim Museum. But in 2006 the third of the three such bikes built in 1982 finally resurfaced at the Imola Autojumble in a complete but distressed state.
The bike was acquired minus bodywork by British enthusiast Chris Wilson, to join his superb collection of factory 500GP two-strokes he's built up over the past quarter century, fired by a determination to preserve the until recently often unconsidered GP heritage of the '70s and '80s post-Classic era.
---
---
"The roots of the wonderful technology we see in MotoGP today are often taken for granted," says Chris, "and in seeking to preserve them, it's been surprising how many historic bikes have turned up in a very sorry state, having been just slung in a corner and forgotten. Thanks to Steve Griffiths of Racing and Investment Motorcycles, we've been able to track down several of them, and restore them to running order, and the Sanvenero is another he found for me."
To do so, Chris was able to arrange for German engineer Matthias Farwick to fully restore the Sanvenero, after he'd previously got his hand in by rebuilding the sole remaining other such Hockenheim bike, which he rode himself in the 2013 Spa-Francorchamps Bikers Classic.
"This involved taking a mould for the missing bodywork off that motorcycle," says Chris, "and I can't thank the management of the Hockenheim Museum enough for making that possible – they were super helpful." Sadly, the other of the two Hockenheim bikes was destroyed in the Austrian Top Mountain Motorcycle Museum fire in January this year, leaving just two genuine such machines in existence.
---
---
A fourth Sanvenero 500 recently appeared in Italy, but this is a replica created by a local businessman using a spare engine in a copy of the Wilson bike's frame, after a trusting Chris Wilson was talked into lending him his bike for two years to facilitate creating it!
---
"I was rather surprised to then see the replica being advertised as the ex-Frutschi Nogaro GP winner!" says Chris. "That's nonsense – that bike didn't exist until a couple of years ago, and the only Frutschi bikes are/were the two in Hockenheim. Mine is the ex-Guy Bertin bike, and it only takes sitting on it to confirm that!"
---
I can attest to that, after being invited by Chris to spend a fascinating day riding the Italian square-four at the Croix-en-Ternois race circuit in northern France – an opportunity which in a strange way gave me closure on one aspect of my riding and writing career. For back in the summer of 1981, as one of my first gigs as a freelance bike journalist I'd visited the Sanvenero factory in Pesaro, and studied the then zebra-striped 500GP bike up close. I didn't commence track testing the latest and greatest on the GP grids until a couple of years later, but Sanvenero was dead and buried by then, so it was nice to finally ride its 500GP racer.
However, thanks to Guy Bertin's diminutive height – at 5'10" I'm six inches taller than him – this entailed squeezing aboard what is a very tightly packaged motorcycle, complete with high-set footrests, steeply dropped clip-ons just like on his 125GP racer, and a far forward riding stance which I presume he chose to try to chuck as much of his reduced weight as possible forward, in order to load up the front wheel in turns, a scary sensation!
---
---
I too ended up doing just that, but at the expanse of being wedged in place, unable to hang off the bike in turns more than a token amount. However, since in those pre-kneeslider days this was not the Approved Method, that didn't matter too much, since despite what nowadays is considered fairly conservative steering geometry, I found the Sanvenero's steering unexpectedly responsive – though having in effect to perform handstands on the handlebars thanks to the cramped riding position, it was pretty tiring to ride on such a tight track, and three 20-minute trackday sessions were quite sufficient.
Michel Frutschi was only slightly shorter than me, and his bike would have been a much better fit. I wonder if it understeered to the extent the Bertin Sanvenero did, though, noticeably pushing the front wheel under power exiting the S-bend behind the Croix paddock – but while it didn't bottom out, I expect the Marzocchi shock that came with the bike was set up for Guy's much lighter weight, which might explain the understeer.
---
Being devoid of the powervalves then just starting to be featured on the factory Japanese bikes, the Sanvenero's rotary-valve engine had the usual sharp entry of such motors into the power band at 7,800 rpm on the Krӧber tacho, just as abruptly as somebody flicking a switch – though as the laps went by I became more used to how relatively controllable this was. The 18-inch treaded Avon race tyres Chris Wilson has fitted to the bike, replacing the 16-inch front the bike raced with which are unobtanium today, gripped well and gave good warning when the rear one started to drift if the power came in too suddenly while I was still cranked over.
---
---
But generally the Sanvenero was enticing to ride, and while it wasn't as nimble as the Honda NS500 triple it raced against in '82, its short 1390mm wheelbase made it much less of a truck than the Kawasaki KR500, with its 1470mm stride and 28° head angle, versus the Sanvenero's 27° rake.
---
---
Initially at Croix the square-four engine was all done at 11,000 revs, with zero overrev, but as it became cooler towards the end of the afternoon it'd let me rev it to 11,800 rpm to save a couple of gearshifts. The left-foot race-pattern (one-up) six-speed CIMA gearbox's shift action was crisp and precise, and the dry clutch light and responsive – I could clutch the motor into the powerband very controllably exiting either of the tight hairpins at opposite ends of the 600m-long Croix straight, though with the long gearing fitted I could only briefly grab a genuine fifth gear along it.
But by the standards of the era – and I'm fortunate to have ridden all its contemporary Japanese rivals, as well as the Cagiva – acceleration wasn't the Sanvenero's strong point, and I suspect the reason is weight. As against that, it braked OK, albeit not with the same initial bite from the Zanzani steel discs as delivered by the heavier Brembo cast iron discs just then finally falling out of favour.
---
---
Croix is a slightly shorter version of Nogaro, minus one straight, and riding the Sanvenero there was a window onto one of the most unlikely, unexpected GP race victories of the modern era. Too bad Emilio Sanvenero wasn't there to see it happen – Juventus was probably playing at home that day!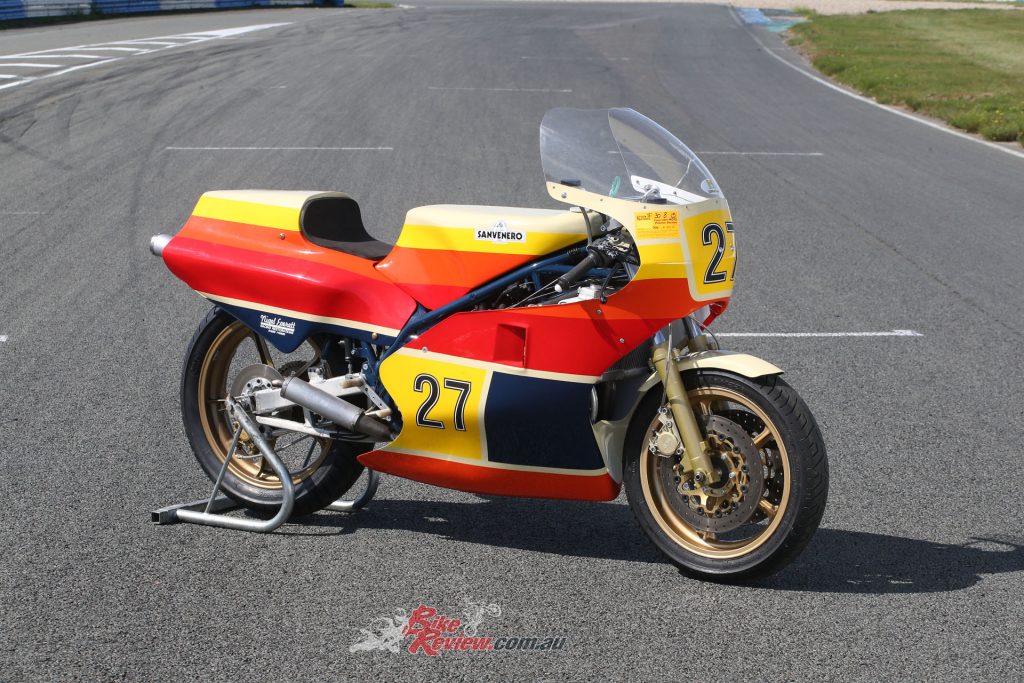 1982 Sanvenero 500 GP Racer Specifications
ENGINE: Watercooled twin-crankshaft rotary-valve square-four two-stroke, 499cc, 55 x 52.5mm bore x stroke, 14.1:1 compression, 4 x 34 mm Mikuni VM 34 SS, Hitachi M400-03 CDI, 6-speed cassette-type extractable, Multiplate dry clutch (7 friction/6 steel).
---
CHASSIS: Duplex chrome-moly tubular steel cradle frame, 27 degrees rake, 1390mm wheelbase, Front: 40 mm Forcella Italia telescopic fork adjustable for spring preload, Rear: Fabricated braced aluminium swingarm with fully adjustable Marzocchi monoshock and progressive rate rocker-arm link, Front: 3.25/4.50-16 Michelin slick on 3.25 in. Campagnolo cast magnesium wheel Rear: 160/70-18 Michelin slick on 4.00 in. Campagnolo cast magnesium wheel, Front: 2 x 300mm Zanzani floating steel discs with two-piston Brembo Serie Oro calipers, Rear: 1 x 220mm Zanzani steel disc with two-piston Brembo Serie Oro caliper.
---
PERFORMANCE: 120hp@11,000rpm (at gearbox), 135kg dry (claimed), top speed 260 kmh.
---
OWNER: Chris Wilson, Broadstairs, Kent, UK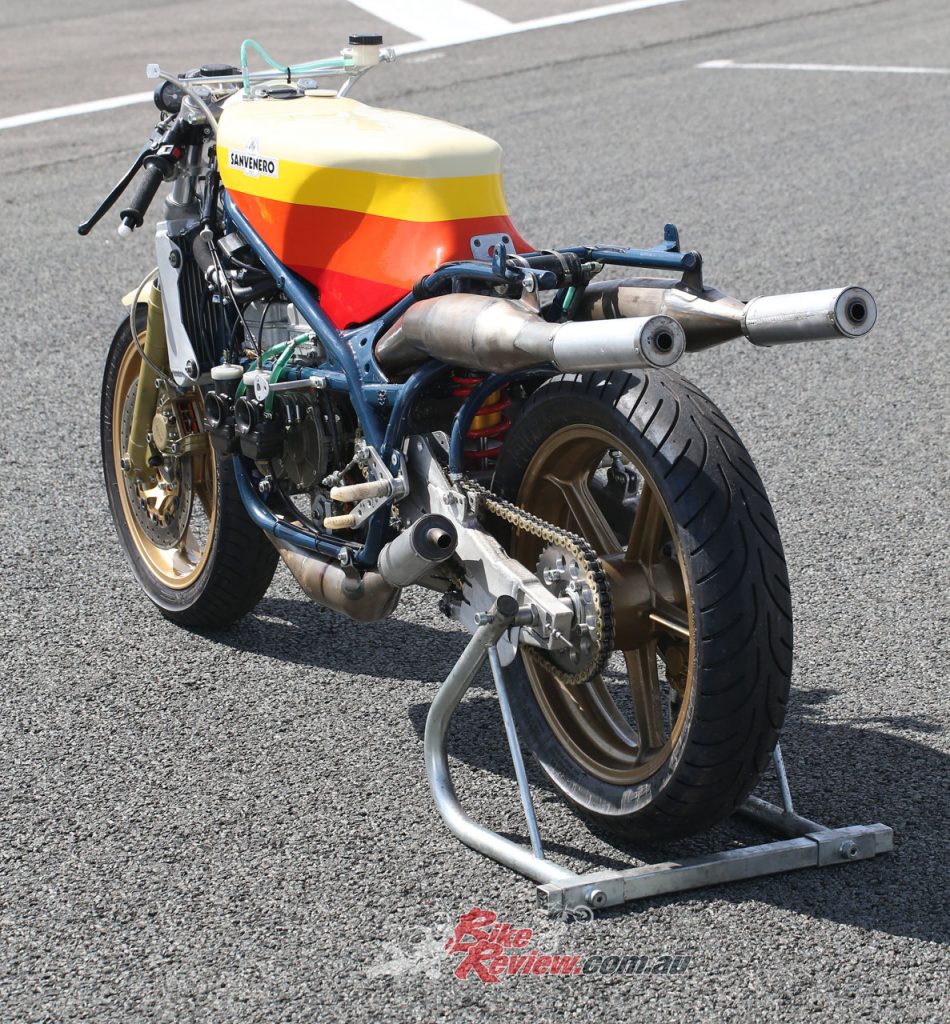 1982 Sanvenero 500 GP Racer Gallery
---
---
---
---
---