A bike as iconic as the Yamaha OW31 has had its story told many times, one often forgotten is the Sonauto Bol d'Or endurance racer. Alan took it for a spin! Photos: Kyoichi Nakamura
The OW31 was the most quixotic, most improbable yet also the most deadly serious attempt to do the two-wheeled impossible in modern times. Imagine if Yamaha was to fit lights and a kickstart on to Quartararo's MotoGP bike, and tried to make it last 24h at racing speeds.
First, let's set the scene. It's 1978, and the French bike market, like others around the world, is in full expansion mode, with the Japanese Big Four fighting tooth and nail for increased market share. Racing is a vital element in this struggle, particularly Endurance events and especially so this year, when the Bol d'Or 24-hour classic leaves Le Mans and heads south to Paul Ricard for the first time of many.
---
Read our other Throwback Thursdays here…
---
The Bol's still the "Big One", with the first hour of the race carried live on nationwide TV, and the race reported in detail in all the major French newspapers. As a publicity vehicle, the Bol has no peer – making success in this one race all the more vital, just as in Japan the Suzuka 8-Hours is the one the Japanese factories MUST win….
---
---
Honda and Kawasaki like this state of affairs, since as big four-stroke specialists, they've dominated Endurance racing so far in the 1970s. Especially Big H, for which two-strokes are still contrary to corporate policy, leading shortly to the NR500 saga as it single-handedly attempted to alter the truth of time in Grand Prix racing. Suzuki has belatedly joined the big four-stroke sports bike scene with its new GS1000, and was planning an intense campaign of Superbike and Endurance racing with it.
But for the last of the Big Four, Yamaha, this is a party it has to sit out. More intensely committed to the two-stroke banner than the other three, its only big production four-stroke is the new XS1100, a shaft-drive sports tourer with limited race track potential. And the world will never see its fabulous V4 four-stroke secret weapon on a race track – only in pictures.
---
---
For Jean-Claude Olivier – always the driving force behind Yamaha France's competition efforts, including its 500 GP team with Christian Sarron and, later, Niall Mackenzie – it goes against the grain to forfeit any chance of Bol d'Or prestige for lack of a suitable bike. Never mind that Kenny Roberts has just won his first 500GP World title for Yamaha, nor that the 750cc class (now with full World Championship status) is effectively a Yamaha benefit, nor that Patrick Pons is destined to become France's first world champion on two wheels in 1979 on a Sonauto TZ750. Both Sonauto – the French Yamaha importer – and its high-profile Gauloises sponsors want prime time exposure at the Bol d'Or.
---
"That first hour of Bol D'Or on nationwide TV is all that mainly counts; of course, it'd be nice to win the race 23 hours later as well…"
---
But how? The fertile minds of JCO and Sonauto team manager Christian Maingret hit on a solution, prompted by the Bol's relocation to the wide open spaces of Paul Ricard, whose its mile-long Mistrale straight places added emphasis on sheer speed, compared to the twists and turns of the Bugatti circuit at Le Mans, the Bol d'Or's home until now. That first hour on nationwide TV is all that mainly counts; of course, it'd be nice to win the race 23 hours later as well, but a bike that could give Yamaha valuable exposure during that first key tour already exists: the TZ750…
Which is how Patrick Pons and Christian Sarron came to start the 1978 Bol d'Or on a Sonauto Gauloises TZ750, lightly adapted for Endurance racing as a cheeky challenge to Honda's World Endurance domination. But it was Honda which was outclassed by the crackling two-stroke, which achieved JCO's objective by leading that first vital hour, as shown on prime time TV. But even Monsieur Olivier surely didn't expect the Yamaha still to be in the lead 17 hours later, three laps ahead of the closest Honda despite having to stop for fuel quite a bit more often. Yet cruelly, a fairy-tale victory was denied when the TZ750 rattled to a halt shortly after with a broken crankshaft. The four-stroke brigade had predicted that this would be the bike's downfall – only much, much sooner…
Olivier now realised that outright victory in the Bol might be possible, after all! So for 1979, Maingret had a two-bike team at his disposal, and both time and a budget to adapt factory OW31 Formula 750 racers to the rigours of Endurance racing. Chief engineer Jacky Germain modified the in-line two-stroke engine considerably compared to the previous year, with new, stronger crankshafts, plus an altered ignition curve and new pipes combining to give a smoother, softer power delivery, at the expense of only a little less power.
---
---
There was a host of other modifications aimed at ensuring the bikes got to the finish line after 24 hours – and in first place, too. Newly-crowned 750cc World champion Patrick Pons teamed with Japanese ace Sadao Asami (a late replacement for an injured Christian Sarron) with, on the second bike, former Honda works Endurance rider Hubert Rigal, and future World Endurance and World Superbike champion Raymond Roche. Incredibly, both OW31s finished the race, in second and tenth places respectively, thus proving the efficacy of Maingret and Germain's work. Pons/Asami had led for the first six hours, until the Japanese rider crashed: the time lost in repairs, plus a later delay due to a broken chain tensioner, accounted for the four-lap deficit that stood between Yamaha and victory at the chequered flag. So close, but yet so far…
In 1980, heartened by the previous year's showing, Olivier went all-out for victory with a three-bike team. It was to prove the swansong of the TZ750 Yamaha in world-class competition of any kind, for the FIM had cancelled the 750 World Championship after Pons' victory in '79 – apart from the relative backwater of US road racing, there was no place for the bike that had provided the most performance for the least dollars in the history of road racing.
---
---
So it was win or bust time for Sonauto, which converted its entire stock of OW31s to endurance specification. Tragically Patrick Pons was no longer able to take up the cudgels for Yamaha, having sadly met his death one month earlier at Silverstone, after winning the Daytona 200 earlier that year on his Sonauto OW31. Hubert Rigal teamed with Dutch hard man Boet van Dulmen to earn pole position for the race, ahead of Roche and future World Endurance champion Jean Lafond on the second Yamaha, with Asami sharing the third Sonauto bike with fellow-Japanese Keiji Kinoshita.
This time though, Honda had responded in kind, with a similar three-bike effort encompassing new signing Freddie Spencer and a 1,062cc jumbo version of the RCB in-line four that was almost as fast as the Yamaha in a straight line – and Hubert Rigal's OW31 was trapped at 291.70 km/h on the Mistrale straight! The keynote first hour saw a stern battle between the Honda of Marc Fontan/Herve Moineau and the three Yamahas, with a determined Fontan doing most of the leading ahead of the equally committed Rigal.
But then both Honda and Yamaha teams began to fall by the wayside, leaving Suzuki to score an unexpected first Bol d'Or victory. Roche and Lafond dropped out of the lead in the second hour with a broken con-rod, Asami/Kinoshita retired with a wrecked gearbox six hours from the finish while in fourth place (after climbing back up from 50th place after another Asami crash – this time while in the lead, to make it worse).
---
---
A similar transmission problem caused by a broken selector fork also sidelined Rigal/Van Dulmen after a fraught race which had seen them consistently in the first two places, before running out of fuel twice (the Yamahas were trying to do an extra lap between refuelling this year, so as to reduce the overall number of pit stops), and being further delayed with overheating and brake troubles. After 18 hours they too were forced into retirement: JCO's dream of Bol d'Or victory for Yamaha would not be achieved just yet.
The Sonauto Yamaha OW31s were not raced again after the 1980 Bol d'Or – apart from the Daytona 200, there wasn't really anywhere for them to compete. Gone, but not forgotten, especially by the doyen of Spanish motorcycle collectors (and two-time TGP Historic Formula 1 champion, driving his mate Bernie Ecclestone's Brabham-Cosworth!), Joaquin Folch.
---

As a former top-level bike racer, and a Barcelona resident for whom the high spot of every Catalan summer was the classic Montjuic 24 Horas marathon, until the demise of the city centre circuit in 1986 to make way for the city's Olympic stadium. Folch has a soft spot for all historic Endurance racers, as well as a superlative collection of factory F750 bikes. So, when the chance came to acquire the Rigal/Van Dulmen OW31 in exactly the same condition in which it had raced in the 1980 Bol d'Or, he didn't need asking twice.
The bike had been carefully restored to raceworthy condition, with the engine rebuilt by the very man who prepared it for competition decades earlier, Jacky Germain, and the rest of the highly authentic restoration – more preparation to period spec, really – conducted in Paris historic bike dealer Dominique Aubret's AREMA workshops. A day trip to gay Paree to sample the result on the grippy but short Carole circuit provided a memorable encounter. Memorable – because I, like thousands of other Endurance junkies, had admired it as I hung over the Paul Ricard fence decades earlier, secretly hoping it would bloody mighty Hondas nose, even if it was 'just' a two-stroke. We British always support the underdog!
---
---
In converting a 750cc GP racer to endurance spec, Maingret's team made lots of changes. The reed-valve motor is unmodified, apart from the special longlife crank, revised exhausts, and altered curve on the Hitachi CDI, but the bike bristles with obvious compromises. There's considerable attention to detail aimed at reducing the amount of time spent in the pits. Bol d'Or rules specified an independent means of starting, so in view of the impossibility of grafting on an electric starter to a GP two-stroke motor, the team ingeniously fitted a kick start mechanism to the clutch drum. It works, too – as Asami confirmed when in a desperate attempt to restart his bike after it failed to fire up after his crash with a push, he kicked it into life to loud applause from the crowd!
Also required was a lighting system, obtained by fitting a pair of Cibié headlamps, each controlled by a separate switch on top of the seat, just behind the large dry-cell battery specially made for Sonauto by SAFT, and fitted with QD (quickly detachable) terminals. Without any generator fitted, the battery was changed at each pit stop for a new one, which had sufficient charge to power just one of the lights for a single 40 minute session, as well as the rear number/tail lights and a dashboard light illuminating the tacho. In the event that one of the lights gave out, the rider could reach round behind him and switch to the other one. Simple, but apparently effective, especially as all the main corners at Paul Ricard were illuminated during the hours of darkness.
---
---
The original OW31 tubular steel chassis was essentially unmodified, but Maingret's MORACO concern made a special swingarm which, like the modified 38mm factory fork, incorporated a QD wheel removal system for swift wheel changes. Campagnolo wheels were fitted with Brembo brakes – modified for QD pad removal – and Dunlop rubber. Fortunately, the tyres on this bike were fresh, awaiting my chance to christen them on the Carole tarmac. Resisting the temptation to kick-crank the beast into life, I let Dominique Aubret give me a lusty shove – and away.
---
---
I've had the good fortune to ride several TZ700/750s of various vintages and specifications in the past, but none of them prepared me for this Bol d'Or bike. Carole twists are a far cry from Paul Ricard's Mistral straight, but riding it there showed up the bike's amazing flexibility, making it a much friendlier partner for the long haul then I'd ever expected it to be. Though there's a smooth but decisive power band from 7,000rpm upwards, this not only arrives in much less abrupt fashion than early TZ700s used to offer, but the bike will also pull cleanly from as low as 4,000rpm without using the clutch.
This meant that fumbling through Carole's ultra-tight bottom gear gooseneck behind the pits wasn't nearly as traumatic as I feared – the Yamaha was so forgiving and tractable it would have made a pretty good road bike even by modern standards, let alone those of 40 years ago. Indeed, with the accommodating fairing and high screen to protect the rider from 24 hours' worth of blast and grime, with the twin Cibiés adding further to the illusion, I couldn't help remembering the Yamaha's prototype TZ700 roadster – the one they tantalisingly showed but never put into production. If that roadster had turned out like the Bol d'Or bike, it must rank as one of the greatest missed opportunities in modern motorcycle history.
---
---
For Jacky Germain's modifications had made the TZ750 motor much more user-friendly and reliable, without apparently sacrificing very much performance. Peak power dropped to 125bhp at 10,500rpm compared to between 130-135bhp (depending on circuit/tune) at 11,200rpm for a 'sprint' OW31 factory racer – well, compared to the Bol d'Or, the Daytona 200-miler is a sprint, isn't it?
Using the 1977-spec exhaust pipes fitted with integral silencers helps makes the engine a little softer in tune as well, even though the reason for fitting them was because they were stronger and less likely to fracture than the later, lighter system – none of the Sonauto bikes ever had a problem with pipes cracking in the Bol. This and the various endurance equipment helped push the overall weight up, though, from around 160kg in sprint form to 172kg for the Endurance racer. Still a lot lighter than the bike's four-stroke rivals of the era, though…..
---
"The Yamaha's chassis geometry was undoubtedly the single most 'vintage' aspect of this motorcycle when viewed from the 21st century."
---
The Yamaha's chassis geometry was undoubtedly the single most 'vintage' aspect of this motorcycle when viewed from the 21st century. Compared to a modern road racer or almost any sporting street bike, the rear ride height of the Yamaha was very low, with limited suspension travel and a hard, unprogressive response, not helped by the fact that the single Monocross shock could probably have done with a little more pre-load for my weight. But this lowboy posture (more accurately described as a 'low-bum'!) severely inhibits ground clearance, especially with modern tyres and track surfaces.
This is something I've encountered several times in testing '70s-era road racers, for the revolution in chassis design begun by Antonio Cobas in 1981/82 radically altered the whole posture of a competition motorcycle in the following decade to a forward weight bias with more of the rider's body weight on the handlebars, a taller overall ride height, and greater suspension travel with more progressivity at the rear – none of which the Yamaha has. In this sense, it's a real blast from the past.
---
---
Still, having said all that, the Yamaha did steer fairly quickly and with some precision round Carole's tight turns, better than I expected a bike set to take Signes (the corner at the end of the Mistrale Straight) hard on in fourth gear at upwards of 140 km/h would do, especially with 18-inch wheels and a 1410mm wheelbase. But there was lots of dive from the front forks – fairly sophisticated for their time, but devoid of any anti-dive system, and also pretty flimsy for such a heavy, fast bike, especially with a full load of fuel. And that under the surprisingly pathetic braking of the twin 280mm front Brembos and their two-piston Serie d'Oro calipers, which had nothing like the bite I'd have expected – perhaps because of worn/glazed 'period' pads, maybe, or else new ones that needed bedding in?
That being the case, it was the engine which truly impressed me, as much for its user-friendliness as its potent performance by the standards of the time. Using the six-speed gearbox (which had a stiff change from bottom to second out of that tight Carole hairpin, but was otherwise positive and slick in use) to keep above 7,000rpm was easy, with just a light touch of the clutch lever to coax it into the power band out of Carole's tighter turns.
It pulled cleanly away from these from as low as 4,000 revs, before coming on strong at 7,000rpm, but without the big hit of power that the earlier piston-port TZ700s used to deliver at that mark. This reed-valve engine, adapted by Jacky Germain for Endurance racing, had a more progressive but still strong transition into the strong power zone, and from there to the 10,500rpm redline observed for endurance racing there was a fast-revving, linear power delivery, with clutchless upward changes keeping the motor revving, as the power kept on coming on.
---
---
Apart from representing a quixotic attempt to upset the status quo in World Endurance racing, riding this Sonauto Yamaha provided an effective reminder of what a great road bike a street version might have been. Will we ever know why Yamaha didn't put that prototype four-cylinder TZ750 roadster into production, probably not…
---
Editor's Note: If you are reading this article on any website other than BikeReview.com.au, please report it to BikeReview via our contact page, as it has been stolen or re-published without authority.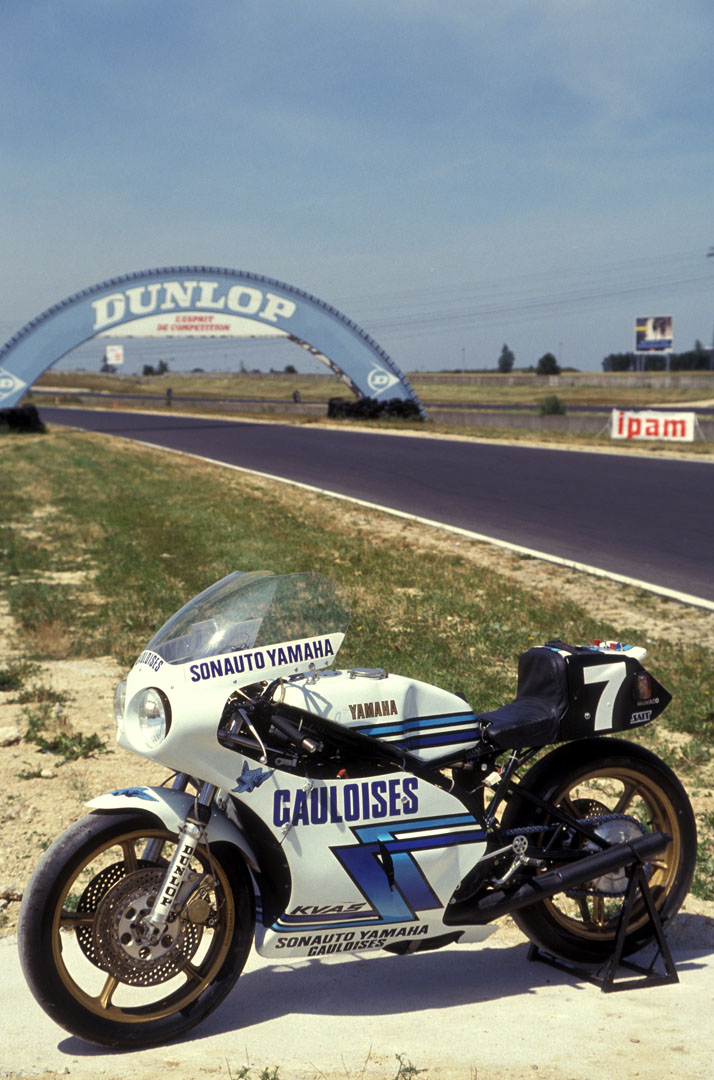 1980 Sonauto Yamaha OW31 TZ750 Bol d'Or Racer Specifications 
ENGINE: Watercooled transverse in-line four-cylinder reed-valve two-stroke, 748cc, 4 x 34mm Mikuni carburettors, Hitachi CDI, 66.4 x 54mm bore x stroke, 6-speed non-extractable with gear primary drive, Multiplate dry (6 steel/7 friction) with mechanical kickstart.
---
CHASSIS: Tubular steel duplex cradle frame, front: 38mm Yamaha telescopic forks with QD axle release, rear: Tubular steel cantilever swingarm with single Yamaha Monocross shock, 24.5 degrees head angle, front: 3.50/4.50 x 18 Dunlop KR108 on 3.00in. cast aluminium Campagnolo wheel Rear: 3.50/6.00 x 18 Dunlop T14 on 5.50 in. cast aluminium Campagnolo wheel, front: 2 x 280mm Brembo steel discs with two-piston Brembo calipers, rear: 1 x 280 mm Brembo steel disc with two-piston Brembo caliper.
---
PERFORMANCE: 125bhp@10,500rpm (at gearbox), 172 kg with oil, water, battery and lights, no fuel, 292km/h (Paul Ricard 1980).
---
OWNER: Joaquin Folch, Barcelona, Spain
---
1980 Sonauto Yamaha TZ750 Bol d'Or Racer Gallery
---