20-years ago this TSR Honda AC90M was at the top of its game. In a series of X-Formula All-Japan TBT's, we kick off with this legend...Test: Alan Cathcart Photography: Koichi Ohtani
Exactly 20-years ago the hotly contested experimental X-Formula class was flourishing in Japan with stunning machines from the likes of Moto Bum, Harc Pro and Yoshimura. With one stand-out that became an endurance hero, the 2001 TSR Honda AC90M…
On June 12-13 the 2021 FIM Endurance World Championship/EWC kicked off with the 24 Heures Motos at Le Mans, albeit once again behind closed doors due to the global health crisis. Favourites to win the hotly contested race were last year's race winners, the F.C.C. TSR Honda France team who took the all-new 2020 CBR1000RR-R to victory on the model's debut 24-hour race outing.
---
Check out our other Throwback Thursdays here…
---
Led by team owner Mazakasu Fujii, TSR patriotically painted the Fireblade with a red, white and blue French tricouleur livery denoting its sponsorship by Honda's wholly-owned French importer. The Honda was ridden this time around by our own Aussie Josh Hook and France's 2008 125GP World champion Mike di Meglio, joined for the first time by a Japanese rider, ex-250GP/Moto2 rider and reigning All-Japan Superstock 1000 champion, Yuki Takahashi.
---
---
Together, they will represent Honda's leading contenders for the 2021 EWC title, after the F.C.C. TSR Honda France team finished third in last season's abbreviated three-race series, the only Honda-mounted team in the first 20 places in the Championship. Unfortunately for the team, it was Yoshimura SERT Motul Suzuki that took a debut win at round one but F.C.C. TSR finished fourth and sit fourth in the championship as we go into round two at Estoril on July 17.
---
TSR HISTORY
Indeed, the TSR Honda team has established a stellar history of success in Endurance racing over the past three decades, ever since making its Suzuka 8-Hours debut back in 1990. But for the next decade it concentrated on developing bikes for a little-known but ultra-popular Japanese form of racing, the X-Formula category (aka Formula Xtreme in the USA and Australia), before returning to the Suzuka 8-Hours in 2003 to finish on the podium for the first time in that race with third.
This was the first of eight visits to the rostrum in its prestigious home race, including taking outright victory in 2006, and again in 2011 and 2012. It followed that up by twice winning the 24 Heures Moto at Le Mans and the Bol d'Or 24-Hours once, and in 2017-18 it became the first Japanese team to win the five-race EWC World Championship series, after scoring victory in the Le Mans classic, then in the Oschersleben 8-Hours. But while Fujii-san's team has carved a solid reputation for itself over the past two decades as a World title contender, its roots are in X-Formula.
---
---
Anyone who visited the Bol dOr in the '70s or '80s will remember the huge variety of interesting bikes which gridded up for the Le Mans start, ranging from factory prototypes to arcane specials, each a tricked-out wonder of two-wheeled technology incorporating leading-edge engineering. Bikes like the ELFe two-wheeled car with its factory Honda engines and the first carbon brakes used on a motorcycle, the V6 Laverda, the NR750 oval-piston Honda, the supposedly short-fused TZ750 Yamaha two-strokes that ended up running strongly for 24 hours, the weirdly-shaped British hub-centre Nessie device named after the Loch Ness Monster and many more weird machines.
---
---
But, nowadays when Japanese sportbike design has become so admirable, and cost-effective, it makes sense to tailor the World Endurance regulations to machinery that you can purchase and prepare, rather than design and construct. Quite apart from encouraging innovation, it's sensible to allow manufacturers to use Endurance racing to develop their next-generation customer products, as has happened for decades in the Suzuka 8-Hours, Bol d'Or and Le Mans 24 Heures Motos.
That's what Ducati did by entering its Desmoquattro prototype in the 1986 Bol d'Or, one whole year before it appeared in 851 street guise en route to nine World Superbike titles – same as MV Agusta did throughout 2001 with the prototype 1000cc F4. Hence the Experimental class that's still staged alongside EWC rules for bikes like the JBB and Metiss hub-centre machines concocted by the late Jean-Bertrand Bruneau, sadly a victim of COVID-19 so that for the first time in two decades there will be no such bike on the grid of this year's Le Mans 24-Hours.
---
GOING LONG DISTANCE
So Mazakasu Fujii established his F.C.C. TSR Honda team as Endurance contenders by constructing tricked-out special versions of the original CBR900RR Honda Fireblade, and entering them in the Suzuka 8-Hours race's X-Formula class. This admirable category originated in 1997 as a means of fleshing out Japanese Superbike race grids, but was then adopted for the 8-Hour series of sprint races interspersed with pit stops which is the most important event on the Japanese manufacturers' calendar.
This derivation of the old TT Formula 1 rules allowed any bike up to 1300cc irrespective of the number of cylinders to take part (hence the Sundance Harley and the Yoshimura Hayabusa!) and dispensed with homologation requirements in favour of a claiming rule: any team that entered and started the race could claim any of the first six bikes across the line for Yen 3.5 million (about £18,000/$26,000 back then). This obviously discouraged factory prototypes from finishing in the money, but not from taking part – and equally encouraged the construction of numerous interesting specials or small-volume sportbikes by specialist manufacturers like Moriwaki, Over, Yoshimura – and TSR, all of which added to the variety out on the racetrack, and thus to spectator interest.
"Specialist manufacturers like Moriwaki, Over, Yoshimura – and TSR, all of which added to the variety out on the racetrack, and thus to spectator interest."
It's not generally known outside Japan that, for many years ever since the track opened in 1998, the Twin-Ring Motegi – Honda's 'other' circuit – hosted another major Endurance race each September, six weeks after the Suzuka 8-Hours. The Motegi 7-Hours was an extremely well-supported National Endurance title race run to X-Formula technical rules, which attracted a capacity crowd and an oversubscribed entry list of bikes prepared by the country's top tuning houses – including those like Over and Moriwaki which were/are back-door operations of the Big Four's race departments.
The same TSR Honda motorcycle won the race three years in a row from 1999-2000 – but add in the fact that in the hands of Dutch rider Jurgen van den Goorbergh and Jun Maeda, it won the X-Formula class and finished 15th overall against the factory Superbikes in the 1998 Suzuka 8-Hour in its first-ever race, and the TSR Honda AC90M was a very special motorcycle. This made the chance to ride it on a sunny autumn afternoon on the very same track it had made its own, all the more interesting.
---
"TSR stands for Technical Sports Racing, a firm founded by Mazakasu Fujii's father who was once a Honda test rider in the 1960s, before setting up a firm supplying tuning parts for Honda models."
---
TSR expanded to become one of Japan's top performance shops, still focusing exclusively on Hondas. In 1991 TSR stepped on to the world stage by entering local rising star Nobby Ueda as a wild card for the Japanese 125GP held on the doorstep of their Suzuka base, after he promptly won, it led to a full GP season and fifth in the World Championship.
For 1992, TSR moved up a gear by building its own carbon-fibre RS125 race chassis for Ueda to race, from which stemmed the company's ten-year involvement in Grand Prix racing out of its UK base in Milton Keynes. They employed their own frames housing RS125, RS250 (as raced by Jay Vincent in '99, including a fifth-place finish in France) and even NSR500V Honda motors – Haruchika Aoki rode the firm's 500 V-twin in 1999, finishing a fine sixth in the German GP.
---
By then, TSR chassis designer Shima Minoru had already built the firm's first four-stroke machine by wrapping a twin-spar aluminium frame around a CBR600 motor to create an early Moto2 prototype – only back in the 1980s when the result was fast and frugal enough to finish sixth in the Suzuka 8-Hours, Mazakasu Fujii told me. "We love Honda!" he exclaimed. "But we like to make prototype machines using a Honda base which are more developed than stock Honda models. If we can then achieve success with these on the racetrack, then we have extra satisfaction."
Well, they should have got plenty of that from the firm's three-time Motegi-winning TSR Honda AC90M Endurance racer, based on an original-style '98-model CBR900RR Fireblade which received plenty of attention in the chassis and engine departments, before being reclothed in a swoopier, more aerodynamic TSR fairing with an Aprilia-style seat aimed at reducing drag.
---
---
When TSR got their hands on the stock Honda 918cc engine it was bored out 1mm to 72 x 58 mm/ 944cc dimensions via two-ring Cosworth slipper pistons fitted to Pankl titanium rods, and a stock crank which was rebalanced, but not lightened. Oil blow-by wasn't a problem, even in Endurance racing, stated TSR's chief R&D engineer Nori Shimizu. The engine had two-ring pistons which delivered a 12:1 compression ratio and a skimmed cylinder-head, which itself had been ported and flowed, with reshaped, then polished combustion chambers.
---
---
Stock valves and springs were retained, matched to high-lift Erion Racing camshafts – TSR intended originally to fit oversize valves, but backed off when they realised this would impact on fuel consumption, always a factor in Endurance racing. However, the carbs were 41mm Keihin flatslides, contained within a beautifully made fully-sealed carbon-fibre airbox. Ignition was the stock Honda CDI, and although a stock '98-model CBR900 gearbox was fitted, second gear was longer, sourced from the HRC racekit. The wet clutch was now a specially-made slipper design produced by TSR's long-time sponsor up to today, F.C.C. – as in, Fuji Clutch Company. Fitted with TSR's own carbon-can exhaust, the tuned motor delivered 177hp@12,200rpm at the crank, equating to 162hp at the rear wheel.
The TSR Endurance racer's chassis was still the original stock '98-model FireBlade aluminium twin-spar frame, but this was heavily polished with extra bracing around the steering-head and swingarm pivot, for extra stiffness. The head angle had been reduced from the standard 24° to 22.5° by boring it out to accept an eccentric insert, in which were mounted a fully adjustable 43mm WP upside-down fork specially-made in Austria for TSR and modified internally by them.
---
---
The special four-pot Nissin calipers gripping the 310mm floating discs, specially adapted to quick-change mode for fast pitstops in removing the front 17-inch Michelin-shod Marchesini (not 16-inch, as on the stock 'Blade of that era). Weight was an impressively low 163kg half-dry – just a kilo over the World Superbike weight limit, which X-Formula bikes had to adhere to – split a radical 56/44% frontwards. The swingarm was a heavily braced extruded-alloy TSR special with their own linkage and a fully adjustable WP shock, which together with the head angle mods reduced the wheelbase 15mm from stock to 1390mm.
Those mods prompted TSR to give the bike the AC90M project tag – only their own frames got numbered like this (AC50M was Aoki's 500GP V-twin, AC29M was Vincent's 250, and so on). But the new bodywork design was sufficient to prevent the bike racing in the World Endurance series.
Even though TSR later produced its own all-new stiffer, lighter chassis for the limited edition AC91M streetbike which launched in 2002 (still powered by the old-style FireBlade engine, which was better suited to race tuning, said Fujii) wouldn't help. This is because they only planned to build a maximum of 30 examples, on demand, and tailored specifically to each customer.
---
THE RIDE
The chance to ride the AC90M at the Motegi GP track underlined how meaty and muscular the TSR Honda was, while also extremely manageable: I could imagine how this would have been an ideal bike for the long haul, on all kinds of circuits, slow and fast. It looked incredibly hunky and huge when I saw it for the first time parked in Pit Lane – but this was an optical illusion mainly created by the beefy-looking 24-litre fuel tank, up six litres in capacity from the stock Fireblade one.
The changes to the steering geometry and the bigger front wheel combined to make the AC90M steer even more sharply and certainly more predictably than I'd expected. It was surprisingly easy to flip from side to side in the Motegi chicanes, even with the heavy fuel load they sent me out with for a half-hour riding stint. But you never forget this is a big motorcycle, with an impression of width that's magnified by the quite effective fairing, which covers your hands well for those mid-summer typhoons in Japan – or the cold of a French 24-Hour marathon in April.
Tucking down behind it gave reasonable protection down the Motegi pit straight, though the tall tank made it quite inevitable I'd get my helmet air-blasted at speed. The TSR-modified chassis was very stable, both when cranked over in a turn and under heavy braking downhill at the end of the back straight, where a bike with such an extreme front wheel weight bias might be expected to start moving about quite a bit under weight transfer into a downhill hairpin. Didn't happen, though – and the AC90M also held a line well under hard acceleration leaned hard over exiting a turn – it didn't push the front wheel, even with a full tank, and the lack of understeer would have made it an easy ride for the long haul – one which went where it was pointed.
---
---
The only thing I really didn't care for about the TSR's handling was the very hard and unresponsive suspension settings they'd chosen for our test, which made the bike chatter in the left hander after the top chicane, and again exiting Turn One at Motegi, at both of which places there are noticeable bumps left by cars. Although it handled just fine over smooth track surfaces, the AC90M was too stiffly sprung at both ends to be compliant over bumps – and having ridden the 2001 factory Kawasaki Superbike with the same WP fork, I knew it could be made to perform better than it did on this application. Maybe the stiff setup might have been deliberate, to take account of the full fuel loads the bike must repeatedly carry, but even on a smooth track like Motegi, it surely was overkill.
Having ridden other tuned FireBlades of the same vintage as this, from the stock Production TT winner with which Jim Moodie scored Honda's 100th TT victory in 1998 producing 123hp and weighing 179kg half-dry, to the RS Performance tuned 'Blade with which Steve Plater won the British Powerbike Championship that same year, I had some benchmarks for the TSR Honda to measure up to.
---
"In all fairness, the TSR Honda AC90M it was the best RaceBlade I'd yet ridden."
---
Not only did it steer and handle pretty well despite being a little harsh when I first rode it, the engine had a very strong power delivery from practically off idle, which was potent enough low down to lift the front wheel out of turns in each of the bottom three gears. Surprisingly even for the era there was no quick-shifter fitted, which was even more of a pity considering TSR had one in its catalogue!
---
---
Although the actual gear change was rather stiff and slow, it felt quite positive – if you stepped hard on the one-up race-pattern shifter, there was a notchy but reassuringly positive feel as the next highest gear went in. Rush the change, though, and you'd miss a gear, as I did at first until I learnt to make allowances – which is how I also discovered that the engine seemed to rev to an indicated 13,000-plus without apparent harm, nor with any sign of the revlimiter! Hmm……
The higher second gear was well chosen, because I needed it four times a lap at Motegi, and using it out of the chicane or any of the tighter infield turns, like at the top chicane, gave sparkling acceleration which would have me standing on the footrests to keep the front wheel down, as the fuel load lightened. Short-shifting at just over ten grand exiting the last chicane put the engine square in the fat torque curve, allowing me to surf it all the way as I drove hard out of the exit.
---
---
At the end of the back straight, when braking as hard as I could on a bike that did feel heavier than it actually was, I was glad to use second gear to access some much needed engine braking, without having to worry about buzzing the engine on the overrun with the higher ratio, thanks to the slipper clutch. I really needed the residual bit of engine braking TSR had left in, because the Nissin brakes weren't the greatest – in marked contrast to the same company's six-piston ones I've always been so impressed with on a racing Superbike.
These four-pot brakes never had the same bite as their 6P counterparts, but at least they worked reasonably OK to start with, even with a full fuel load. But after half an hour they started to fade quite badly – the three hard stops in succession at the top of the circuit, and especially the final downhill stop at the end of the back straight, must have taxed them considerably, sending the lever back to the 'bar and me and the Honda all but into the sandpit on one occasion. Whoops!
---
---
After this I started to make allowances, and had no more near misses – the TSR AC90M was a bike you found it easy to get into a rhythm riding, and that'd be a major attribute for an Endurance racer. It was addictively enjoyable to ride, once you took note of the things you had to watch out for – and it certainly proved to be an extremely effective long-distance racer with that chain of Motegi 7-Hour race victories.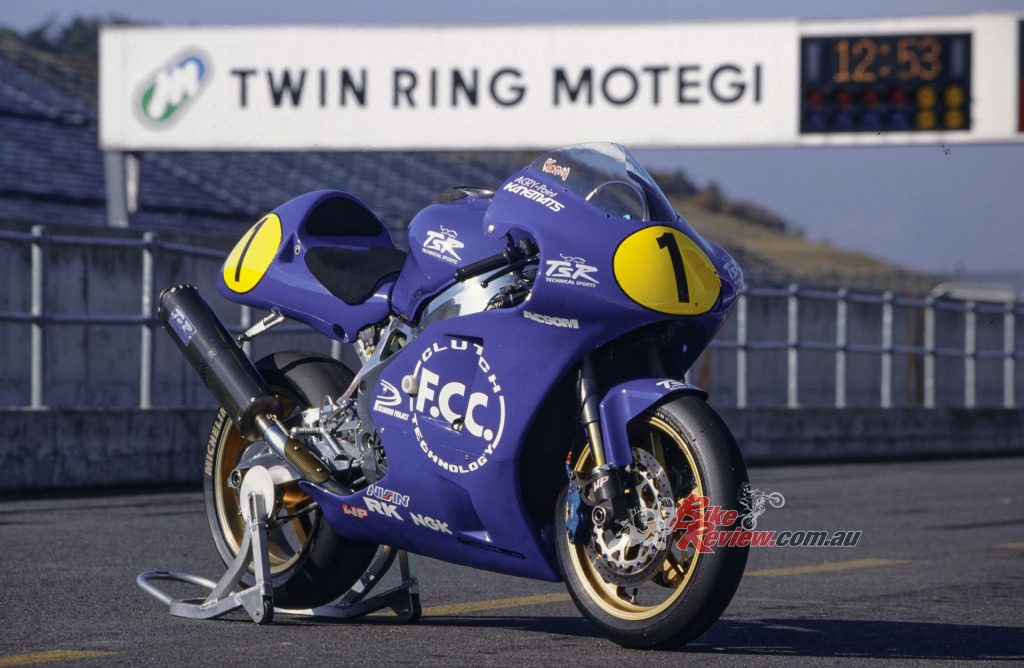 2001 TSR Honda AC90M Specifications
ENGINE: 944cc water-cooled, DOHC, 16-valve transverse in-line four-cylinder four-stroke with offset chain camshaft drive, 72 x 58mm bore x stroke, 11:1 compression, 4 x 41mm Keihin FCR flatslide carburettors, Honda electronic CDI ignition, six-speed HRC-modified Honda Fireblade CBR900RR gearbox, multiplate oil-bath FCC slipper clutch, TSR Titanium four-into-one exhaust with TSR carbon-fibre muffler, TSR carbon-fibre airbox.
---
CHASSIS: Aluminium twin-spar frame, 22.5 degrees rake, 100mm trail, 1390mm wheelbase, 56/44 per cent static weight distribution, TSR-modified fully adjustable 43mm WP inverted telescopic forks, Braced extruded aluminium swingarm with fully adjustable WP shock and rising rate link, 12/60-17 Michelin radial on 3.50in Marchesini cast aluminium wheel, 18/67-17 Michelin radial on 6.00 in Marchesini cast aluminium wheel, Nissin monoblock four-piston calipers with 310mm floating stainless-steel Nissin rotors, Nissin front master-cylinder, two-piston Nissin monoblock alloy rear caliper, Nissin stainless-steel 220mm fixed rotor, Nissin rear master-cylinder, stainless-steel brained brake lines.
---
PERFORMANCE: 177hp@12,200 rpm (at crankshaft), 163kg wet, top speed 296km/h (Suzuki 2001)
---
OWNER: TSR Technical Sports Racing, Suzuka, Japan.
---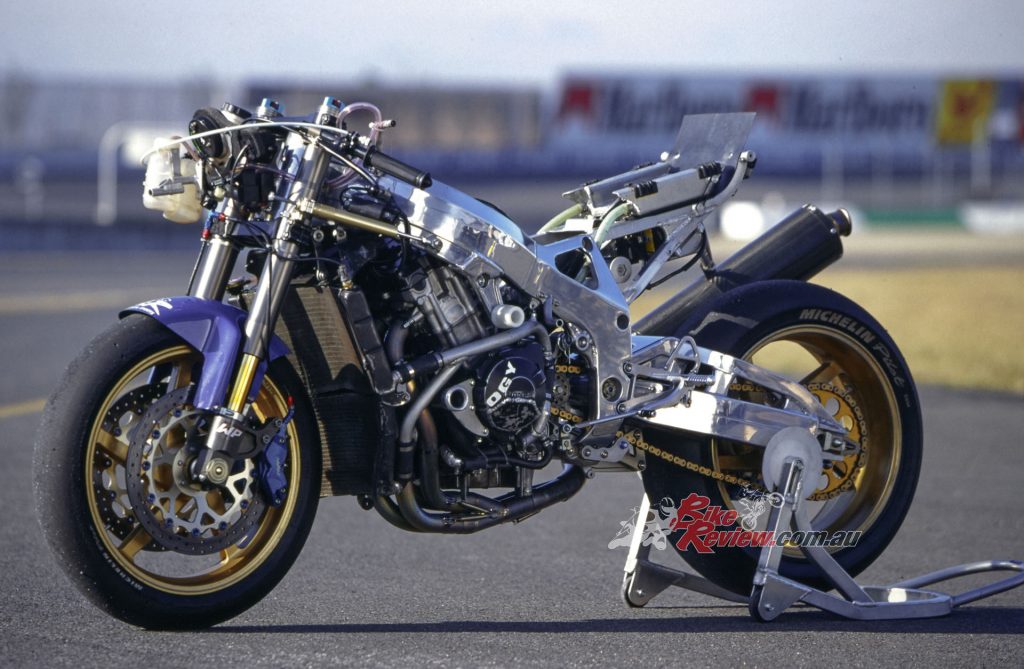 2001 TSR Honda AC90M Gallery
---
---