Murray tours Northern Queensland with mates... Words & Photography: Murray Nettheim
"What's better than heading north to escape the cold winter? Nothing!" That's the comment that got this trip started.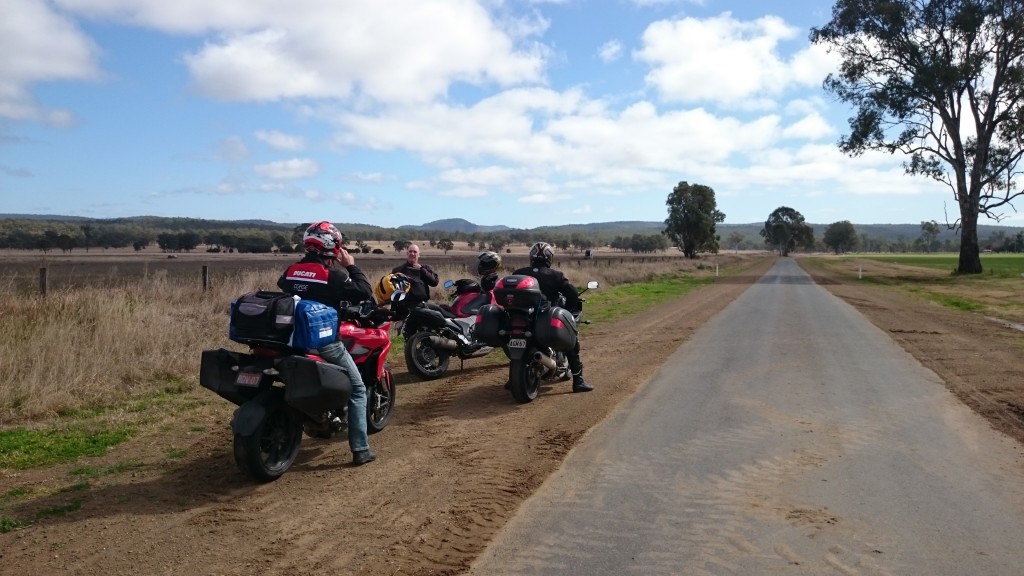 The Antarctic Vortex was hitting NSW and was the catalyst to join some mates on a trip through Northern NSW, SE Queensland, the coast, up to Cooktown, then the Gulf of Carpentaria and back through Central Queensland and eventually into NSW.
Starting from my base on the NSW Central Coast I headed North up the Pacific Highway to Coffs Harbour, hopefully to leave the cold and rain behind me. Of course it didn't get above 15 degrees the entire way, until I reached Coffs where the skies opened up and drenched me to the core… "This is a great start!" I thought to myself.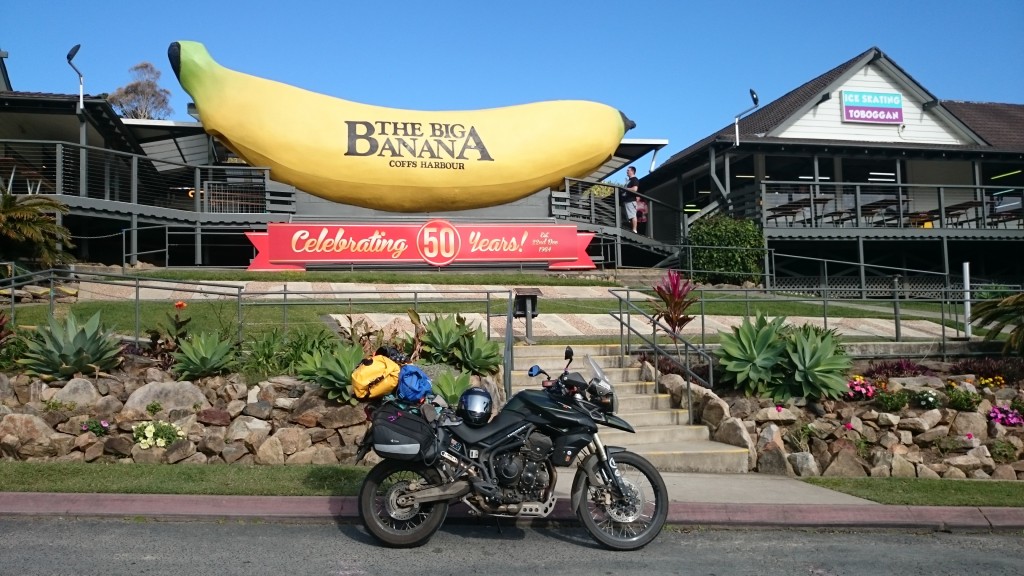 At Coffs I met up with fellow riders Matt, Bill and Tony over dinner and basically got the gist of the ride. Not too much planning was done, just where we had to be by the end of week one was the main point- Magnetic Island!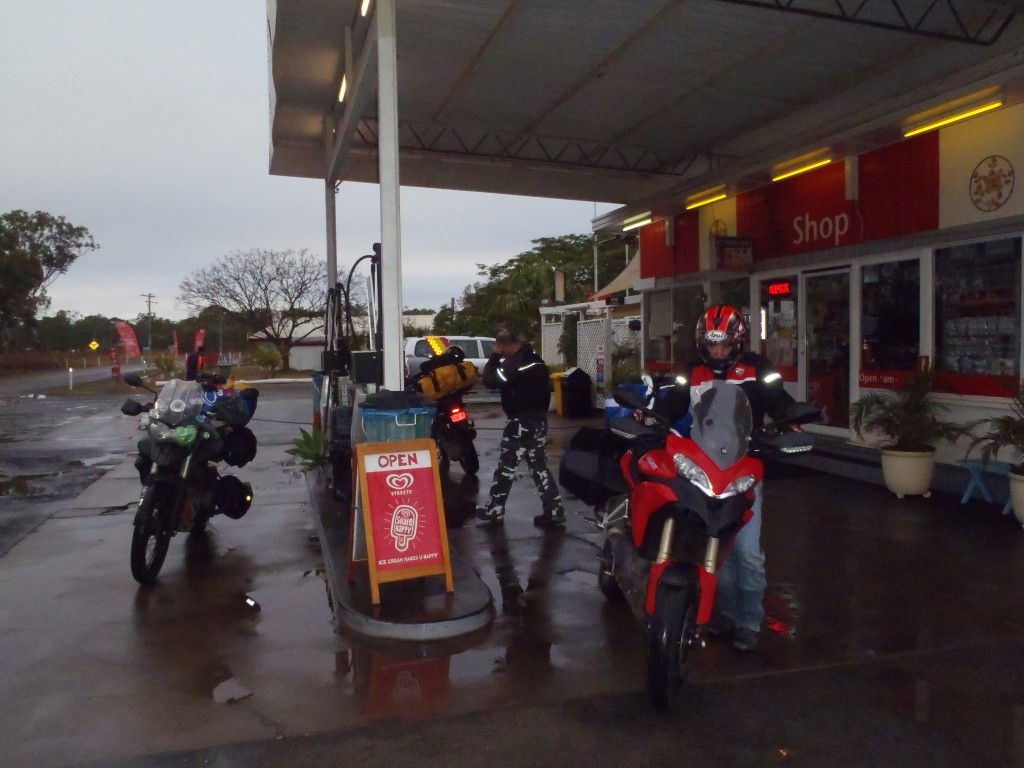 Next morning we leave Coffs Harbour and get about 10km up the road before the rains start up again. Time to put on the dry suit!
We ride to Grafton where we meet the Big River Riders on their "Mondayitis" ride, before heading up to Casino and onto Urbenville and eventually Woodenbong – riding through the back roads and rainforests – all still drenched after the rain.
Lunch is at the pub at Woodenbong and this is where we depart from the larger group and start heading into Rathdowney.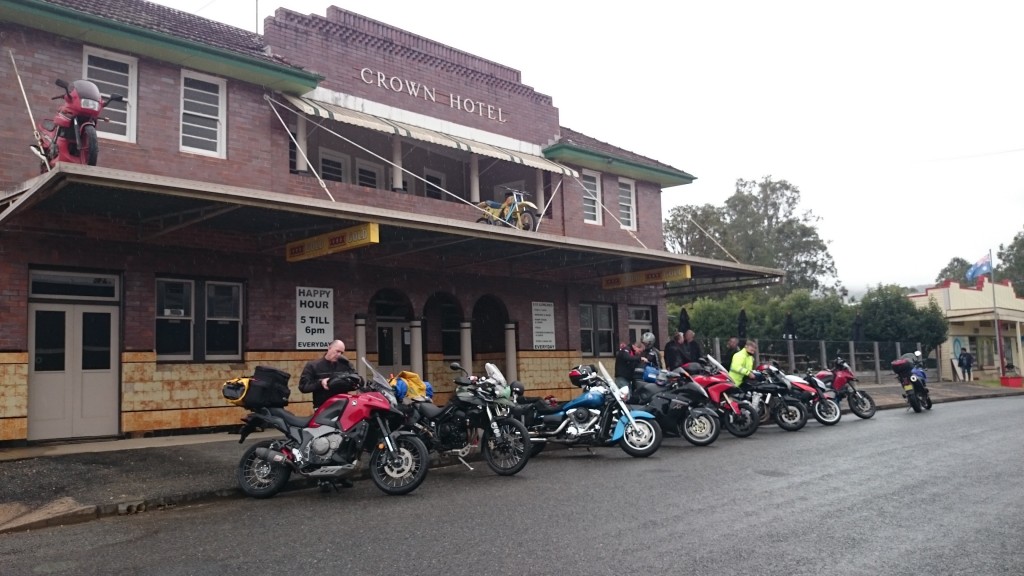 The roads are all really wet and greasy, and their condition isn't great , but we follow Bill's GPS and end up in Boonah. We take a wrong turn and go about 70kms in the wrong direction, but manage some fantastic riding through Cunningham's Gap crossing the Great Dividing Range, before reaching more well maintained back roads into Gatton in Queensland.
Its starting to get dark and we grab a room and a meal and have a relatively early night.
Leaving Gatton the GPS takes a while to get us in the right direction before we are on our way to ESK, the Wivenhoe and the Somerset Dams loop. This is a great ride and a fantastic way to spend the morning on the bike, with the weather remaining cool and the rain having finally stopped for us.
We head Into Kilcoy for a coffee and then onward again, heading to Maleny and Imbil via some great roads and more bush scenery. After lunch we then ride onto Gympie, Tin Can Bay through the pine plantations, Maryborough and finally stop at dusk at Bundaberg.
The temperature is already 25 degrees and it's very pleasant to walk around in just summer attire in the middle of July.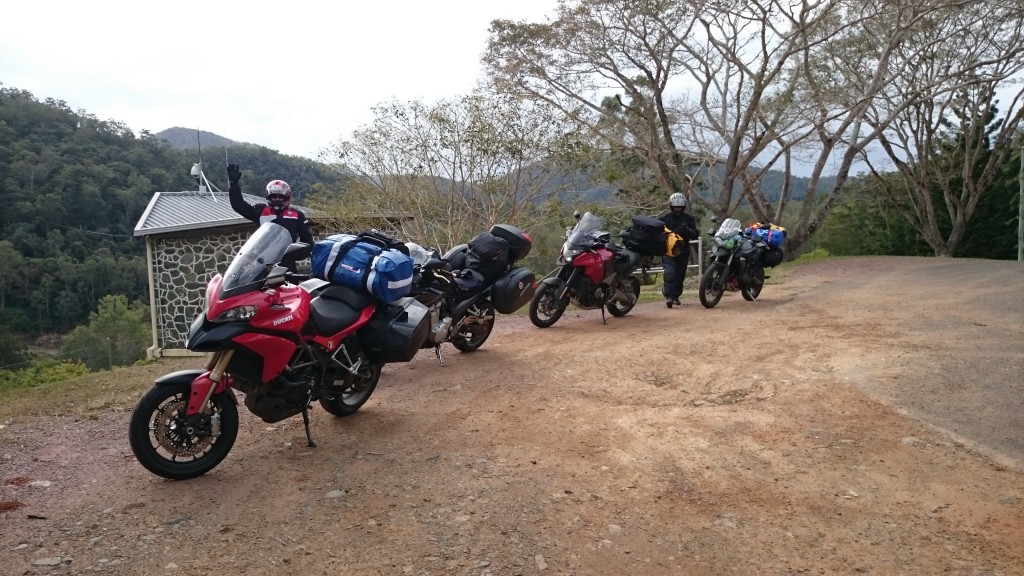 Bundaberg was a pleasant stay and we head inland away from the main arterial roads, passing through Gin Gin we come across our first living Kangaroos – right in the middle of the road of course, and swerve to avoid them. The council are also doing roadwork and we are diverted down a detour road for about 80km, in what turns out to be some of the best roads any of us have ridden – somewhere near Eidsvold. By the time we stop at the T intersection the smiles are contagious!
As we then head on to Monto for fuel and a feed, the sun is shining and warming us up nicely. Into Biloela it's already 29 degrees and we head back towards Rockhampton and into Marlborough.
There's not much here, one servo, a van park, a small store and a motel/restaurant. We grab a donger unit each and head to dinner, which is a fantastic home cooked meal and self service beer from the fridge – AWESOME!
In the last four days I've already covered more than 2200km and am finding some great roads I never knew existed – with the carefree nature of this ride relaxing me no end!
The following day we make an early start to get away and head up the back roads to Sarina, encountering a herd of cows and a couple of roos that surprise us by emerging from the cut away on the roadside. I cant tell you how much fun this road was – except to say that I took 100km off the economy of the bike on this one section alone.
We refuel at Sarina and are back onto the main road to Mackay and Bowen which was very humid, heading into Townsville by early afternoon. We stay in Townsville for the night and plan to catch the ferry to Magnetic Island the following day – spending the morning doing some sightseeing and gawking at the bike shops.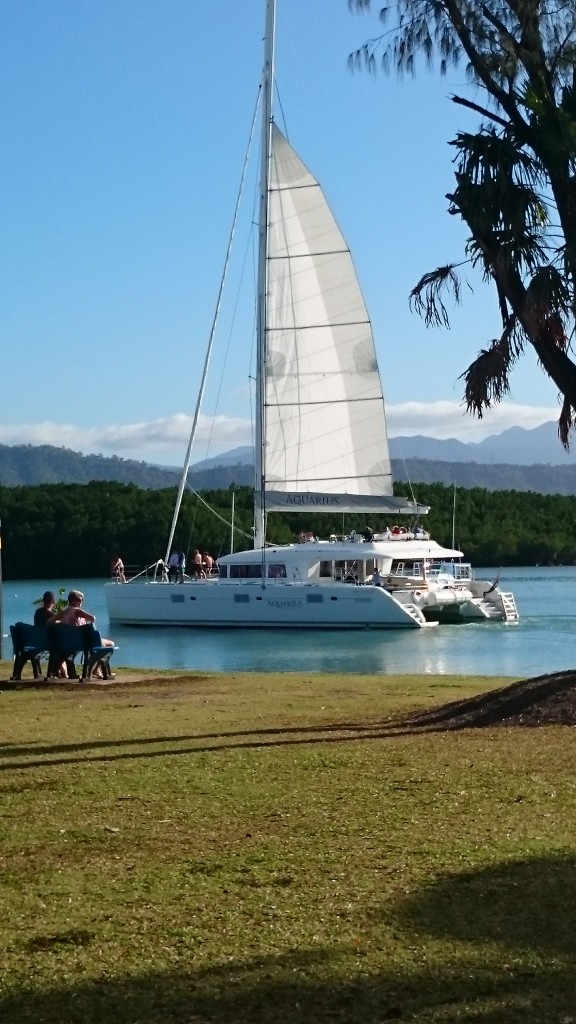 We're on the ferry at 4:30pm, after spending a couple of hours at the Townsville Yacht Club for a long lunch, with Matt's Dad and brother living on Magnetic island – giving us a good chance to rest up for a couple of days and do some washing, as well as anything we want, which included seeing the island and plenty of relaxing. Six days down, 3000km covered.
After a great time on Magnetic we leave on an early ferry and head into Cairns where Bill gets a new rear fitted. We drop our gear at the hotel and then head up to Port Douglas on the Rex Highway – another fantastic and scenic route.
We stop for a coffee at Port Douglas while watching the boats come back from the reef, with the plan being to get to Gillies Highway or even Cape Tribulation today. But with the day closing down quickly and light fading very fast, we head back into Cairns and do one section of this road a couple of times – it's just that good!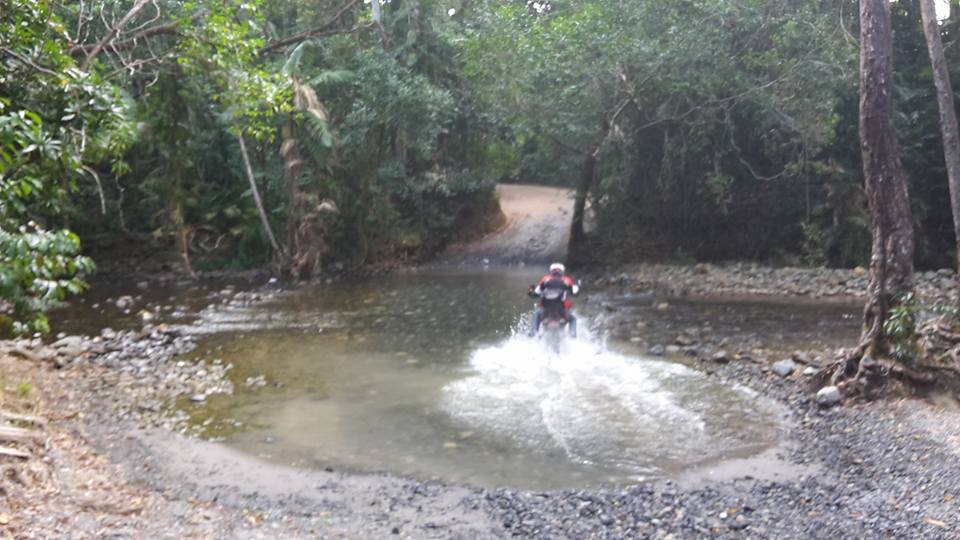 It's decided over dinner to head up to the Bloomfield Track (dirt/gravel/rocks), stopping at Cape Tribulation and riding through the Daintree Forest. The Bloomfield is very dry while we're there so there's only a couple of water crossings which we quickly dispatch. About 10km from Wujal Wujal, we come across a very steep incline with a couple of large corrugations halfway down.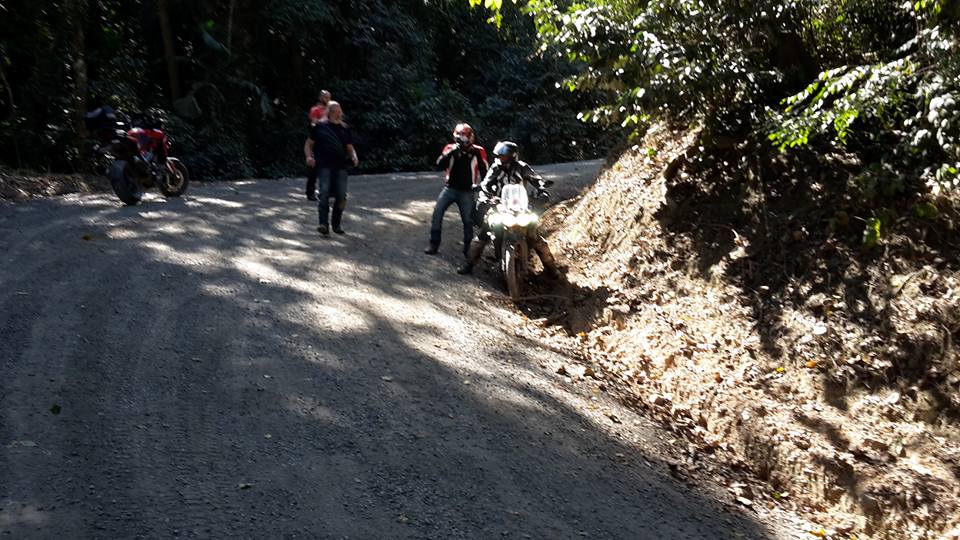 Bill follows two 4WDs down and gets through, while Matt and I are caught at the top while other vehicles come through. Our descent is slow, Matt getting through with some assistance, while I get caught and end up in the ditch with the bike pinning me against the embankment. Thankfully I get help and the only damage is a broken indicator, a few scratches to the panels and my pride a little dented.
After the Bloomfield we get into Cooktown for fuel and food and head up to Grassy Hill Lookout for the most spectacular view of Cooktown and the reef. Back on the road, we come back via Lakeland, and follow the amazing Gillies Highway into Port Douglas (estimated to be 280 corners- I was too busy to count) and back to Cairns riding through a tropical afternoon storm.
Needless to say we were exhausted and had a good feed at the Cock and Bull, planning on our biggest day riding tomorrow… heading to Karumba on the Gulf of Carpentaria.
An early start and we are down the highway to Gordonvale and then up towards Atherton – another brilliant road – if only people would use the slow down lane to let us through…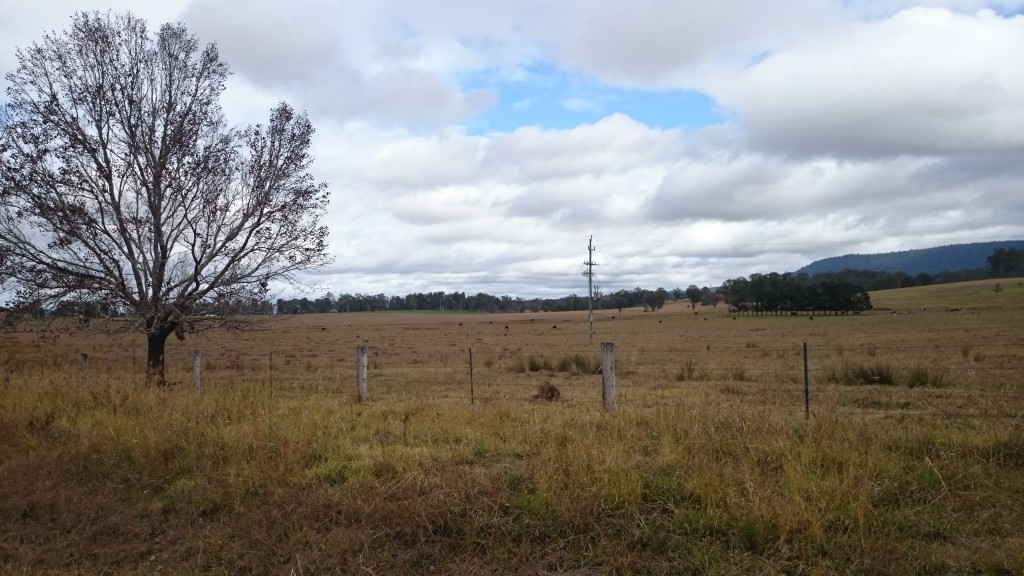 The temperature drops by seven degrees and the wind increases, so we stop and put on more gear and ride onto Ravenshoe and Mount Surprise, Georgetown, Croydon, Normanton and eventually Karumba.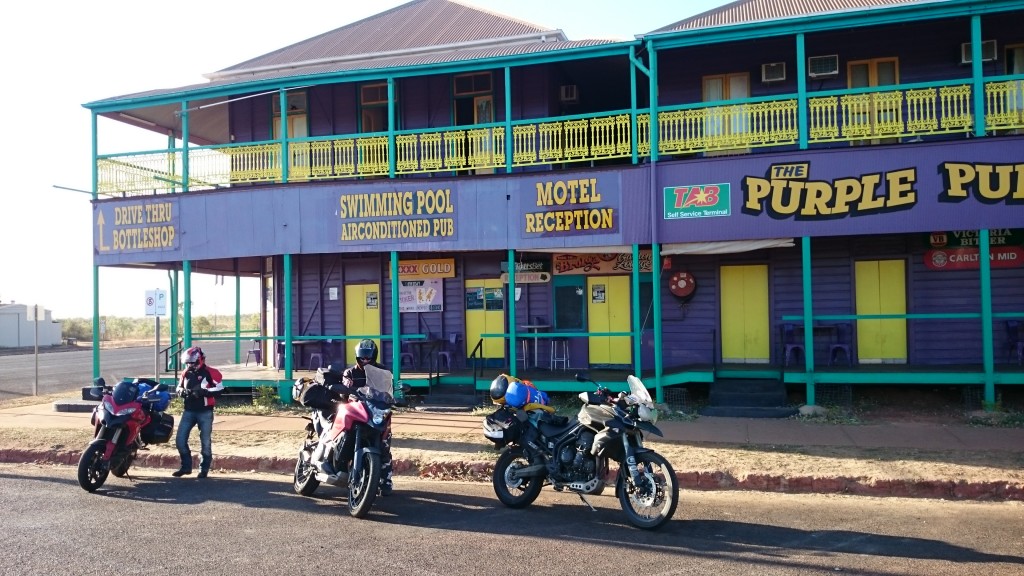 The countryside is extremely flat and dry, with the curvature of the horizon extremely obvious, with not many cattle in the paddocks along the road. We do see the great Red Tailed Black Cockatoos and more Wedge Tail Eagles of various sizes along the way however.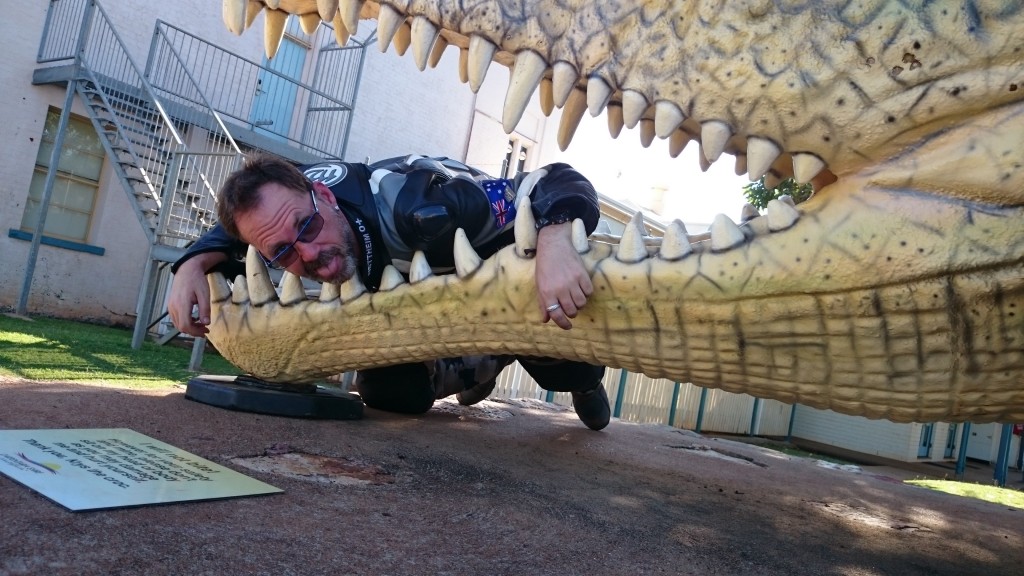 Dinner is at the Sunset Pub, and we watch the sun go down along with 200 grey nomads all enjoying a cold drink and extremely fresh Barramundi – it's almost compulsory to have the Barramundi here – and at $28 a plate it's not a bad choice. Temperature here is extremely pleasant and a great nights sleep is had by all.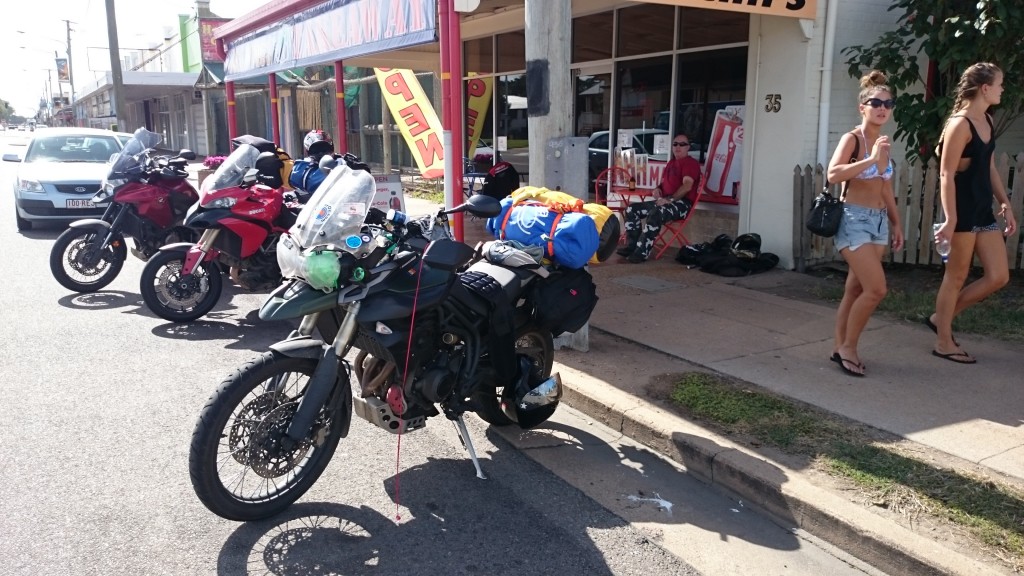 After seeing Karumba disappear in the mirrors, we travel down to Normanton, Bourke and Wills Roadhouse, Cloncurry, McKinley (Walkabout Creek Hotel – Crocodile Dundee) and into Winton.
Hearing that there is a major roo problem between Winton and Longreach, we decide that we've done enough distance today and it's too risky to do two more hours with the possibility of roos wanting to share the road with us.
Matt helps a damsel in distress at the servo, with a car with almost no oil or water and still with 300km to go before she stops for the night…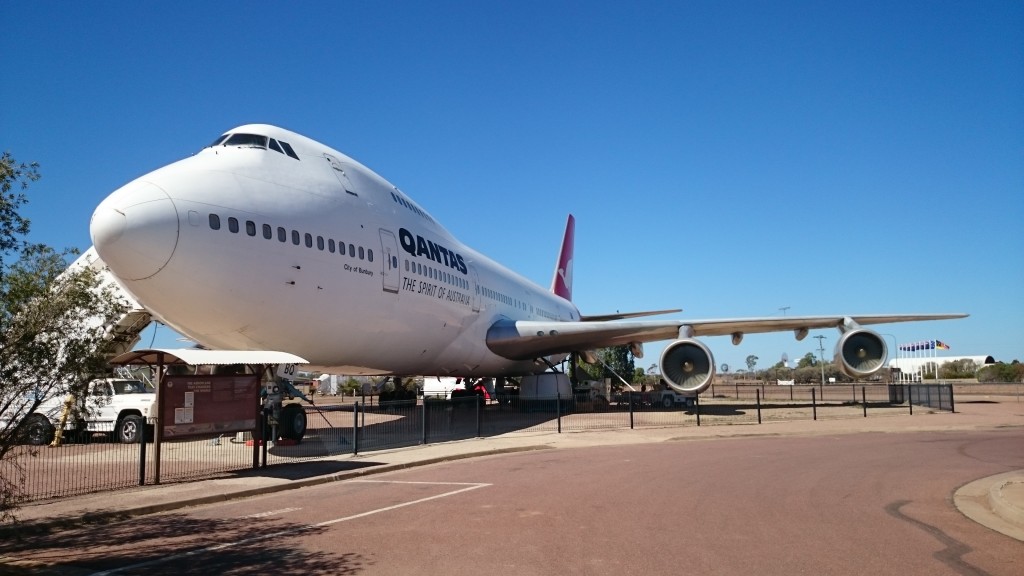 We enjoy dinner at the Tattersalls Hotel in Winton, and the staff are excellent and entertaining – we confer and agree that we will head to Longreach and do the QANTAS Museum and Stockman's Hall of Fame, only a short ride of 215kms and Longreach is where I tick over 6000km on this adventure. After a night of entertainment at the Woolshed Restaurant we decide its time to start heading back home after 13 days on the road.
Technology and access is pretty good – especially with Telstra – I have no issues and catch up with my family and my girlfriend, Dr. N via Skype without an issue. I also have my SPOT Messenger GPS device tracking the trip so family and friends can check on us without having to contact us directly.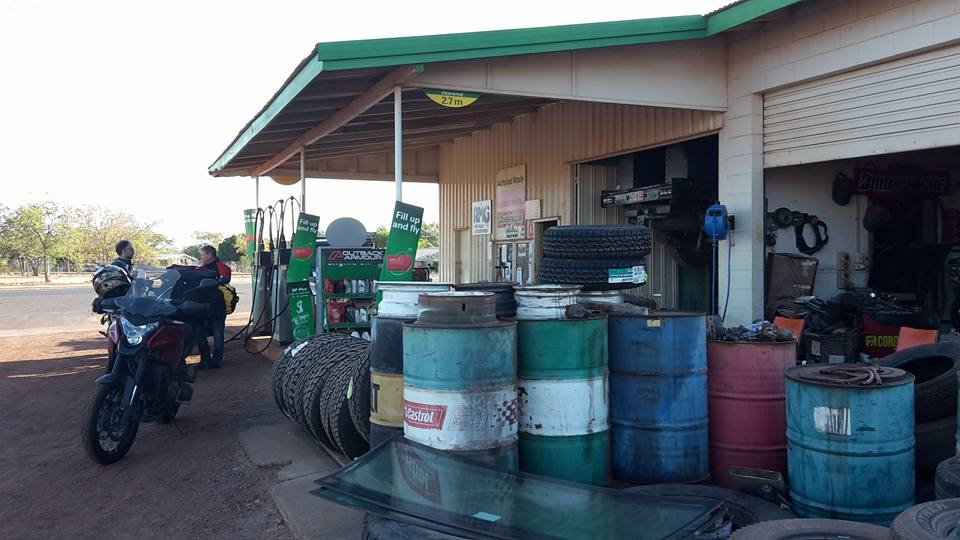 Up early before sunrise, the bikes are packed and we leave our venue and refuel and this is where our trip turns on its head. Matt's bike goes less than 30 metres before stopping and is pushed back to the servo. Looking at the fuel it's extremely cloudy. Bills fuel isn't too bad and mine is looking fine.
After some discussions with the attendant we decide we have to get the tanks drained of this suspicious fuel. Luckily in Longreach we find Horsepower Longreach and contact them and get the bikes there, pushing Matt's bike about a kilometre and Bill gets about 50 metres before he too can't restart the bike.
I'm the lucky one and get a few kilometres but we play it safe and remove all the tanks and fuel from the bike. I'm glad we did too, the local creek water wasn't as murky as what we retrieved from the tanks.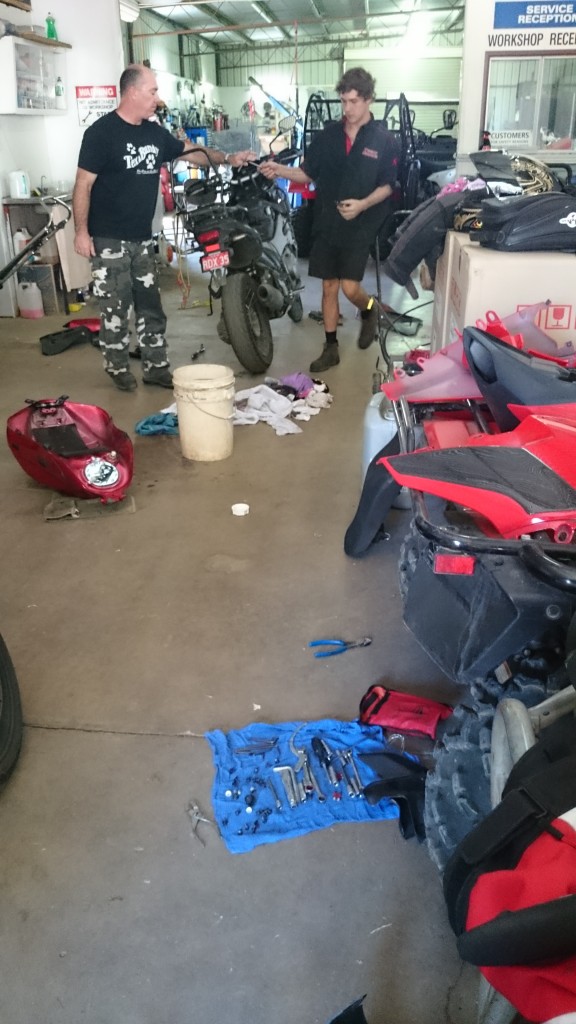 Five hours later the bikes are drained, cleaned, put back together and refuelled from a reputable service station and we head off to get as many kilometres done before we can't ride any further. We can't thank the guys at Horsepower Longreach for their help and support enough – especially Dylan, the third year Apprentice who came in on his day off to help…
Our next stop is Blackall, which we reach at about 3pm and decide to push onto Augathella and finish the day there, about 390kms from where we wanted to be. We are seeing the roos coming down to the roadside edge, with the sun is setting and it's getting hard to make out if that shape you see is a roo or a tree stump, so when we get to Augathella we are very happy to get off the bikes and stay for the night.
Bill has family in Brisbane and decides to head that way, while Matt and I decide to head towards home, leaving at 7am and planning on doing about 1100km to get back to Coffs Harbour – totally do-able.
Waving goodbye to Augathella we zip along to Morven and stop at Mitchell for fuel, where Bill leaves us… Matt and I head to St George – with more long distances but interesting roads and it's not long before we cross back into NSW at Mungindi and head towards familiar names like Moree and Warialda.
We are doing about 100km every hour and make sure we drink lots as we go, with the weather still warm, and we estimate we'll be at Coffs Harbour by early evening.
Into Inverell and Glen Inness we take the Gibraltar Range/Gwydir Highway down to Grafton, which is another brilliant road. We can't believe how many good roads we have done on this trip – and I'm sure there's more gems out there!
By Grafton it's getting dark and it's not long before we are in complete darkness riding the Pacific Highway. For the last 80km to Coffs Harbour my chain and rear sprocket are almost done, while my rear tyre now has a very flat profile to it.
We get into Coffs right on 6pm, 11 hours after we left Augathella, 1087kms in 11 hours. Its been an exhausting and exhilarating day.
We park the bikes and get a sleep in familiar surrounds… The next day I travel the last leg of the trip on my lonesome, arriving home mid-afternoon, with another amazing adventure accomplished.
In total it was 15 days away, 88.5 hours riding, fuel consumption of 5.6L/100km, average speed 97.3km/h and a total of 7932kms… In that time I did not wear a jumper once and saw so many things it's hard to remember them all.
So why not plan your winter escape with some mates – Queensland has a lot to offer and it's easily done on a tight budget.
Next time, i hope to have my special someone on the back to enjoy what Australia can offer…