The late Paul Smart's Imola 200 victory in 1972 was not only an important victory for Smart himself, but cemented Ducati's spot on the world stage... Words & Photos: Alan Cathcart.
The late Paul Smart's Imola 200 victory in 1972 not only established Ducati as big bike manufacturers in the minds of enthusiasts, who had previously only ever thought of the Italian marque as purveyors of small-capacity singles, it also nearly didn't happen…
---
Read Alan's racer test on the Paul Smart Ducati here…
---
For 1972 Paul had signed with Team Hansen to race the works-backed Kawasaki H2R two-stroke triples in America, jet-setting back and forth across the Atlantic to race in Europe as well, on non-conflicting dates. That's how he came to be available for the Ducati ride – though in fact, it wasn't Smart that Ducati boss Fredmano Spairani first approached to make the racing debut of the Bologna factory's new 90° V-twin desmo, in the April 1972 Imola 200.
Jarno Saarinen and Barry Sheene had both turned down riding what they saw as a lumbering, uncompetitive long-wheelbase V-twin four-stroke against the best two-strokes Japan could offer. It was left to Paul's wife (and Barry's sister) Maggie Smart – the two had married in 1971 after an unusual courtship, when Maggie drove Paul home to Kent from Assen in her Mini, after he'd crashed in the Dutch TT and got concussion! – to accept the ride on her husband's behalf.
---
Read our other classic features here…
---
"Paul was racing the Kawasaki at Road Atlanta when Ducati called me in California, where we were living," recalls Maggie. "They needed an answer right away, but in those days before mobile phones there was no way I could get hold of Paul, so I made the decision and accepted for him. It was only the week before the Imola race that they called, but I knew he wasn't doing anything, and at £500 plus airfares the money seemed good – so I said yes.
---
---
When he called me later that night after the Atlanta race, he went mad. "I'm not riding that bloody old thing," he said at first – but then we had a 'family discussion' over the phone, and he changed his mind!" Rumour has it that Maggie wanted a new kitchen….
Flying from Atlanta (where he'd finished second on the H1R Kawasaki 750 triple) directly to Milan via New York and London, Smart arrived in Italy after a marathon 23-hour plane journey to find himself hustled straight from the airport in a chauffeur-driven limousine to the nearby Modena aeroautodromo. Ducati wanted him to immediately test the new 750 V-twin he was set to race at Imola. What he found awaiting him there amazed him.
---
---
"There was this flashy new bus with plate glass sides in which all the race bikes were transported around so people could see them," remembered Paul, "and there wasn't just one bike for me: they'd built ten of them – two each for all four riders [Smart, long-time Ducati team leader Bruno Spaggiari, Ermanno Giuliano, and British importer Vic Camp's rider Alan Dunscombe], plus two spares! That's when I realised this was a very serious venture, by a company that was determined to win. Suddenly I felt much better about coming all this way to ride for them!"
That feeling barely survived the initial laps at Modena, for Smart was less impressed with the Ducatis at close hand. "They were fitted with skinny little TT100 Dunlop production tyres, and huge steering dampers they didn't need, because with a 60-inch wheelbase they wouldn't go round corners, anyway! They felt pretty awful to ride, even after I'd persuaded Ducati to fit some racing tyres for the event – there seemed to be some confusion in their minds as to what Formula 750 really was all about."
"They seemed to think it was a glorified Modified Production race, with tuned engines and street tyres – hence the street frame on the racers, complete with lugs for the centre stand! – whereas I knew better than most from racing in the USA that this was Grand Prix racing with big motors, and no half measures would suffice. However, even after I'd got them to set the bike up as a racer, it still seemed so slow. There was loads of torque, but with the 90° V-twin layout, it seemed to be firing every other lamp-post."
Maybe so, but as anyone who's ever raced a Ducati V-twin will confirm, appearances can be deceptive. "After about ten laps at Modena, I come past the pits, and all the mechanics are hugging each other like I've just won a race," recalled Paul with a wry mile. "When I came in, I found I'd broken Ago's outright lap record set on the 500 MV – on street tyres! But it hadn't seemed I was going that quick, because the Ducati was such a totally deceptive bike – it was faster than my works Kawasaki, even though it hardly seemed to be revving hard at all."
Brimful of confidence, the Ducati team went to Imola – just 30km down the road from their Bologna factory – for the first-ever 'Daytona of Europe', run on the fast, sweeping 5.02km/3.12-mile GP race circuit which in its pre-chicane days back then suited Smart's taste for big tracks that rewarded fine judgement and riding skills. Against a star-studded field which included factory entries from nine different manufacturers, the V-twin Ducati's were in a class of their own, with Smart qualifying on pole and teammate Bruno Spaggiari second on the grid, ahead of Giacomo Agostini on an MV Agusta.
---
---
"Ago was riding a shaft-driven works MV," said Paul, "and though there were lots of smiles, he was taking it very seriously, just as he always did – especially being on home ground, where I suppose it must have been the first time he wasn't on pole for a race there in five years or more. Anyway, the start was absolutely typical for Italy – as soon as Ago started, then they dropped the flag for the rest of us! That meant he led off the line, and in fact hung on in front for the first five laps – the MV was very fast, but smoked a lot till he eventually pulled off [after 42 of the 62 laps], and it also weaved like mad down the straights: Ago was a bloody hero to hold on to it wide open, it was such a handful."
"Following it was quite an experience, but the Ducati by contrast was steady as a rock, though you had to send it a telegram if you wanted it to change direction once you'd committed yourself for a turn – it was much slower-steering that the Kawasaki I was used to riding, and you needed to be very precise in how you rode it, to get the best out of it. We used to wear out the front tyres very quickly because it understeered so much, although the only mechanical problem I had in the race was when it chucked out first gear at the Tosa hairpin after just a couple of laps, when it went bang – neutral."
"After that, I had to do the hairpin in second, and since I knew the clutch wouldn't stand being slipped on the uphill exit, I had to try to drive through it on the throttle. That meant taking what the Yanks call a 'high, wide 'n' handsome' line there at the Tosa, but it wasn't much of a handicap, because the Ducati's engine was so torquey – nothing like what I was used to on two-strokes, or even the works Triumph triple, which was much peakier and less rideable."
---
---
"Ago found the MV a particular handful on the flat-out left-hander after the pits, called the Tamburello, which with no chicane before the startline, as there is now at Imola, was very fast – about 120-130 mph. He used to ease off quite a bit for it, whereas the Ducati would go through flat in top, though you had to use all the road and get absolutely the right line – Alan Dunscombe came off there in the race on another Duke, when he ran out of road on the right. Anyway, I'd sized Ago up after four laps, so starting the fifth I kept it nailed open there and just swept effortlessly past him. It was a great demonstration of the Ducati's handling ability, and after that it was obvious either Bruno or I would win."
---
---
Ducati boss Spairani had foreseen this situation. "We all had a meeting the night before the race," said Paul, "and there never seemed any doubt in anyone's mind we were going to win comfortably! Bruno and I were told we could circulate together till the last five laps, then it was every man for himself. Well, when the five-lap board went out, old Bruno went mad – started smoking tyres up the inside of the hairpin on me, and suchlike. Two laps from the end, he made a do-or-die effort in a very strange place, round the long left-hander at the crest of the hill before the Rivazza – it was a 90-100 mph corner, and there was no way he could have pulled it off, so inevitably he ran out of road on the right."
---
---
"I remember standing on my footpegs and thinking, "I hope the silly ass doesn't fall off, it'll spoil things for Ducati if he does." There were clouds of dust everywhere, but he managed to save it and get back on the road, although after that his engine started misfiring. They said after the race it was because we'd been running out of fuel, but in fact I had plenty of petrol left in my tank, and he almost certainly got some muck in his carbs after his little excursion. Anyway, after that I was home and dry, and although we swapped the lead a couple of times, I was saving it all up for the last lap, when I pulled away to win by four seconds. "
April 23rd, 1972 was thus not only Paul Smart's 29th birthday (as well as, most appropriately, English patron saint St. George's Day), it also marked a milestone in the mythology of the Ducati marque. "It was a really satisfying win, but I must admit I didn't think at the time it would be as significant as it's now become in terms of Ducati's place in history," admitted Paul in hindsight.
---
"It was a really satisfying win, but I must admit I didn't think at the time it would be as significant as it's now become in terms of Ducati's place in history,"
---
"I should have had a clue that night, though, when they took the glass-sided transporter with me and Bruno on the roof and our bikes inside for a tour through Bologna city centre. I was still in my racing leathers, but you'd have thought it was the Pope, there were so many fanatical supporters celebrating Ducati's victory! I suppose it was the first time they'd won anything really big for a decade and a half, ever since the 125 GPs in the late '50s, and it certainly put Ducati on the map in terms of big bikes – as well as setting them on the path to later World Superbike dominance."
Presumably, though, the Imola 200 win was Paul Smart's greatest day in racing? "Yes, I guess it was. I scored more prize money at Ontario winning the 250-miler there later that year for Kawasaki, but Imola was more satisfying in a way, because I hadn't gone there expecting to win. I led most of the race, so with the lap money I cleaned up about £5,000 that day, which was a hell of a lot of money back then, but they'd had 70,000 spectators, so they could afford it!"
---
---
"I got paid in readies, too – lots of those big, old, tablecloth-sized Italian banknotes with loads of zeros, all stuffed into my helmet bag. We'd agreed the night before the race all four Ducati riders would pool our winnings, and so we did – but Spairani had also said: "Whichever one of you wins the race will keep his bike, of course!" – and he was as good as his word. Which is how come you're here today riding it, exactly as it finished the Imola race. Well, nearly…."
Nearly? Wasn't this a time-warp bike, still in the guise in which it won its last victory? Well, yes it was – except that, the day after his Imola win, Smart agreed to race what had now become 'his' bike in a couple of the British autumn international meetings, to promote Ducati's 750cc V-twin streetbike range based on the Imola winner.
---
"Spairani had said: "Whichever one of you wins the race will keep his bike, of course!" – and he was as good as his word."
---
So it was on the unlikeliest track of all for a long-wheelbase, long-legged V-twin to shine on – the Brands Hatch short circuit a stone's throw from Paul's then West Kingsdown home, run in the reverse direction for the annual Hutchinson 100 meeting – that Smart gave 'old No.16' its final appointment with the chequered flag in August 1972.
But that nearly didn't happen, either, as Paul explained. "In practice at Brands on the Saturday, it dropped a valve and lunched the motor. Disaster! We took it back to Don Godden's workshop near my house [Britain's then-leading manufacturer of speedway and grasstrack engines], and set about rebuilding the motor with the parts Ducati had sent over with Franco Farnè and a couple of mechanics. They'd come over to look after Bruno, who was also riding there, so we had a spare engine, but it was an 860 prototype, so we couldn't use it for a 750 race."
---
---
"Trouble was, at that time of night over a weekend, the only machinist we could get hold of to help us was my local vicar at East Farleigh, who before he took the cloth had been an ace man with a lathe. The Ducati mechanics couldn't believe the sight of this guy wearing a dog-collar and a cassock, with a cigarette permanently parked in the corner of his mouth, swearing like a trooper as he turned down the valves, saying he had to be finished by midnight because it was the Sabbath tomorrow, and he still had to write his sermon for Morning Service! Anyway, it all came together well enough, and next day after running it in while finishing second to Peter Williams' John Player Norton in the Open class event, we were in good shape for the F750 race, which was the one Ducati really wanted to win."
Except, there was one big obstacle to F750 victory, in the form of Williams' teammate Phil Read on another works JPN twin that was much lighter and more nimble than the Ducati around the tight Brands track – and Readie was thirsting for revenge after finishing an outclassed fourth behind the Ducati duo at Imola. Mind you, it was mutual: "Phil Read going past me in those days was like a red rag to a bull, so catching him up and overtaking him after he'd grabbed an early lead at Brands was definitely a high priority!" admitted Paul.
---
Read our feature on mastermind, Peter Williams here…
---
"He repassed me a couple of laps later, and still had the lead going into the last lap. I was better than Phil at Clearways, so I retook the lead there, but then he nipped past me again on the brakes going up the hill into Druids. That left just Paddock Hill Bend before the finish line – and we took it side by side, both absolutely on the limit, with the Ducati's long wheelbase the only thing saving me from a terminal tank-slapper. I distinctly remember thinking "the poor old girl might go bang again, but if I change gear I've lost the race!" – so I just held it in third all the way to the line with the engine revving well into five figures, and thanks to desmo engineering and the vicar's handiwork, I won by the width of a tyre!"
Since that August day in 1972, the vicar's endeavours have been only rarely put to the test, with the Imola-winning Ducati's track outings restricted to very occasional short demonstrations in Paul Smart's hands at major events down the years. But, thanks to his generosity, what is undoubtedly the most famous, historic and authentic works Ducati ever built was entrusted to me for 30 laps of the circuit at which it scored its final race victory – with a bit of help from Him Upstairs! Dreams do come true…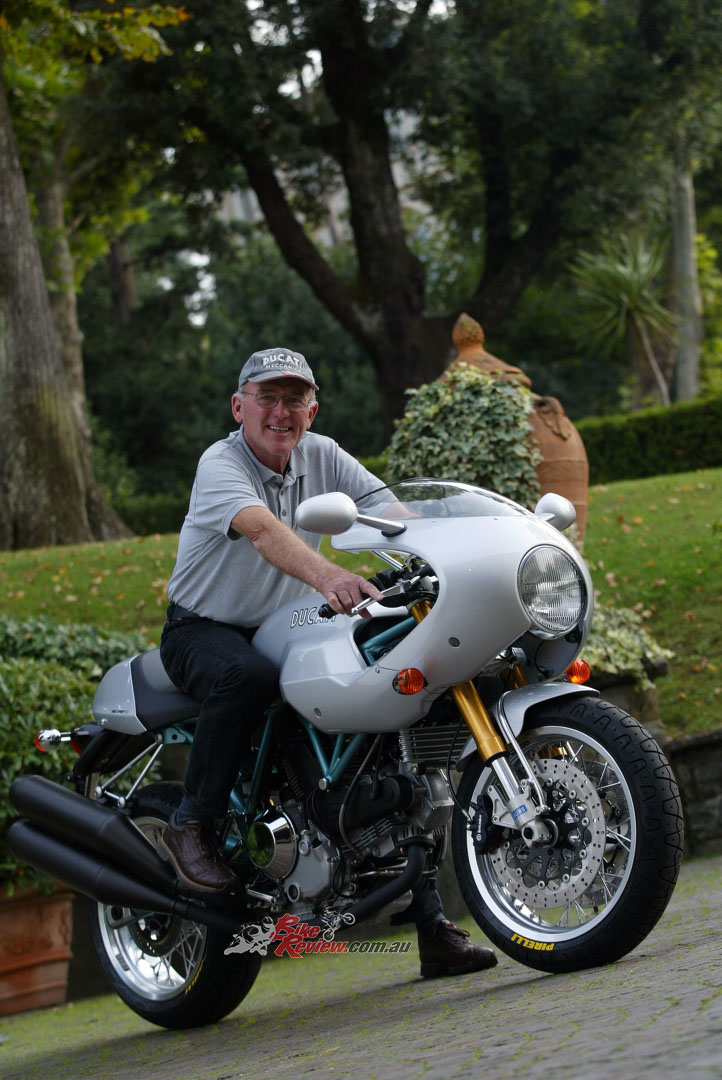 ---