Yamaha's FJR1300 is a tried and tested tourer that admirably ticks all the boxes. Test: Craig Stevenson Photography: Yamaha
With a full test of the 2016 FJR on the way next week, we thought it was time to revisit this grand high speed tourer!
Yamaha first introduced the FJR1300 in 2001 to great acclaim, with the bike a great success in the Sport Touring segment, with the model remaining relatively unchanged until the adoption of optional ABS in 2004, along with larger front rotors and the addition of a small amount of fairing storage.
2006 would see the introduction of the second generation FJR1300, with a number of changes, including revised geometry and final drive ratio, a new curved radiator for larger surface area and cooling, and an upgrade alternator.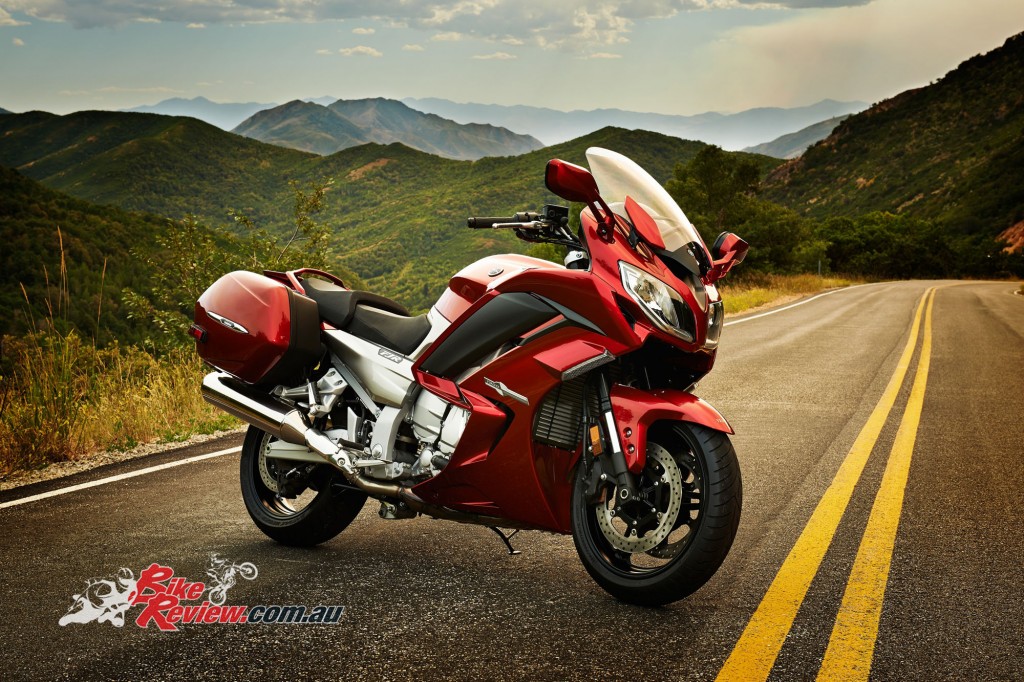 Adjustable vents were another addition, allowing riders to direct air towards or away from them, depending on the conditions, with airflow a major consideration in the development of the Gen-II model. The Gen-II models also saw ABS become standard, while a Unified Braking System was adopted.
Minor changes would follow in 2007 with ECU refinements for specific applications, while 2008 and 2009 would likewise see further refinement to assist with throttle feel.
The bike would remain relatively unchanged until 2012, when heated grips became standard, with 2013 to see the Gen-III model released.
The Gen-III featured new fairings, again focusing on airflow and heat management, with a new faster adjustable windshield added, while LED running lights were also added.
An electronically adjustable suspension model was also offered from 2013, while the engine saw significant changes with the cylinder linings plated on rather than pressed in as on previous models, with a new ECU and the adoption of the Yamaha Chip Controlled Throttle system or RbW, with D-Mode or drive modes offering different engine characteristics. Traction control and cruise control were both also added with the new ECU.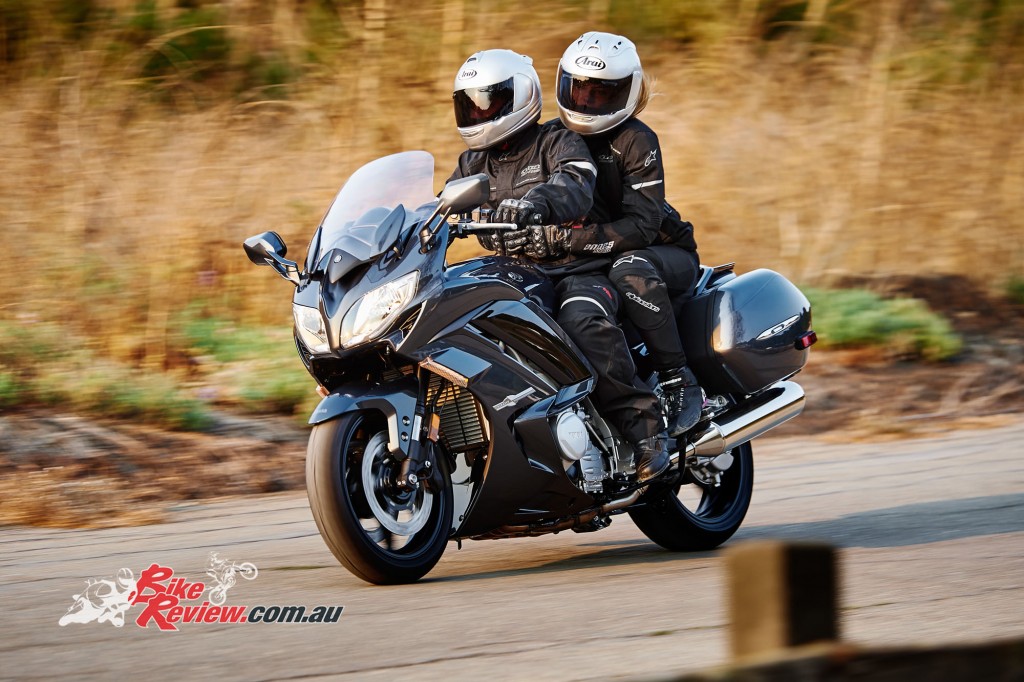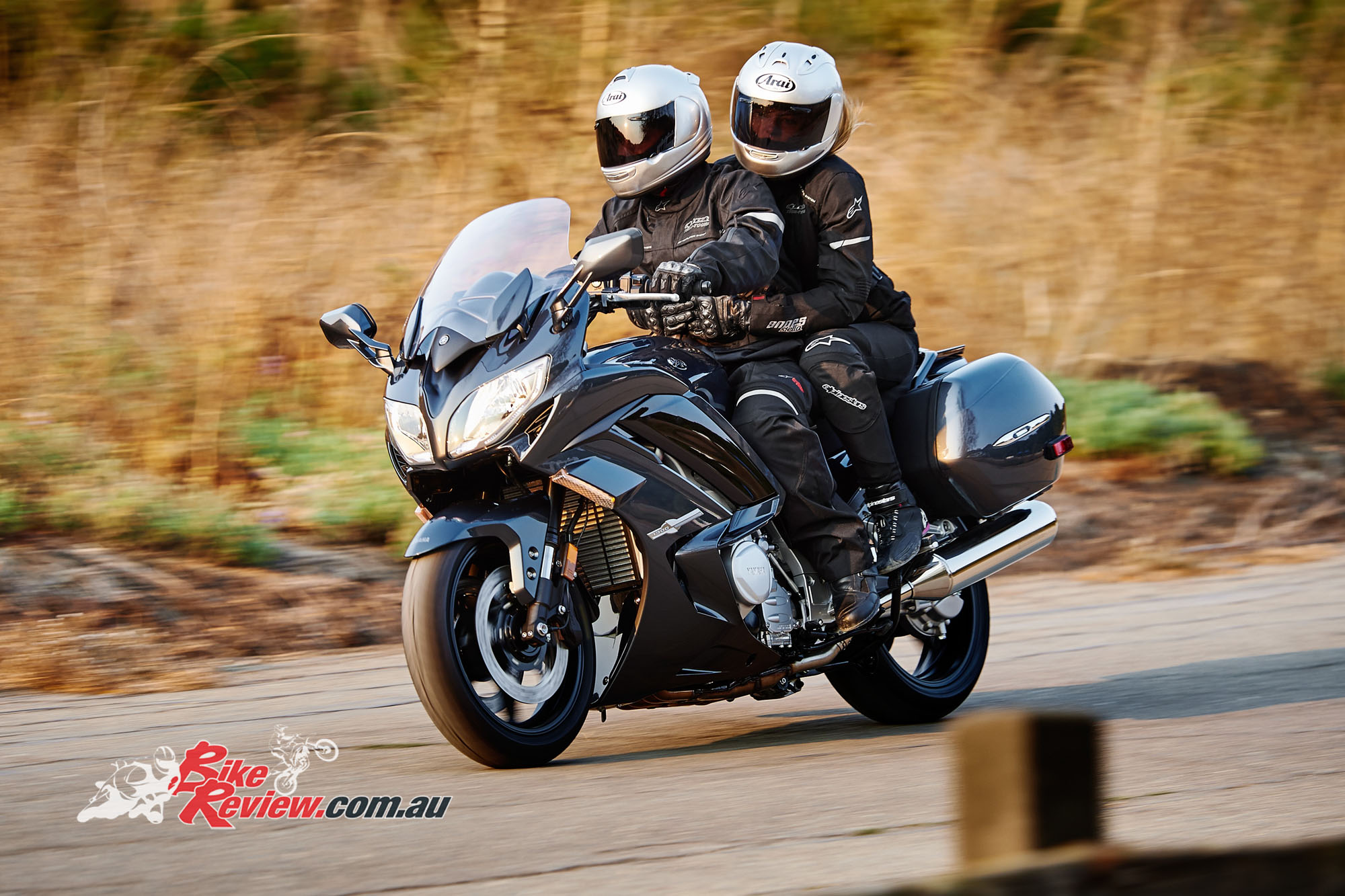 ON THE ROAD
Sitting behind a group of cars with a long, endless straight ahead the moment had arrived to wind on the fly-by-wire throttle, indicate and slip into the breeze to overtake. Sitting on 5500rpm in third the FJR1300's engine responds immediately and smoothly, piling on the revs and horses to rocket past the first car.
The evenly spaced trees on the side of the road in my peripheral start to merge into a single hedge when I snatch fourth via the ultra slick shifter near the redline to slip past the second car, pulling way out in front before sliding back into the left lane.
It would pay to keep tabs on the FJRs' top end. It's plenty powerful and fast – very fast. It wouldn't be hard to suddenly find yourself in a courtroom not only having the book thrown at you by the judge but possibly being beaten repeatedly with it.
Having never ridden an FJR before I can only offer a fresh, first timer account of the new one and can honestly say the experience is one that won't be easily forgotten.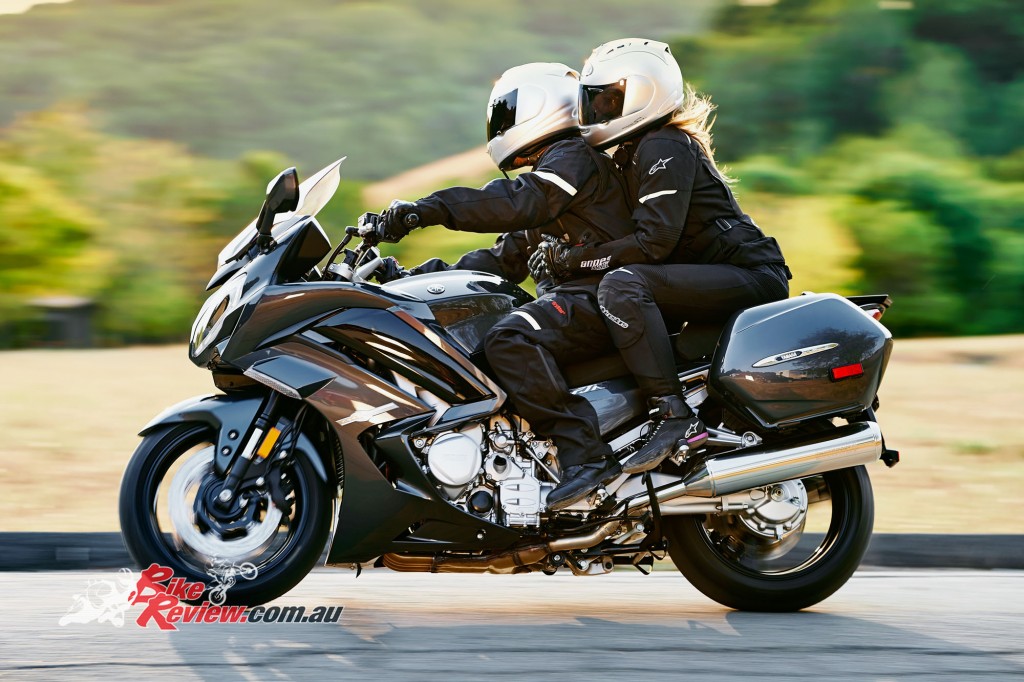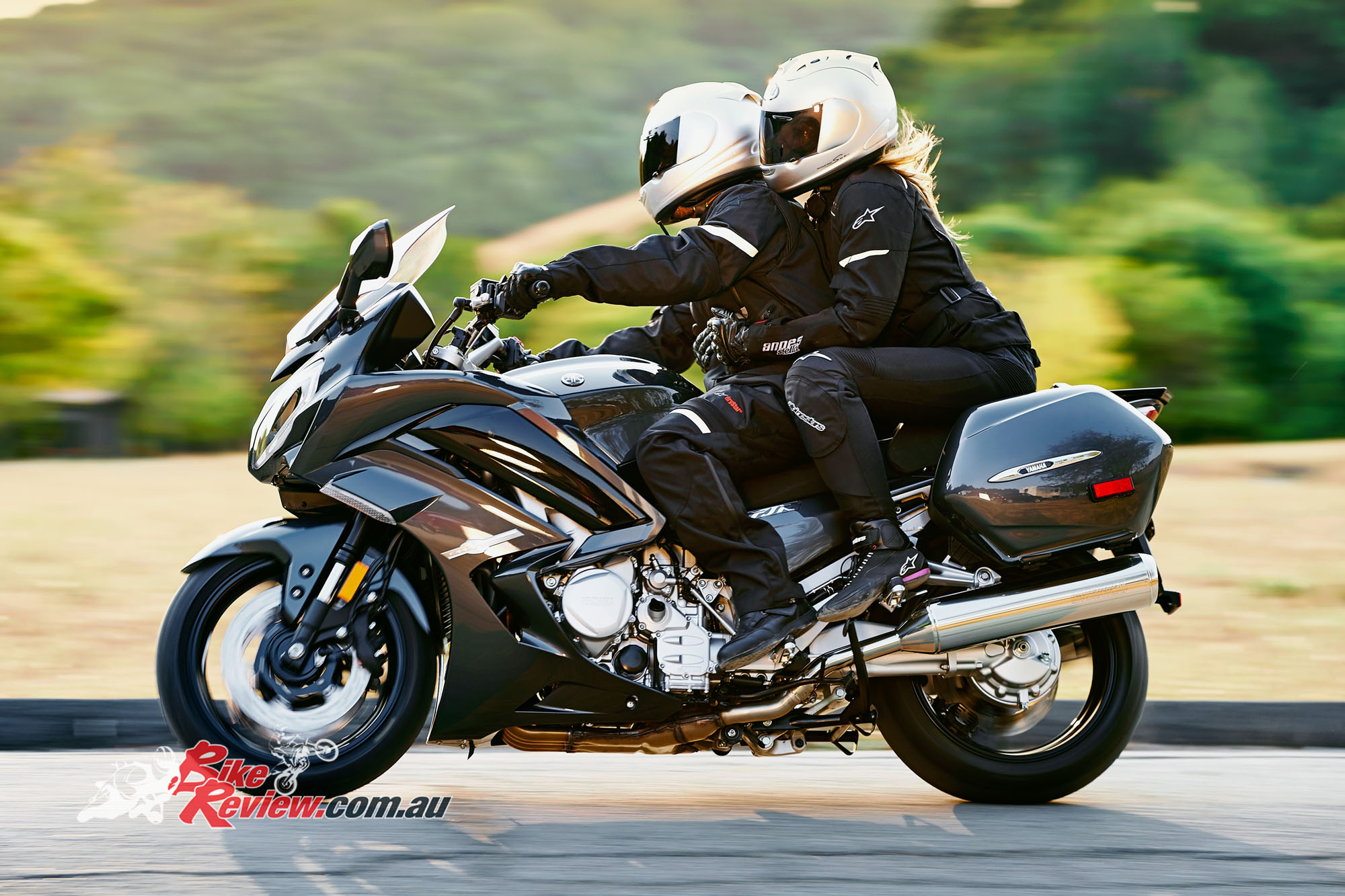 Yamaha's iconic FJR has built a large base of loyal followers and a solid reputation over the years and I'll bet the recent and extensive upgrades made in the 2013 model went a long way to increasing popularity.
Riding position is upright on a wide, well cushioned and comfy seat, all controls are within easy reach and a notably nice touch are the adjustable 'bars that can be swung forward or backward in three increments over a total of 13mm.
Maintaining a freeway pace on long straights, over hills and dips and through open fast sweepers is fuss free thanks to the silky smooth 1298cc inline-four and seemingly dummy proof cruise control that operates between 50 and 180km/h! Simply press a button on the switch units to turn it on, set your speed when you reach it, then let the engine's 140-plus horses do their thing.
A touch of the brakes or dip of the clutch when needed cancels it but then press the resume button and you're rapidly back at your set speed which can also be increased or decreased in two-km/h increments by quickly thumbing the + or – button.
It's relaxing stuff that allows you to soak up the surrounds more and worry less about the local constabulary. The fairing and screen provide plenty of protection from windblast and a stab of a switch changes its height in half the time of the previous version.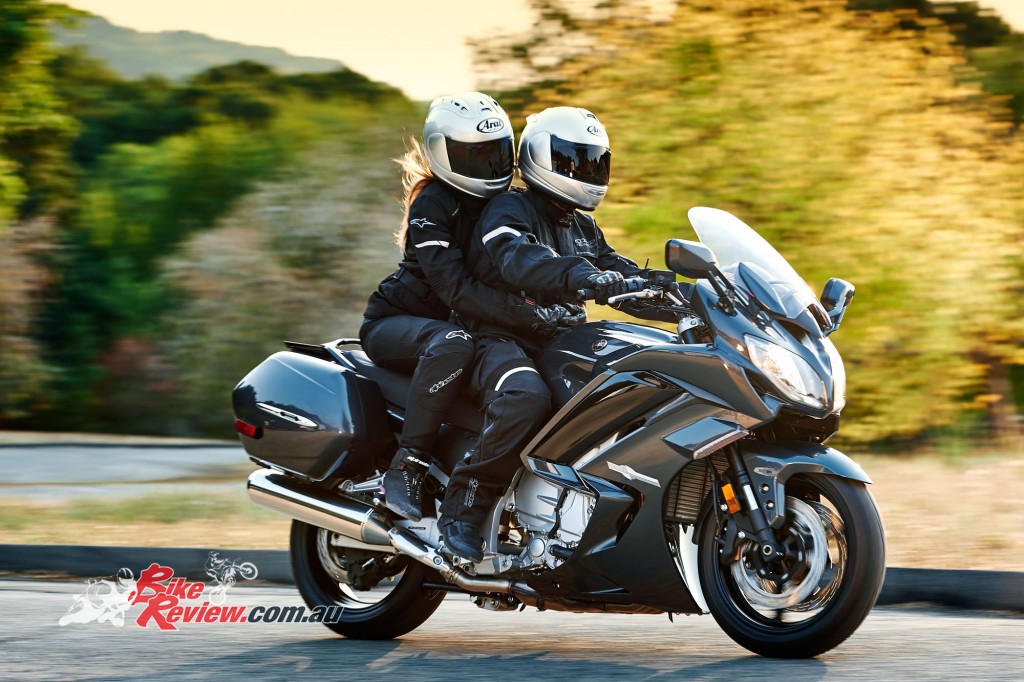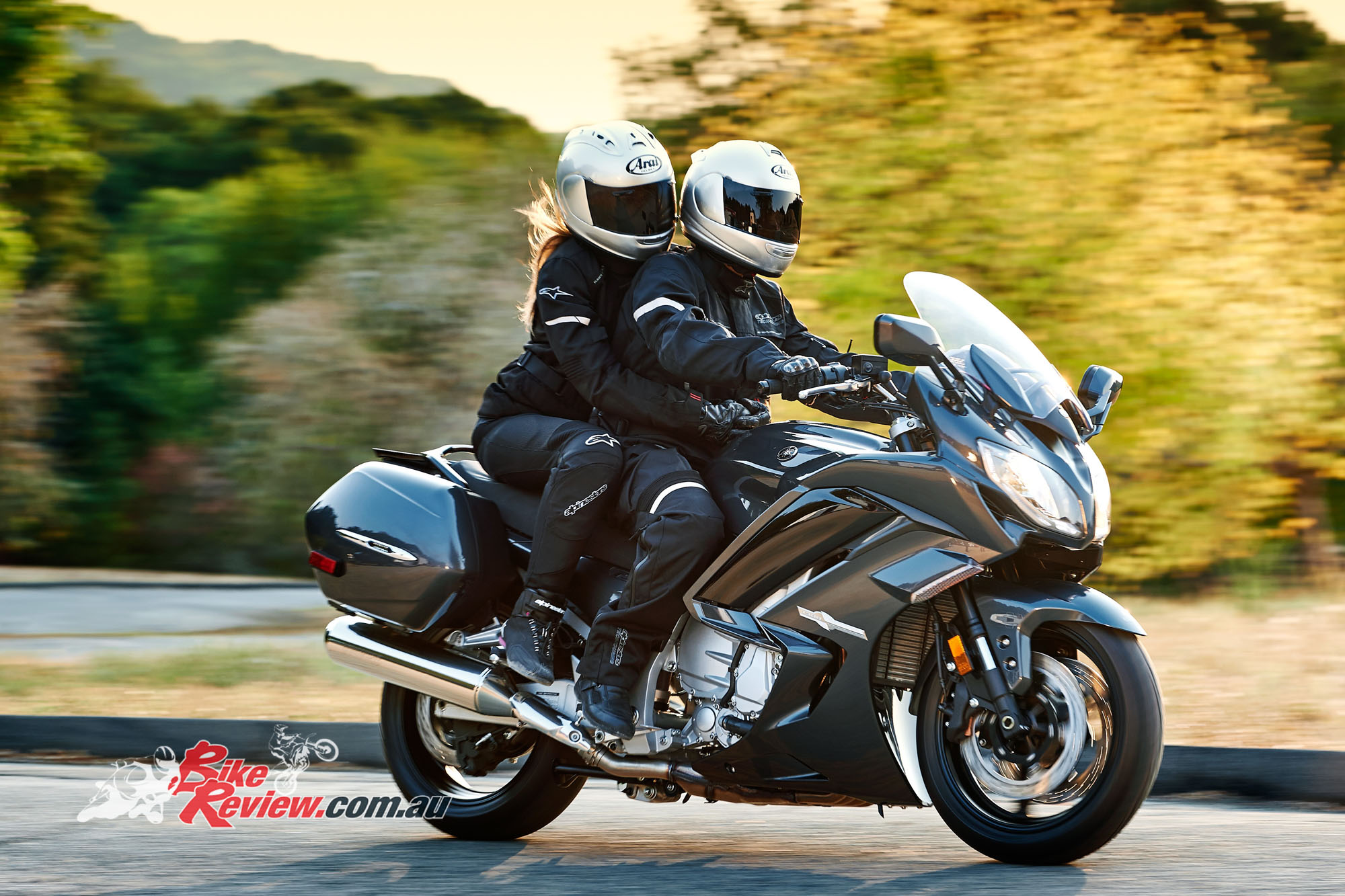 Other inclusions are ABS, traction control, two engine maps for Touring or Sport, trip computer, panniers, heated grips, adjustable flutes on the lower faring to control air flow and even the seat is height adjustable by simply re-positioning a piece of plastic underneath. I could cruise like this all day but apparently that's not entirely why I was here.
The further we travelled the more challenging the roads became as the long straights were replaced with lengthy stretches of heat soaked, high speed sweepers. The FJR hauls around 289 kilos dripping wet but with the speed up, swinging the bike through its arc for the flowing left and right combinations is executed with surprising ease.
Sure it doesn't flick like a sportsbike but is still a relatively quick turner that is precise and composed. Roll off the throttle, lean it over, point it at the apex or run it parallel to the white line on a never ending bend and the big Yamaha just hangs there.
The engine response to the fly-by-wire is superb and with a trailing throttle through a corner it feels so sure-footed. The suspension works extremely well with a slightly firm ride (for a tourer) that soaks up bumps and irregularities with a gentle thump, without so much as a twitch from the chassis, with the front and rear hoops sticking to the road like glue.
It's controlled and even barreling through, hitting irregularities mid-corner it holds its line beautifully before getting hard on the gas and the tacho needle swinging freely up the range for a very rapid exit.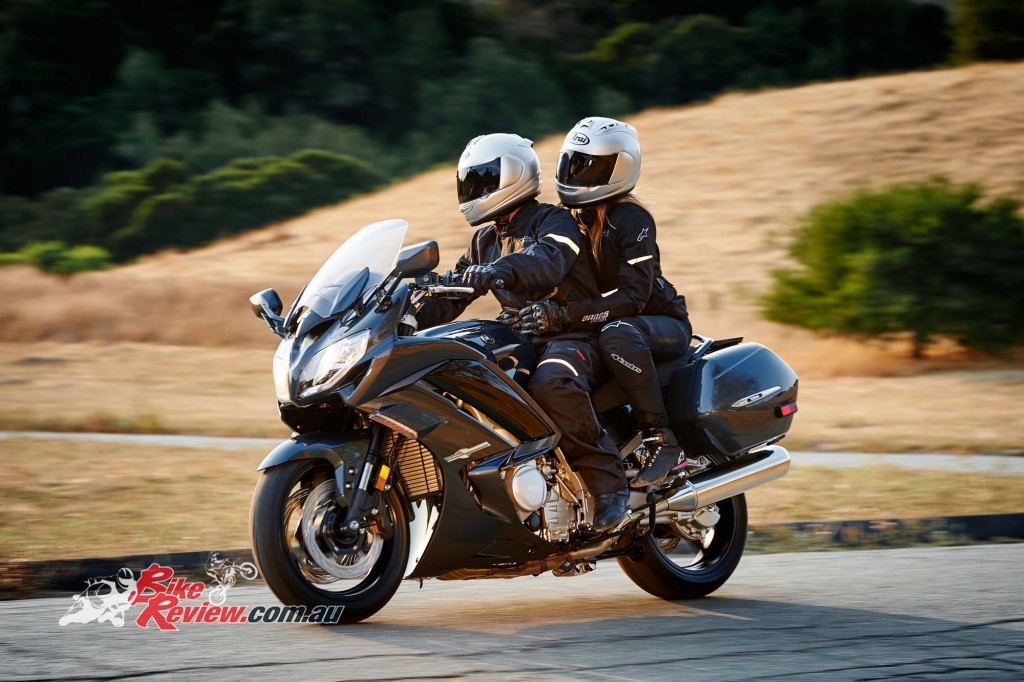 The FJR is in its element in this open, fast flowing environment and I could sense how wide my eyes were getting as they searched the road as far ahead as possible. A couple of times I gave the brake lever a really good squeeze at the end of a long straight and although the lever on the linked brake system felt a bit wooden in the feel department there was no doubting its stopping power.
You can say what you like about electronics and traction control taking the skill out of riding but personally, anything that allows – no, make that encourages – me to play with and indulge in this kind of responsive power and torque on a bike this size is all good by me.
We were soon nearing the coast and began our descent through some much steeper and tighter corners. With the radius of each turn gradually decreasing I found myself dragging the rear brake more and more (old habits).
A good stab of the rear brake pedal activates the front pistons and required a few corners for familiarisation but after a while I found it was quite effective for gently scrubbing off speed without loading up the front end.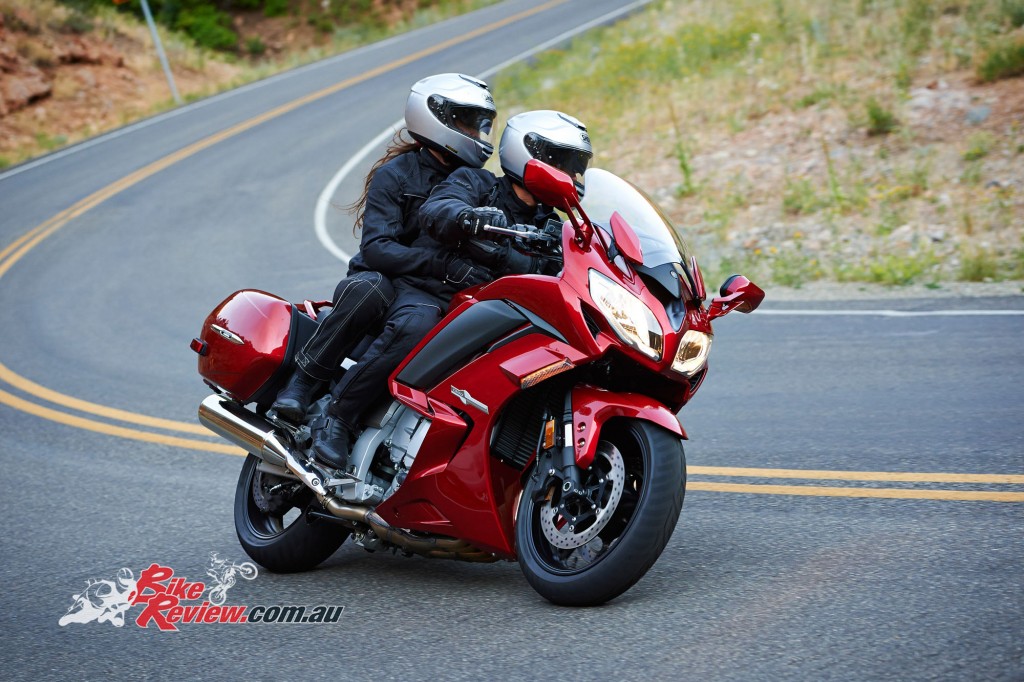 Pulling up hard with the front brake for 35km/h corners was giving the front a workout. More effort was needed to turn the bike and I noticed on late turns as you tipped in for sharp left or right handers the front lost feel from the tyre as though the forks had suddenly become really soft and the front end was falling away. It wasn't.
The bike was still holding its line but the sensation wasn't pleasant. During a quick stop Darren (Yamaha FJR guru) added a little more preload and damping to firm things up and the next run was much better with feel from the tyre all the way through braking and turn in.
I have to admit for a bike that feels so solid and stable on the open road it can still be hustled along quite quickly in the tight stuff, in part due to its bucket loads of torque and excellent midrange, even in less experienced hands such as my own.
Slowly creeping up to a set of lights or waiting with feet up for as long as possible before they change illustrates how nicely balanced the bike is and despite the weight is a breeze to ride around town and park. The engine to is still smooth off the throttle and even rolling on the gas in fifth gear at 50km/h doesn't cause the bike grief. It just pulls away gradually building up speed.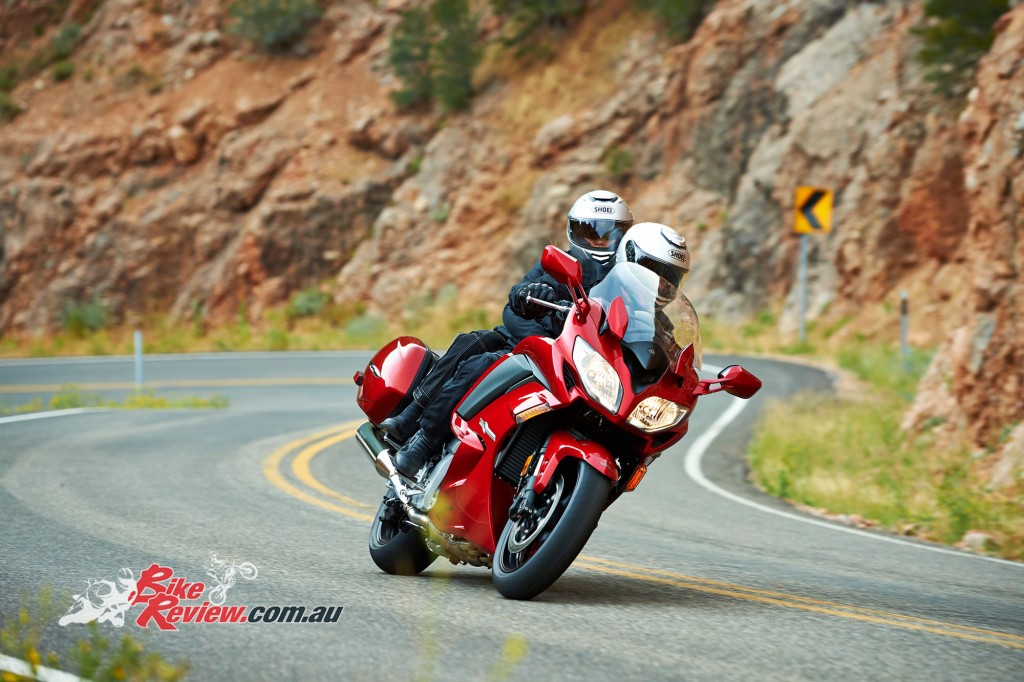 After lunch I couldn't help thinking the FJR wasn't what I expected. I know they have a good rep but being a sports-tourer I was expecting a plush, softly sprung and heavy machine that took its time getting off the mark and reaching top end. The bike couldn't be more different to that if it tried.
Some folk seem to think Yamaha haven't done enough but from where I was perched behind a screen and easily read dash in absolute comfort quickly dispatching corners, crunching miles in milliseconds and wearing a grin from ear to ear I'd say have a closer look and you'll see they've done plenty to create a brilliant sports tourer.
ENGINE
Tweaks to Yamaha's venerable 1298cc inline-four have improved efficiency and delivery, and include carburising the exhaust valves, adopting an electric throttle body, direct ignition, altered layout of the cylinder identification sensors and changing the camshaft assembly flange and diameter of the air induction line.
Also adopted are sleeveless bores similar to Yamaha's sportsbike engines. Removing the liner and combining advanced honing processes with a nickel blend metal imbedded with hard silicon carbide particles results in a super smooth finish that improves oil retention with excellent sliding characteristics for the pistons.
No liner also reduces engine weight and improves temperature control meaning reduced friction, oil consumption and engine wear. Power is 145hp at 8500rpm, while torque is 125Nm at 6000rpm, with a five-speed transmission transmitting power through the shaft final drive.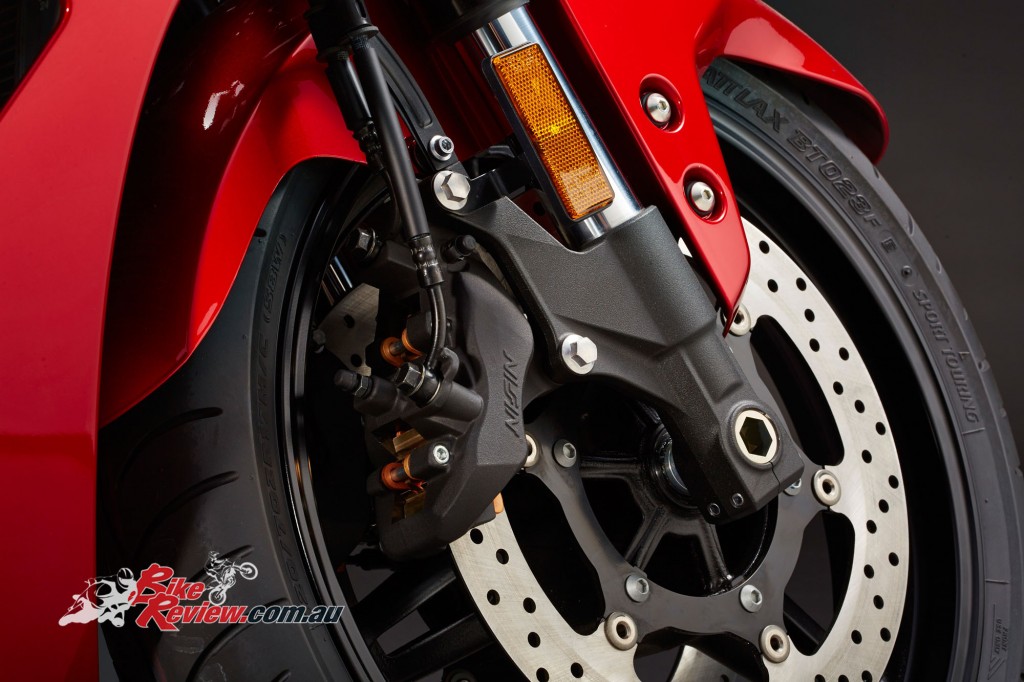 CHASSIS
Yamaha's FJR1300 uses an aluminium diamond shaped frame, with traditional 48mm forks, adjustable for preload, compression and rebound damping, while a single rear shock is adjustable for preload, with the AE model offering electronically-adjustable suspension with four main settings for the rear shock to cover a variety of road and load carrying requirements. On the front USD forks have three settings, with seven levels of adjustment. Both seat and handlebars also offer limited adjustability for tweaking to rider comfort.
Brakes are four-piston calipers mated to dual 320mm front rotors, while the rear 282mm rotor is grasped by a dual-piston caliper. A Unified Braking System (UBS) is used which activates two of the front pistons in conjunction with the rear caliper, when the rear brake pedal is used, while the front lever activates the other six front pistons (three in each caliper), providing a balance of braking and also benefiting from ABS for additional safety.
The rear sub-frame also has integrated grab handles for the pillion and lifting the bike onto the centre-stand, with quick release luggage mounts for the panniers.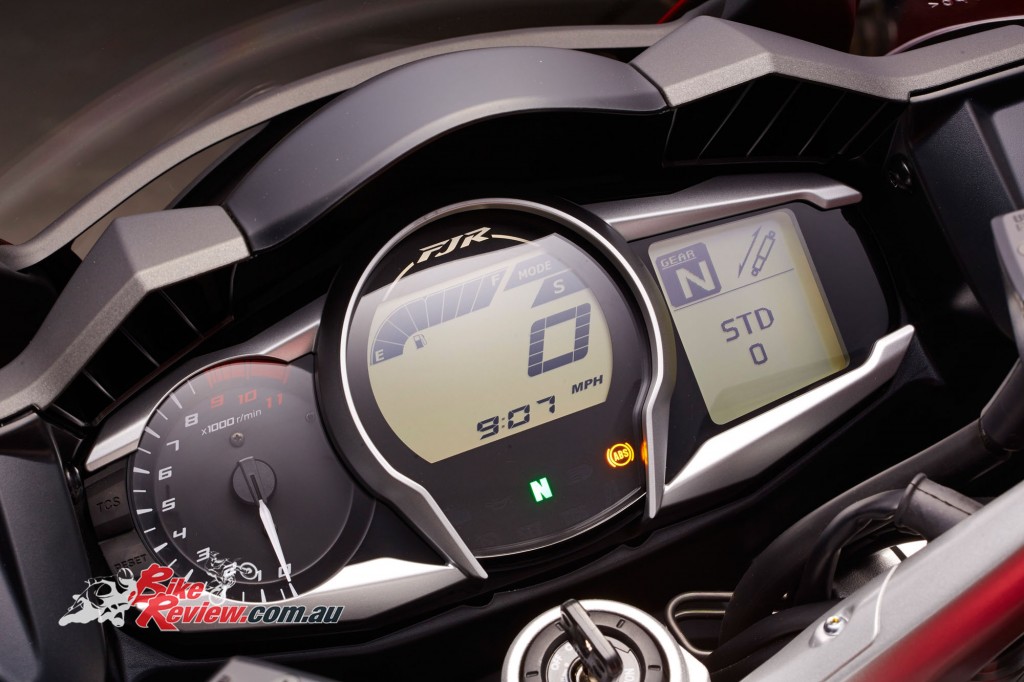 ELECTRONICS
If you love the technology bikes are integrating into their arsenal then the FJR won't disappoint. There's now a fly-by-wire throttle or YCC-T (Yamaha Chip Controlled Throttle), two power maps for sport or touring thanks to Yamaha's D-mode system, a very effective and user friendly cruise control, switchable traction control and ABS. All are easily accessible via simple switches on the new hand control units and intuitive displays on the new multi-function dash with analogue tacho.
The faster moving screen remembers its set position when the ignition is turned off, restyled fairing with cool built in strip LED indicators and LED lights along the bottom of the headlights. The fairing includes tool-less adjustable middle panels (or flutes) for flowing warm air either away or onto the rider. Revised venting under the screen provides improved airflow into the cockpit. There are also a number of other changes including tail light lenses, battery box and main stand.

SPECIFICATIONS: Yamaha FJR1300A
yamaha-motor.com.au
CLAIMED POWER: 107kW [146hp]@8000rpm
CLAIMED TORQUE: 138Nm@7000rpm
WET WEIGHT: 289kg
FUEL CAPACITY: 25L
ENGINE: Liquid-cooled, four-stroke, DOHC, EFI, forward inclined parallel four-cylinder with wet sump, 79.0 x 66.2mm, 1298cc, 10.8:1, TCI Ignition, shaft final drive
GEARBOX: Constant mesh five-speed
CLUTCH: Wet multiple-disc coil spring
CHASSIS: Aluminium, Diamond Shaped, Rake: 26°, Trail: 109mm.
SUSPENSION: Fully adjustable 48mm telescopic forks, 135mm travel, Linked monoshock with adjustable preload and rebound damping, 125mm travel
BRAKES: UBS ABS, dual 320mm front rotors, four-piston calipers, single 282mm rear rotor, two-piston caliper
TYRES: 120/70 ZR17M/C (58W), 180/55 ZR17M/C (73W)
DIMENSIONS:
Wheelbase: 1545mm
Length: 2230mm
Width: 750mm
Height: 1325/1455mm
Seat height: 805/825mm
INSTRUMENTS: Multi function LCD display with analogue tachometer.