With a bunch of the latest adventure bikes to get through, I needed the right gear, particularly in the middle of winter. Here is a review on my DriRider Vortex Adventure Jacket, DriRider Vortex Adventure Pants, RX Adventure Gloves, Sidi Armada boots & Sidi Socks.
DRIRIDER VORTEX ADVENTURE JACKET
I've been seriously impressed by this jacket which has become my daily jacket, with my first outing a trip from Sydney to Mudgee and back in the middle of winter. It was hovering around 1ºC to 2ºC a lot of the time, particularly up through the Bells Line Of Road, Lithgow, Bathurst and Sofala.
I was toasty and warm the entire trip with the winter lining fitted along with the extra waterproof insert. It was raining a lot too and not a drop got through. On the way back in the dusty sections, flat out chasing six fellow journalists, no dust got through. Impressive stuff. Even the pockets remain dry and clean.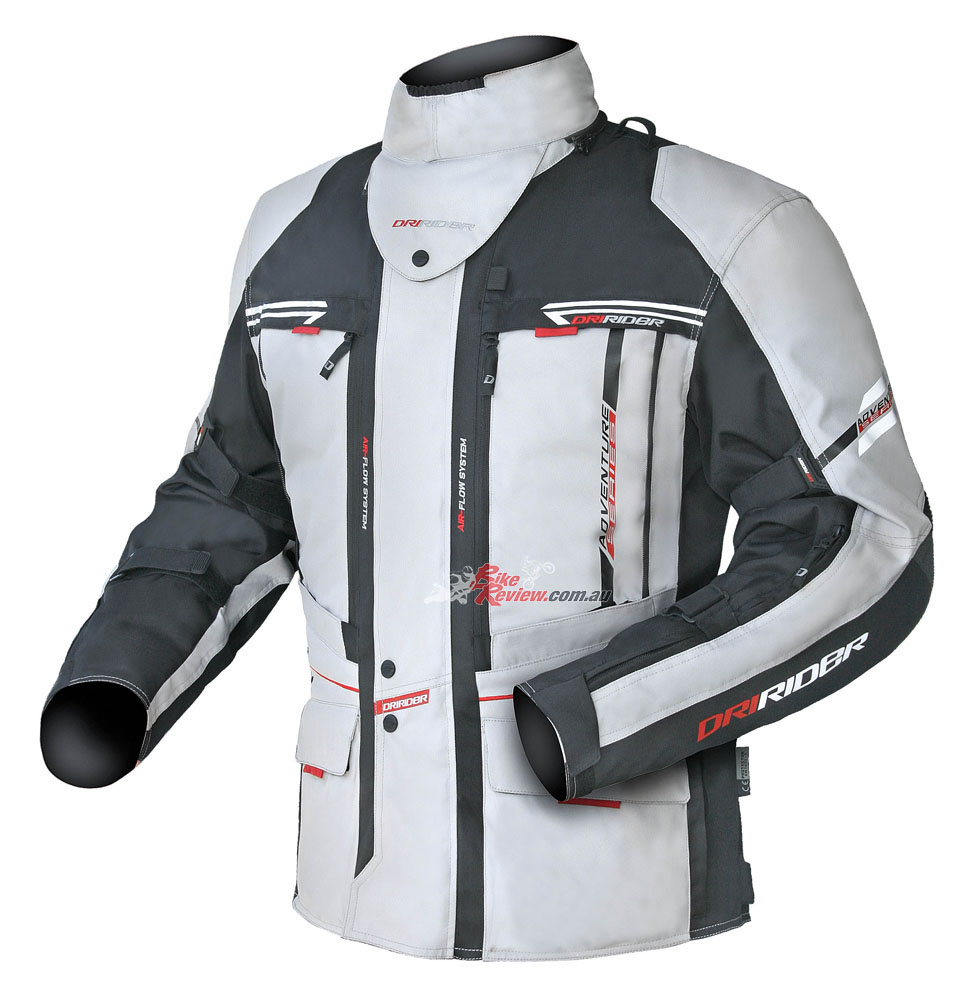 I've also been using the jacket over my leathers on the roadbikes and find it fantastic. I simply remove the lining but leave the back protector and armour in. The stretch panels in the shoulder and elbow ensure comfort and ventilation panels are well sealed when closed but when open, provide good airflow.
The best part of the jacket for me is the neck area, called the Throat Coat. This double Velcro's and completely seals your neck and chest from the weather, without causing skin irritation.
The jacket is highly adjustable, lightweight and very good quality. RRP $449.95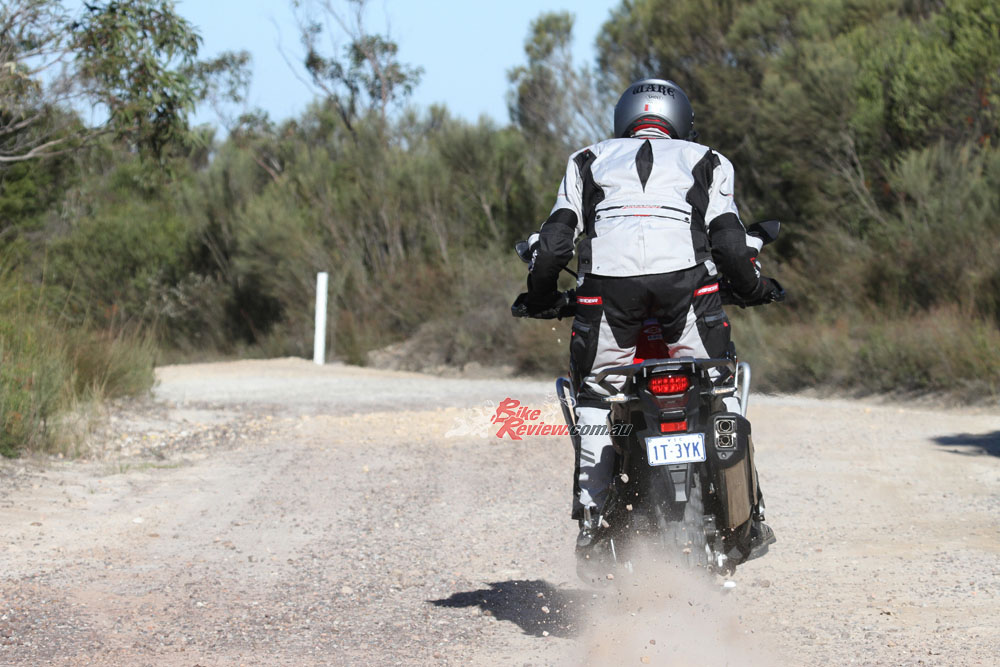 DRIRIDER VORTEX ADVENTURE PANTS
I've had quite a few long trips to do lately and these have been fantastic. They offer good weather protection as they fit over your boots. The pockets are fantastic and weatherproof, like the jacket they have reflective print for night safety and zip to the jacket as well.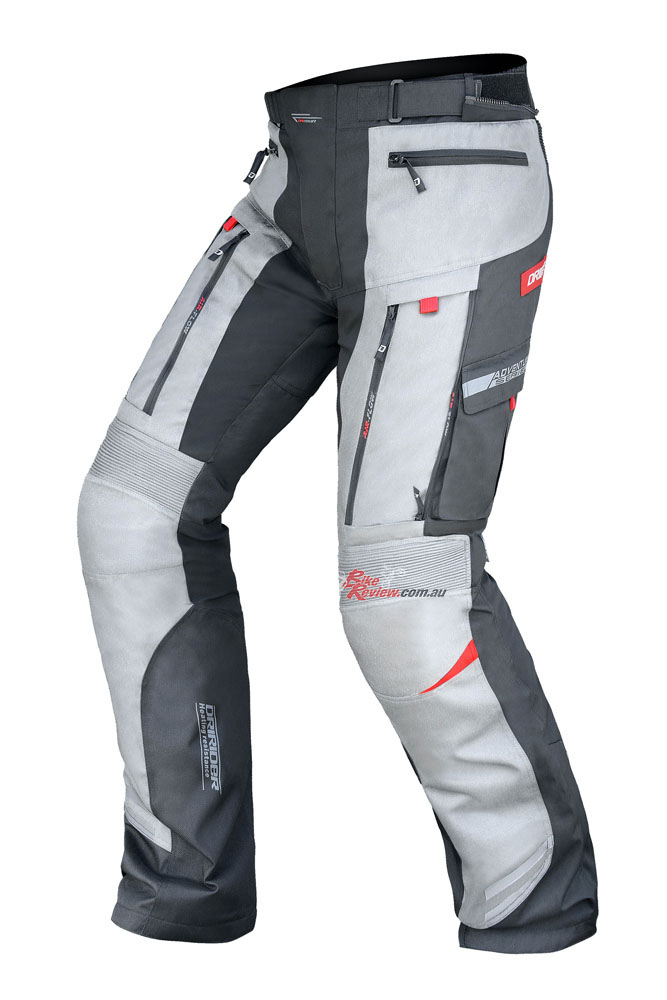 The pants are lined and the stretch panels around the family jewels keep you comfy. I use the thermal liner and the waterproof liner in cold and wet conditions but generally run no extra liners. With knee armour and double layer seat the pants are safe and they are also top quality. RRP $319.95
DRIRIDER RX ADVENTURE GLOVE
These are lightweight shorty enduro/adventure gloves that are fantastic. They are made from a stretch material so they are super easy to put on and are comfy.
They feature knuckle protection and are good for off road stints but would also make good streetfighter or stunting gloves. $54.95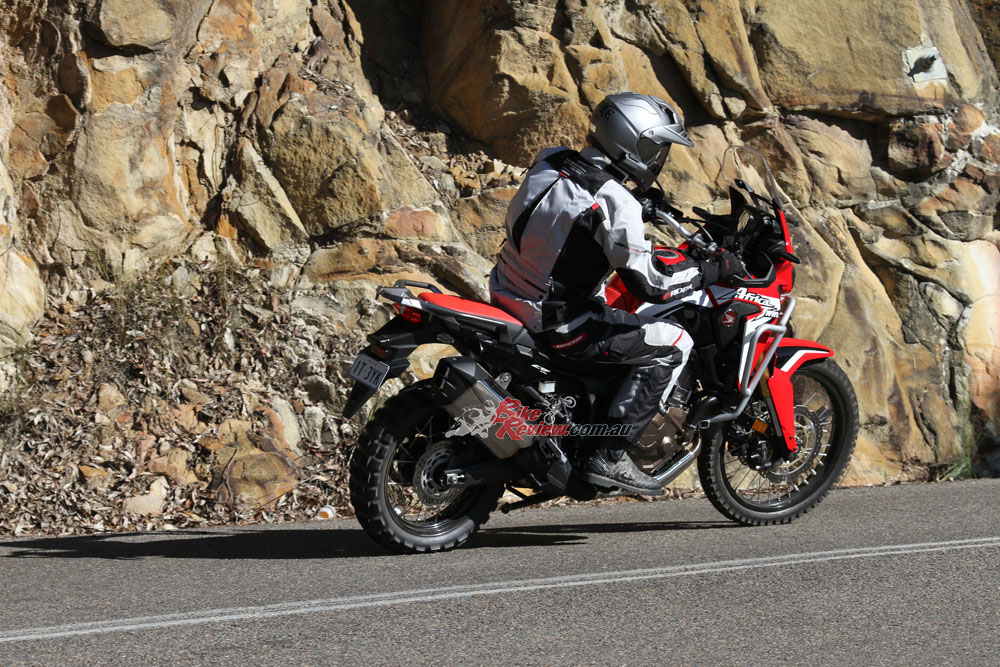 ARMADA GORE-TEX ADVENTURE TOURING BOOT & SIDI SOCKS
These Sidi boots are seriously hardcore. I've been using them for touring and for adventure riding.
There is an upper wrap around feature that can easily be removed for roadbike and touring use, or fitted for adventure riding.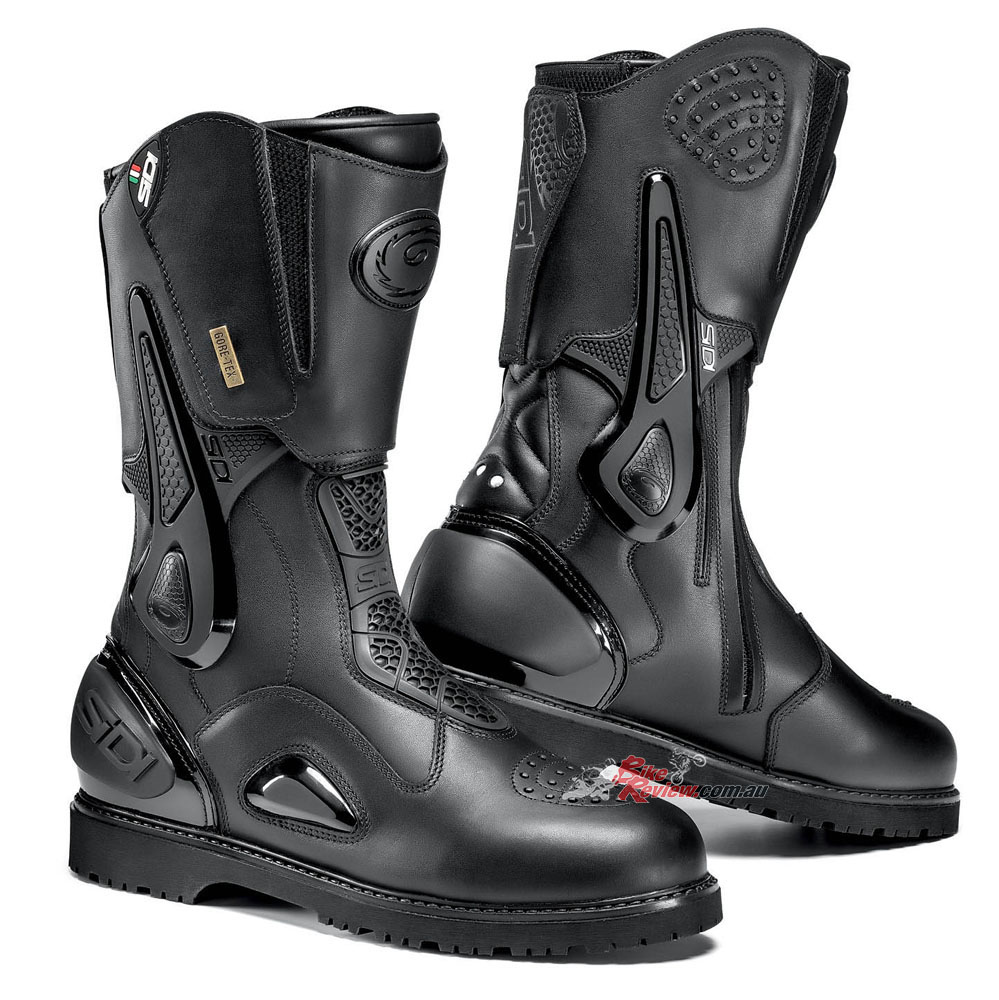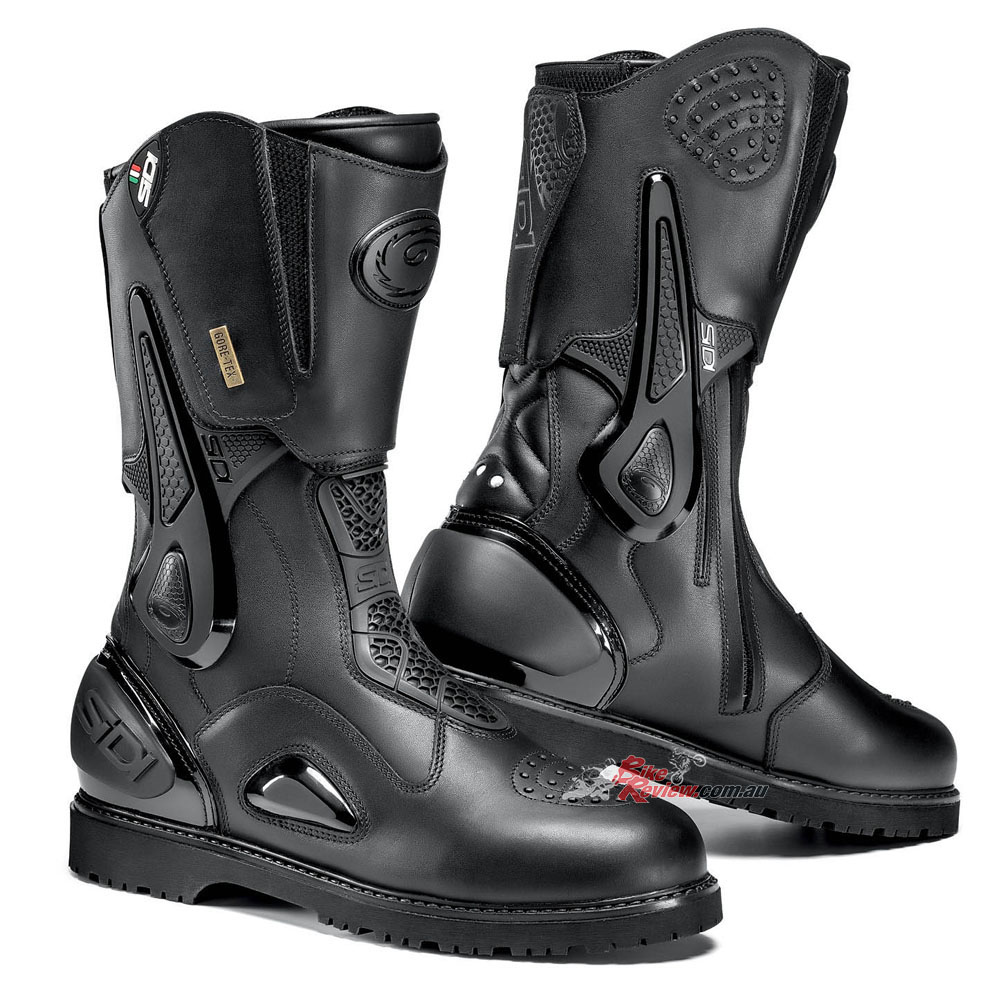 The Gore-Tex inner ensures breathing and no stinky feet – and in combination with these awesome Sidi technical socks I could ride all day in the boots. They are showing no signs of wear despite regular use. A great boot so far! $599.95.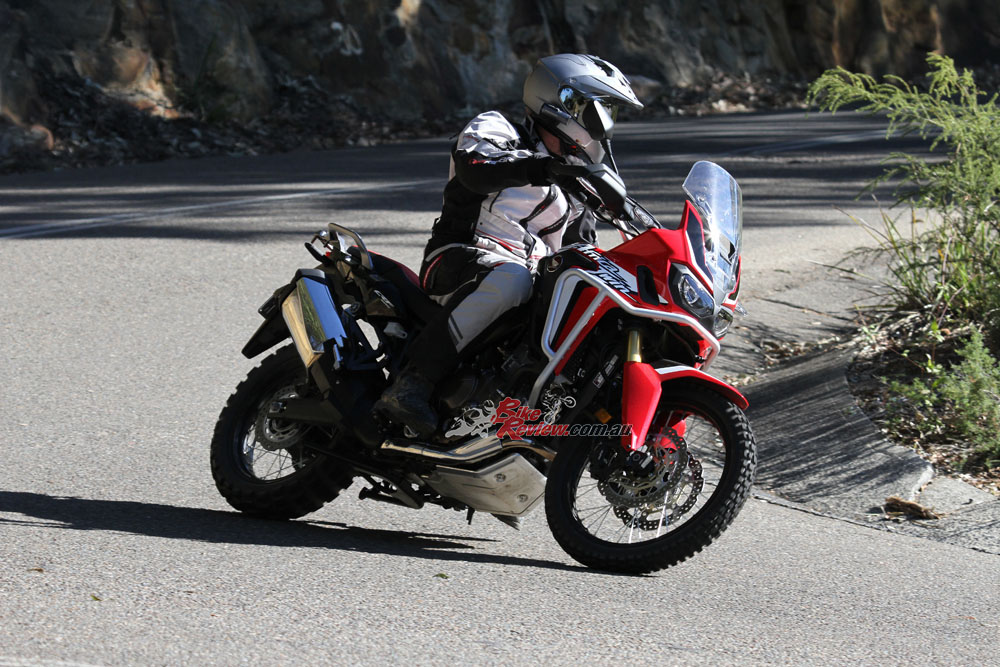 SHOEI HORNET
The Shoei Hornet Adventure's shape was designed to improve air intake and ventilation performance, reduce drag and lift, and improve stability, while giving the rider the additional air breathing space.
Abandoning the traditional mouthpiece of an off-road helmet, the Hornet X2 provides the additional protection needed when weather conditions become adverse and the multi-stage lower vent shutter allows the rider to fine-tune airflow for all riding conditions.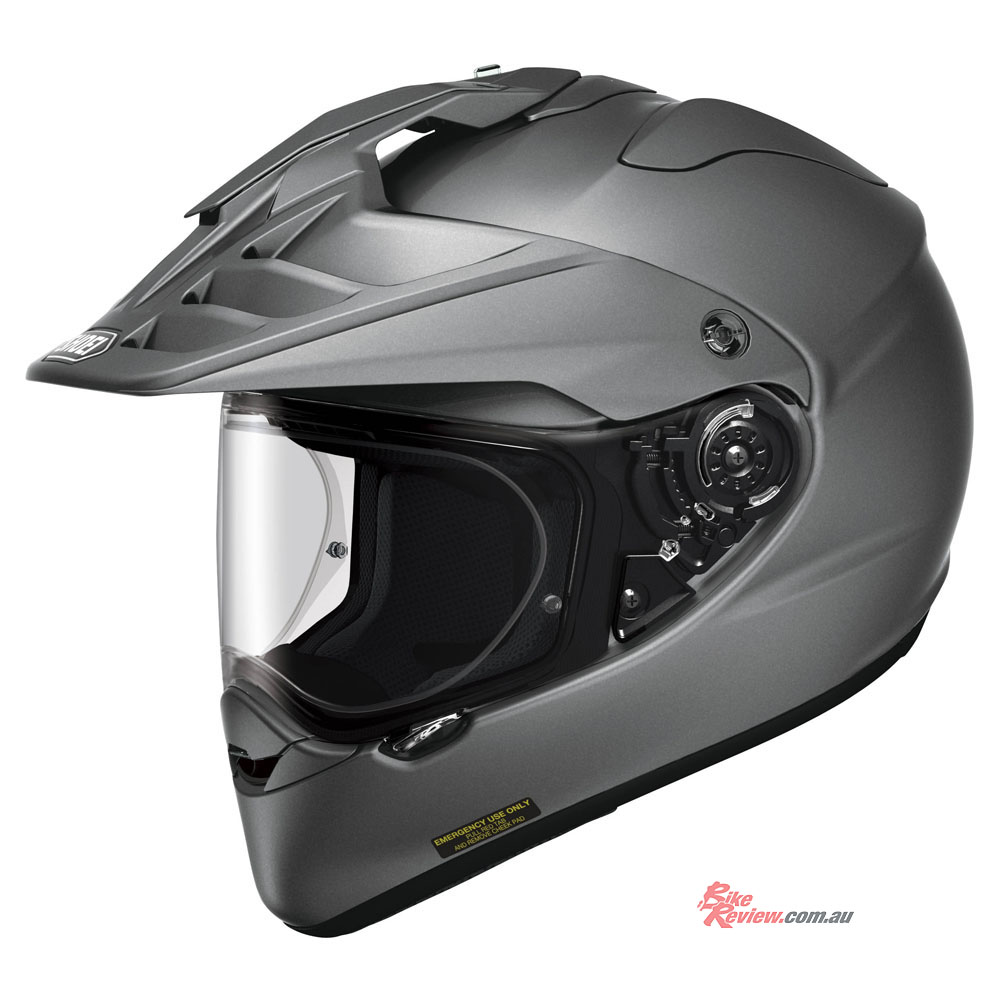 I've found it to be a very versatile helmet I've used for all sorts of riding from Adventure to Streetfighter type testing. It is ultra lightweight, seriously comfy and the visor system is brilliant, as is the visibility.
The new Hornet ADV Adventure helmet is available now in sizes XS to XXL in a range of solid colours and three graphic designs – available from $879 RRP!
THE DRIRIDER, SHOEI AND SIDI ADVENTURE TOURING GEAR IS AVAILABLE FROM YOUR LOCAL DEALER. mcleodaccessories.com.au
The Verdict | Gear Review: DRIRIDER Vortex Kit, Sidi Armada Boots, Shoei Hornet ADV helmet
Great kit that is hard wearing and versatile
DriRider Vortex Adventure Jacket
10
DriRider Vortex Adventure Pants
10
DriRider Adventure 2 Gloves
8
DriRider RX Adventure Gloves
8
Sidi Armada Gore-Tex Adventure Boot
10
Shoei Hornet Adv Helmet
10