Shoei's GT-Air is an ideal all-rounder helmet, with great comfort and air flow and a drop down sun visor, that removes the need to lug around extra shields.
The Shoei GT-Air includes all the features you'd expect from one of the world's premium motorcycle helmet producers, with a lightweight AIM+ Shell construction and aerodynamics that help minimise buffeting and drag, in part thanks to a spoiler integrated into the shell design.
Ventilation and airflow is great, with two front and one rear vent that can be opened and closed and while Shoei claim noise reduction improvements have been made at highway speeds I still find the wind buffeting loud, even with the included ear pads fitted.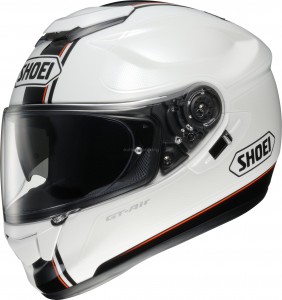 The GT-Air also uses the CNS-1 sheild (visor) to which you can fit the optional Pinlock system, something I highly recommend as this will greatly reduce the amount of fogging you'll suffer from and ensure you've got vision in the worst of weather.
The sun shield itself was probably the most exciting feature for me, but that's partially because the Shoei helmets I've tested have all fit so well and done a great job, with little to criticise. The drop down sun shield though is easily controlled with a single hand, preferably your left for safety and blocks a large amount of light – 99 per cent of the sun's damaging UV rays in fact, according to Shoei.
The result is a helmet that's a perfect all rounder, and doesn't require lugging around an additional visor, which if you travel light can be a big consideration.
The interior padding/liners is also removable and replaceable, so when you've washed it enough times and feel it's starting to lose it's shape after a few years, you can actually purchase a new set that will make it feel (and smell) like new again, keeping the fit nice and tight.
Plus the GT-Air also features the Emergency Quick Release System, that allows the cheek pads to be removed by emergency personnel in the event of an accident, where neck injury may be suspected or likely and removing the helmet without causing further harm is important.
I tested a Wanderer TC-6 graphics GT-Air, which is a white helmet with a 'racing stripe' and has a very light pattern over the white, which is hard to see in pictures but looks great in person, and there's a huge range of designs available. The benefit of the mostly white helmet in this case was great visibility, but still having some very cool graphics when you looked at it up close.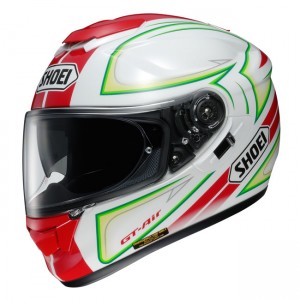 The GT-Air isn't as light as the NXR I tested in a similar period, but the internal sun visor more than makes up for it and it's a great everyday helmet for riders who will be out in mixed conditions, especially if you don't want to be switching visors between night and day.
The GT-Air is available in XS – 2XL for $899.90 for graphics (size availability varies between graphics) and $839.90 for solid colours.
Special Thanks:
McLeod Accessories
Mcleodaccessories.com.au