Review: 2018 Yamaha NMAX 155 Scooter
The Yamaha NMAX has been upgraded to 155cc from 125cc, making it a better option for the suburbs.... Review: Jeff Ware Photography: HMC Photography
The NMAX is one of Yamaha's most popular scooters globally. Reliable, stylish, well priced, super efficient and with plenty of storage, the previous 125cc capacity version we had here was increased to 155cc for the overseas market in 2015 and has now arrived Down Under for us to enjoy. Amazingly the price has dropped from $4199 to $3999 + ORC!

I recently spent a bit over a week living with the NMAX 155 day to day and in that time I became a fan of the stylish scoot. I'm a scooter rider from way back, having owned one when I lived overseas for a period of time as well as in Sydney in the late '90s early 2000s, which was great transport for Heather and I. You can't beat the convenience of a scooter around town.
The ease of starting, storage, riding and economy are all benefits that come with scooter ownership along with affordable rego (in some States) and insurance. Servicing can be slightly expensive due to accessibility thanks to bodywork but services are still simple. Tyre life and brake pad life are long and a scoot is less likely to get nicked or attract police attention than a bike. Win win.

The updates for the NMAX 155 and technical highlights are outlined in the tech breakout but in short, a 30cc capacity hike has given the bike a higher top speed and more torque. The Variable Valve Actuation is retained and helps with the top speed, which I recorded at 115km/h (this system switches intake lift and duration at 6000rpm with different intake cam lobes, to give optimum bottom and top-end power). The styling is the same as the 125cc version and the bike comes with a one-year unlimited kilometer warranty.
I live outside of Sydney and most of the roads in and out of my area are hilly 70 to 80km/h zones. There is also a lot of National Park around, with more open roads and hills, so normally a small capacity scooter would not be ideal and a mid range such as a 300 or 400 more suitable. This, I discovered, was not the case with the NMAX 155.
The engine has an urgency of a larger capacity scooter and can happily cruise on 80km/h all day. Acceleration from zero to 60km/h is impressive and quite good fun between traffic lights. From 60km/h to 100km/h, you would expect a small four-stroke single scoot to drag the chain but it sure doesn't do this, in fact, it continues with eagerness.
As you can see in the video, I managed over 110km/h and I weight 90kg. Although I would not rate the NMAX 155 as a freeway 110km/h scooter, it could comfortably do short stints on freeways, meaning those commuting can avoid taking the back way and take advantage of toll roads and main routes.
The NMAX comfortably sits on 90km/h, and that can be stretched to a 100km/h cruise for a short period if it means getting to your destination sooner and with less traffic.
The engine is very smooth and vibe free and power delivery is responsive. From a standstill the NMAX has plenty of go and is zippy, with no throttle snatch at all. It is user friendly yet good fun even for a seasoned rider like me. Despite commuting and running errands on the NMAX for over a week, I can't recall a time it didn't put a smile on my face during the test period and I always took the long way home. I was looking for excuses to ride the NMAX, even in rainy weather, which is always a clear indicator that it is a good thing and not something I just had parked in the shed for a week.
The exhaust note is whisper quiet, which isn't a bad thing, but there is still enough note combined with engine noise to make sure fellow road users are aware you are coming through. It would be cool with a neat slip-on though just for laughs! Fuel consumption is of course fantastic, with a range of around 43km/l during my test period, for my weight and heavy right hand not bad from the 14.8hp, 13.5Nm single. The fuel tank holds 6.6L, giving a range of 280km at least. I filled up at 260km. The filler is easily accessed in the centre of the foot well on top of the divider that covers the underbone frame.
Ergonomics are not bad at all. I'm 185cm and was not cramped, able to place my feet flat or forward, with plenty of room around the knees. The divider limits foot position but the advantage of having a proper underbone frame is worth the lost foot space. The handlebars are well placed as are levers and switches. I did find the ignition switch a bit fiddly to get the key in due to the security cover.

Seat height is 765cm and the seat is narrow at the front, which will help shorter riders. The downside is the seat can become rock hard after 30-minutes in the saddle, not ideal for a long commute. Over bumpy surfaces, with the rear suspension reaching its 90mm travel limit, the seat can get very uncomfortable. I found myself standing at traffic lights…
Ground clearance is an impressive 135cm, meaning the NMAX can be cranked over on the 110 and 130 section Dunlop Scoot Smart 13in tyres. With a 26º rake angle and 92mm of trail it is a rewarding and fun scooter in the twisties that owners with a proper bike will appreciate. Fork action is good in scooter terms, with 100mm of travel and only bottoming out over the bad bumps at speed.
At 740mm wide the 155 is ideal for tight traffic situations, where the mirrors offer a reasonable view and the rear brake helps keep the bike balanced. Turning circle is an impressive two meters and the wheelbase 1350mm, with length 1955mm. Feet up U-turns are easy, while parking is a breeze with either a centre-stand or the sidestand to choose from, the latter cutting engine on engagement.
Braking either around town or on more high speed roads is impressive, with good feel from both ends and plenty of power. The ABS is active at all times and worked well during my wet road braking tests.
The NMAX instruments are stylish but easy to read, with a centrally placed digital clock displaying speed, time, trip, km, fuel level and live consumption. The LED headlights offer a decent spread of light at night, also important for commuting in the non daylight savings period.
Storage is great, with plenty of room for a full face lid under the seat, a cup holder at the front left-hand side and a small glove compartment. There are top box options available for those in need of more. Mounting the radiator and thermo fan on the right-hand side of the engine allowed for extra space around the knees for features like storage.
Styling? That is a personal thing but I really like it and the finish is good, particularly for the price range.
If you need a commuter or second transport in the household, this could be a great option.
2018 Yamaha NMAX 155 Technical Highlights
The NMAX 155's EU4-compliant engine has been developed using Yamaha's advanced Blue Core technology. This innovative design approach focuses on increasing combustion and cooling efficiency while at the same time reducing power losses, to give you quicker acceleration with a higher top speed and reduced fuel consumption.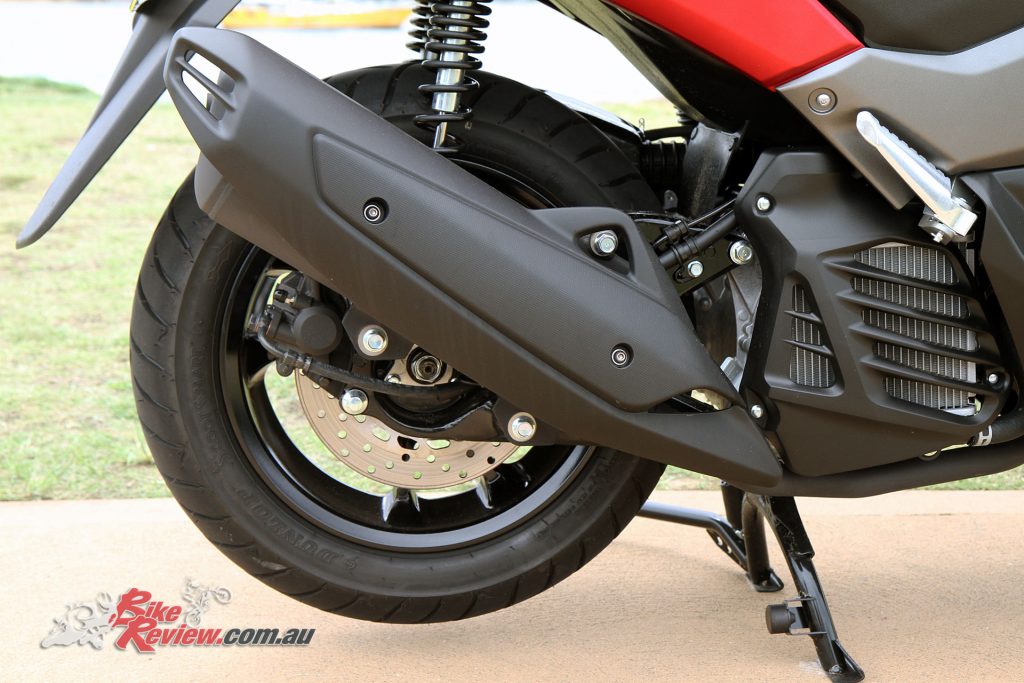 The sporty look and premium design of the sleek bodywork has been influenced strongly by our Sport Scooters. Its integrated tail end gives the NMAX 155 a sporty and sophisticated look – while the boomerang side motifs and central tunnel underline its strong Yamaha MAX heritage.
A key feature that makes the NMAX 155 such a sporty performer is its variable valve actuation (VVA) system. The four-valve cylinder-head uses a special camshaft that enables the engine to operate more efficiently at low and high engine speeds, giving stronger acceleration in all rev ranges, together with good fuel economy.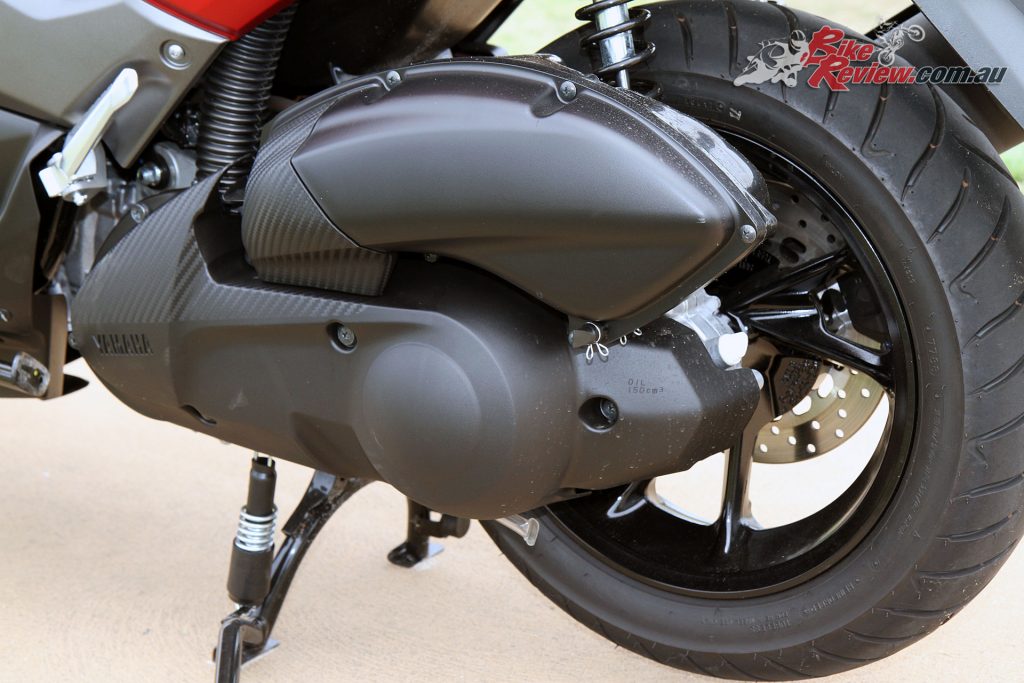 NMAX 155 is equipped with an immensely strong and lightweight tubular frame that delivers a sporty ride and stable handling with easy handling. Featuring a twin shock rear suspension system and smooth-action telescopic front forks, the high-specification chassis ensures that you and your passenger travel in comfort every time.

For strong and effective stopping performance the NMAX 155 is equipped with a 230mm front disc and a 230mm rear disc that give plenty of feel for smooth braking. This high spec scooter also comes with ABS as standard, to give you even more controllable braking power and increased confidence in varying conditions.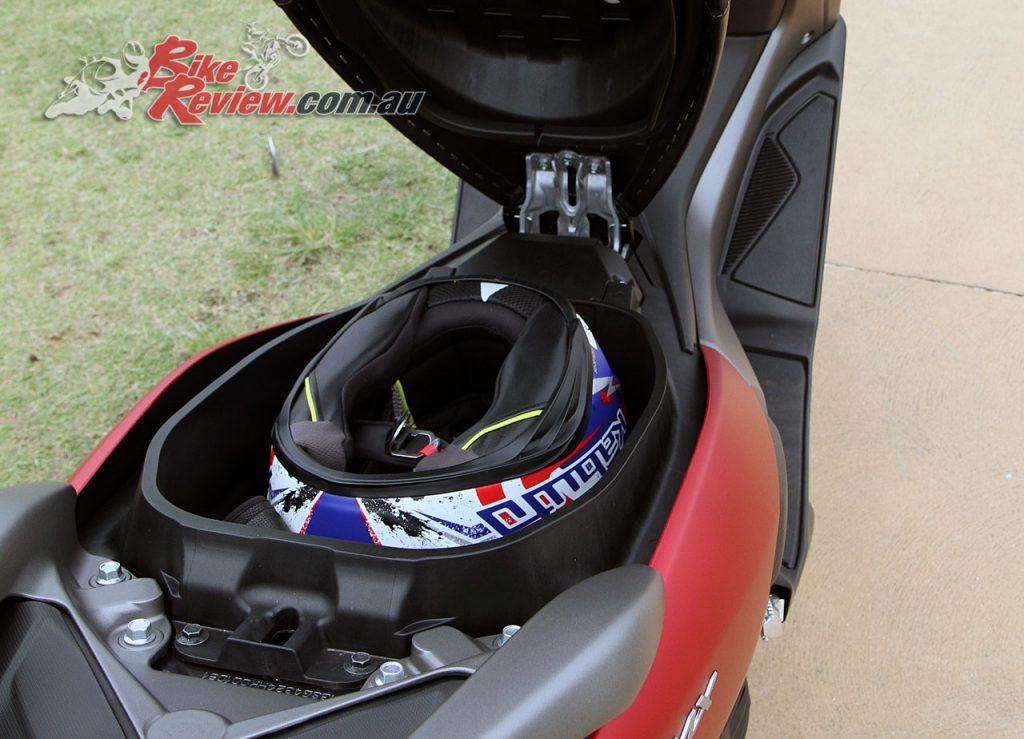 The compact NMAX 155 will fit into the tightest parking area – and yet while being small on the outside, you'll find the interior surprisingly spacious – with generous rider legroom and plenty of space for your passenger. The long stepped dual seat is designed to ensure high levels of comfort – and there's a storage compartment for a full-face helmet.
The lightweight cast alloy 13-inch wheels underline its sporty styling and premium specification and a wide section 110/70-13 front tyre and chunky 130/70-17 rear tyre.
The face of the NMAX 155 features a twin-eye LED headlight design when on low beam, while a third central light comes on in high beam mode. At the rear there's a stylish LED stoplight, and the easy-to-read LCD instruments include a bar type fuel gauge, speedo, clock and fuel economy data.
2018 YAMAHA NMAX 155 SPECIFICATIONS
Price: $3999 + ORC
Warranty: One-year, unlimited kilometre
Colours: Power Red, Frozen Titanium
Claimed power: 11.1kW@8000rpm
Claimed torque: 14.4Nm@6000rpm
Wet weight: 127kg
Fuel capacity: 6.6L
Engine: Liquid-cooled, SOHC, single-cylinder, four-valve, four-stroke, 155cc, 58 x 58.7mm bore x stroke, 10.5:1 compression, V-Belt Automatic, Variable Valve Actuation (VVA)
Gearbox: Auto

Chassis: Lightweight, small diameter steel tube frame, Unit swingarm
Suspension: Telescopic forks, 100mm travel, dual rear shocks, 90mm travel
Brakes: ABS, single 230mm front and rear rotors, single-piston calipers
Wheels & Tyres: Alloy multi-spoke 13inch wheels, 110/70 – 13, 130/70 – 13

Dimensions:
Wheelbase: 1350mm
Seat height: 765mm
Overall height: 1115mm
Overall width: 740mm

Instruments: Multifunction LCD display

2018 Yamaha NMAX 155 Gallery
The Verdict | Review: 2018 Yamaha NMAX 155 Scooter
The 2018 NMAX 155 offers good value for a Japanese middle sized scooter in Australia, where scooter prices are inflated. The Four-stroke high tech engine is strong and economical, storage is vast, styling neat, brakes and handling good and it is fun to ride.