We review the mightly KTM 390 Duke LAMS machine. Test: Simon Harris Photography: Simon Harris, Tim Munro, JPM
The KTM 390 Duke is without doubt a back street hooligan's dream bike.  Lithe, responsive, agile and capable. And, LAMS approved. Make no bones about it, you get a gun bike for your buck here that can not only bring big smiles to not only young Stoners but more mature riders also.
I had great pleasure in tooling around on the current model for a few weeks and really got to like the little duke. Having previously ridden this model on track a couple of years back in our LAMS Shootout I had an expectation of its prowess – it really suprised me then with its sheer zeal and chuckability and sure-footed handling and I had just as much fun this time.
The RC390, the Duke's faired sibling, and the 390 Duke are powered by KTM's proven high performance single cylinder engine technology that has made it a fore-runner in this type of engine configuration.
The engineers have been able to make their motors not only tractable and torquey in the traditional single style, but also high revving and distinctly performance biased units.
The engine features contemporary metalurgical and design innovations that can be summed up in an engine that weighs a mere 36kg, pumps out about 44hp and is frugal, even when being constantly hammered – my petrol receipts are testimony to this.
I can honestly say that the 390 pulls above its weight and does not complain about low engine speed demands either – it is always willing to pull from the lowest of revs, provided you have the throttle opened wide. From as little as 2500rpm to whatever the redline actually is, the engine is in there with you. Beautiful.
Holding this little gem together is a tubular steel trellis frame, formidable looking front end and lovely die-cast swingarm. The chassis  components – tyres, suspension, brakes [which includes ABS], engine and frame are absolutely spot on in terms of compatibility and suitability for purpose.
A claimed dry weight sub-140kg makes this concoction a recipe for good, clean fun that is less risky to your lifestyle in terms of licence retention than bigger capactity machines. You won't be ashamed either – it's not only cute and a little quirky, but very capable, especially in tight stuff.
Being an ultra-light machine, the available grip and corresponding chassis feedback is easy to read and understand and this is ace for inspiring confidence and for developing corner speed. The suspension is not overly sophisticated but does a fine job in holding everything together and keeping the bike where you want it to go.
In summary, the RC390 Duke is a great bike that is particularly well suited to novice riders or those seeking a friendly and confidence inspiring lightweight machine. The mini Duke represents an entry into the world of motorcycling that is bound to be positive and rewarding.
Its excellent engine-chassis combination is complimented  by decent  ancillaries, such as the under-slung exhaust, comfortable ergonomics, ABS, decent lighting and multi-function display, although a bit small in some aspects. Enough words – go out and swing a leg over one and see for yourself!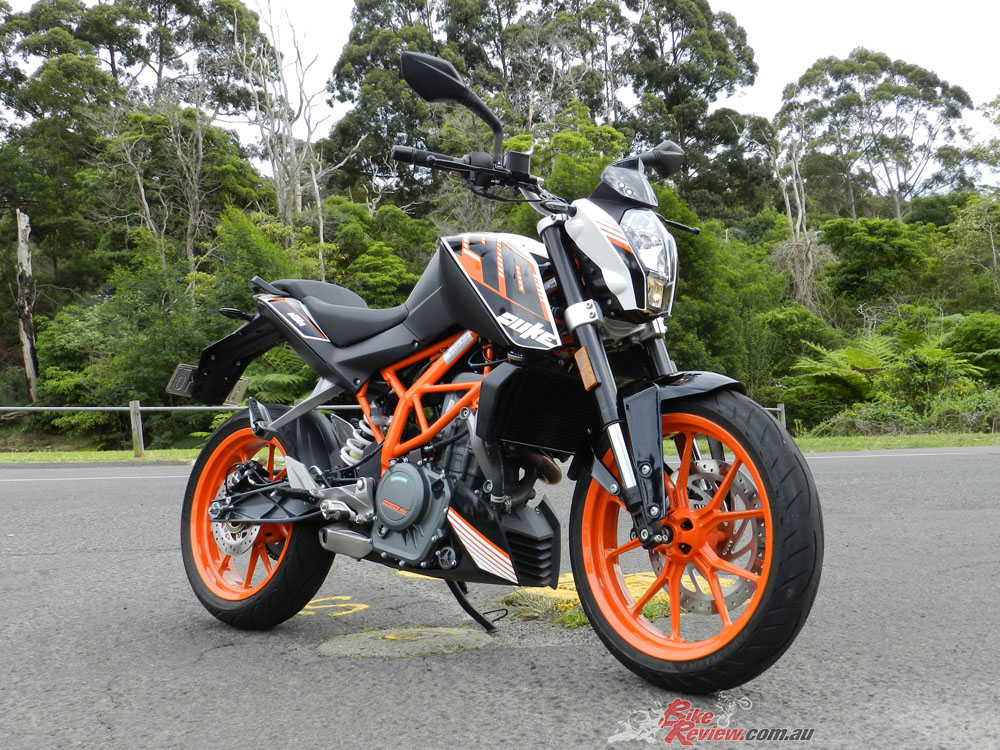 Specifications: 2016 KM 390 Duke (LAMS)
Price: $6095 + ORC
Warranty: Two year, unlimited kilometre
Colours: Back/white and black
Claimed power: 32kW[43hp]@9500rpm
Claimed torque: 35Nm[25.8ft-lbs]@7250rpm
Wet weight: 146kg
Fuel capacity: 11L
Engine: Liquid-cooled, single-cylinder, four-stroke, 89 x 60mm bore x stroke, 373cc, 12.9:1 compression, six-speed gearbox, Bosch EFI and engine management system
Chassis: Steel trellis frame
Seat height: 800mm, Wheelbase: 1367mm
Suspension: 43mm WP USD forks, no adjustment, 150mm travel, WP shock absorber with stepped preload adjustment, 150mm travel
Brakes: Bosch 9MB Two Channel ABS, Single front four-piston, radial-mounted caliper, 300mm rotor, single-piston rear floating-pin caliper, 230mm rotor
Wheels & tyres: Cast-aluminium, ten-spoke wheels, 3.00 x 17in, 4.00 x 17in, Metzeler Sportec M5, 110/70, 150/60
Instruments: Digital display, analogue tachometer

The Verdict | Review: 2016 KTM 390 Duke Quick Spin
The most fun you can have learning to ride!