Based on the Brutale 1000 RR, the MV Agusta Rush is a wild 208hp on road and 212hp with the race exhaust and ECU...
Based on the Brutale 1000 RR, the MV Agusta Rush is a wild 208hp on road and 212hp with the race exhaust and ECU. It is also the only production bike using radial valves and Titanium conrods and production is scheduled to begin in January… 
The Rush 1000 is a styling exercise celebrating the technical and stylistic evolution of the Brutale 1000 RR. The headlight unit is inspired by the RVS #1 and features LED cornering technology, while carbon-fibre panels feature prominently along with CNC machined alloy.
The rear wheel is fully enclosed, drag race style, and is made from forged aluminium with a carbon-fibre cover. The exhaust system is hand made from Titanium with a carbon-fibre heat shield.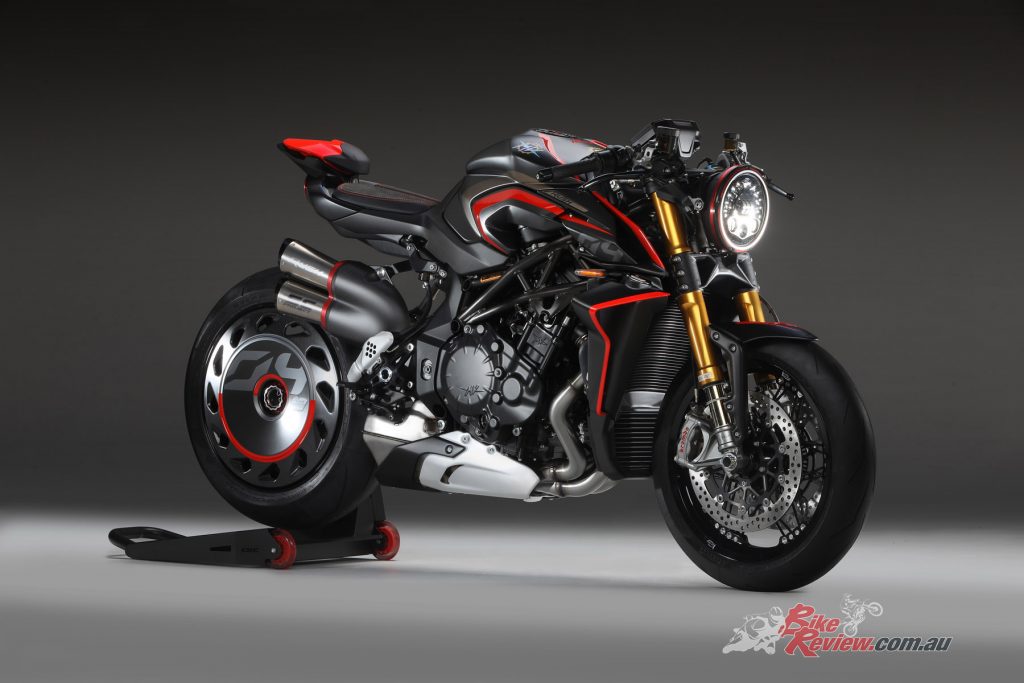 The Rush 1000 boasts the technology and dynamics of the Brutale 1000 RR. The four-cylinder in-line engine with integrated MVICS ignition-injection system (Motor & Vehicle Integrated Control System) has 8 injectors, four lower Mikuni and four upper Magneti Marelli with increased flow rate.
The Eldor EM2.0 engine control unit intervenes with the throttle-body full ride by wire Mikuni; the pencil-coil coils are equipped with 'ion-sensing' technology, detonation and mismatch control. There are four engine management maps (Sport, Race, Rain, Custom), while the traction control has 8 intervention levels plus off and wheelie control with an inertial platform.
The MV EAS 2.1 (Electronically Assisted Shift Up & Down) transmission system has been further improved in terms of ease of use and speed of action. Technological features of the four-cylinder in-line include the new crankshaft and redesigned and lighter pistons. The completely revised combustion chamber has radial valves and was designed using technology from Formula 1.
The titanium connecting rods contribute decisively to reducing masses, loads and engine inertia. Again from MotoGP comes the choice of the central distribution chain, which is also tradition for MV Agusta.
The suspension is Öhlins EC with electronic management of compression and rebound, this system allows you to choose between predefined configurations and manual settings, so as to enhance the chassis based on the rider's preferences and the course conditions.
Creating, recording and sharing every journey in the seat of your Rush 1000 couldn't be easier with the MV Ride App, which opens up a world of opportunities. For example you can customise the motorcycle's electronics with just a few touches on your smartphone. If you want to share the best riding experiences, all you have to do is click… Navigation functions can also be easily accessed via mirroring on the dash with the MV Ride App.