Looking for all things MV Agusta in Western Sydney? Look no further than MV Agusta Parramatta, with the full bike range, service facilities and a great variety of bike gear available in store.
If you're looking for the MV Agusta experts in Western Sydney then look no further than MV Agusta Parramatta, located on James Ruse Drive and just off the M4 Motorway, making for an easy to reach premises, with a great display of MV Agusta exotica.
MV Agusta Parramatta is Sydney's flagship MV Agusta concept dealership, and offers a premium experience, whether you're just out to check out the full MV Agusta range, are interested in buying a new bike, or back for a service or some gear.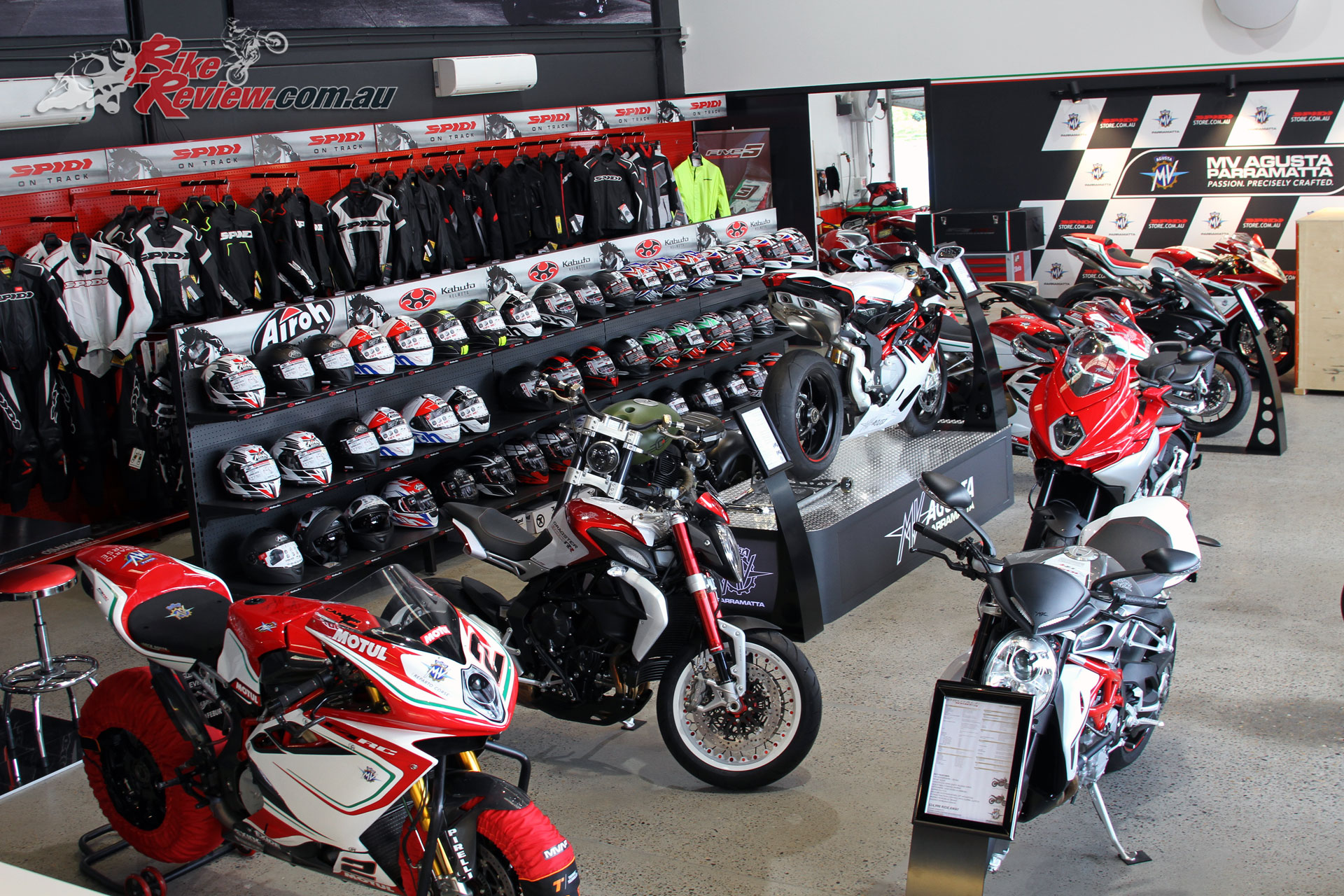 It's easy to see the passion and investment Dave and Damien have in not only their dealership, but also towards the MV Agusta brand itself, while the workshop out back gives an insight into the breadth of machinery they service, including a variety of brands, with plenty of exotica.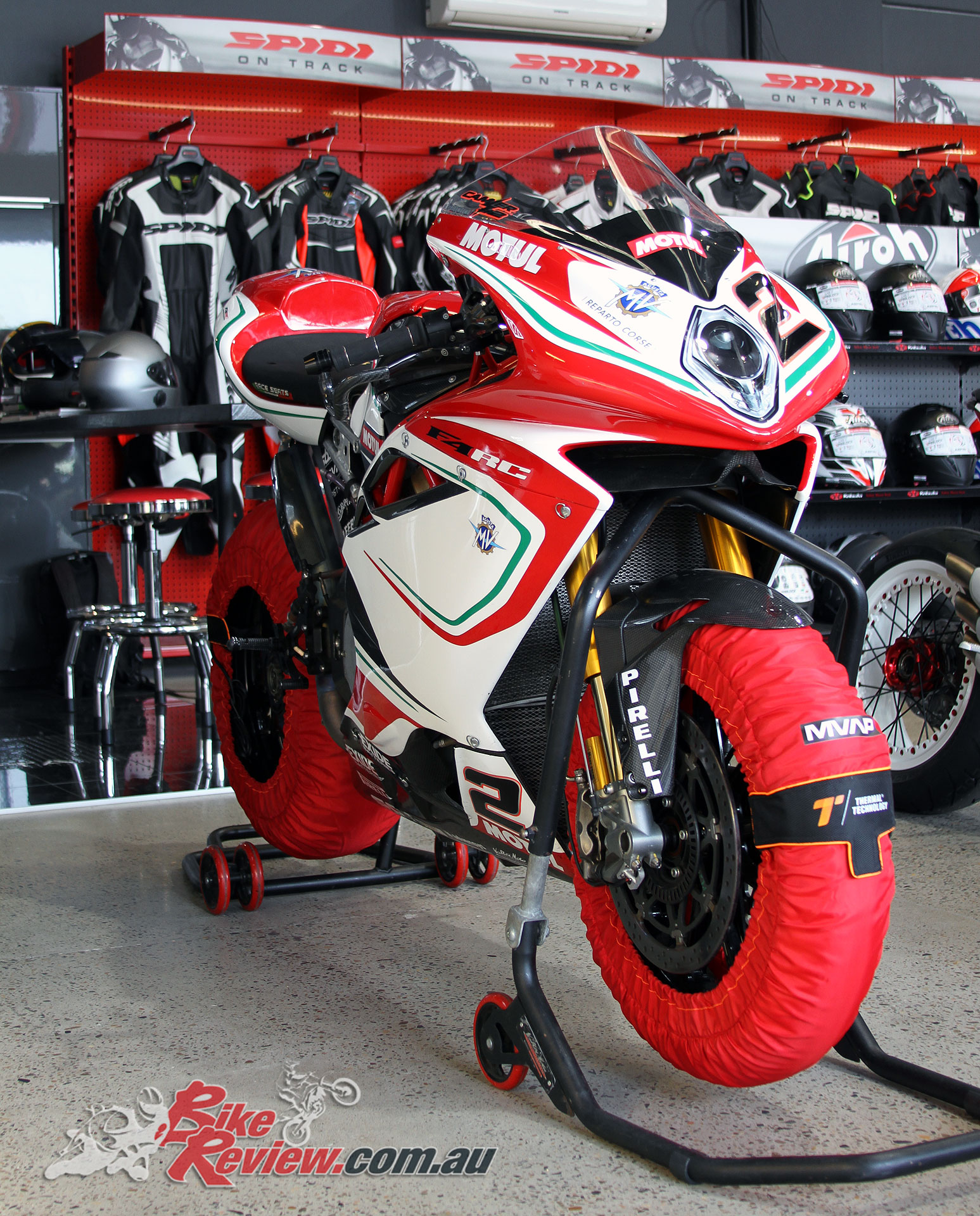 There's also a large range of MV Agusta test machinery available, so if you're looking to get a taste of the latest MV before purchasing, or to decide which model is right for you, give them a call or drop in and find out what your options are, and test out your top picks.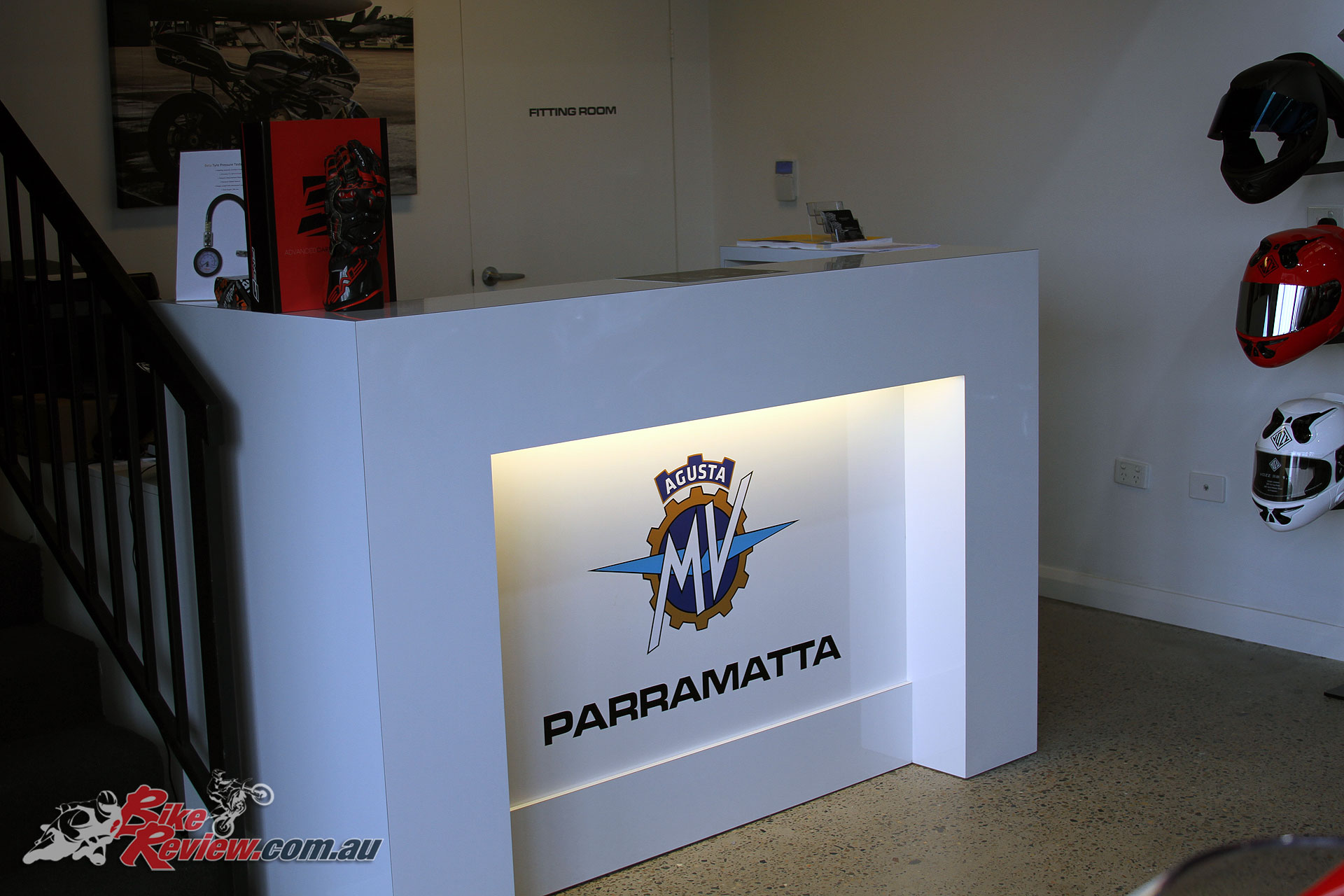 There's also a large range of bike gear available from brands such as Spidi, Airoh, Five Gloves, and Kabuto, and you can browse their online store from the website, as well as heading in-store if you like the in-person experience.
Regardless of whether you're a hard-core MV Agusta enthusiast, or just generally bike mad, it's well worth a visit to MV Agusta Parramatta.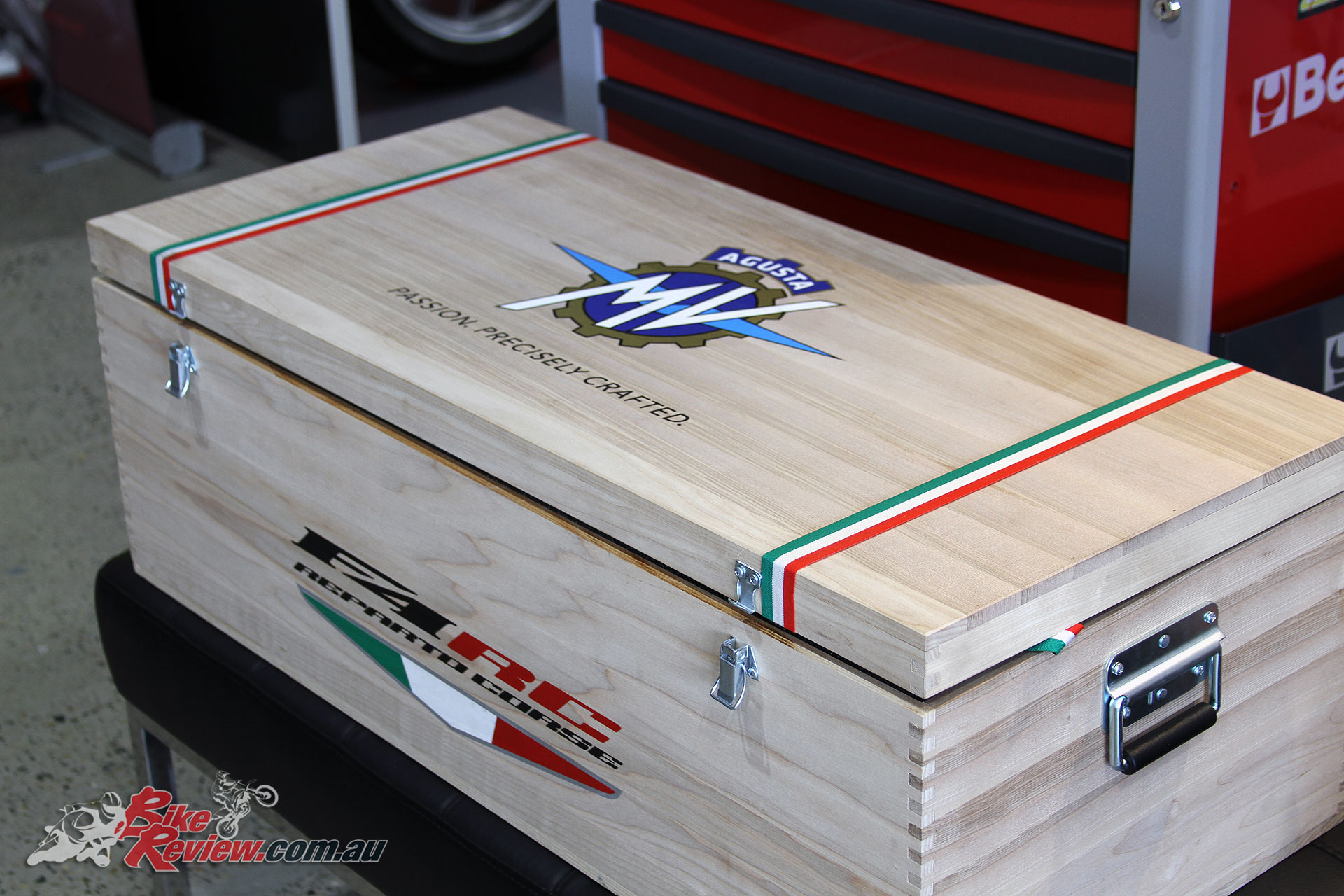 Quick chat with Dave from MV Agusta Parramatta
HOW LONG HAS THE BUSINESS BEEN GOING?
We launched the dealership in December 2016, but we have been involved with MV Agusta for a number of years in the dealer network and almost a decade as MV Agusta owners and enthusiasts.
DID YOU START THE BUSINESS?
Yes, as owners of the business we were involved from the initial concept and design, and carried out fit-out works ourselves where possible.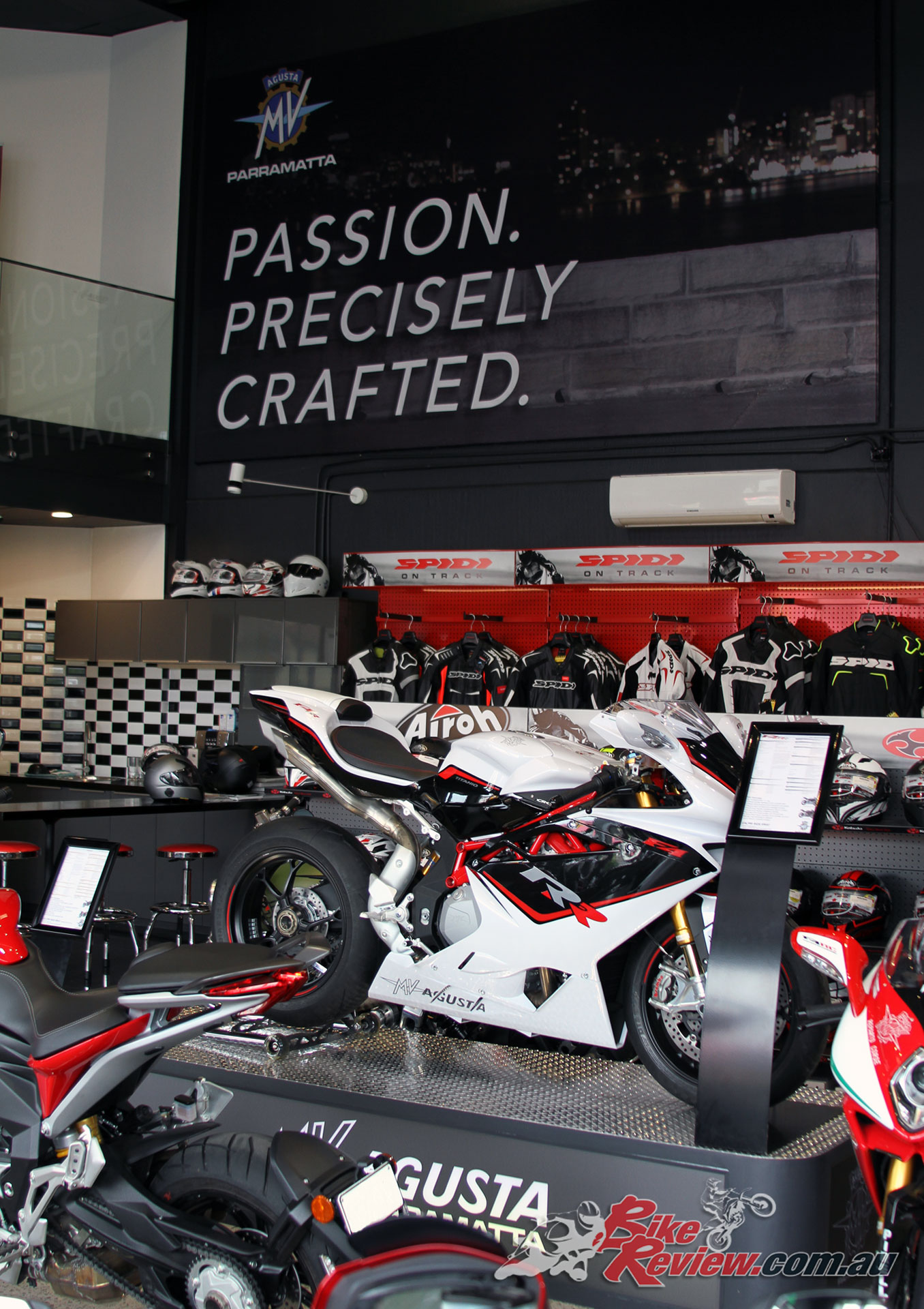 WAS IT DIFFICULT TO START THE BUSINESS?
Of course. For anyone starting a motorcycle dealership it is a big commitment, involving a lot of capital and many moving parts. Luckily we had the support of friends and family and the team at MV Agusta Australia.
WHAT IS YOUR BACKGROUND:
Both owners of the business come from a mechanical background. We spent a lot of our careers with cars working with brands such as Porsche, Aston Martin, Lamborghini and Ferrari – but motorcycles were always the passion. Over the years we have received factory and national training with MV Agusta in addition to specialised training by the MV Agusta Reparto Corse World Superbike Factory Race Team.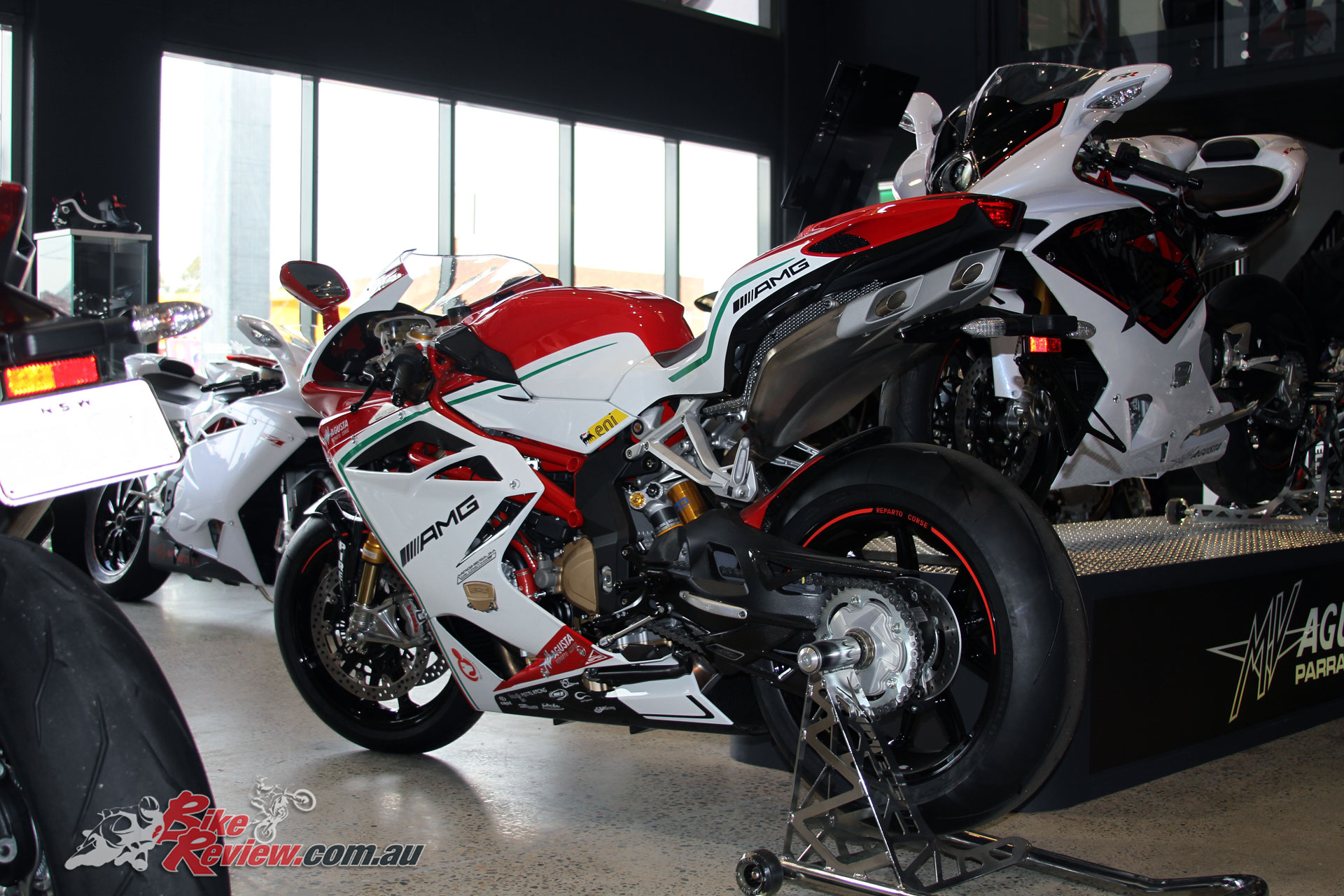 WHAT DO YOU SPECIALISE IN?
We specialise in MV Agusta, but service many clients with Bimotas, Ducatis, and Aprilias as a lot of the time we've found MV Agusta owners to have a variety of motorcycles in the garage.
HAVE YOU ALWAYS HAD AN INTEREST IN BIKES?
Always – there is a purity in the man and machine connection of a motorcycle that can't be replicated with other machines we have access to.
WHAT MACHINERY DO YOU HAVE IN THE WORKSHOP?
We have all the usual equipment – motorcycle hoists, car hoist, tyre fitter and so on. We do have a whole host of MV Agusta special tools and diagnostic equipment which assist us in doing major engine work and reprogramming engine control modules with updated maps.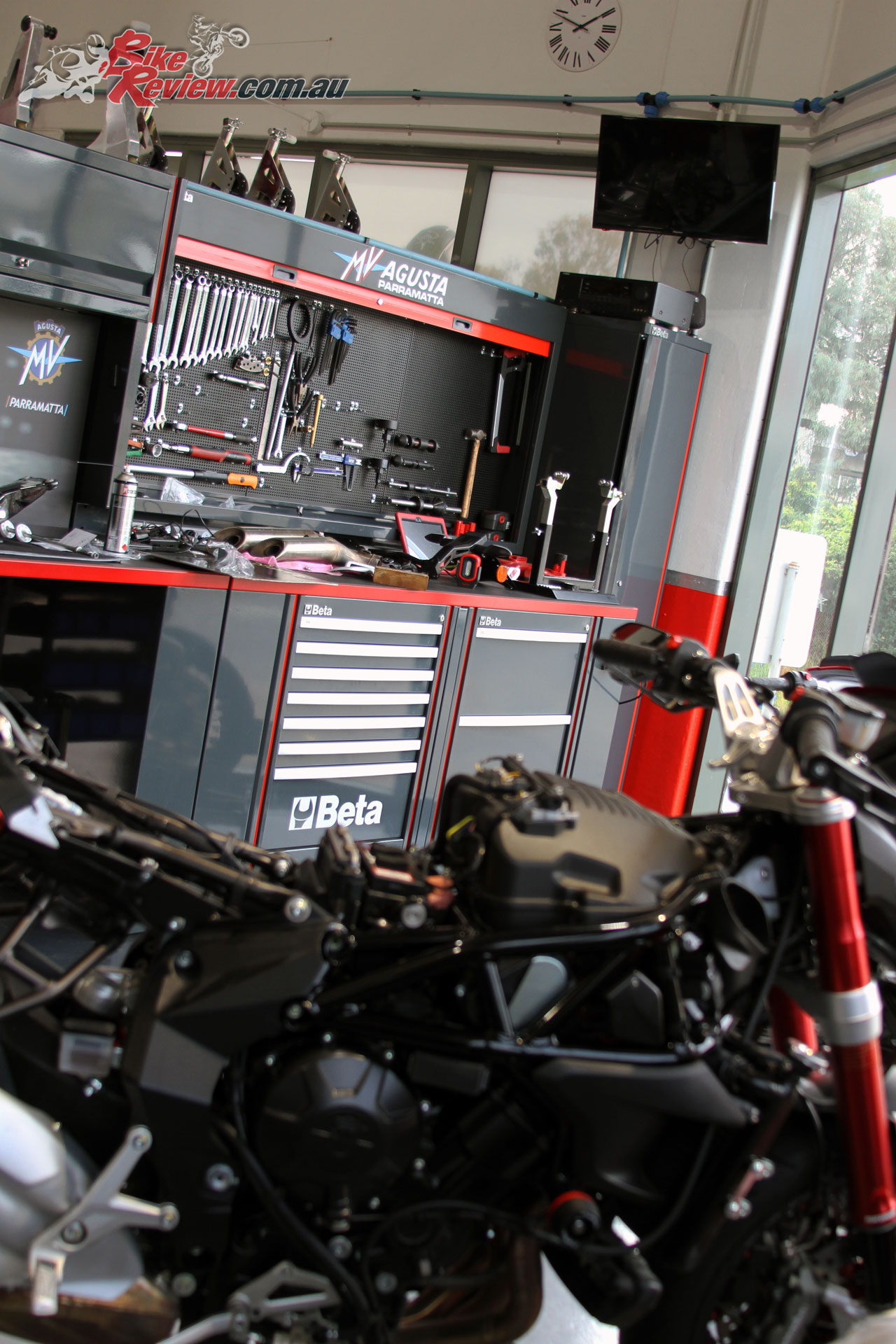 WHAT'S UNIQUE ABOUT YOUR BUSINESS?
In addition to being a MV Agusta factory-trained concept store dedicated to the brand, our personalised service would be the most unique aspect of MV Agusta Parramatta. Both owners of the business are heavily involved in all aspects of the business especially in service and after-sales to ensure that our clients are well looked after throughout the ownership of their MV Agusta.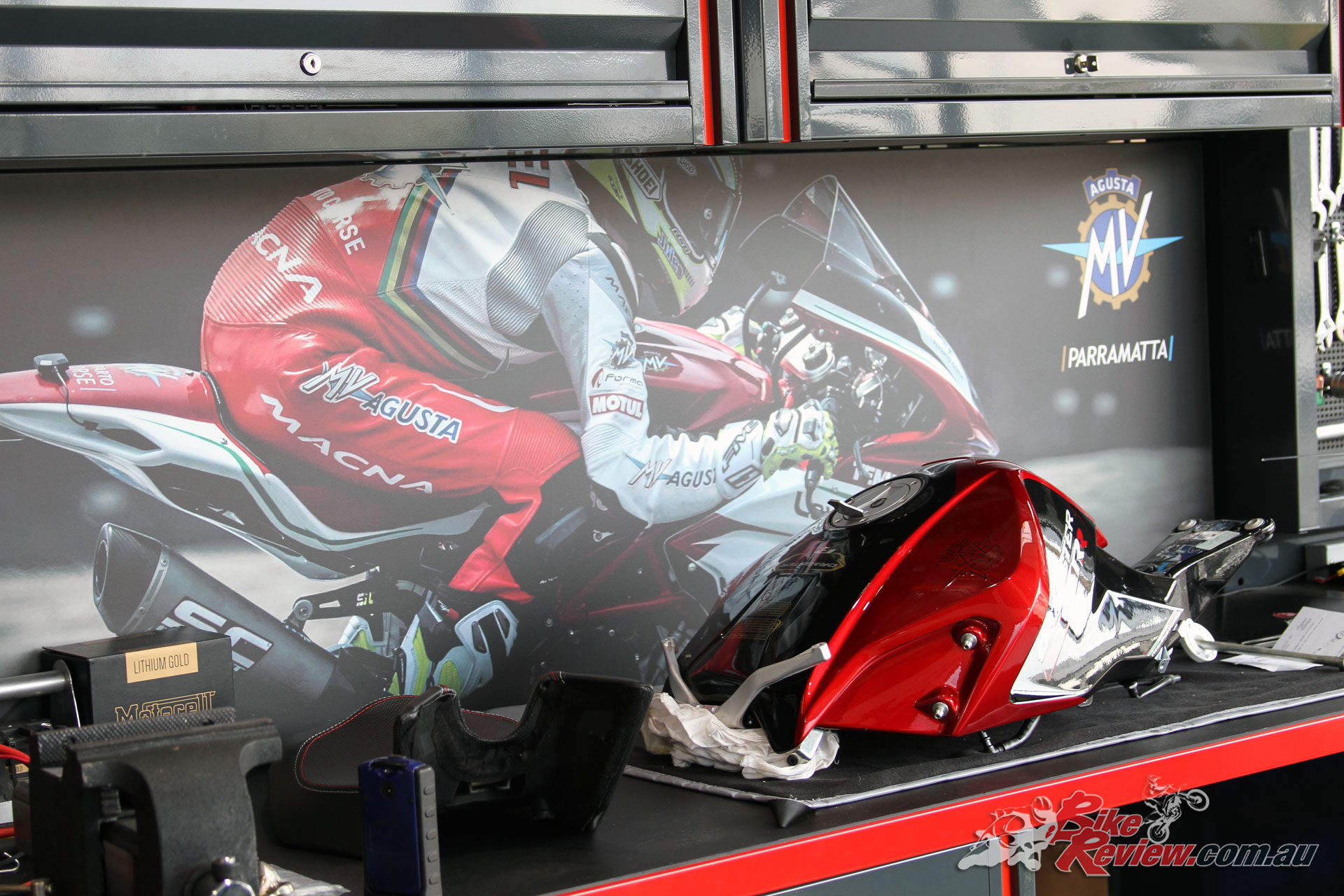 WHAT'S THE MOST INTERESTING PIECE OF WORK YOU'VE DONE?
Working on Leon Camier's 2016 World SBK F4RC in tandem with the factory race team at our dealership would be one of the most interesting experiences to date. We've also taken our own F4RC to the (then de-restricted) Stuart Highway in the NT to do some high-speed passes and filming, which was a very memorable time.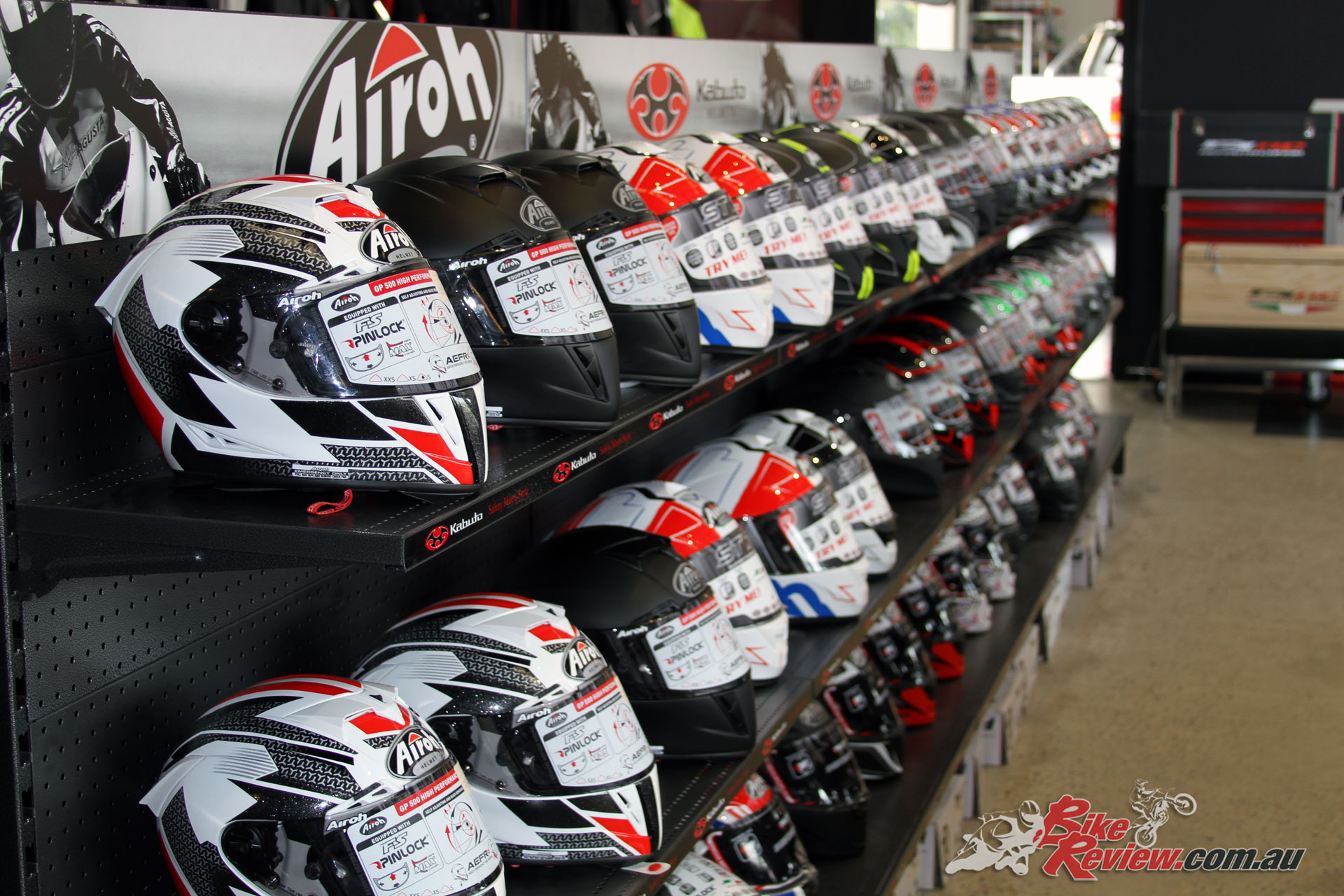 WHAT'S THE BEST BUSINESS DECISION YOU'VE EVER MADE?
Starting our own operation where we have full control of quality and the direction of the business.
DO YOU HAVE ANY REGRETS?
No.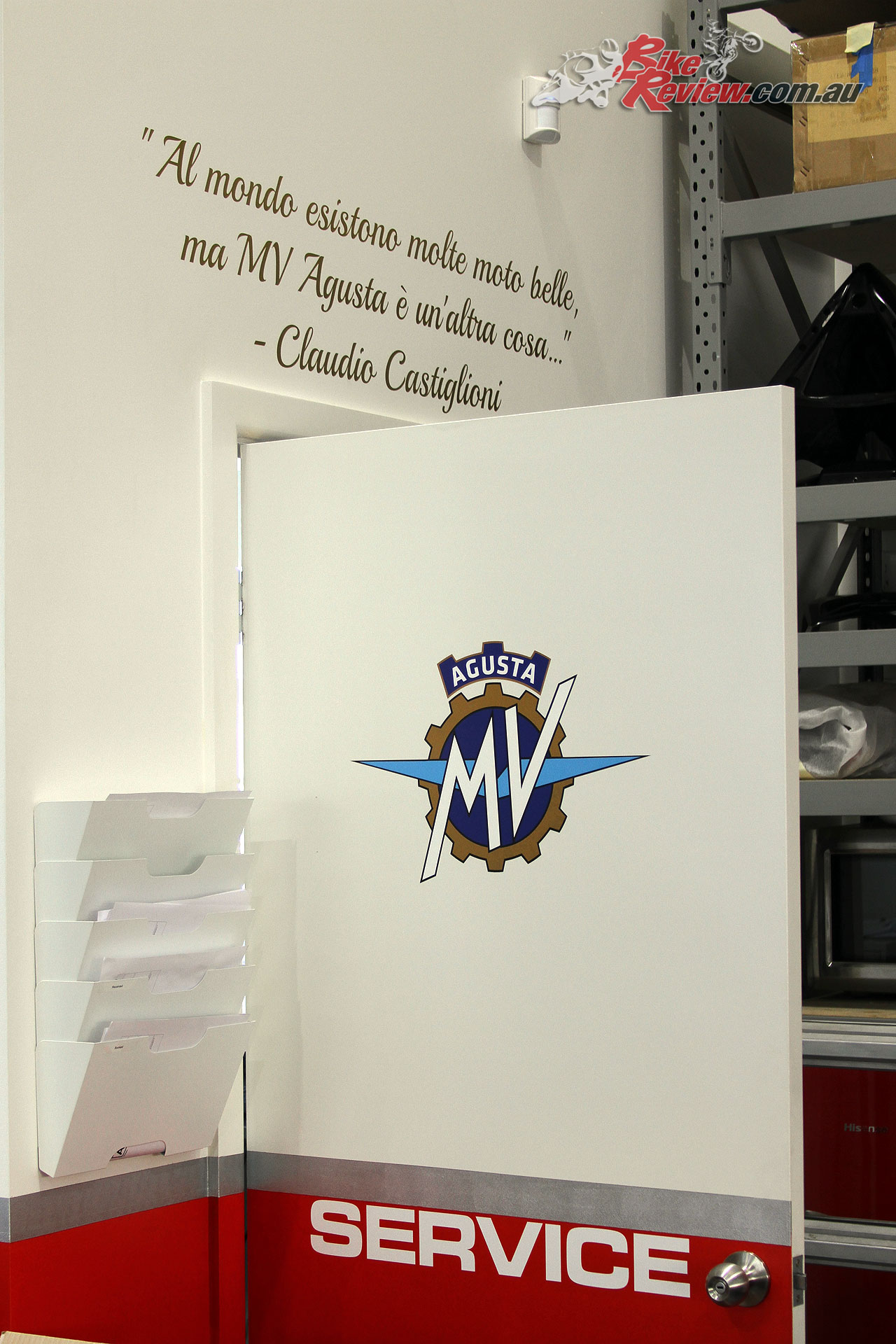 WHAT ARE YOUR PLANS FOR THE FUTURE?
We will continue to grow the business while staying MV Agusta-centric. MV Agusta have many exciting projects up their sleeves at the moment, and we believe there will be a strong future for the brand, the Australian distributor (who is now spear-heading the USA/Canada/NZ operations for MV Agusta) and our dealership.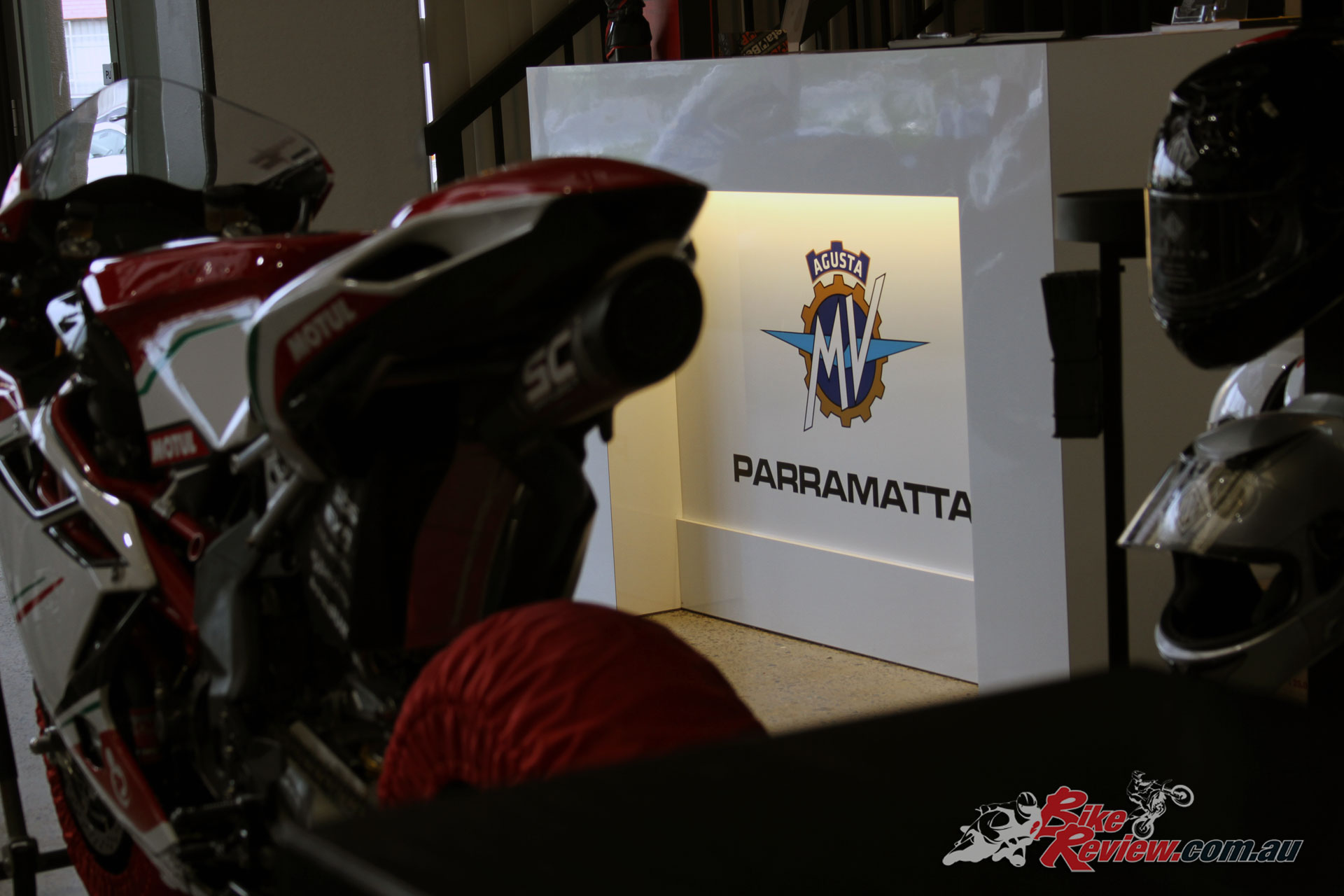 OWNERS:
David Song, Damien Llewelyn
LOCATION & CONTACT:
Unit 4, 26 James Ruse Drive Granville
www.mvap.com.au
www.spidistore.com.au
PH: (02) 9637 0722