Josh Patterson's 1993 Kawasaki ZXR750L came back to life with a turbo conversion so neat you've got to look twice to even notice it… Words: Jeff Ware Photography: Peter Pap 
Remember when the Kawasaki ZXR750L was the bike to have? Back in the glory days of 750 domination? Back when a superbike was a superbike and 120 horsepower on the street was out of this world? It wasn't all that long ago. In fact, for me, it feels like yesterday.
I was an 18-year-old apprentice motorcycle mechanic and back in early '94 I remember pre-delivering two or three ZXRs almost every day before lunch. If Josh Patterson had rolled up to the shop to dyno his turbo ZXR750L I think I would have collapsed!
---
Check out our other custom bike features here…
---
Many years later while I was working at a Motorcycle Expo Josh approached our stand and told us about his bike. I had trouble picking my jaw up off the ground! Josh's ZXR750L is all I dreamed of and more. The black, purple and carbon-fibre bike is, apart from the polishing, a total sleeper. An animal with a dark secret. 
Under that fairing is a neat little turbo running 16psi. And it still steers like a sweetheart. Perfect. The project began way back 24-years ago in 1998 when Josh, then 21, bought the wrecked ZXR from a guy who wanted to race it. "I think he realised just how much work was involved and changed his mind." Says Josh, "I was a young bloke on a budget so $1500 (AUD) for a ZXR was great." The bike was an absolute write-off. It had been involved in a huge front ender and the frame was cracked, wheels busted, forks snapped off and fairing destroyed.
---
"Under that fairing is a neat little turbo running 16psi. And it still steers like a sweetheart."

---
Most people would walk away but Josh had a vision. "Three months later I was riding it around and it looked brand new." Boasts Josh, "I even used brand new fairings. But I stuffed up. In my excitement I went to Eastern Creek Raceway for a ride day and crashed in fifth gear through turn one! The bike was trashed. That's when the turbo project began".
---
---
Ben Shaw from Extreme Creations had a box of goodies left over from his own turbo Kwaka and when Josh got wind of it he started thinking. Before he knew it, he was walking out the door of Ben's Brookvale (Sydney) workshop with a fuel injection system, a turbo, an intercooler and all the running gear. "I knew it was going to be a massive job, but I was determined to make it work. My main goal was to keep the original fairing, so the bike looked fairly stock. I was told it couldn't be done but take a look at it now".
---
Firstly, the engine came to bits for a freshen up and a look over and before long was back in and the turbo installation complete. Says Josh, "It wasn't too bad getting it all to fit right, but the tuning was very difficult." Josh wanted to ride this bike every day, so it had to be reliable. "Most of the engine is stock," Admits Josh, "And there really haven't been any problems so far. The head is stock but well set up and even the pistons are standard – and they're fine at anything up to 16psi!" 
The stock compression ratio has been dropped from 11.5:1 to 9.8:1 through a 1.00mm base gasket that Josh made, while the crank, conrods, bearings and cases are all stock items that have been carefully inspected and assembled as per the spec's. The cams, after countless hours of trial and error, are now back to standard. But it was no easy job sorting the valve timing and duration. "I had bigger cams in it, but they caused all sorts of trouble. The bike would run well off boost but crap on boost, then after hours of tuning it would run well on boost but crap off boost. When I went back to standard cams the bike gained 30 per cent more power due to less overlap." 
One problem that was worrying Josh was engine operating temperature. "Due to the location of the intercooler the bike now had side radiators, so the engine was running up around 106ºC. I ended up fitting a third radiator between the forks, under the triple-clamp. It is actually a transmission cooler, but it works very well and is quite discreet." Josh also fitted a VDO oil scavenge pump to return oil from the turbo to the sump and fitted a restrictor to the turbo oil feed line to reduce and regulate oil pressure at full rpm/boost.
---
---
The ignition system comprises of the stock CDI with Dyna coils and leads and shimmed plugs (so the gap is facing away from the intake charge, so the boost does not blow the spark out), while the fuel system is something else. The standard Mikuni CV carburettors have been removed in favour of EFI. The quad throttle-body injection is also the work of Ben Shaw and is made up of a custom plenum chamber, custom throttle-bodies including the butterflies, Bosch 240cc injectors and a K&N pod that is neatly tucked away behind the intake tract in the top fairing, so as to avoid road grime down at the turbo inlet.
---
A Microtech air/fuel only computer mounted neatly in the seat base controls the system. A Walbro fuel pump keeps it all flowing. The turbo itself is a Hitachi HT-10 and Josh uses a GFB manual boost controller and Extreme Creations intercooler. Most of the time he runs 12psi. There is also a neat BOV (blow off valve) under the tank for the best bit – the trademark turbo Whaa Pshh.
---
---
On the dump side there's a custom stainless-steel exhaust and carbon-fibre can – again the work of none other than Ben Shaw! Getting all the extra power to the ground is taken care of via a fresh stock 'box and a Barnett heavy-duty clutch and Josh runs stock gearing with a road-shift pattern. The frame is highly polished and sports a polished ZX-7R swingarm and shock – a job that was done by Josh for handling reasons more than aesthetic ones.
---
"The lack of adjustment in the rear shock meant I was only ever happy with the front-end on the bike. The opportunity came up to buy the ZX-7R shock, which offers three-way adjustment, and the swingarm and linkages came with it." Countless hours fiddling and relocating components had the shock and swingarm installed and only three millimetres separate the battery from the seat bracket.
---
---
The forks are also highly polished and have been re-worked with heavy duty springs and valving to suite, while the wheels are mirror-finished and wear Bridgestone tyres. The front discs are Extreme Creations Buzz Saw items and the back disc and sprocket have been Nickelshined by Electromold. Stock, polished calipers with braided lines and soft compound EBC 'pads are used at each end. The standard ZXR750L fairing has been painted by Crowes Custom Paint and the carbon-fibre tailpiece was modified to take a taillight and flow coated by spray fever.
---
"Josh's ZXR is truly immaculate, too. In fact, it is the cleanest bike I've ever seen! In a way it seems to reflect Josh's personality…. Josh is a perfectionist. This ZXR is perfect."
---
The carbon-fibre instrument cluster, which is an absolute work of art, was made by Josh and houses a digital speedo, AutoMeter boost gauge, air/fuel ratio gauge, temp gauge, tacho and idiot lights. Josh's ZXR is truly immaculate, too. In fact, it is the cleanest bike I've ever seen! In a way it seems to reflect Josh's personality. I don't know Josh that well. I only spent one day with him while we shot the bike. But the fact that he cleaned the underside of the seat before re-fitting it told me one important thing. Josh is a perfectionist. This ZXR is perfect.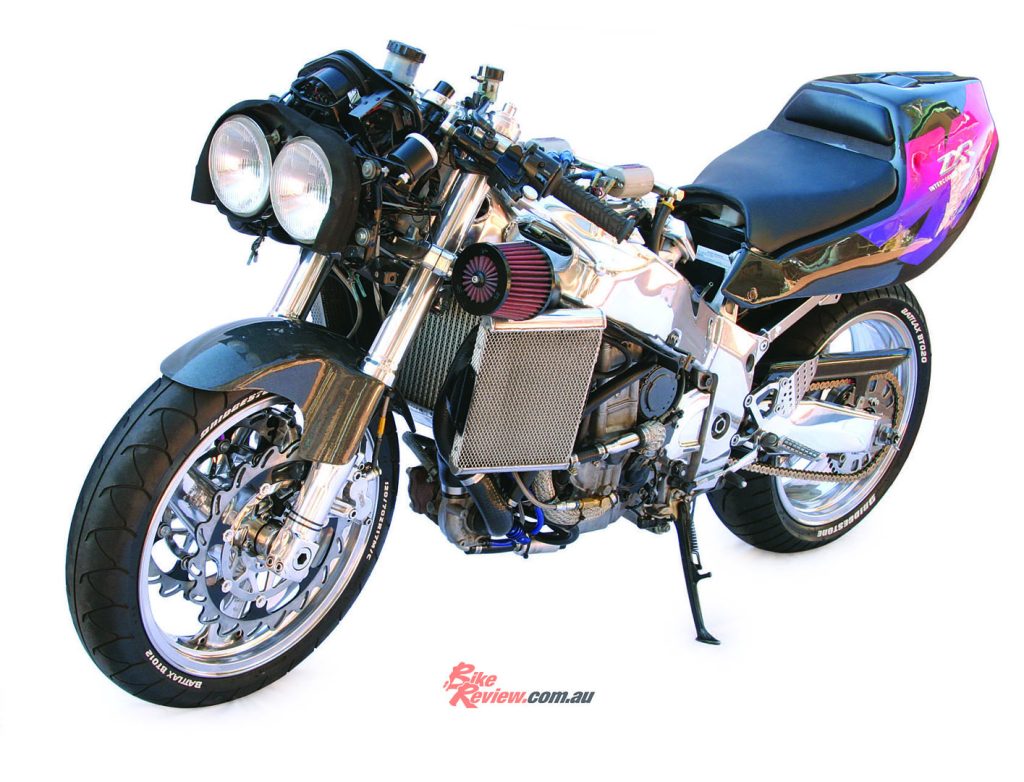 Turbo Kawasaki ZXR750L Specifications 
Engine: 749cc DOHC inline four-cylinder four-stroke running stock pistons, 9.8:1 compression, bore and stroke of 71.0 x 47.3mm, stock head, stock degreed cams, Barnett heavy-duty clutch, stock gearbox, stock final gearing, custom Extreme Creations side radiators, modified transmission cooler for third radiator, Hitachi HT-10 turbo, GFB boost controller, custom Extreme Creations intercooler and plenum chamber, stock inlet manifolds, custom Extreme Creations quad throttle-body, Bosch 240cc injectors, Microtech MT-4 computer, Walbro fuel pump, custom Extreme Creations stainless exhaust with carbon-fibre muffler, K&N pod filter, Dyna Coil ignition controlled by stock CDI, shimmed plugs 
---
Chassis: Polished 1994 ZXR750L with ZX-7R swingarm, polished triple-clamps, carbon-fibre handlebars, manual headlight switch, custom billet rearsets and footpegs, Nickleshine rear sprocket and disc by Electromold, custom made carbon-fibre instrument cluster with digital speedo, AutoMeter boost gauge in psi, air/fuel ratio gauge, polished stock 3.5 x 17in (f) and 5.5 x 17in (r) alloy rims, Bridgestone hoops. Stock, polished, 41mm inverted forks with heavy-duty springs, 5wt oil – stock air chamber. (f) 2000 model Kawasaki ZX-7R shock and linkages (r). Polished four piston Tokico calipers and 320mm floating Extreme Creations Buzz Saw discs (f), polished twin piston Tokico caliper with 220mm disc (r), stainless steel braided brake lines. Stock fairing and tank, carbon-fibre single seat cowl with painted graphics by Crows Custom Paint, flow coated by spray fever, decals by Crows Custom Paint, high intensity blue LED show lights. 
---
Performance: 190hp@11000rpm to the wheel running 16psi of boost on PULP.
---
Owner: Josh Patterson, Sydney, NSW, Australia
---
Turbo Kawasaki ZXR750L Gallery
---
Editor's Note: If you are reading this article on any website other than BikeReview.com.au, please report it to BikeReview via our contact page, as it has been stolen or re-published without authority.
---