The Ducati Soul Arai helmet is a Maori inspired designed by Aldo Drudi, available exclusively through Ducati dealerships.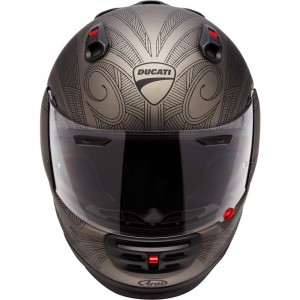 The Ducati Soul full-face helmet takes inspiration from Maori tattoos, the traditional tattoos of the Polynesian people who use the markings to recount their history as warriors.
In the same way, the Soul helmet, designed by Aldo Drudi, uses its intriguing graphics to narrate the extraordinary powers of the Slow Rider.
The shell is made of SFL fiber, comfortable and lightweight with extra strengthening ribbing. Inside the helmet, the removable and washable lining, cheek pads with EPS liner and efficient ventilation system all ensure comfort and safety. Strong personality for the gentleman rebel.
Available for $799.00 RRP, visit your nearest Ducati dealer. ducati.com.au