Suzuki have unveiled their updated 2022 Katana. The updated model will see an all-new powerplant deliver more power hand in hand with their new assists system... Press Release: Suzuki
Suzuki has unveiled an updated KATANA at EICMA. It has received styling updates, SDMS, quick shifter, clutch assist, RbW, new exhaust, engine re-tune, improved traction control, rubber mounted 'bars and more. Suzuki Australia are doing some top pre order deals…
The high-performance 999cc four-stroke DOHC liquid-cooled inline-four engine underwent thorough review as it was developed to deliver ideal naked sportsbike performance under varying riding conditions, whether out for a sporty run or negotiating traffic on city streets. Changes that include a new camshaft profile, new valve springs, a new clutch and new exhaust system increase power output and achieve an overall better balance of performance, all while satisfying Euro5 emissions standards.
---
---
The 2022 (still based on the 2005 K5) engine produces greater torque than its predecessor at low rpm. The broader, smoother torque curve has fewer peaks and valleys than before, it also achieves greater overall cumulative torque production across the engine's operating range.
---
---
This results in more predictable and controllable response and consistently abundant power delivery for a more exciting riding experience, particularly in the low-mid rpm range where the enhanced torque output is most noticeable.
---
---
Another development goal was to further enhance the durability of an already highly durable engine design. Attention to detail extends to a change from cut threads to rolled threads for the holes in the upper crankcase cover. Rolled threads are harder and less prone to cracking from wear, so help maximise holding strength for the journal bolts that support the crank.
The new KATANA adopts a collection of the advanced electronic systems that comprise the Suzuki Intelligent Ride System (S.I.R.S.). Included are the Suzuki Drive Mode Selector (SDMS), Suzuki Traction Control, Ride-by-Wire Electronic Throttle, Bi-directional Quick Shift, Suzuki Easy Start, and Low RPM Assist systems.  
These enable the rider to optimise performance characteristics to best suit riding conditions and varying road surfaces, as well as their level of confidence and experience. By assisting the rider, they help make the bike more controllable, more predictable, and less tiring to operate, whether out for a sporty run or enjoying a ride on city streets. These attributes benefit the rider by instilling greater confidence and allowing them to concentrate on enjoying the riding experience. 
SDMS is designed to offer the rider a choice between three different modes that change output characteristics to match riding conditions or preferences.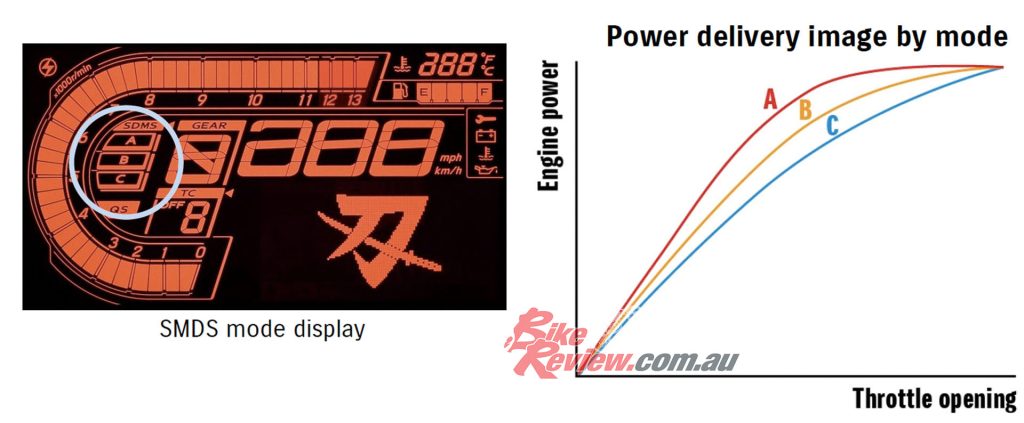 ---
2022 Suzuki Katana Riding Modes
Mode A (Active) provides the sharpest response as the rider opens the throttle. It is well suited for use when hitting the throttle hard, such as when participating in track day events or enjoying twisty roads in good weather. 
Mode B (Basic) reaches the same level of maximum output but features softer response and a more linear power delivery curve as the rider opens the throttle. The settings are tuned to make the bike more controllable and instil confidence when accelerating, and to make it a good fit for a wide range of rider styles and road conditions in everyday riding. 
Mode C (Comfort) provides the softest throttle response and gentler torque characteristics, delivering power in smoother linear fashion while still reaching the same level of maximum power output. The gentler throttle response and limited torque production as the throttle is opened makes more obedient and controllable when riding in wet conditions or otherwise slippery surfaces, or when the rider wants to relax and enjoy an easy ride home after a long outing. 
---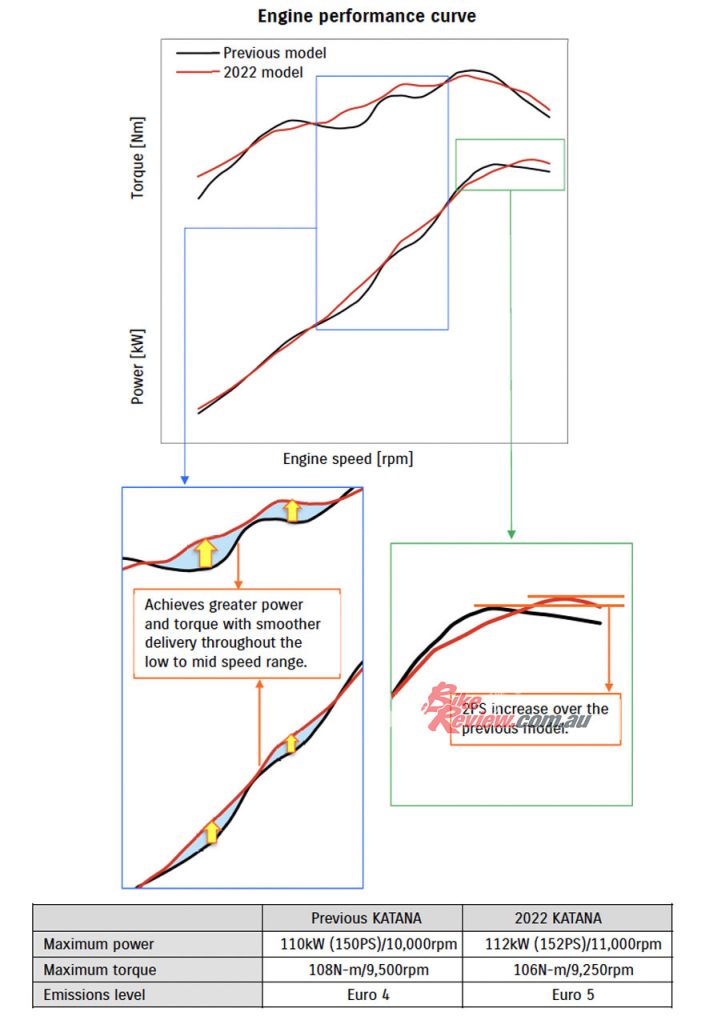 Equipped with an updated version of Suzuki Traction Control System (STCS) with a wider selection of 5 mode settings (+ OFF), as opposed to the 3 modes (+ OFF) of the first generation. The finer incremental control over settings allows the new 5-mode traction control system to better fit a more diverse variety of riding conditions and styles. [Still no 6-axis IMU so no cornering TC or ABS – Ed].
---
---
A RbW throttle system provides finer control also allows optimum settings to best match each of the SDMS modes. The overall result is linear power delivery that responds faithfully to the rider's intentions, whether riding on the street or heading out to enjoy a spirited run, as well as improved controllability when opening the throttle while cornering.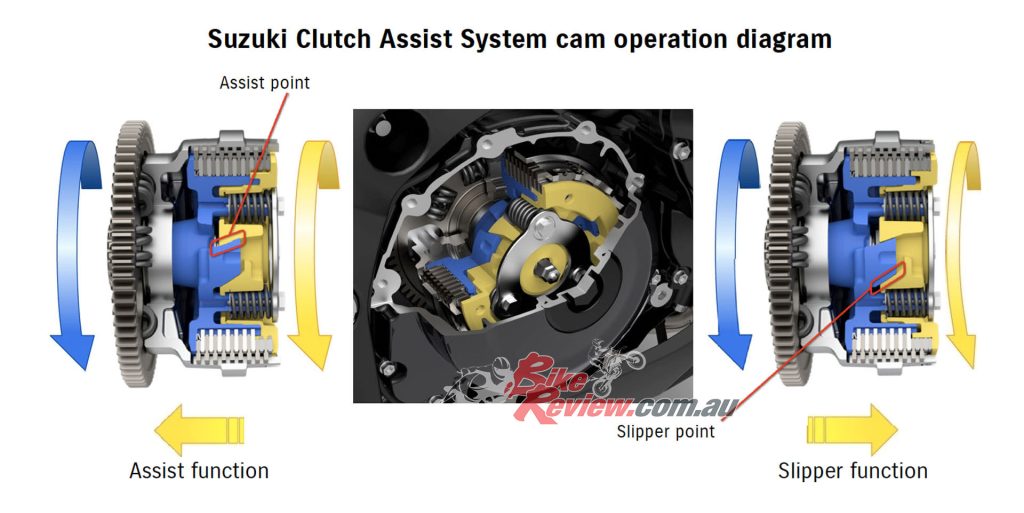 The bi-directional quick shift system allows the rider to shift up or down more quickly and easily without the need to operate the clutch or throttle. When decelerating, the system automatically opens the throttle valves just enough to increase rpm and match engine speed to the next-lower gear ratio. The result of this hands-free automatic blipping function combines seamlessly with engine braking to create a highly satisfying experience when downshifting.
---
---
The compact, lightweight twin-spar aluminium chassis is engineered to provide agility, ease of control and a fun-to-ride character riders will appreciate and enjoy. It is also aimed to perform best in real world riding conditions on public roads, in city traffic, on the highway, or on rural and twisty roads. New for MY22, rubber mounts have been introduced in the top bridge and handlebar brackets to reduce vibration transmitted to the rider's hands, improving comfort and reducing fatigue. 
43mm KYB inverted gold-coloured front forks give a ride that is sporty yet plush. They feature fully adjustable damping, rebound, compression and spring preload. A single KYB rear shock features adjustable rebound damping and spring pre-load. The rear spring colour has been changed from red to grey for MY22.
---
---
310mm disc brakes are paired with Brembo radial mount Monobloc front brake calipers featuring four opposing Ø32mm pistons to provide powerful braking performance. The BOSCH Antilock Brake System (ABS) control unit is extremely compact and light weighing only 640g. The lightweight 6-spoke cast aluminium wheels by ENKEI shod with Dunlop Roadsport 2 tyres provide nimble handling.
The new Metallic Matte Stellar Blue colour scheme for M22 reflects the KATANA's 'Premium Chic' styling concept, combining matte and solid colours suited to achieve a sophisticated, modern look. Distinctive styling points abound. The vertically stacked LED headlight and LED front position lights accent the sharp lines of the cowling that covers the custom-designed instrument panel.  The KATANA uniquely boasts a small rear fender supported by the swingarm that hugs the rear tyre for a tougher and cleaner look. 
---
---
The MY22 Suzuki KATANA is due to arrive in Australia during Mid 2022 and will be available in one colour – Metallic Matte Stellar Blue for a manufacturer's recommended retail price of $21,990 Ride Away. Interested customers are encouraged to build and pre-order their new MY22 KATANA by visiting suzukimotorcycles.com.au and experiencing the 'Build Your Bike' feature.
---
As an added bonus and gesture of Suzuki's appreciation for customer commitment and patience, online pre-order customers will receive free "HEATED GRIP SET" valued at $641.31 RRP with their bike delivery. The first shipment is scheduled to arrive in Australia during Mid 2022, click here to place your pre-order today!
---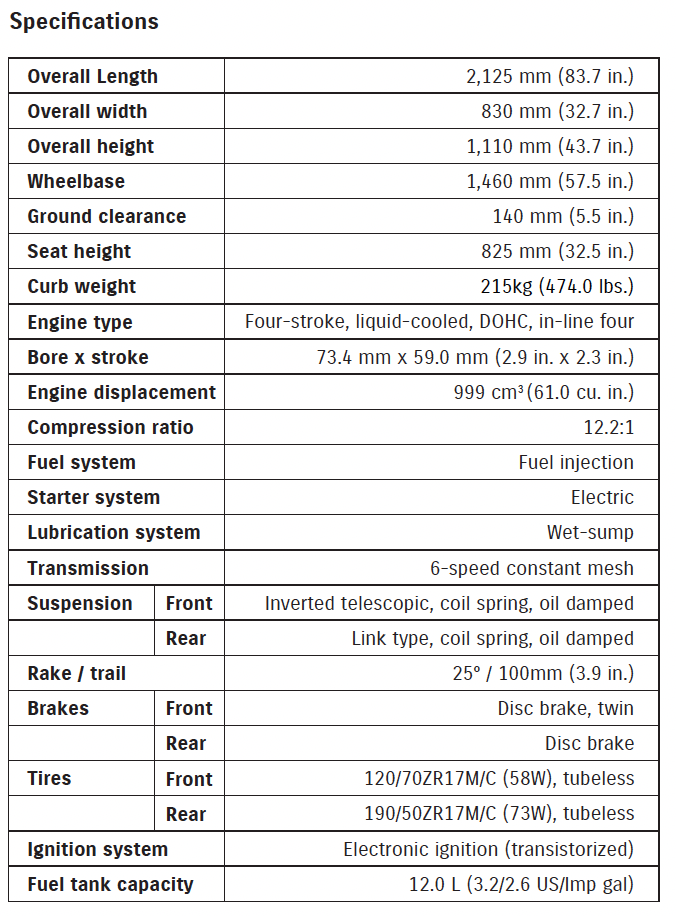 2022 Suzuki KATANA Accessories Gallery