Become an Aussie Hardarse by covering 1600km within 48 hours on your motorcycle! Words & Photography: Murray Nettheim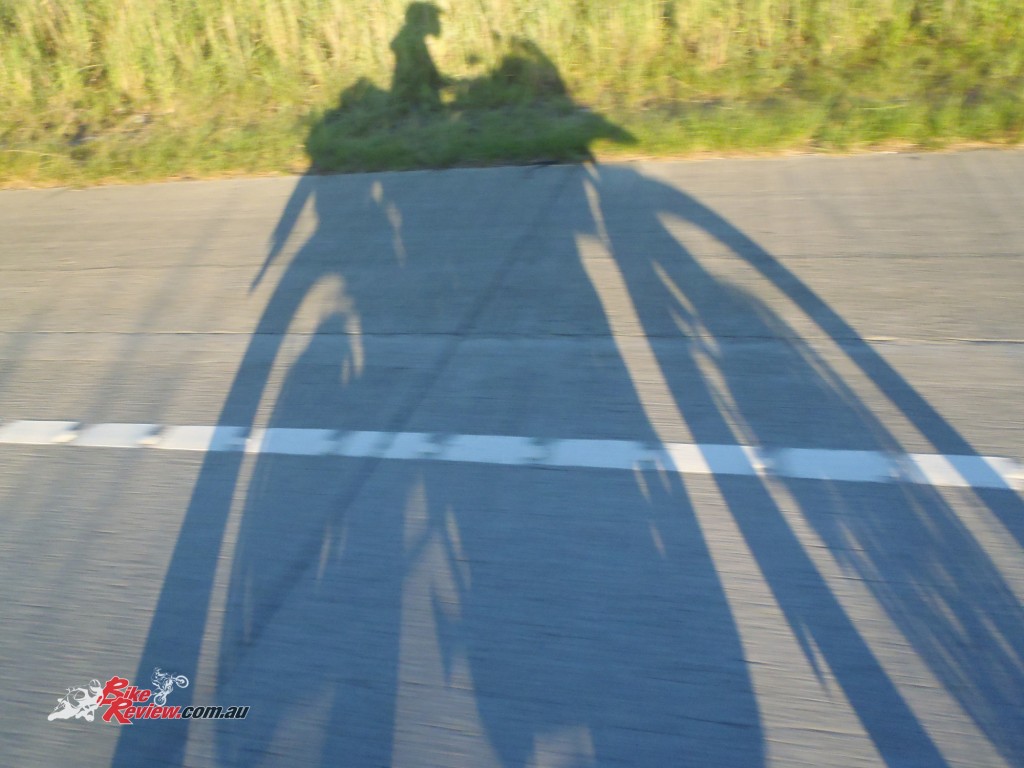 Always having had a sense of adventure, a mate of mine recently saw an advertisement to become a Aussie Hardarse Rider and naturally my interest was also peaked.
In essence the challenge is in covering 1600km (1000 miles) in a 48 hour period, with only a few rules involved to register for the event. You pay the entry fee, get a photo of your bike at known locations, and photos of your fuel receipts and odometer, submit all these, and once confirmed – you are a Aussie Hardarse member!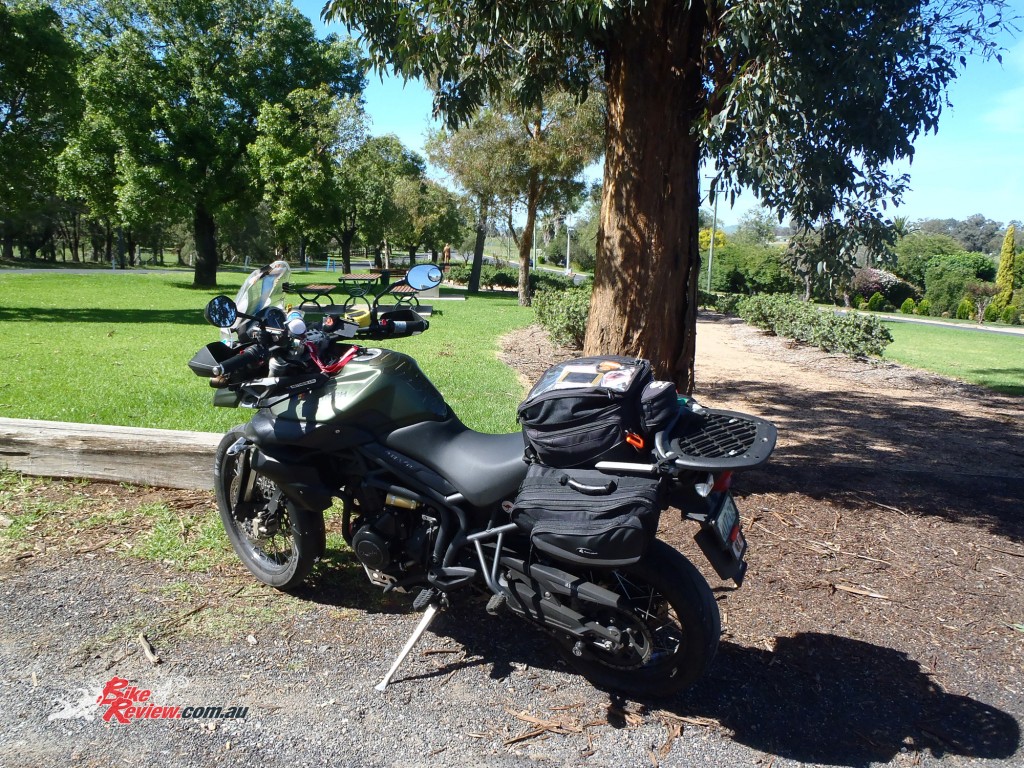 Planning for our trip was done quickly and we decided to do the challenge late January 2015, thinking this was a good time,before it gets hotter or colder!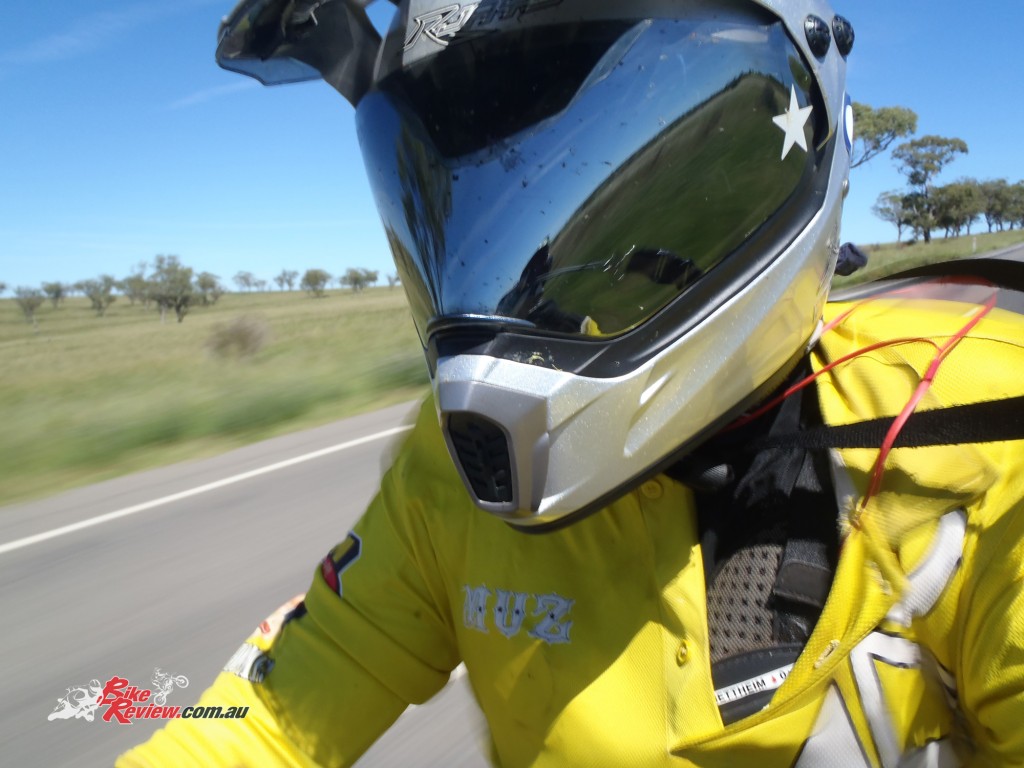 One issue we had was where to go and where to meet, as my mate Matt lives in Coffs Harbour and I'm on the NSW Central Coast… it wasn't long till we decided that we'd meet at Nabiac and then continue the ride from there, heading west and eventually coming back to the Central Coast region.
On a Saturday in late January we were both available and left our respective homes at 5.00am heading to Nabiac, where we would meet, have breakfast, fuel up and then continue on our way.
At Nabiac we stopped at the National Motorbike Museum for our first photo opportunity, then headed up to Gloucester via Krambach. Temperatures were still cold at 8am and this continued all the way through Port Stephens Cutting. There are some amazing roads in this part of NSW and we appreciated every part of this section, with thankfully no traffic or wildlife to upset the trip so far.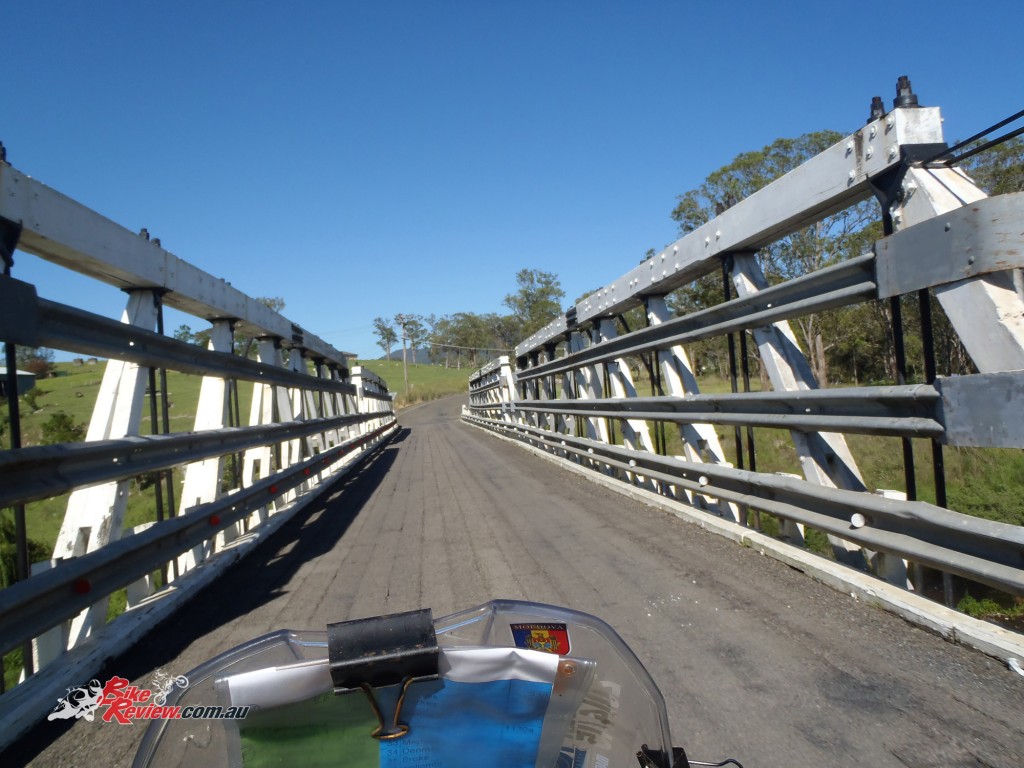 Heading into Tamworth the Annual Country music Festival wason and I've never seen so many $2 straw cowboy hats on so many tourists. We stop at the Golden Guitar and refuel next door – its hot now – bloody hot in fact and my temperature gauge in the shade is reading 39 degrees and it's still only 11.00am.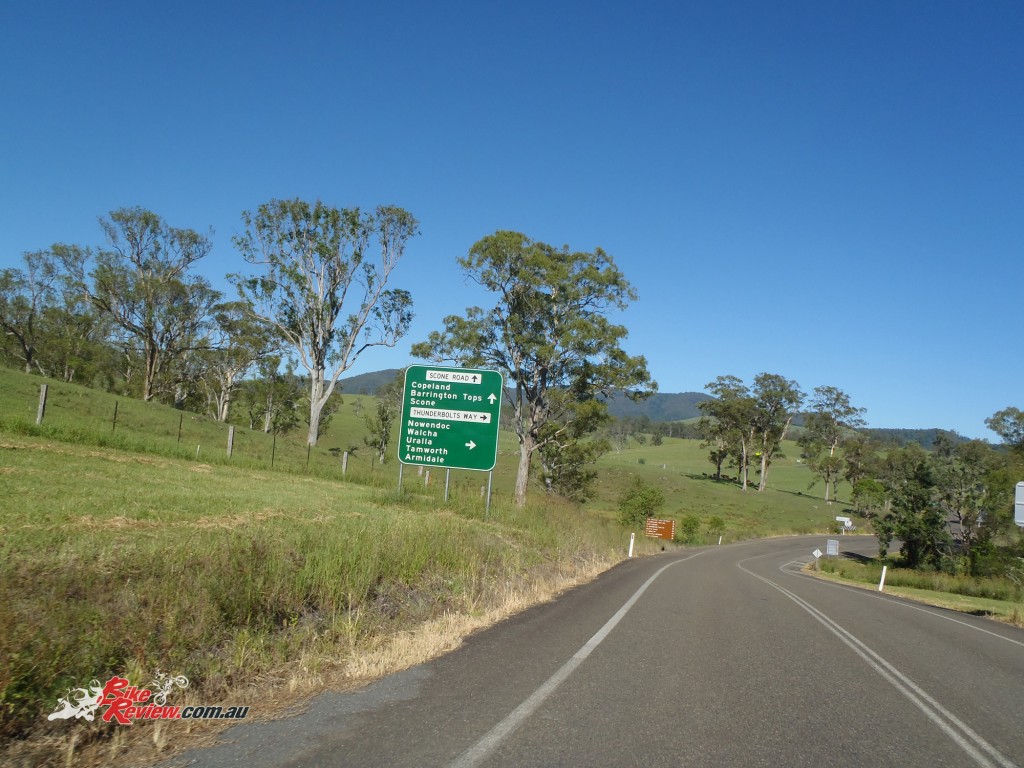 We consume a large quantity of water (about two litres), make use of the toilet, grab something to eat and then head towards Gunnedah. So far we've already covered 380km.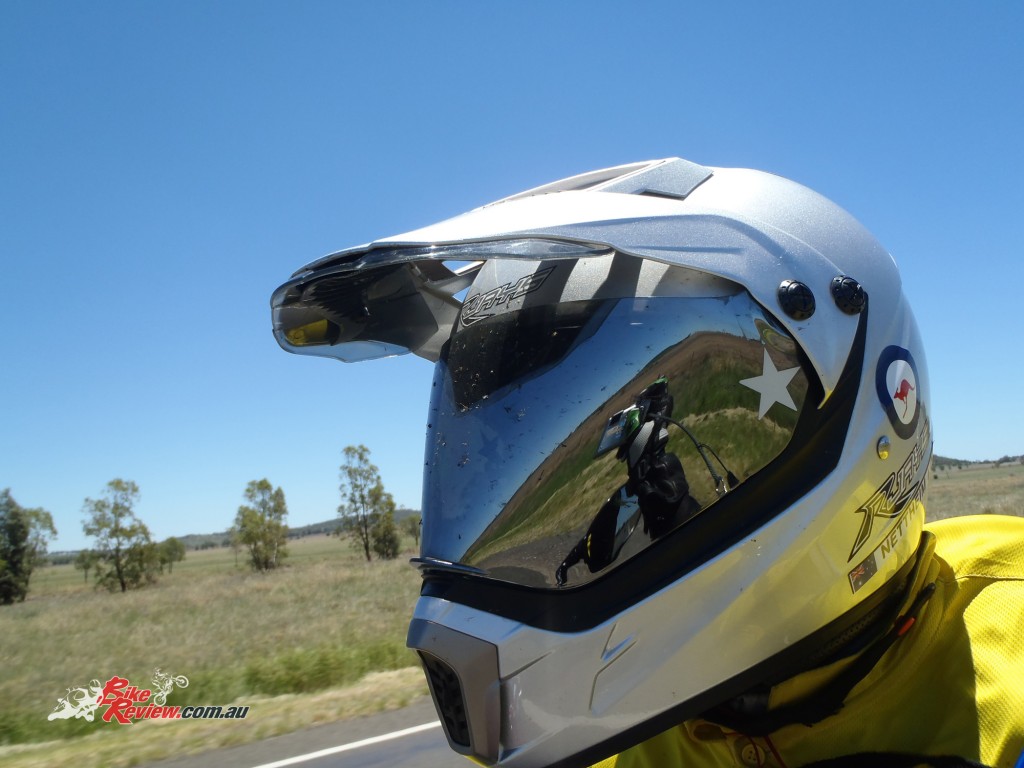 As we ride along the open roads the feel is great, there's lots of things to look at and farmers going about their business sending huge waves of red dirt across the road as they plough.
Coonabarrabran is our next stop and we get pics now at the "entry/exit" signs of every major town, while re-fueling the bikes. More hydration for us riders is also required and something it's important to keep in mind on this kind of trip, while we plan our next stop for Dubbo which is about the 880km mark – just over halfway!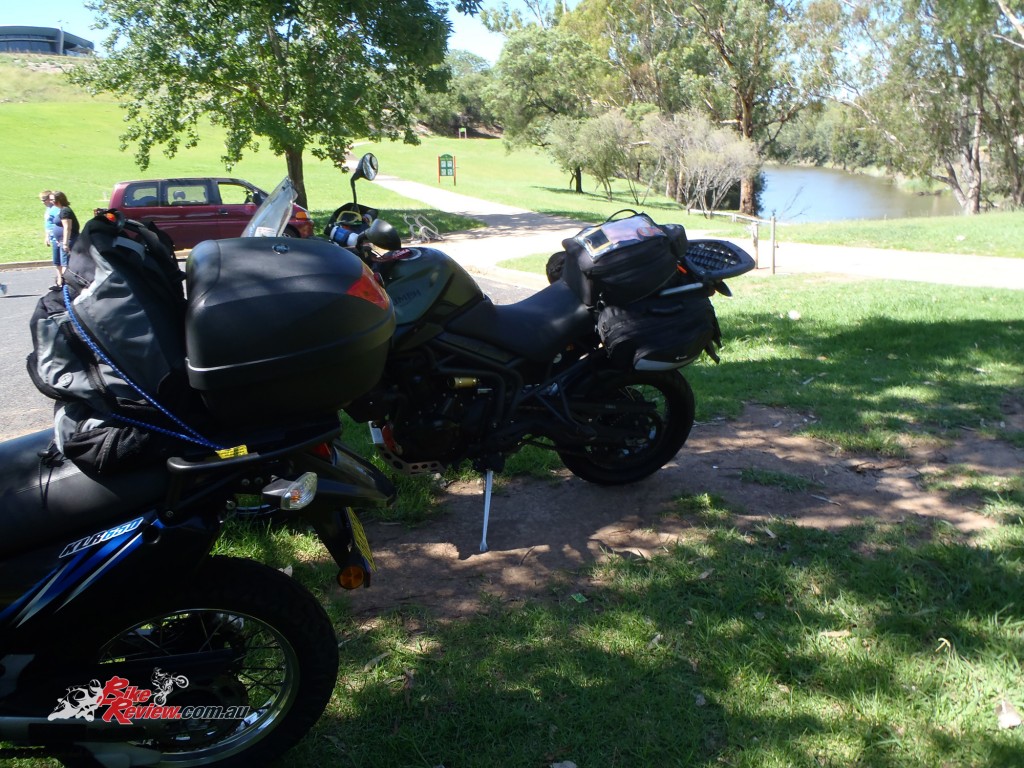 The countryside is pretty dry now but we still encounter green in places, finding a small park off the road to rest in the shade and plan our next leg down to Parkes. While we stop a huge convoy of police and ambulances zoom past, sirens wailing.
Something big has obviously happened ahead of us, that's for sure. We don't hang around long and get back onto the bikes and on the road, only to be diverted onto the scenic road around the back of Dubbo Zoo. The highway is closed in both directions, due to an obviously serious accident.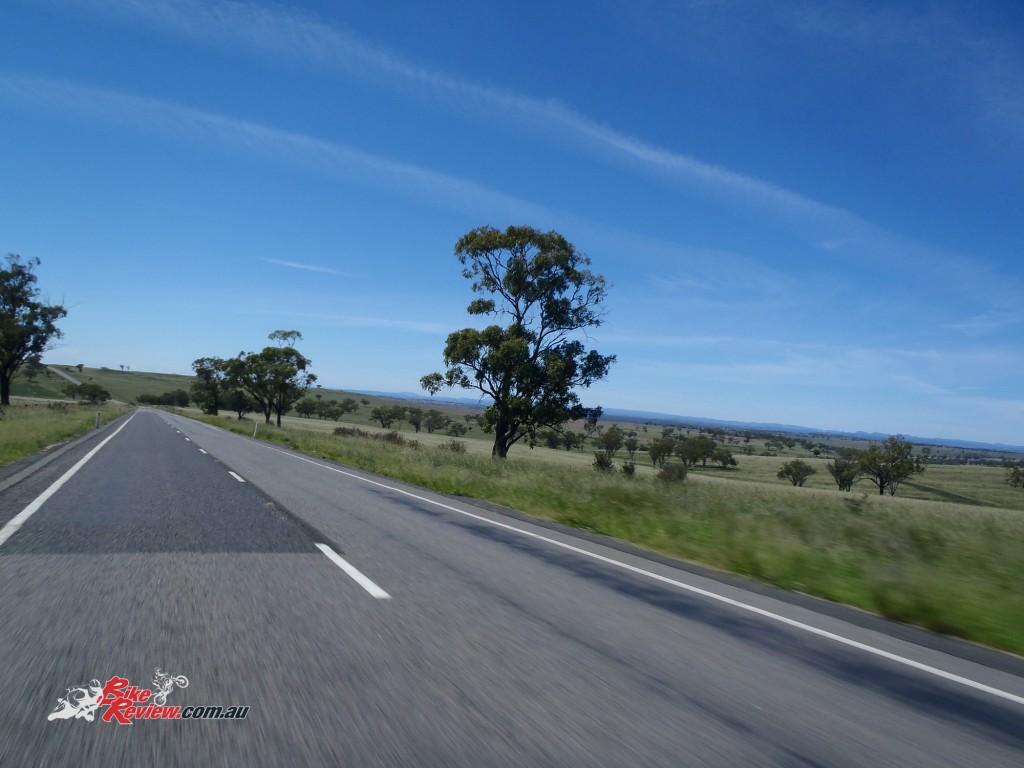 Cruising along we soonsee The Dish (The CSIRO Parkes Observatory) at Parkes and take a small detour off the main road for about 7kms so we can get the pics, before stopping in Parkes for our next obligatory fuel stop. We've now covered 943km for the day.
Our consensus was always to stop at Bathurst for the night and we do, but only after we do a few laps of the Mt Panorama circuit, including dodging a few Roos on the way up.
By 6.30pm we've covered 1100kms… and are still feeling pretty good considering we have been riding for close to 12 hours. We did talk of covering the last 500kms that day but decided it was too risky after the Roos we experienced around Mt Panorama.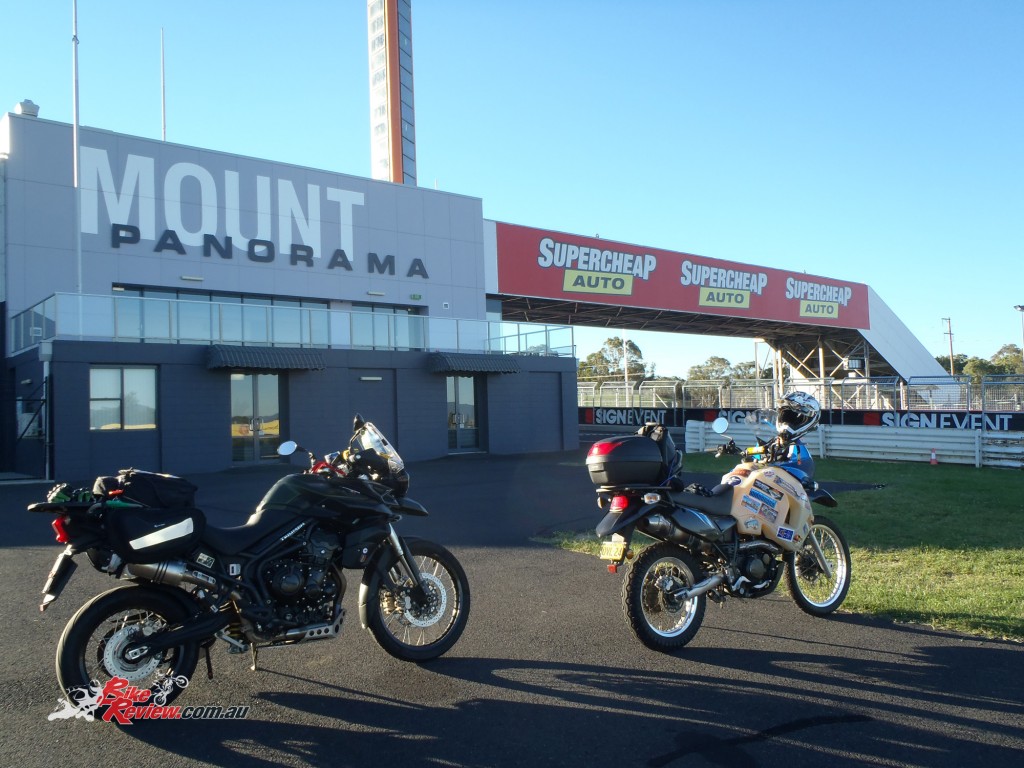 Rydges at Mt Panorama is where we stay for the night, with great value meals and super comfy beds, withan early breakfast on the books before we get going again and have a cruisy day getting back to the Central Coast, covering the remaining 500km.
Sunday morning we are greeted by the iconic Mt Panorama rising through the mist, with a very pale pink sunrise and clear skies.
Breakfast was excellent, and again we do a lap of the circuit and more pics before we head away from Bathurst (after a quick refuel) and onto Sofala, Mudgee and then our next stop – Gulgong.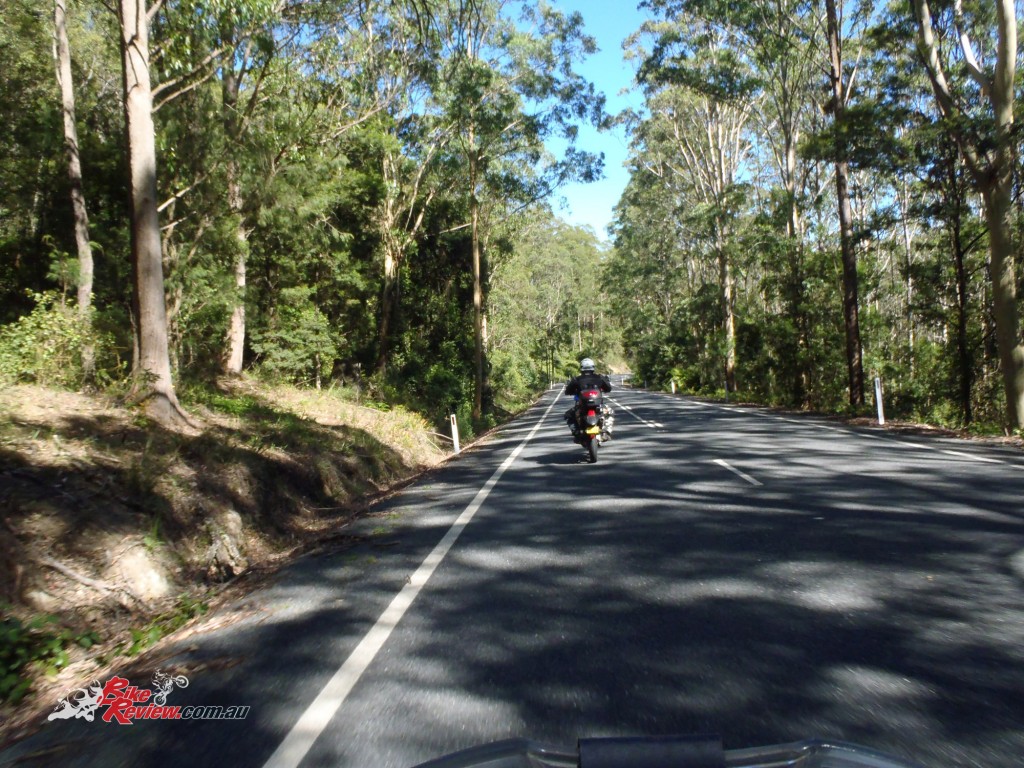 Again the roads are very quiet and we just motor along at a reasonable pace and take in the ever changing landscape, dodging the carcasses of animals run down during the night.
We stop at Gulgong for fuel and learn a bit about Henry Lawson and his influence on the town. I get us lost getting out of town but Matt soon has us back on track and we are heading down to Merriwa, Denman and onto Broke.
The Golden Highway is a spectacular bit of road and the farms and horses along the way make it a pleasant distraction from the cropping farmers of Gunnedah and Parkes.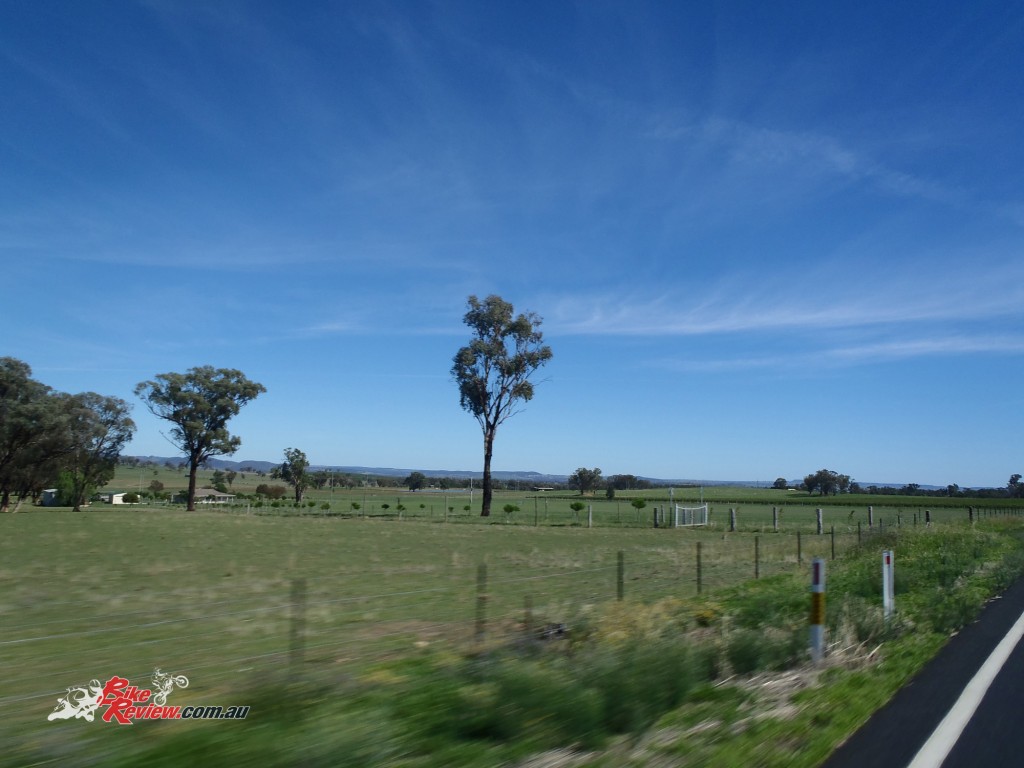 Temperature is climbing as we come into Merriwa and we stop for pictures and seek some shade, before we head back out and grab fuel, food and water at Jerrys Plains. At this point we contact our friends waiting for us on the coast and arrange to meet them for lunch.
We leave Jerrys Plains and head into Broke for our last fuel stop, where we hear the sad news of a fallen rider, leading us to decide to take the remaining section of the trip at a considerably slower pace. We've now covered over 1500km and still have a huge amount of time left, so there's no urgency.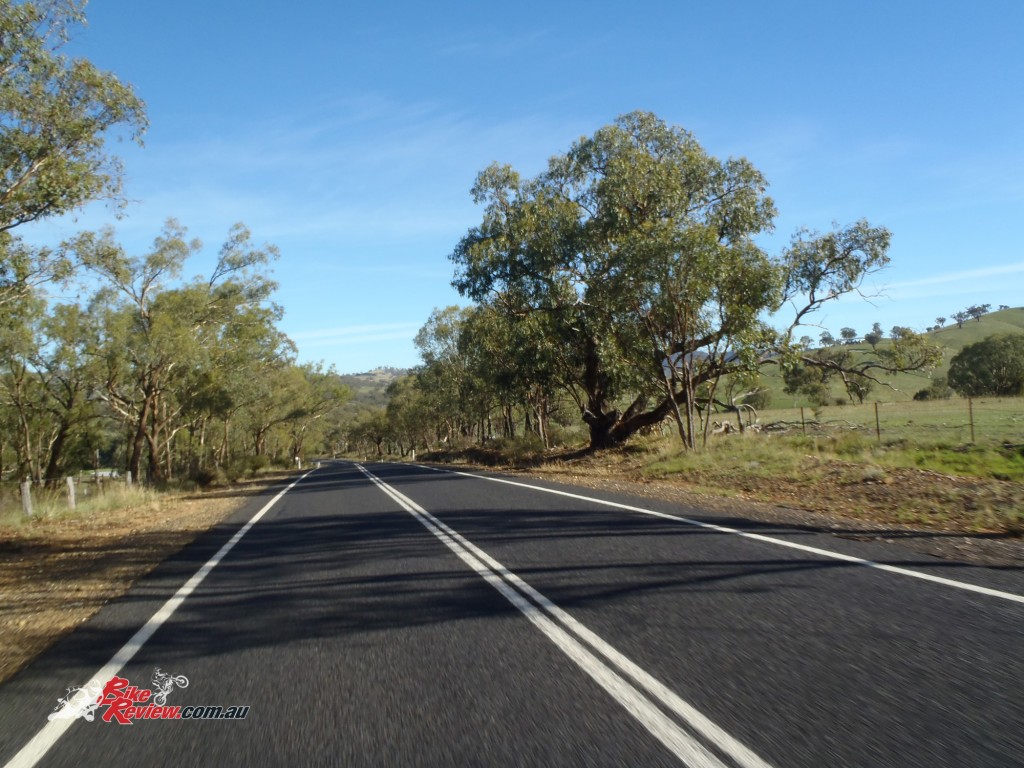 After Broke it's onto Wollombi, and then into Kulnura where we stop at Jerrys Cafe for lunch and a coffee.. we have both covered the 1600km by this point and after lunch we head down the Old Pacific Highway and into Gosford for our very last re-fuel and picture.
With the Aussie Hardarse ride done and dusted – having covered over 1600km in under 37 hours we could only look back and think about what an amazing experience it had been, not to mention a great way to get out and see different parts of our country.
So grab a mate or two, or more, start planning and get out there and see our amazing country.