Four weeks, three bikes, four friends and 14,000km - touring Australia doesn't get any better! Words & Photography: Murray Nettheim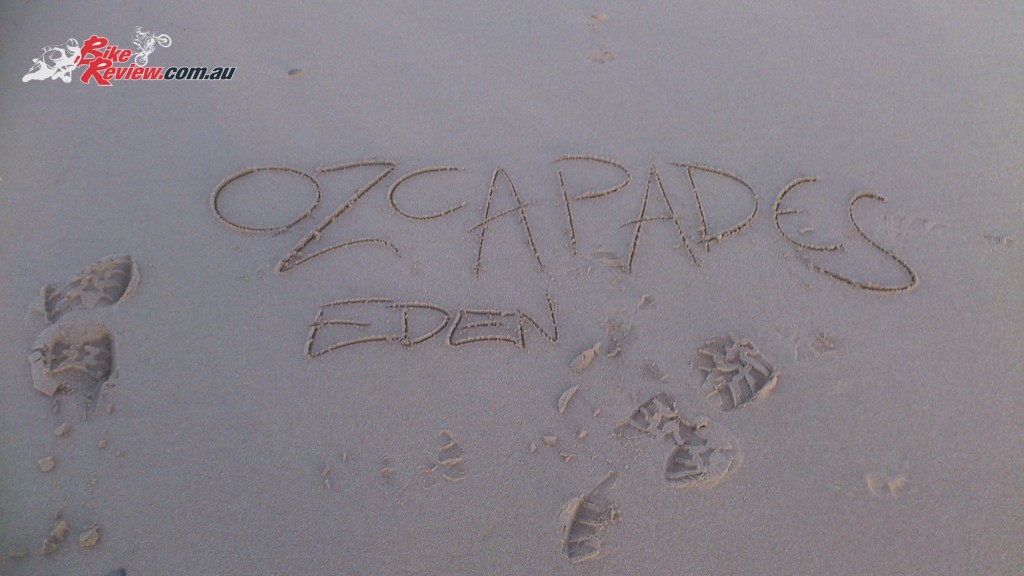 OZcapades – what initially started as a strange concept of seeing all the 'Big Things' in Australia on weekend motorcycle trips quickly manifested itself into a plan to travel around Australia and see as many of them in one circuit as possible!
Myself, a mate Matt Staunton, his wife Lisa and another friend Suz Mills, over a 12-month period, planned this trip with the option of being able to modify the routes easily if required.
Choosing to leave in July and avoid the wet season, we sought leave from work, got the bikes and support van prepareed and before we knew it we were off on our OZ-capade.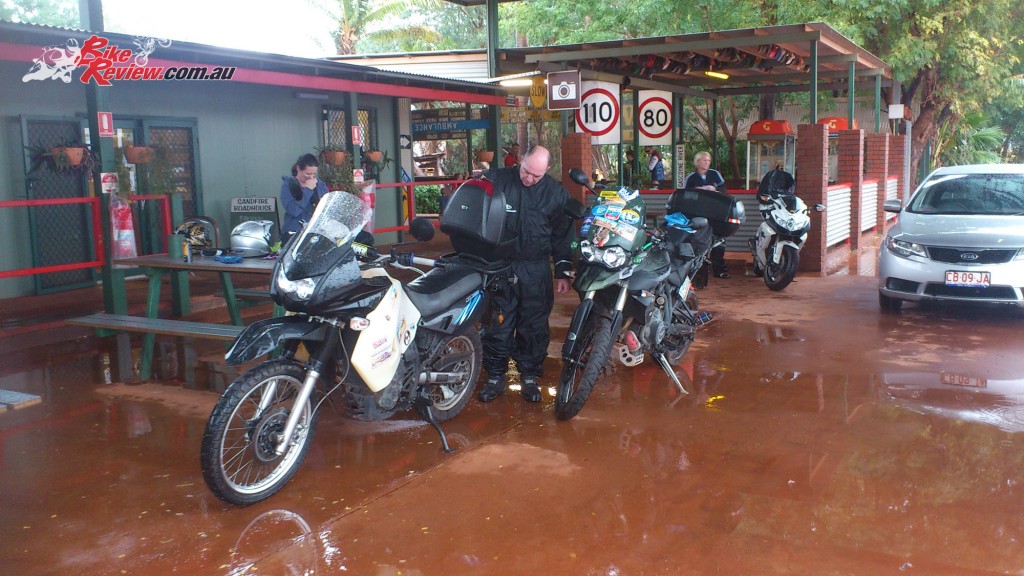 We leave on our OZcapades trip on three different bikes, Matt on a Kawasaki KLR650 chook chaser, Suz on a Suzuki GSX-R, and me on my Triumph Tiger 800XC… a single, triple and four… and Lisa in the Hyundai iLoad support vehicle.
Matt, Lisa and Suz come down from Coffs Harbour and stay with me before we head off and leaving the NSW Central Coast heading south, the weather was cool but clear.
Getting through Sydney's south east and down to Stanwell Tops, we crossed the Sea Cliff Bridge and made our way to Nowra, where the weather changed to very cold before heading down to Eden for our first overnight stay.
The plan was to stay in cabins where possible and avoid staying in the elements and thankfully so as we were about to discover!
We waved goodbye to Eden and crossed the State border into Victoria the next day, the news was that the weather will change late in the day, to become much worse, and for once they were right.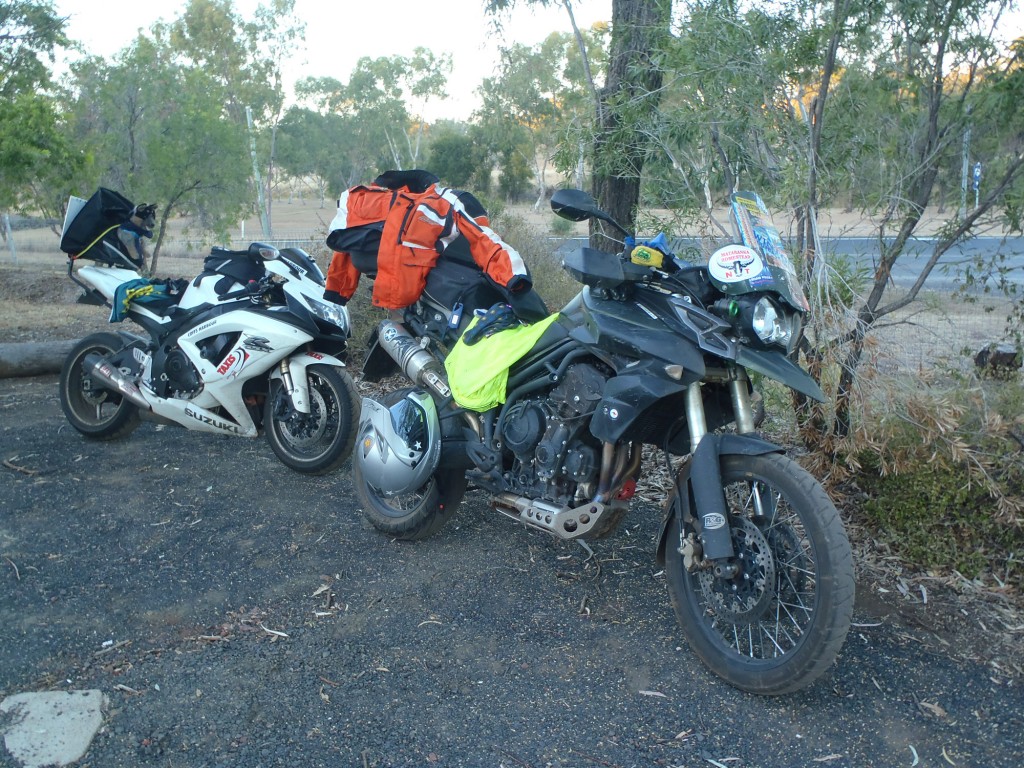 By the time we hit Sale it was very cold and windy and the closer we got to Melbourne the greater the rain became, with visibility dropping to less than 10-metres. We ventured down the freeway to Sorrento where we caught the last ferry of the day and made our way to Queenscliff.
The local Pizza Shop was our first phone call on arrival and not a bad one either!
After Queenscliff was the Great Ocean Road, excellent in the dry so we are told, however the rain was still present and the road was slippery at best and dangerous at worst. Many sections of the road were also covered in leaf litter, making for a treacherous ride that had us all on our toes.
We stopped at Allansford at the Big Milkshake and headed to Mt Gambier after crossing into South Australia. Two days, two State borders crossed. At Mt Gambier we stayed in a motel circa 1975. It still had original heater, stove, wallpaper and tiles, for a very authentic experience.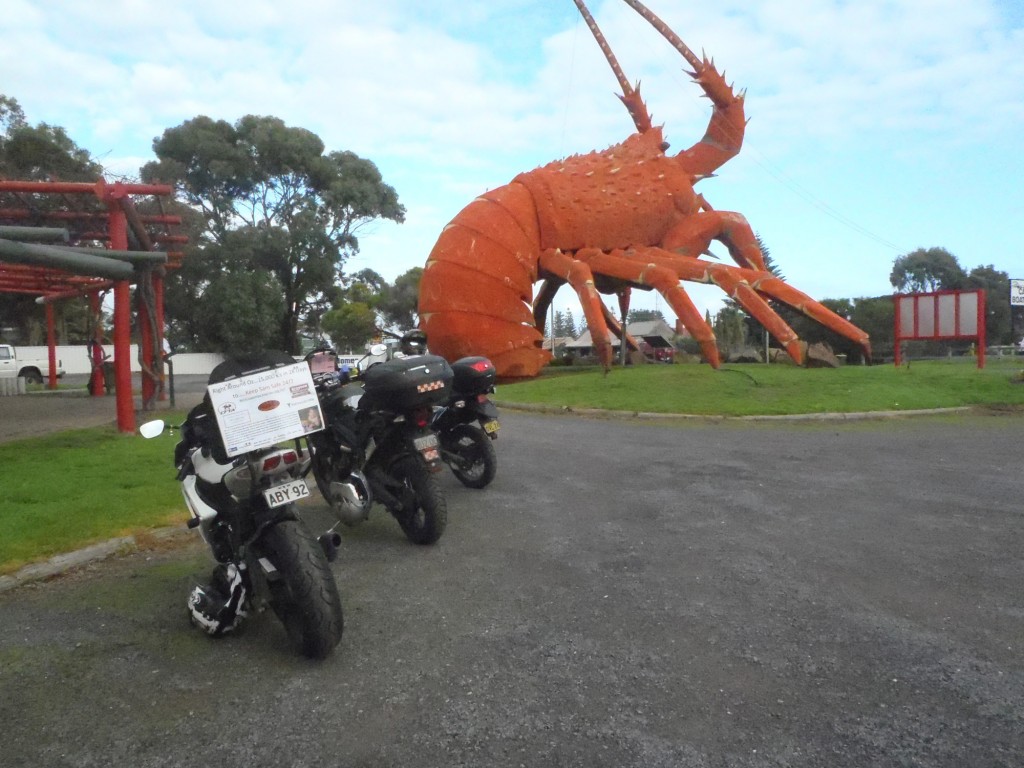 After Mt Gambier the rain continued all the way to Robe and Kingston SE – so much for the dry season! We saw our first emus and had a few cattle running down the road along this section too…
On reaching the Big Lobster in Kingston the sun came out and we made our way through Murray Bridge then the Adelaide Hills, where we stopped at the Big Rocking Horse at Gumeracha, before riding to Wallaroo and staying the night.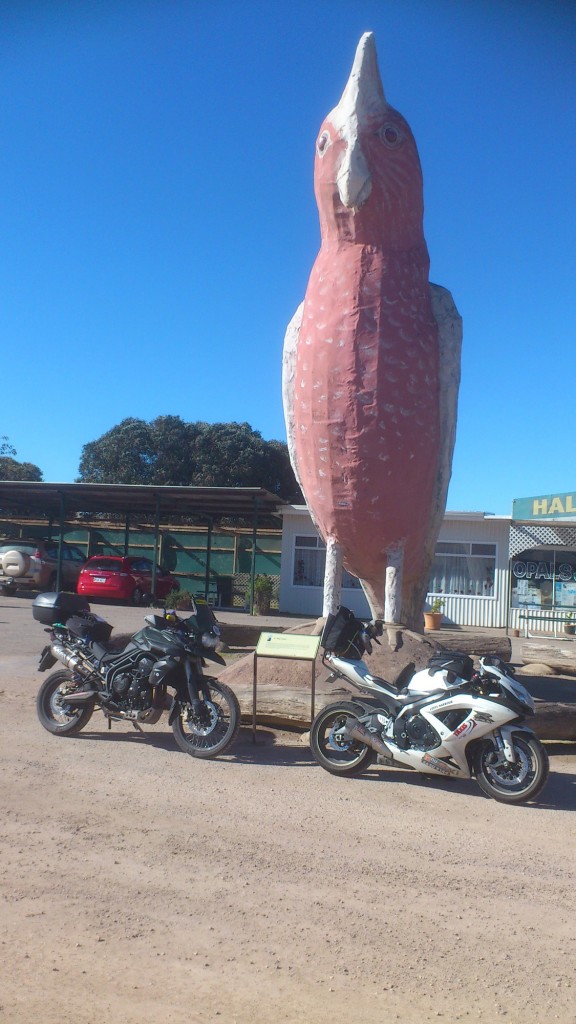 The following day we decided not to take the ferry across the Spencer Gulf and rode to Post Augusta and onto Streaky Bay via Kimba (Big Galah-Half way across Australia) – this was the better decision.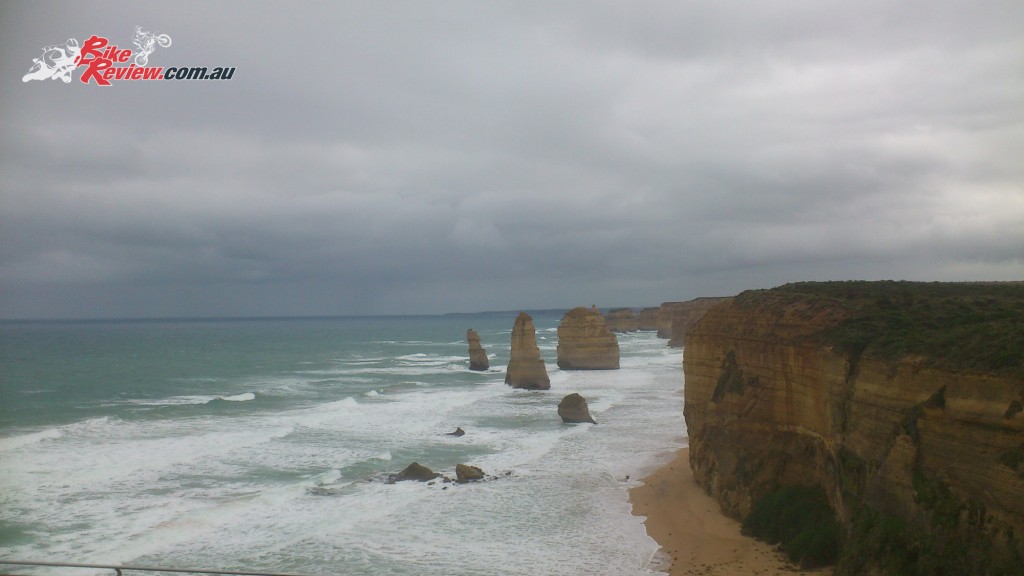 At Streaky Bay we saw the Big Shark in the back of the Shell servo and next day headed to Ceduna and across the Nullabbor, staying at Border Village (SA/WA Border) after stopping and seeing the Big Oyster in Ceduna, The Great Australian Bight and the Big Whale at Nullabor Roadhouse.
So far no issues with any of the bikes, which is great.
I managed to kill birds on a regular basis too, with many flying out in front of me for some reason. Body-wise we were all holding up OK, however, Matt's back was giving him some jip so plenty of pain relief and time off the bike at every stop was required to keep everything on an even keel.
We also discovered the culinary delights of the servo 'hot box' and started comparing servo food at every stop, adding an additional point of interest to our many servo stops.
We left Border Village, South Australia at a chilly 3ºC, rode 100m, had the quarantine inspection and went into WA… then it was basically straight roads all the way to Norseman.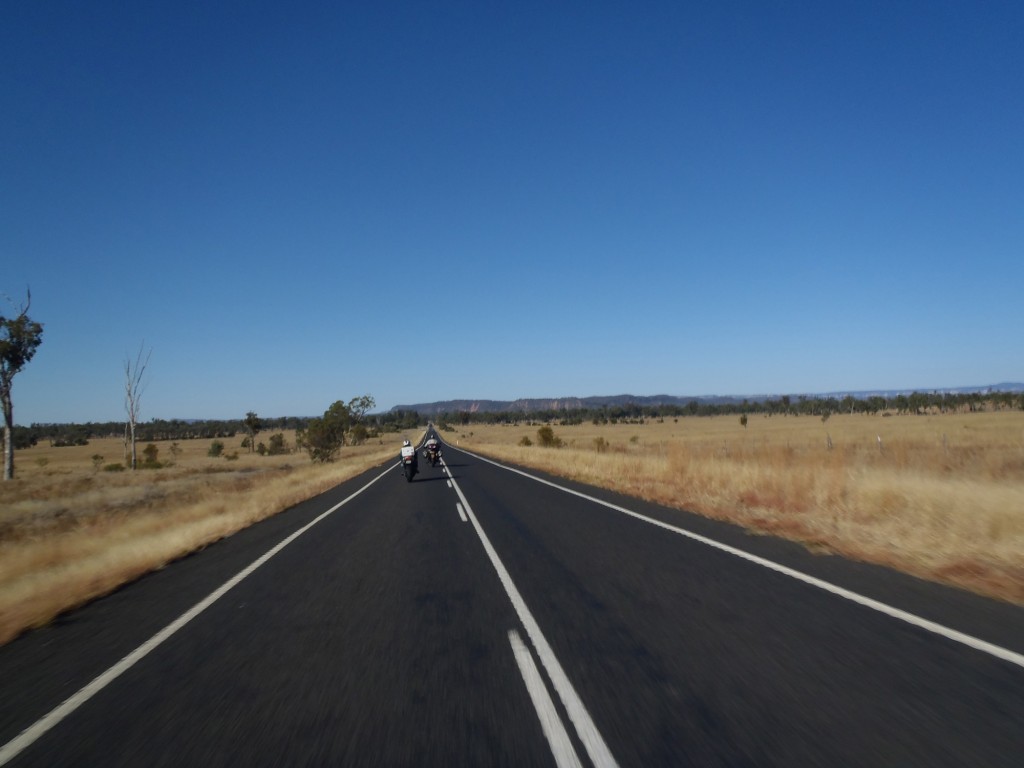 We could see rain in the distance and what we got was only minimal. We rode the longest straightest road in Australia of 140km, then headed into Norseman for the night
Seven days down and heading down to Albany and onto Margaret River we left with good sunny and dry conditions, however by Ravensthorpe it all changed. At this point it started to get windy – really windy – with about 85km/h crosswinds and the rain became torrential.
Overtaking semis was difficult with the extreme conditions, as we couldn't see far ahead or even the lane markers at points… sometimes it was a case of go and be damned. We got into Albany wet and cold and grabbed another cabin where we could dry all our gear. Suz had a small fall in the carpark while doing a U-turn and dropped the bike on her ankle.
The next day we head to Margaret River, where we decided that we will have our first extended days rest and partake in a wine tour…
We left Albany after getting some exceptional service at Albany Kawasaki and ride into a cyclone – literally!
A massive storm front and wind arrived and we were wet and cold. The temperature didn't get above 6ºC all day… somehow we missed a turn and ended up doing some backroads but managed to get on track again and we were out of the weather in a cabin by 4:00pm!
Apparently this was the worst storm Margaret River had, had in 30 years and we rode through it!
Heading through Bussleton it was cold and misty but by Perth the weather was perfect. Matt changed his rear tyre at this point and mine's starting to flatten of, while Suz's is looking good.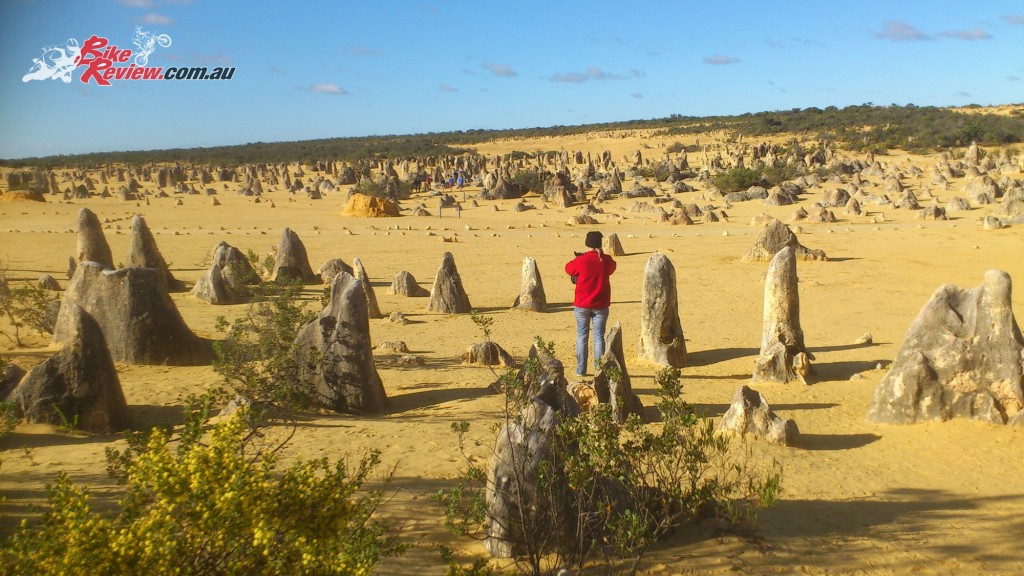 We passed through some spectacular country that words cannot describe that day. The country was changing and the sand was now very red and reminding us of how far we have travelled. We rode to the top of the mesa and looked back towards Monkey Mia and Shark Bay.
Heading up to Broome we stop at every roadhouse along the way for fuel and we also carry a 10L can of juice as a back up, thankfully… as it gets used a bit in the next week.
400km from Broome it rains and hard rain…. After 400km of seeing nothing but water spray and very little of anything else we roll into Broome under dark skies at 4:00pm thinking it was 8:00pm. It's decided Broome is our next stay-over. We do an oil change the next day and see the sights rather than setting straight off.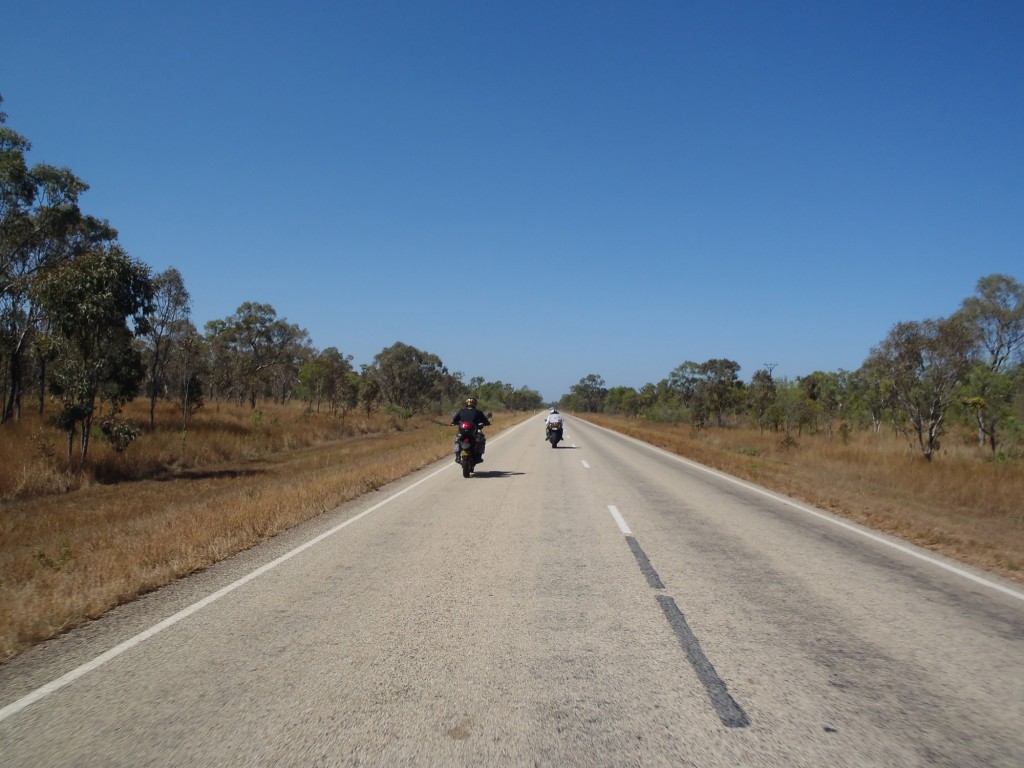 I have friends in Katherine and decide to call ahead and get them to organise me a new rear tyre and a new chain for Matt. We went out to the Gorge and then down to Daly Waters and then Tennant Creek, stopping at the Mataranka Springs, Larrimah Pub (Big Stubby) and sightsee the 'Old Telegraph Station' and 'the Pebbles' at Tennant Creek, while also doing a museum tour at Battery Hill.
Leaving we head east on the Stuart Highway past Barkley Homestead and into a headwind that drops our fuel economy by almost 30km a tank. The fuel quality changes from servo to servo now and we fill with Premium 98 at every chance we get, but there's just some fuels that don't help the economy of the bike.
Heading into Queensland we stop overnight at Mount Isa where we catch up with our mates Tex and Bundy, who'll ride with us for the remainder of the ride, as well as Matt's Dad who drives down from Magnetic Island to join in on the fun!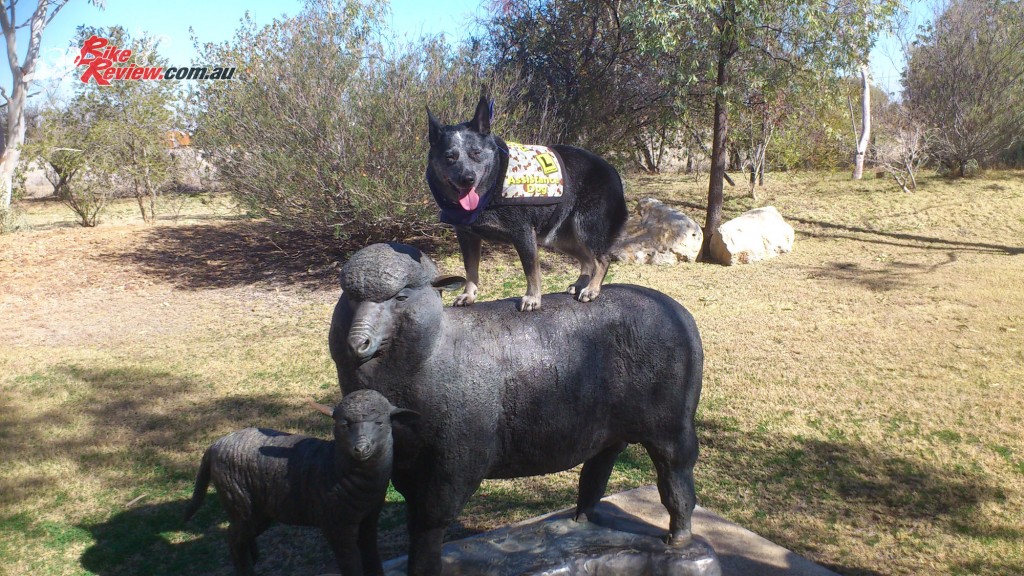 Heading down to Winton, we stop at the Walkabout Hotel in McKinley and again at the Blue Heleer Hotel at Kynuna.
At Winton, we find the fence behind the pub made of all sorts of refuse and also see the Waltzing Matilda museum, before moving on again to Longreach. There's a nasty 'roo plague through this section and the associated road kill – I lost count at 400.
At Longreach we are greeted by an emu in the carpark of the van park! We decide another rest day was needed and tour the Stockmans Hall of Fame and the QANTAS Museum, before we continue onto our final destinations.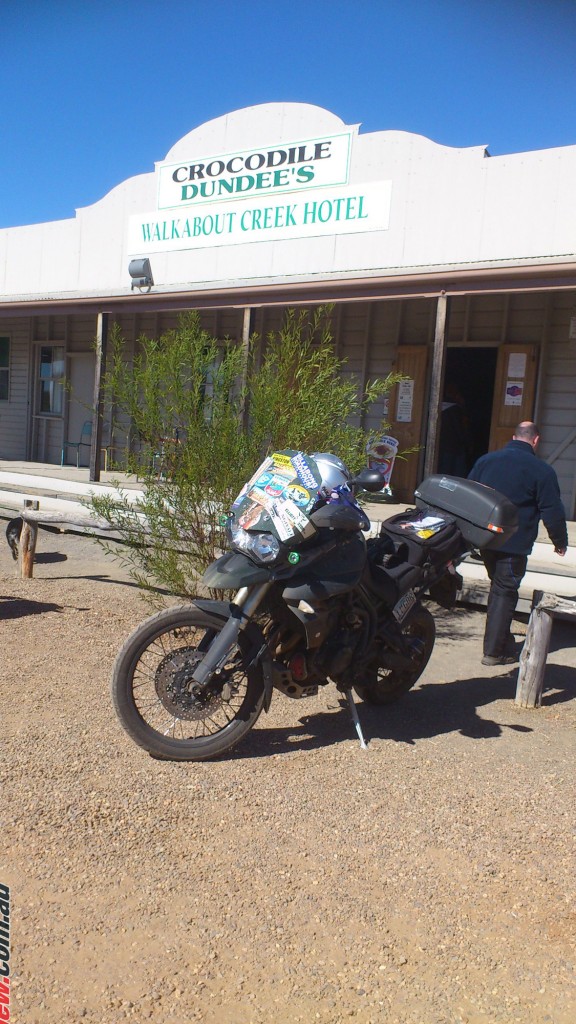 After Longreach we headed down to Emerald where we said gooodbye to Matt's dad and then ride into Springsure. From Springsure we headed down to Toowomba where we met up with one of Tex's mates and onto Willowbank.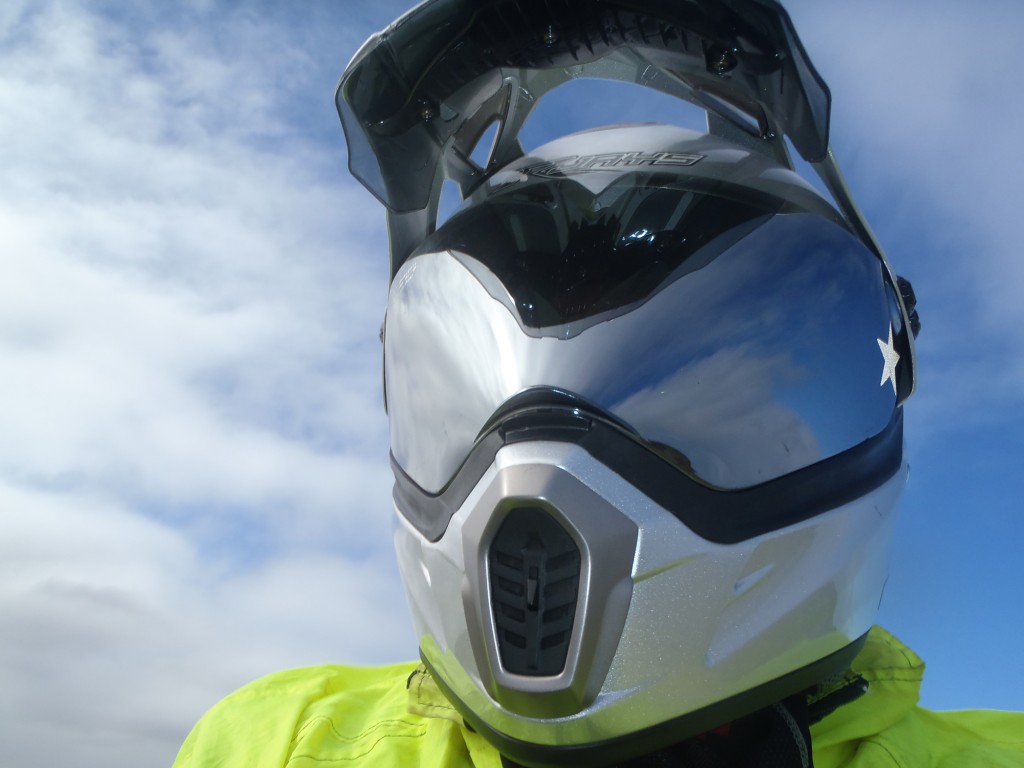 For Matt, Lisa and Suz, the next leg is the last part of their trip and they are keen to get home, not that I can blame them – so far it's been 25 days of riding in all sorts of conditions.
Willowbank is extremely foggy when we leave and head down to Nerang and by now the sun is out and warming us up as we head down the M1 to Byron Bay (the Lighthouse), Ballina (the Big Prawn) and eventually Coffs Harbour (the Big Banana), where there's a group of friends waiting to welcome us.
We enjoy a night on the town and it's a big relief for us all to have gotten through this adventure, in one piece, with minimal problems along the way.
The next morning I head home along the familiar road I've ridden so many times and realise that this last 500km is truly the end of this great adventure.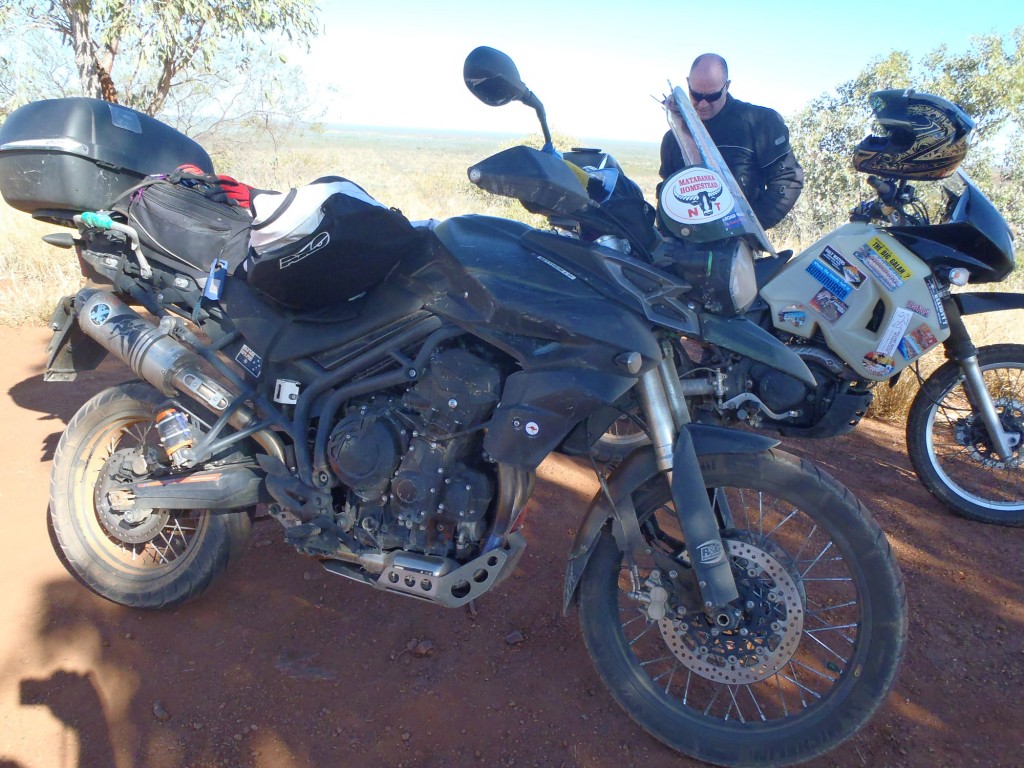 I get home, ride into the driveway, hop off the bike and look at it, covered in bugs, feathers, red dirt, brown dirt, road grime and layers of tar… and my Triumph Tiger 800XC hasn't missed a beat.
14,039 kilometres, 23 riding days, three rest days, one new rear tyre… a lot of miles, thousands of smiles.
It doesn't get any better than that!