The 2020 Suzuki V-Strom 1050 & 1050XT arrive mid year and reading the spec's the XT is going to be one amazing bike for Aussie conditions...
For MY20 Suzuki will introduce a new generation flagship V-Strom model line-up – the V-Strom 1050 and V-Strom 1050XT. Powered by Suzuki's highly acclaimed 1037cc, 90° V-twin, DOHC engine, the V-Strom 1050 XT is the most technologically advanced production Suzuki in the history of the Company. The new V-Strom is expected here in mid 2020. We can't wait! 
Thanks to new camshaft profiles and timing, peak horsepower has increased from 74kW@8000rpm to 79kW@8500rpm (106hp). Not much more detail is available on the engine, however, there are plenty of updates to the chassis, styling, electronics and rider aids to talk about.
The distinctive new styling incorporates elements of both Suzuki's legendary DR-Z desert racer and the large off-road model DR-BIG. The beak design first adopted by Suzuki stays true to Suzuki's heritage.
ELECTRONICS
The most technologically advanced production Suzuki motorcycle in company history, the latest generation V-Strom XT is the first to boast Suzuki's new Intelligent Ride System (S.I.R.S). Combining an array of electronic aids and controls as well as several unique features only available on the XT, further enhancing rider useability and convenience.
An advanced cruise control system works in conjunction with the new Ride-by-Wire throttle system. Cruising speed can be set from approximately 50km/h to 160km/h at fourth gear or above. A switch on the right handlebar can be pressed to put cruise control into standby, and the selector switch (up/down) on the left handlebars allows the rider to adjust the speed up and down accordingly.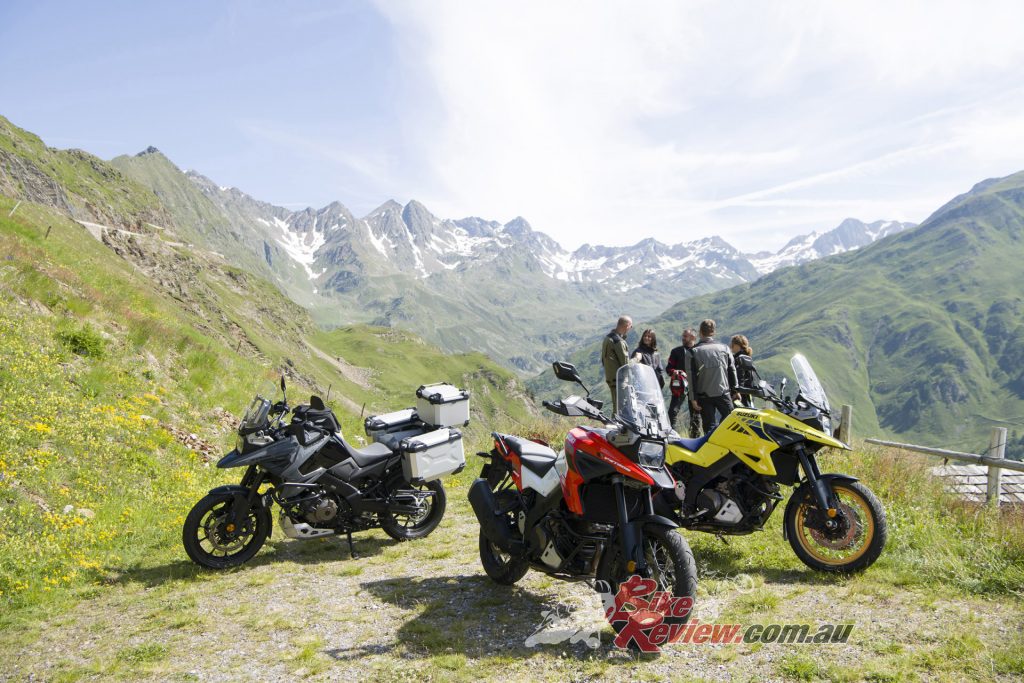 Suzuki's famous Drive Mode Selector (SDMS) is now available on a V-Strom for the very first time, offering riders the choice of three difference output characteristic modes. A-mode provides the sharpest throttle response, B-mode provides a slightly softer throttle response and C-mode provides the softest response.
Another Suzuki first is the Hill Hold, Slope Dependent and Load Dependent control systems available on the XT. Hill hold control automatically applies the rear brake when the motorcycle is stopped on an upward slope to prevent rollback when the brakes and clutch are released. Slope Dependent control constantly monitors posture and if required controls brake pressure to prevent rear wheel lift during downhill braking. Load Dependent system supports optimal braking by compensating for varying load conditions such as the difference between riding solo or with a pillion and loaded luggage vs unloaded.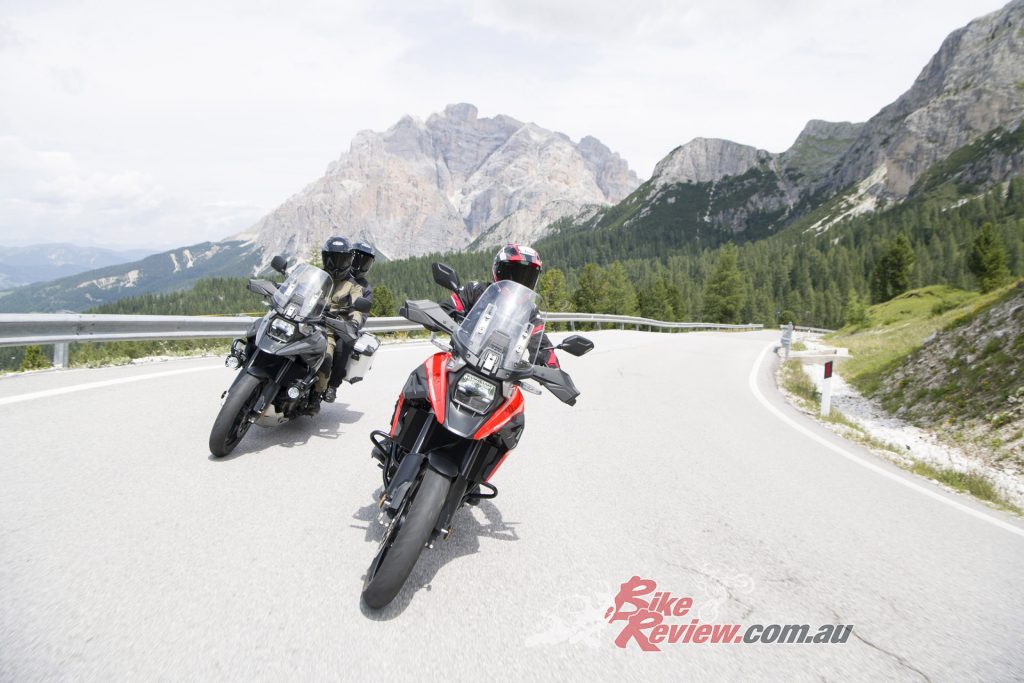 An updated traction control system now features three modes of control. Mode 1 is for spirited riding with minimal level of intervention. Mode 2 is ideal for commuting and regular riding conditions and Mode 3 is best suited for poorer riding conditions such as wet or cold roads. We are not sure if it can be switched off yet but will check with Suzuki Australia.
An upgraded Bosch inertial measurement unit (IMU) equipped on the XT model now works on 6-directions along 3-axis rather than the 5-axis of the previous system. This allows it to detect pitch, roll, and yaw movements based on the angular rate and acceleration. This new high-performance 6-direction IMU combines a 3-axis angular rate sensor (gyrometer) and a 3-axis acceleration sensor in a single compact unit.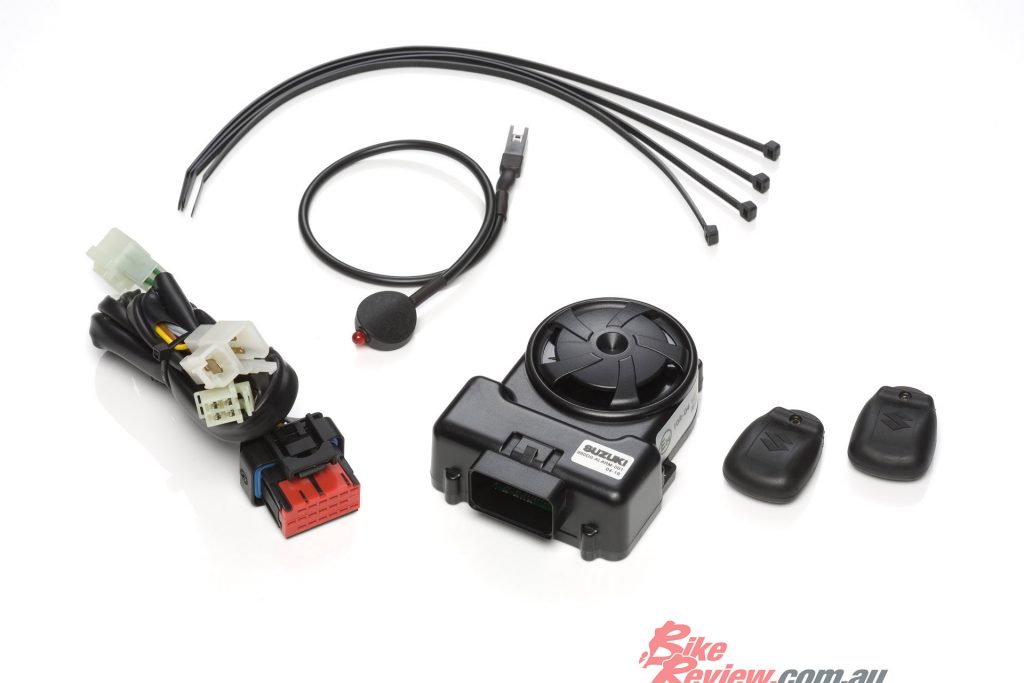 The motion track brake system exclusive to XT combines information on the posture of the vehicle from the new IMU with the front and rear wheel speeds. This allows the ABS to activate not only in a straight line but also when the vehicle is leaning. When the brake lever or pedal is operated, this system instantly assesses the need of ABS operation by calculating the posture of the vehicle and front and rear wheel speeds. When judging the need of operation, ABS unit decreases braking pressure, and continues to control the increase/decrease of the pressure according to the traction available.
This latest ABS system allows the rider to select from 2-levels of intervention. Mode 1 provides minimal intervention and is suitable for flat dirt roads, whilst Mode 2's intervention timing is earlier than Mode 1 and is ideal for normal tarmac roads. A newly added Combined Brake System automatically applies pressure to the rear brake to help stablise the motorcycle when the front brake pressure rises to a certain degree. Hopefully this can be switched off when needed.
The instrument panel presents all required information on a full LCD screen using a clean and intuitive layout with information displayed in order of priority. Included in the display are the speedometer, tachometer, gear position indicator, odometer, trip meter (A, B), instantaneous fuel consumption, average fuel consumption, driving range, fuel level indicator, engine coolant temperature indicator, ambient air temperature indicator, clock, voltage meter, service reminder, SDMS mode, traction control mode, cruise control indicator, ABS mode, hill hold indicator, engine rpm indicator light, frost indicator light, turn signal indicator light, high beam indicator light, traction control indicator light, ABS indicator light, and neutral indicator light.
A USB port is located left side of the instrument panel. It can be used as a power source for charging a smartphone, navigation system, or other similar device.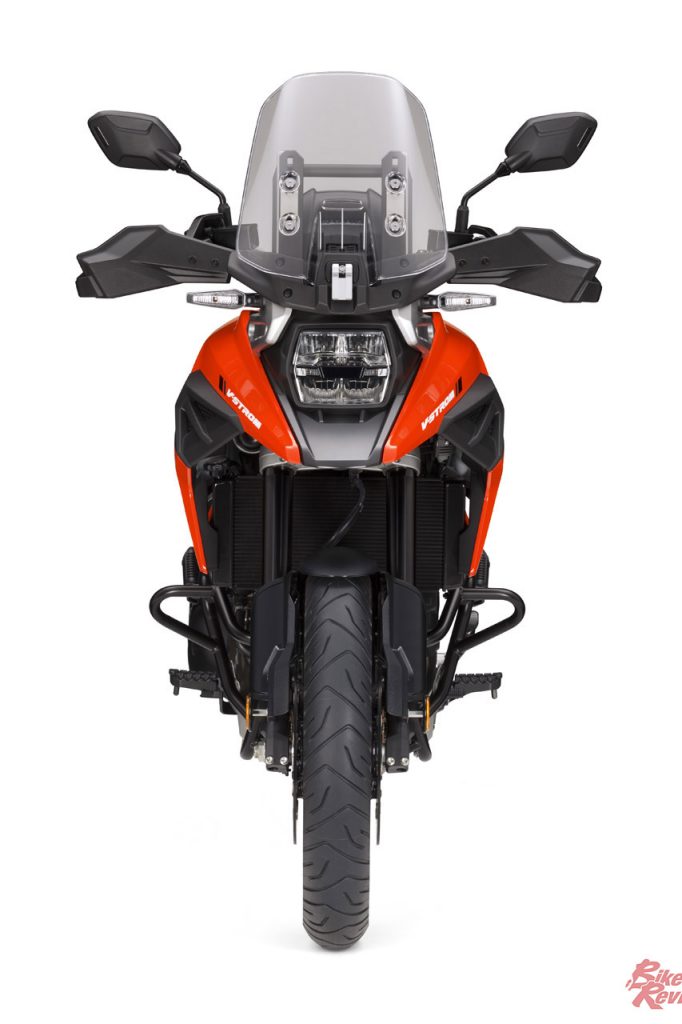 CHASSIS
Utilising a cast aluminium twin-spar frame featuring the optimal rigidity balance for exceptional stability and handling performance the frame supports everything a rider requires to embark on their next big adventure from straight line stability to smooth and natural cornering with high levels of traction.
The 43mm KYB inverted front fork features adjustable compression damping, rebound damping and spring preload. The KYB rear shock features adjustable spring preload only, via an external hand dial to easily facilitate adjustments between riding solo, with pillion or fully loaded with luggage.
The V-Strom 1050XT also sports a completely new seat design that allows the seat height to be adjusted an additional 20mm higher than the standard position.
Tokico Monobloc radial mounted front brake calipers handle stopping duties matched with dual 310mm floating rotors at the front. The footrests are constructed of steel and have been redesigned to make it easier for the rider to stand on flat dirt, and are also wider than the previous version.
Protection and convenience on the XT is taken to the next level with an aluminium under cowling and accessory bar guarding underneath and side of the engine whilst stronger hand guards have been employed to protect rider's hands from wind, rain and flying stones. The lightweight centrestand is useful when performing maintenance tasks and loading luggage.
Wire-spoked aluminium rims are fitted as standard on the XT model offering improved road absorption whilst the standard model is equipped with 10-spoke cast aluminium wheels. Both variants are shod with Bridgestone Battlax Adventure A41 tyres.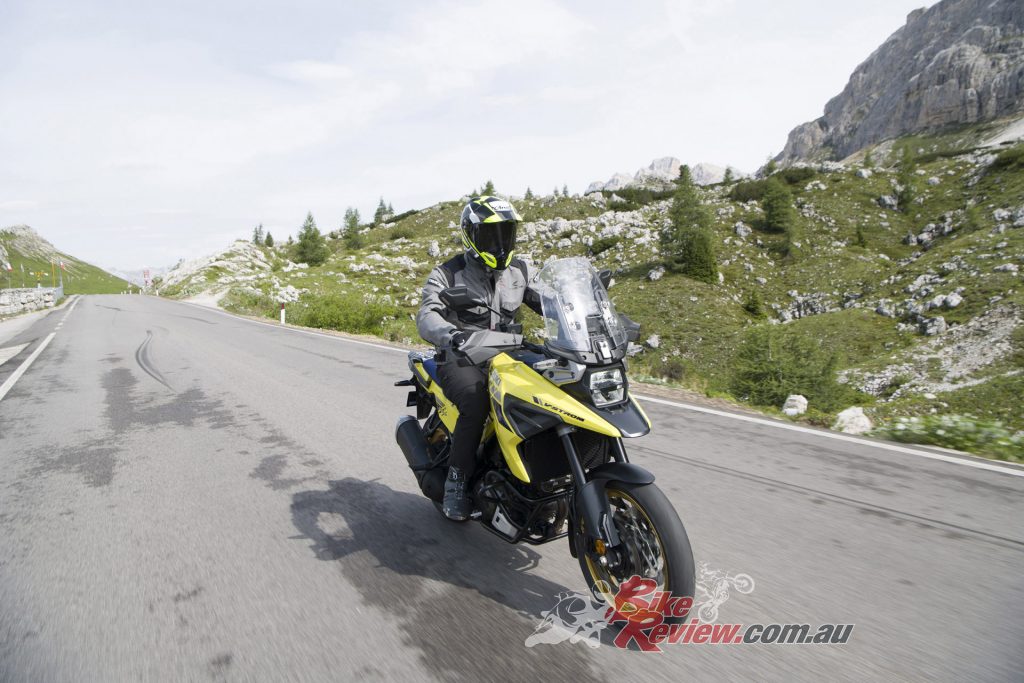 A vertically stacked LED headlight and LED rear combination light are featured and the XT also features LED indicators as standard equipment.
Other niceties include Suzuki's Low RPM assist system which monitors and automatically raises the idle speed when taking off from a stop or when riding slowly through traffic and
Suzuki's Easy Start System which provides ultra-convenient one-touch engine starting.
The MY20 V-STROM 1050/XT are expected to arrive in Australia during the middle of 2020 with final specifications, colours and pricing being confirmed closer to launch. Check Suzuki Australia for updates.
2020 Suzuki V-Strom 1050 Highlights
New Generation flagship V-Strom model line-up
Available in two variants: Standard and Cross-Touring (XT)
New Suzuki Intelligent Ride System (S.I.R.S)
New Cruise control system (XT model)
New Hill hold control system (XT model)
New Slope dependent control system (XT model)
New Load dependent control system (XT model)
New Suzuki Drive Mode Selector (SDMS)
New Styling design inspired by legendary DR-Z desert-racer
New Height adjustable windscreen
New LED headlight and LED rear combination lights
Updated Euro 5 compliant V-twin engine boasting higher output
Aus Availability: Mid 2020 – Final colours, specifications and pricing TBC
2020 Suzuki V-Strom 1050 Gallery