Is this the Suzuki road bike that Australia's been waiting for? With GSX-R heritage, GSX-S1000 handling and sports touring luxury, plus a full electronics suite, it's a lot of bike for $19,090 R/A...
In huge news, Suzuki has unveiled a sports touring model, the GSX-S1000GT. Coming in at a very inviting $19,090 Ride away from March, the GT has full fairings, touring ergonomics, pillion comfort, a full electronics suite, connectivity and a massive range of genuine accessories…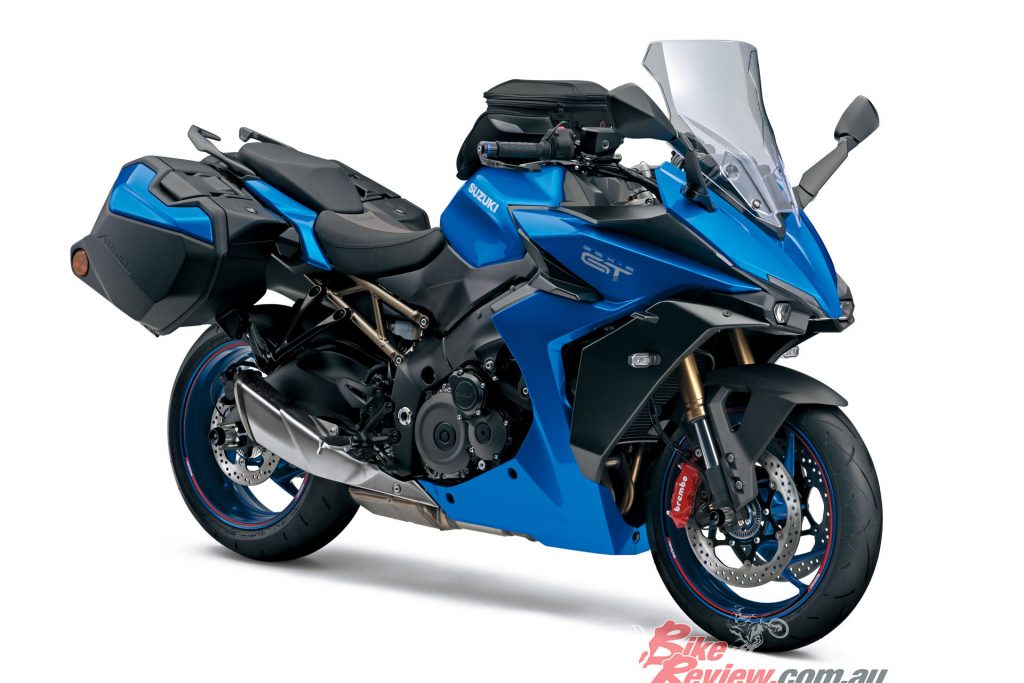 The GT (Grand Tourer) GSX-S represents a total rethinking of what performance-minded touring enthusiasts desire, and the result is a new lightweight performance sports tourer built to conquer extended two-up journeys with unprecedented comfort, controllability, and connectivity bundled in a luxurious eye-catching package worthy of the 'GT' designation.
GSX-S1000GT – FULL VIDEO
---
---
The GT is the first production Suzuki motorcycle to feature a full-colour TFT LCD screen. The new 6.5in screen has been developed as a large multi-information display for specific use on motorcycles, whereby the TFT LCD panel features an anti-reflective coating for improved visibility in bright light and a scratch resistance surface.
Smartphone connectivity that allows access to a variety of apps and functions that bring greater convenience, functionality, and fun to the ride. In addition to Day/Night display schemes and adjustable brightness, the screen's display features smooth tachometer movement and exclusive graphics.
---
---
The SUZUKI mySPIN app connects the rider's smartphone enabling it to transfer its display to the GT's large TFT screen where the contents of the phone can be viewed such as contacts, calendar, music, and map apps. You can see it in use in the video above.
---
---
The app also has the capability to utilise a selection of supported third-party apps optimised for use by motorcycle riders and take advantage of additional services that bring greater convenience and fun to the touring experience.
---
Smartphones can be connected via USB, Wireless LAN or Bluetooth®, and charged using the dedicated USB outlet on the left side of the TFT LCD panel…
---
These include navigation, rider assistance, music streaming, tracking, route sharing, and weather information services. SUZUKI mySPIN is compatible with iOS and Android™. Smartphones can be connected via USB, Wireless LAN or Bluetooth®, and charged using the dedicated USB outlet on the left side of the TFT LCD panel.
The Suzuki Intelligent Ride System (S.I.R.S.) introduces a collection of advanced electronic systems that lets the rider easily optimise the performance characteristics to best suit their riding style and level of riding experience. S.I.R.S. brings greater confidence and enjoyment by allowing the GT to be more controllable and predictable whilst also being less fatiguing.
---
---
Suzuki Drive Mode Selector (SDMS) is designed to offer the rider a choice between three different modes that change output characteristics to match riding conditions or preferences.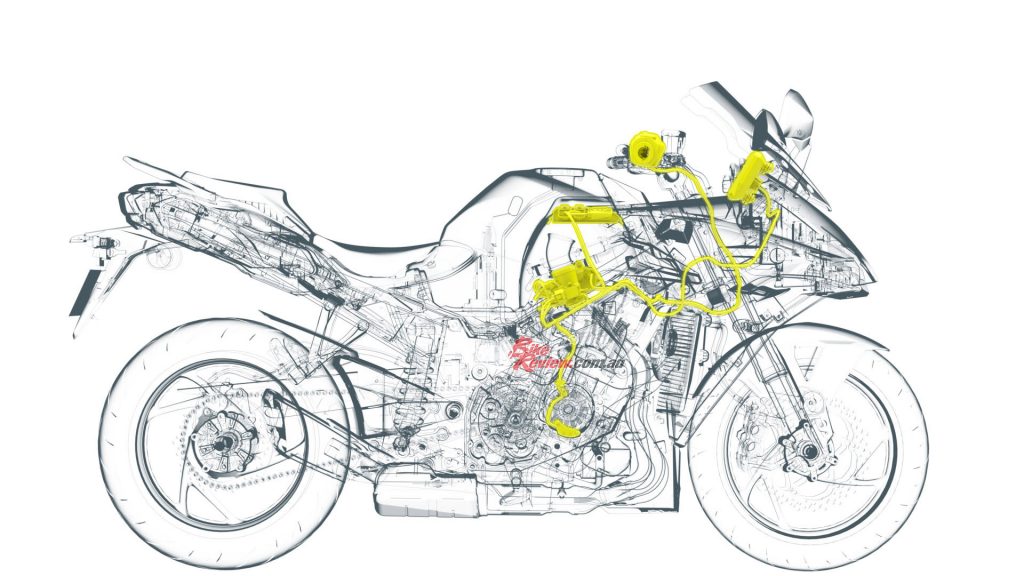 Mode A (Active) provides the sharpest response as the rider opens the throttle. Settings for torque characteristics are finely tuned to deliver the exciting acceleration that had earned the previous generation GSX-S1000F high acclaim. It is well suited for use when hitting the throttle hard, such as when participating in track day events or enjoying twisty roads in good weather.
Mode B (Basic) reaches the same level of maximum output but features softer response and a more linear power delivery curve as the rider opens the throttle. The settings are tuned to make the bike more controllable and instil confidence when accelerating, and to make it a good fit for a wide range of rider styles and road conditions in everyday riding.
Mode C (Comfort) provides the softest throttle response and gentler torque characteristics, delivering power in smoother linear fashion while still reaching the same level of maximum power output. The gentler throttle response and limited torque production as the throttle is opened makes more obedient and controllable when riding in wet conditions or otherwise slippery surfaces, or when the rider wants to relax and enjoy an easy ride home after a long outing.


---
---
Equipped with an updated version of Suzuki Traction Control System (STCS) with a wider selection of 5 mode settings (+ OFF). The finer incremental control over settings allows the new 5-mode traction control system to better fit a more diverse variety of riding conditions and styles.
---
A ride-by-wire throttle system provides finer control also allows optimum settings to best match each of the SDMS modes. The overall result is linear power delivery that responds faithfully to the rider's intentions, whether riding on the street or heading out to enjoy a spirited run, as well as improved controllability when opening the throttle while cornering.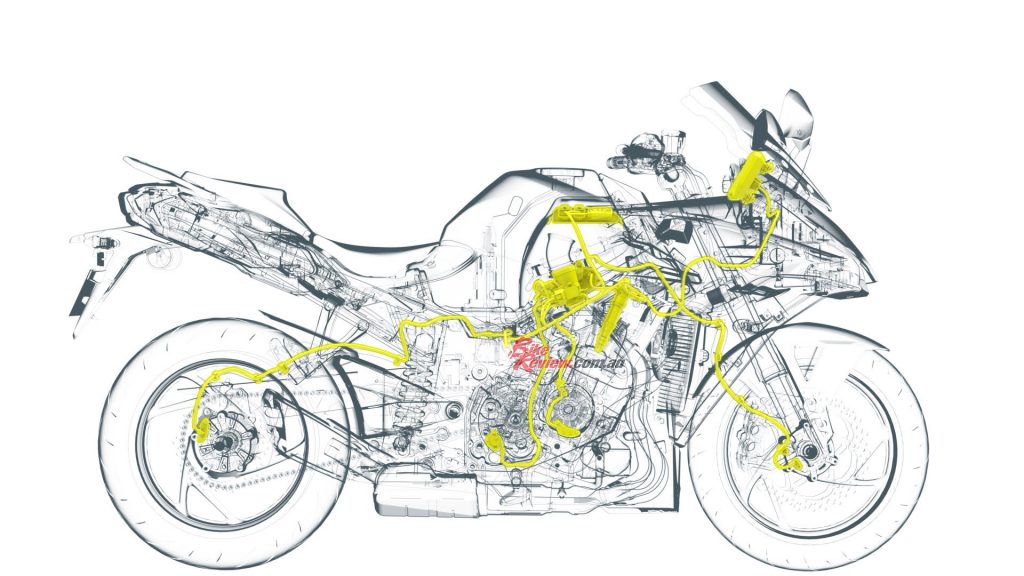 Cruise Control speed setting can easily be adjusted up or down using the (+/-) select switch on the left handlebar and confirm the current setting on the TFT LCD instrument screen by pressing the left handlebar switch's RES button. Cruise Control can be set at speeds between 30km/h to 180km/h while riding above 2,000rpm in second gear or higher.
---
---
The bi-directional quick shift system allows the rider to shift up or down more quickly and easily without the need to operate the clutch or throttle. When decelerating, the system automatically opens the throttle valves just enough to increase rpm and match engine speed to the next-lower gear ratio. The result of this hands-free automatic blipping function combines seamlessly with engine braking to create a highly satisfying experience when downshifting.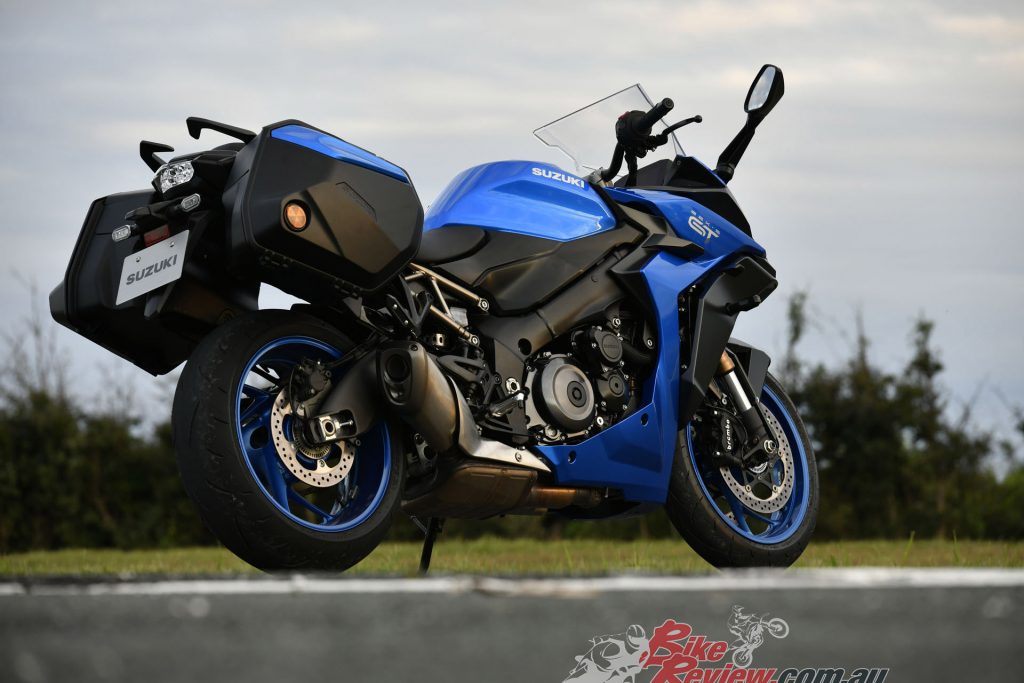 Suzuki's Easy Start System lets the rider effortlessly start the motorcycle with one quick press of the starter button. There is no need to continually hold the starter button down nor need to pull in the clutch lever when the transmission is in neutral. Other niceties include Suzuki's Low RPM Assist system which monitors and automatically raises the idle speed when taking off from a stop or when riding slowly through traffic to reduce surging and chances of engine stalls.
The new GT is powered by a high-performance 999cm3 DOHC liquid-cooled inline-four engine developed to realise the ideal a true grand touring riding experience. The engine underwent a thorough review and updates to increase power output and achieve an even better balance of overall performance, all while satisfying Euro 5 emissions standards.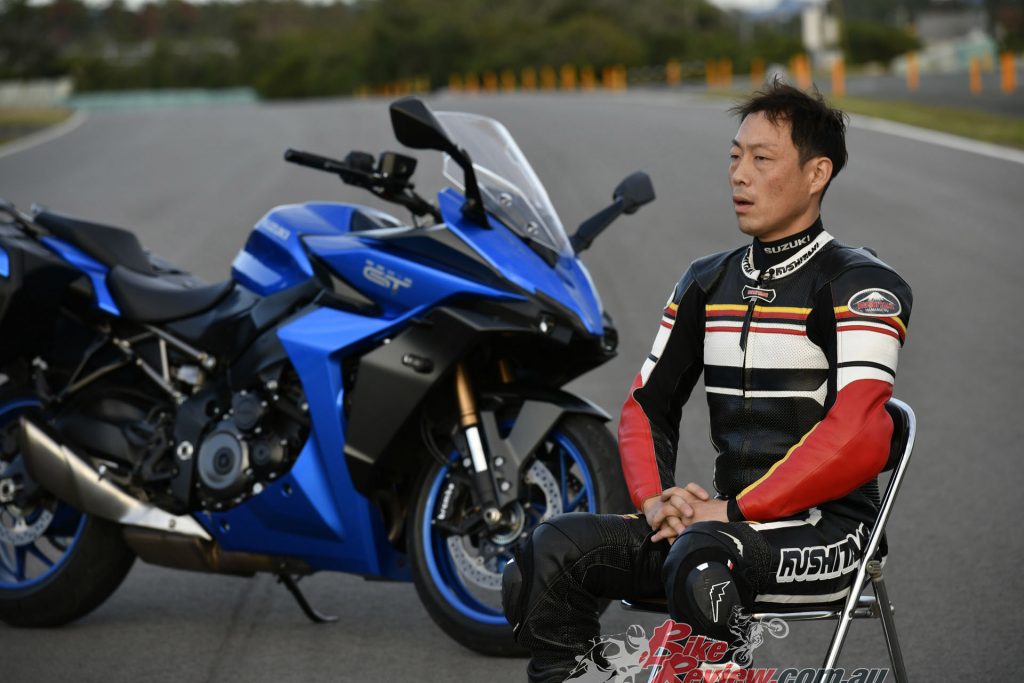 Suzuki say the new version delivers superbike-level performance while minimising vibration to make riding more exciting, more comfortable, and less tiring, whether travelling long distances on the highway or enjoying a ride around town.
Its broad, smooth torque curve featuring greater cumulative torque production consistently delivers abundant power throughout the engine's operating range and makes this grand tourer equally adept at street riding as it is at high-speed long-distance touring, even under load when carrying gear and a passenger on the back.
---
---
The new GT complements its slipper clutch, which helps provide smoother deceleration when downshifting, with a new assist function that increases the clutch's clamping force under acceleration to allow the introduction of softer springs. The result is a light touch to clutch lever operation that helps reduce left hand fatigue on long rides, especially when caught in busy traffic.
---
---
Suzuki says the new GT delivers nimble handling and confidence-inspiring controllability, whether out touring long distances on the highway, negotiating twisty roads, or simply enjoying its sporty performance on the streets. Every component of the chassis and running gear is engineered to bring the right balance of agility, stability, and comfort for a true grand touring experience.
At the core is the compact, lightweight chassis design. The rigid twin-spar aluminium frame and ruggedly braced aluminium-alloy swingarm are key to great road holding ability that will go the distance, even when carrying a passenger and a full load of gear.
---
Every component of the chassis and running gear is engineered to bring the right balance of agility, stability, and comfort for a true grand touring experience…
---
Newly designed sub-frame rails serve two benefits. Firstly, they provide more rigid and secure attachment points for the optional side cases. Secondly, the new design lowers the height of the seat rails, making it possible to increase the thickness of the pillion seat for greater passenger comfort.
Fully adjustable ø43mm KYB inverted front forks and link-type rear suspension combine agility and stability with a ride that is sporty yet plush.
---
Carrying all this to the road surface in harmony with the suspension settings are six-spoke cast aluminium wheels shod with new Dunlop SPORTMAX Roadsport 2 radial tyres designed specifically for the GSX-S1000GT. The tyres adopt an updated internal construction with a carcass that is custom engineered exclusively for the GT and tuned to deliver just the right level of rigidity to match its weight and the riding conditions under which it will be used.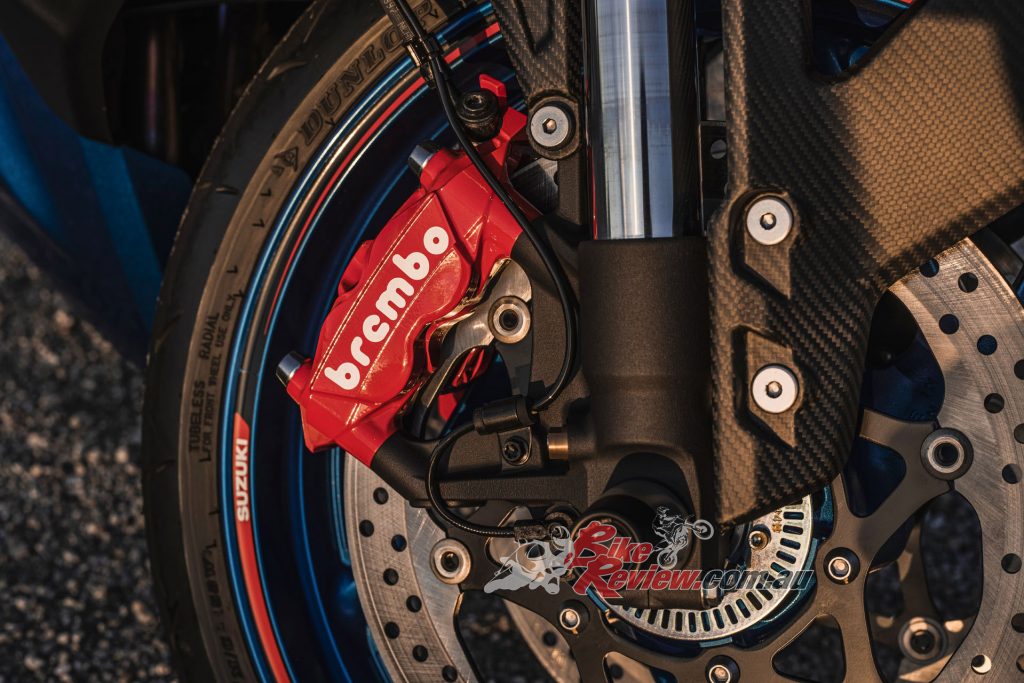 The GT is equipped with top-of-the-line radial-mount Brembo monobloc calipers. The calipers each have four opposed ø32mm pistons acting on a ø310mm floating-mount disc for strong stopping power. An antilock braking system (ABS) helps the rider stay in directional control even during hard braking. The system is programmed to monitor wheel speed and match stopping power to the available traction. The ABS control unit has a compact, lightweight design that contributes to the bike's nimbleness.
---
---
No effort has been spared in designing the GT to isolate the rider and passenger from vibration that might otherwise be transmitted from the engine or chassis. The GT adopts a new floating handlebar design that introduces rubber mounts in the top bridge and brackets to lessen the amount of vibration transmitted to the rider's hands.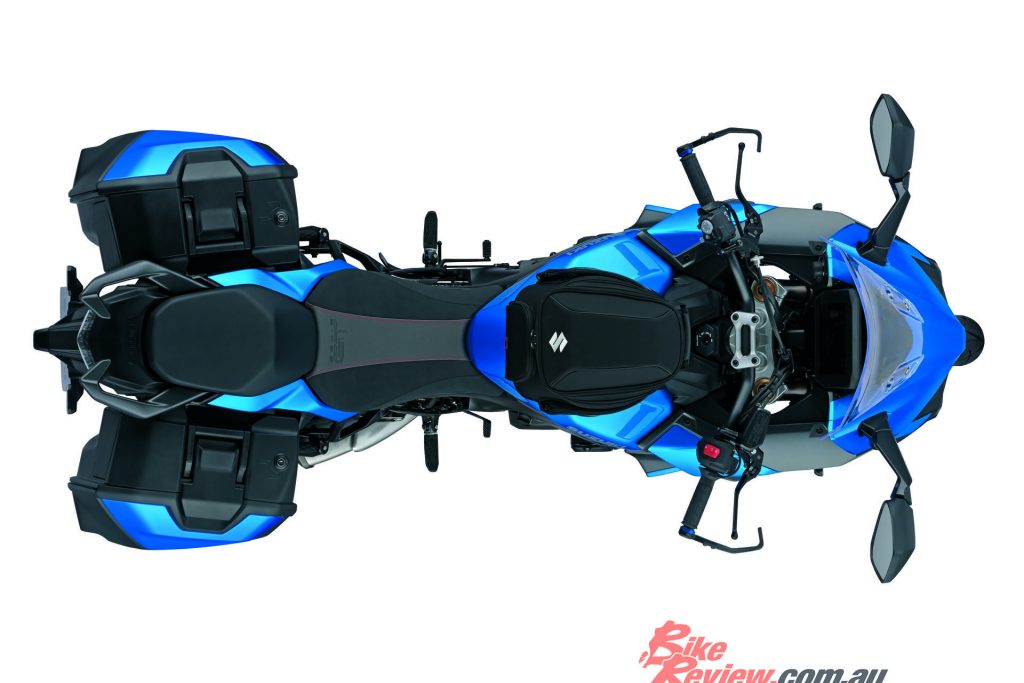 Special care went into designing the thickness, shape and size of the new rider and pillion seats, and both seats are covered in a new material that provides positive grip. New grab bars at the back of the pillion seat further contribute to passenger comfort. One additional example is the vibration absorbing rubber that covers the aluminium footrest pegs for both rider and pillion.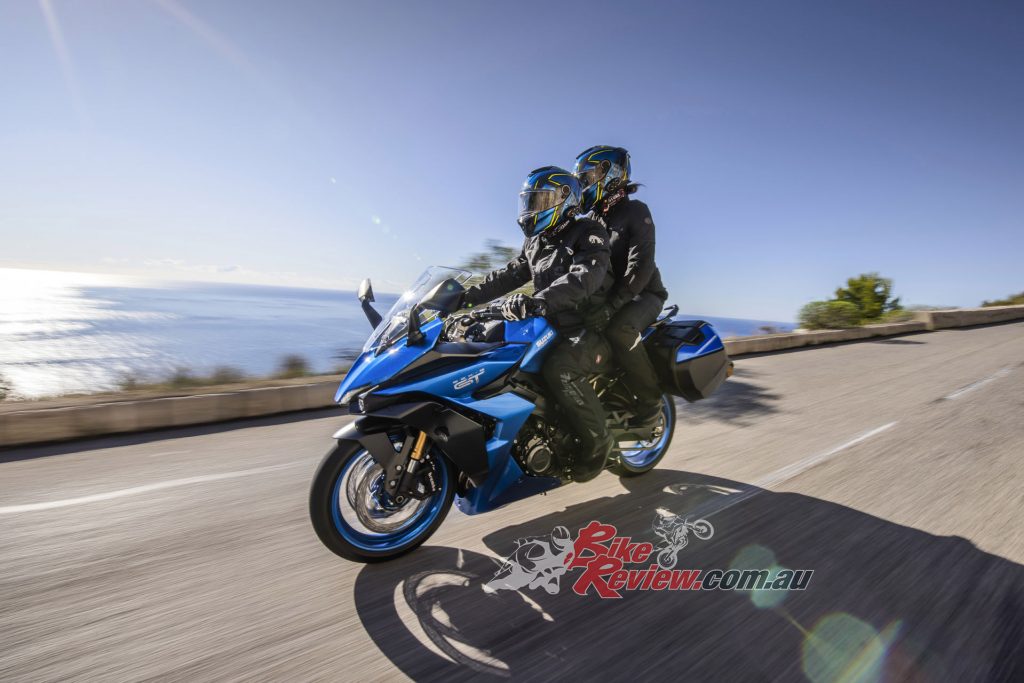 The mission to find the optimum riding position for touring led to angling the handlebar grips 14mm closer to the rider than on the previous GSX-S1000F. This enables the rider to have a more upright posture, which enhances comfort.
---
To be aerodynamically efficient, and to be easier to control and more comfortable, whether touring for long distances fully loaded with a pillion or popping out for an exciting solo blast…
---
The new tapered handlebars are also lengthened to achieve a 23mm wider grip placement. In addition to making the bars more comfortable to hold, this gives the rider greater control over steering while requiring less effort to steer the bike.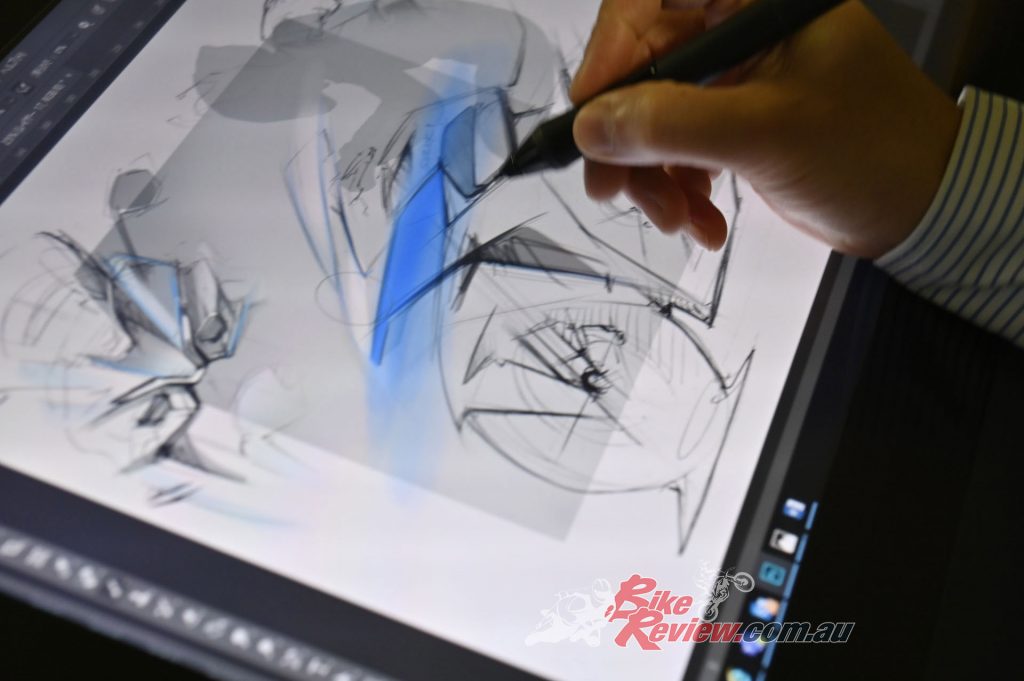 The goal of the new GT design concept is to visually express the performance potential, comfort, and pleasure of this true grand touring motorcycle. At the same time, it aims to convey the refinement and sophistication of a product designed to offer advanced functions such as the intelligent rider aids, safety systems and smartphone connectivity, to be aerodynamically efficient, and to be easier to control and more comfortable, whether touring for long distances fully loaded with a pillion or popping out for an exciting solo blast.
---
---
The GT's new front cowl, windscreen and mirrors are all meticulously designed to contribute to achieving the requisite level of aerodynamic performance. Each component was analysed early in the development process to identify any issues.
---
Repeated cycles of wind tunnel testing, analysis and refinement to ensure that all the pieces work together harmoniously…
---
That was followed by repeated cycles of wind tunnel testing, analysis and refinement to ensure that all the pieces work together harmoniously to maximise wind protection and make the rider more comfortable by reducing sources of stress such as exposure to the cold and elements. This reduces fatigue when touring at high speeds and frees the rider to concentrate on enjoying the experience.
---
---
While aerodynamic performance was a given, design priorities for the GT's new windscreen focused keenly on maximising wind protection to deliver relaxing comfort worthy of a grand touring riding experience. At the same time, the designers were also concerned with keeping the form as compact as possible and making the screen attractive. Development involved repeated rounds of wind tunnel testing and analysis, with the design begin refined at each stage until it achieved just the right overall balance to satisfy the development team's goals.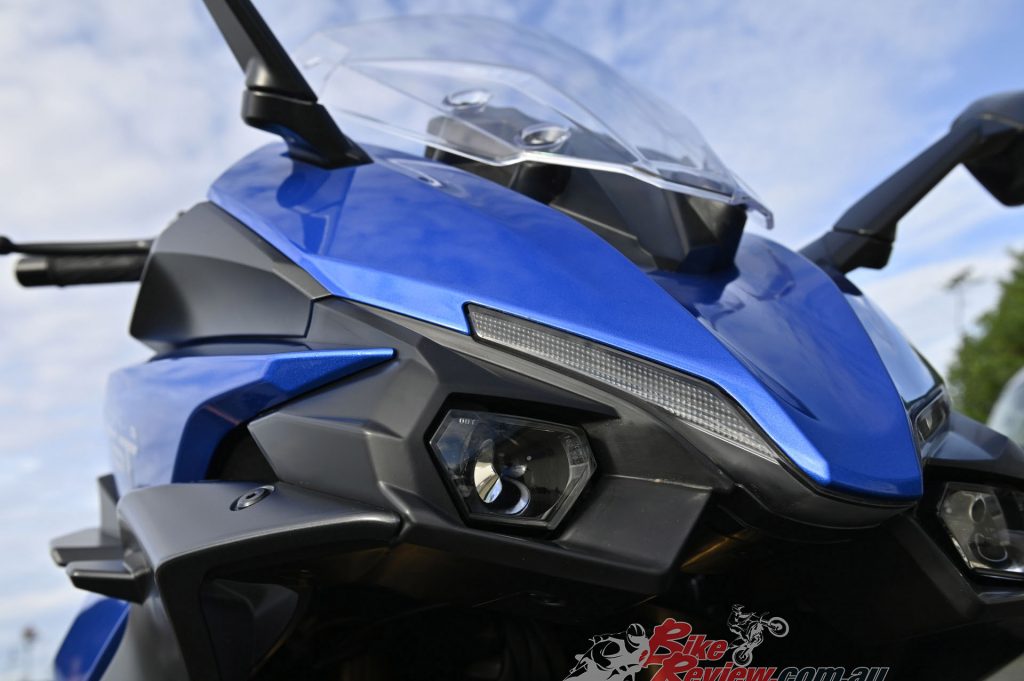 A pair of new LED headlights clearly illuminate the road and shoulders ahead. Their distinctive hexagonal shape and horizontal layout combine with the sharp nose of the cowl to create a look of advanced styling and a new face for Suzuki motorcycles. The rear combination light and new indicators use LEDs for high visibility and long life. With a clear lens covering the LEDs, the design of the rear combination light conveys a premium feel that emphasises the stylish lines of the compact tail section.
---
---
Fuel capacity has been increased thanks to a new attractive 19L fuel tank combined with the GT's excellent fuel efficiency to help extend riding range and reduce the number of refuelling stops.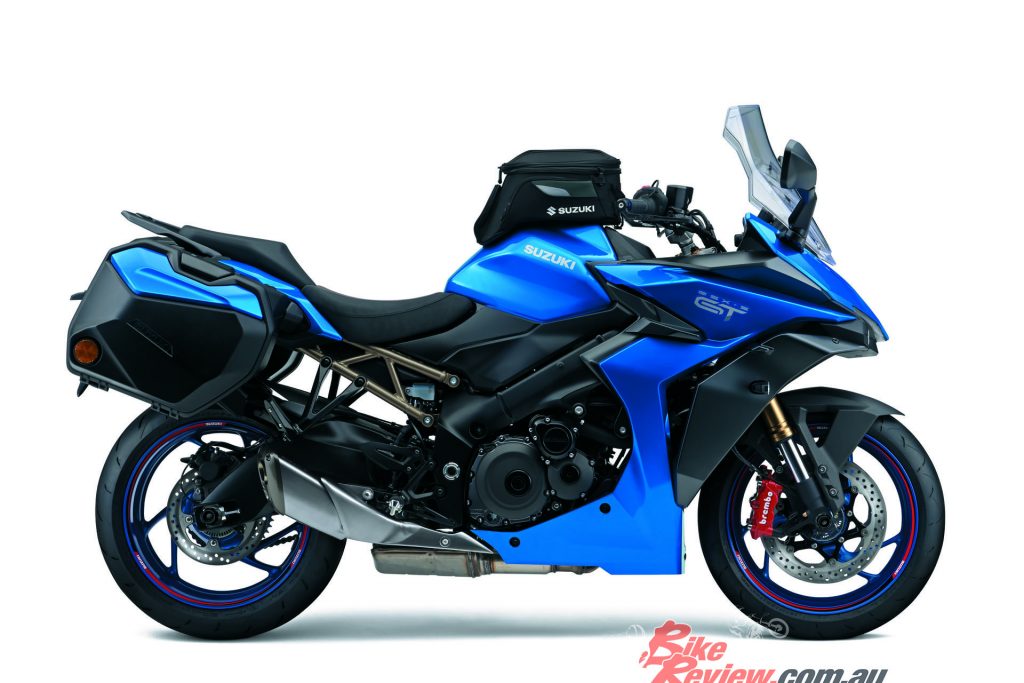 The MY22 Suzuki GSX-S1000GT is due to arrive in Australia during March 2022 and will be available in two colours – Metallic Triton Blue and Metallic Reflective Blue for a manufacturer's recommended retail price of $19,090 *Ride Away.
---
*Manufacturer's Recommended retail ride away price shown includes 12 months registration (NT 6 months), 12 months compulsory third party insurance (CTP), stamp duty and pre-delivery charges.
---
Flagship Sports Touring model: MY22 GSX-S1000GT
Suzuki Intelligent Ride System (S.I.R.S)
Suzuki Drive Mode Selector (3 modes)
Track Traction Control System (5 modes + OFF)
Bi-directional Quick Shift System
Ride-by-Wire throttle system
Cruise Control System
LED headlight and LED rear combination lights with integrated LED indicators and position lights
6.5" TFT LCD Screen
Smartphone connectivity via new SUZUKI MySPIN app
USB outlet
Wind-cutting aerodynamic bodywork design
Rear sub-frame, specifically designed for long distance touring
Rider triangle, handlebars now 23mm wider and 14mm closer to the rider
Rubberised handlebar mounts and footrest inserts
Euro 5 compliance
Internal engine components for the 999cc long-stroke inline four-cylinder engine resulting in enhanced low-to-mid range power and torque output with improved efficiency and durability.
---