SecurityGear.com.au offers the best in legal Driver Safety Gear, their motto is, "Products for your peace of mind!"
Featuring the ALPriority Dual Sensor Multipurpose Parking System and the AL Priority Bluetooth Module, this package is designed to keep you safe and remain alert while on the road on your bike…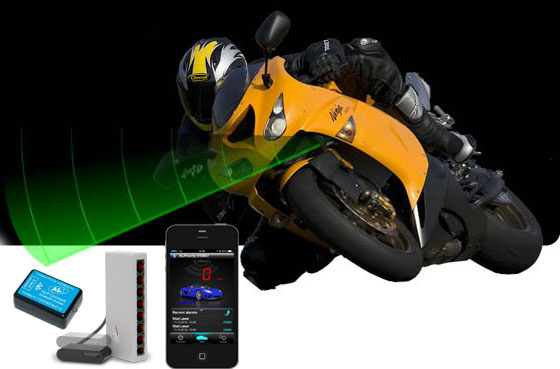 Combining the ALPriority Dual and Bluetooth Module allows Motorcycle users to have the safety of using the Number #1 Laser Defence System in Australia on their bike and receive audio and visual alerts through their iPhone via the Bluetooth module and ALPConnect App*. Headphones Required.
Included in Package:
– ALPriority Dual
– ALPrority Bluetooth Module
ALPriority2 – 2 Sensor Kit
Smallest and strongest sensor: The smallest sensor in its ultimate performance class, extremely resistant to engine noise and laser interferences
Laser coverage: Because of its 4x detector diode design the AL PRIORITY provides much better protection per sensor and wide angle coverage (up to ±15°H ±15°V)
Fast processing: The first to incorporate a Dual 16/32 bit processor running at over 100 MHz. Complex power filtering and stabilizing components allow ALP to operate from a 10V to 17V power supply
More effective: Superior laser detection powered by AL patented technology makes this sensor at least 40-100% more effective than any competitive product
User friendly and informative: AL PRIORITY is the first product in the industry that can be firmware upgraded and custom set up by a USB flash drive. Thanks to front and rear sensor discrimination, user is informed what sensor is alerting. As well, thanks to advanced self-test function, user is timely informed in case of any disconnection or malfunction.
Al Priority as a parking sensor: AL PRIORITY is, as its predecessors were, a completely functional parking assist device operating on the 905 nm light frequency. It constantly emits laser signals and recognizes them when reflected from an obstacle, consequently warning the user. Parking detection range can be custom setup to your preferred level within 8 available PDC options. As getting closer to the obstacle the speed of the parking alert will become faster. Thanks to the advanced program code the system will discriminate the laser signals coming from other laser sources. In case its normal operation gets interfered with by another laser source on the same light frequency, the ALP will try to maintain its perfect functioning. Should it recognize itself as a potential source of interference to another system, such as official speed measuring devices, the ALP system is programmed to reset within seconds.
ALPriority Bluetooth Module Gen.2

The ALPConnect Bluetooth Module (Gen.2) supports both wireless and wired control of the AL Priority. If the system detects a loss of the wireless signal from a smartphone, control automatically reverts to the Control Set.
However, if you wish to avoid running wires under the dash and not use the wired controls, you can install your sensors and mount the Control Unit in the engine compartment but use a waterproof enclosure to protect the Control Unit and the ALPConnect Bluetooth Module from moisture.
Download the ALPConnect app from iTunes or Google App Store. The smartphone app will give you all the functions of the Control Set adding a visual display with voice alerts.
compatible with the latest Android and iOS operating systems

online updateable to keep up with future Android and iOS releases

supports wired Control Set connection

enables online firmware updating of your system

adds a display to your ALP system, and more…
For more information visit the Security Gear website. $1199.00 RRP, on sale, usually $1399.00. Prod. Code: MBKALP2BT