Shell's Advance Ultra motorcycle oil is formulated for all modern motorcycles, offering high performance and great reliability.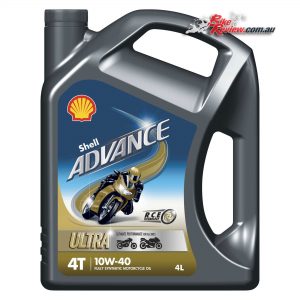 Shell Advance Ultra is designed for four-stroke modern motorcycles requiring performance specification API SM, JASO MA2 and provides Shell's ultimate protection and performance for all modern motorcycles, whatever their engine size.
Shell Advance Ultra delivers excellent control with smooth gear changes, and a more enjoyable ride thanks to reduced noise and vibration.
And it's also fully synthetic technology helping to prolong the life of your engine.
Key features of Shell Advance Ultra:
Fully synthetic technology – for Shell's ultimate protection and oil-performance reliability.

Excellent shear stability – to dampen vibration and reduce noise.

Optimised friction control – for smoother clutch engagement and gear changes.

Shell's ultimate lubrication performance – for proven protection against valve train wear.

Shell Advance's R.C.E* Technology – helps your bike perform to its peak potential and respond to your slightest touch.

Removal of sludge and engine deposits.
*RCE = Reliability of oil-performance, Control, Enjoyable ride.
Available in viscosity grades: SAE J 300 10W-40, 15W-50 meet: API SM and JASO MA2.
For more information visit MotoNational.com.au or visit your local Shell motorcycle oil stockist.