AGV & Jack Miller signing session for Aussie fans at PI
Link International has announce that MotoGP rider Jack Miller will be attending the AGV Helmets Australia display this Saturday at 1.30 PM for a short signing session with Aussie fans.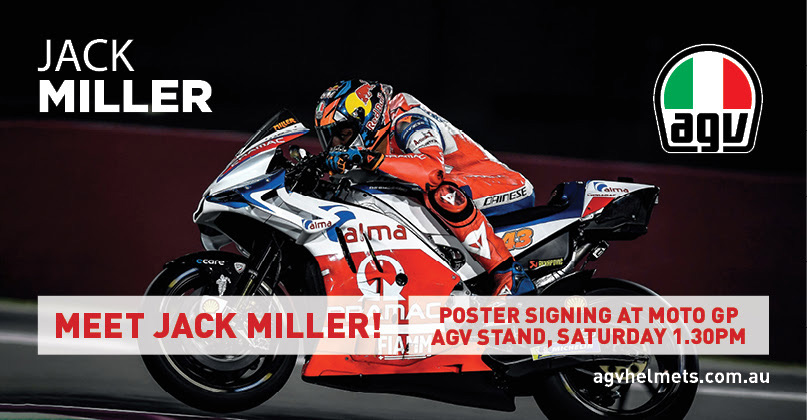 Jack races in the AGV Pista GP-R, the Moto GP helmet from AGV made of 100 per cent carbon-fibre, while the latest AGV Corsa R "Jack" will also be released this weekend at MotoGP Moto Expo.
The latest AGV Corsa R "Jack" for Aussie track day riders and racers features graphics inspired by Jack Miller's 2017 race helmet. The AGV Corsa R Jack is a premium sport-riding helmet with a carbon-aramidic-fiberglass shell, that offers a long list of amazing features for the most experienced and demanding riders.
AGV Corsa R Jack Helmet features
Shell in CAAF (Carbon-Aramidic-Fiberglass) engineered in four sizes
Five-density EPS structure developed in four sizes
Shell shape is designed to maximise aerodynamic performance
IVS (Integrated Ventilation System) ventilation with five large front vents and two rear extractors.
Internal chin channels distribute the airflow evenly through the entire visor surface.
Wind tunnel tested spoiler maximises aerodynamic performance and stability
New Corsa R interiors
New class Optic 1 visor with 100% Max Vision Pinlock
Patented Visor Lock System (VSL)
Double D retention system
Also on display this weekend will be the Limited Edition AGV X3000 Agostini, with only very limited numbers arriving in Australia of this prestigious Grand Prix riding legends replica X3000.