All new looks and upgrades for the 2021 Yamaha MT-07
Yamaha has announced a range of upgrades for the 2021 Yamaha MT-07 including a reworked engine, which Yamaha say it will give a more linear response. Also new are more powerful front brakes and all new styling underlined by the fitment of a new LED headlight, turn signals and position lights but no TFT dash.
Also included in the list of changes is an LCD dash, tapered handlebars and a new tank and seat that Yamaha claim will contribute towards a more comfortable riding position, while the latest Michelin sports tyres will be standard.
The 2021 Yamaha MT-07 will arrive during the first quarter of 2021, although no price has been set yet. The LAMS approved 655cc MT-07LA is available in Storm Fluo, Icon Blue and Tech Black and is due in March. The full power MT-07 will be available from February 2021 in only Tech Black.
---
---
The most noticeable changes to the new model is its bodywork, which has been styled to fit in more with the MT family. Key to the new look is a compact and minimalist new LED headlight assembly whose position lights and headlight give the front face a Y-shape icon that Yamaha have crowned the new look of the next generation of the MT lineup.
---
New winglets on the sides of the newly-designed 14-litre fuel tank have also been added along with the new fuel tank covers that are manufactured from injection-moulded plastic resin which Yamaha claim will reduce weight, and a 3D moulded texture is featured around the rider's knee grip area as well. Many other detail changes to the colour and finish of fork covers, footpegs, engine stays and engine covers have been added to compliment the major changes.
The latest 689cc 2-cylinder CP2 engine features a revised air intake duct design and optimised fuel injector settings, as well as a new 2-into-1 exhaust and new ECU. The 2021 engine looks to deliver smoother torque/rpm curve for an increased claimed top speed and acceleration. Yamaha have also claimed that the 2021 MT-07 will deliver 67.0Nm@6500rpm and 54kW@9000rpm. A new electric purge cut valve and lightweight battery ensures easy starts even when the machine has been parked for longer periods as well.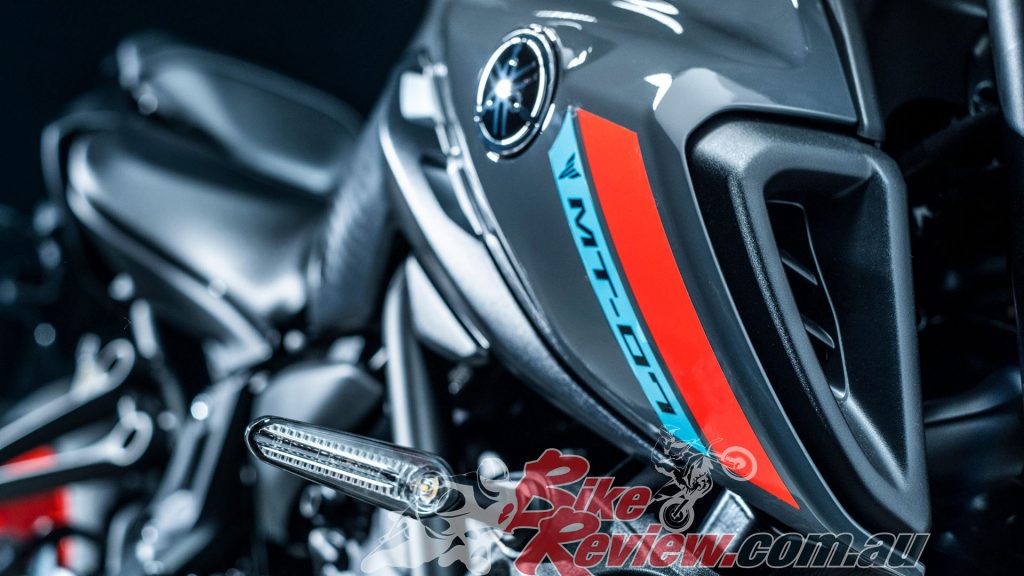 The Yamaha MT-07's front dual rotor size is increased from 282mm on the previous model to 298mm on the new bike, which Yamaha say gives more stopping power and greater controllability with no gain in weight, together with the 245mm rear rotor, the new system offers increased performance and with the fitment of the new Michelin PR5 tyres, the increased stopping power is especially in wet conditions.
The 2021 model now features higher specification LCD instruments with spot colour. This new inverted dashboard is similar to the unit fitted to the Yamaha Tracer 700, with larger displays for the clock, gear, tripmeters and tachometer compared to previous models. The use of spot colour gives an accent for key displays and a new handlebar switch enables the rider to operate the meter without needed to take their hands off the handle bars.
---
Check out our current model Yamaha MT-07 and MT-07LA review here
---
2021 Yamaha MT-07 Highlights
Next generation design
LED projector lighting.
LED indicators.
New colours, graphics and finishing.
New LED projector headlight.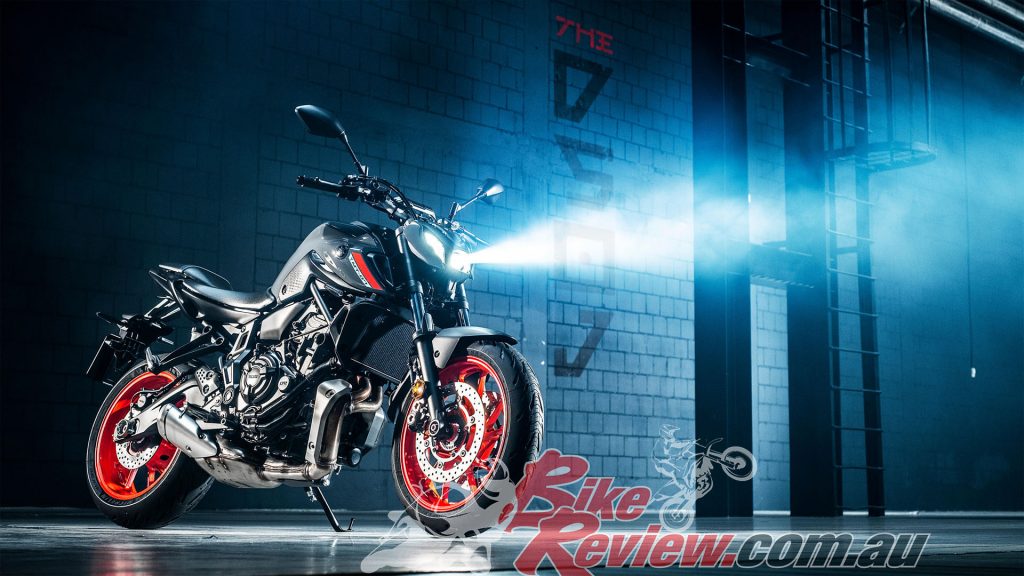 Revised power plant
Twin-cylinder EU5 CP2 engine.
270-degree crank.
New 2-into-1 exhaust.
New ECU.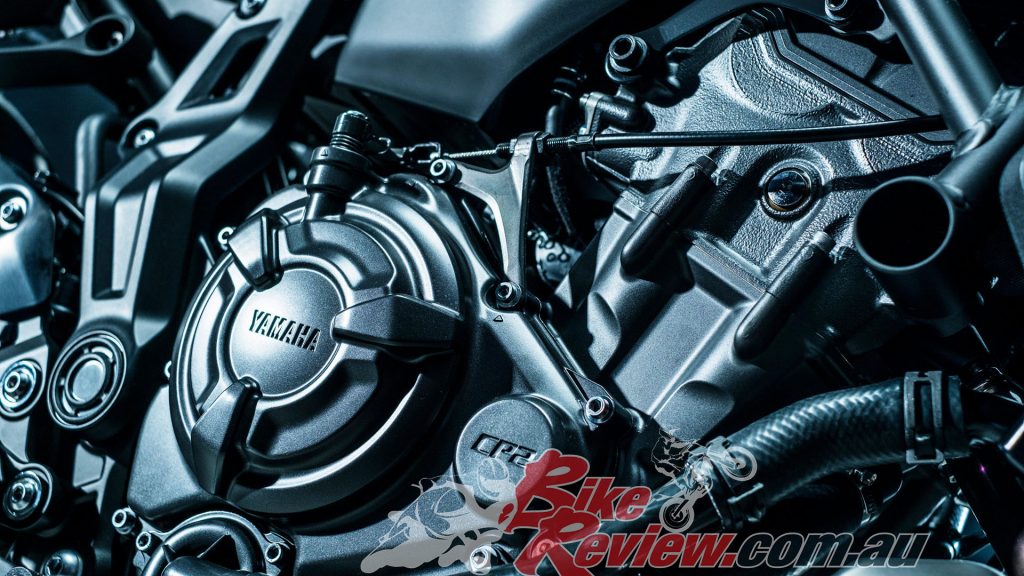 Stopping power
Larger 298mm dual front rotors
No additional unsprung weight
Michelin PR5 tyres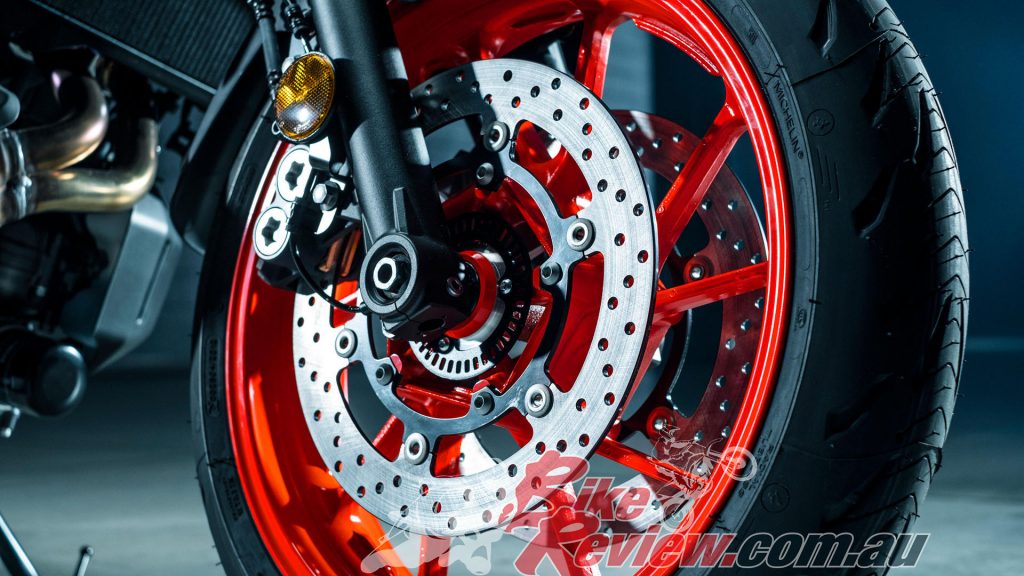 Comfort changes
Wider tapered aluminium bars
New LCD instruments with handlebar operation
Compact tubular frame with 805mm seat height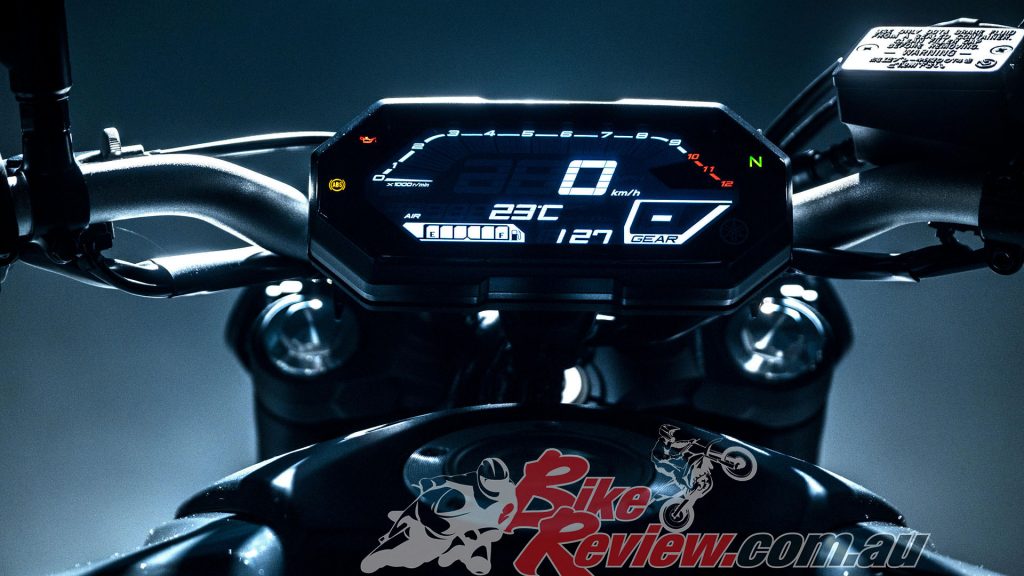 ---
---