Andrea Locatelli Secures 2020 World Supersport Crown!
A fightback in the race after a poor start allowed Andrea Locatelli to be crowned World Champion in the 2020 FIM Supersport World Championship after battling his way from fifth to the front of the field at the Circuit de Barcelona-Catalunya for the first ever Acerbis Catalunya Round.
Locatelli had started from pole position but found himself down in fifth place after the opening handful of laps with Locatelli not taking risks in the early stages, despite falling behind Lucas Mahias (Kawasaki Puccetti Racing). It would take until lap five for Locatelli to start making moves, first passing Raffaele de Rosa (MV Agusta Reparto Corse) into turn one before he passed Corentin Perolari (GMT94 Yamaha) a lap later.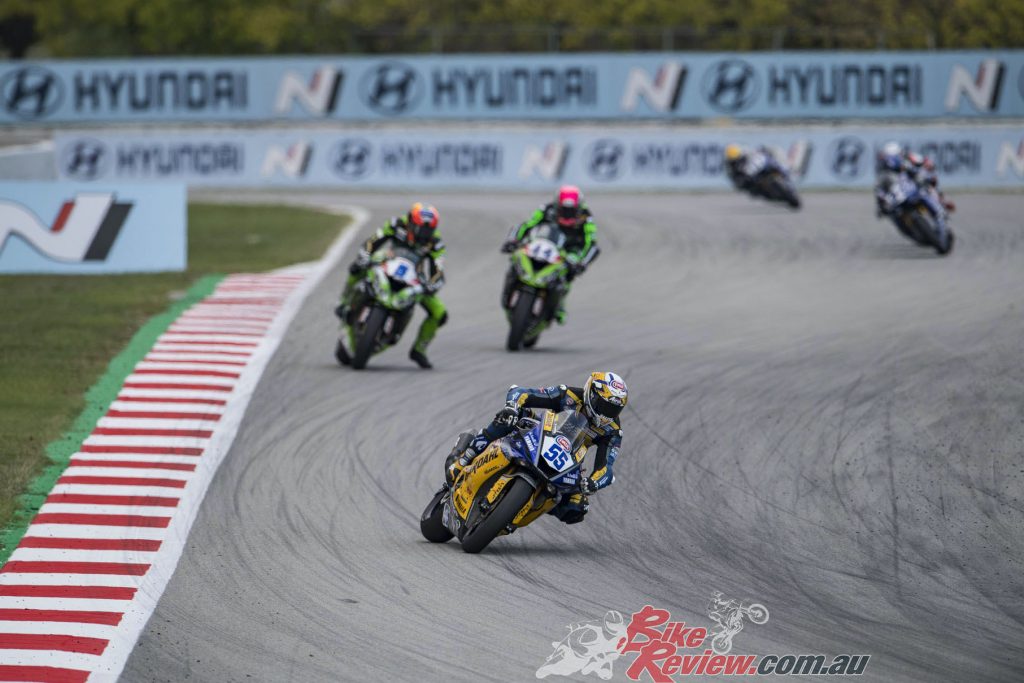 The title-winning move came on lap nine as he made a move on both Mahias and Philipp Oettl (Kawasaki Puccetti Racing); Locatelli forcing Mahias wide and onto the run-off between turns one and two although Oettl was able to pass Locatelli shortly after. Locatelli then extended his gap at the front to just over two seconds as he secured victory and the World Championship.
Mahias finished the race in second place, meaning Yamaha secured the Manufacturers' Championship with Mahias finishing second onboard his Kawasaki. Mahias was joined by teammate Oettl on the podium, with Mahias getting past Oettl with a handful of laps to go but unable to close the gap to Locatelli.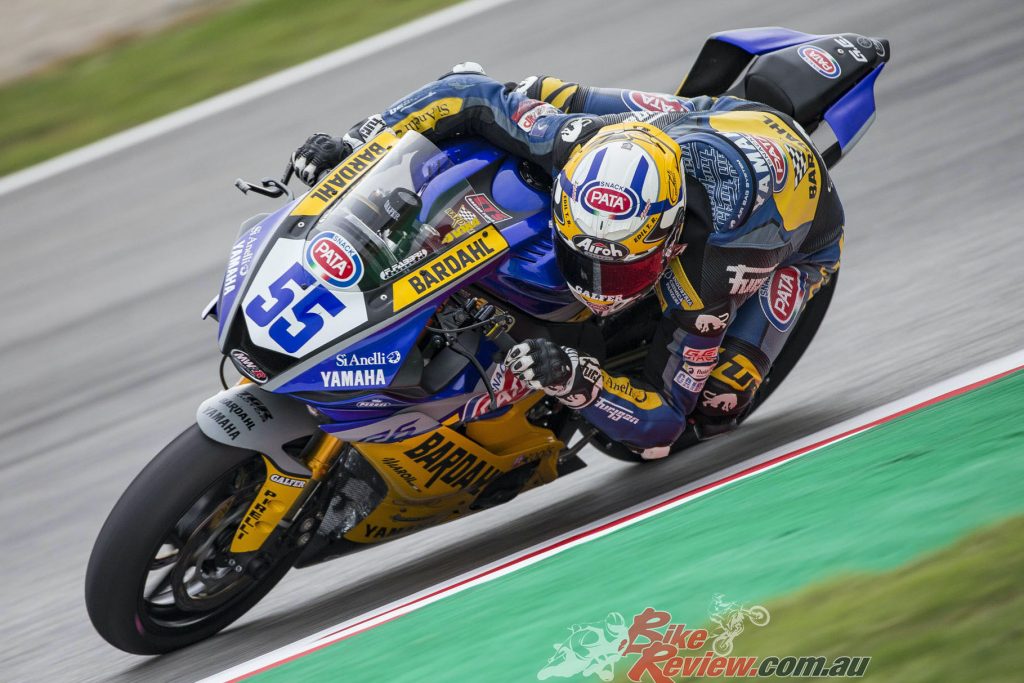 De Rosa secured a fourth placed finish, less than a second away from the podium, with Steven Odendaal (EAB Ten Kate Racing) in fifth, his first top five since Portimao Race 2 as the South African continues to impress in WorldSSP. Isaac Viñales (Kallio Racing) finished in sixth place, finishing ahead of Manuel Gonzalez (Kawasaki ParkinGO Team); the 2019 WorldSSP300 Champion penalised three seconds for track limits infringements.
---
---
Perolari fell down the order in the latter stages of the race to finish in eighth place with Danny Webb (Wepol Racing)  in ninth; the British rider securing another top ten finish – his fifth in the last six races. Estonian Hannes Soomer (Kallio Racing) completed the top ten, finished just over a second behind Webb.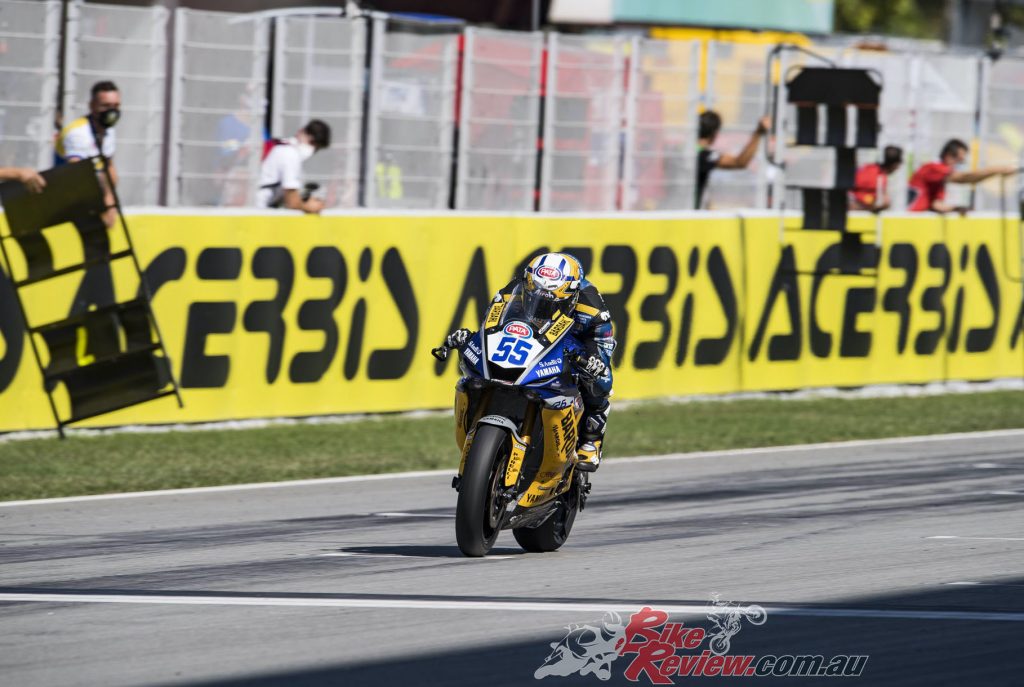 Peter Sebestyen (OXXO Yamaha Team Toth) just missed out on a top ten finish with 11th place with Axel Bassani (Soradis Yamaha Motoxracing) in 12th place; the highest placed WorldSSP Challenge rider as he finished less than a tenth ahead of WorldSSP Challenge rider Kevin Manfredi (Altogoo Racing Team) in 13th. Race one winner Andy Verdoïa (bLU cRU WorldSSP by MS Racing) finished in 14th place as Loris Cresson (OXXO Yamaha Team Toth) completed the points.
---
---
There was a collision on the run down to turn one at the start between Can Öncü (Turkish Racing Team) and Patrick Hobelsberger (Dynavolt Honda) with Hobelsberger taken to the medical centre for a check-up before being diagnosed with a left hip contusion and suspected pelvic injury. He will be transferred to hospital for further assessments. Galang Hendra Pratama (bLU cRU WorldSSP by MS Racing) crashed on lap two of the race while Kyle Smith (GMT94 Yamaha) and teammate Oscar Gutierrez came together on the same lap; all three riders retiring from the race.
---
WorldSSP  Circuit de Barcelona rd 6 (Full results here)
Andrea Locatelli (BARDAHL Evan Bros. WorldSSP Team)
Lucas Mahias (Kawasaki Puccetti Racing) +2.159s
Philipp Oettl (Kawasaki Puccetti Racing) +4.252s


---
Championship Point score after WorldSSP rd 6 (Full points here)
Andrea Locatelli – Yamaha 263 points   (to win the 2020 WorldSSP championship)
Lucas Mahias- Kawasaki 159 points
Jules Cluzel – Yamaha 146 points


---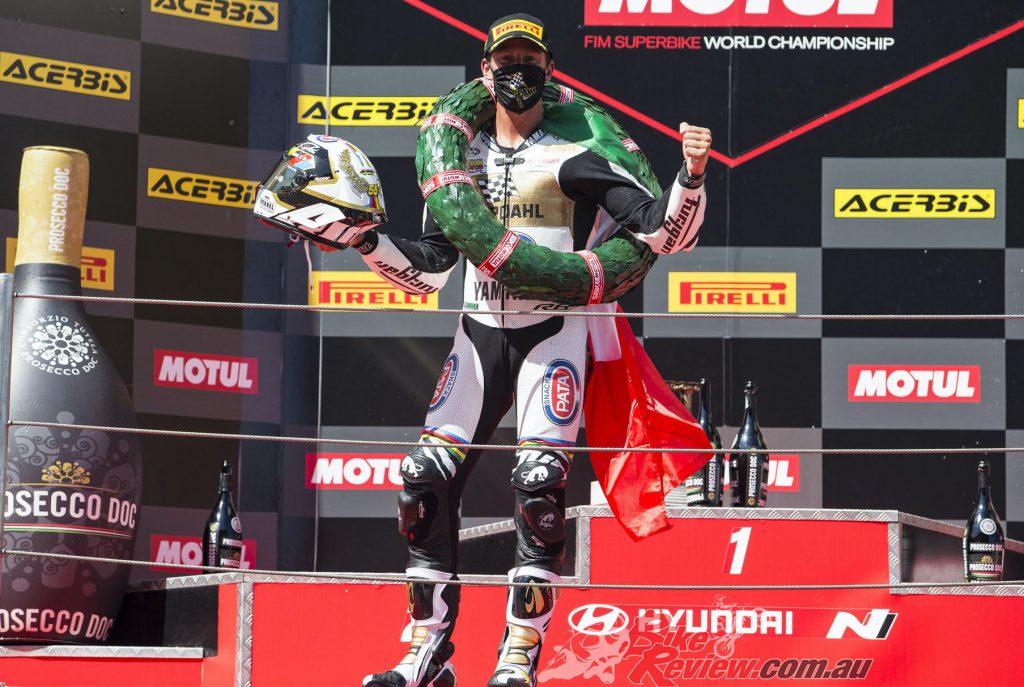 Just how has Andrea Locatelli come into WorldSSP as a rookie and been able to wrap the Championship up so early with almost total domination?
It rarely happens in any Championship class, it has never happened in the FIM Superbike World Championship paddock; it's happened only a few times in motorcycle racing history, the most recent in a World Championship being Giacomo Agostini in 1970. You hear of people winning Championships without winning a race but it's a true gem to win nearly everything on your way to World Championship glory. In 2020, rookie Andrea Locatelli (BARDAHL Evan Bros. WorldSSP Team) has won all but one race, and even then, it was only the weather that stopped him. He's wrapped the title race up with some four races to go. WorldSSP has never witnessed such a whirlwind.
---
---
Locatelli came into the World Supersport Championship in a bid to show to the world that he could be champion. A mildly successful yet rather uneventful spell in the Moto2™ World Championship saw him leave the MotoGP™ paddock at the end of 2019 and head to World Supersport's best team – reigning Champions BARDAHL Yamaha. Fabio Evangelista's Italian team know exactly how to win races and coming into 2020 after their first Riders' and Teams' Championships in 2019 filled them all with confidence. But nobody could've expected what was on the horizon.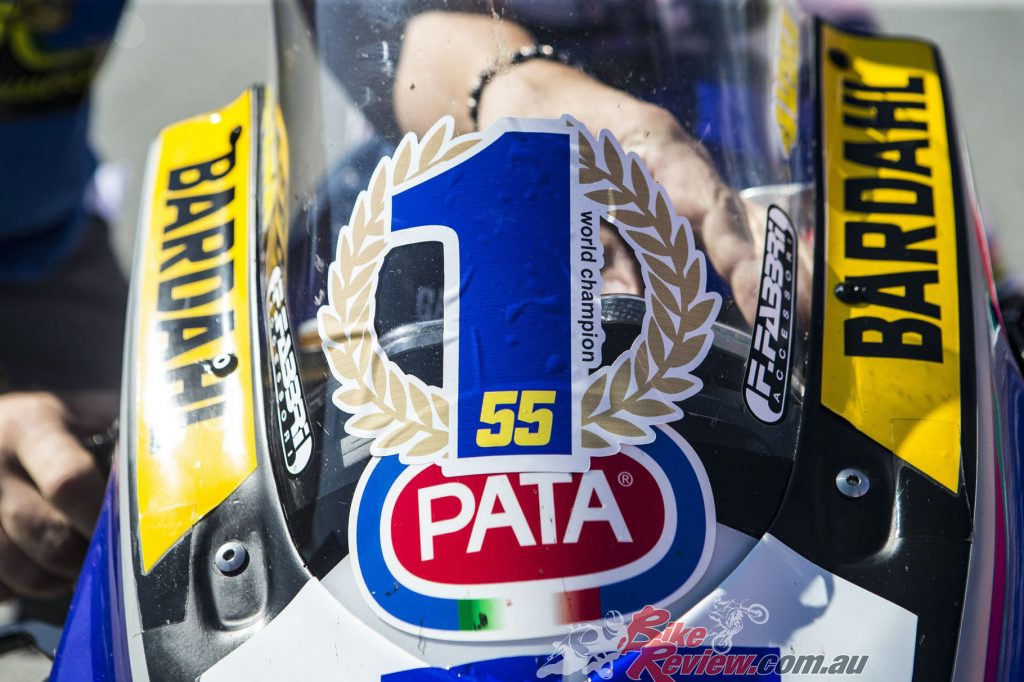 Straight out the box in Australia and Andrea Locatelli was immediately on top down under, smoking the opposition to storm to victory by over five seconds. A similar domination to Alvaro Bautista in his debut race in WorldSBK in 2019 but never did we think it'd carry on. Lockdown ensued but Locatelli certainly wasn't going to be put off. He came to Jerez in July to prove a point and doubled race one and two before heading to the unknown Portimao a week later and doing it again – a track he'd never seen before and in race one1, with strong competition from Jules Cluzel (GMT94 Yamaha). All the time however, it was the metronomic consistency that was capturing the headlines and captivating the fans: fastest laps set, records broken, pole positions secured and valiant victories thereafter.
---
---
Then, it was MotorLand Aragon and back-to-back events on a track that Locatelli knew extremely well. The Italian youngster cleaned up with the opposition in the opening Prosecco DOC Aragon Round, albeit having to fight a little bit more than we'd seen before. The Pirelli Teruel round was equally as tough and in race two, it looked like Locatelli may have finally had to fight in true, frantic WorldSSP fashion, as Raffaele De Rosa (MV Agusta Reparto Corse), Cluzel and Lucas Mahias (Kawasaki Puccetti Racing) brought the fight to the very front. However, De Rosa wiped out Cluzel at turn one early in the race, releasing Locatelli and although Mahias stayed with him for half the race, Locatelli's ultra-consistent pace broke Mahias.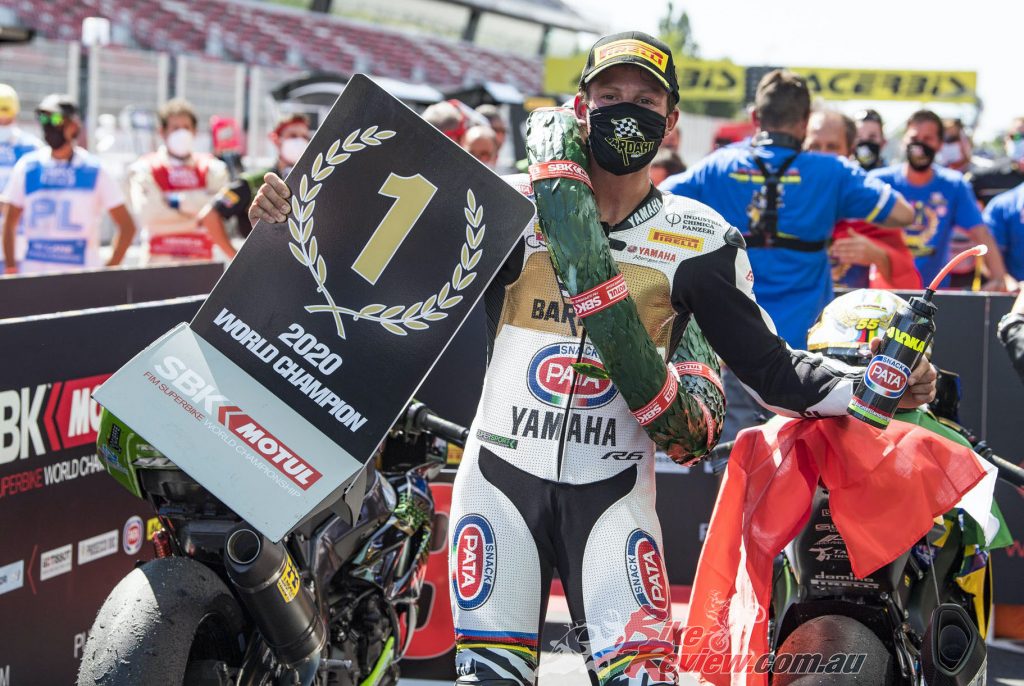 Now, it's just round six of an eight-round schedule, but already Locatelli has locked up. He's pinned down the championship, locked out the opposition and shut up shop for the others' title challenge. It's quite simply breathtaking and rarely is a championship bolted up this early and rarely are there so many wins – yes, there's perhaps more opportunity to win in 2020 but not that much more; an average 13-race calendar has had two more tacked on the end and Locatelli's ten wins thus for have been achieved in less than 13 races. His dominance knows no boundaries.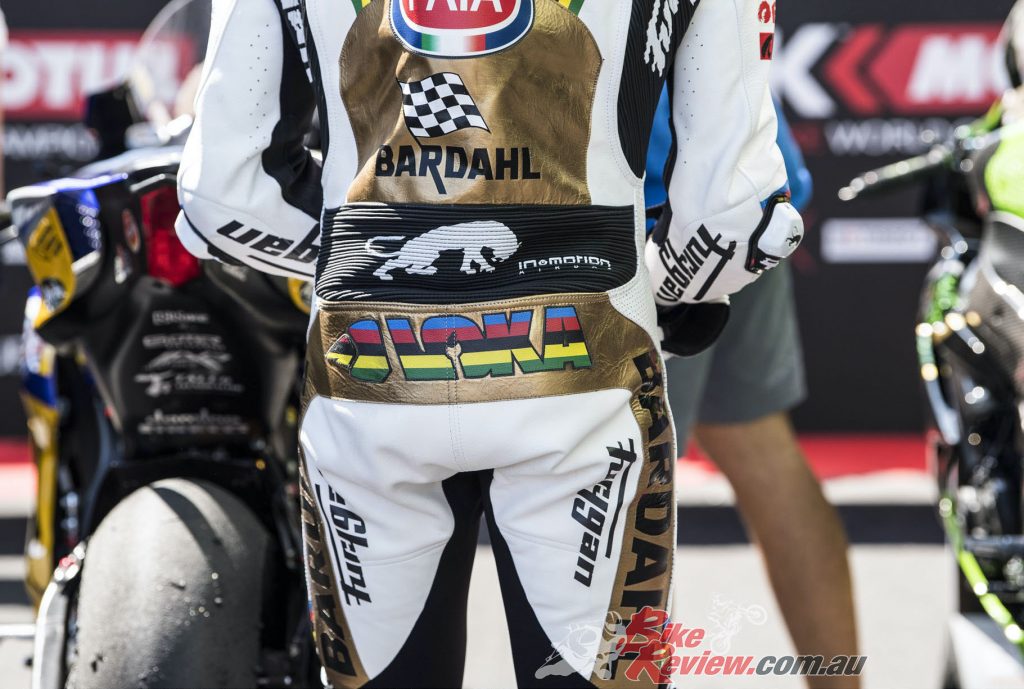 So, what next for 'Loka' and his domination? Speculation is rife about a potential move to WorldSBK, something he's been keen to make, having revealed it back in June. Yamaha do have a spare seat at PATA YAMAHA following Michael van der Mark's departure at the end of 2020. However, we've seen time and time again that jumping up from WorldSSP to WorldSBK isn't easy. Chaz Davies (ARUBA.IT Racing – Ducati) is the shining example of how to do it, coming up as Champion in 2012 and winning in his first year, having clinched the 2011 WorldSSP crown. Cal Crutchlow did it a couple of years previously whilst Eugene Laverty (BMW Motorrad WorldSBK Team) has also had great success in both classes. It can be done, but only, seemingly, by a few.
---
---