ASBK Rd4: Friday shots & Report from Hidden Valley, Darwin
Due to increased safety measures, free practice one was delayed by 10 minutes yesterday and then shortened to 25 minutes. If there was a sense of urgency before, it was heightened immediately, but the day was a success… Check out the action from BiteSizePics. Report: MA
Early on it was Bryan Staring aboard the frankly stunning indigenous-round-liveried DesmoSport Ducati who banked the fastest lap. Staring looked and sounded afterward very comfortable aboard the 2021 race winning team bike. Staring bristled at suggestions that he was losing touch with the leading pair of Maxwell and Jones and his early form- and indeed pace across the day- indicates that the Western Australian is well in the hunt not only for the top step this weekend, but championship contention.
---
---
The 2021 champion has a theory- and we all know it, and he's done it for years- post a ludicrously fast time and make the other riders work for it. Sure enough, he nailed the fasted time in FP1 and then left it to Staring and Mike Jones to duke it out for second and third respectively.
Mike Jones would not be denied. A few clever changes in both bike setup and mindset saw the familiar Yamaha hit the top of the table for FP2 and indeed bank the fastest lap of the day. While FP2 didn't provide conditions as conducive to fast laps as FP1, the reality was the riders found a little more and all progressed. For FP2 it was Jones- who not only managed a race simulation, but then went to a softer tyre and banged out a succession of fastest laps. One rider confided afterward; "This weekend is his for the taking". Maxwell and Staring rounded out the top three for FP2.
---
Bryan Staring cleverly countered the Jones phenom by getting out early in Free Practice 3 and posting a fast time to again challenge the field to "come at me". The track temperature was now fifty-hell-no and after a few solid sessions from everything from Supercars to Porsches and Hyundai Excels, the track had "gone away". Bryan Staring would later admit he wasn't sure if it was the cars or the temperature that had slowed things, but it was certainly not as fast as it was earlier in the day.
---
---
And while earlier sessions had been all about lap times and tuning, the early running in FP3 was apparently "who would like to crash?" with a multitude of riders – mercifully largely uninjured- finding themselves off track. Josh Waters, Luke Macdonald, Marc Chiodo and Ant West all crashed, and it was clear that there was a high level of pressure and expectation.
---
The day ended with combined times giving the nod to Jones from Maxwell and Staring. A much-improved Glenn Allerton – in his 100th ASBK event – found some time hidden deep in the M 1000 RR followed by Yamaha's Cru Halliday who ought to be pleased with yet another consistent performance.
---
Check out our huge Saturday Gallery here
---
Former Darwin race winner, Honda's Troy Herfoss and on-the-improve Arthur Sissis were sixth and seventh, with Lachlan Epis keen to make up for lost time in eighth, Daniel Falzon in ninth and Josh Waters down in tenth after his crash in FP3.
Saturday morning brings things to a head early with the first 20-minute qualifying session at 9:10am. The second session sees them back on track at 9:35am for the top 12 and at 1:20pm the best Superbike racers in the country will be unleashed for 16 laps. With no more practice sessions and a lot to play for, Saturday will be as fascinating as it could be pivotal for season 2022.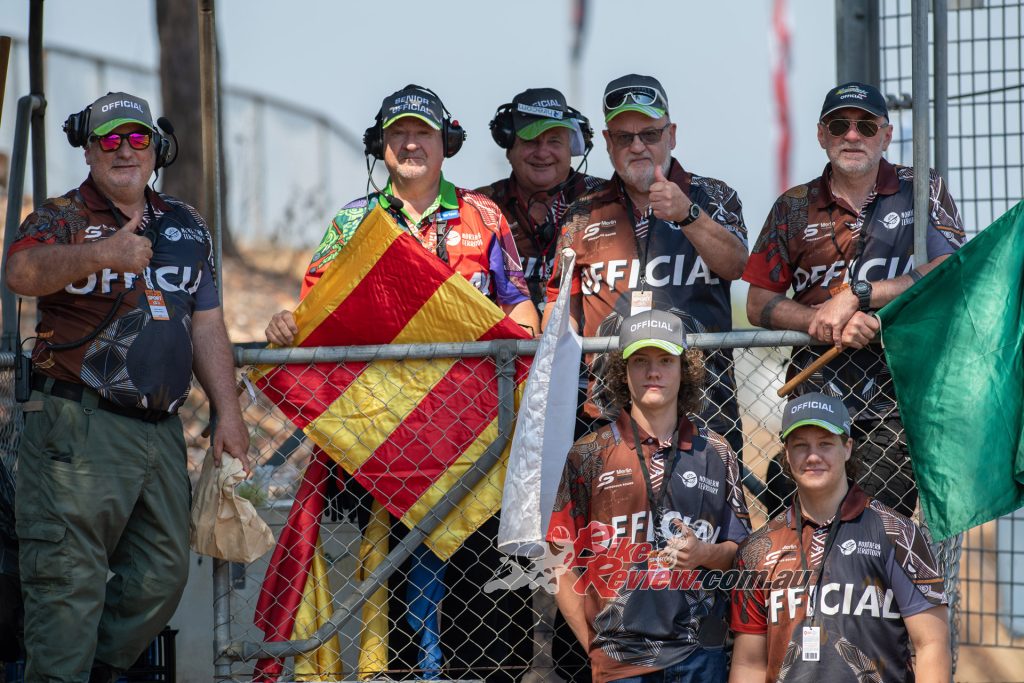 ---
Combined times- Friday- Merlin Darwin Triple Crown – Full results here
Alpinestars Superbike
1 46 Mike JONES (QLD) / Yamaha Racing Team Yamaha YZF-R1 1:05.506
2 1 Wayne MAXWELL (VIC) / Boost Mobile Racing with K-tech / AMA / Ipone / Pirelli / McMartin Racing Ducati V4R  1:05.591
3 67 Bryan STARING (WA) / Desmosport Ducati Ducati V4R  1:05.772
4 14 Glenn ALLERTON (NSW) / Maxima Racing Oils / Film BMW BMW M RR 1:05.812
5 65 Cru HALLIDAY (NSW) / Yamaha Racing Team Yamaha YZF-R1 1:05.866
6 17 Troy HERFOSS (QLD) / Penrite Honda Racing Honda CBR RR  1:06.094
7 61 Arthur SISSIS (SA) / Unitech Racing / Remo Contractors / SA Profiling / Aus Crush & Recyclers Yamaha YZF-R1 1:06.120
8 83 Lachlan EPIS (NSW) / BMW Alliance Racing BMW S RR 1:06.292
9 25 Daniel FALZON (SA) / William Adams CAT Yamaha YZF-R1  1:06.320
10 21 Josh WATERS (VIC) / Maxima Racing Oils / Film BMW / Broadspring Consulting Pty Ltd / Visit Mildura BMW M RR  1:06.398
---