Davies takes race one; Rea bounces back for victory race two
WorldSBK R1:  Ducati rider makes history with 10 .5 second lead
Aruba.it Racing – After the long European summer break, the WorldSBK fraternity were back on track this weekend at the Lausitzring in Germany, with Ducati's Chaz Davies dominant in race one of the Pirelli German round taking the victory by a substantial 10.5 seconds.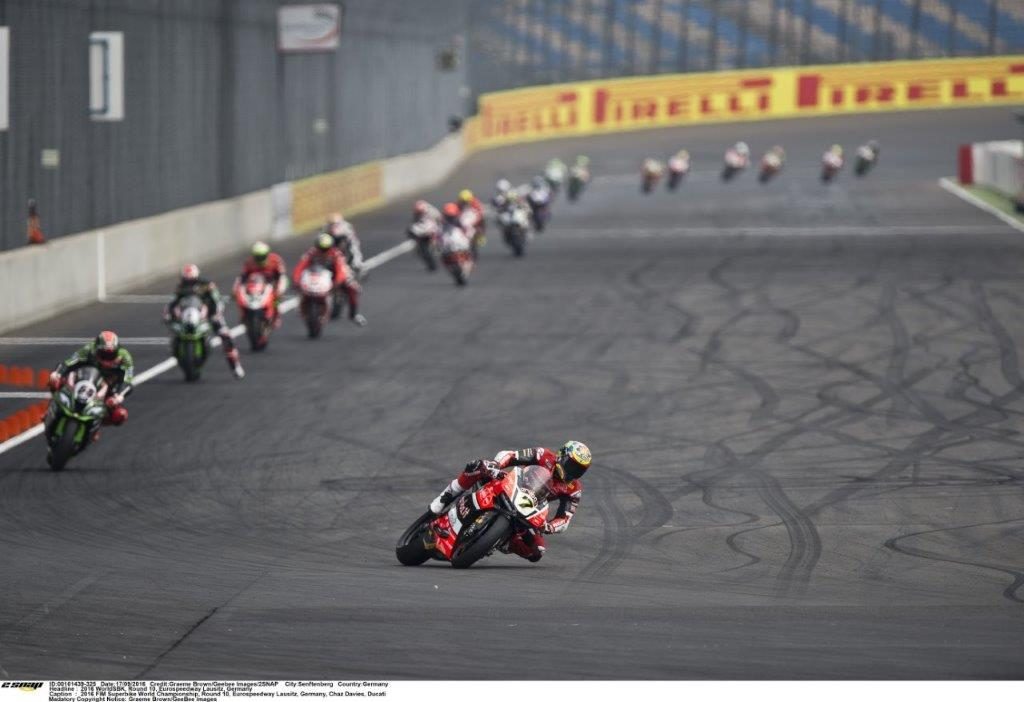 It was a flawless performance from Davies in round ten of the championship, beating home Kawasaki Racing Team's Tom Sykes who took second, ahead of Honda World Superbike Team's Nicky Hayden who completed the top three.
Davies led from pole into the first corner, before charging ahead to create a gap to his nearest rival Sykes. By lap five, Davies was 3 seconds ahead with Sykes, teammate Jonathan Rea and Lorenzo Savadori (IodaRacing Team) fighting for second position.
Drama struck early when reigning champion Jonathan Rea crashed out on lap eight. The Northern Irishman walked away uninjured, but furious after a tough weekend so far. Rea's retirement means the gap in the overall standings sits at only 26 points, ahead of championship rival and teammate Tom Sykes.
Friday's fastest Lorenzo Savadori crashed out of podium contention just after Rea, and local hero Althea BMW's Markus Reiterberger was forced to retire early on lap nine due to technical problems. With Rea and Savadori out, Hayden was able to focus on chasing down Sykes but couldn't match his pace, so had to settle for third.
Davies crossed the finish line 10.5 seconds ahead of Sykes. His dominant victory made him the third rider in WorldSBK history to win with three different manufacturers in the same country; Davies won in Nurburgring with BMW and Aprilia and can finally cross the Lausitzring off the list on a Ducati.
Althea BMW Racing Team's Jordi Torres came home in fourth after battling with Leon Camier (MV Agusta Reparto Corse) and Michael van der Mark (Honda World Superbike Team) for the finish.
After battling it out for some laps, Camier and van der Mark finally finished in fifth and sixth place.
Davies' teammate Davide Giugliano finished in seventh position ahead of Pata Yamaha WorldSBK Team's Alex Lowes, who came home in eighth after a disappointing morning.
Lowes' teammate Sylvain Guintoli gave a solid performance in his first race back from injury, leading Xavi Fores (Barni Racing Team) and Anthony West (Pedercini Racing) home to ninth position.
Alex De Angelis brought his Aprilia home in P12 ahead of Roman Ramos on Team GOELEVEN in P13. Australian Josh Brookes (Milwaukee BMW) and Luca Scassa (VFT Racing) rounded out the top 15.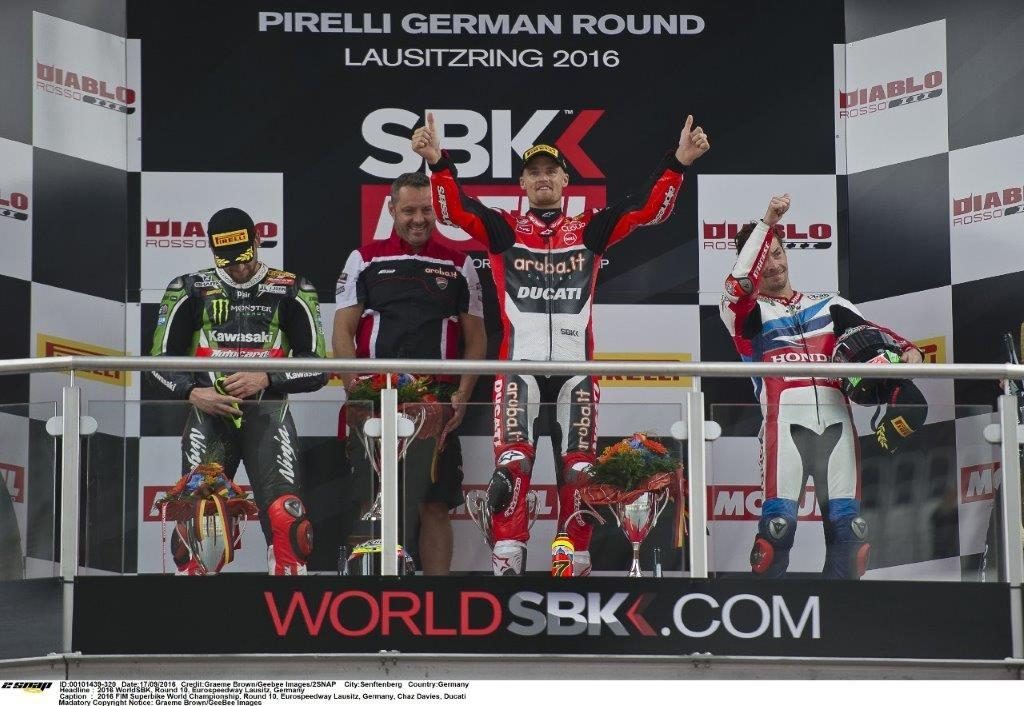 WorldSBK race one results: 
1. Chaz Davies – Ducati  
2.   Tom Sykes – Kawasaki  
3.  Nicky Hayden – Honda
Australians   
11.  Anthony West – Kawasaki   
14.  Josh Brookes – BMW
WorldSBK R2:  Rea bounces back for win with new riders on the podium
Kawasaki Racing Team's Jonathan Rea found redemption in Sunday's race two at Germany's Lausitzring in a dominant performance, seeing him win by a 9.3 second margin ahead of newcomers to the WordSBK podium IodaRacing Team's Alex De Angelis and Barni Racing Team's Xavi Fores.
 
Rain began to fall during the German national anthem as riders lined up on the grid, and became heavier after each warm up lap attempt, delaying the race start twice.
Kawasaki Racing Team's Tom Sykes got the holeshot and led into the first corner ahead of Saturday's winner Chaz Davies (Aruba.it Racing – Ducati) and championship leader Jonathan Rea. Sykes ran wide allowing Rea to shoot ahead. Nicky Hayden (Honda World Superbike Team) got off to a bad start with a wheelie off the line before he got caught up in the first corner and dropped back to P17.
 
Sykes was the first victim of the weather and crashed out before the end of the first lap, leaving Rea to extend his lead. Sykes later rejoined and was able to salvage four points, finishing in 12th.  
IodaRacing's Lorenzo Savadori, and Aruba.it Racing – Ducati's Davide Giugliano, closely followed by MV Agusta Reparto Corse rider Leon Camier and De Angelis all had good pace in the wet and were all hunting down Davies. 
Giugliano charged ahead into second before a highside saw his chances of a podium finish disappear on lap five, one lap after Savadori crashed out after setting the fastest lap time.
 
Meanwhile, up front, Rea continued to charge ahead to secure the important 25 points to add to his title defence.
Leon Camier put in another strong ride into the top four for MV Agusta Reparto Corse, trying to catch Fores for third before crossing the line just off the podium and equalling his best result of the year.
Pata Yamaha Official WorldSBK Team's Sylvain Guintoli showed he's back in form after battling with Chaz Davies to finish ahead of him in fifth.
Milwaukee BMW rider Josh Brookes showed his wet weather quality by finishing the treacherous race in seventh. After sliding out of the race in the closing laps, Honda World Superbike Team's Michael van der Mark rejoined in an impressive push to the line on his battered Fireblade to cross eighth, ahead of Roman Ramos (Team GOELEVEN) in ninth and his teammate Nicky Hayden tenth.
 
VFT Racing's Luca Scassa overcame the slippery conditions to finish in 11th, with Sykes 12th, while Grillini Racing Teams' Gianluca Vizziello finished in 13th.
Team Toth's Pawel Szkopek looked hopeful moving into the top ten before a minor crash relegated him to 14th ahead of Milwaukee BMW's Karel Abraham who picked up one point in 15th.
 
Pedercini Racing's Anthony West, Pata Yamaha Official WorldSBK Team's Alex Lowes, both Althea BMW riders Jordi Torres and Markus Reiterberger, Saeed Al Sulaiti (Pedercini Racing Team) and Dominic Schmitter (Grillini Racing Team) were all wet weather casualties, not finishing the race.
Jonathan Rea will now take his championship defence to round 11 of the FIM MOTUL World Superbike Championship at Magny-Cours in two weeks time.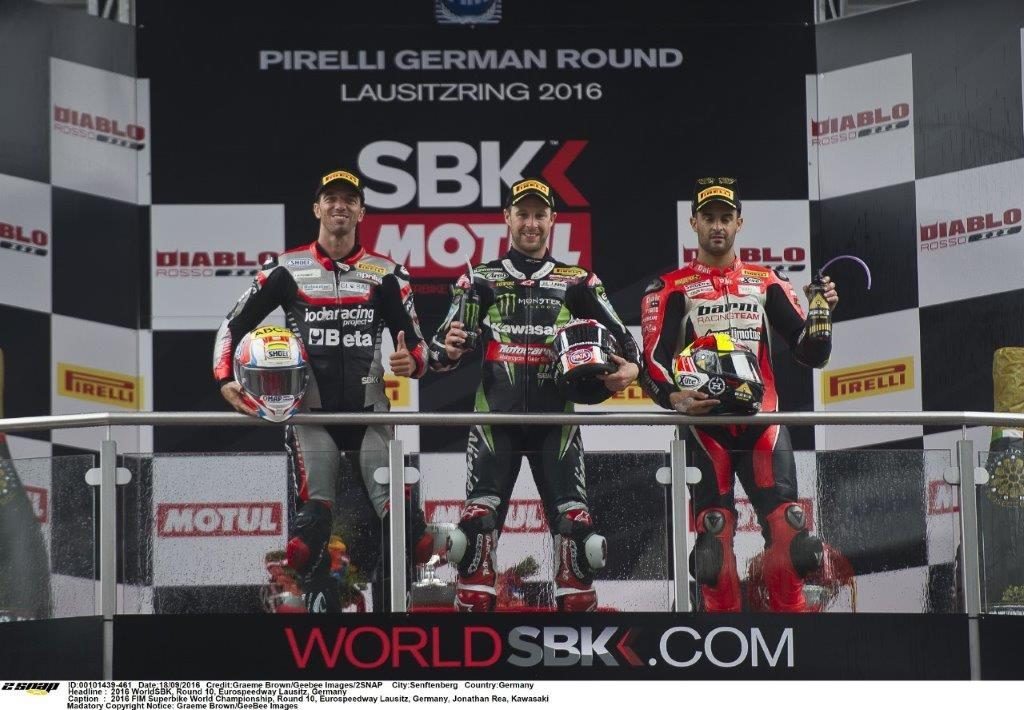 Results WorldSBK race two:  
1.   Jonathan Rea – Kawasaki  
2.   Alex De Angelis – Aprilia     
3   Xavi Fores – Ducati
Australians:   
7.  Josh Brookes –BMW   
DNF   Anthony West – Kawasaki
2016 WSBK Championship Point Score after Magny-Cours
Jonathan Rea – Kawasaki   393 points  

Tom Sykes – Kawasaki    346 points

Chaz Davies – Ducati   295 points

Michael Van der Mark – Honda   203

Nicky Hayden – Honda   195 points
Australians   
15. Josh Brookes – BMW  69 points    
17.  Anthony West – Kawasaki   55 points
World SSP: More points towards Sofuoglu's 2016 championship defence
Reigning world champion Kawasaki Puccetti Racing's Kenan Sofuoglu won the WorldSSP race at the Pirelli German Round in typical style, 1.7 seconds ahead of his nearest rival, the impressive Finnish rookie Niki Tuuli from Kallio Motorsport. Finishing comfortably in third was MV Agusta Reparto Corse rider Jules Cluzel.
 
Sofuoglu showed his Supersport prowess once again by taking the holeshot and leading into the first corner ahead of Tuuli and  Cluzel.    Not to be outdone, the Finnish wildcard Tuuli stole the lead before the end of lap one and commanded lap two, before Sofuoglu regained control and pulled away to build a comfortable gap. 
Cluzel battled early with Swede Christoffer Bergman (CIA Landlord Insurance Honda) before breaking away from him for third.
 
Championship contender Kawasaki Puccetti Racing's Randy Krummenacher had a difficult start, falling back some places heading into the first corner. Once he got up to speed, he began to work his way back up the field and before long, caught up to Bergman, who had fallen behind and headed the group fighting for fourth position.
 
Birthday boy Gino Rea (GRT Racing) looked strong in the early stages of the race but was forced to retire on lap 8 as a result of technical problems. FIM Europe Supersport Cup rider Alessandro Zaccone (San Carlo Team Italia) was the first rider out after highsiding on turn 8 in the opening lap, before Stefan Hill (CIA Landlord Insurance Honda) ran off a few laps later, luckily able to rejoin, before Lachlan Epis (Response RE Racing) retired before the end of the race.
 
In the final laps it was BARDAHL Evan Bros. Honda Racing's Federico Caricasulo and Honda World Supersport Racing Team rider PJ Jacobsen who took the fight to Krummenacher, who fought hard to hold them off, but Krummenacher couldn't match their pace in the last lap and finally finished in sixth. Jacobsen came home in fourth ahead of Caricasulo in fifth. Lorenzo Zanetti (MV Agusta Reparto Corse) finished the race in seventh ahead of Bergman who fell back to ninth, with Kyle Smith (CIA Landlord Insurance Honda) locking out the top 10.
 
Profile Racing's Luke Stapleford put in a solid performance finishing in P11 ahead of Alex Baldolini (Race Department ATK#25) in P12. GEMAR Balloons – Team Lorini's Ayrton Badovini came home in P13, ahead of ESS riders Ilya Mikhalchik (DS Junior Team) in P14 and Axel Bassani (San Carlo Team Italia) taking a point in P15.
WorldSSP results 
1.  Kenan Sofuoglu – Kawasaki
2. Niki Tuuli – Yamaha
3.   Jules Cluzel – MV Agusta
World SSP Championship point score to-date
1.  Kenan Sofuoglu – Kawasaki   171 points
2.  Randy Krummenacher – Kawasaki 118 points
3.  Patrick Jacobsen – Honda      100 points

STK1000: Mercado leads the way at Magny-Cours, Bryan Staring second
Aruba.it Racing – Junior Team's Leandro 'Tati' Mercado gave a stunning performance in the Superstock 1000 race at the Lausitzring to win with a 21 second lead ahead of Australian Bryan Staring on Agro On-Benjan-Kawasaki. Home in third was Pata Yamaha Official Stock Team's Riccardo Russo. 
Toprak Razgatlioglu headed the STK1000 field into the first corner before being pushed wide by the field, while Leandro Mercado shot to the front. He quickly got comfortable with the track, consistently setting the fastest lap and pushed ahead to eventually win with a dramatic 21-second lead, and stealing the top spot in the overall championship standings.
Pedercini Racing Kawasaki's Jeremy Guarnoni gave a solid performance, expertly maneuvering his bike on the drying track to finish in fourth ahead of Nuova M2 Racing's Kevin Calia in fifth. Luca Salvadori (Team Motozoo by Motoxracing) made it home in sixth with Sebastian Suchet (Berclaz Racing by Motoxracing) finishing in seventh.
Team 2R Racing's Luca Vitali was eighth man home ahead of Calia's teammate Roberto Tamburini in ninth. Althea BMW Racing Team's Raffaele De Rosa found the mixed conditions difficult and dropped through the field to finally finish in tenth place ahead of Team Trasimeno's Fabio Massei in P11.
Further down the field Wayne Tessels (MTM / HS Kawasaki) battled with Pata Yamaha Official Stock Team's Michael Mazzina, Alessandro Andreozzi (SK-Racing Team by Barni) and Toni Finsterbusch (BCC-Racing Team) for the last of the points. Tessels came out ahead of the group in P12 with Mazzina taking P13, Andreozzi P14 and Finsterbusch taking the last point in P15.
STK1000 will be back on track in two weeks time for the next Round at Magny-Cours.