Falzon takes first pole in two years for today's ASBK finale
Yamaha rider Daniel Falzon has briefly taken the spotlight away from the captivating title fight for the 2019 Kawasaki Superbike Championship, qualifying on pole position for this weekend's final round at Sydney Motorsport Park.
This afternoon's hot weather conditions meant riders were only able to complete a limited number of laps with their bikes operating at peak performance, and Falzon timed his final run to perfection, snatching pole from championship leader Troy Herfoss by just 0.031s; outside title chance Cru Halliday will complete the front row of the grid.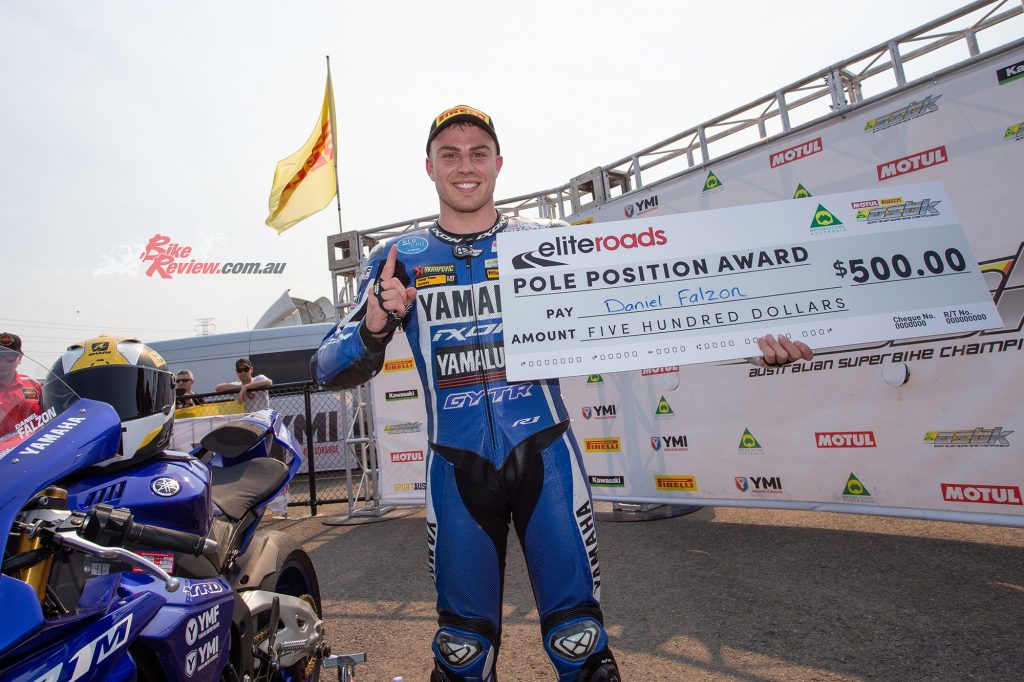 The other championship contenders will start tomorrow's two races from fourth (Wayne Maxwell), sixth (Bryan Staring), seventh (Mike Jones) and eighth (Josh Waters).
Falzon, who hadn't taken a Superbike pole position since 2017, was ecstatic with the result.
"It's been two years since I've been on pole – I've had good qualifying results all year, but haven't been able to crack first place. To do it on a track where I'm not exceptionally confident is awesome.
"The Yamaha boys have been working flawlessly through testing; we were quite smart and tried a lot of things with the bike, and we managed to pull out a PB lap time when it counted."
Starting as the highest-placed of the title challengers, Herfoss paid credit to his Penrite Honda team-mate Mark Chiodo. "I want to say a big thank you to Mark; he approached me and said he wanted to give me a carrot to chase in qualifying. He ended up crashing on his second flying lap, but he was riding so well and I was struggling to keep up with him.
"It was such a good session and this is the time to be at the front. It's still going to be hard, but not as hard for me now as it is for the others."
Halliday felt he was capable of more than his third-place result.
"It could have been better – to be honest, I was probably just trying too hard," he said.
"I've been up the top all weekend and really needed that extra championship point, but we're looking good for the races tomorrow."
Today's two Superbike races will be held at 11:25am and 2:10pm and will be shown live on SBS from 1pm.