International Festival of Speed turns in 2018
The International Festival of Speed returns to Sydney Motorsport Park in 2018, with just four weeks until the event returns on March 22-25, and it's a great time to grab some tickets, with online tickets offering savings. 
Visit the trade stands and see some amazing bikes on display, you can even get autographs from the legends during the multiple signing sessions that take place from Friday to Sunday (times TBA).
Plus all tickets purchased online automatically going into the draw to win a number of great prizes.

BUY EVENT TICKETS ONLINE TO SAVE AND WIN!
Buy your event tickets online for automatic entry into winning one of three great prizes! All tickets purchased online only automatically enter the draw to win and are lower in price than buying at the gate. Prizes will be drawn Monday 26th March at 12pm aedt.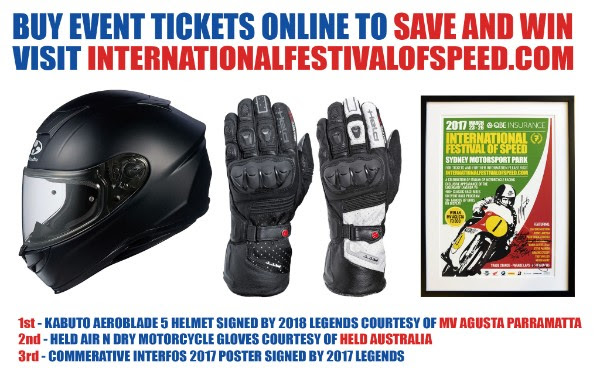 First prize is a Kabuto Aeroblade 5 helmet signed by the 2018 guest legends courtesy of MV Agusta Parramatta. Second prize is a pair of Held Air N Dry motorcycle gloves courtesy of Held Australia. Third prize is a commemorative INTERFOS 2017 poster signed by the 2017 guest legends.
Online ticket pricing for Fri/Sat/Sun is $25, $30, $35, with a three day pass available for $65, and Sunday Family Passes also available for $65. Pricing at the gate will be $30, $35, $40 at the gate however, so book ahead.
DINE WITH THE LEGENDS
Dine with all of the guest Legends including WSBK Champions Troy Bayliss and Troy Corser. The 2018 QBE Insurance International Festival of Speed gives you the opportunity to have dinner with the legends on Thursday 22nd March. Catch the Steve Parrish comedy show as well as up close and personal interviews with guest legends. Secure your tickets right away as numbers are strictly limited.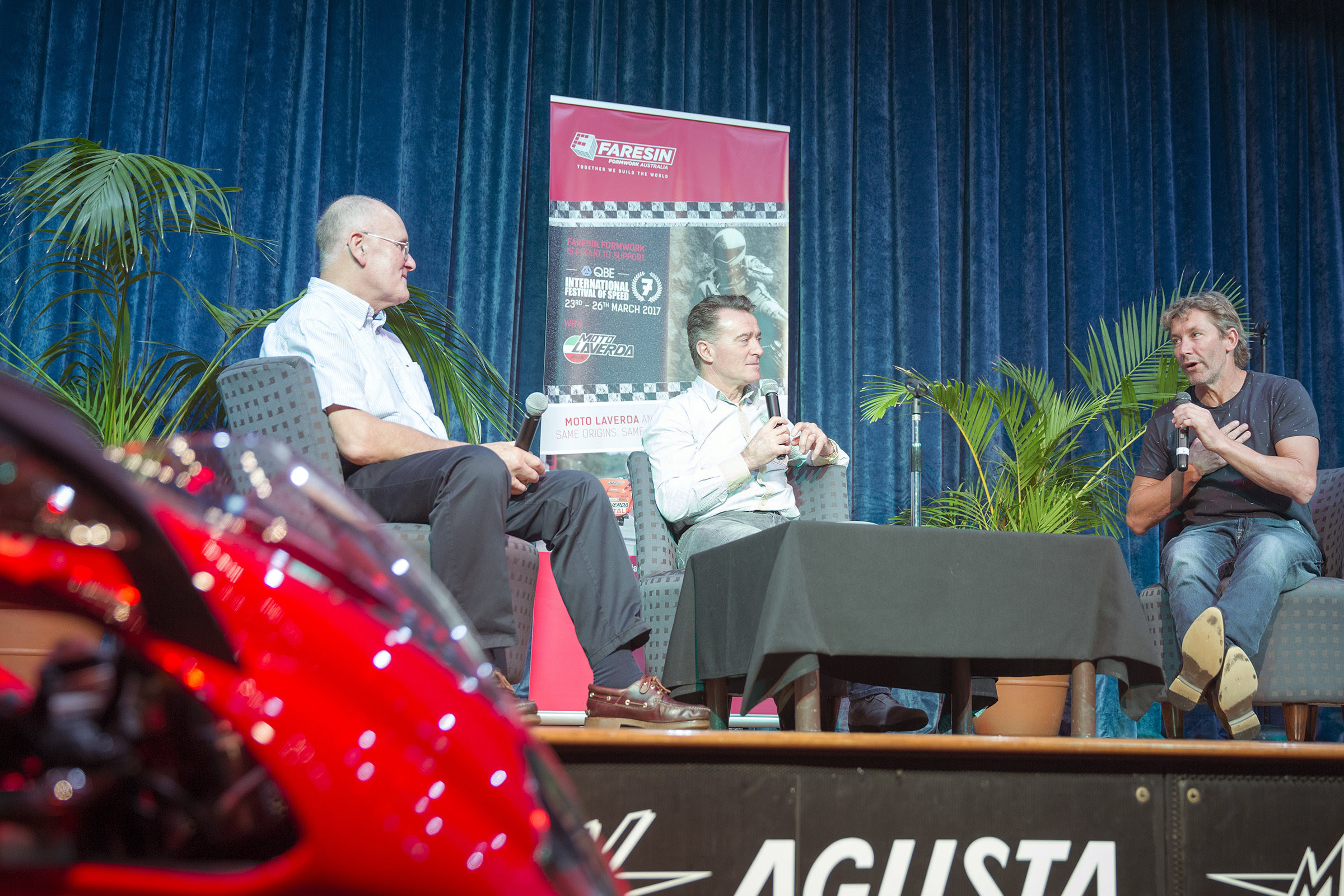 Ticket prices for the Legends Dinner – Club Marconi 22nd March 2018 are $95.00 per person, or a table of ten for $855.00 is also available for booking.
Book for the 'Dine with The Legends' event here.
WIN A HONDA CBR600R
You've got to be in it to win it! This very special Honda CBR600RR will have custom graphics and be signed by the guest legends too! Raffle tickets are only $10 each, visit the Terms and Conditions to find out more about this amazing major prize.