Kade Mosig and Jake Moss Round out the NPS Monster Energy Kawasaki Racing Team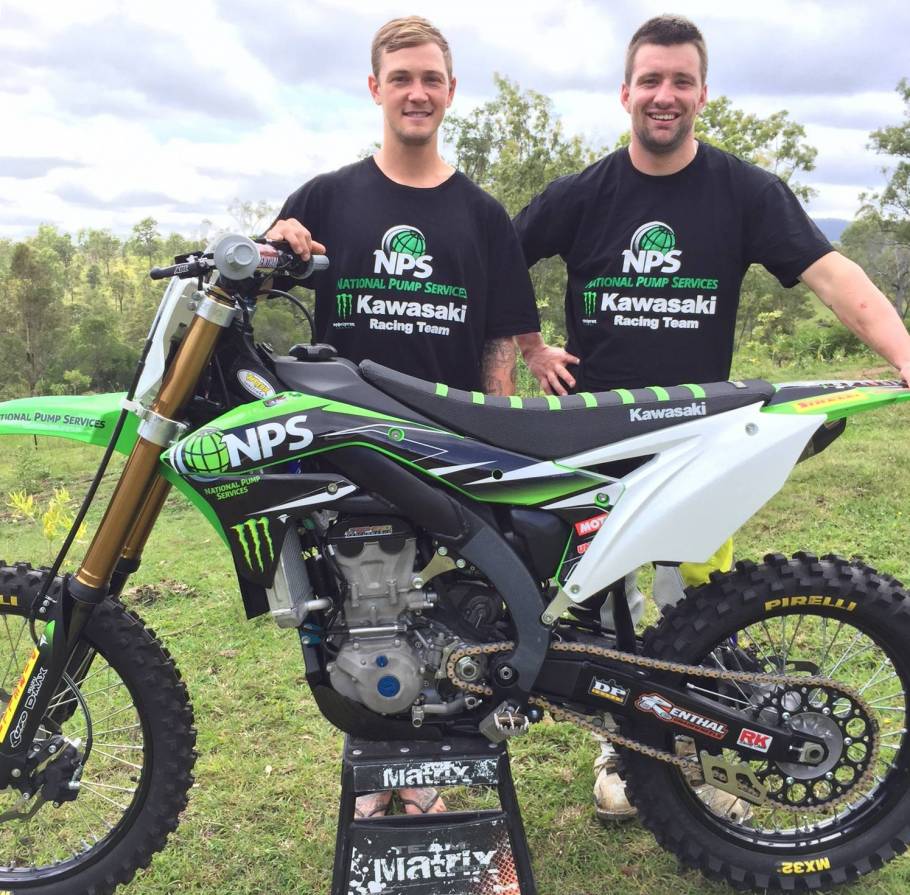 Kade Mosig and Jake Moss join Matt Moss as Factory Kawasaki riders in the NPS Monster Energy Kawasaki racing team for the 2016 Motocross and Supercross Championships.
The NPS Monster Energy Kawasaki Racing Team has restructured and will run fulltime riders in both the MX1 and MX2 classes of the upcoming MX Nationals and Supercross Championship series.
Australian title holder, Matt Moss and champion in the making, Kade Mosig, will compete aboard the all new, lighter, faster and slimmer Kawasaki KX450F, while Jake Moss will contend ferociously on the proven Kawasaki KX250F.
2015 marked the second year of MX1 competition for Kade Mosig who has left no stone unturned throughout the course of his relentless mission to claim a national title. The 25 year old Victorian was just short of achieving his goal in 2015, where he finished as runner up in both the MX Nationals and Australian Supercross Championship.
"I definitely believe that I could have won a title this year. I had really good preseason training leading into both the Motocross and Supercross so I was feeling confident. I stayed consistent and came home strong without injuries. Having two full seasons under my belt is assuring because knowing my performance and results this year, I don't need to change much, I just need to keep working on it to get to that top step."
"There were a few challenges this year and I've handled them well so I can say that I've definitely learnt a lot about myself and riding, so considering that, I'm definitely better off leading into the next season."
Kade is no stranger to Kawasaki, having competed aboard a Kawasaki locally in 2012 and in the United States the following year. "I am actually extremely excited to be involved with Kawasaki again and Troy Carroll plus his whole crew. It's been a few years since we've worked together so I'm looking forward to it, especially on the new 2016 Kawasaki KX450F." Kade commented.
"After testing with the 2016 KX450F for the first time, I am actually amazed at how comfortable I felt on it straight off the bat. I felt that the bike is very balanced and the power is definitely there so I am stoked. The weight of the bike is definitely noticeable, it feels so light and easy to turn in. It was effortless to put it exactly where I wanted it. I didn't feel like I was fighting it at all. It was spot on."
"I think with my experience now and what I've learnt in the last few years, I'll be able to adapt quite easily. It helps to know that I will have an amazing bike and an awesome team around me to make it much easier as well."
Kade Mosig has his sights set on both the Australian Motocross and Supercross titles this year saying, "I believe I'm ready to achieve my Australian championship goal. That's what I've been working towards. I think the season will be huge with the level of riders, so my preparation will be better than ever… I'll be ready for round one." Kade said.
2015 was a trying year for Jake Moss who failed to race his factory NPS Monster energy Kawasaki KX450F in the MX1 class due to being injuried. Following a slow yet steady recovery in the latter part of the year, Jake now plans to claim MX2 glory aboard his KX250F.
"I'm feeling amazing after a pretty bad year. I'm still not at 100% though and I have only just starting riding again. I'm just taking it one step at a time right now and not rushing into it with a bit of coaching and starting to do some motos to build up my health and fitness again."
"This year I am expecting to be right in there from the start to give myself a shot at a championship again. There will be a lot of hungry young kids with the same idea as me and I'm actually looking forward to that. I might have to be a little more aggressive in my racing and it will be a challenge," said Jake.
Team Manager, Troy Carroll, said, "we are absolutely in the best position possible for a chance to pick up both the Australian Motocross and Supercross titles in 2016. The new structure of the team and riders is fantastic. We have such a promising lineup with Matt being a rider of such experience considering his 9 Australian titles. We can see Kade pulling up results this year after he came runner up in both the MX and SX and having Jake on the KX250F makes for the perfect recipe."
"Paul Teasdale is a highly experienced factory technician and he will continue to back the team as Matt Moss's mechanic. New additions, Chris Prestege and Ben Dutton, will join the team for the first time. Ben will work predominantly on Kade's KX450F and suspension across the team while Chris will support Jake Moss on his KX250F." Troy commented.
National Sales and Marketing Manager of Kawasaki Motors, Robert Walker, said "It goes without saying that our 2016 lineup features highly experienced riders of exceptional quality who will be critical to Kawasaki's chances at the Motocross and Supercross championships."
NPS Monster Energy Kawasaki racing team will follow an intensive training schedule between now and the 2016 MX Nationals which is due to start in April next year.
Keep up to date with the NPS Monster Energy Kawasaki Racing Team by following us on Facebook at facebook.com/KawasakiAustraliaMXRacingTeam