Kawasaki KX Experience Dirt Ride Day – Queensland
After the phenomenal success of the Kawasaki road events in New South Wales, Victoria and Queensland, Kawasaki Australia are pleased to present a Kawasaki Team Green Australia Event:
The Kawasaki KX Experience Dirt Ride Day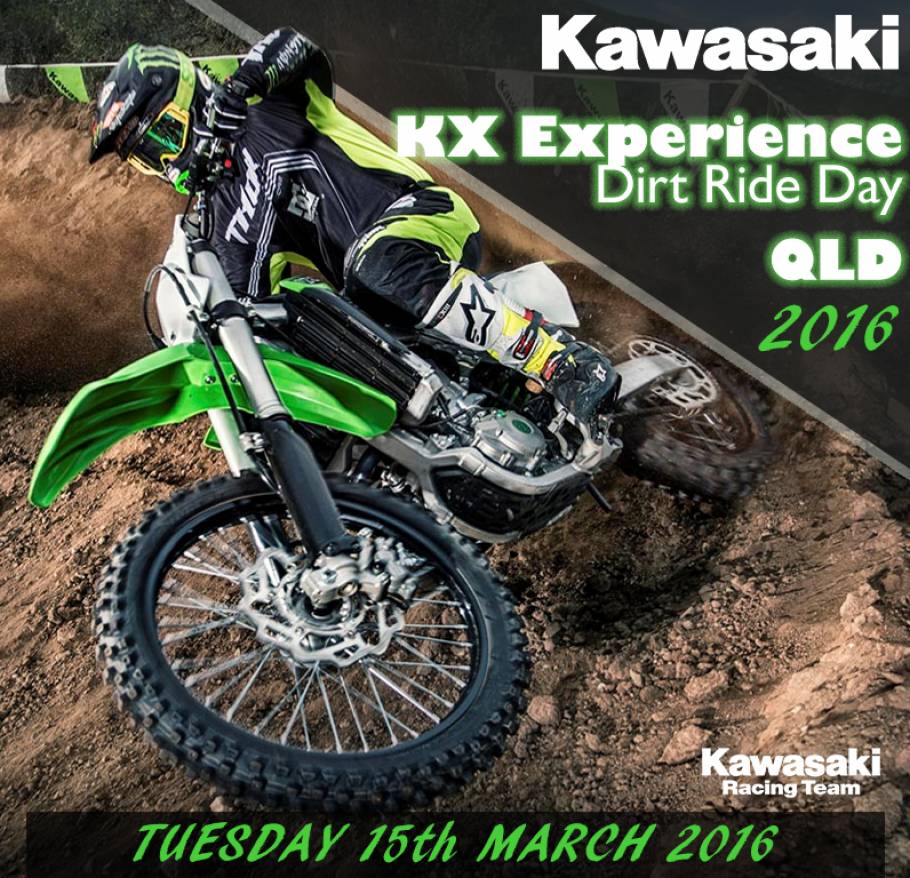 Bring your own motorbike and come riding with Kawasaki. On the day Kawasaki Motors Australia will be there along with the NPE Monster Energy Kawasaki Race Team (the truck, the manager, the mechanics, the riders and the bikes).
Kawasaki will have 2016 KX250F and 2016 KX450F test rides available on the day. Each registered rider will be able to book in for a test session.
Riders will have exclusive access to two premium tracks at QLD MotoPark on a day it is usually closed.
This offer is only available to Kawasaki Team Green Australia members.
When: 
Date: Tuesday 15th March 2016
Time: 9am – 4pm
Where: 
Queensland Moto Park
Goan Road, Coulson, QLD, 4310
Queensland Moto Park
What is included: 
Riding – Ride with Kawasaki Australia
More Riding – Ride with Matt Moss, Kade Mosig and Jake Moss from the NPE Monster Energy Kawasaki Racing Team
Lunch – Kawasaki Australia will buy you lunch
Test Rides – Test ride 2016 KX250F and 2016 KX450F
Tracks – Access to MX2 and Natural Terrain Track
Exclusive access to QLD Moto Park on the day – only Kawasaki Team Green Australia members will ride on this day
Free Entry – Kawasaki will pay your entry fee into Queensland Moto Park including any required licence for the day
What is the Cost:
$40.00 includes entry fee & licence (if required)
What Do I Bring:
Motorbike – bring your own motorbike to ride. Yes, there will be test ride sessions, but you will need your own bike for the rest of the day
Riding Gear – bring you riding gear; helmet, boots, gloves, goggles, pants, jersey, armour, etc
Fuel – you will need to bring your own fuel
Water – keep yourself hydrated
Everything you normally take to go riding your bike
You will need to fill out an indemnity form for the QLD Moto Park upon entry and a Waiver of Liability form when test riding the Kawasaki MX bikes.
Excited?! Want to join in? Remember you need to be a member of Kawasaki Team Green Australia, which anyone can join at the Kawasaki website!
Purchase your ticket now: CLICK HERE
This link will take you to Eventbrite to purchase your ticket.
Participant numbers are limited
Registration will close on Sunday 13th March 2016, unless sold out earlier.