Kawasaki Racing Wrap from The Bend ASBK Round 3
Kawasaki BCperformance's Bryan Staring put forward a strong performance in round three of the 2018 Australian Superbike Championship at The Bend Motorsport Park in South Australia on Sunday.
Despite a difficult beginning to the round that saw him exit race one on Saturday afternoon, Staring managed to bounce back with an inspired second in race two, only 0.220s from victory and recording a PB lap-time of 1m53.175s aboard his Ninja ZX-10R.
That performance had Staring in the frame for another top result on Sunday afternoon for race three, in which he charged through the field to fourth position prior to the race being declared at the six-lap mark due to an incident. Staring wound up seventh overall, now sixth in the point-standings.

"Overall, I am somewhat disappointed because we had so much potential," said Staring. "We just didn't get it quite right, so that was frustrating, as we showed in today's races that we were capable of a much better result. Race two was definitely a good one for me, I left my run a bit late, and that was an enjoyable one!"
Superbike class teammate Kyle Buckley also saved his best for last at Tailem Bend, qualifying 13th, but also unfortunately registering a non-finish in race one. Like Staring, Sunday saw the ever-improving Buckley rebound for a 12-10 scorecard that resulted in 15th overall. He's now P14 in the championship.
"The weekend was up and down for us following the troubles early on," commented Buckley. "We ended up coming out pretty strong in Sunday's races, which was really good and I am really happy to achieve a top 10 finish in the final race of the weekend. Hopefully we can carry that type of form on into Darwin."
Kelvin Reilly, Kawasaki BCperformance team owner, said it was a satisfying way to conclude the round in what was the first-ever two-wheel event at the all-new and world-class 4.95-kilometre circuit.
"It was a good day today after struggling in the early part of the round," Reilly explained. "Basically, we were in search of our one-lap pace, when we should have concentrated on the race-distance where we were always strong."

"To watch Bryan's progress through the field on Sunday was phenomenal, it was just brilliant and Kyle was impressive in races two and three as well. We had the pace, but unfortunately the final race was red-flagged, so I would like to thank the entire team and Dunlop for working so hard together all – we know the direction we need to go now."
BCperformance Junior Team's Giuseppe Scarcella went 12-6-5 on his Ninja ZX-6R in the Kawasaki Australian Supersport Championship category for fifth overall, now seventh in the points. Teenage teammate Benny Baker rode his Ninja 300 to 12th, 10th and ninth-place results, claiming 10th overall for the weekend in Supersport 300.
Swann Insurance Kawasaki rider Matt Walters endured one of his more difficult Superbike rounds of the season, having to settle for 16th overall after an unfortunate retirement in race three. Beforehand, Walters was 10th the race one and 15th in race two after experiencing challenges of his own, currently ninth-place in the championship.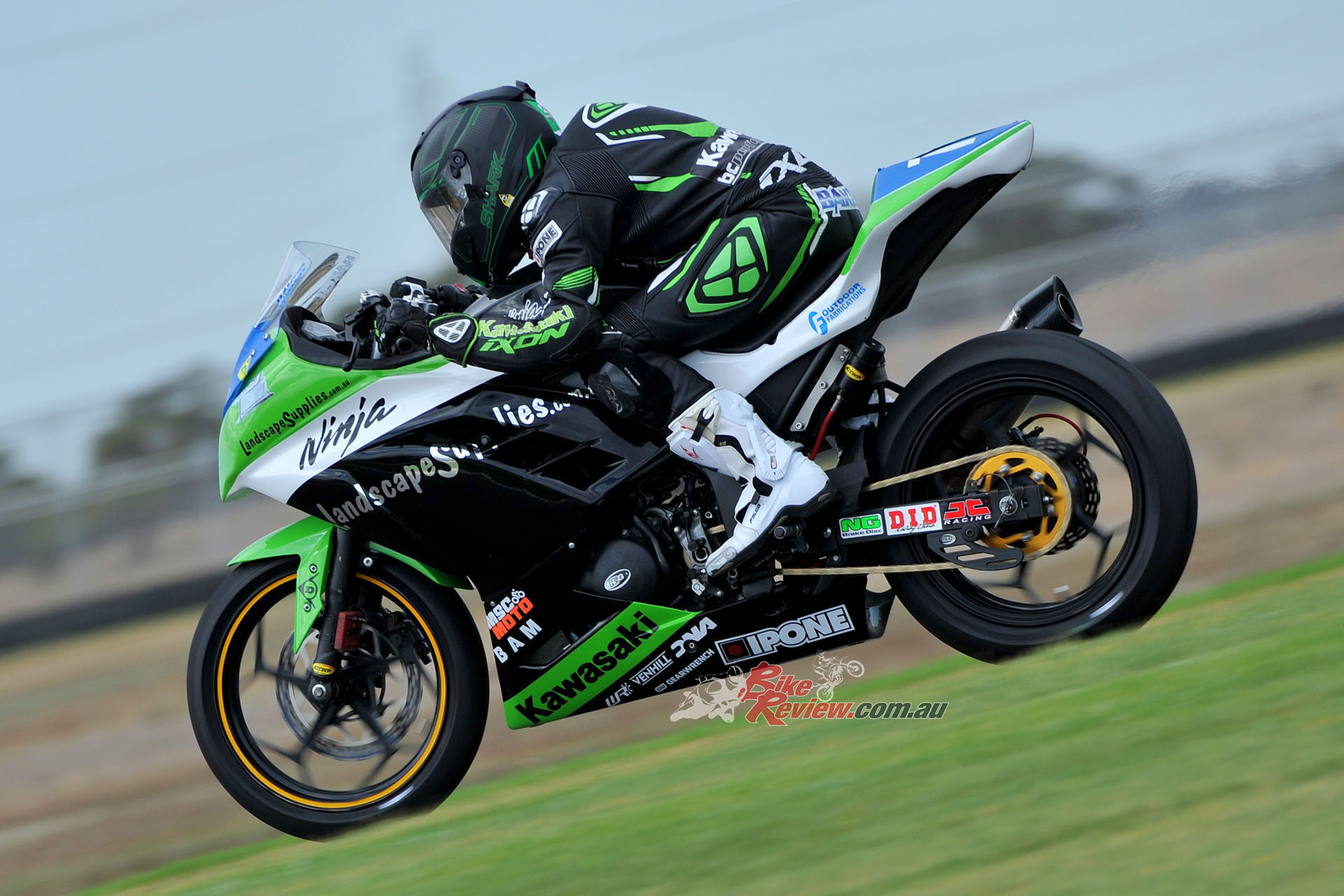 "I was expecting to be in the top 10 and did that in race one, but it wasn't an easy weekend," reflected Walters. "It was a mixed bag after that and I wasn't able to finish the final race."
Additional Kawasaki-mounted riders to achieve great results at The Bend Motorsport Park over the weekend included Tom Toparis, scoring a trio of second-place results for the runner-up overall. He is now second in the standings, 12 points outside of the lead.