MotoGP: Motul TT Assen, Sunday Report, Quartararo Wins
Fabio Quartararo (Monster Energy Yamaha MotoGP) pitched the tactics to perfection in the Motul TT Assen to come out on top, heading a Yamaha 1-2 ahead of teammate Maverick Viñales as the two Iwata marque machines pulled the pin once again on Sunday. From: MotoGP
The duo also push the factory past the milestone of 750 podiums, with Yamaha now counting on 751 with two riders on the rostrum at Assen. Reigning Champion Joan Mir (Team Suzuki Ecstar) completed the podium, slicing through from 10th on the grid.
Quartararo took the holeshot from second, but the Frenchman wasn't allowed to escape early as fellow front row starter as Francesco Bagnaia (Ducati Lenovo Team) went for a Lap 1 leap at Turn 8. It was close between Quartararo and Pecco, their exits compromised, with that allowing Takaaki Nakagami (LCR Honda Idemitsu) up alongside the pair as Quartararo ran hot into Turn 9. Bagnaia said thank you very much, the Italian through to lead and holding station – for now.
---
---
Quartararo went for a move at the final chicane to answer back but was wide, and Bagnaia got his GP21 stood up and blasted back past. That happened again on Lap 6, before Lap 7 saw Quartararo grab P1 through Turns 12 and 13. How crucial was that going to prove? Meanwhile, Nakagami was still holding Viñales at bay, with Johann Zarco (Pramac Racing), Mir and Miguel Oliveira (Red Bull KTM Factory Racing) line astern right behind.
---
Two 1:32.8s saw Quartararo stretch a 1.2 lead to Bagnaia on Lap 9, hammer down. On Lap 11, that gap was up to 2.5 as Bagnaia had to switch focus to keeping Nakagami behind him. The Japanese rider passed the Ducati rider on Lap 11 through the rapid kinks, but Bagnaia grabbed P2 back down the front straight. Viñales, Zarco, Mir and Oliveira were all waiting in the wings and there was a copy paste of Nakagami vs Bagnaia a couple of laps later. Drama hit then though as the number 63 was handed a long-lap penalty for exceeding track limits.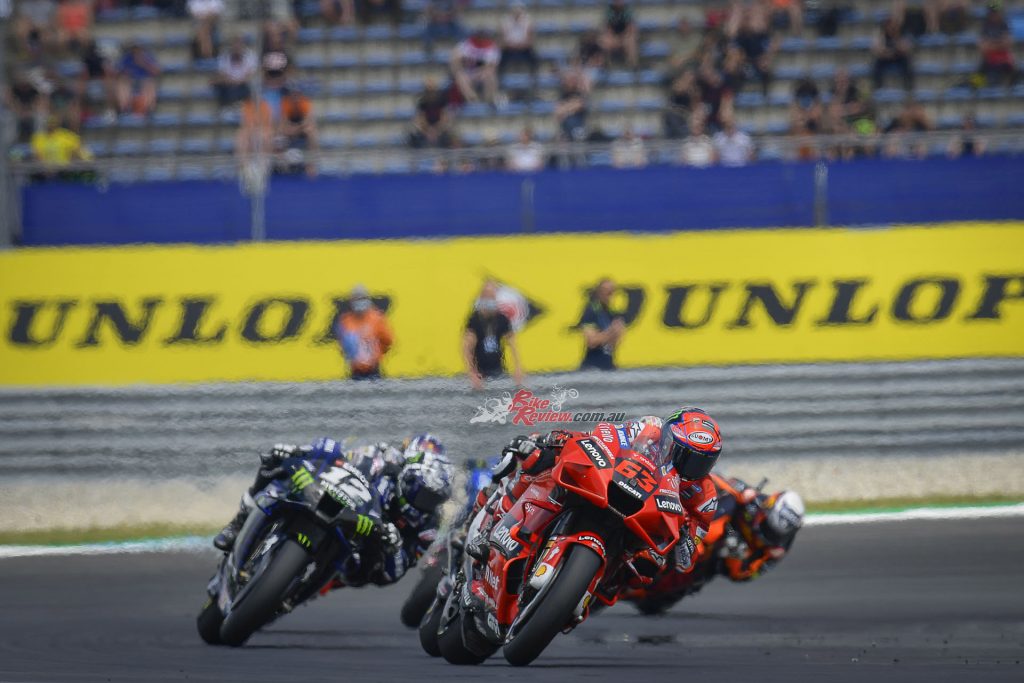 On Lap 15, there was plenty of action. Bagnaia dived into the long-lap penalty loop, and then teammate Jack Miller crashed unhurt at Turn 5. Nakagami was sat up by Mir at the same corner and it was now Viñales in second place, four seconds behind runaway leader Quartararo. Mir was then up past Zarco at Turn 5 with eight laps to go into third, with Oliveira around half a second away back on the Pramac rider, in fifth.
---
At the front, the gap came down to 2.5 with two laps to go between Quartararo and Viñales as the latter seemed quicker, but after too much lost ground no one had an answer to El Diablo at Assen. A fourth 25-point haul of the season extends his Championship advantage to 34 points heading into the summer break. Viñales delivered impressive late-race pace on the front soft tyre, but it wasn't enough to reel in Quartararo. Nevertheless, after finishing last at the Sachsenring, P2 for the Spaniard is a splendid effort as the number 12 returns to the podium for the first time since his Qatar GP win. Mir kept his powder dry ahead of Zarco to secure third, the podium also his third of the season.
---
---
Zarco was forced to settle for fourth ahead of Oliveira in fifth, with a real battle deciding sixth just behind. Marc Marquez made a stunning start from 20th on the grid to gain ten places in what seemed like the blink of an eye, and he hustled on to the back of Bagnaia after the Italian's Long Lap penalty. The eight-time World Champion couldn't quite find a way past, although he was within 0.075 over the line as Bagnaia held on for sixth. Aleix Espargaro (Aprilia Racing Team Gresini) took eighth, with Nakagami disappointed with ninth after an early podium challenge and Pol Espargaro (Repsol Honda Team) completing the top ten.
---
11th went to Alex Rins (Team Suzuki Ecstar) despite a run off for the number 42 following contact early in the race with Johann Zarco, with the Suzuki holding off Brad Binder (Red Bull KTM Factory Racing) as the South African got his first taste of Assen on a MotoGP™ bike. Danilo Petrucci (Tech3 KTM Factory Racing) took 13th, ahead of Alex Marquez (LCR Honda Castrol) – another debuting at the track in the premier class – as was rookie Enea Bastianini (Avintia Esponsorama), who completed the points.
---
---
Valentino Rossi (Petronas Yamaha SRT) crashed out fast at Turn 7 but rider ok, Miller went down at Turn 5. He rejoined but then had to stop with a mechanical problem. Iker Lecuona (Tech3 KTM Factory Racing) also crashed, and Jorge Martin (Pramac Racing) was forced back into pitlane with an issue.
Fabio Quartararo: "I trained with the ball a little bit higher all the days but this one was tough. Was really tough race, I was struggling so much to overtake Pecco. I struggled a little bit all weekend with my right arm, and in the race, I could have gone three or four tenths faster every lap, but I was feeling really bad and, at the half race I was a bit scared, but I kept the pace and I can be happy because with the battle with Maverick on Saturday, he won, but the points arrive on Sunday so I am so happy."
---
MotoGP Race (Full Results & Championship Standings here)
1 Fabio Quartararo – Monster Energy Yamaha MotoGP – Yamaha – 40:35.031
2 Maverick Viñales – Monster Energy Yamaha MotoGP – Yamaha – +2.757
3 Joan Mir – Team Suzuki Ecstar – Suzuki – +5.760
---
Moto2
Raul Fernandez (Red Bull KTM Ajo) heads into the summer break on a high after a hard-fought win at the Motul TT Assen, the Spaniard recovering from the latter half of the top ten to get back to the front and then pull away from the fight to complete the podium.
That fight was won by his teammate Remy Gardner as the Australian did some good damage control to hold off Augusto Fernandez (Elf Marc VDS Racing Team). With third place, the Spaniard nevertheless took his first podium since 2019 after a weekend of great form.
Aron Canet (Aspar Team Moto2) took the holeshot ahead of Raul Fernandez, but Gardner muscled through on his teammate too as the number 25 got shuffled back. Lowes made quick work of moving back forward as he got up into second behind Canet, striking for the lead not long after but the Spaniard taking it back. Gardner was next on the charge as he picked his way through into the lead and Lowes followed, with Raul Fernandez then running off and dropping all the way back to ninth…
That left Ai Ogura (Honda Team Asia) making his presence felt at the front in fourth as Augusto Fernandez found himself looking for a way past the Japanese rider, but soon enough the number 37 was able to start pulling away with Gardner and Lowes, as Raul Fernandez started his fight back towards the podium battle.
---
The number 25 was on a charge and once in some clear air on the chase, his was reeling them in on his mission back to the front. Once there, he sliced back through past Gardner and the Elf Marc VDS Racing Team duo back into the lead and soon, the number 25 had the hammer down to pull away.
That left a Gardner-Lowes-Augusto Fernandez showdown to decide the podium, with Lowes still heading the train with four to go. But over the line next time around his teammate pulled alongside and made his move, with Gardner leaving it two apexes longer before picking the Brit's pocket too.
Onto the penultimate lap, Gardner was lining up a move for second and he struck at the end of the lap. Slicing through at the Geert Timmer chicane, the move was super clean as the Australian lost little momentum, then shutting the door as he withstood the pressure from Augusto Fernandez the remainder of the lap. The number 37 couldn't make it through, however, with Gardner able to have enough in hand to head through the final chicane unbothered, taking second place and another 20 points. Augusto Fernandez got back on the podium in third after a tough start to the season, with Lowes forced to settle for fourth as the Brit just dropped off the back of the duo on the latter half of the final lap.
---
Raul Fernandez, however, made it another masterclass on Sunday for another 25 points. Over a second and a half clear once he'd escaped the squabble, the Spaniard continues to impress and pulled in five points on Gardner.
Marco Bezzecchi (Sky Racing Team VR46) took fifth after an impressive ride back from P17 on the grid, ahead of Ogura as the Japanese rider took P6 and another impressive rookie result. Jorge Navarro (+Ego Speed Up) took seventh.
---
Xavi Vierge (Petronas Sprinta Racing) just beat Marcel Schrötter (Liqui Moly Intact GP) to eighth by 0.042, with Celestino Vietti (Sky Racing Team VR46) completing the top ten for his second top ten finish of his rookie season. Somkiat Chantra (Idemitsu Honda Team Asia), Albert Arenas (Aspar Team Moto2), Stefano Manzi (Flexbox HP 40), Tom Lüthi (Pertamina Mandalika SAG Team) and his teammate and home hero Bo Bendsneyder completed the points, the latter despite two Long Laps for a jump start.
Joe Roberts (Italtrans Racing Team) crashed out, as did teammate Lorenzo Dalla Porta and Fabio Di Giannantonio (Federal Oil Gresini Moto2).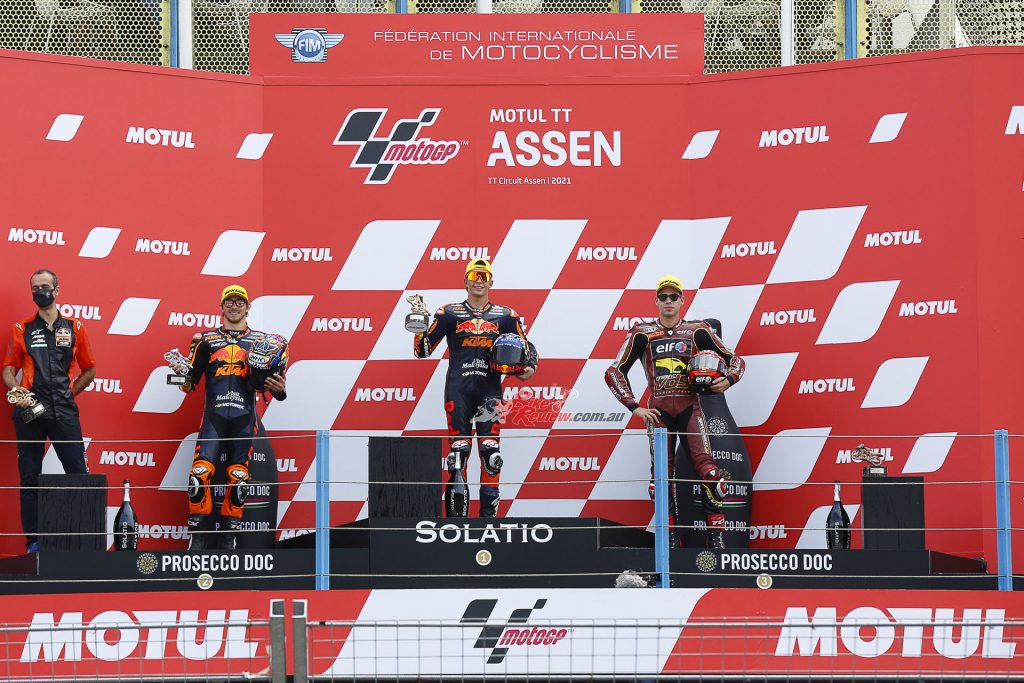 Raul Fernandez: "It was an amazing race, I am destroyed. At the beginning I did two very bad laps, I held on but lost too many positions. Later I had a recovery. It was a really difficult and mental race. I want to say thanks to my team, they have brought me an incredible bike and in the last part of the race I was really, really strong, and this victory is for the big brother of Heinz Kinigardner, who is in the hospital, because I want to send my support to him. See you in the next races."
---
Moto2 Race (Full Results here)
1 Raul Fernandez – Red Bull KTM Ajo – Kalex – 39:01.832
2 Remy Gardner- Red Bull KTM Ajo – Kalex – +1.066
3 Augusto Fernandez – Elf Marc VDS Racing Team – Kalex – +1.265
---
Moto3
Dennis Foggia (Leopard Racing) took his second win of the season in style at the Motul TT Assen, leading from the front for much of the race and taking another 25 points to move himself into third in the standings. Sergio Garcia (Gaviota GASGAS Aspar Team) took second to consolidate second in the Championship and makes some gains on leader Pedro Acosta (Red Bull KTM Ajo), with Romano Fenati (Sterilgarda Max Racing Team) completing the podium, impressively despite two Long Lap penalties.
Fenati got the best start from second on the grid, the Italian pipping Jeremy Alcoba (Indonesian Racing Gresini Moto3) to the holeshot. Soon the Italian would initially drop back with two Long Lap penalties to take, however, and Lorenzo Fellon (SIC58 Squadra Corse), Andi Izdihar (Honda Team Asia), Joel Kelso (CIP Green Power), Yuki Kunii (Honda Team Asia), Jaume Masia (Red Bull KTM Ajo) and Takuma Matsuyama (Honda Team Asia) had to head through pitlane for their ride throughs.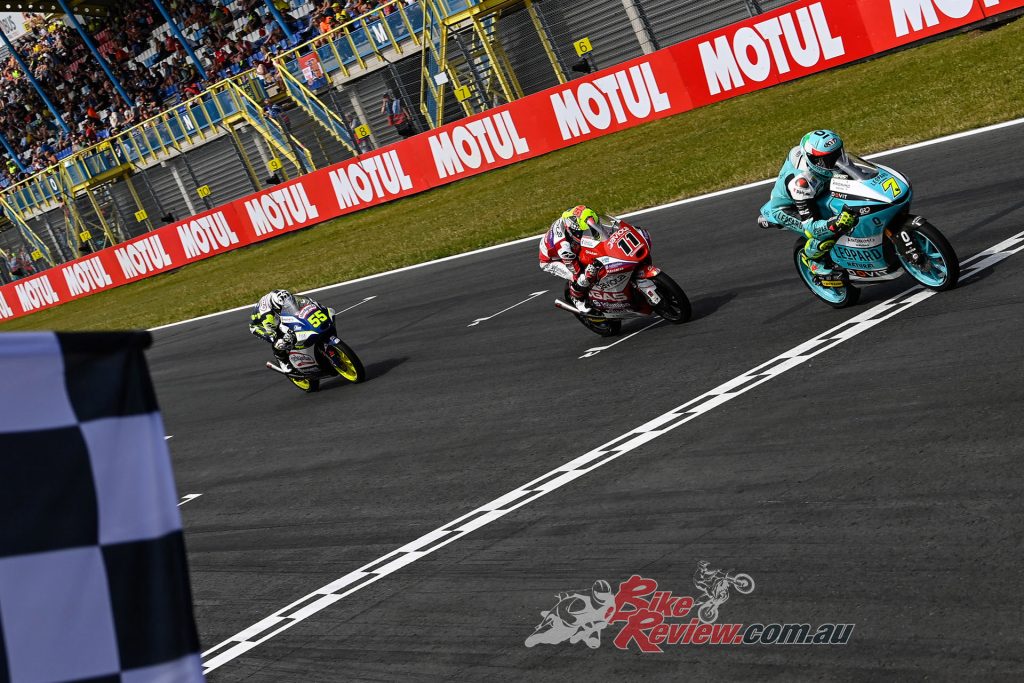 That left second in the standings Garcia, Foggia, his teammate Xavier Artigas, Darryn Binder (Petronas Sprinta Racing), Alcoba, his teammate Gabriel Rodrigo and Tatsuki Suzuki (SIC58 Squadra Corse) in the front group, although Fenati was able to get back in the mix and Pedro Acosta was soon on the scene from 18th on the grid. The Spaniard was declared fit to race on Sunday after missing qualifying.
The rhythm was fast at the front and the lead did change, but Foggia was a key presence throughout as he stuck to his style of hitting the lead and trying to stay there. That saw those on the chase lose more and more touch with the lead group, with only six riders set to prove able to stick it out to the end in the podium fight.
---
Coming onto the last lap, Foggia still led that podium fight, and the Italian had the hammer down ahead of Fenati and Garcia. It looked like the Leopard rider would be hard to catch, but Garcia was on the charge against Fenati and dispatched the Italian quickly, then closing and closing on Foggia in the lead.
As the final chicane dawned, the Spaniard wasn't quite close enough and Foggia crossed the line with a tenth in hand for his second win of the season, in what's fast becoming 'Foggia' style. Garcia takes second by just 0.078 but crucially was ahead of Championship leader Pedro Acosta, with Acosta taking fourth in the end. Fenati held onto third and thought better of a final chicane move, 0.129 off Garcia over the line.
Acosta's fourth was awarded after the flag after Binder, who had passed him at the final chicane, was docked three positions for exceeding track limits earlier on the final lap so the South African is classified seventh. Tatsuki Suzuki takes fifth, ahead of McPhee by just 0.065, with Binder next up.
---
Rodrigo dropped off the back of the front fight in the end, taking eighth at the flag and some solid points after a tougher weekend ahead of the race. Artigas was close on his tail, the two split by just 0.045. Jeremy Alcoba completed the top ten from pole, the Spaniard riding at the track for the first time. Setafno Nepa (BOE Owlride), rookie Izan Guevara (Gaviota GASGAS Aspar Team), Kaito Toba (CIP Green Power), Niccolo Antonelli (Avintia Esponsorama Moto3) and Deniz Öncü (Red Bull KTM Tech3) completed the points, Antonelli despite a crash with Andrea Migno (Rivacold Snipers Team) after which the latter was forced to pull back into the pits.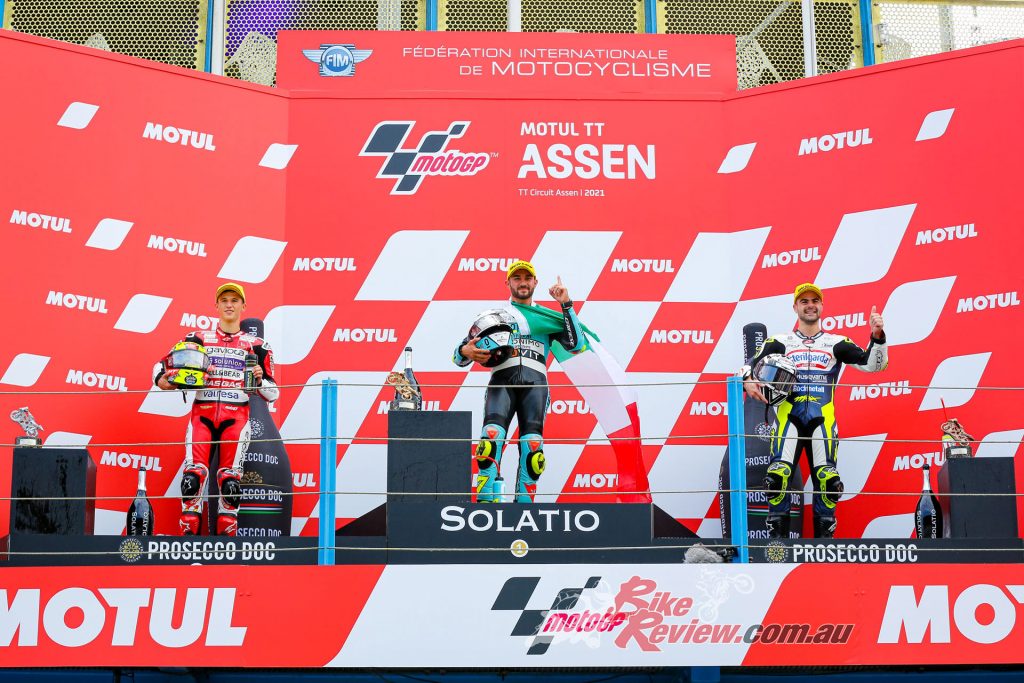 Dennis Foggia: "I'm happy! It was an incredible race, a hard race, but first of all congratulations to Romano Fenati because P3 with a double long lap penalty…so strong. For me, I'm really happy, the bike was perfect, but also the street so fast, so I'm really happy. I think I am third in the Championship so today was important to take points, because many riders took a penalty…my goal today was to win, and in the end I won so I'm really happy, I'd like to thank my team. Also, my goal was to go on the holidays calm and so, I'm really happy and see you in one month."
---
Moto3 Race (Full Results and championship standings here)
1 Dennis Foggia – Leopard Racing – Honda – 37:35.287
2 Sergio Garcia – Gaviota GASGAS Aspar Team – GASGAS – +0.078
3 Romano Fenati – Sterilgarda Max Racing Team – Husqvarna – +0.207
---
MotoE
Eric Granado (One Energy Racing) remains the king of bouncing back in the FIM Enel MotoE™ World Cup, with the Brazilian putting in another stunner on Sunday to take win number 2 of the season and gain some serious ground in the standings, now up to third.
Jordi Torres (HP Pons 40) took second and fought off points leader Alessandro Zaccone (Octo Pramac MotoE) as the two duelled to the limit, although with drama for Dominique Aegerter (Dynavolt Intact GP), Zaccone extends his overall lead at the top.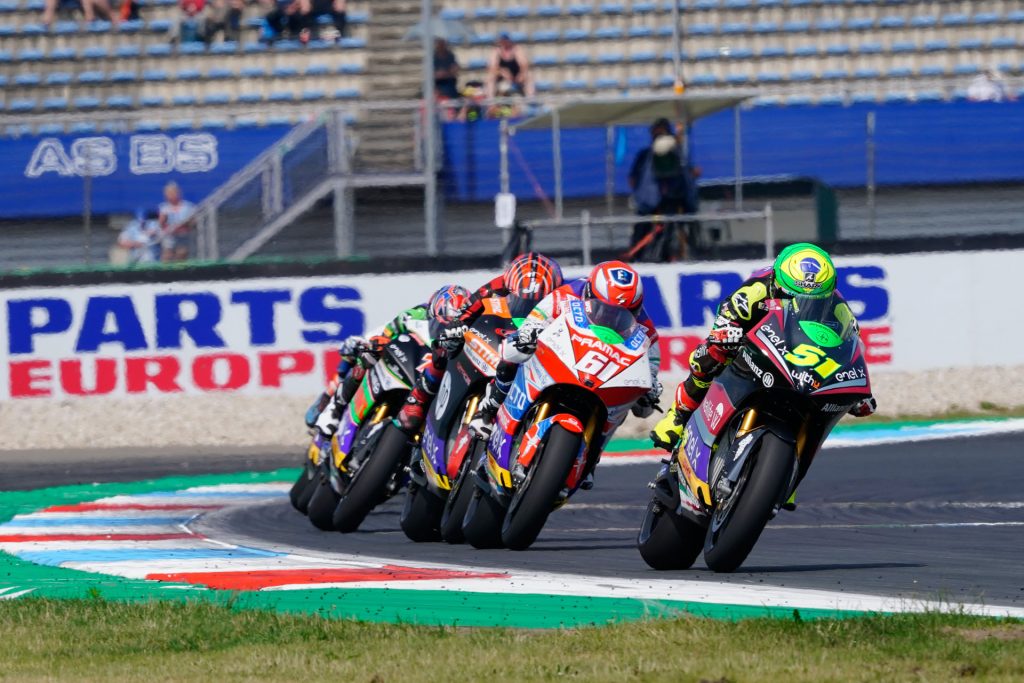 From the middle of the front row, it was Lukas Tulovic (Tech3 E-Racing) who out-dragged polesitter Granado into Turn 1 to snatch the holeshot, with World Cup points leader Zaccone holding station in third. The key drama then unfolded at the end of the opening lap as Aegerter, the rider second in the standings heading to Assen, was down at the chicane – rider ok, but front washing away.
---
Lap 2 saw Zaccone take the lead, with Tulovic getting a bit beaten up after the perfect getaway. The German was shoved down to P5 as the riders ventured onto Lap 3, and Granado then put in the fastest lap of the race to take the lead at the beginning of Lap 4. There was an eight-rider freight train split by just 1.6s with three laps to go, but the Brazilian had half a second advantage as Torres made a Turn 1 move past Zaccone into second.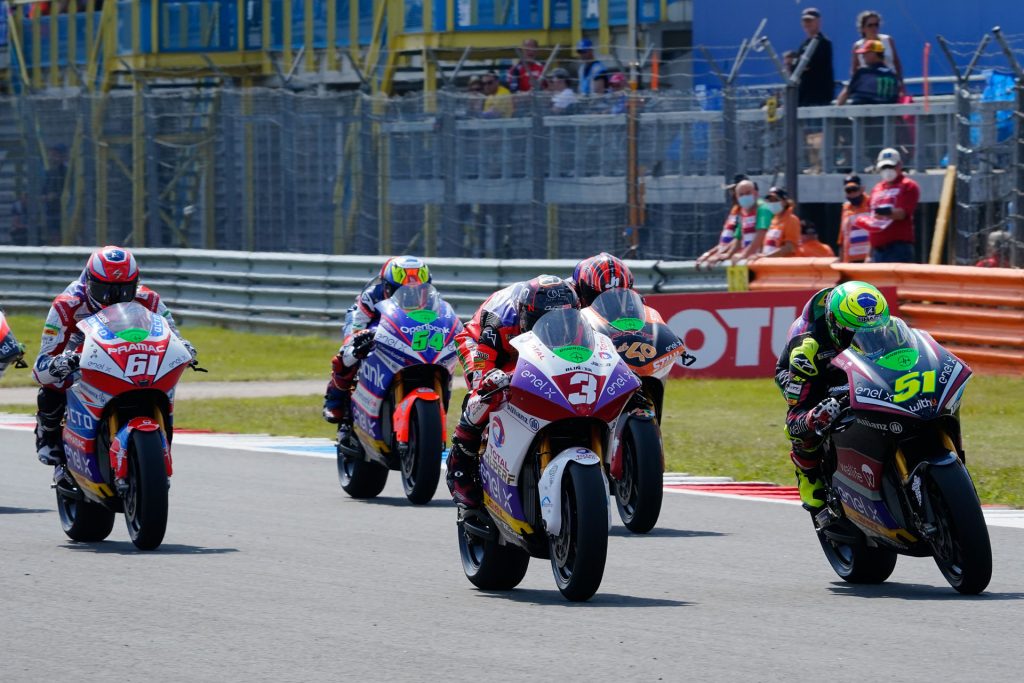 Granado was in the groove though. With two laps to go he was still half a second clear, and Torres and Zaccone had gapped fourth place Matteo Ferrari (Indonesian E-Racing Gresini MotoE). Just 0.6 covered the leading trio with just one more lap to go, but Granado held firm.
Torres was pushing but the number 51 wasn't to be caught, staying just about out of reach as the HP Pons 40 rider then had to switch his attention to Zaccone. The Italian went for a move – as expected – but this time Torres really did get his elbows out, firing straight back and some contact between the two. Zaccone then had a moment to compound it further, but the number 61 nevertheless completed the podium behind Torres. Granado, over the line, kept the gap at eight tenths.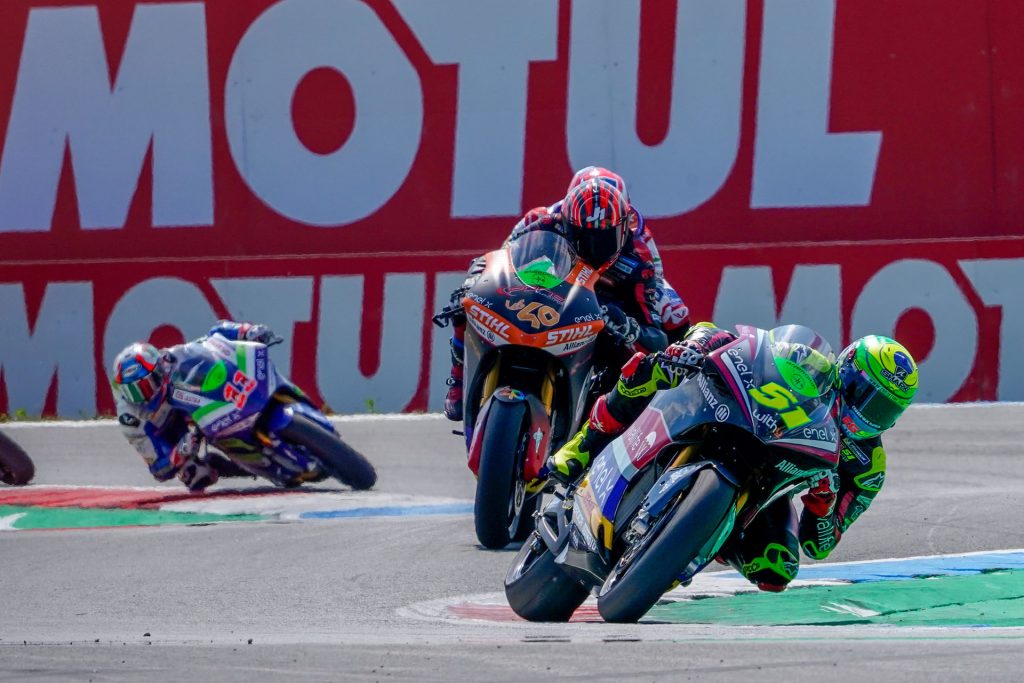 2019 World Cup winner Ferrari claims his best finish of the season so far in fourth, 1.1 clear of fifth place Tulovic by the flag. Mattia Casadei (Ongetta SIC58 Squadra Corse) was just 0.036 behind the German, meanwhile, with Fermin Aldeguer (Openbank Aspar Team) only another 0.050 off in seventh. Hikari Okubo (Avant Ajo MotoE) made a great start and was up to P4 at one point but the Japanese rider was forced to settle for P8 in the end, with Yonny Hernandez (Octo Pramac MotoE) and Barcelona winner Miquel Pons (LCR E-Team) rounding out the top 10.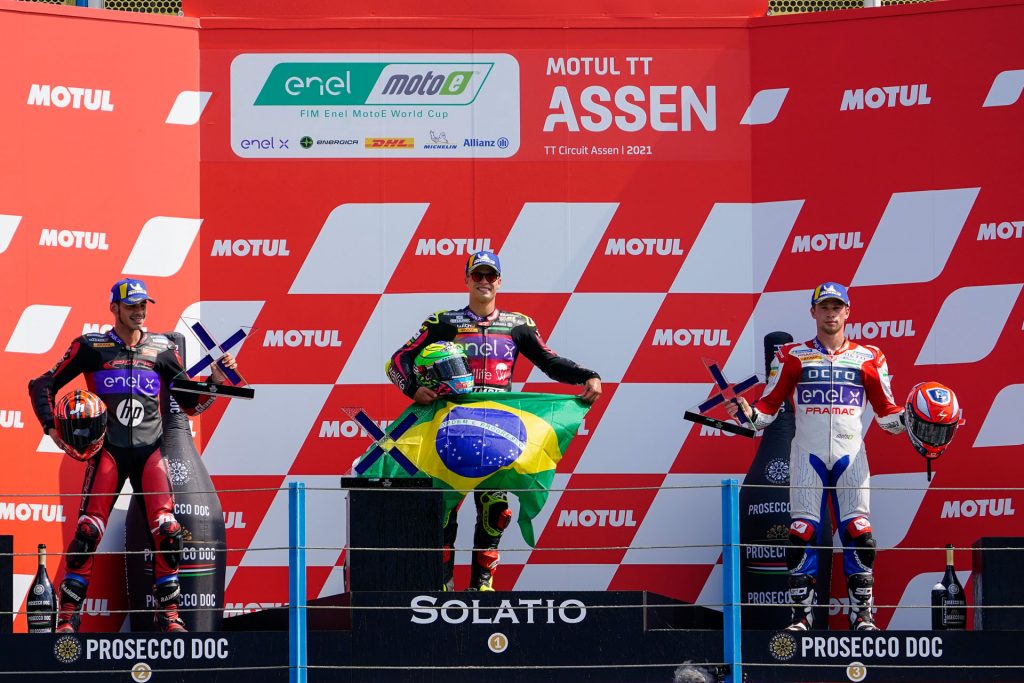 Eric Granado: "I'm very happy. It's like a redemption for me, like in Le Mans. Unfortunately, we had a problem in Barcelona but I have a great team with me, a lot of support from all the people. We did a great job all the weekend, I felt so good on the bike. I was really thinking during the race to not do any mistakes, the track was very hot so finally, when I was first, I was trying to be smooth and not make any mistakes and finally, P1. So happy, I can only say thanks to my team and sponsors and everyone who never gave up on me."
---
MotoE Race (Full Results and championship standings here)
1 Eric Granado – One Energy Racing – Energica – 12:10.143
2 Jordi Torres – HP Pons 40 – Energica – +0.844
3 Alessandro Zaccone – Octo Pramac MotoE – Energica – +0.925
---