Niki Tuuli first ever MotoE winner after Sachsenring Scorcher!
Polesitter Niki Tuuli (Ajo MotoE) became the first-ever winner of an FIM Enel MotoE™ World Cup race after leading a group of four over the line before the Red Flags came out due to a Lorenzo Savadori (Trentino Gresini MotoE) crash puncturing the air fence at Turn 7. Bradley Smith (One Energy Racing) and Mike Di Meglio (EG 0,0 Marc VDS) completed the podium at the HJC Helmets Motorrad Grand Prix Deutschland.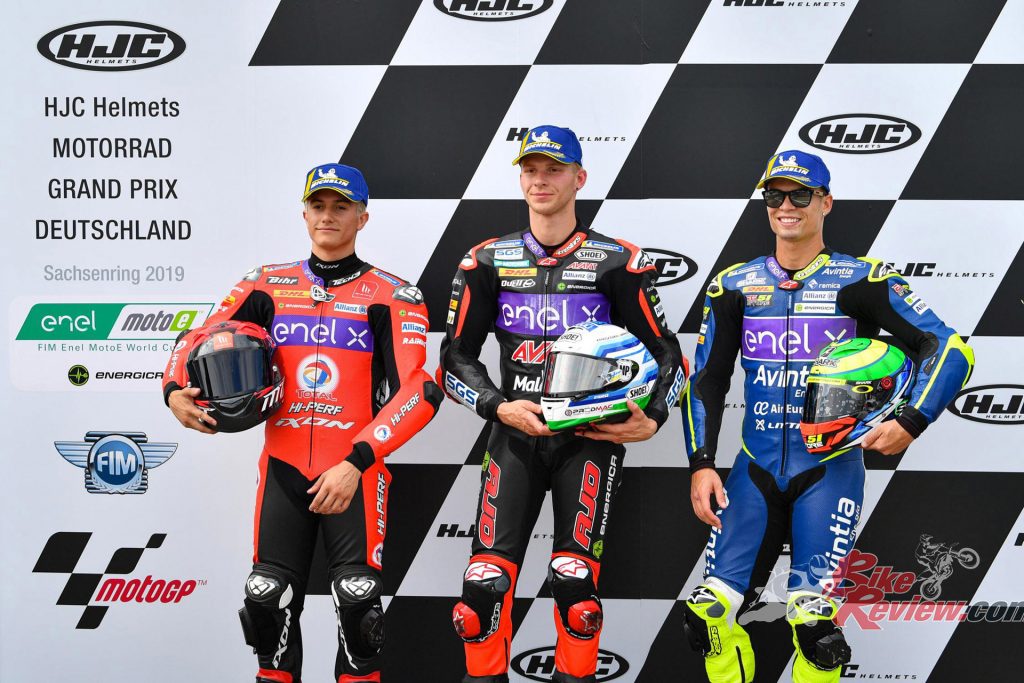 The race was declared wet after rain fell overnight at the Sachsenring, which meant the MotoE™ battle would be reduced to seven laps. As the lights went out for the very first time in the 'World Cup', Tuuli didn't get the holeshot from pole – it was second on the grid Hector Garzo (Tech 3 E-Racing) who got himself to the front as Smith made an electrifying start from P7 to get himself into second, before the Brit took the lead at Turn 3.
A lead group of seven quickly formed as the Energica Ego Corsa riders ripped around the Sachsenring, with the battle for the lead intensifying every lap. Tuuli, after dropping to fourth in the early stages, started to pick the riders off one-by-one before taking the lead – after a number of failed attempts – at Turn 1 on Lap 4. At this stage, the top four of Tuuli, Smith, Di Meglio and Garzo had a one-second gap to fifth place Matteo Ferrari (Trentino Gresini MotoE) and the fight for MotoE™ victory number one was on.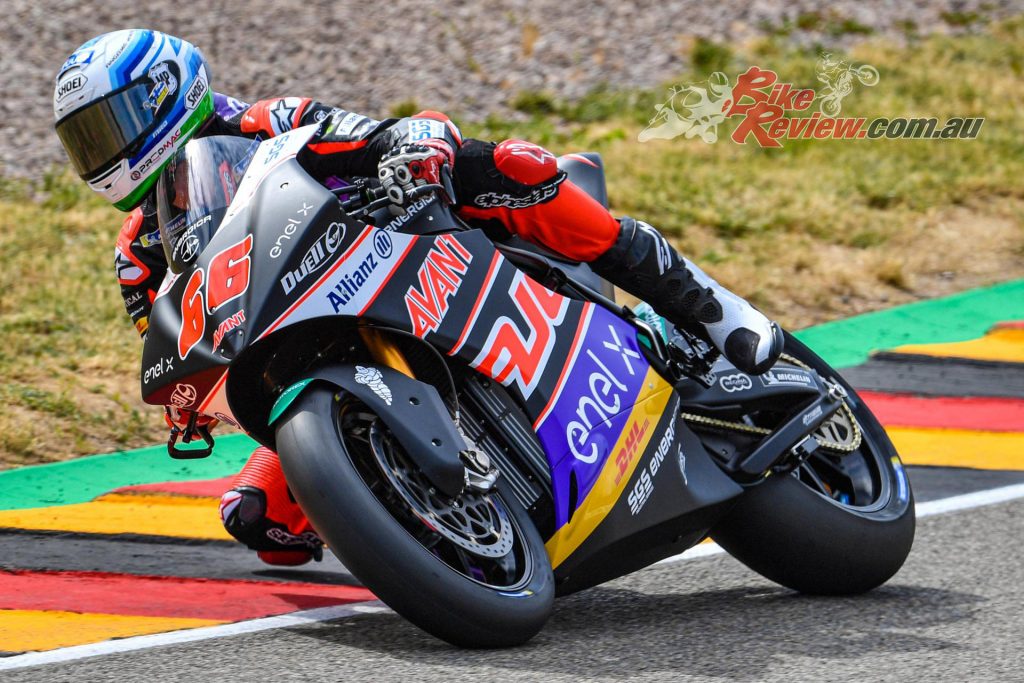 However, Savadori's fast crash at Turn 7 led to his machine puncturing the air fence which brought out the Red Flags on Lap 6. This meant the order at the end of Lap 5 would be the final results, with Tuuli leading Smith and Di Meglio over the line, Garzo completed the top four covered by just 0.9 seconds.
Ferrari finished in a lonely fifth to begin his season well, with Alex de Angelis (Octo Pramac MotoE) and Xavier Simeon (Avinita Esponsorama Racing) having a good battle for P6 and P7. The two former MotoGP™ riders made contact at Turn 3 as Simeon went for a pass up the inside of de Angelis, the latter would remain in front of the Belgian as the Red Flags put a premature end to proceedings.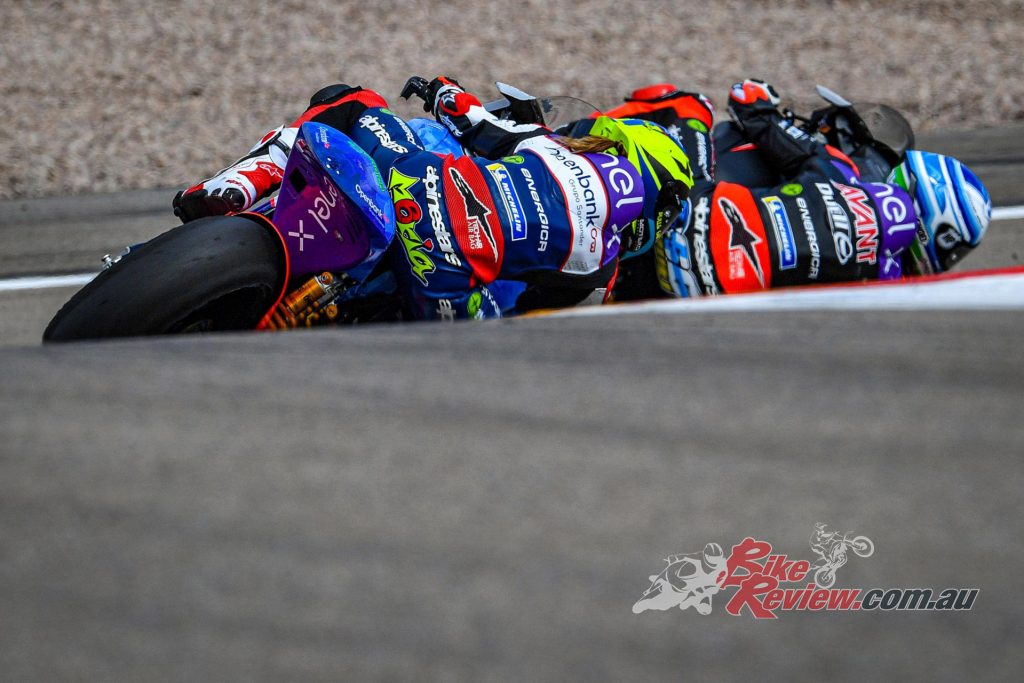 Eric Granado (Avinita Esponsorama Racing) – who got pushed out wide at Turn 1 on Lap 1 – had to fight back to claim P8 at the Sachsenring, the Brazilian beat the vast experience of Sete Gibernau (Join Contract Pons 40) and Nico Terol (Openbank Angel Nieto Team) in ninth and tenth respectively.
MotoE Race:
Niki Tuuli (Ajo MotoE)
Bradley Smith (One Energy Racing) + 0.442
Mike Di Meglio (EG 0,0 Marc VDS) + 0.567
Hector Garzo (Tech 3 E-Racing) + 0.991
Matteo Ferrari (Trentino Gresini MotoE) + 2.095
Alex de Angelis (OCTO Pramac MotoE) + 4.048
Xavier Simeon (Avintia Esponsorama Racing) + 4.304
Eric Granado (Avintia Esponsorama Racing) + 8.118
Sete Gibernau (Join Contract Pons 40) + 9.254
Nico Terol (Openbank Angel Nieto Team) + 9.414